How to Identify Network Problems & Diagnose Network Issues
In Summary
Just because your network is "UP," doesn't mean it's working well! Network issues like choppy VoIP, jerky video calls, and network and application slowness issues can affect your business in drastic ways - which is why it's important to know how to identify network issues for network performance troubleshooting.
This article is part of our Introduction to Network Monitoring series. For a full overview of everything you need to know about network monitoring, check out the other articles in the series once you've finished reading:
How to Identify Network Problems & Diagnose Network Issues (this article)
There are many problems that can affect network performance, and some of them are very complex to identify and understand. Intermittent network issues frustrate users, affect business productivity, and are a nightmare for all IT administrators because they are the most difficult to solve.
That's why it's important to agree on the vocabulary surrounding this subject before thinking of identifying solutions.
In this article, we'll be defining the vocabulary surrounding network issues to teach you how to identify network problems, diagnose network issues, and find solutions.
When it comes to identifying and diagnosing network issues, your secret weapon is a Network Monitoring software. A Network Monitoring (or Network Performance Monitoring) tool monitors end-to-end network performance to identify network issues affecting your end-users and customers - even if those network problems may reside outside of your local network infrastructure.
We recommend a tool like Obkio Network Performance Monitoring Software because it does the work for you.
Synthetic Traffic simulates the end-user perspective to identify issues
Decentralized end-to-end monitoring of network locations with Monitoring Agents
Continuous monitoring identifies intermittent issues that are hard to pinpoint
Monitoring Agents collect data to diagnose network issues
Measures network performance metrics like jitter, packet loss, throughput and more
Troubleshoot network issues with Device Monitoring & Traceroute features
Get started with Obkio's Free Trial, or choose an Obkio plan.
The applications that run over your network don't all have the same performance requirements. Some performance variations can affect VoIP or video quality, but will have no effect on web browsing or email activity.
The common causes of network issues are almost always the same. When you identify network performance issues, here are some common ones:
Network performance issues related to resource issues can mean different things, from equipment problems to high CPU usage. Let's break down some of the most common resource issues:
Network Equipment & Devices: Sometimes, network issues occur within network equipment or devices like Firewalls, Routers, Switches, Wifi APs. Problems can be due to bad configurations, faulty connections, and even packet loss. Obkio's network device monitoring solution easily monitors any SNMP-enabled network devices to ensure performance and diagnost network issues affecting network devices.

High CPU Usage: The most common cause of high CPU usage is when your network becomes bogged down by enormous amounts of traffic. CPU usage can increase drastically when processes require more time to execute or when a larger number of network packets are sent and received throughout your network. High CPU usage can bog down your network, or leave not enough CPU for other processes.

High Bandwidth Usage: When someone or something on your network begins monopolizing bandwidth by downloading gigabytes worth of data, possibly by video, it creates a congestion in your network. Network congestion due to high bandwidth usage leaves not enough bandwidth for other parts of your network — which is when you can start experiencing problems like slow download speed over the internet.
It may seem obvious, but some network issues may occur with the hardware outside of the network. Hardware problems like defective cables or connectors can generate errors on the network equipment to which it is connected. A copper, cable, or fiber-optic cable can be damaged, which will likely reduce the amount of data that can go through it without packet loss.
Another common network performance problem is when devices or hardware are not functioning properly, perhaps because they have been misconfigured or disabled.
DNS errors essentially happen because you're unable to connect to an IP address, signalling that you may have lost network or internet access. So, your site can simultaneously appear online for you, but offline to your visitors.
Wireless interference occurs when something disrupts or weakens the Wi-Fi signal transmitted from your wireless router. Very common household items, like microwave ovens or cordless phones, are slowing down your home Wi-Fi network performance. if you live in a densely populated area, your neighbors' Wi-Fi networks could actually be interfering with your own. This is particularly true if you're using a 2.4GHz wireless router.
However, seeing as a network outage or failure can occur at any time, the first challenge for network administrators is to quickly identify the events that can cause breakdowns as well as the precise time of the event.
While users are usually quick enough to report problems, it's of course ideal to intercept the problem and resolve it before it affects users.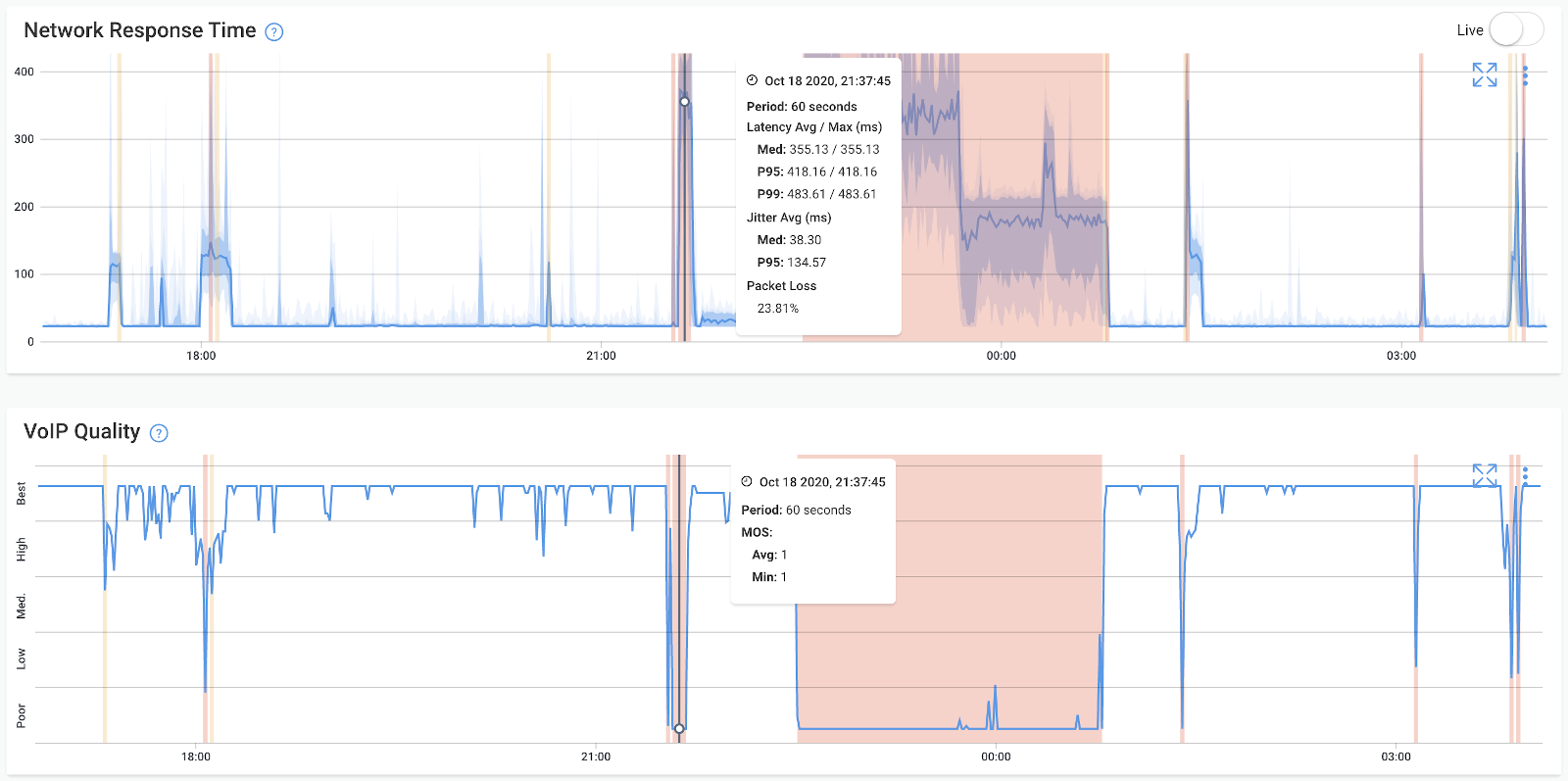 Knowing how to identify network issues begins with measuring network performance using precise network metrics. You'll then need to familiarize yourself with all your application performance requirements to identify the network performance thresholds to be respected, and to ensure that these applications can work properly.
Some of the most common network metrics that you should be looking at are:
Within a network infrastructure, latency refers to the measure of time it takes for data packets to reach their destination when traveling across a network. It is usually measured as a round trip delay, in milliseconds (ms), taking into account the time it takes for the data to get to its destination and then back again to its source.
Jitter is a huge problem when using real-time applications such as unified communications, including IP telephony, video conferencing, and virtual desktop infrastructure. Simply put, jitter is a variation in delay. Otherwise known as a disruption that occurs while data packets travel across the network.
Packet loss refers to the number of data packets that were successfully sent out from one point in a network, but were dropped during data transmission and never reached their destination. It's important to know how many packets are being dropped across your network to determine good or poor network performance.
Throughput refers to the amount of data passing through a network and traveling from point A to point B in a determined amount of time. When referring to communication networks, throughput is the rate of data that was successfully delivered over a communication channel.
Packet duplication refers to when data packets are duplicated somewhere in the network, and are then received twice at their destination. The source of the data sometimes believes that a data packet was not transmitted correctly because of packet loss, and may retransmit that packet. The destination source may have already gotten the first packet, and will receive a second duplicate packet.
Packet reordering occurs when data packets arrive at their destination in the wrong order. This can happen for various reasons, such as multipath routing, route fluttering, and wrong QoS queue configuration.
Networks are becoming more and more complex with every technological advancement. As hosted services continue to gain popularity, applications are being hosted further and further away from users.
Events that can affect the maintenance of critical applications can occur anywhere: in an internal LAN, wired or wireless network, with the Internet or WAN provider, or in the internal network of a service provider.
The second challenge for network administrators when knowing how to detect and diagnose network issues is to precisely identify a number of points used for network troubleshooting. To do so, perform a network assessment to identify:
As I talked about at the start of the article, there are a variety of network issues that can interrupt your network performance. To know how to solve these problems, you need to actually understand what they are. A network performance monitoring software will monitor and measure network metrics and report back if it finds any issues, with details about what the issue is, and what caused it.
Networks are vaste infrastructures, especially modern networks that can span over a variety of different locations. That means that a network issue can be hiding anywhere. It's important to identify where exactly in your network a network performance issue has occurred.
Using Monitoring Agents, Obkio allows you to deploy Agents in key network locations, set up monitoring sessions, and continuously monitor network performance between Agents. That means that, if a network issue occurs, you can easily see which Agent, in what location, has identified it.
As I mentioned earlier, modern networks are vast infrastructures, and many businesses may have several employees working to manage different parts of the network. Once you located a network issue, and what exactly it is, you can then easily decide who is responsible for fixing it.
After you've collected all the information you need to identify the network issue, where it's located, and why it happened, you can then assess what the next steps are in terms of solving the problem. That could be reaching out to your ISP or MSP, or bringing the problem to your network administrator to fix it internally.
The increase in the number and duration of network outages can have a detrimental effect on multiple parts of your business. The longer these problems go unnoticed, the more damage they can potentially cause.
Network issues have particular effects on:
Some consequences for IT services include:
VoIP and choppy video calls
Slow Internet performance or Internet problems
Slowdown of critical applications such as ERP, CRM, finance, and ecommerce systems.
Failing Citrix, RDP or Terminal Server sessions
Low transfer rate
Some consequences for users and clients include:
Lost productivity
Frustration and disengagement
Bad customer experience
Some consequences for your business include:
Lost productivity
Overworked IT infrastructure
Increased operating costs
Damaged reputation
Loss of income
The main task of an IT administrator should not simply be to put out fires, but rather to support the business in its development and day-to-day operations.
To succeed in getting out of the deep end, an IT manager must be able to prevent performance problems by detecting them as soon as they happen. Quick detection and prevention will help prevent catastrophic consequences from taking shape and avoid the time IT managers will have to spend on crisis management.
It's therefore essential to be able to understand the consequences of network issues and to implement solutions to detect them.
Even the best designed networks are not immune to problems.
All IT managers generally agree on one thing. The question is not whether or not there will be network problems, but rather WHEN they will happen and what actions will be taken to fix them as soon as possible.
Once you detect network problems, and diagnose issues by collecting the information we mentioned above, the next step is Network Troubleshooting. We have a complete article on Network Troubleshooting, so make sure read that next to solve the network problems you identified.
When troubleshooting network issues or network slowness, several tools are available in the vault of a network administrator such as:
Obkio is a simple Network Monitoring and Troubleshooting SaaS solution for Enterprises and MSPs that allows users to continuously monitor the health of their network and core business applications to improve the end-user experience!
Deploy physical, software or public Monitoring Agents at strategic locations in your business' network such as data sites, remote sites, external client sites, or public or private clouds and easily identify the causes of intermittent VoIP, video, and applications slowdown in seconds.
As a reminder, you can check out the other articles in our Introduction to Network Monitoring series for a complete overview of everything you need to know about network monitoring:
How to Identify Network Problems & Diagnose Network Issues (this article)