How to Measure Jitter
In Summary
Network jitter is your network's biggest enemy when using unified communications and real-time apps like IP telephony, video conferencing, and virtual desktop infrastructure. Troubleshooting and measuring jitter helps you avoid sounding like a robot on video calls. In this article, we're teaching you how to measure jitter and test jitter on a network using Obkio Network Monitoring.
Network Jitter is one of the core network metrics that you should be measuring when monitoring your network performance.
What is jitter in networks? Jitter is a variation in delay - also known as a disruption that occurs while data packets travel across the network.
It can be caused by network congestion, network interference, route changes, etc.
jitter is usually measured in milliseconds (ms).
Network jitter is measured by calculating the average time difference between each packet sequence. For Example: The difference between 58ms and 1ms: 57 ms.
Obkio's Network Monitoring Solution continuously measures jitter in your network by sending and monitoring data packets through your network every 500ms using Network Monitoring Agents for the most precise jitter measurements.
Start monitoring jitter with Obkio for free!
Once you've set up your Monitoring Agents, they will start measuring metrics like jitter and collecting data, which you can easily analyze on Obkio's Network Response Time Graph.
Identify and measure jitter anywhere in your network with updates every minute. You can also further drill-down to identify where exactly the network jitter is happening, and start troubleshooting network issues.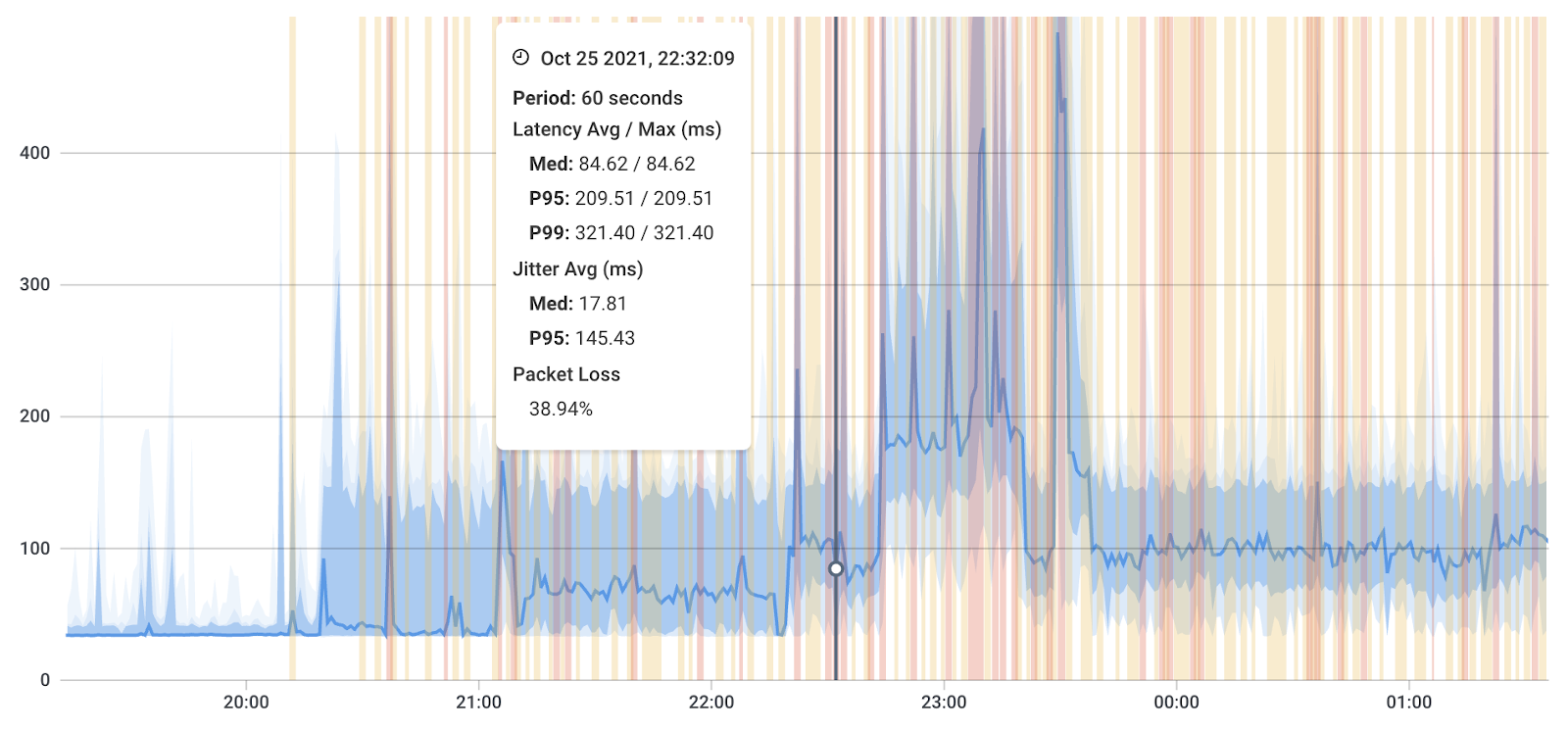 Unlike most monitoring solutions, Obkio automatically aggregates data over time to be able to display graphs over a large period of time.
With aggregation, Obkio shows you the worst jitter measurements in the aggregated graph. For example, the network jitter measurement displayed over an aggregated period of 1h is the worst median jitter of all the small 1-min periods within that hour.
This is important because only showing you the average amount of jitter on your network may hide network issues.
Let's say you look at a 30-day period graph and you display the average amount of jitter every 4 hours. The average may be good, but you may have extremely high levels of jitter during one of those hours - which is a huge issue, especially if you're using real-time applications.
Compared to other monitoring solutions, Obkio shows you the worst jitter measurements in order to highlight network issues, where they're located and what's causing them.
To more accurately measure jitter in your network, and be alerted of when it happens, Obkio sends jitter alerts based on historical data and not just static thresholds.
As soon as there's a deviation in the historical data, and your network is experiencing jitter, Obkio sends you an alert.
Why do we do this? For simplicity.
Network performance is always measured between two points, but depending on where you're monitoring performance, and even which technology (cable, DSL, fiber) you're using, the amount of jitter can vary. This would force you to set up different jitter thresholds for every monitoring session - which is a lot of work.
By measuring jitter based on your baseline network performance, Obkio makes the setup much quicker and easier.
Jitter is a network problem that you can hear - mostly because it makes you sound like a robot or laggy. Regardless, it's still important to continuously measure jitter in your network to determine where it's coming from and what's causing it.
The most accurate way to test jitter is by using a Network Monitoring Software, like Obkio.
Obkio measures network jitter using continuous synthetic traffic from Network Monitoring Agents deployed in your most important network locations like offices, data centers and clouds.
The Agents exchange synthetic traffic to measure network metrics between each other. For example, you can measure network jitter between your head office and the AWS cloud, or even between AWS and your data center.
That's why Obkio offers different types of Monitoring Agents that you can deploy.
Start measuring jitter for free in just 5 minutes with Obkio's Getting Started Tutorial.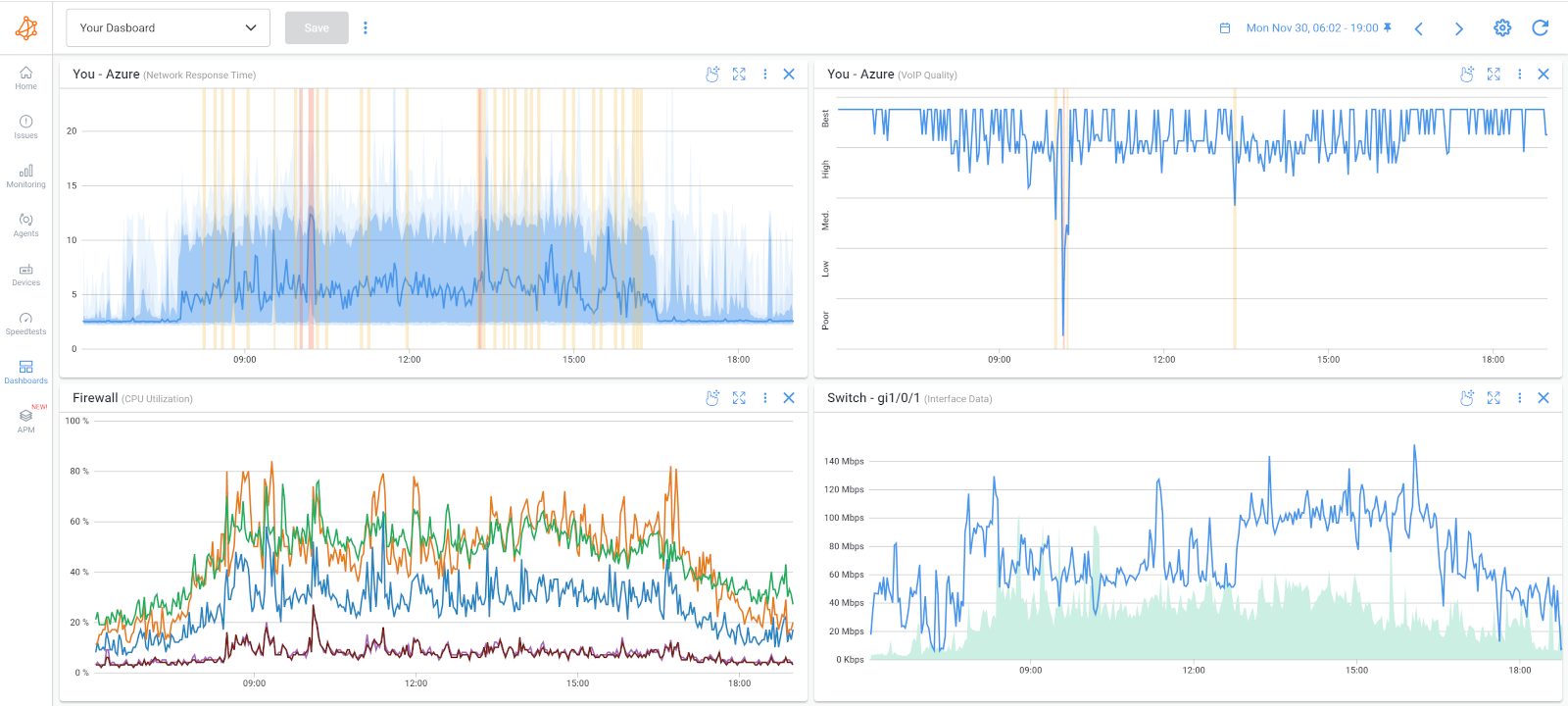 As we said above, jitter is one of the core network metrics which gives you an overview of your network performance and can also have a huge impact on the end user experience.
There are many reasons why you should be measuring jitter. Here's why:
For optimal network performance, it's important to know how to measure jitter on a network to understand if data is traveling across your network successfully. If it isn't, Obkio will help you take steps to troubleshoot, optimize, and improve your performance for your end-users.
Measuring jitter also allows you to proactively identify network problems as soon as they appear. Jitter is a big issue when using real-time apps and can greatly degrade the user experience. Any sign of jitter means your network isn't working properly, and needs to be addressed.
Most importantly, measuring network jitter allows you to compare performance data over time, create a baseline for optimal performance, and see the impact of changes on your network.
Measuring key metrics like Jitter, along with Packet Loss and Latency, provide essential data for determining good or poor network performance.
A great monitoring solution will also allow you to collect the data you need to troubleshoot jitter and optimize network performance.
Leverage troubleshooting tools like Obkio Traceroutes, Obkio Vision Visual Traceroute tool, and Obkio Device Monitoring to identify exactly where, when, and why jitter is plaguing your network, and how to solve it.