How to Measure Packet Loss
In Summary
Any IT pro or Network Admin knows that, when large amounts of Packet Loss start plaguing your network, it's a clear indicator that your network isn't performing as it should be. In this article, we're teaching you how to identify and measure packet loss in your network using Obkio Network Monitoring.
Network Packet loss is one of the core network metrics that you should be measuring when monitoring your network performance.
Packet loss refers to the number of data packets that were successfully sent out from one point in a network, but were dropped during data transmission and never reached their destination.
Packet loss is generally measured sending a large number of pings to a destination and looking for failed responses.
For example, if you ping something 50 times and get only 49 responses, you can estimate packet loss is about 2% at the moment.
That's why a tool, like Obkio Network Performance Monitoring software, continuously measures packet loss by sending packets every 500ms.
When learning how to monitor packet loss on networks, this frequency is essential for network packet loss monitoring because network packet loss is based on a percentage, and in order for that percentage to be accurate, you need to monitor continuous volume.
A network monitoring tool, like Obkio, can continuously measure packet loss at the required frequency to ensure it catches even the earliest sign of packets being dropped.
Get started with Obkio's Free Trial!
Obkio measures packet loss using continuous synthetic traffic from Network Monitoring Agents deployed in key network locations like offices, data centers and clouds.
The Agents exchange synthetic traffic to measure network metrics, like packet loss, between each other.
For example, you can measure packet loss between your head office and the Google Cloud, or even between Google Cloud and your data center.
That's why Obkio offers different types of Monitoring Agents that you can deploy.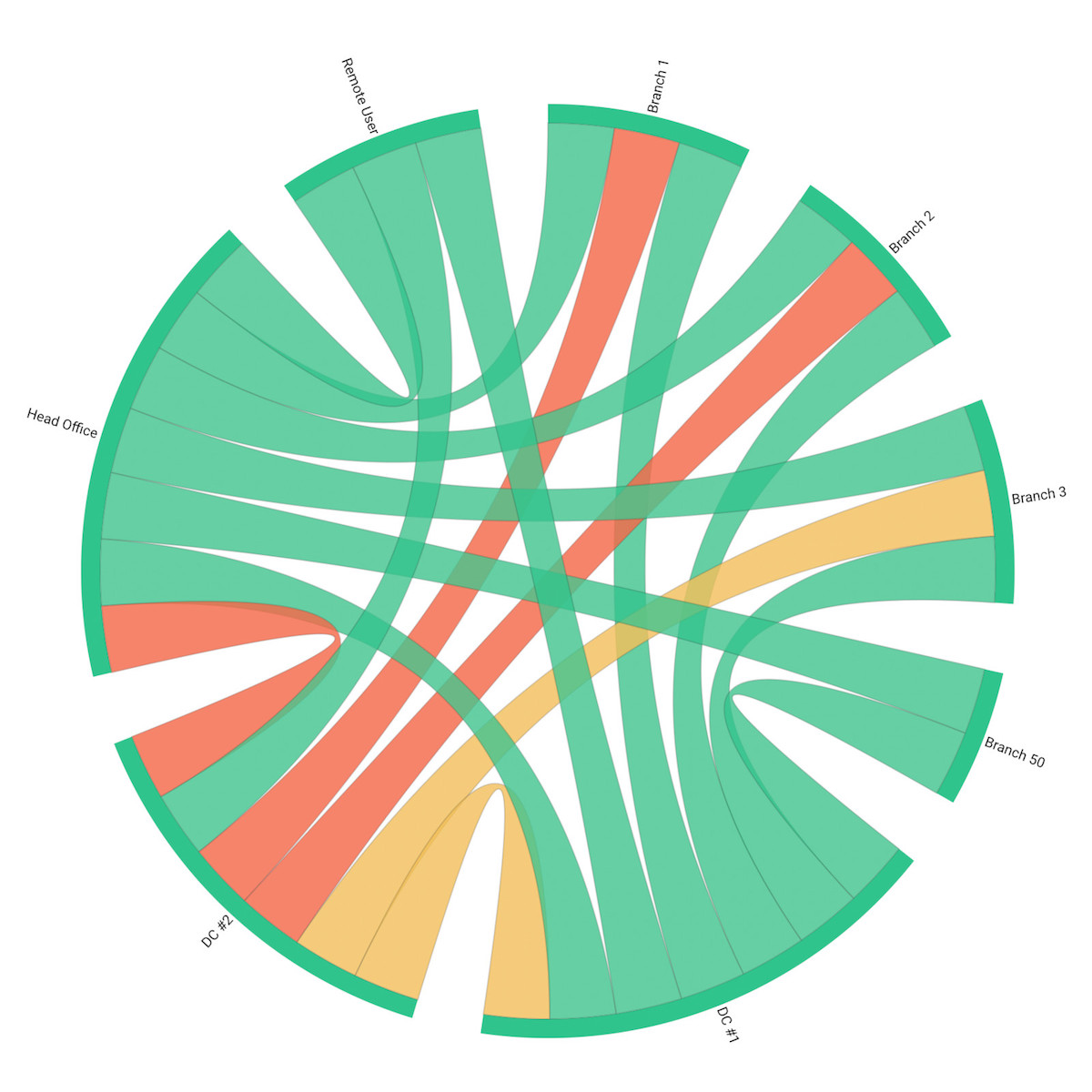 Knowing how to check packet loss in your network in the first step in troubleshooting packet loss issues.
When you're trying to check for packet loss in your network, if you record 1% packet loss measure over 10 minutes, it can suggest that you have 1% during the whole 10 minutes. But it can also mean that you actually have 10% packet loss over 1 min and then 0% over the remaining 9 minutes. This is the reason why Obkio measures packet loss for every minute.
By continuously measuring packet loss with Obkio, you can always be sure that you're receiving up-to-date measurements by the minute.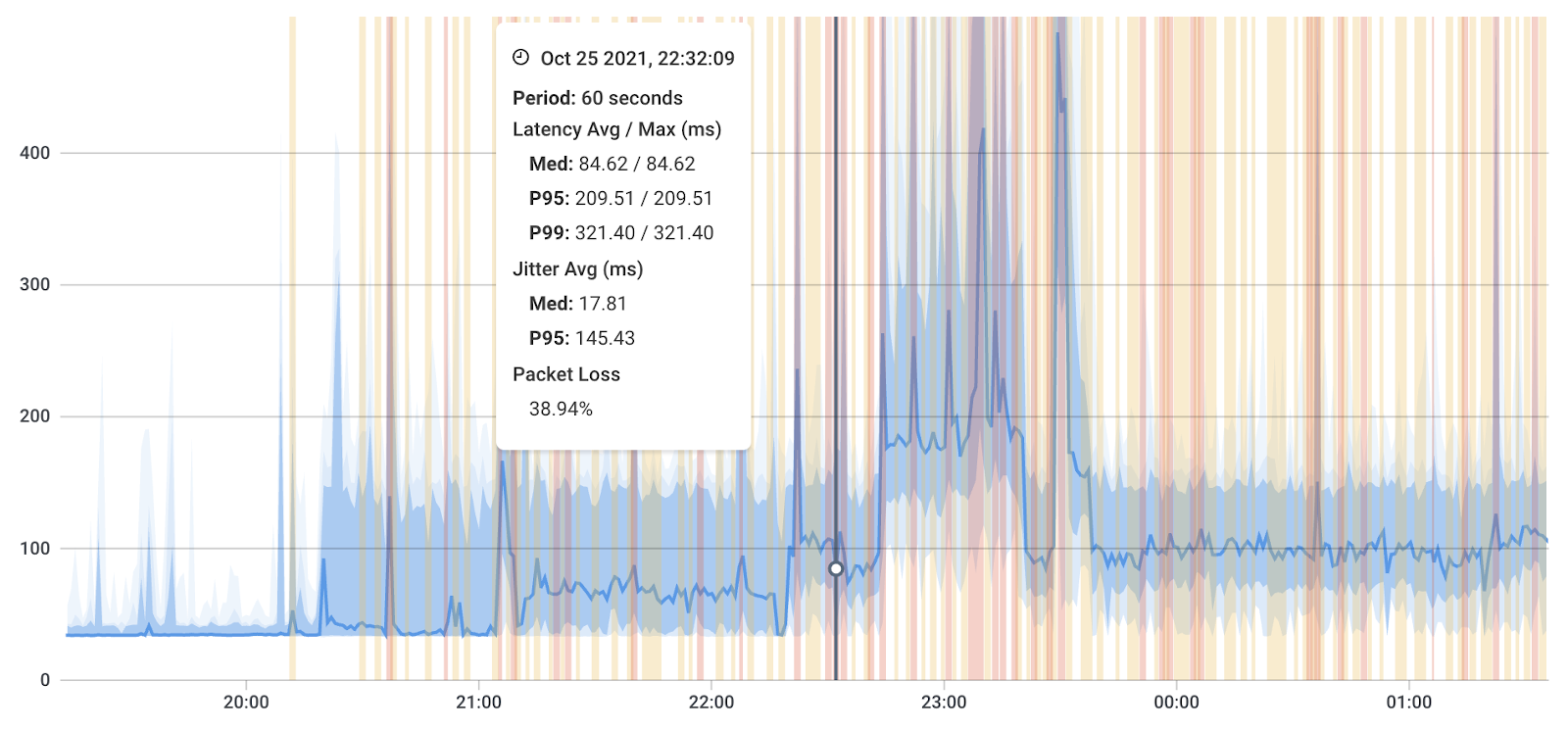 Looking at the results from the packet loss graph above, you can see that there is almost 39% network packet loss between 22:31 and 22:32.
Once you've set up your Monitoring Agents and they've started collecting data, you can easily identify any keep measuring packet loss happening in your network on Obkio's Network Response Time Graph.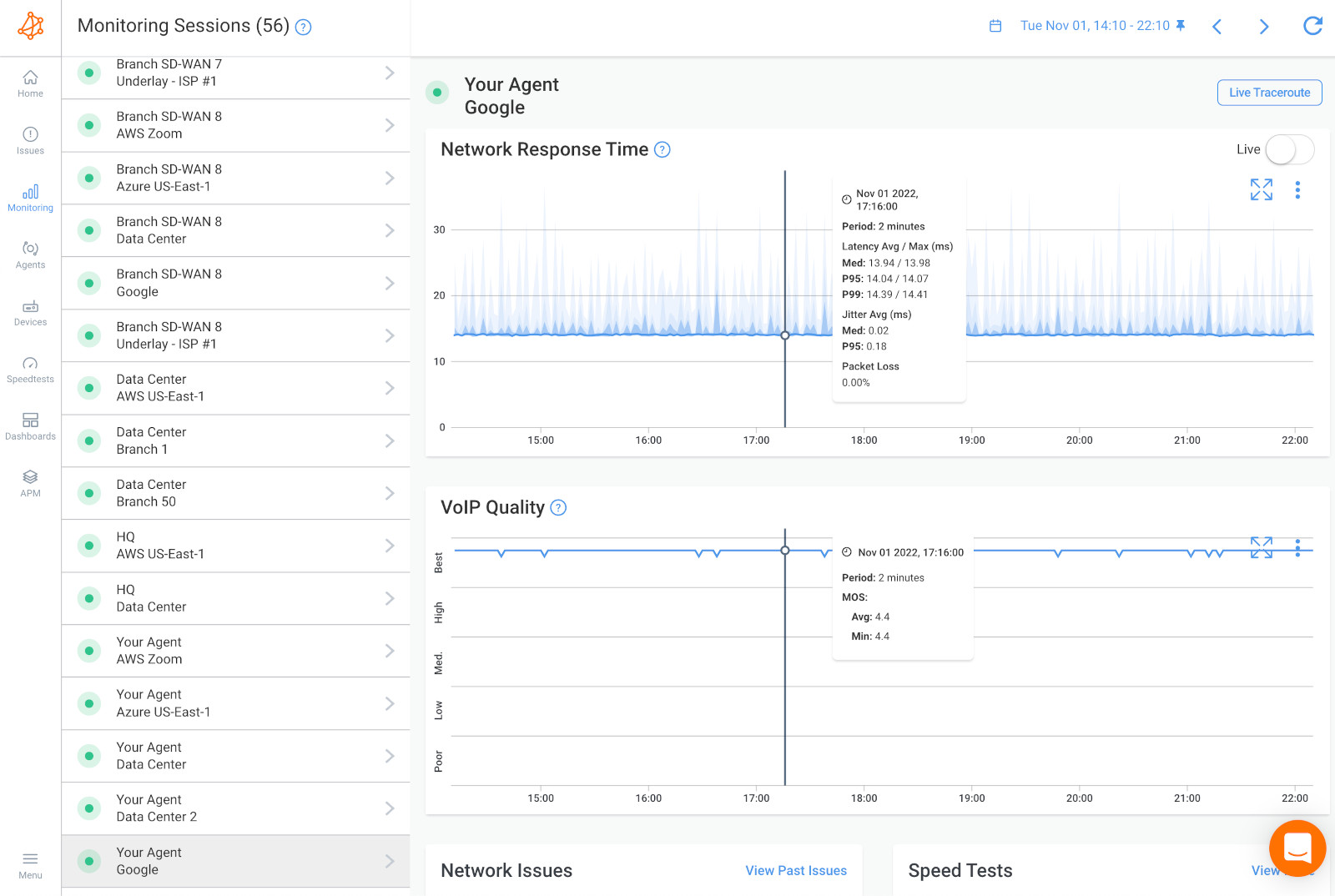 With continuous network packet loss monitoring, easily see the percentage of packet loss anywhere in your network with updates every 500ms. You can then further drilldown to identify where exactly the packet loss is happening.
Contrary to other monitoring solutions, Obkio automatically aggregates data over time to be able to display graphs over a large period of time.
This means that, if there is aggregation, Obkio shows the worst network packet loss measurements in the aggregated graph. For example, the packet loss displayed over an aggregated period of 1h is the worst packet loss of all the small 1-min periods in the hour.
This is important because, most times, displaying average packet loss percentages is misleading, and can mask network issues. If you're measuring packet loss averages every 4 hours, the average may be good, but you can have 80% during one of those hours - which signals a big problem.
Obkio shows you the worst packet loss percentages you've experienced because we want to show you that there is a problem, and where it's located.
So when looking at graphs over a long period of time, keep in mind that the packet loss is not sustained over all the datapoints. To have the exact value, just zoom in using the mouse by dragging over the period
To more proactively identify packet loss in your network, and receive alerts when any packet loss begins, Obkio sends packet loss alerts based on historical data and not just static thresholds.
As soon as there's a deviation in the historical data, and your network is experiencing poor packet loss measurements, Obkio sends you an alert.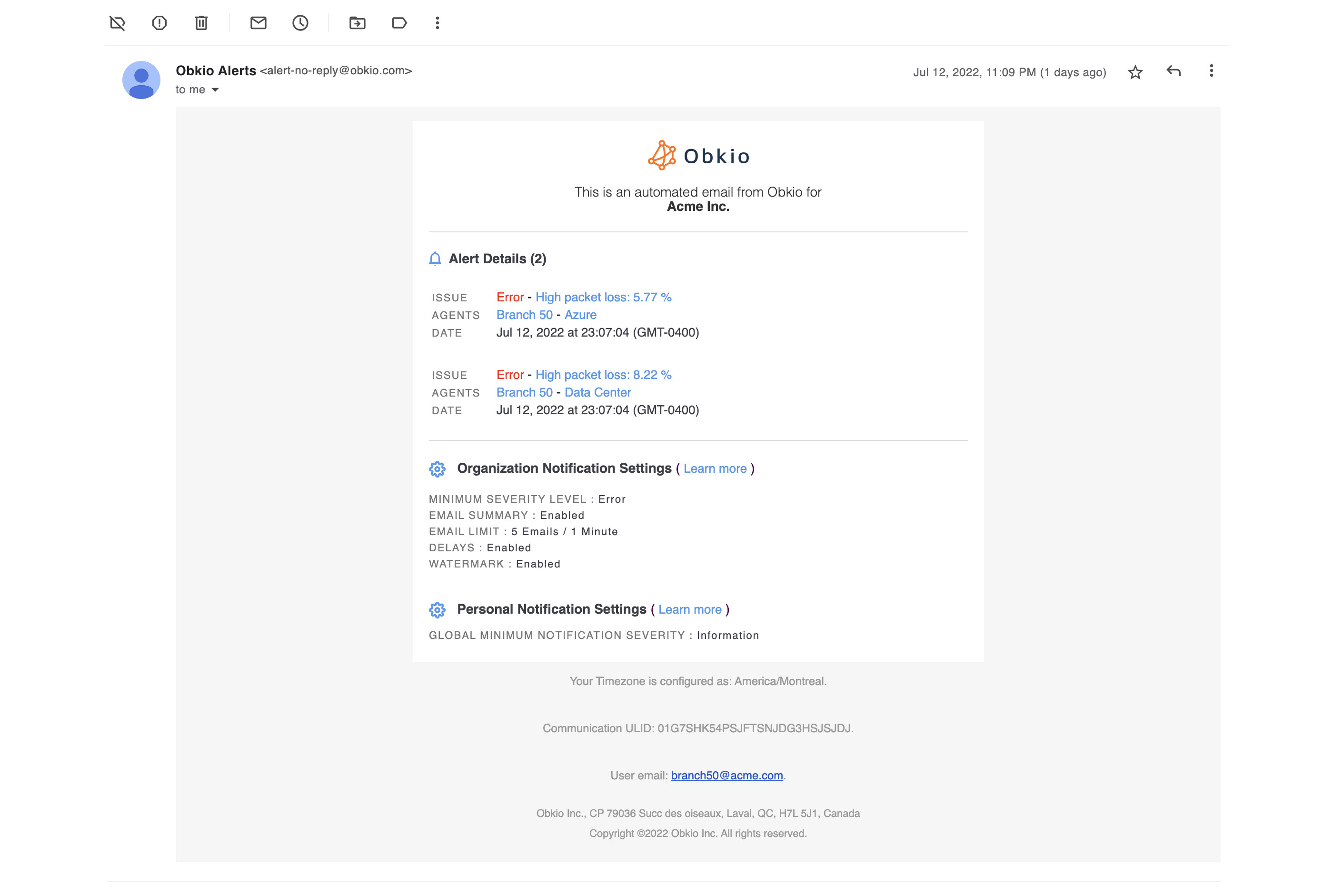 As we said above, Packet loss is one of the core network metrics that can give you an idea of how your network is performing, and can also have a huge impact on the end user experience.
There are many reasons why you should be measuring packet loss, and can help you:
For optimal network performance, it's important to measure packet loss to know how many packets are being dropped across your network and take steps to ensure that data can be transmitted as it should be.
Measuring packet loss also allows you to proactively identify network problems as soon as they appear. Oftentimes, more than 3% packet loss measurement may suggest that your network is performing below optimal levels, but even just 1% packet loss might be enough to affect VoIP Quality and the user experience.
Most importantly, measuring packet loss allows you to compare performance data over time, create a baseline for optimal performance, and see the impact of changes on your network.
Measuring key metrics like network packet loss, along with Jitter and Latency, provide essential data for determining good or poor network performance.
A great monitoring solution will also allow you to collect the data you need for troubleshooting packet loss. Even 1% of ongoing packet loss can be the sign of a larger issue.
To troubleshoot packet loss, leverage troubleshooting tools like:
Obkio Device Monitoring to identify exactly where, when, and why the network packet loss is happening, and how to solve it.
Started measuring packet loss with Obkio's Free Trial!