Firewall Monitoring Tool
Don't let an overloaded firewall choke your network performance
"Deploying Obkio allowed me to quickly pinpoint a vastly underestimated problem on my firewall that was actually affecting the network performance of all my remote users."
Your firewall affects your network
Your firewall is your business' security guard. All Internet traffic goes through your firewall before it can reach your network to make sure there's no potential security threat. That means that your firewall is extremely critical to your business.
So if your firewall is overloaded, you need to detect it before it affects your entire network. That's where we come in.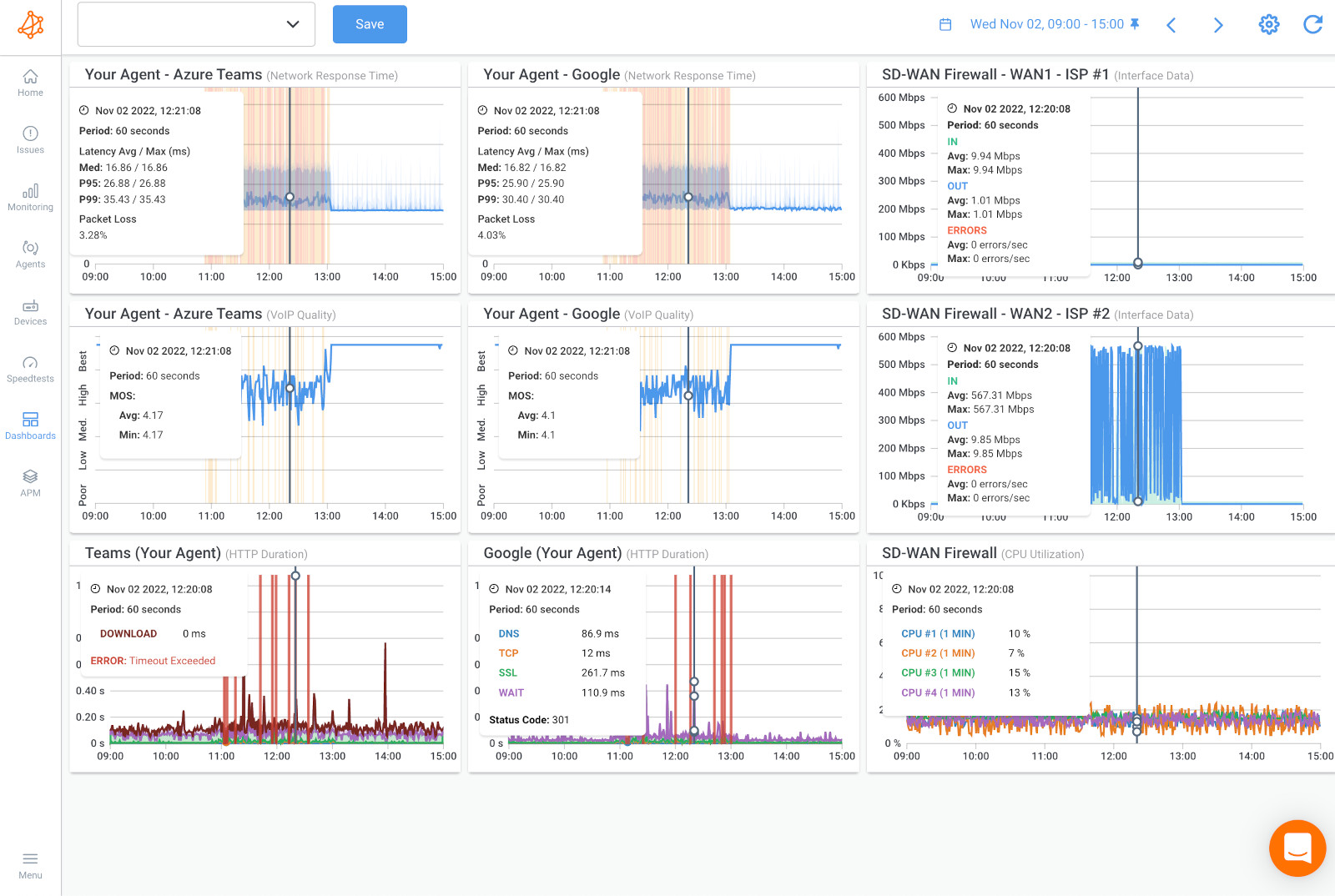 Obkio takes firewalls seriously
And so should you
Is your Firewall strong enough to sustain your network?
Firewalls are complex, and adding security features is vital to your business, but can consume resources and equipment.
Manufacturers are pros at selling you Firewall specifications, but it's difficult to know which firewall sizing model you actually need.
Undetected traffic or CPU bursts in your firewall can create intermittent network issues and are often signs of upcoming problems that can worsen over time if undetected.
There are 5 things that affect Firewall Performance:
The volume of traffic
The type of traffic
The amount of users on your firewall
The amount of connections on your VPN
The quantity of security features in your firewall*
Frequently Asked Questions
What can affect firewall performance?
Your firewall's performance can be affected by the volume of traffic, the type of traffic, the amount of users on your firewall, the amount of connections on your VPN, the quantity of security features in your firewall.
How does Obkio monitor your firewall?
As long as your firewall supports SNMP Polling, Obkio's network device monitoring feature will communicate with your firewall or SNMP-enabled device to provide you with key firewall performance metrics.
Does Obkio monitor CPU usage?
Yes! Obkio's measures usage of each CPU's core and other device interface metrics that provide you with a precise view of network and firewall performance.
Does Obkio just monitor firewall performance?
No - we do so much more! Obkio is a Network Monitoring software that gives you a global view of your whole network and not just your firewall - giving network admins the data they need to see the whole picture clearly.
Audit your network for free!
Get a free POC with Obkio's 14-day trial. Identify network problems & collect data to troubleshoot.
Start Now
Book a Demo