Table of Contents
Table of Contents
From a 15-minute installation to a resolution in just 48-hours, Obkio's Network Performance Monitoring Software helps Station 22 find and solve a serious intermittent network problem on their firewall.
For over 30 years, Station 22 has been offering a wide range of products to grocery stores, convenience stores, and liquor stores. From imported wines from various countries, table wines and ready-to-drink beverages, all the products they sell always come with a promise of value for wine consumers around the globe.
Station 22 began experiencing important VPN application slowness that started to take a toll on some of their remote capabilities. From choppy VoIP calls, to VPN connection difficulties for some of their remote employees, these problems were becoming a headache for their team. After searching for a solution that could help, Station 22 turned to Obkio Network Performance Monitoring software to find and fix their intermittent network problems.
Best part is, they did it using Obkio's free trial and discovered the source of their problems just 48 hours after installing Obkio! Keep reading to find out more about Station 22's network problems, and how Obkio helped.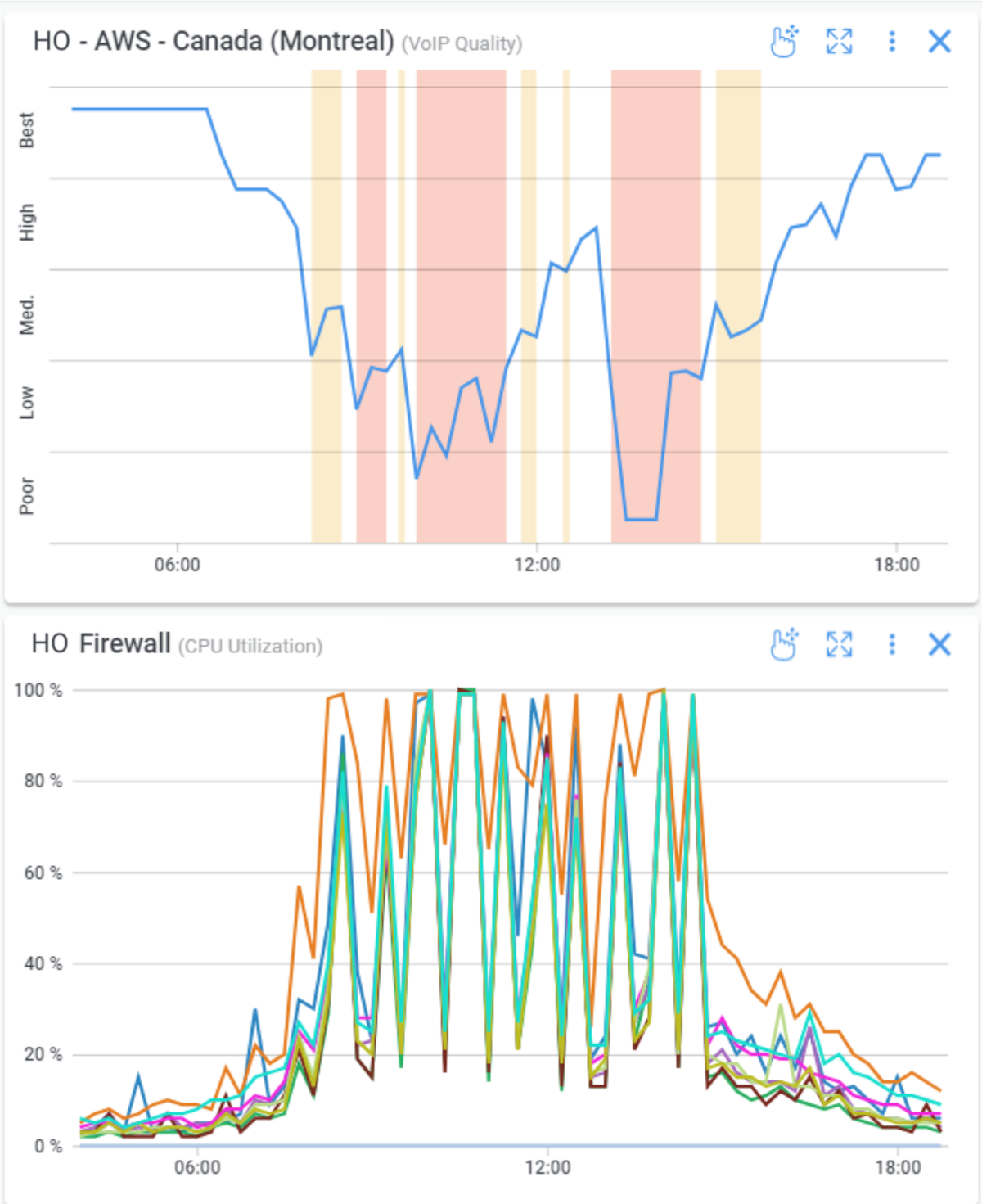 "Deploying Obkio allowed me to quickly pinpoint a vastly underestimated problem on my firewall that was actually affecting the network performance of all my remote users."
Infrastructure IT Manager, Station 22
How to Troubleshoot Networks with Employees Working from Home
Learn how to use Obkio Network Monitoring to help IT Teams troubleshoot and solve a variety of network problems affecting users working from home.
Learn more
Station 22 began experiencing important VPN network application slowness and instability for their Microsoft Teams and GoToMeeting application. Dominic, Station 22's Infrastructure IT Manager, explained that he was experiencing major issues with Microsoft Teams during important calls, and severe VoIP choppiness.
In addition, he also began receiving several incoming calls from remote users about VPN slowness and disconnection. This was a mystery, since all of their network monitoring tools were in the green and the CPU metrics graph in the firewall user interface was indicating only 40% usage.
Since they kept experiencing these issues, it was clear that something wasn't adding up.
For Station 22 specifically, the network issues were causing:
VPN slowness and disconnection
Poor video quality during Microsoft Teams and GoToMeeting video conferencing
Network slowness and instability can lead to slow loading times, unstable or unreliable connection for VoIP calls and other communications tools, long loading and download times, and more. This greatly affects a company's ability to communicate and perform even the most basic tasks.
How to Monitor & Fix Microsoft Teams Issues
Learn how to monitor Microsoft Teams performance & connection issues like Microsoft Teams "We're sorry - we've run into an issue" & "something went wrong."
Learn more
Realizing that the tools they had available were not able to solve their problems, or even identify that there was one, Station 22 began looking for alternative solutions.
They were looking for a solution capable of identifying intermittent network issues, with the capacity to detect small bursts in CPU usage and measure network bandwidth.
"After some research on Reddit I discovered that this discipline is Called Network Performance Monitoring," says Dominic D, Infrastructure IT Manager. "I did some research around NPM solutions and found Obkio. Obkio had good reviews and was proposing a Free 14-Day Trial so I decided to subscribe."
For companies experiencing network problems that affect their everyday lives in drastic ways, finding a solution quickly is necessary. With Obkio's free 14-day trial, and fast installation process, you can get to identifying problems in minutes.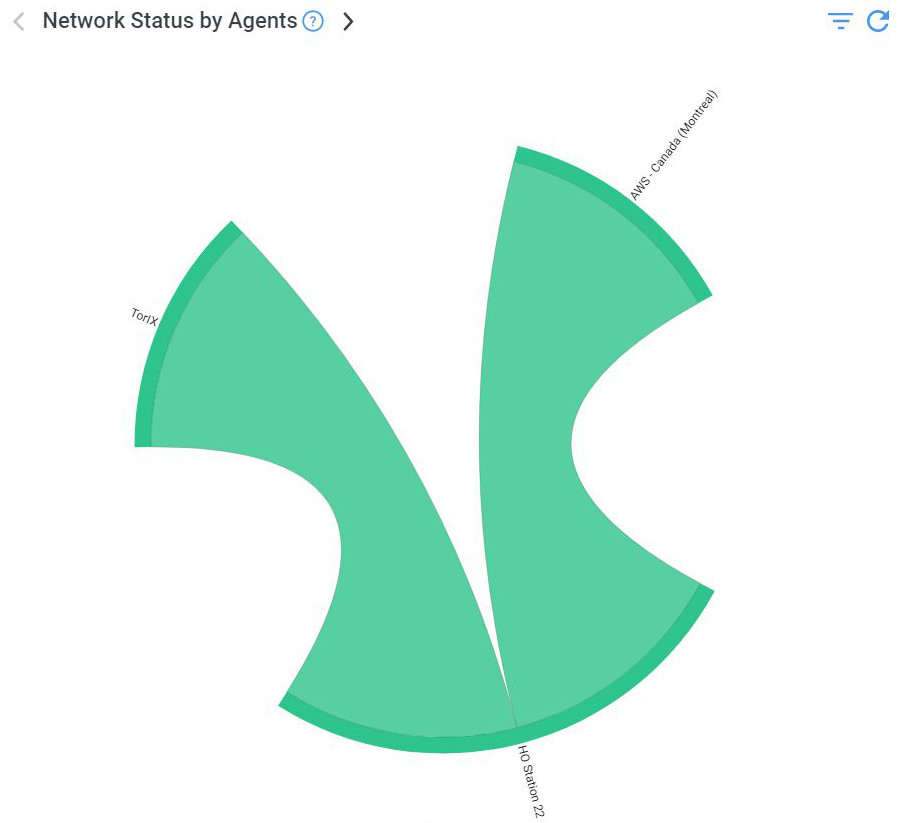 Software Agents: After signing up, Station 22 installed a Software Monitoring Agent on a VM in their network infrastructure to start monitoring network performance from one end of their network.

Public Monitoring Agents: They then deployed two Public Monitoring Agents in Amazon Web Services (AWS) and Microsoft Azure and configured monitoring sessions with each other. This would allow the Public Monitoring Agents and on-premise Software Agent to send traffic between each other and continuously monitor performance between them using a synthetic monitoring approach. We have a full article about Monitoring Microsoft Network connectivity with our Public Monitoring Agents.

Device Monitoring: Finally, they also added their Headquarters' Firewall as a Device with SNMP monitoring to monitor its resources usage.
In just 15 minutes, they were done with the installation process and began collecting some critical data that would lead them to the answers they were looking for.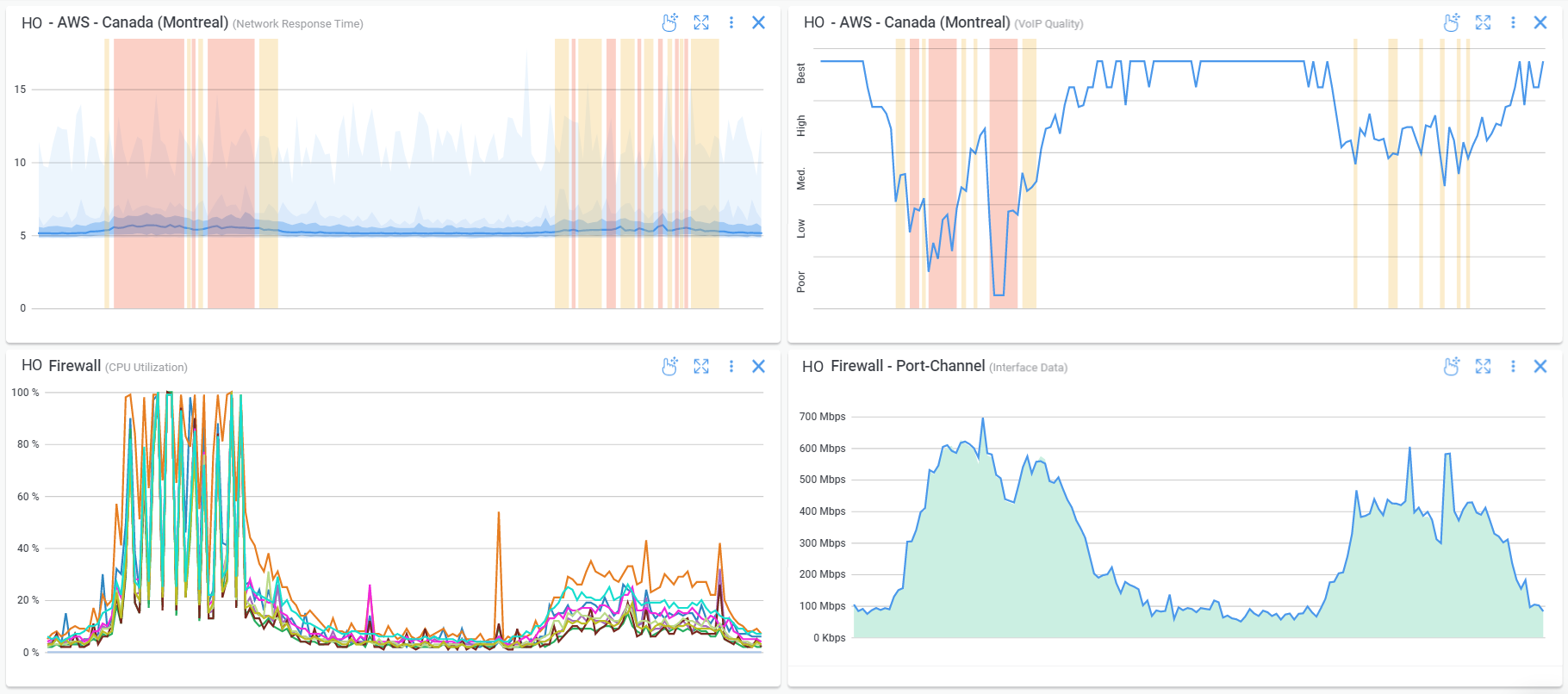 Just 48 hours after installing Obkio, Station 22 could see that something was not working properly in their network. Right after beginning to collect data, they found information that they had never seen before with their current monitoring tools.
The charts indicated that the latency was constant but the packet loss kept increasing. Specifically, there was a lot of packet loss occurring over the Internet as the bandwidth usage increased during the day, likely due to increased activity from users. The exact percentage of loss is visible in the Obkio app with the graph tooltip.
Then they moved onto the second graph for MOS. The MOS (Mean Opinion Score) chart also reported thresholds well above what is normally acceptable.
Finally, by installing Obkio's Network Device Monitoring feature on the firewall with SNMP polling at 30 second intervals, they could then also see the Max CPU Usage of each core individually. Polling at 30 second intervals provides 10 times more detailed metrics than the 5-minute industry standard polling frequency.
This allowed them to discover that the CPU usage was well above the 40% threshold shown on their Firewall's GUI. This 40% threshold was given to them by their previous monitoring system which polled at 5 minute intervals. This longer interval left more time during which they were not monitoring, and provided less accurate results.
In summary, the problems that Station 22 discovered were:
Substantial Packet Loss
Degrading VoIP Quality
CPU usage above the 40% threshold
While doing some research, Station 22's team discovered that the type of problem they were facing was known and could be fixed with a firmware update of the firewall.
They immediately performed emergency maintenance and the problem was resolved in no time. Deploying Obkio allowed Station 22 to quickly pinpoint a vastly underestimated problem on their firewall that was actually affecting the network performance of all their remote users. Had the problem gone undetected, it could have potentially caused long-lasting damage to their business. Just by using Obkio's Network Performance Monitoring software free trial, Station 22 was able to install Obkio and resolve their network problem in just 48 hours!
Since being able to solve their intermittent problem just using Obkio's trial, Station 22 was so impressed by the features and benefits they received in such a short amount of time that they have signed on as a full-time user of Obkio's Network Performance Monitoring solution.
With Obkio's solution now a part of Station 22's tools, their team can proactively monitor network performance at all times, and understand how to identify network issues way before their users experience them. They have full visibility over their whole network infrastructure and can continue to optimize their network performance with the data they collect.
Don't get bogged down by intermittent network slowness, application lagginess, and choppy video calls. Sign up for a free 14-day trial of Obkio's Network Performance Monitoring solution to quickly find and fix network problems before they cause havoc on your business.
With quick installation and an easy-to-use platform, you're guaranteed a high ROE (Return on Effort) and the promise of identifying network problems on your first day!