How to Measure Latency
In Summary
When monitoring network performance and health, latency measurements help you understand how quickly, or slowly, data is traveling across the network. This is why network latency monitoring is important to your overall network performance. In this article, we're teaching you how to measure network latency using Obkio Network Monitoring.
Network Latency is one of the core network metrics that you should be measuring when monitoring your network performance.
Latency measurements refer to the round-trip measure of time it takes for data to reach its destination across a network, so it's a metric that really helps you understand your network health.
Latency is strongly linked to network connection speed and network bandwidth.
You generally measure latency in milliseconds (ms).
Essentially, A lower number of milliseconds means that the latency is low, your network is performing more efficiently and therefore, your user experience is better.
Latency issues will lead to slower response time in your network - but how can you know the extent of the problem?
The most accurate way to measure latency is by using a Network Monitoring Software, like Obkio.
That's why a tool, like Obkio Network Performance Monitoring software, continuously measures latency by sending packets every 500ms to catch latency issues affecting VoIP, UC applications and more.
Get started with Obkio's Free Trial!
Consistent delays or odd spikes in time when measuring latency are signs of major performance issues in your network that need to be addressed.
Obkio's Network Monitoring Solution will measure latency in your network by sending and monitoring data packets through your network every 500ms using Network Monitoring Agents.
The Agents continuously measure the amount of time it takes for data to travel across your network.
For example, you can measure network latency between your head office and the Microsoft Azure cloud, or even between Azure and your data center.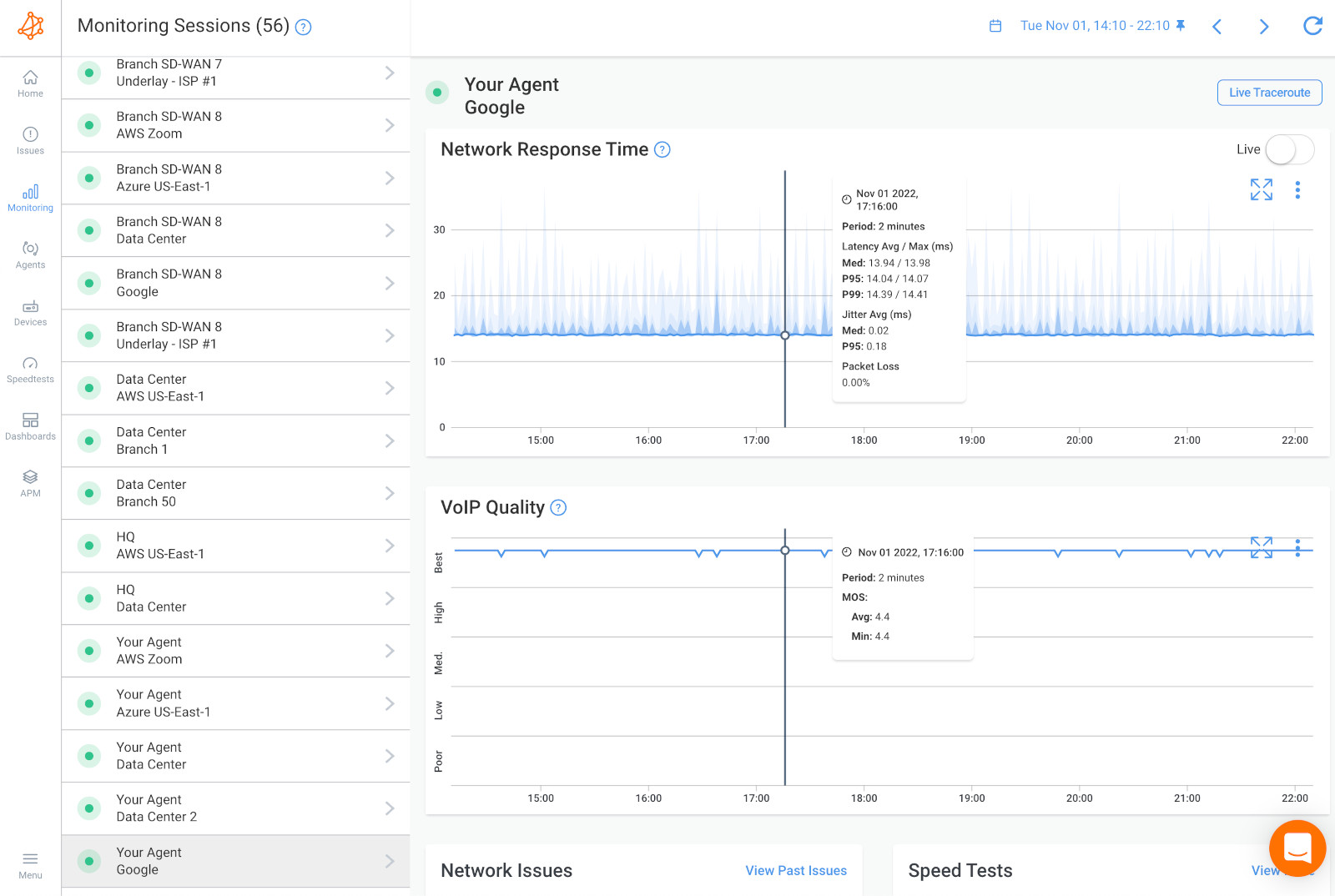 Once you've set up your Monitoring Agents for network latency monitoring, they continuously measure metrics like latency measure and collecting data, which you can easily view and analyze on Obkio's Network Response Time Graph.
Measure latency throughout your network with updates every minute. You can also further drill-down to identify exactly why latency issues are happening, where they're happening, and how many network locations they're affecting.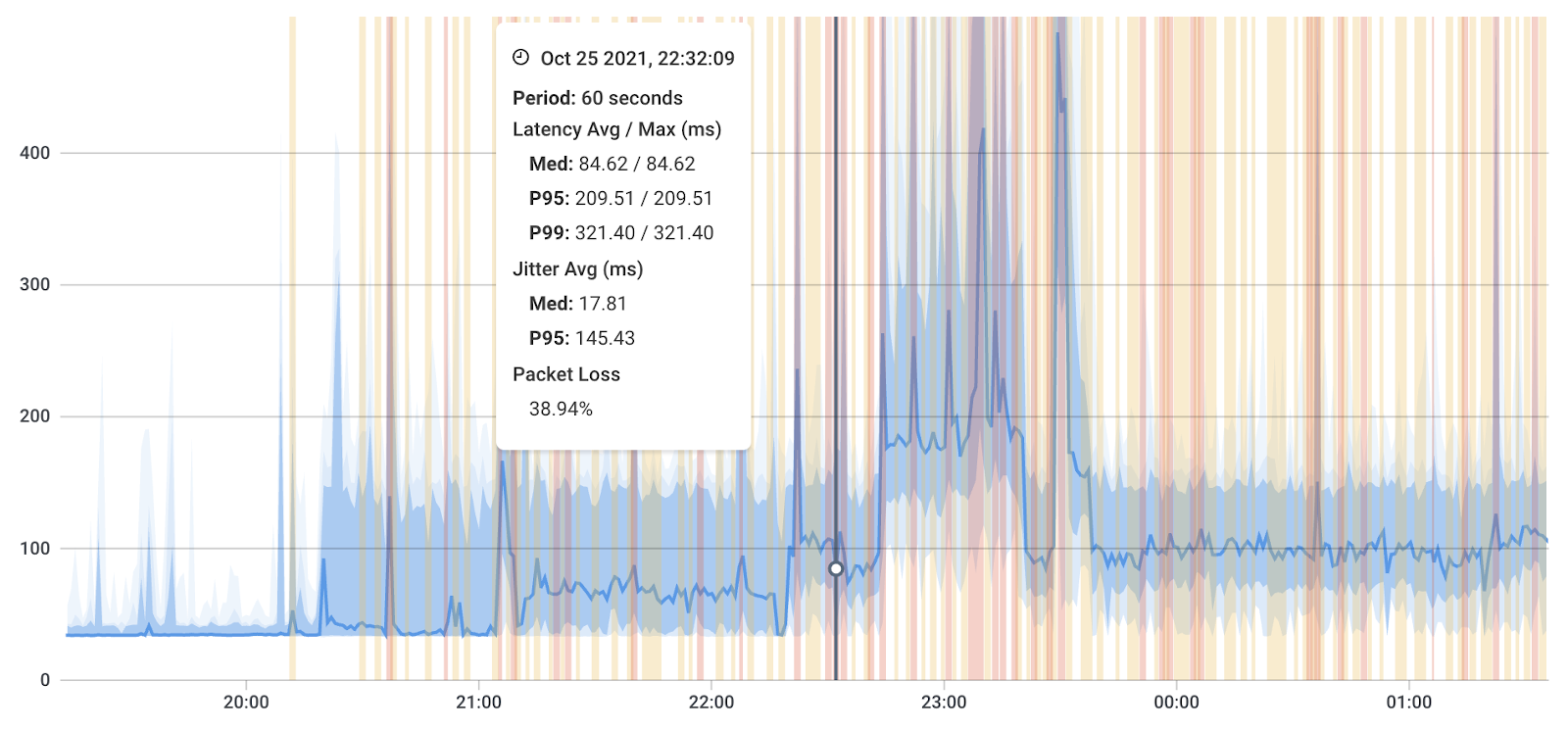 Most latency monitoring tools show you average performance measurements, but Obkio does things differently.
Obkio automatically aggregates data over time to be able to display graphs over a large period of time.
With aggregation, Obkio shows you the worst latency values in the aggregated graph. Let's say you look at a 30-day period graph and you display the average latency measure every 4 hours. The average may be good, but you may have extremely poor latency during one of those hours, which still points to a performance problem.
Compared to other latency monitoring tools, Obkio shows you the worst latency measurements in order to highlight network issues, where they're located and what's causing them.
To more accurately measure latency in your network, and receive alerts when latency measurements are poor, Obkio sends latency alerts based on historical data and not just static thresholds.
As soon as there's a deviation in the historical data, and your network is experiencing poor latency measurements, Obkio sends you an alert.
It's as simple as that.
Network performance is always measured between two points, but depending on where you're monitoring performance, and even which technology (cable, DSL, fiber) you're using, your latency values may vary. Because of this, you'd need to set up different latency measure thresholds for every monitoring session - which can be a long process.
By measuring latency based on your baseline network performance, Obkio makes the setup much quicker and easier.
As we said above, latency is one of the core network metrics which gives you an overview of your network health and can impact the end user experience.
There are many reasons why you should be measuring latency. Here's why:
Measuring latency in your network to help you understand if data is traveling across your network as quickly and efficiently as it should be. Obkio continuously updates you on latency values to help you understand and troubleshoot problems affecting data transmission in your network.
Measuring latency also allows you to proactively identify network problems as soon as they happen. As we said above, measuring latency helps you understand data traveling in your network, and consistent delays or odd spikes in delay time are signs of a major performance issue.
Finally, measuring network latency allows you to compare network performance data over time, create a baseline for optimal performance, and see the impact of changes on your network.
Measuring key metrics like Latency, along with Packet Loss and Jitter, provide essential data for determining good or bad network performance.
For end-to-end network latency monitoring, a great monitoring software will also allow you to collect the data you need to troubleshoot network latency issues and improve your network performance.
To troubleshoot network latency, leverage troubleshooting tools like:
Obkio Device Monitoring to identify exactly where, when, and why the network latency is happening, and how to solve it.