Table of Contents
Traceroutes have been the most popular tool to troubleshoot network problems. Obkio Vision Visual Traceroute tool is a modern and simplified version of traceroutes that interprets real data for you and identifies Internet and WAN problems more effectively. Here's how to troubleshoot networks using Obkio Vision.
Obkio Vision is Obkio's free Visual Traceroute tool that runs continuously to interpret Traceroute results for you and help troubleshoot network problems (in your WAN and over the Internet) faster and easier than ever.
You can learn more about Obkio Vision's features in our blog post.
You can also download and use Obkio Vision for free.
Obkio Vision Release: Free Visual Traceroute Tool
Learn about Obkio Vision, the new free visual traceroute tool with IP route history to quickly identify and troubleshoot network problems faster than ever.
Learn more
Network troubleshooting can be complex for large, modern networks, especially when troubleshooting intermittent network problems. But we'll show you how easy it can be to troubleshoot using Traceroutes.
Of course, to be able to troubleshoot using this advanced Visual Traceroute tool, you'll need to deploy it. Luckily, we've made it easy for you!
Download and use Obkio Vision for free network troubleshooting for Windows, macOS and Linux.
You can also use Obkio Vision as a complementary feature with Obkio's complete Network Monitoring & Troubleshooting SaaS solution.
That brings us to:
Before you can troubleshoot your network with traceroutes, you need to identify network problems causing havoc. The best way to do that is by looking at key network metrics (like jitter, packet loss, and latency.)
To begin measuring network metrics and end-to-end network performance, start Obkio's Free Trial
Follow the steps to set up Monitoring Agents in key network locations, and they'll start continuously monitoring your network and measuring network metrics.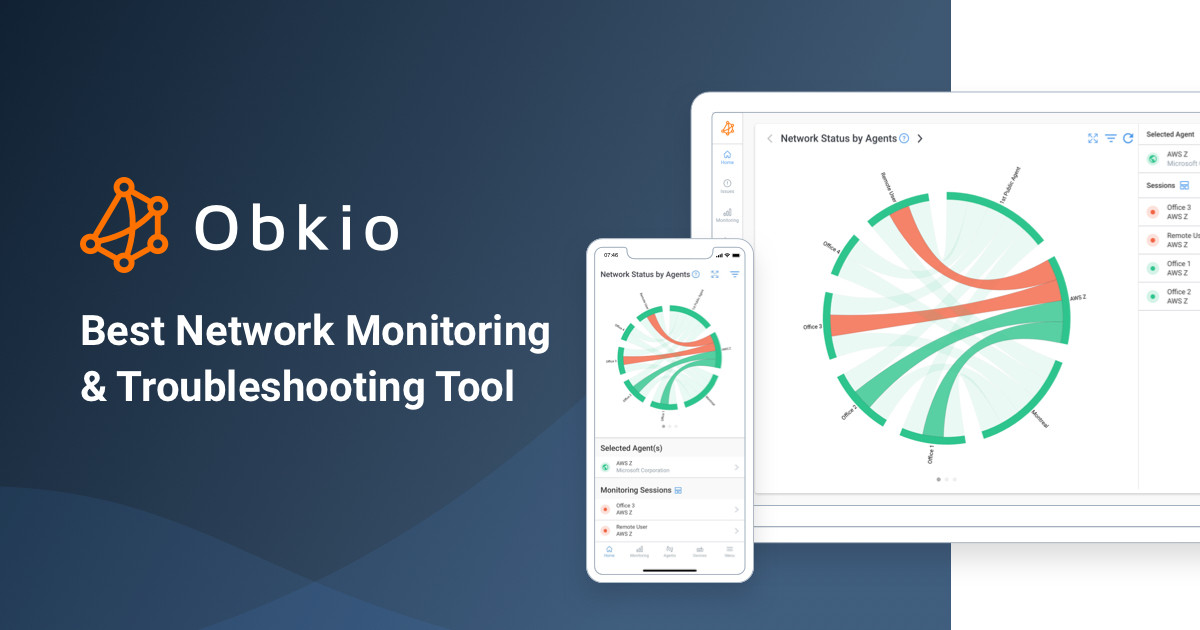 Deploy Obkio Network Monitoring
Deploy Obkio to continuously monitor network performance, identify and troubleshoot network problems in minutes.
Start for Free
Once Obkio Network Monitoring is deployed, you can view all your network metrics on Obkio's Network Response Time Graph.
Analyze the metric measurements during a specific timeframe in your network to identify when a network problem began.
The moment when your network performance has begun deviating from your baseline performance is a great starting point for identifying a problem.
Maybe you can see a clear pattern of packet loss during a specific period of time, or maybe you see intermittent jitter at seemingly random intervals. Either way, this is the time frame you should look into.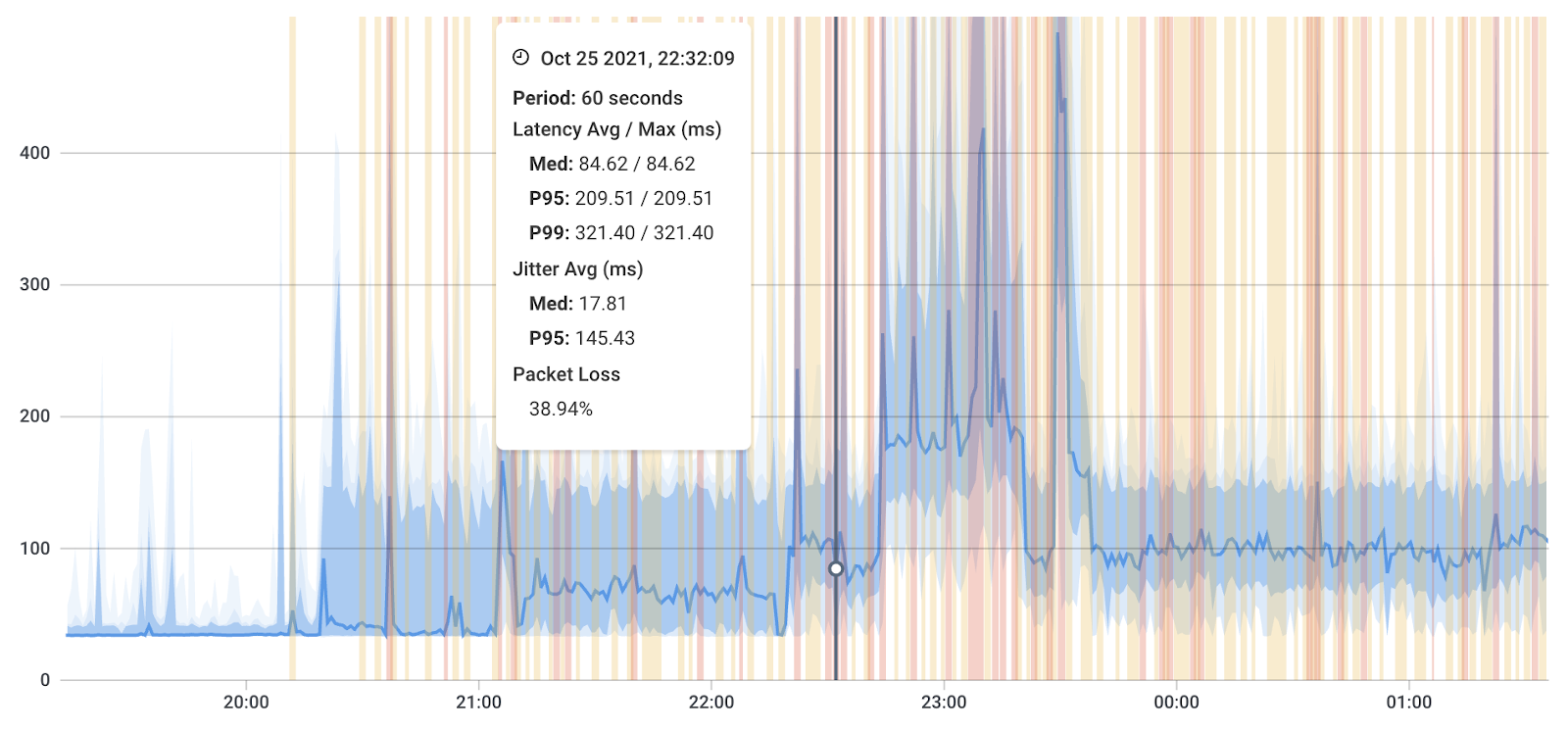 Once you've identified a time frame where your network performance has changed, you'll want to analyze that same time frame in Obkio Vision Visual Traceroute tool.
We recommend analyzing your network performance before, during and after the chosen time frame you're focused on.
First, draw the Network Map for the 3 time periods.
Then look at the Traceroutes for the 3 time periods.
This will give you a more visual picture of whether something has actually changed in your network.

Next, you'll want to analyze the Network Maps and Traceroutes to focus on finding out where the network issue was introduced.
Like we mention in the following step, analyze the data before, during and after the time frame you're focused on to isolate the issue.
You then need to isolate the issue and focus on which piece of the network the issue is located on. Here are some examples you may encounter:
LAN: Within your network

Between the LAN and Your ISP's Network: Between your Firewall and your ISP Edge network

Your ISP Network: Within their network

Between Your ISP Network and other Networks along the way to reach the destination

Transit Network: One of the many ISP networks you go through to reach your destination

Between the Transit Network and the Destination Network

The Actual Network of your destination

This screenshot shows a Traceroute identifying WAN issues within the ISP network.
When you're analyzing your data to troubleshoot with traceroutes, here are some things to consider:
ASN identifies where the hop has reached (in whose network). Googling the ASN ID will provide you with the name of the company (who's network it is).

Route Changes indicate if the path used to reach the destination in the network has changed during a certain moment. There can be multiple route changes happening within a few seconds.

Switching from Private to Public IPs will tell you when you move out of your LAN to the WAN and enter into your ISP network.
At this point, you'll either have identified your network issue, or you may need to dive deeper. If you're ready to start troubleshooting, go to Step 7.
Maybe you haven't been able to locate where exactly the network issue is coming from, or maybe you've isolated the problem to a specific network segment but you don't know exactly what's going on.
At this point, you need to add data to continue troubleshooting!
Add additional network destinations in Obkio Vision.

Add or move Obkio Network Monitoring Agents to different segments of your network.

Add Network Device Monitoring to Network equipment that was not pulled via SNMP Monitoring.

Modify your dashboards to include all the data you've collected and ease data correlation
SNMP Monitoring: What is SNMP & How to Use It
Learn about what SNMP monitoring is & how to use it to monitor performance of networking devices like firewalls, routers, switches and wifi access points.
Learn more
If you've been able to locate your network issue - that's fantastic! Here's how to troubleshoot with traceroutes based on where the network problem is located.
Since LAN issues are located in your own network, you can begin troubleshooting these issues internally.
Look at the Network Sessions of all your local Monitoring Agent to isolate the issue down to a common Network Device.

Analyze your Device Monitoring Metrics of the related Network Device to find out the cause of the issue (i.e. high bandwidth usage for example).

Connect to the targeted Network Device to fix the issue.

Continue looking at your Network Device and Network Sessions Metrics following your change to confirm the resolution.
Analyze the Device Monitoring Metrics of your related edge equipment (i.e. SD-WAN Edge, Firewall or WAN Switches) to identify if a performance issue is being caused by one of your Network Devices.

If you find something: Connect to the targeted equipment, apply a change to the issue, and look at your Device Monitoring and Network Session Metrics to confirm the resolution.

If everything looks good on your end: Move on to troubleshooting WAN issues in the next point.

WAN issues are generally located outside of your network, in your ISP's network. So we always recommend reaching out to them for further support.
Contact your ISP to get technical support using the screenshots of Monitoring Sessions, Dashboards or Traceroutes in Vision.

Share results of Live Traceroutes with your ISP using a public link.

If your ISP wants to analyze your data further, you can create a temporary Read-Only User in your Obkio account for them.
How to Diagnose Internet Problems in Your Network
Learn how to identify and diagnose Internet problems and Internet connectivity issues in your network using Network Monitoring and Traceroutes.
Learn more
Now that you know how to troubleshoot networks with Obkio Vision, our Advanced Visual Traceroute tool, it's time to get started!
Remember, the longer that network issues go unsolved, the more havoc they can cause in your network.
Download and use Obkio Vision for quick network troubleshooting for Windows, macOS and Linux.
You can also use Obkio Vision as a complementary feature with Obkio's full Network Monitoring & Troubleshooting SaaS solution along with a variety of other Network Monitoring features.
These might interest you