How to Diagnose Internet Problems in Your Network
In Summary
Good Internet performance is essential for your business and your everyday life, so experiencing Internet connectivity issues like congestion, slow performance or disconnection issues is always frustrating. In this article, we're teaching you how to diagnose Internet problems in your network using Network Monitoring.
Many Internet problems are intermittent - which means that they appear in your network for a short time, and then reappear when you least expect them to.
Intermittent problems are much more difficult to reproduce and pinpoint - and are virtually impossible to pinpoint manually, or with traditional monitoring solutions. So when trying to diagnose connection problems, it's important to have the right network and Internet monitoring tools in hand to know how to diagnose Internet problems that are intermittent.
Internet performance can be greatly affected by poor network performance, and many different parts of your network can cause Internet problems.
In fact, the problem may be happening or your end, but it may not. If it's not happening on your end, but it's affecting your users, you still have to take care of it.
That's why it's important to use a network monitoring and network diagnostic tool that monitors end-to-end network performance to diagnose Internet problems in your network.
A tool like Obkio Network Performance Monitoring software acts as an Internet monitoring tool that continuously monitors end-to-end network performance with synthetic traffic using Network Monitoring Agents. Using synthetic traffic means Obkio doesn't capture real user traffic in order to maintain users' privacy.
These Monitoring Agents monitor network performance from the source (your computer or your office) up to the destination (another office, datacenter or clouds) to identify network issues, diagnose connection problems, and collect information to help you troubleshoot.
Get started with Obkio's free trial
When deploying Obkio, it's important to set up monitoring agents which monitor network performance between you and the Internet.
First you need at least 1 Software, Hardware, or Virtual Monitoring Agent to monitor your network performance. These Monitoring Agents can be deployed on your workstation, at your company's head office, branch office, data center etc.
All Monitoring Agent types have the same features, including distributed deployment, synthetic traffic every 500ms, and network metric measurement, and more!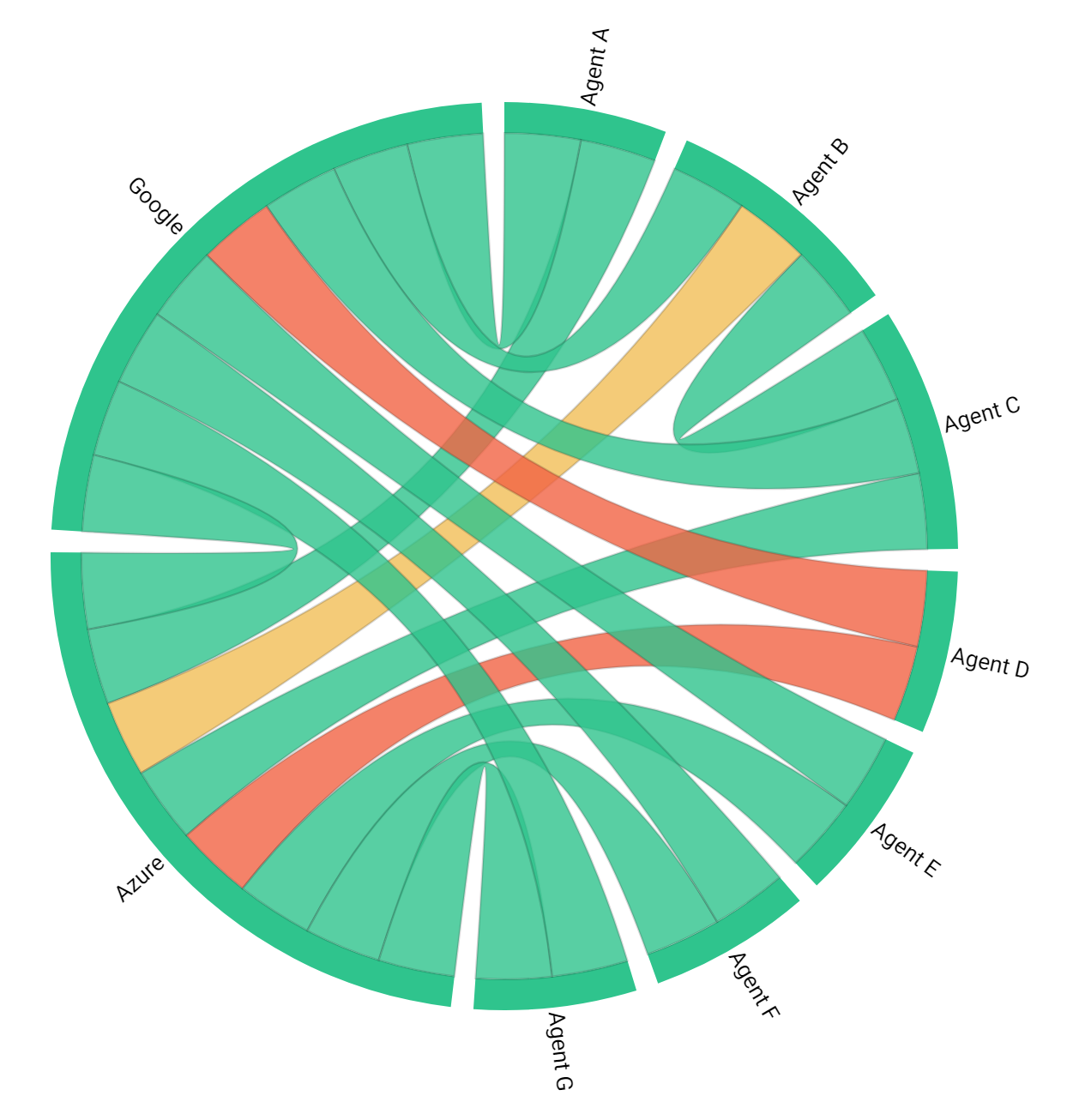 Next, you need 2 Public Monitoring Agents to monitor your Internet performance and diagnose Internet problems.
Public Monitoring Agents are hosted by Obkio and major Service Providers around the world like:
Azure: to monitor apps like Microsoft Teams or Office 365.
AWS (Amazon Web Services): to monitor apps on AWS Cloud or AWS Marketplace.
Google Cloud: to monitor the performance of any Google-hosted apps like Google Meet.
Once all Monitoring Agents are deployed, they will continuously exchange traffic between each other to monitor your Internet performance and identify issues like network congestion, high bandwidth usage, packet loss, and slow Internet or network speeds.
To complete this set up, get startd with Obkio's Free Trial follow Obkio's Onboarding Wizard.
Some Internet problems can actually be caused by your Firewall configurations and resources.
To collect as many metrics as possible when you diagnose Internet problems in your network, you need to monitor CPU and bandwidth usage for network devices like Firewalls.
This can be done using Obkio's Network Device Monitoring feature.
Network Device Monitoring uses SNMP Polling to monitor the performance of networking devices such as firewalls, routers, switches and wifi access points.
It uses ultra-fast polling (every 30 seconds) to quickly detect and diagnose Internet problems related to short bursts of traffic, CPU utilization, or high bandwidth usage that affect network performance.
If you have more than one office and you use a VPN, you can also monitor performance inside and outside of your VPN to identify network issues and diagnose VPN performance issues.
You can refer to our documentation on VPN Monitoring to set up VPN monitoring between your company's office and a remote office or a remote user's laptop.
With this set up, Obkio will continuously measure core network metrics between your network and your Internet to:
Identify Internet performance and connectivity issues
Alert you if Internet problems are detected
Collect historical data to compare Internet and network performance in the future
Then, once you've identified Internet connectivity problems, leverage tools like Device Monitoring (like we mentioned earlier) and Obkio's Traceroutes to troubleshoot.
Obkio offers different traceroute types, as well as a Visual Traceroute tool that shows the route path from a source to a destination. With traceroutes you can:
If you want to learn more about how to use Traceroutes and how they work, check out our complete Traceroute Blog Series.
Don't lose money because your company's gone offline. Download speeds, bandwidth, congestion, and application performance are vital to your business' productivity. But network and Internet monitoring can help.
To set up network monitoring to diagnose intermittent Internet connection problems, identify, and even troubleshoot Internet problems in your network, get started now with Obkio's Free Trial!
Related Blog Categories:
How To