How To: SLA Monitoring & Reporting
In Summary
Are you getting what you paid for? It's great having an SLA (or Service-Level Agreement) for the provision of a service, but you need to go further to really understand if the standards specified in the SLA are actually being met. That's where SLA monitoring and reporting comes in.
Service-Level Agreements are publicly stated or implied contracts with users. SLAs are used to give assurance to customers that Service Providers are providing the standard and level of service that was agreed on.
But, when problems arise with a given service, whether they're VoIP problems, Internet problems, or network problems, users can't help but wonder "Am I really getting what I was promised?"
SLA Monitoring (or Service-Level Agreement Monitoring) is the process of measuring, tracking, and analyzing a variety of metrics associated with a given service in order to calculate the service level of a deployed software or service and compare it against the agreed upon SLA requirements.
This process can include measuring metrics, creating reports and dashboards, setting up alerts, and more.
SLA monitoring and reporting can help:
Reassure users that they are receiving the service that is agreed upon, and thus upholding a Service Provider's SLA.
OR hold service providers accountable if an SLA isn't being met, and help users and Service Providers troubleshoot performance issues.
Here's how to do that:
SLA monitoring requires data and attention to detail.
The service provider needs to make sure that it meets the terms of the SLA, and users need to check that the service they paid for has been provided.
The best way to achieve this is by deploying a continuous, end-to-end Network Monitoring tool, like Obkio.
Obkio uses synthetic traffic to measure performance every 500ms and monitor:
Deploying a tool like Obkio in all your key network locations allows you to automate the SLA monitoring process and collect and share the information you need to monitor your service-level agreement.
Use Obkio's free trial and Getting Started Tutorial to begin.
When it comes to SLA Monitoring, there are two types of metrics that are important to measure:
Performance Metrics
User Experience Metrics
Measuring performance metrics such as jitter, packet loss, latency, VoIP Quality, throughput act as Service Level Indicators (SLIs) that will help you understand how your network, application, or service is really performing.
Obkio continuously measures these key network metrics in real-time so you always know how your network is performing, and can proactively identify performance issues.
High levels of packet loss or jitter, for example, can be a sign that your network is not performing as it should be - or as your SLA intended.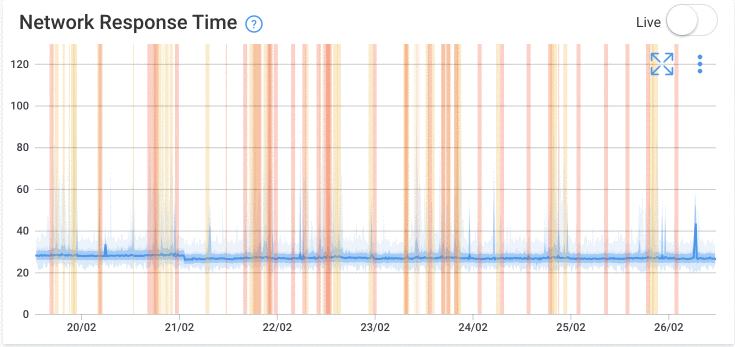 A big part of SLA monitoring is understanding whether the performance of an application or service is meeting the user requirements, as intended by the SLA.
One way to identify that is by measuring user experience metrics.
Obkio uses synthetic traffic (synthetic monitoring) to simulate the end-user experience when using various applications like VoIP or Video, to interpret the performance that users are actually experiencing.
Obkio measures the network metrics mentioned above, but also to measure key user experience metrics like QoE (Quality of Experience), and MOS (Mean Opinion Score).
The data from both types of metrics will help you understand if your performance and user experience are meeting the SLA requirements.
Another big part of SLA monitoring and reporting is collecting and analyzing historical data.
Obkio measures and collects historical network performance data, so you can analyze, compare, and troubleshoot performance from the past.
This allows you to:
Identify if your application or service performance stops meeting SLA requirements
Diagnose performance issues from the past
Share performance data with your Service Provider over a longer period of time
Performance isn't always stable, so it's important to understand how your network or application is performing in real-time, but also throughout a longer period of time to keep your SLA accountable.
In larger, more complex networks, you may have many services, applications and network locations to monitor. So how can you drill-down on the data that matters for your SLA reporting?
Obkio allows you to create customizable, real-time dashboards so you can visualize the data related to your SLA all in one place.
Track the performance of your network and service in one place, and how they impact other services, network locations and users
You can also include graphs and charts of various network locations or applications that you're currently monitoring.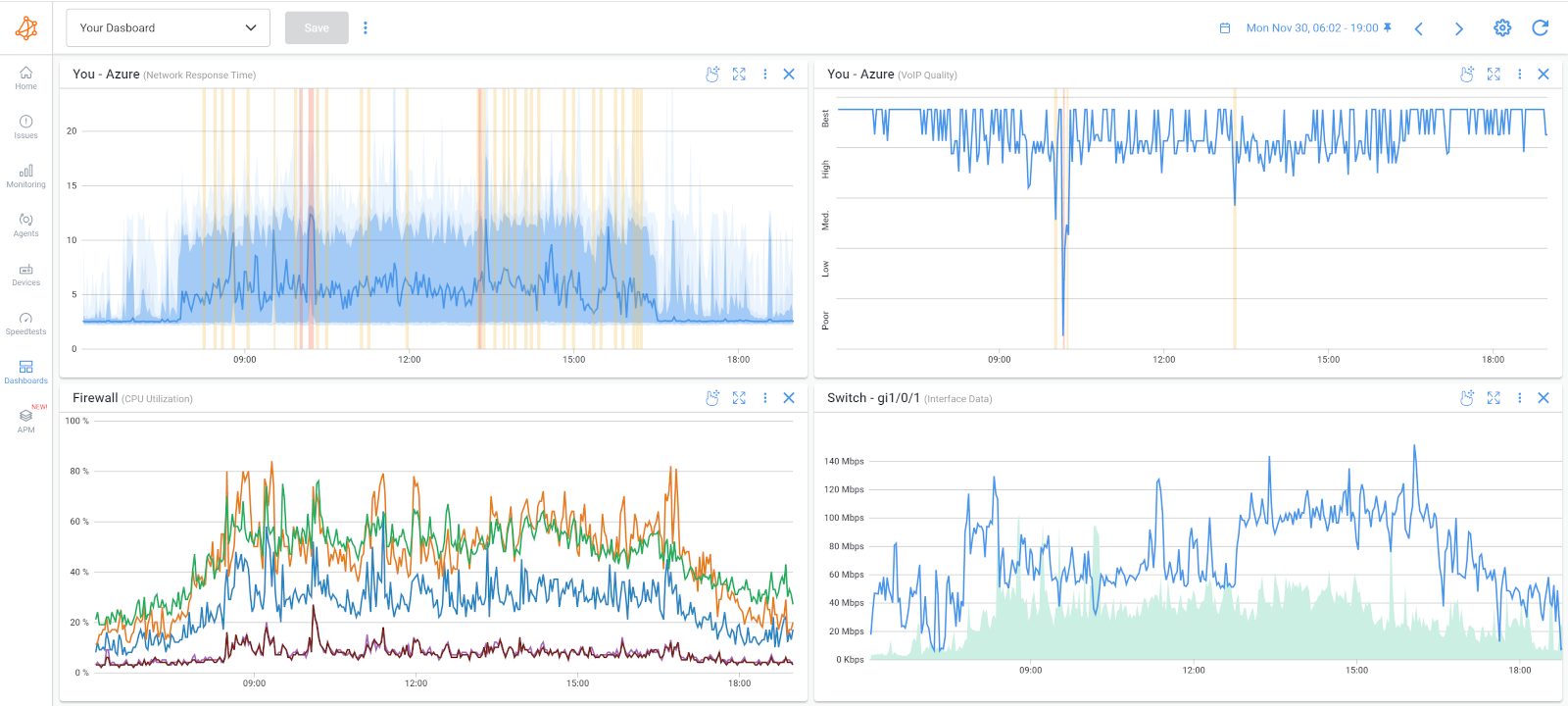 For many businesses, not meeting their SLAs is serious business. If you're the service provider creating the SLAs, it could seriously affect your reputation.
So, in addition to creating custom dashboards, Obkio allows you to set up automatic alerts (or Smart Notifications) around SLA-specific metrics that matter to you most.
They can be raised because a Network Issue is detected (such as high packet loss), when a network device is down, when there's a network outage or when there's a big change, or even a slight change, in network performance.
Automatic alerts automate the SLA monitoring process so you know when your performance expectations aren't being met.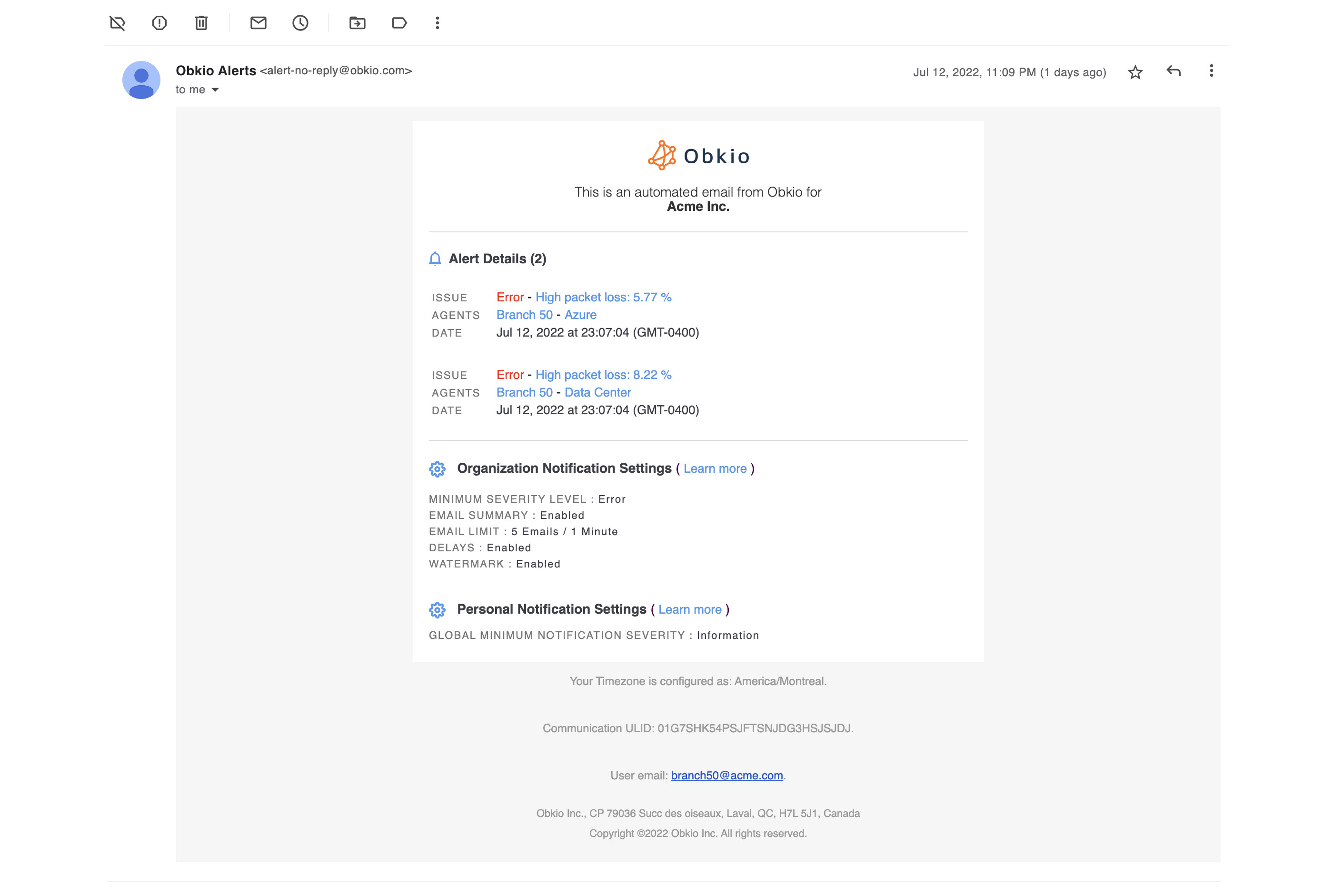 Once you have Obkio's Network Monitoring app set up, Obkio's Monitoring Agents will continuously monitor network and application performance and collect the data you need most.
If you're a user, you can finally understand if your service provider is respecting the SLA, and if not, you have the proof and data to keep them accountable.
If you're a service provider, you can quickly find out if a user's SLA is not being met, and take the necessary actions to fix the issue.
Related Blog Categories:
How To