How to Monitor SD-WAN Networks
In Summary
With the increasing use of cloud-based applications, businesses are more reliant than ever on the Internet to deliver WAN traffic. As a result, they're migrating from MPLS networks to hybrid WAN architectures and SD-WAN technology. Keep reading to learn how to monitor SD-WAN networks with Network Monitoring to identify issues that native SD-WAN monitoring features often miss.
This article is part of a series of articles about continuously monitoring SD-WAN networks before, during, and after migrations. The articles include:
How to Monitor SD-WAN Networks (this article)
Many businesses lack visibility of their SD-WAN network. Vendors often exaggerate the promises of the network and application monitoring capabilities of their SD-WAN solutions, however, most solutions don't offer the depth and visibility needed for monitoring modern WAN networks.
In reality, 75% of IT professionals have significant challenges with the native monitoring features of their SD-WAN services.
Additionally, there are few monitoring tools that can truly monitor SD-WAN network performance from the user perspective, which is extremely important to understand if your SD-WAN service is performing as promised.
That's why we're running you through how to monitor SD-WAN network performance using modern decentralized solutions, like Obkio.
In addition, if you're migrating to an SD-WAN network, it's important to deploy your monitoring solution before the migration so you can compare the performance before and after the migration. Check out our article about How to Monitor SD-WAN Migrations for more detail about how to set that up!
To monitor SD-WAN networks, you need a modern solution that monitors end-to-end network performance to identify network problems before and after your SD-WAN network is in place. Traditional monitoring solutions that focus on your device won't give you real insight into your network's performance.
A tool like Obkio Network Performance Monitoring software continuously monitors end-to-end network performance with synthetic traffic using Network Monitoring Agents.
Get started with Obkio's free trial!
Obkio's Network Monitoring Agents are a unique software deployed in key network locations to monitor your SD-WAN network locations and Internet performance, measure network metrics (latency, jitter, packet loss), and alert you about SD-WAN issues in your network.
They create Monitoring Sessions and use synthetic UDP traffic to monitor network performance, in a decentralized way, from the source (your computer or your office) up to the destination (another office, datacenter or clouds).
Here's what the set-up looks like: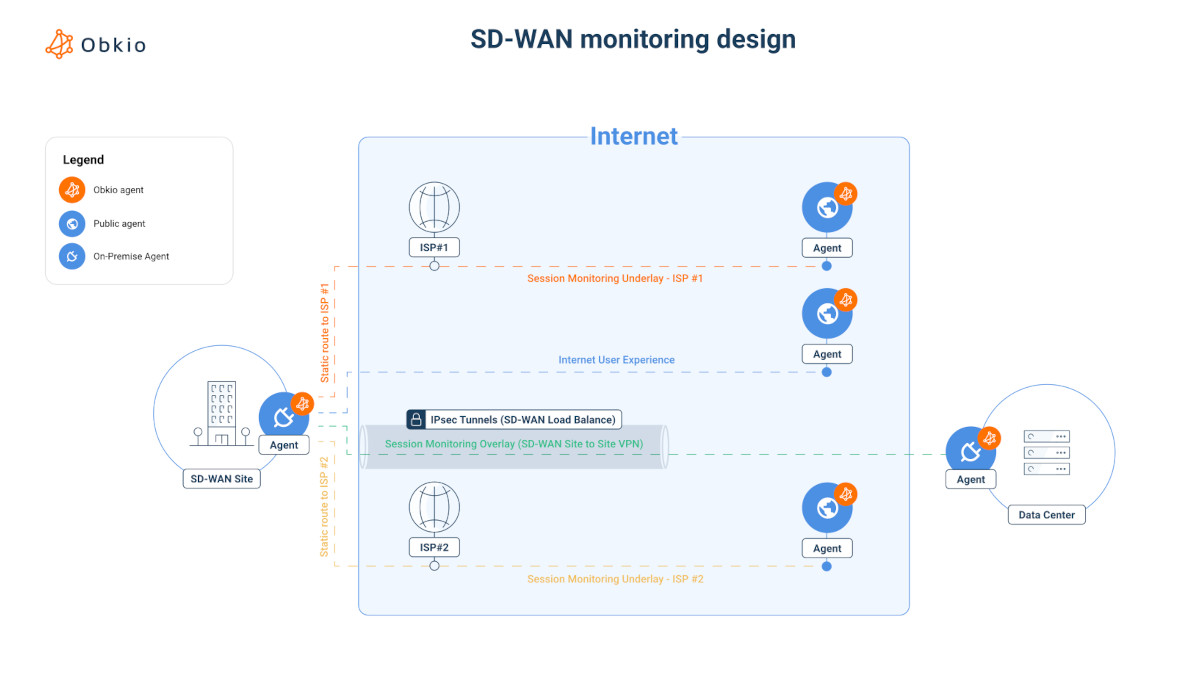 To achieve the level depth required to monitor SD-WAN networks, you need to install Network Monitoring Agents in the customer LAN, behind the SD-WAN appliance, to measure SD-WAN network performance like an end-user.
You need:
The Agents then create Monitoring Sessions by exchanging synthetic UDP packets between every 2 sets of Agents to measure performance metrics and raise alerts for when network issues are detected.
In the following screenshot shows, you can see an Obkio Chord Diagram with Agents monitoring the performance of:
ISP-1: A UDP flow from Branch 5 sticky on the first Internet connection
ISP-2: A UDP flow from Branch 5 sticky on the secondary Internet connection
SD-WAN Internet: UDP flows load balanced across the two Internet links following the SD-WAN algorithm
8 Remote Branches
2 Data Centers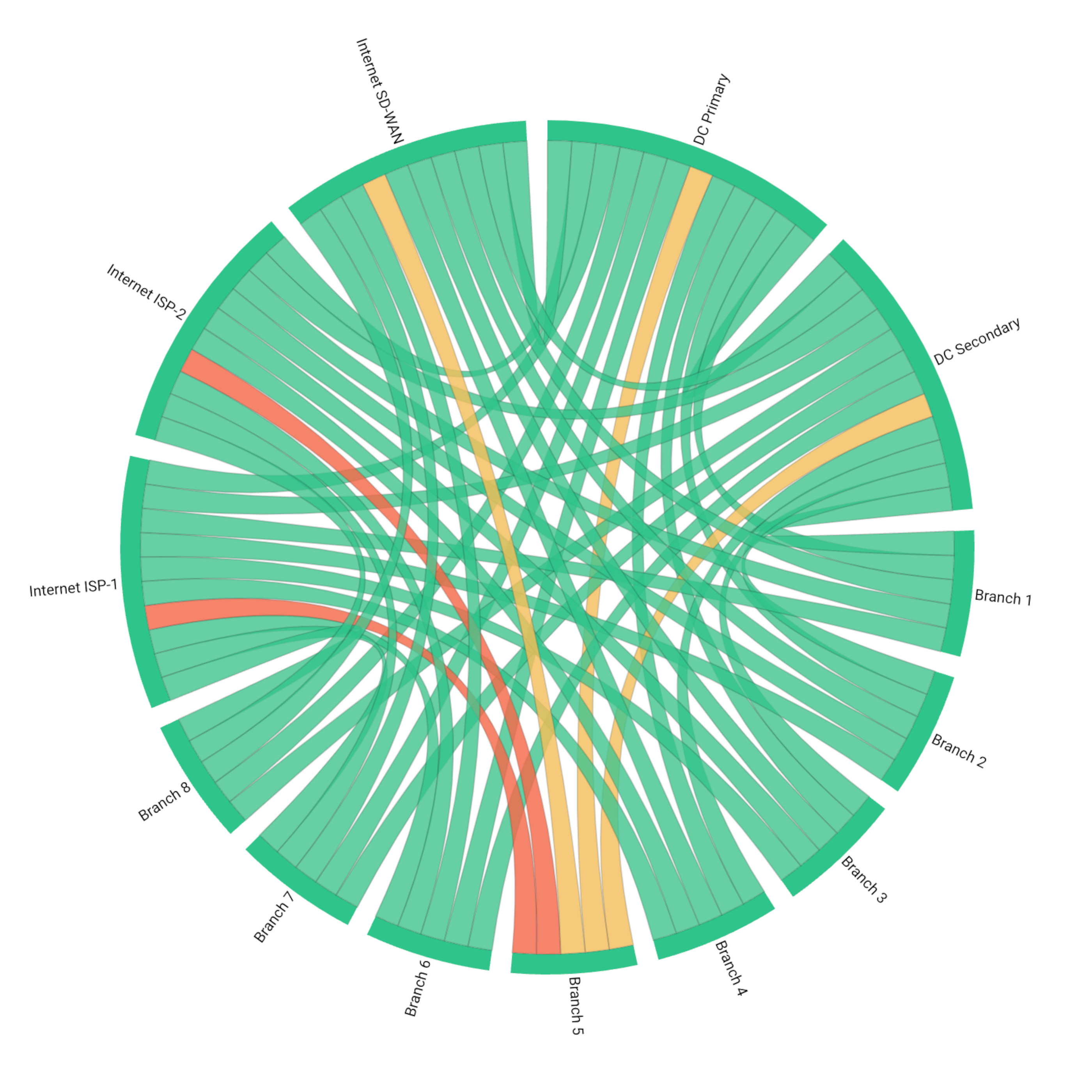 To be able to truly see the performance, and SLA or promise, of your SD-WAN network, you need to monitor performance from the end-user perspective, as well as the underlay connections themself to compare the performance.
Luckily Obkio can monitor SD-WAN network performance like an end-user and can also monitor each connection used by the SD-WAN appliance.
For example, the following screenshot shows a dashboard with three network monitoring sessions. The monitoring sessions are configured between:
A local Monitoring Agent behind the SD-WAN appliance
And three remote Monitoring Agents that are located at the same location (either cloud, datacenter or head office)
The three network monitoring sessions monitor the network performance between the two locations using different connections:
The performance as seen by the end-user (load balanced between the connection using the SD-WAN algorithm) - top graph
The performance of the ISP A connection - middle graph
The performance of the ISP B connection - bottom graph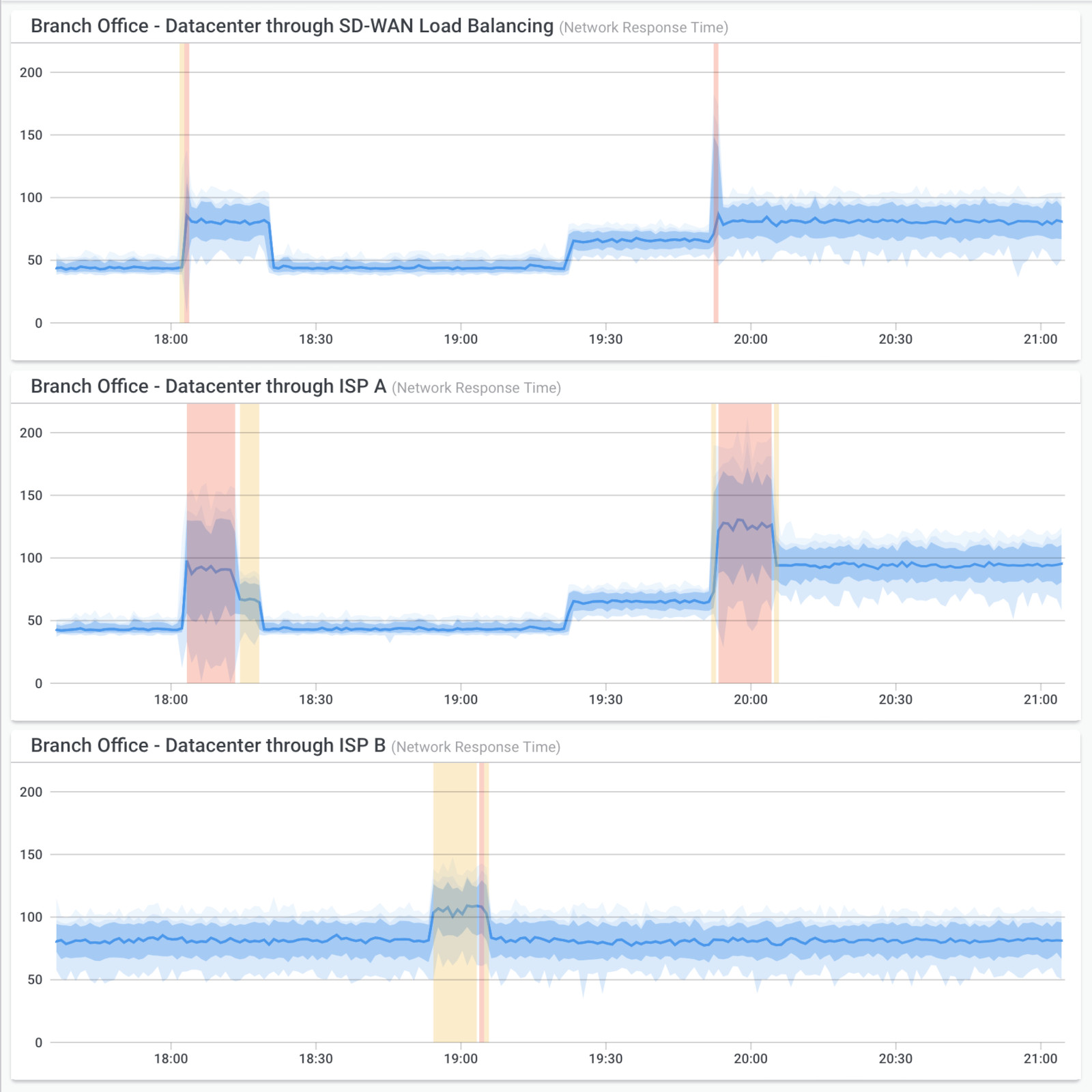 This setup is used by many of our customers using SD-WAN technologies. This way, they are able to confirm the real network performance of the end-users traffic and also monitor each ISP connection. In that example, the top graph is the real network performance for the branch end-users. There are 3 connection changes in that example:
A bit after 18:00: congestion on ISP A, failover to ISP B after a few seconds;
Around 18:20: congestion disappear, back to ISP A;
A bit before 20:00: packet loss and higher latency/jitter on ISP A, failover to ISP B.
Analyzing historical performance data is key to understanding the effect of SD-WAN services on your network.
That's why Obkio also measures and collects historical network performance data, so you can analyze, compare, and troubleshoot performance from the past and compare performance as you use your SD-WAN network over-time.
Analyzing historical data allows you to go back in time to identify intermittent network problems that may look like they disappeared.
You can now use all the data you've collected to actually identify network problems related to your SD-WAN network and collect the information you'll use to troubleshoot.
Analyze the information Obkio collects related to your SD-WAN network performance to identify:
What the problem is
Where the problem is located
What caused the problem
When the problem happened
Who is responsible for the network segment
In the screenshot below, we see an SD-WAN dashboard for Branch 10 which shows two events:
ISP-1 of Branch 10 is experiencing poor performance with significant spikes in packet loss, latency and jitter, but ISP-2 shows a very different situation.
The Internet SD-WAN graph shows the performance of the branch's users connecting to the Internet:
The SD-WAN edge is sticking to ISP-1 even though it should failover ISP-2, which shows much less packet loss, latency and jitter.
The VPN traffic towards the data centers is also sticking on ISP-1.
This is an example of an SD-WAN fabric that is not performance-based and will only switch over in case of complete failure on an Internet link. This is very problematic for voice and video applications that can't rely solely on up and down routing decisions.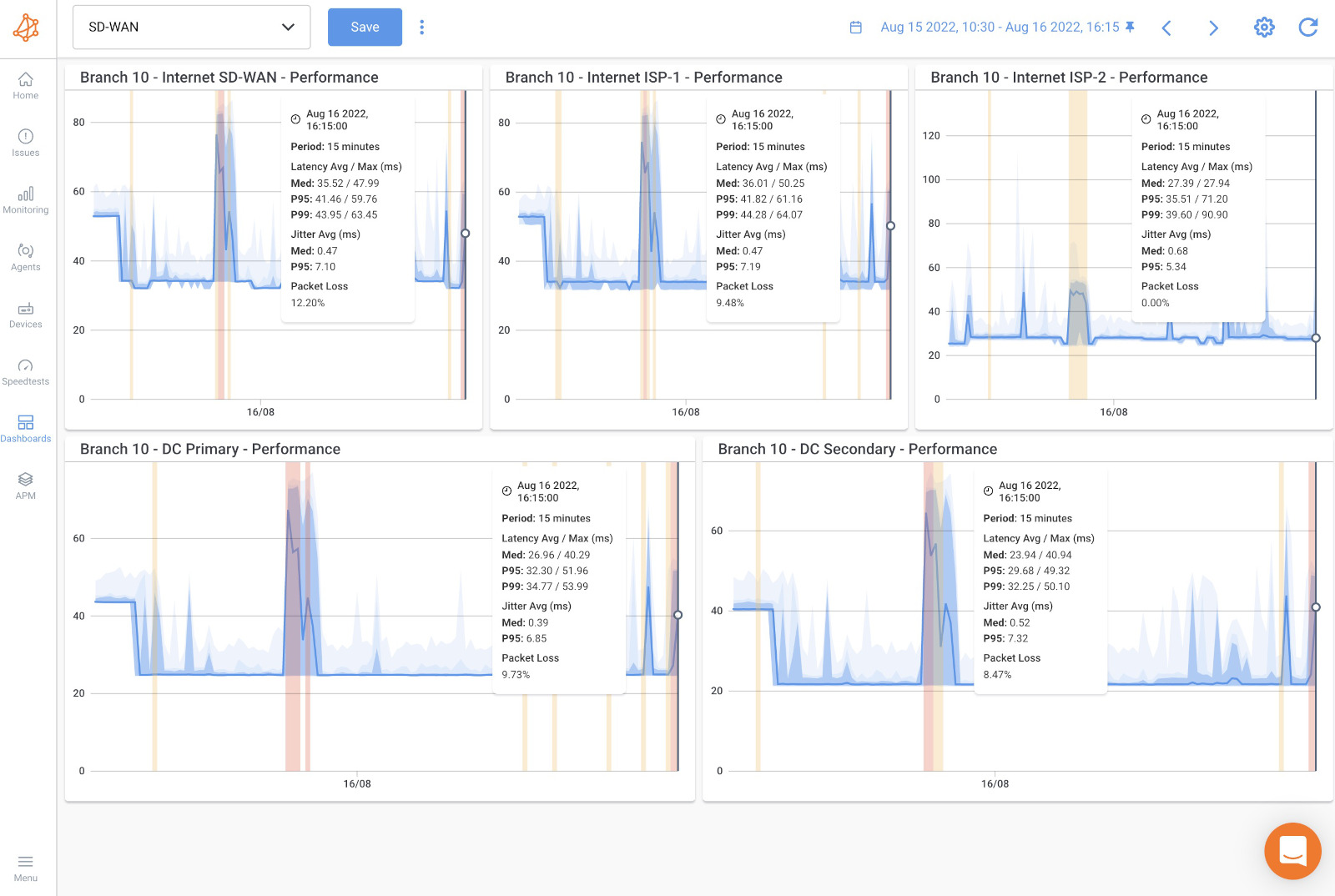 Once you've identified any network problems affecting your SD-WAN network, a great monitoring solution will also allow you to collect the data you need to troubleshoot these network problems.
Check out our article on SD-WAN Troubleshooting for the next step:
Are you using an SD-WAN network?
Network Monitoring is essential to understanding if you're really getting what you paid for when you're using a new SD-WAN service.
With so much reliance on SD-WAN services to deliver optimal Internet, cloud, and UC performance, it's important to keep continuously monitoring your SD-WAN network with Obkio's SD-WAN Monitoring tool to proactively identify network problems and performance issues!
Monitor all SD-WAN networks like: