How to Detect and Identify Intermittent Network Problems
In Summary
We talk a lot about intermittent network problems. There's a reason for that. Many network problems are intermittent, which means that they are sporadic, and much more difficult to pinpoint and troubleshoot than constant network problems. In this article, we're teaching you how to detect intermittent network problems using Network Monitoring.
Simply put, intermittent network problems (be it intermittent network connectivity issues or intermittent Internet connection issues) frustrate users and are a nightmare for IT teams because they are the most difficult to solve.
An intermittent network problem is a problem that occurs in your network for a short time, and then seemingly goes away.
The intermittent problem may not occur again until some time in the future, if at all. But why is it important to catch them regardless:
Intermittent network problems can still affect users and business operations
They can have a lasting impact on your network
They can cause more damage once they happen again
They may be a sign of a bigger problem within your network
Some common intermittent network problems include high bandwidth usage, packet loss, jitter, and latency.
Intermittent problems, including intermittent network connectivity issues, and intermittent Internet issues, cannot be made to appear again easily, which makes them difficult to reproduce and therefore to detect and troubleshoot. This results in frustrated end-users experiencing slow or unstable performance after the problems have appeared!
They are virtually impossible to pinpoint manually, and difficult to pinpoint with traditional monitoring solutions. But in this article, we're going to teach you how to identify intermittent network problems with modern Network Monitoring software.
The most accurate way to detect intermittent network problems is by using a continuous Network Monitoring Software, like Obkio Network Performance Monitoring software.
Obkio's Network Monitoring Solution continuously measures your network performance by sending and monitoring data packets through your network every 500ms using Network Monitoring Agents.
Network Monitoring Agents deployed in your most important network locations like offices, data centers and clouds exchange continuous synthetic traffic to catch intermittent network problems as soon as they happen - even if they only appear for a few minutes. The deployment takes a few minutes and no packet capture is required which protects your users' privacy.
Obkio will then alert you if and when network problems are identified.
Start identifying intermittent network connectivity issues for free with Obkio's Free Trial.
Once you've set up your Monitoring Agents, they will start measuring key network metrics like jitter, packet loss, and latency and displaying them on Obkio's Network Response Time Graph.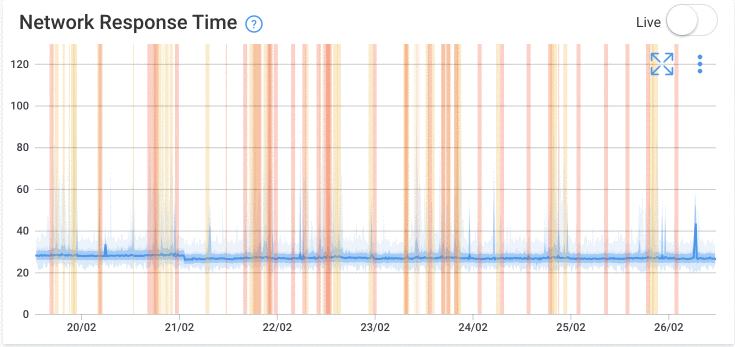 Measuring these network metrics allows you to quickly understand and identify any performance degradation in your network, which may be a sign of a network issue to come.
Obkio provides updates on your network performance every minute - so you never miss problems. You can also further drill-down to identify where exactly the network problem is happening.
In addition, Obkio's solution also measures and collects historical performance data, so you can analyze, compare, and troubleshoot network issues from the past. Analyzing historical data allows you to go back in time to identify and troubleshoot intermittent network problems that may look like they disappeared.
With aggregation, Obkio shows you the worst performance metric values in the aggregated graph. For example, when measuring packet loss, the packet loss displayed over an aggregated period of 1h is the worst packet loss of all the small 1-min periods in the hour.
This is important because only showing you the average amount of packet on your network may hide intermittent network issues.
If you measure the average packet loss every 4 hours, the average may be good, but you can have 80% during a few minutes - which signals a big problem. You have a network problem that happens during one of those hours - but then disappears.
Compared to other monitoring solutions, Obkio shows you the worst metric measurements in order to highlight network issues, where they're located and what's causing them.
To immediately detect intermittent problems when they happen, Obkio sends network alerts based on historical data and not just static thresholds.
As soon as there's a deviation in the historical data, and your network is experiencing any performance degradation, Obkio sends you an alert.
This makes it easier and quicker to pinpoint intermittent network problems, intermittent network connectivity issues, and intermittent Internet issues.
Network performance is always measured between two points, but depending on where you're monitoring performance, and even which technology (cable, DSL, fiber) your performance can vary. This would force you to set up different performance thresholds for every monitoring session - which is a lot of work.
By measuring network performance based on your baseline network performance, Obkio makes the setup much quicker and easier.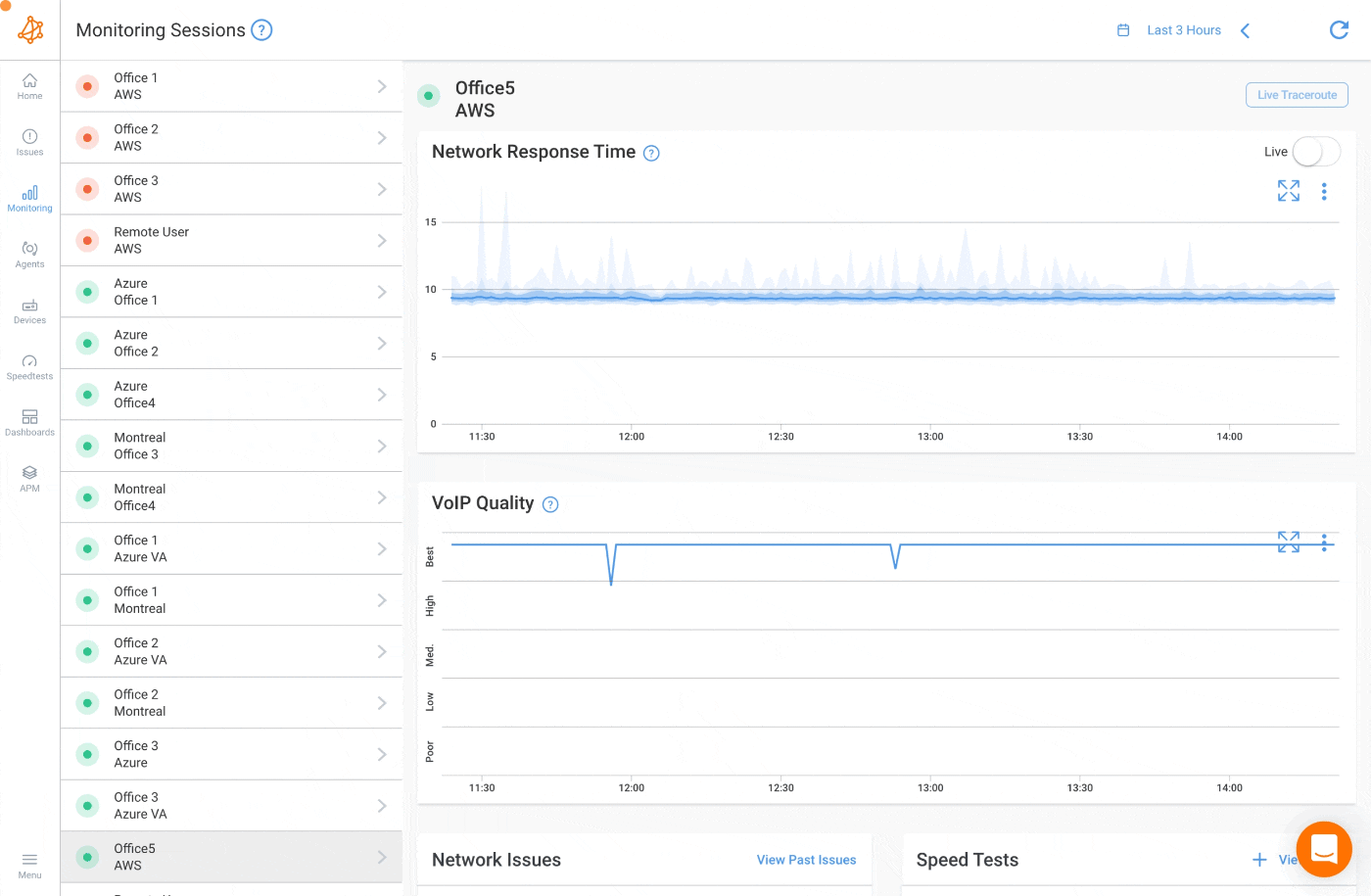 Once you've identified intermittent network problems or intermittent connectivity issues, plaguing your network, a great monitoring solution will also allow you to collect the data you need to troubleshoot these network problems and optimize network performance.
When troubleshooting network slowness or network problems, several tools are available in the vault of a network administrator such as:
Start detecting intermittent network problems for free now!
Related Blog Categories:
How To