Table of Contents
Table of Contents
We've all been stuck in traffic congestion on the road at some point in our lives. Traffic congestion may happen when there's too many cars on the road, when there's an accident or a closed street. Network congestion isn't too different from that - but instead of cars causing congestion, it's network traffic.
That's why, in this article, we're running you through how to detect network congestion with Network Monitoring tools.
In networking, congestion refers to a condition where the demand for data transmission exceeds the available network resources' capacity, leading to delays, packet loss, and reduced overall network performance.
It occurs when the amount of data traffic attempting to use the network surpasses its capacity to handle that traffic efficiently. When congestion happens, data packets may experience delays in transmission or may be dropped altogether, causing retransmissions and further exacerbating the problem.
This is what we call Network Congestion.
Network Congestion, similar to road congestion, occurs when your network cannot adequately handle the traffic flowing through it. This can be caused by events such as faulty or over-used devices or even bad network configurations.
This means that network congestion can occur in your network, or even outside of your network in your network devices, or your ISP network or Internet.
Network congestion can be a transient event, occurring during peak network usage periods, or it can become chronic if the network infrastructure is inadequate to handle the continuously increasing data demands. While network congestion is usually temporary, it can cause annoying network problems that can affect performance, such as high levels of jitter, packet loss, a decrease in throughput, and can be a sign of a larger issue in your network.
It is a crucial challenge that network administrators and engineers must address through effective network planning, resource management, and the implementation of congestion control mechanisms to ensure smooth and reliable data transmission across the network.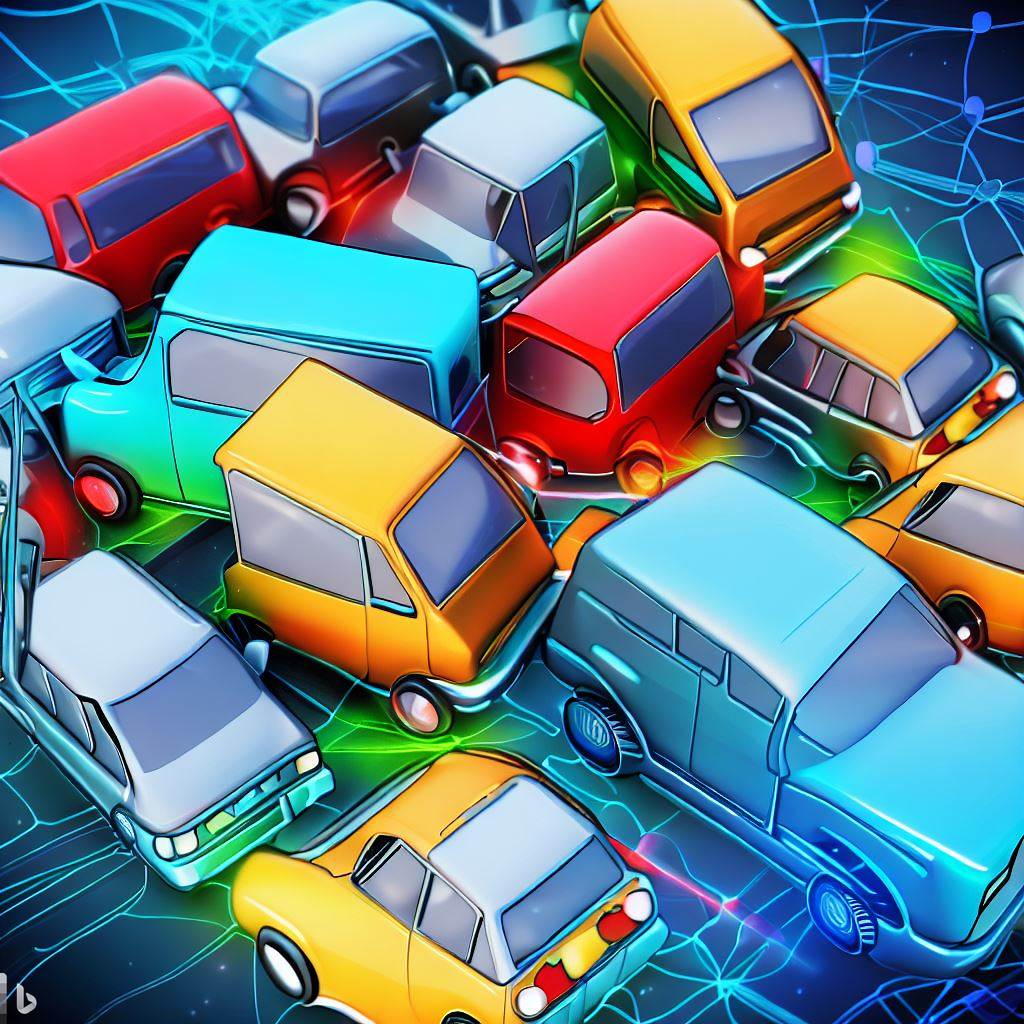 Because of this, it's important to have a tool that can proactively detect network congestion and perform a network congestion test in your own network, and even outside of your network so you can troubleshoot before it affects your end-users, or turns into a much bigger problem that your IT team will be stuck dealing with.
Slower data transfer speeds: Network congestion can cause data packets to be delayed or lost, resulting in slower transfer speeds and longer wait times for users.
Reduced reliability: When network congestion occurs, data packets can be lost or dropped, which can result in lower reliability and increased error rates.
Reduced productivity: Network congestion can cause applications and services to slow down or become unresponsive, reducing productivity and increasing frustration for users.
Security risks: Network congestion can make it more difficult to detect and respond to security threats, leaving your network vulnerable to cyberattacks.
Increased costs: Network congestion can lead to increased costs, such as additional hardware purchases, bandwidth upgrades, or downtime due to network outages.
Poor quality audio and video: Network congestion can cause audio and video to become distorted or choppy, making it difficult for users to communicate effectively or consume content.
Slow application performance: Network congestion can cause applications to load slowly, respond slowly, or even crash, leading to frustration for users who rely on those applications for their work.
You may be able to experience signs of network congestion in networks, but how do you know what's causing it? And how can you fix network congestion?
To know how to check network congestion, you need an end-to-end monitoring tool to help you proactively detect network congestion, and that's where Obkio Network Performance Monitoring Software can help.
Obkio continuously monitors end-to-end network performance so you can monitor performance from your local network (LAN, VPN), as well as third-party networks (WAN performance, ISP, and Internet Peering).
Unlike traditional monitor solutions that may only monitor local network equipment, Obkio allows you to monitor performance from every end of your network, where you may not have any IT staff or equipment available.
Obkio does so with synthetic traffic using Network Monitoring Agents, which monitor all ends of your network to measure network metrics, identify network problems (like congestion) and collect the information to help you troubleshoot.
A lot of the times, you can feel the symptoms of network congestion before you know that it's happening for sure. With a proactively monitoring tool like Obkio, you'll be notified of network congestion even before your users start to experience it.
But, it's still important to be familiar with some of the most common symptoms of network congestion:
Slow Internet Speeds: The most obvious symptom of network congestion is slow Internet speeds. This can manifest as slow webpage loading times, buffering videos, or delays in downloading files.
Packet Loss: When a network is congested, packets of data may be lost or dropped, leading to errors in data transfer and even application crashes.
High Latency: Network congestion can cause high latency or lag, which can be especially noticeable in online gaming or video conferencing.
Connection Timeouts: If a network is congested, connections may time out or fail to establish, preventing users from accessing the network or particular applications.
Poor voice or video quality: Congestion can cause poor quality in voice or video calls, with images appearing pixelated or choppy, and sound being distorted or dropping out. This is especially true for VoIP or UC apps like Microsoft Teams.
Unresponsive Applications: When a network is congested, applications may become unresponsive, leading to frustration and lost productivity.
It's easy to detect congestion when it's happening with your own network equipment, but you're not always using your own equipment. Some businesses may be using their ISP's or MSP's network equipment, so they don't have direct access to the network equipment's data.
Additionally, the network congestion may not be actually happening in your own network, but maybe in your ISP's network, on the local loop of its connection or even on the Internet.
But, it's still possible to detect network congestion by monitoring other core network metrics!
Monitoring network metrics is an important part of detecting and diagnosing network congestion. Here are some key network metrics that you should monitor:
Network utilization: Network utilization measures the percentage of available bandwidth that is being used at any given time. If network utilization consistently reaches or exceeds 80-90%, it can indicate that the network is congested.
Packet loss: Packet loss occurs when network packets are dropped due to congestion or other issues. Monitoring packet loss can help identify areas of congestion and troubleshoot issues with network performance.
Latency: Latency measures the time it takes for data to travel from one point to another on the network. High latency can indicate congestion or other issues that are causing delays in data transmission.
Jitter: Jitter measures the variation in latency over time. High jitter can indicate congestion or other issues that are causing inconsistent network performance.
Error rates: Monitoring error rates can help identify issues with network hardware, software, or configuration that may
Bandwidth usage by application or device: Monitoring bandwidth usage by application or device can help identify which devices or applications are consuming the most bandwidth and potentially causing congestion.
User complaints: User complaints can be a valuable source of information about network congestion. If users are reporting slow performance or connectivity issues, it can indicate that there is a problem with the network.
By monitoring these network metrics, you can detect and diagnose network congestion and take steps to resolve the issue. Depending on the nature and severity of the congestion, you may need to upgrade your network infrastructure, optimize your network settings, or implement other techniques to improve network performance.
Luckily for you, Obkio continuously measures these core network metrics and displays them on Obkio's Network Response Time Graph so you can easily view metrics in real-time. Obkio will also automatically notify you of events like substantial packet loss or high levels of jitter, so you know as soon as it starts happening!
Network congestion can cause dropped packets (aka packet loss), and increased latency and jitter. That's because, when network congestion occurs, data packets can accumulate (like cars in a traffic jam), leading to a huge buffer.
It then takes time to empty and refill the buffer, which increases latency and jitter. If the buffer is small, the latency won't increase too much but more packets will be dropped. Depending on the network equipment, the buffer size can be adjustable or it can be fixed in the hardware.
If you want to perform a network congestion test, here is an example of what network congestion looks like: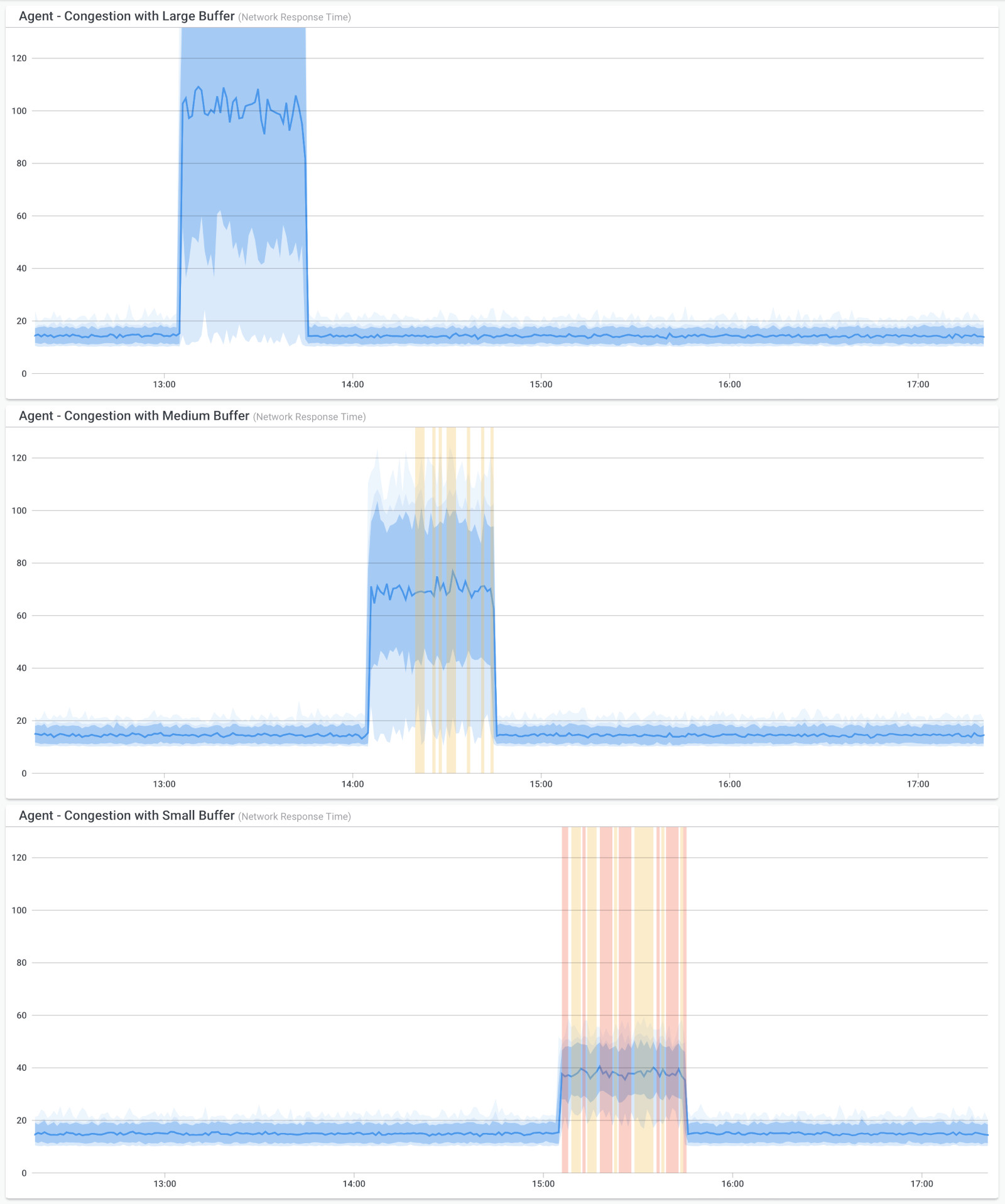 In this screenshot, you can see three graphs.
In the first graph, you can see there is network congestion and the buffer is very large. Therefore there is little packet loss but a lot of latency and jitter.

In the second graph, there is network congestion with a medium buffer, so the packet loss, latency and jitter are all moderate.

In the third graph, there is network congestion with a small buffer, so the latency and jitter don't increase too much but there is more packet loss.
Because network congestion can be caused by overused network equipment, you can use Network Device Monitoring to monitor your own network equipment, and measure the quantity of traffic going through your devices.
Many network devices are prone to network congestion. Especially if they use up a lot of bandwidth or support large amounts of network traffic. With Obkio, it's important to monitor network devices like:
Routers and switches: The forwarding of data packets between devices on a network is managed by routers and switches. By monitoring these devices, you can gain valuable insight into the volume of traffic being transmitted, enabling you to detect network congestion points or any potential bottlenecks.
Firewalls: Firewalls are specifically designed to regulate access to a network and provide security from external threats. By monitoring the traffic passing through a firewall, you can identify any irregularities in the network traffic that may be indicative of network congestion.
Servers and storage devices: These devices are tasked with storing and processing data within the network. By closely monitoring their performance, you can detect any potential performance issues that may be contributing to network congestion.
Endpoints: Endpoints are the devices that link to the network, including desktop computers, laptops, and mobile devices. By overseeing the performance of these endpoints, you can detect any problems that could cause traffic jams, such as devices configured incorrectly or applications that consume too much bandwidth.
If you're reaching your limit on the amount of traffic your devices or Internet connection can handle, then you're sure to experience network congestion.
If you're only monitoring your devices, you may not find the problem if it is located elsewhere, which is why it's important to primary monitor the network metrics we mentioned above.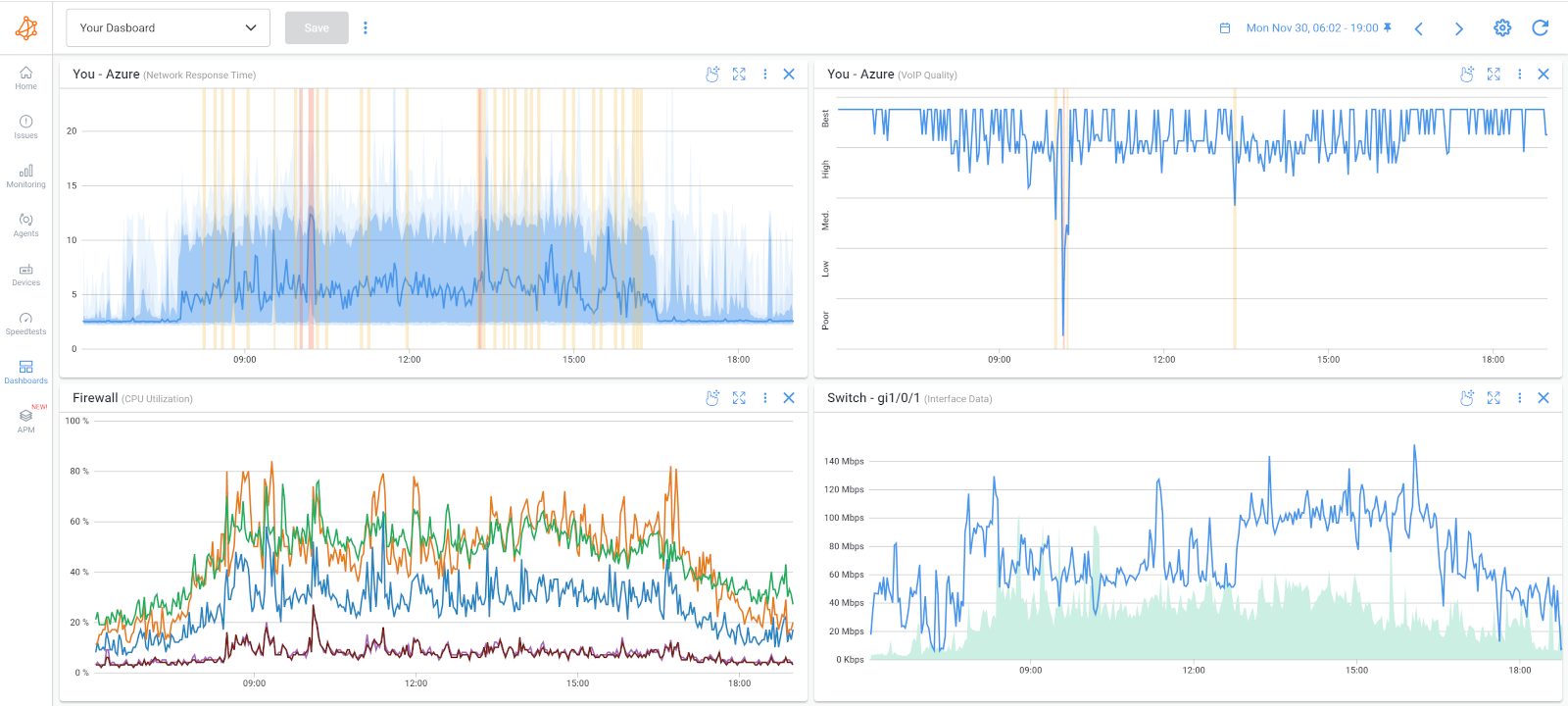 Network congestion commonly occurs when your network devices or Internet connection are lacking the resources available, such as bandwidth or CPU, to process traffic flowing through the network.
In the screenshot below, we can see an example of high CPU usage on SD-WAN Devices affecting all sessions (in the second column). This means that the network device does not have enough available resources to manage the throughput. Since it cannot process data packers properly, it will end up dropping them and causing packet loss.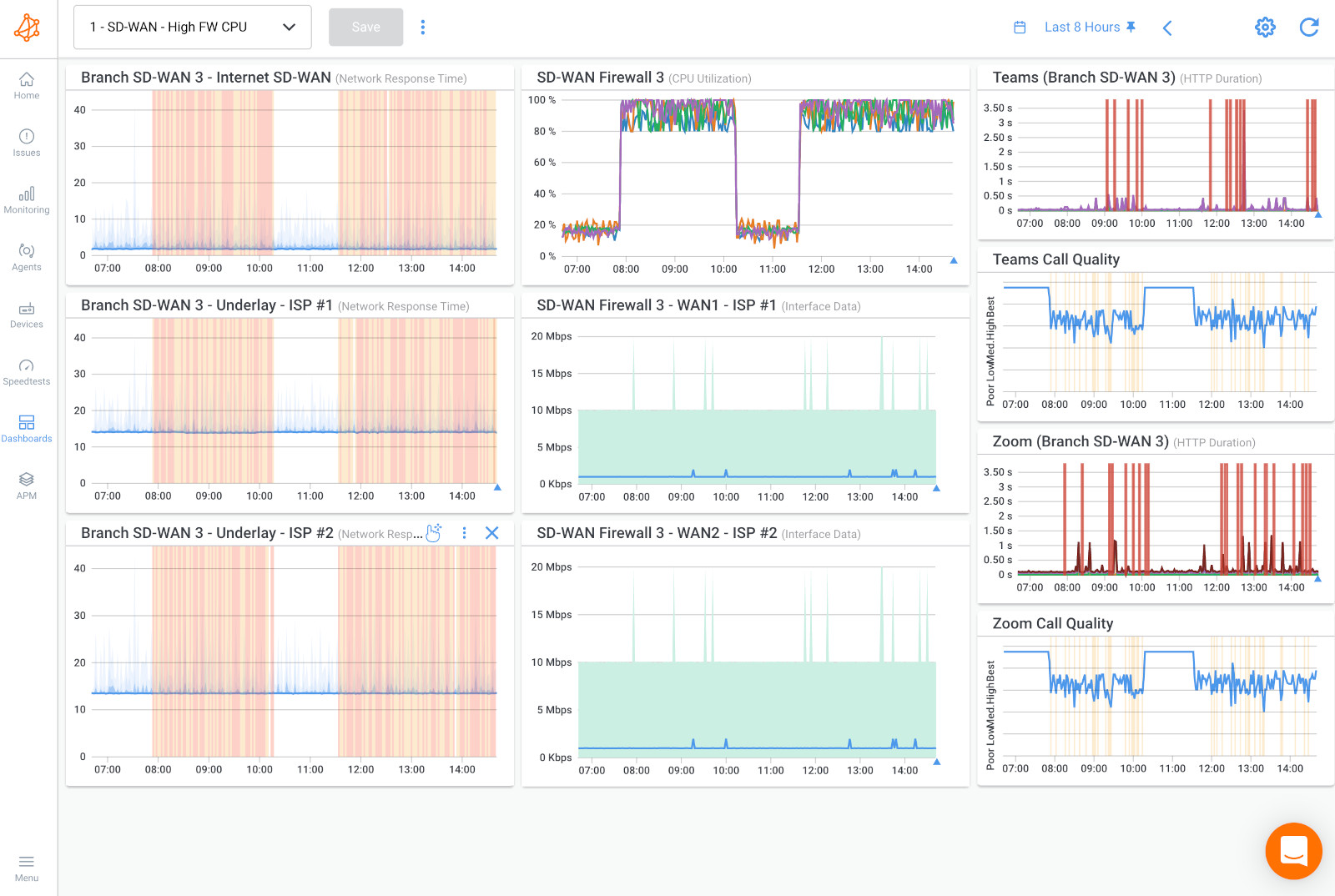 There are several types of resources that can cause network congestion when they become scarce:
Bandwidth: The amount of data that can be transmitted over a network at a given time is limited by the available bandwidth. When the amount of data being sent exceeds the available bandwidth, congestion can occur.
Processing power: Network devices such as routers and switches need processing power to manage the flow of data through the network. If there are not enough processing resources available, the devices may not be able to keep up with the traffic, leading to congestion.
Memory: Network devices also need memory to store and process data packets. If there is not enough memory available, packets may be dropped or delayed, leading to congestion.
Network topology: The way that network devices are connected can also affect congestion. If there are bottlenecks in the network topology, such as a single link that all traffic must pass through, congestion can occur.
Network protocols: The protocols used by the network can also affect congestion. For example, if a protocol is designed to transmit large amounts of data in a short amount of time, it may cause congestion if the network is not designed to handle such traffic.
One of the fundamental steps in managing network congestion is the early detection of resource shortages or congestion points. To achieve this, network administrators rely on various monitoring and detection tools, Network Device Monitoring with SNMP monitoring.
SNMP is a widely used network management protocol that enables administrators to monitor the status and performance of network devices and systems. It allows network devices, such as routers, switches, and servers, to collect and transmit data about their operational status and resource utilization.
Polling Interfaces and Graphs:
SNMP monitoring involves setting up devices to poll network interfaces and generate graphical representations of critical performance metrics. These metrics include bandwidth usage, both inbound and outbound traffic, as well as other device-specific data.
Detecting Short Bursts of Traffic:
One of the key advantages of SNMP monitoring is its ability to detect short bursts of network traffic. These bursts, often referred to as spikes or surges, can cause congestion even if they are brief. Identifying these spikes in network traffic can help administrators take proactive measures to address congestion before it disrupts services.
Monitoring CPU Utilization:
In addition to tracking network traffic, SNMP monitoring also includes monitoring CPU utilization on network devices. When CPU usage spikes, it can indicate that a device is struggling to process the incoming traffic, potentially leading to congestion. Monitoring CPU utilization allows administrators to recognize when a device's computational capacity is reaching its limit.
SNMP Monitoring: What is SNMP & How to Use It
Learn about what SNMP monitoring is & how to use it to monitor performance of networking devices like firewalls, routers, switches and wifi access points.
Learn more
After looking into your devices and resources, another way of detecting network congestion is by using a Network Congestion Test.
A network congestion test, often referred to as network congestion testing or network stress testing, is a method used to assess how a network behaves under conditions of increased traffic, high load, or congestion. The primary objective of such testing is to evaluate the network's performance, identify potential bottlenecks, and determine how it behaves when subjected to levels of traffic that may approach or exceed its capacity.
Here how it works:
1. Test Scenario Design:
Testers or network administrators define specific scenarios to simulate various types of network congestion. These scenarios may include different levels of traffic, variations in network load, and the introduction of simulated network issues or anomalies.
2. Test Tools and Software:
Network congestion tests typically employ specialized tools and software that generate network traffic, such as network traffic generators or simulators. These tools can simulate different types of traffic, including data, voice, video, and more.
You can use Obkio's Network Monitoring tool to do this, as it continuously generates synthetic traffic for you.
3. Load Generation:
The test tools generate and inject traffic into the network to replicate various levels of load. The purpose is to create congestion scenarios that may occur under normal usage, peak load, or during exceptional circumstances.
4. Monitoring and Measurement:
During the test, various network performance metrics are continuously monitored, including latency, packet loss, jitter, throughput, and network device resource utilization (CPU and memory usage). These metrics help in assessing how the network responds under congestion.
5. Evaluation of Network Behaviour:
The primary goal of a network congestion test is to observe how the network responds to increased load. Testers assess factors such as the point at which network performance degrades, how quickly the network recovers after congestion is relieved, and whether specific components or links exhibit performance issues.
6. Identification of Bottlenecks:
Network congestion tests can reveal bottlenecks in the network, which may be caused by insufficient bandwidth, overburdened network devices, or other factors. Identifying these bottlenecks is crucial for capacity planning and performance optimization.
7. Network Stress Testing:
In some cases, network congestion tests may involve pushing the network to its limits to understand how it behaves under extreme conditions. This can help identify potential weaknesses in the network's design or infrastructure.
8. Reporting and Analysis:
After the network congestion test is complete, the results are analyzed and documented. The report may include recommendations for optimizing network performance, upgrading hardware, or implementing changes in network architecture to address congestion issues.
In summary, network congestion testing is a valuable process for assessing network performance and identifying potential issues before they lead to degraded services or network outages. It helps organizations understand their network's behavior under different load conditions and make informed decisions for optimization and resource allocation.
Understanding what causes network congestion is crucial in addressing and mitigating its impact on the seamless flow of information. Several factors contribute to the occurrence of congestion, ranging from the rapid growth of connected devices and increasing data-intensive applications to infrastructure limitations and inefficient traffic management
As we mentioned ealier, Obkio monitors your whole network infrastructure to detect network congestion based on some of it's most common causes, such as a lack of resources. As for what exactly causes network congestion, let's get into some of the most common causes of network congestion that you'll likely run into:
High traffic volume occurs when a large number of devices are simultaneously using the same network, such as in densely populated areas, public venues, or during peak usage hours. The sheer volume of data being transmitted and received can overload the network's capacity (network overload), leading to increased latency and reduced internet speeds. Streaming media, video conferencing, online gaming, and file downloads are some common activities that contribute to high traffic volume.
Aging or outdated routers, switches, and other network equipment may lack the processing power and capabilities needed to handle the growing demands of modern internet usage. These devices may have lower data transfer rates, limited buffer sizes, and outdated network protocols, making them more susceptible to congestion when faced with high data loads.
Bandwidth refers to the maximum amount of data that can be transmitted over a network in a given time. If the available bandwidth is insufficient to accommodate the data demands of connected devices, the network becomes congested. This is particularly common in scenarios where the network's capacity hasn't been upgraded to keep up with increasing data requirements.
Poorly configured networks can lead to congestion, as traffic is not routed efficiently or evenly across the network. For example, misconfigurations in routers or switches may cause suboptimal paths for data, leading to bottlenecks at certain points. Proper network planning and maintenance are essential to ensure data flows smoothly and evenly across the infrastructure.
Malicious actors may launch Distributed Denial of Service (DDoS) attacks to disrupt network operations. During a DDoS attack, a large volume of bogus traffic is directed at a target network, overwhelming its resources and causing congestion. These attacks aim to make the network unavailable to legitimate users and can have severe consequences if not mitigated promptly.
Non-essential or redundant traffic can also contribute to congestion. For instance, software updates or data backups that are not scheduled during off-peak hours may consume significant network resources, slowing down other critical operations. Proper traffic management, scheduling, and implementing Quality of Service (QoS) policies can help prioritize essential data and reduce the impact of unnecessary traffic on network congestion.
The increasing reliance on data-intensive applications and services, such as video streaming, online gaming, social media, and cloud computing, has led to a significant surge in data consumption. As more users simultaneously access these services, the network experiences a spike in data traffic, pushing it closer to its capacity limits and potentially causing congestion.
A network bottleneck occurs when a specific point in the network infrastructure has lower capacity or processing capabilities than other parts of the network. For example, a router or switch with limited data-handling capabilities may struggle to manage the incoming data flow, causing congestion at that particular point.
Effective traffic management is crucial for ensuring smooth data flow. Networks can prioritize different types of traffic based on their importance and allocate resources accordingly. However, inefficient traffic management, such as improper prioritization or inadequate QoS settings, can lead to congestion, especially during peak usage periods.
In data transmission, packets are small units of data that travel across the network. Network errors or congestion can cause packet loss, where some packets fail to reach their destination. When packet loss occurs, devices may need to request retransmissions of lost packets, adding to the network traffic and exacerbating congestion.
Data transmission over long distances can introduce latency, which is the delay between sending and receiving data. In wide-area networks, such as the internet, data may traverse multiple routers and links, causing delays that contribute to congestion, especially in high-traffic regions.
Network devices, such as routers and switches, use buffers to temporarily store incoming data packets before forwarding them. If the buffer's capacity is exceeded, due to rapid data arrival or slow processing, packets may be dropped, requiring retransmissions and leading to congestion.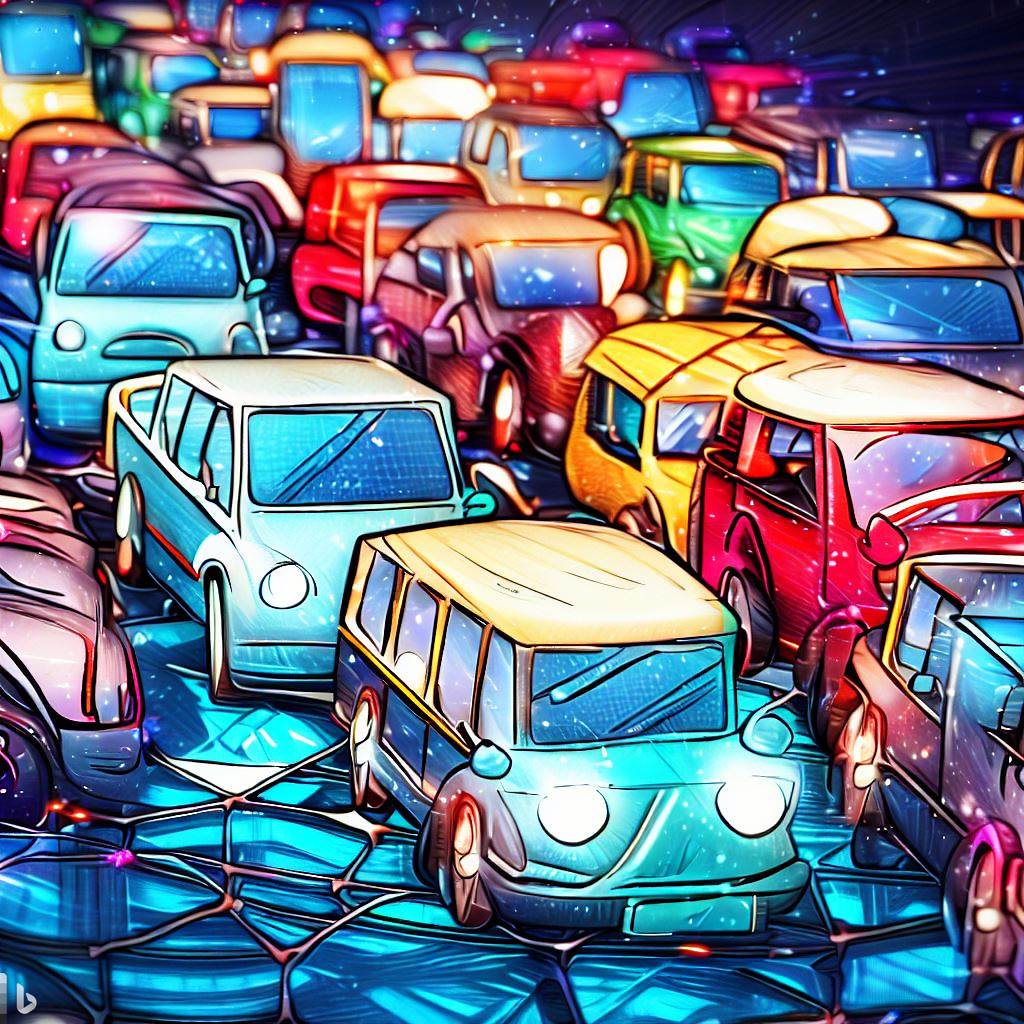 Understanding what causes network congestion empowers network administrators and engineers to implement targeted solutions for a more efficient and reliable network. By identifying the root factors leading to network congestion, they can develop strategic plans to address each issue appropriately. Understanding what causes network congestion enables the implementation of measures like traffic analysis, Quality of Service (QoS) policies, bandwidth management, traffic shaping, hardware upgrades, and network security measures to mitigate congestion risks effectively.
With this knowledge-driven approach, network operators can proactively manage network resources, optimize performance, and ensure seamless data flow, resulting in enhanced user experiences, minimized service disruptions, and a future-ready network infrastructure capable of handling the growing demands of an interconnected world.
If you've performed your network performance test and realized that you're experiencing network congestion due to a lack of resources, you need to take action. Managing and reducing network congestion effectively is crucial to maintain network performance and ensure the smooth operation of applications and services.
Here are some suggestions:
1. Traffic Monitoring and Analysis:
Continuously monitor network traffic patterns using network monitoring tools. This helps in identifying congestion points and understanding the nature of the traffic.
2. Manage or Upgrade Bandwidth:
Upgrade your Internet connection bandwidth with your ISP if you're just running out of bandwidth. This will increase your resources availability.
If your network devices can't handle the traffic going through them, you can also simply decrease your usage. This can mean allocating times during the day where you minimize traffic.
3. Quality of Service (QoS):
4. Traffic Shaping:
Use traffic shaping mechanisms to control the flow of traffic, preventing bursts of data from overwhelming the network. This can help ensure a more consistent and predictable traffic pattern.
5. Load Balancing:
Distribute traffic across multiple network paths or servers to prevent any single point from becoming a bottleneck. Load balancers can evenly distribute incoming requests.
6. Bandwidth Expansion:
Consider increasing available bandwidth by upgrading network links, routers, and switches to accommodate growing traffic demands.
7. Caching and Content Delivery Networks (CDNs):
Implement caching strategies and CDNs to store and serve frequently accessed content closer to end-users, reducing the load on your core network.
8. Packet Prioritization:
Configure routers and switches to prioritize certain types of traffic. For example, prioritize real-time applications like VoIP and video conferencing over non-real-time data transfers. QoS for VoIP can help with this.
9. Optimize Network Protocols:
Choose network protocols and configurations that are efficient and minimize unnecessary overhead. For example, use UDP for real-time applications that can tolerate some packet loss, and TCP for reliable data transfers.
10. Regular Maintenance and Upgrades:
Keep network hardware and software up to date with the latest patches and updates to address any security vulnerabilities and performance enhancements.
11. DDoS Mitigation:
Implement DDoS mitigation strategies and tools to protect against distributed denial-of-service attacks that can quickly congest a network.
12. Policy-Based Access Control:
Implement access control policies to restrict certain types of traffic or limit bandwidth usage for specific applications or users.
13. Network Redundancy:
Establish network redundancy and failover mechanisms to ensure that if one part of the network experiences congestion or failure, traffic can be rerouted through alternate paths.
14. Capacity Planning:
Regularly review and adjust network capacity based on growth projections and historical data to proactively prevent congestion issues.
Network congestion management is an ongoing process, and it's essential to adapt to changing network conditions and requirements. The specific strategies and tools you employ will depend on your network's unique needs and the resources available to you. Regularly reviewing and adjusting your congestion management strategies is key to maintaining a healthy and high-performing network.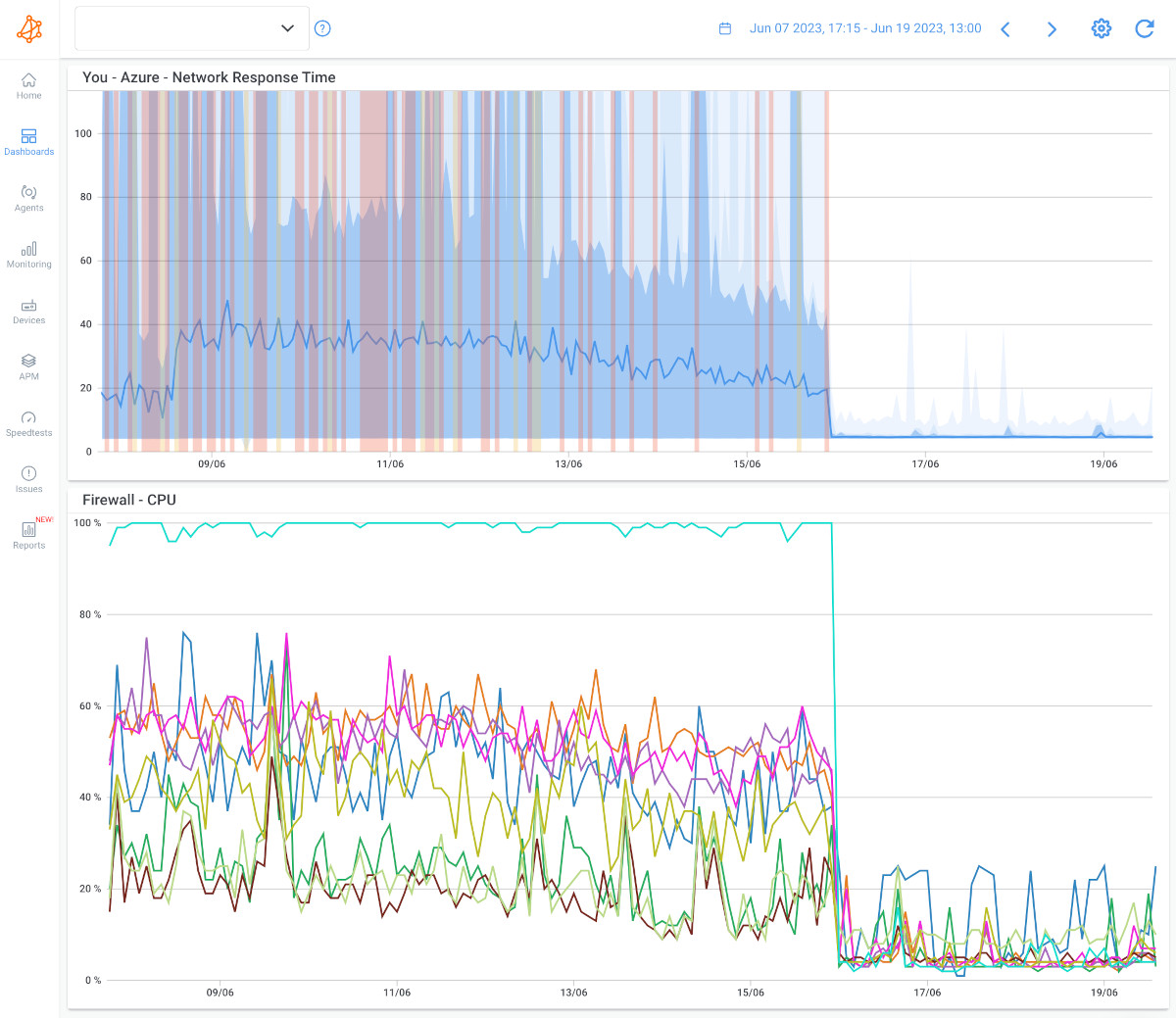 Now that you know how to set up Obkio to monitor and detect network congestion, you need to know how to fix network congestion.
With Obkio you can also identify network problems and collect the information you'll use to troubleshoot and fix the network congestion and make sure you don't run into another network traffic jam!
Create your own Obkio dashboard with a summary of your network metric measurements and data you need to troubleshoot the network congestion, including:
What the problem is (network congestion or other network problems)
Where the network congestion is located (Use Obkio's Traceroutes or Vision Visual Traceroute tool to help pinpoint the location of problems)
What caused the network congestion
When the network congestion happened
Who is responsible for the network segment (is it happening inside of your network or in your ISP/ MSP network?)
How to Troubleshoot Network Issues: Unleash Your Inner IT Hero
Learn how to troubleshoot network issues by identifying where, what, why network problems occur with Network Troubleshooting tools.
Learn more
From here, there are several ways to fix network congestion, depending on the root cause of the issue. Here are some common solutions:
Upgrading your Internet plan can be an effective technique to fix network congestion, but it depends on the underlying cause of the congestion.
Network congestion occurs when there is too much demand for the available bandwidth in a particular area or on a particular network. This can happen for a variety of reasons, such as an increase in the number of users, an increase in the amount of data being transmitted, or a decrease in the available bandwidth.
One way to address network congestion is to upgrade your Internet plan. This can give you access to more bandwidth, which can help alleviate congestion. However, there are a few things to keep in mind when considering this option:
Check with your Internet Service Provider (ISP) to see what plans are available in your area. Make sure you understand the terms and conditions of any new plan you're considering, including any data caps, speed limits, or additional fees.
Determine if the congestion is caused by factors that an upgraded plan can address. If the congestion is due to network infrastructure issues, such as outdated equipment or poor routing, upgrading your plan may not make a significant difference.
Consider other factors that may be contributing to the congestion. For example, if many people are using the same Wi-Fi network, upgrading your plan may not be enough. You may need to take other steps, such as using a wired connection or upgrading your router, to improve your connection.
Keep in mind that upgrading your Internet plan may not be the most cost-effective solution in the long run. If the congestion is temporary or you only occasionally experience slow speeds, it may be more economical to stick with your current plan and explore other ways to improve your connection, such as optimizing your network settings or using a content delivery network (CDN).
In summary, upgrading your Internet plan can be an effective technique to fix network congestion, but it's important to consider the underlying cause of the congestion and other factors that may be contributing to slow speeds. Make sure you understand the terms and conditions of any new plan you're considering and explore other options for improving your connection before making a decision.
Reducing bandwidth usage can be an effective technique to fix network congestion, especially when the cause of the congestion is due to limited bandwidth capacity. Here are some ways to reduce bandwidth usage:
Limit the number of devices connected to your network: The more devices connected to your network, the more bandwidth is being used. If possible, disconnect devices that are not in use or consider limiting the number of devices connected to your network.
Restrict bandwidth usage for specific applications: Some applications may be using more bandwidth than others, causing congestion. You can restrict bandwidth usage for specific applications by using Quality of Service (QoS) settings on your router or firewall. This will prioritize traffic for certain applications over others, which can help alleviate congestion.
Reduce video streaming quality: Streaming services like Netflix and YouTube can use a lot of bandwidth, especially when streaming in HD or 4K. You can reduce video streaming quality to reduce the amount of bandwidth being used. For example, you can set the streaming quality to standard definition (SD) instead of high definition (HD).
Disable automatic updates: Software updates can use a lot of bandwidth, especially if multiple devices are updating simultaneously. You can disable automatic updates or schedule updates for off-peak hours to reduce the impact on your network.
Use compression technologies: Compression technologies can reduce the size of data being transmitted, which can reduce the amount of bandwidth being used. For example, you can use compression technologies for email attachments, images, and videos.
Limit file sharing: Peer-to-peer (P2P) file sharing can use a lot of bandwidth, especially if multiple users are downloading or sharing files simultaneously. You can limit P2P file sharing or use a P2P file sharing client that allows you to limit bandwidth usage.
In summary, reducing bandwidth usage can be an effective technique to fix network congestion, especially when the cause of the congestion is due to limited bandwidth capacity. By limiting the number of devices connected to your network, restricting bandwidth usage for specific applications, reducing video streaming quality, disabling automatic updates, using compression technologies, and limiting file sharing, you can reduce the amount of bandwidth being used and alleviate network congestion.
Optimizing your network can be an effective technique to fix network congestion. Here are some ways to optimize your network:
Position your router in a central location: Position your router in a central location to ensure that the Wi-Fi signal is distributed evenly throughout your home or office. Avoid placing your router near walls, metal objects, or other devices that can interfere with the signal.
Secure your network: Make sure your network is secure by using a strong password and enabling WPA2 encryption. This will prevent unauthorized users from accessing your network and using your bandwidth.
Use a wired connection: If possible, use a wired connection instead of Wi-Fi. Wired connections are faster and more reliable than Wi-Fi, especially for high-bandwidth activities like gaming and streaming.
Optimize your router settings: You can optimize your router settings to improve your network performance. For example, you can change the channel on which your router is transmitting to avoid interference, enable QoS settings to prioritize traffic, and adjust the transmit power to improve coverage.
Use a range extender or mesh network: If you have a large home or office, you may need to use a range extender or mesh network to improve your Wi-Fi coverage. Range extenders and mesh networks can help distribute the Wi-Fi signal evenly throughout your space, reducing congestion and improving performance.
Upgrade your router: If your router is old or outdated, upgrading to a newer model can significantly improve your network performance. Newer routers are faster, more reliable, and have better features than older models.
In summary, network optimization can be an effective technique to fix network congestion. By positioning your router in a central location, securing your network, using a wired connection, optimizing your router settings, using a range extender or mesh network, and upgrading your router, you can improve your network performance and reduce congestion.
Using a Content Delivery Network (CDN) can be an effective technique to fix network congestion, especially if the congestion is caused by high traffic volumes to a specific website or online application. A CDN is a distributed network of servers that are strategically located in various regions around the world.
By using a CDN, website and application owners can reduce the load on their origin servers and improve performance by serving content from the nearest CDN server to the end user.
Here are some benefits of using a CDN:
Faster content delivery: By caching content on multiple servers around the world, a CDN can deliver content faster to end users. This is especially important for websites and applications that have a global audience.
Reduced server load: By distributing the load across multiple servers, a CDN can reduce the load on the origin server, which can improve performance and reduce the risk of downtime.
Improved user experience: Faster content delivery and improved performance can lead to a better user experience, which can increase engagement and reduce bounce rates.
Improved security: Some CDNs offer security features like DDoS protection, SSL/TLS encryption, and web application firewalls, which can improve the security of your website or application.
Here are some steps to using a CDN:
Choose a CDN provider: There are many CDN providers to choose from, including Amazon CloudFront, Akamai, Cloudflare, and Fastly. Choose a provider that meets your specific needs and budget.
Configure your CDN: Once you have chosen a CDN provider, you will need to configure your website or application to use the CDN. This typically involves updating your DNS settings to point to the CDN provider's servers.
Test and monitor: After configuring your CDN, you should test and monitor your website or application to ensure that everything is working properly. You should also monitor your CDN usage and performance to ensure that you are getting the most out of your investment.
In summary, using a CDN can be an effective technique to fix network congestion, especially for websites and applications with a global audience. By caching content on multiple servers around the world, a CDN can reduce the load on the origin server, improve performance, and provide a better user experience. To use a CDN, choose a provider, configure your website or application, and test and monitor your usage and performance.
Contacting your service provider is a technique to fix network congestion that can be effective in some situations. If you are experiencing network congestion and you have tried other troubleshooting techniques without success, contacting your service provider is a good next step. Here are some steps to take when contacting your service provider:
Check for service alerts: Before contacting your service provider, check their website or social media pages for any service alerts. If there is an outage or maintenance scheduled in your area, your service provider may already be aware of the issue and be working to resolve it.
Contact customer support: If there are no service alerts or if the issue persists after the outage or maintenance is resolved, contact your service provider's customer support. They may be able to identify the cause of the congestion and provide a solution.
Provide information: When contacting customer support, provide as much information as possible about the issue you are experiencing. This may include the symptoms you are seeing, the devices you are using, and any troubleshooting steps you have already taken.
Ask about network upgrades: If network congestion is a recurring issue in your area, ask your service provider if they have plans to upgrade their network infrastructure. Upgrades like increasing bandwidth or adding more servers can help alleviate congestion and improve performance.
Consider switching providers: If network congestion is a persistent issue and your service provider is unable or unwilling to address the issue, consider switching to a different provider. Research other providers in your area and compare their plans, prices, and customer reviews before making a decision.
In summary, contacting your service provider can be an effective technique to fix network congestion, especially if other troubleshooting techniques have not been successful. Check for service alerts, contact customer support, provide information, ask about network upgrades, and consider switching providers if necessary.
Detecting network congestion is a critical aspect of network management, and it plays a pivotal role in ensuring that your network operates smoothly and efficiently. Network congestion can have far-reaching consequences that affect both the performance and user experience.
With Obkio's Network Monitoring tool, you can easily detect network congestion like a pro! But why is it important:
The foremost reason for detecting network congestion is to uphold the quality of services and applications running on the network. In an increasingly digital world, services such as real-time communication (e.g., VoIP and video conferencing), streaming media, cloud applications, and online gaming demand consistent and reliable network performance. Congestion can severely degrade the quality of these services, resulting in pixelated video, dropped calls, laggy gameplay, and frustrated users.
Efficient resource allocation is key to network management. Detecting congestion allows network administrators to identify where resources are being underutilized or overutilized. By rerouting or reallocating resources in response to congestion, administrators can optimize network performance and prevent wasted resources.
Early detection of congestion enables network administrators to take proactive steps to resolve issues before they escalate into full-blown outages. This can save time, resources, and the potential revenue loss associated with service disruptions.
Network congestion, if left unchecked, can lead to network outages. These outages can be costly in terms of both financial losses and damage to an organization's reputation. By detecting congestion early, administrators can address the root causes and prevent such disruptions.
Understanding when and where congestion occurs provides critical insights for capacity planning. Network administrators can use this information to strategically invest in network upgrades or optimizations to accommodate growing demands and avoid congestion in the future.
Network congestion can also be exploited by malicious actors. Distributed Denial of Service (DDoS) attacks often flood a network with traffic to induce congestion and disrupt services. By detecting congestion, network administrators can differentiate between legitimate traffic spikes and potential DDoS attacks, allowing for timely mitigation.
User satisfaction is closely tied to network performance. Detecting and resolving congestion issues promptly enhances the overall user experience, which is particularly important for businesses and service providers looking to retain customers and maintain a positive brand image.
In conclusion, detecting network congestion is vital for preserving the reliability, efficiency, and security of your network. It empowers administrators to take proactive measures, optimize resource allocation, and ensure the consistent delivery of services. In a world where network reliability is paramount, being vigilant in detecting and managing congestion is not just a best practice; it's a necessity for organizations and individuals alike.
With this setup, you can now proactively detect and troubleshoot network congestion before it starts impacting your network performance and user experience! It's like finding an alternative route to avoid road congestion.
Detecting network congestion may not be as thrilling as a high-speed car chase or as exciting as a game of dodgeball, but it is an essential skill for any network administrator who wants to avoid getting jammed up!
By following the tips and tricks outlined in this post, you can become a pro at detecting network congestion, and keep your network running smoothly like a well-oiled machine.
Use Network Device Monitoring to easily detect network congestion caused by your network equipment.
But remember, if the network congestion is occurring outside of your network, or with your ISP's network equipment, use Obkio to measure network metrics like packet loss, jitter and latency, which can spike when network congestion occurs.
Put It to the Test: Trying Is the Ultimate Way to Learn!
So don't let network congestion get you down - with a little know-how and Obkio's Network Monitoring Tool, you can stay one step ahead of the game and keep your network flowing like a hot knife through butter!
14-day free trial of all premium features
Deploy in just 10 minutes
Monitor performance in all key network locations
Measure real-time network metrics
Identify and troubleshoot live network problems
You can rest assured that we're not like those pushy Sellsy people - there's no catch here. We firmly believe in the excellence of our product, but if it's not the right fit for you, we understand and want what's best for you.
These might interest you