Table of Contents
Table of Contents
As network admins and IT specialists, you bear the crucial responsibility of optimizing network performance, ensuring the seamless flow of information. Network throughput lies at the heart of this endeavour, serving as a key performance metric that measures the amount of data transmitted within a given timeframe.
Consider network throughput as the pulse of your network—the indicator of its vitality and efficiency. It encompasses various factors such as bandwidth, latency, and packet loss, collectively influencing the rate at which data is successfully delivered from source to destination.
By understanding the nuances of network throughput, you gain invaluable insights into the capacity and potential of your network infrastructure. Armed with this knowledge, you can implement strategic optimizations, streamline operations, and drive enhanced productivity within your organization.
Throughout this blog post, we will embark on a systematic exploration of network throughput, starting with the foundational principles and gradually progressing to more advanced concepts. By the end of our journey, you will possess a comprehensive understanding of this critical performance metric, equipping you with the tools and knowledge necessary to optimize network performance in your professional endeavours.
Let's begin our exploration of network throughput and unlock the secrets that lie within!
First, let's make sure we're all on the same page about the network throughput definition.
Network throughput refers to the amount of data that can be transmitted through a network within a given period of time. It is a critical performance metric that measures the efficiency and capacity of a network infrastructure.
In simpler terms, network throughput quantifies the speed at which data can travel from one point to another across a network. It is influenced by factors such as bandwidth, latency, packet loss, and network congestion.
Imagine network throughput as a busy highway during rush hour. The number of cars that can pass through the highway in a given time represents the throughput. Just as a wider highway with more lanes allows for a higher volume of cars to flow smoothly, a network with greater bandwidth and fewer congestion points can facilitate faster data transmission.
However, just like traffic congestion can slow down cars and reduce the number of vehicles reaching their destinations, network congestion and limitations can hinder data transfer speeds and reduce overall throughput.
Understanding network throughput is crucial for organizations that rely on fast and reliable data communication. It enables them to deliver timely and efficient services, support high-bandwidth applications, and meet the increasing demands of modern digital environments.
Network throughput, network bandwidth, and network speed are often confused and used interchangeably in the world of networking, but they're not the same. While all the terms refer to the amount of data that can be transmitted over a network, they are measured in different ways and serve different purposes.
Network Throughput refers to the actual amount of data that is transmitted over a network or communication channel in a given period of time.
Network Speed, which is the most commonly spoken about metric when it comes to network and application performance, refers to the speed at which data is transferred between two devices on a network.
Network Bandwidth refers to the maximum amount of data that can be transmitted over a network or communication channel in a given period of time.
Understanding the difference between network speed, bandwidth and throughput is important for network administrators and anyone involved in managing or troubleshooting network performance issues.
Network Speed vs. Bandwidth vs. Throughput: Understanding Network Performance Metrics
Learn about the differences between network speed, bandwidth & throughput. Find out why your business should measure them and how!
Learn more
Network throughput plays a crucial role in determining network performance. The level of throughput directly impacts how efficiently and effectively data can be transmitted across a network. Here are a few key ways in which network throughput affects network performance:
Data Transfer Speed: Higher network throughput allows for faster data transfer speeds. Large files, multimedia content, or data-intensive applications can be transmitted more quickly when the network has higher throughput. Users experience reduced waiting times and improved productivity as data reaches its destination in less time.
Application Performance: Many applications, especially those that rely on real-time data transmission or require large amounts of data to be exchanged, are sensitive to network throughput. Applications such as video conferencing, online gaming, streaming services, and cloud-based applications benefit from higher throughput, ensuring smoother and uninterrupted performance.
User Experience: Network throughput has a direct impact on the user experience. When throughput is low, users may experience delays, buffering, or interruptions in accessing online resources, websites, or cloud-based services. A network with sufficient throughput ensures a seamless and responsive user experience.
Network Congestion: Network throughput affects how well a network can handle traffic and congestion. When the network is operating at or near its maximum throughput capacity, congestion can occur, resulting in packet loss, increased latency, and reduced overall performance. Higher throughput capacity allows the network to handle more concurrent connections and data traffic without significant degradation.
Scalability and Future Growth: Network throughput considerations are essential for planning network scalability and accommodating future growth. As data demands increase over time, a network with sufficient throughput capacity can adapt and handle the growing traffic requirements without significant performance degradation.
Service Level Agreements (SLAs): Network throughput often forms a part of service level agreements between service providers and their customers. SLAs may include minimum throughput guarantees to ensure a certain level of performance. Monitoring and maintaining adequate throughput levels are necessary to meet these contractual obligations.
In summary, network throughput is a critical factor in network performance, impacting data transfer speed, application performance, user experience, network congestion management, scalability, and adherence to service level agreements. By ensuring sufficient throughput, network administrators can provide efficient, reliable, and high-performing network services to their users.
Rev up your network's performance and unleash the speed demons within! Take control of your network throughput with Obkio's Network Performance Monitoring tool.
It's time to leave slow connections in the dust and embrace the need for speed. Don't settle for guesswork—measure your network throughput, as well as more key network metrics with the precision and finesse of Obkio.
14-day free trial of all premium features
Deploy in just 10 minutes
Monitor performance in all key network locations
Measure real-time network metrics
Identify and troubleshoot live network problems
Throughput is measured using various techniques depending on the context. The choice of technique depends on the specific system or context being measured, and in many cases, it's common to use multiple techniques to cross-verify and validate throughput measurements, especially in complex systems.
Here are some common techniques for measuring throughput, in different scenarios.
Data Transfer Rate: This is one of the simplest ways to measure throughput and is commonly used for devices like hard drives, SSDs, and USB drives. It is usually expressed in bits per second (bps), bytes per second (Bps), or some other multiple (e.g., megabits per second, gigabytes per second).
Network Throughput: Measuring the throughput of a network involves sending data packets between two points and measuring the rate at which they are received. This can be done using tools like Iperf, which generate network traffic and report the throughput.
Application-Level Throughput: This measures the throughput of a specific application running on a computer or device. For instance, you can measure the throughput of a web server by tracking the number of HTTP requests it can handle per second.
Benchmarks: Many software and hardware components are tested using benchmarking tools. These tools simulate real-world workloads and measure the throughput achieved. Examples include 3DMark for graphics performance and Geekbench for CPU performance.
I/O Performance Testing: For storage devices like hard drives or SSDs, tools like CrystalDiskMark or ATTO Disk Benchmark are used to measure read and write speeds in terms of megabytes per second (MBps).
Load Testing: In web applications and services, load testing tools like Apache JMeter or Gatling are used to simulate a large number of users or requests and measure the throughput of the system.
Packet Loss and Retransmission Rates: In network communication, measuring packet loss and retransmission rates can indirectly provide information about throughput. A higher packet loss or retransmission rate indicates a potential bottleneck.
Queuing Theory: In some cases, mathematical models like queuing theory are used to analyze and predict throughput in systems where data arrives randomly, such as telecommunications networks or customer service call centers.
Sensor-Based Measurement: In industrial and manufacturing settings, sensors can be used to measure the rate at which physical objects or materials move through a process, providing insights into throughput.
Machine Learning Models: Advanced techniques involve using machine learning models to predict or estimate throughput based on historical data and various factors influencing the system.
The choice of technique depends on the specific system or context being measured. It's important to select the most appropriate technique to accurately assess throughput and identify any bottlenecks or performance issues. Additionally, it's common to use multiple techniques to cross-verify and validate throughput measurements, especially in complex systems.
Network throughput is typically measured in bits per second (bps) or a higher unit of measurement, such as kilobits per second (Kbps), megabits per second (Mbps), or gigabits per second (Gbps).
As you can see, throughput is measured using a range of different techniques depending on the context. In this article, we're focusing on network throughput, so let's dive into how to measure throughput in networking more specifically.
There are various tools and techniques available to measure network throughput, depending on the specific requirements and network infrastructure. Here are a few common methods:
There are many techniques and tools available to measure network throughput, but not all of them can truly give you a complete view of your network performance. When it comes to network throughput, there are so many factors that can affect throughput and impact network performance - so it's important to have a tool that can measure them all.
Network Monitoring Tools (or Network Performance Monitoring) are the most accurate and detailed method for measuring network throughput and performance as a whole. These tools capture and analyze network traffic, allowing you to observe throughput patterns, identify bottlenecks, and gain insights into the overall network performance.
Here's how to deploy it!
Looking for easy, fast network performance monitoring and network throughput measurement? Enter Obkio's Network Performance Monitoring tool.
Harness the power of Obkio's Network Performance Monitoring tool and fuel your network with precision measurements. Measure, analyze, and optimize your network throughput like never before.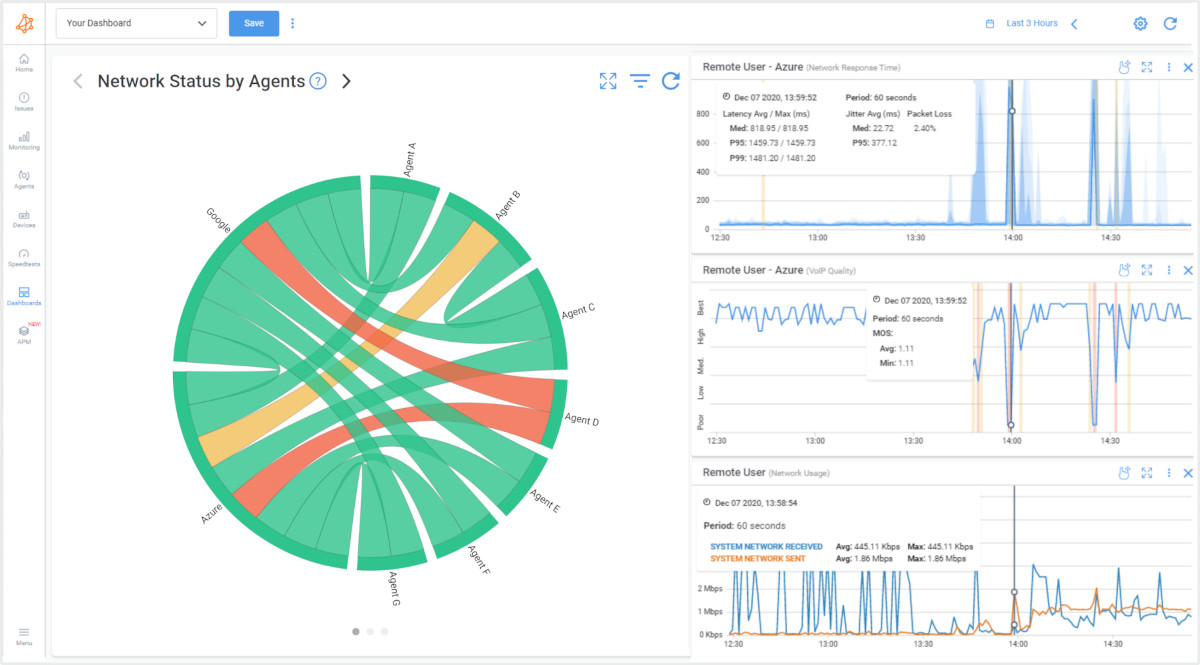 Obkio measures network throughput and other key network metrics using synthetic traffic to simulate real-world network usage. This traffic consists of carefully crafted data packets that are sent between Network Agents deployed at different ends of your network. By controlling the traffic, Obkio can accurately measure network throughput without being affected by external factors.
Obkio measures network throughput using continuous synthetic traffic from Network Monitoring Agents deployed in your most important network locations like offices, data centers and clouds. Begin by setting up and configuring Obkio's monitoring agents within your network infrastructure.
For your end-to-end monitoring setup, you'll need:
Local Agents: Installed in the targeted office location where you want to measure network performance. There are several Agent types available (all with the same features), and they can be installed on MacOS, Windows, Linux and more.
Public Monitoring Agent: These are deployed over the Internet and managed by Obkio. They compare performance up to the Internet and quickly identify if the problem is global or specific to the destination. For example, measure network throughput between your branch office and Google Cloud.
The Agents measure throughput in your network by sending and monitoring synthetic data packets through your network every 500ms using for the most precise throughput measurements.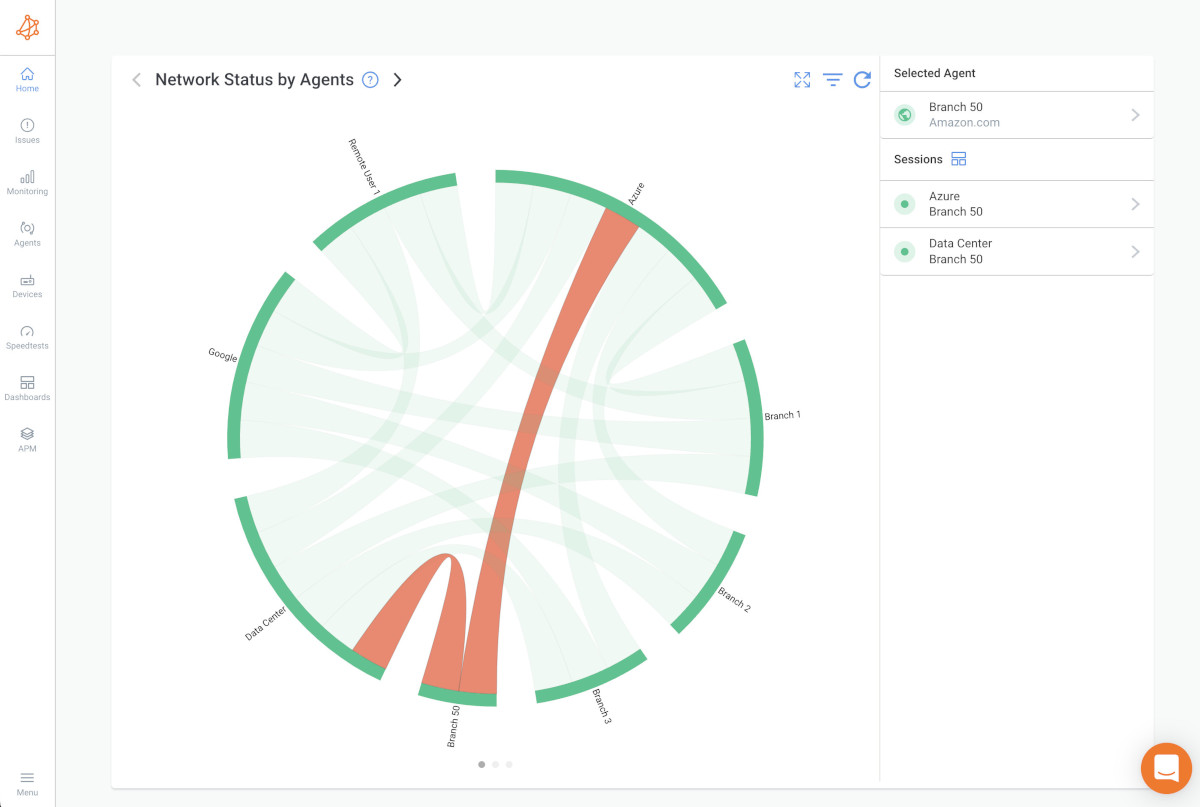 Obkio measures network throughput using advanced techniques designed to provide accurate and insightful performance data. That's because Obkio isn't just a one-time testing tool, it's a complete network performance master!
By measuring key network metrics like network throughput, Obkio can quickly identify and help you troubleshoot network issues affecting your network performance.
Here's an overview of how Obkio measures network throughput:
Round-Trip Time (RTT) Calculation: Obkio measures the Round-Trip Time (RTT) for each data packet sent between endpoints. RTT is the time it takes for a packet to travel from the source to the destination and back. By measuring the RTT, Obkio can determine the latency and network response time of the network, which indirectly affects the throughput calculation.
Packet Loss Detection: Obkio's monitoring system tracks the presence of packet loss during the data transmission process. It identifies any dropped packets and measures the rate of packet loss, which can impact throughput. By measuring packet loss, Obkio can provide insights into network quality and reliability.
Bandwidth Utilization: Obkio examines the amount of bandwidth used during data transmission. By monitoring the volume of data transferred over time, it can calculate the average and peak bandwidth utilization. This information is essential for understanding how effectively the available bandwidth is being utilized and its impact on overall throughput.
By employing these methods, Obkio provides accurate measurements of network throughput, empowering network administrators and IT professionals to monitor, analyze, and optimize their network performance. With Obkio's tools in your arsenal, you can fine-tune your network, boost efficiency, and ensure optimal data transmission speeds.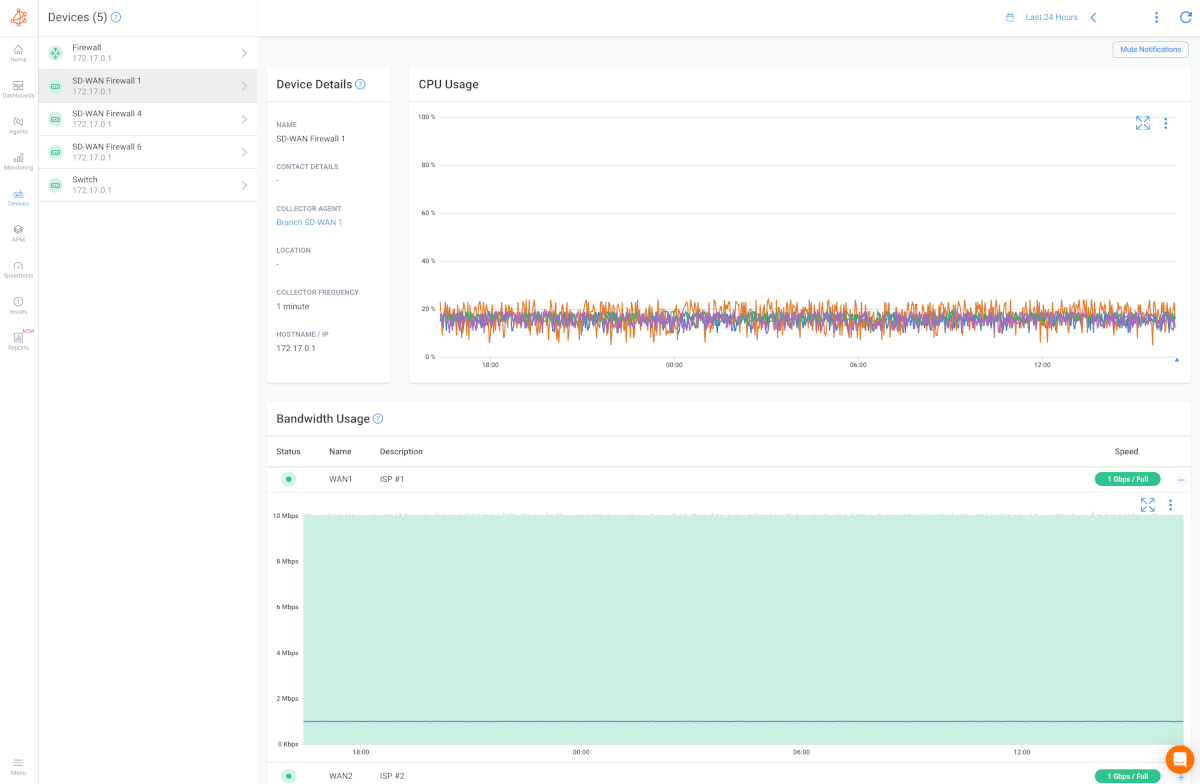 Obkio's monitoring platform goes beyond simply collecting data—it empowers you with comprehensive analysis and reporting capabilities to gain deep insights into your network throughput. Here's an expanded explanation:
Detailed Reports: Obkio's monitoring tool generates detailed reports that focus on network throughput and other key network metrics. These reports provide a wealth of information, including average and peak throughput values, trends over time, and comparisons between different Monitoring Agents or network segments. The reports offer a clear and concise overview of your network's throughput performance.
Real-time Monitoring: Obkio offers real-time monitoring of network throughput, allowing you to track changes and fluctuations as they occur. With live data feeds and intuitive visualizations, you can keep a finger on the pulse of your network and quickly identify any performance issues that may impact throughput. Real-time monitoring enables proactive troubleshooting and optimization.
Historical Insights: Obkio's monitoring tool stores historical data on network throughput, enabling you to analyze trends and patterns over time. By reviewing historical performance, you can identify long-term changes in throughput, seasonal variations, or recurring bottlenecks. This information helps you make informed decisions for network planning, capacity management, and optimization strategies.
Performance Bottleneck Identification: With Obkio's analysis and reporting features, you can pinpoint performance bottlenecks that may hinder network throughput. By analyzing the data, you can identify network segments, devices, or specific configurations that contribute to reduced throughput. Armed with this knowledge, you can take targeted actions to optimize those areas and improve overall network performance.
Online speed testing websites provide a simple and convenient way to measure network throughput. These websites initiate a download and upload process, measuring the time it takes to transfer a specific amount of data. The results are then calculated and displayed as throughput in Mbps or Gbps.
Download and Upload Process: During the download phase, a predetermined amount of data is transferred from the website's server to your device. This process measures the speed at which data is received by your device. In the upload phase, a similar amount of data is sent from your device back to the server, measuring the speed at which data is transmitted from your device.
Timing the Data Transfer: The speed testing website carefully tracks the time it takes for the download and upload processes to complete. This timing starts as soon as the transfer begins and ends when all the data has been successfully transmitted.
Throughput Calculation: Once the download and upload processes are complete, the speed testing website calculates the throughput based on the amount of data transferred and the time it took to transfer that data. Throughput is typically measured in megabits per second (Mbps) or gigabits per second (Gbps). The calculated throughput represents the average speed at which data was transferred during the test.
Iperf is a popular command-line tool used for measuring network throughput. It allows you to set up a client-server connection and generate network traffic to test the throughput between the two endpoints. Iperf provides detailed statistics and reports on the achieved throughput, including metrics like bandwidth, jitter, and packet loss.
Client-Server Connection: With Iperf, you can establish a client-server connection between two endpoints on a network. One endpoint acts as the server, while the other serves as the client. This client-server architecture enables controlled network traffic generation and measurement.
Throughput Testing: Once the client-server connection is established, Iperf generates network traffic between the two endpoints. It measures the speed at which data is transmitted from the client to the server, effectively testing the throughput of the network connection.
Detailed Statistics: Iperf provides detailed statistics and reports on the achieved throughput. It offers insights into various performance metrics beyond just throughput, including bandwidth, jitter, and packet loss. Bandwidth represents the maximum data transfer rate, jitter refers to the variation in packet delay times, and packet loss measures the percentage of lost data packets.
Network Performance Testing: In some cases, organizations conduct performance testing to measure network throughput. This involves simulating real-world scenarios and subjecting the network to varying loads and conditions to assess its capacity and measure throughput under different circumstances.
Simulation of Real-World Scenarios: Emulate real usage conditions to test network performance.
Varying Loads and Conditions: Apply different traffic levels and network situations for a thorough evaluation.
Capacity Assessment: Determine the network's maximum capacity for future planning.
Throughput Measurement: Accurately measure data transmission speeds under different conditions.
Identification of Bottlenecks and Optimization: Pinpoint weak points and improve network performance.
Validation and Compliance: Ensure compliance with standards and service level agreements.
Network Testing: How to Test Network Performance
Learn how to perform network testing using Network Monitoring tools to test network performance, and identify network bugs and issues.
Learn more
The perception of good and bad throughput rates can vary depending on the context and specific requirements of the network or application. However, here are some general guidelines:
In general, a good throughput rate is considered to be one that efficiently meets the needs of the network or application without experiencing significant performance degradation. The definition of "good" throughput can depend on the specific use case.
For example, a good throughput rate for a residential internet connection might be around 25-100 Mbps, allowing for smooth web browsing, video streaming, and file downloads.
In a business environment, good throughput rates can vary depending on the nature of the business and the demands of applications. It could range from several hundred Mbps to several Gbps, depending on factors like the number of users, the type of data being transferred, and business requirements.
A bad throughput rate generally refers to a rate that falls below the expected or desired level, causing significant performance issues. It can result in slow data transfer, buffering or lag during streaming, dropped connections, or overall poor user experience. A bad throughput rate can be subjective, but it is typically characterized by speeds that are insufficient for the intended usage.
For instance, in a high-demand business environment, a throughput rate of a few Mbps could be considered inadequate, as it may not support the required data-intensive tasks or hinder productivity.
It's important to note that what constitutes good or bad throughput also depends on the available technology and the network's specific limitations.
For example, if a network is designed to support a maximum throughput of 100 Mbps, achieving and maintaining a consistent throughput close to this limit would generally be considered good. However, in a different scenario where the network infrastructure supports much higher speeds, a throughput rate of 100 Mbps may be considered poor.
When it comes to network throughput, several factors come into play that can influence the speed and efficiency of data transmission. Understanding these influences is essential for optimizing network performance. Let's explore the key factors that can impact network throughput, from bandwidth and congestion to latency and network equipment.
By gaining insights into these influences, network administrators and IT professionals can identify areas for improvement and take proactive measures to enhance network throughput.
Bandwidth, often expressed in bits per second (bps), represents the maximum data transfer rate that a network connection can support. The available bandwidth of the network connection directly affects throughput and provides an upper limit on the potential throughput. Higher bandwidth allows for greater data transfer rates, resulting in increased throughput.
Latency refers to the time it takes for data to travel from the source to the destination. High latency can impact throughput by causing delays and reducing the effective data transfer rate. Measuring latency is important as lower latency typically leads to faster throughput.
Packet loss occurs when data packets are dropped or not delivered successfully. Packet loss, specifically high packet loss, can lead to retransmissions, slowing down the overall data transfer, therefore reducing throughput and impacting overall network performance.
Network congestion, caused by an excessive amount of data traffic, can also lead to reduced throughput as the network struggles to handle the increased load. Congested networks with heavy traffic and limited capacity can lead to delays and packet loss, affecting the overall data transfer speed and throughput.
Errors in data transmission require retransmission, which introduces additional delays and reduces throughput. The presence of errors can be caused by network issues, faulty hardware, or interference.
The network protocol being used can affect throughput. Some protocols, such as TCP, include mechanisms for reliable data delivery but may introduce overhead that impacts throughput. Efficient protocols optimized for high-speed data transfer can improve throughput.
The quality and configuration of network equipment, such as routers, switches, and cables, can influence throughput. Outdated or improperly configured equipment may limit the network's capacity and degrade throughput.
The physical distance between network endpoints can impact throughput. Longer distances may introduce higher latency and lower throughput due to signal degradation or routing inefficiencies.
In networks with multiple paths or routes, load balancing distributes traffic across different routes to optimize performance. Effective load balancing ensures efficient utilization of network resources and can improve throughput.
QoS policies prioritize certain types of network traffic over others. Well-configured QoS policies can allocate network resources effectively, ensuring critical traffic receives the necessary bandwidth and improving overall throughput.
Understanding these factors and their impact on network throughput helps network administrators and IT professionals identify potential bottlenecks, optimize network configurations, and implement strategies to improve overall network performance.

So now that we know how network throughput works, why is it important for businesses to keep a close eye on their throughput?
Measuring network throughput plays a vital role in managing and optimizing network performance. By assessing the data transfer speeds within a network, administrators gain valuable insights into its efficiency and capacity. This information enables them to troubleshoot issues, plan for future growth, ensure the quality of service and meet performance expectations.
Let's look into it!
Performance Monitoring and Optimization: Measuring network throughput allows you to monitor the performance of your network infrastructure. By regularly assessing throughput, you can identify any performance bottlenecks, congestion points, or areas of inefficiency. This information enables you to optimize your network configuration, troubleshoot issues, and ensure smooth data transmission.
Capacity Planning: Throughput measurements provide insights into your network's capacity and help in capacity planning. By understanding the maximum throughput your network can handle, you can determine whether it can accommodate current and future demands. This information is vital for scaling your network infrastructure, upgrading bandwidth, or implementing necessary optimizations to meet growing data transfer requirements.
Troubleshooting and Issue Resolution: When network performance issues arise, measuring throughput allows you to pinpoint the source of the problem. By comparing expected and actual throughput rates, you can identify areas of congestion, packet loss, latency, or other network issues. This helps in troubleshooting and resolving problems promptly, reducing downtime, and improving user experience.
Quality of Service (QoS) Management: Throughput measurements are essential for managing QoS. By monitoring throughput, you can ensure that critical applications or services receive the necessary bandwidth and network resources to function optimally. QoS policies can be adjusted based on throughput measurements to prioritize important traffic and maintain the desired quality levels.
Benchmarking and Comparison: Measuring network throughput allows you to establish benchmarks and track performance over time. By setting baseline measurements, you can compare current throughput against previous records or industry standards. This enables you to assess the effectiveness of network upgrades, evaluate the impact of configuration changes, or compare your network's performance to industry peers.
Service Level Agreement (SLA) Compliance: For businesses that rely on network services from third-party providers, measuring network throughput is crucial for SLA compliance. Throughput measurements provide evidence of whether the service provider is meeting the agreed-upon performance targets and can be used for negotiation or dispute resolution.
Overall, measuring network throughput empowers network administrators and IT professionals to proactively manage and optimize network performance. It facilitates troubleshooting, capacity planning, and QoS management while ensuring compliance with SLAs. By continuously monitoring throughput, organizations can maintain reliable and efficient network operations, enhance user experience, and support the smooth functioning of critical applications and services.
In our quest to understand network throughput, it's important to address common misconceptions that can cloud our understanding. By debunking these misconceptions, we can gain a clearer perspective on what truly influences network throughput.
Let's get into it!
Throughput Equals Bandwidth: One common misconception, that we briefly mentioned at the beginning of the article, is that network throughput is the same as network bandwidth. While bandwidth refers to the maximum capacity of a network connection, throughput represents the actual data transfer rate achieved in practice. Factors such as network congestion, latency, and packet loss can affect throughput, even if the network has high bandwidth.
Consistent Throughput at All Times: Another misconception is that network throughput remains constant under all circumstances. In reality, throughput can fluctuate due to various factors like network congestion, varying traffic loads, and network conditions. Understanding these fluctuations helps manage expectations and optimize network performance.
Higher Throughput Always Equals Better Performance: While higher throughput is generally desirable, it does not always guarantee better overall network performance. Other factors like latency, packet loss, and application requirements also contribute to the user experience. It's essential to consider multiple performance metrics and requirements in addition to throughput.
Throughput is Solely Determined by Network Equipment: While network equipment plays a crucial role in determining throughput, other factors like network configuration, quality of network cables, and end-user devices can also impact throughput. It's important to consider the entire network ecosystem when assessing and optimizing throughput.
Throughput is the Sole Responsibility of the Network Service Provider: While service providers are responsible for delivering the promised bandwidth, achieving optimal throughput also depends on the local network environment, including internal network configuration, equipment, and utilization. Organizations should assess and optimize their internal network infrastructure for optimal throughput.
Addressing these misconceptions helps in developing a more accurate understanding of network throughput and enables effective management and optimization of network performance.
19 Network Metrics: How to Measure Network Performance
Learn how to measure network performance with key network metrics like throughput, latency, packet loss, jitter, packet reordering and more!
Learn more
So far we've been talking about throughput in relation to network performance. But it's also an important metric for application and service performance testing.
Throughput in performance testing refers to the measurement of the rate at which a system, application, or service can process a specific number of transactions or requests within a given time frame. It is a crucial metric for evaluating the performance and capacity of a system under various load conditions.
Throughput is typically expressed in transactions per second (TPS), requests per second (RPS), or some other unit of work completed per unit of time.
Here are some key points to understand about throughput in performance testing:
Measurement Unit: Throughput is measured in terms of the work completed within a specific time interval. For example, you might measure how many web page requests a web server can handle in one second.

Load Testing: Throughput is a vital metric in load testing, which is a type of performance testing. Load testing involves subjecting the system to varying levels of load (simulated user activity) to observe how it performs under different conditions. Throughput helps in determining the system's capacity and identifying potential bottlenecks.

Performance Goals: Establishing throughput goals is essential in performance testing. These goals are often defined based on business requirements and user expectations. For example, an e-commerce website may have a throughput goal of processing 1000 orders per minute during peak shopping hours.

Analysis: Analyzing throughput data helps identify performance bottlenecks. When throughput starts to decline or doesn't meet the established goals, it can indicate issues such as server overload, database performance problems, network congestion, or inefficient code.

Scalability Testing: Throughput is also used in scalability testing to determine how well a system can handle increased loads by adding more resources (e.g., servers, CPU cores, or memory). The goal is to ensure that as the load increases, the throughput also increases or at least remains stable.

Real-World Scenario: Throughput testing often simulates real-world scenarios to ensure that the system can handle the expected workload. For example, a video streaming service may simulate concurrent requests for video playback to test the system's ability to serve videos to multiple users simultaneously.
In summary, throughput in performance testing measures how efficiently a system can process a specific volume of work within a defined time frame. It is a critical metric for assessing system performance, identifying bottlenecks, and ensuring that a system meets its performance goals and user expectations.
Okay, so you've got a fancy network setup, but you're not sure if it's delivering the goods, right? Well, that's where network throughput testing comes in. It's like giving your Internet or local network a checkup.
Whether you're managing a home network or overseeing a complex enterprise infrastructure. Here are some key reasons why you should regularly test network throughput:
Performance Optimization: By measuring and testing network throughput, you can identify performance bottlenecks and optimize your network for better speed and efficiency. This is especially important for businesses where a slow network can hinder productivity.
Quality of Service (QoS) Assurance: For businesses that rely on VoIP, video conferencing, or real-time applications, consistent throughput ensures a high-quality user experience. Testing helps maintain QoS standards.
Troubleshooting: When network issues arise, measuring throughput can be the first step in troubleshooting. It helps pinpoint the source of problems, whether it's a faulty router, cable, or an external issue with your internet service provider.
Service Provider Verification: If you're paying for a specific level of service from an internet service provider (ISP), testing throughput helps ensure you're getting what you're paying for. If not, it can be a basis for negotiation or complaint.
Network Monitoring: Regular throughput testing, as part of network monitoring, helps proactively detect issues and respond to them before they impact users.
Now, let's break down some nifty techniques and tools that can help you figure out if your network's living up to its potential. From the classic iPerf to user-friendly Speedtest.net, we'll show you how to make sure your data is flowing smoothly in the digital pipes. So, grab your tech toolkit, and let's get testing!
Comprehensive network monitoring tools, like Obkio, can continuously monitor network performance and provide historical data on throughput. These tools collect data from network devices, such as routers and switches, and display performance metrics over time.
Network monitoring tools offer a holistic view of network health, including throughput, bandwidth utilization, and other performance indicators. We've talked about how to measure and test network throughput with Obkio's Network Monitoring tool easlier in the article.
iPerf is a widely used open-source tool designed specifically for measuring network bandwidth and throughput. It creates TCP or UDP data streams between two endpoints and measures the rate at which data is transmitted.
iPerf offers options for both client and server modes, allowing you to conduct tests in different directions (e.g., upload and download) and specify parameters like the port, protocol, and duration of the test.
Example: To test the network throughput between two computers with IP addresses 192.168.1.100 (server) and 192.168.1.101 (client), the server runs: iperf -s
And the client runs: iperf -c 192.168.1.100
Speedtest.net is a popular web-based tool that measures the download and upload speeds of an Internet connection. Users access the Speedtest.net website, and it connects to the nearest server to perform tests.
Speedtest.net provides a quick and user-friendly way to check the network throughput of an Internet connection.
This is the updated version of iPerf, offering improved features and capabilities. Like iPerf, it measures network throughput by generating TCP or UDP traffic between two endpoints. iperf3 offers enhanced support for multiple streams, bidirectional testing, and more detailed reporting compared to the original iPerf.
Example: Similar to iPerf, you can run iperf3 in server mode on one machine: iperf3 -s
And on the client machine: And on the client machine:
NetStress is a Windows-based tool designed for network benchmarking. It's particularly useful for testing LAN throughput. It allows users to create multiple TCP and UDP data streams between two computers to assess network performance.
NetStress provides real-time graphical representations of throughput and can help identify network issues.
While not directly measuring throughput, ping and traceroute utilities are useful for assessing network latency and packet loss, which can indirectly impact throughput.
Ping sends ICMP echo requests to measure round-trip times, while traceroute identifies the path and delays of data packets across a network. These tools help diagnose network problems that might be affecting throughput.
To ping a server, use the following command: ping www.example.com
To trace the route packets take to reach a destination: traceroute www.example.com

Tools like Wireshark can capture network packets and analyze them to determine throughput, data transfer rates, and packet loss.Capture packets on a specific network interface and use filters to analyze relevant traffic.
Packet capture tools are invaluable for diagnosing network issues and optimizing throughput in complex network environments.
Selecting the most appropriate tool or technique depends on your specific testing requirements, network infrastructure, and the level of detail you need in your throughput measurements.
Certainly, here's a short introductory paragraph for a section comparing the impacts of higher throughput vs. lower throughput on your network:
The Impacts of Higher Throughput vs. Lower Throughput On Your Network
Network throughput plays a pivotal role in determining the quality of user experiences and the efficiency of data transfer. This section delves into the contrasting worlds of higher and lower network throughput, exploring the profound effects each has on your network environment. From turbocharged speeds and enhanced productivity to the frustrations of sluggish connections, understanding these impacts is essential for optimizing network performance and achieving your connectivity goals.
Having higher throughput on your network can have several positive impacts but can also present challenges that need to be managed effectively.
Positive Impacts of Higher Throughput:
Improved Performance: High throughput allows for faster data transfer, resulting in improved performance for applications, services, and users. This is especially beneficial for bandwidth-intensive tasks like video streaming, file downloads/uploads, and online gaming.
Enhanced User Experience: Users experience reduced latency and faster response times when accessing online resources. This leads to a smoother and more enjoyable online experience, which is essential for web applications, video conferencing, and other real-time services.
Increased Productivity: In business environments, high throughput supports efficient data exchange and collaboration, which can boost productivity. Teams can work on data-intensive projects without network-related delays.
Scalability: Networks with high throughput are better equipped to handle increased traffic loads. This scalability is crucial for businesses experiencing growth or spikes in network demand.
Support for High-Quality Multimedia: High throughput enables the delivery of high-definition video and audio content without buffering or degradation in quality. This is crucial for media streaming services, online learning platforms, and video conferencing tools.
Challenges and Considerations of Higher Throughput:
Network Congestion: While high throughput is beneficial, it can lead to network congestion if not managed properly. Too much data traffic can overwhelm network resources, causing slowdowns or packet loss.
QoS Management: Ensuring that critical applications and services receive priority when network resources are in high demand is essential. Quality of Service (QoS) mechanisms must be in place to manage traffic effectively.
Compatibility and Compatibility: Not all devices or applications may fully utilize high throughput. Compatibility issues may arise, requiring updates or adjustments to maximize the benefits.
Network Redundancy: With high throughput comes increased reliance on the network. Implementing network redundancy and failover mechanisms becomes crucial to minimize downtime in case of failures.
Higher throughput can significantly enhance network performance, user experience, and productivity. However, it also introduces challenges. Planning, continuous network monitoring, and maintenance are essential to harness the benefits of high throughput while mitigating potential drawbacks.
Lower throughput on a network can have several negative impacts on both performance and user experience. Here's an overview of the impact of lower throughput on your network:
Negative Impacts of Lower Throughput:
Reduced Performance: Lower throughput results in slower data transfer rates, leading to reduced performance for applications and services. Users may experience delays when loading web pages, streaming media, or downloading files.
Latency and Lag: Lower throughput often correlates with higher latency, causing delays in data transmission. This can lead to noticeable lag in online gaming, video conferencing, and other real-time applications.
Poor User Experience: Slower network speeds can frustrate users, leading to a poor overall experience. This can be particularly problematic for businesses, as customers and employees may become dissatisfied with slow network performance.
Inefficient Use of Resources: In a business context, lower throughput can lead to underutilized network resources, as tasks that should be completed quickly take longer to finish. This inefficiency can impact productivity.
Limited Scalability: Networks with lower throughput may struggle to handle increased traffic loads. This can limit the ability to scale up and support additional users, devices, or services.
Inability to Handle High-Quality Multimedia: Streaming high-definition video, conducting video conferences, or supporting multimedia-rich applications may be challenging with lower throughput, resulting in lower-quality media and buffering issues.
Difficulty in Handling Large Data Transfers: Lower throughput can make it difficult to transfer large files or perform data-intensive tasks efficiently. This can hinder productivity, especially in industries that rely on data processing and sharing.
Frustration and Downtime: Lower throughput can lead to frustration among users and potential downtime in business operations, which can have financial implications.
Considerations and Mitigations of Lower Throughput:
Network Upgrades: Consider upgrading network infrastructure, such as routers, switches, and internet service plans, to improve throughput and address performance issues.
Quality of Service (QoS): Implement QoS mechanisms to prioritize critical traffic, ensuring that essential applications receive adequate bandwidth even in low-throughput scenarios.
Traffic Management: Analyze network traffic patterns and optimize traffic management to minimize congestion and prioritize mission-critical services.
Network Monitoring: Regularly monitor network performance to identify and address issues promptly. Monitoring tools can help pinpoint the causes of lower throughput.
Content Delivery Networks (CDNs): Use CDNs to cache and deliver content closer to end-users, reducing the impact of lower throughput for web services.
Load Balancing: Implement load balancing to distribute traffic evenly across multiple network paths, improving network resilience and mitigating the effects of lower throughput on a single path.
In summary, lower throughput can have a range of negative consequences on network performance, user experience, and business operations. However, with proper planning, management, and investment in network upgrades, many of these impacts can be mitigated or avoided, allowing for a more reliable and efficient network environment.
Hold onto your data packets because we're about to supercharge your network throughput! In this final section before we leave you to your network monitoring to-dos, let's go over some tips to improve throughput in your network.
Just like adding a turbocharger to a car or unlocking hidden powers in a video game, these tips will unleash the full potential of your network's data transfer speed.
Implement Network Performance Monitoring: Deploy network performance monitoring tools, like Obkio, that provide real-time insights into network traffic, performance metrics, and throughput measurements. Monitoring allows for proactive identification of issues, optimization of network resources, and better management of throughput. Pro-Tip: A tool like Obkio will also help you carry out the next optimization techniques!
Upgrade Network Bandwidth: Increasing network bandwidth allows for higher data transfer rates and improved throughput. Upgrading to faster internet connections, using higher-speed network equipment, or utilizing technologies like fibre optics can enhance network capacity and throughput.
Optimize Network Configuration: Review and optimize network configuration settings, including router and switch configurations, to reduce bottlenecks and enhance network performance. This includes optimizing Quality of Service (QoS) settings to prioritize critical applications and allocate bandwidth accordingly.
Reduce Network Congestion: Identify and address areas of network congestion by analyzing traffic patterns and implementing measures to reduce congestion points. This can involve load-balancing techniques, traffic shaping, and prioritizing mission-critical applications.
Minimize Latency: Reduce network latency by optimizing network routing, utilizing lower-latency network equipment, and implementing technologies like Quality of Service (QoS) and traffic engineering. Minimizing latency improves real-time data transmission and enhances throughput.
Mitigate Packet Loss: Identify and resolve packet loss issues to improve throughput. This can involve optimizing network equipment, addressing physical connectivity issues, improving network cabling, and ensuring reliable network connections.
Network Optimization Techniques: Employ optimization techniques such as compression, caching, and protocol optimization to reduce data overhead and improve network efficiency. This can lead to enhanced throughput by maximizing the effective utilization of available network resources.
Regular Network Maintenance: Regularly maintain and update network equipment, apply firmware updates, and perform necessary hardware upgrades to ensure optimal performance. Regular maintenance helps address potential issues, improve network reliability, and sustain consistent throughput.
Consider Load Balancing and Traffic Engineering: Distribute network traffic across multiple paths using load-balancing techniques. Load balancing helps prevent congestion and maximizes available bandwidth, resulting in improved throughput. Traffic engineering involves strategically managing network traffic flows to optimize performance and throughput.
By implementing these strategies, organizations can improve network throughput, enhance data transfer rates, and provide a more efficient and reliable network experience for users.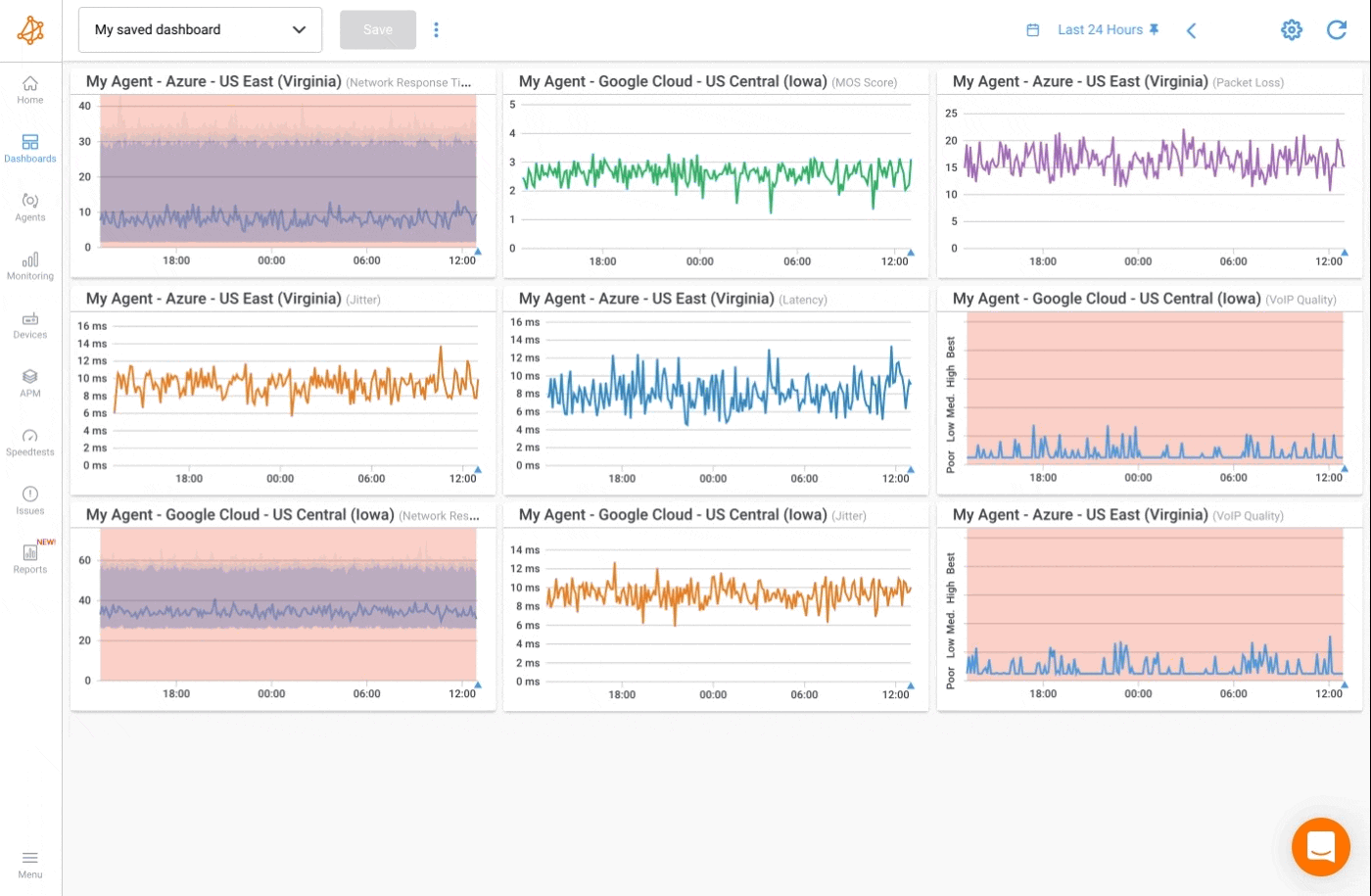 In the realm of network performance and data transmission, two key metrics, latency and throughput, often find themselves at the center of attention. While these metrics measure distinct aspects of network behaviour, they share a common objective: to evaluate the efficiency and responsiveness of network communication.
In this section, we explore why these metrics are frequently compared and contrasted. By understanding the interplay between latency, the measure of delay, and throughput, the gauge of data transfer speed, we gain valuable insights into the overall effectiveness and user experience of computer networks and systems. So, let's dive into the world of latency vs. throughput!
Definition: Latency, also known as network delay, is the time it takes for data to travel from the source to the destination over a network. It represents the delay or lag in data transmission.
Units: Latency is typically measured in milliseconds (ms) or microseconds (µs). It quantifies the time delay between sending a request and receiving a response.
Causes: Latency can be caused by various factors, including the physical distance between devices, network congestion, processing delays in routers and switches, and the propagation speed of data through the medium (such as fiber optic cables).
Examples: Common examples of latency include the time it takes for a web page to load after clicking a link, the delay in a video call, or the time it takes for a packet to travel from your computer to a web server and back.
Importance: Low latency is crucial for real-time applications like online gaming, video conferencing, and VoIP, where delays can disrupt communication and user experience.
What is Latency: The Hitchhiker's Guide
We asked a supercomputer "What is latency", its impact on network performance, and strategies for minimizing it and created this comprehensive guide.
Learn more
Definition: Throughput refers to the rate at which data is successfully transmitted or processed over a network or system. It represents the capacity or bandwidth of the network.
Units: Throughput is typically measured in bits per second (bps), kilobits per second (Kbps), megabits per second (Mbps), gigabits per second (Gbps), or bytes per second (Bps).
Causes: Throughput is influenced by various factors, including network infrastructure, available bandwidth, network congestion, packet loss, and the efficiency of network protocols.
Examples: Examples of throughput include the download speed of an internet connection, the data transfer rate of a file transfer, or the number of transactions a database can handle per second.
Importance: High throughput is essential for tasks involving large data transfers, such as streaming high-definition video, cloud storage, and data backup. It also impacts the overall network capacity and user experience.
Latency represents the time delay in data transmission, while throughput quantifies the rate of data transfer. Both metrics are critical for assessing network performance, but they serve different purposes.
Low latency is vital for real-time applications, while high throughput is crucial for efficiently moving large amounts of data. Balancing these two factors is essential to optimize network performance for various use cases.
As we conclude our journey from bytes to blazing speed, we've unravelled the mystery behind network throughput. It's the lifeblood that propels our data through the digital highways, influencing our network's performance and user experience. We've explored its definition, measurement methods, and the myriad of factors that can impact it.
But understanding network throughput is just the beginning. To truly unlock its power and ensure your network operates at its peak, you need the right tools by your side. That's where Obkio's Network Performance Monitoring comes in.
With Obkio, you can dive deeper into the world of network performance, seamlessly measuring and monitoring throughput with precision and ease.
Obkio's data analysis and reporting capabilities provide real-time and historical insights, revealing trends, identifying bottlenecks, and empowering you to make informed decisions. Say goodbye to guesswork and hello to optimized network throughput.
Discover Obkio's Network Performance Monitoring tool and measure your network throughput with precision.
14-day free trial of all premium features
Deploy in just 10 minutes
Monitor performance in all key network locations
Measure real-time network metrics
Identify and troubleshoot live network problems