Continuous Network Monitoring for Proactive Troubleshooting
In Summary
While many IT pros and everyday users may turn to network monitoring tools to find and fix network problems in emergency situations, that real long-term benefit of network monitoring happens with continuous and proactively network monitoring. In this article, we'll be talking about continuous monitoring for proactive troubleshooting.
There are many benefits and reasons to monitor network performance but generally, post people turn to network performance monitoring for 3 things:
Continuous Monitoring
When you're thinking about why continuous network monitoring is important, remember that: Proactively leads to productivity. Because essentially, continuous network monitoring is also proactive network monitoring.
The key to optimizing network performance and finding network problems before they affect end-users is to always be:
As a little recap to make sure we're all on the same page, here is what network monitoring is in our books.
Network monitoring or network performance monitoring is the process of monitoring and measuring collective network metrics to define the quality of services offered by a network, primarily measured from an end-user perspective.
Simply put, network monitoring refers to measures of service quality of a network, as seen by the customer or end-user.
When it comes to network monitoring, remember that:
Network Performance is something that can be measured. You can't fix what you can't measure - and you can definitely measure network performance with network metrics like packet loss, jitter, throughput, and more!

Network Quality refers to the quality of the network connection and is based on factors like: is the connection stable and fast or, slow, laggy, etc?

The End-User Perspective is what defines good or bad performance. Good network performance is the network's ability to perform to the user's expectations.
Continuous network monitoring is the process of continuously monitoring network performance to provide real-time data on the overall health of an IT infrastructure, including networks and applications deployed in the cloud.
The goal of continuous monitoring and the reason that organizations implement continuous network monitoring software is to increase the visibility of network performance, and proactively catch any signs of network degradation before they reach users, and turn into real problems.
Seeing as continuous network monitoring requires the monitoring to be, well, continuous, it's not easy to do so manually unless it's your one and only job. Even then, it's hard to get the kind of granularity you need on network performance if you try to do it manually.
That's why we always recommend monitoring network performance using a tool like Obkio Network Performance Monitoring software.
Obkio is a simple Network Monitoring software that continuously monitors end-to-end performance of your network and core business applications to identify network issues, collect data on network performance, and improve the end-user experience!
This tool becomes a permanent part of your IT solution, and essentially acts like your network administrator.
You don't need to tell a network performance monitoring software when to monitor network performance, because it'll always be running in the background and let you know when something isn't right.
Use Obkio's free trial to begin.
Obkio continuously monitors network performance using synthetic traffic for a Synthetic Monitoring approach that stimulated the end-user experience without capturing real-user traffic.
Network Monitoring Agents exchange UDP traffic to monitor network performance between each pair of Agents. This light traffic is non-intrusive and very secure, and doesn't require any packet capture, which ensures that it respects the users' privacy and doesn't require changes to device configurations.
Obkio's monitors synthetic traffic every 500 ms to measure network performance in your network twice a second.
ompared to other solutions, Obkio's Network Performance Monitor will continuously monitor network performance instead of executing periodic checks at various intervals. This is key to quickly identifying intermittent network issues that cause slowness in networks.
Obkio continuously monitors network performance, but you don't always have to be on the lookout.
That's because Obkio allows you to set up automatic alerts that notify you, or any selected members of your team, whenever the software detects network issues anywhere in your network. It can also let you know of any network performance degradation at all, so you can act before a problem actually develops.
How do you start monitoring network performance? Well, you need to establish good performance from bad performance. Obkio collects performance history, allowing you to go back in time and establish a baseline of the network performance with a 1-minute granularity. You can also go back in time to troubleshoot past network issues.
Some people may turn to network monitoring in emergency situations to specifically identify network issues that may be plaguing their business.
So, they notice some network degradation or performance issues, and they need to perform a network assessment to find out what's wrong, and then perform some network troubleshooting to pinpoint and solve these issues.
While many users of network monitoring software may discover the tool in an emergency situation, they soon realize that the real benefit comes with continuous and proactive network monitoring.
Continuous network monitoring can also play a role in monitoring the operational performance of applications. It can help companies establish a network performance baseline that can help them identify performance degradation, as well as serve as a comparison point for network optimization.
In summary, continuous network monitoring:
Becomes a permanent installation for continuous monitoring for your business.
Proactively discovers network issues and alerts those responsible for fixing them.
Notifies the IT team of any network degradation whatsoever, before it becomes a real problem.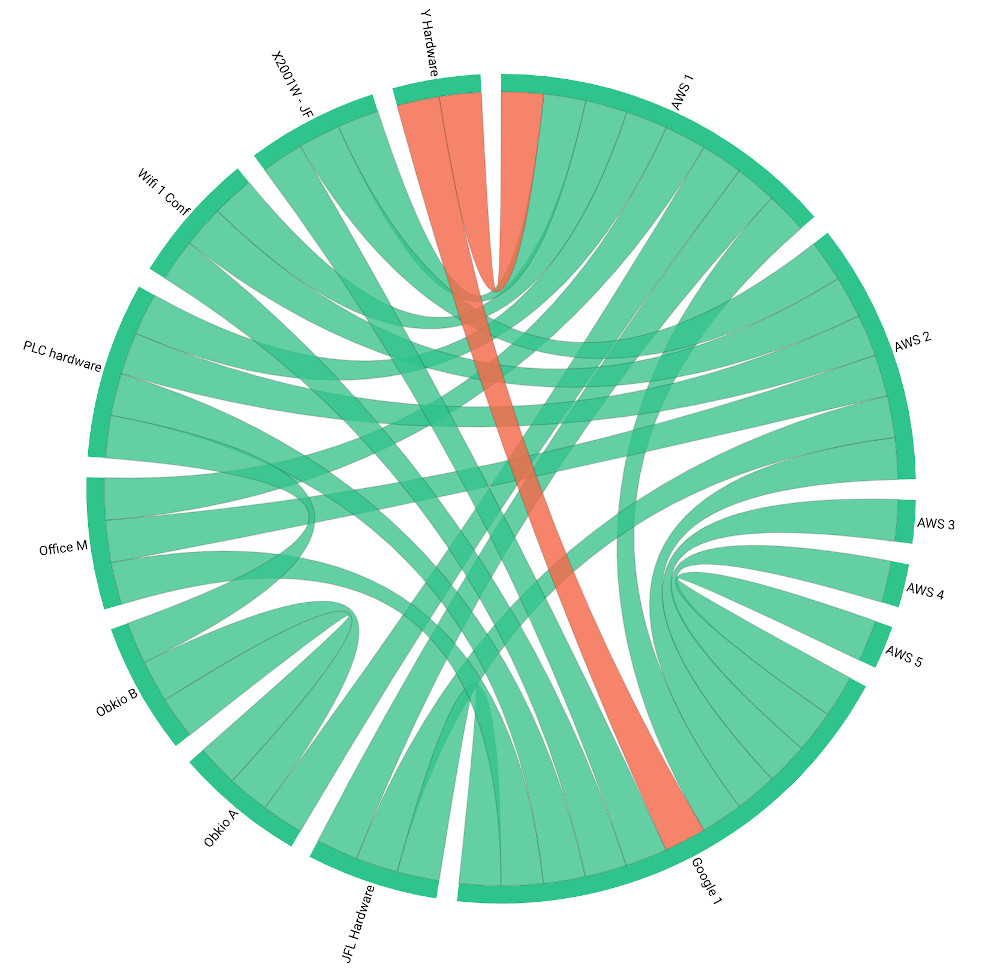 As I mentioned earlier, the real benefits of network monitoring shine through with continuous network monitoring. The more proactive you are when it comes to finding and fixing network issues, the less time and money your business spends on troubleshooting and damage control.
If you're curious, we cover the benefits of network performance monitoring as a whole in our article on the reasons to monitor network performance.
Here are the benefits:
Continuous network monitoring allows to identify and troubleshoot network slowdowns and not just hard failures - before they turn into problems. Any performance degradation can be the sign of an upcoming, much larger issue - so it's important to find and fix slowdowns before your users start experiencing them too.
Quickly and easily pinpoint the location of a problem with access to network data in real-time. With continuous network monitoring, you have access to minute-by-minute network updates, so you can go back in time to see actually where and when a problem occurred. With a software like Obkio, you can get network updates every 500ms.
Continuous real-time network monitoring (or in this case, proactive network monitoring) gives you a real-time overview of your network at all times, so you can identify, locate, and solve issues before they start affecting end-users.
Remember: you can't fix what you can't measure! The only way to really understand if your network is performing poorly is to continuously measure network performance, establish a baseline, and compare your current performance to an established ideal level.
Now, let's go through an example of when and how continuous network monitoring can help optimize performance!
IT teams have a lot on their plates, which means that there are times when users may complain about intermittent network issues, and by the time the IT team has had a chance to look at them, the issues have disappeared. Or at least they've disappeared for the moment, waiting to come back when you least expect.
The truth is that it's bad user experience for users to report issues at all, so you want to ensure that an issue is resolved before it ever reaches the user. And if a problem has already happened, you need to make sure it never happens again.
Deploy a continuous network performance monitoring solution to proactively monitor and identify network issues affecting user experience, even before they realize there's an issue at all.
You can set up alerts for the whole IT team to be notified when a network problem is detected, or when any network degradation occurs!
Proactive network troubleshooting will allow you to proactively identify and troubleshoot network issues, before they begin to affect the end-user experience.
Not only will this avoid the string of complaints making their way to the IT department, but it'll also create value for your team, knowing that they can stay on top of network performance, before it becomes a problem.
With a network performance monitor, businesses can also establish a performance baseline for network performance, and continue to make modifications to optimize network performance in the long run.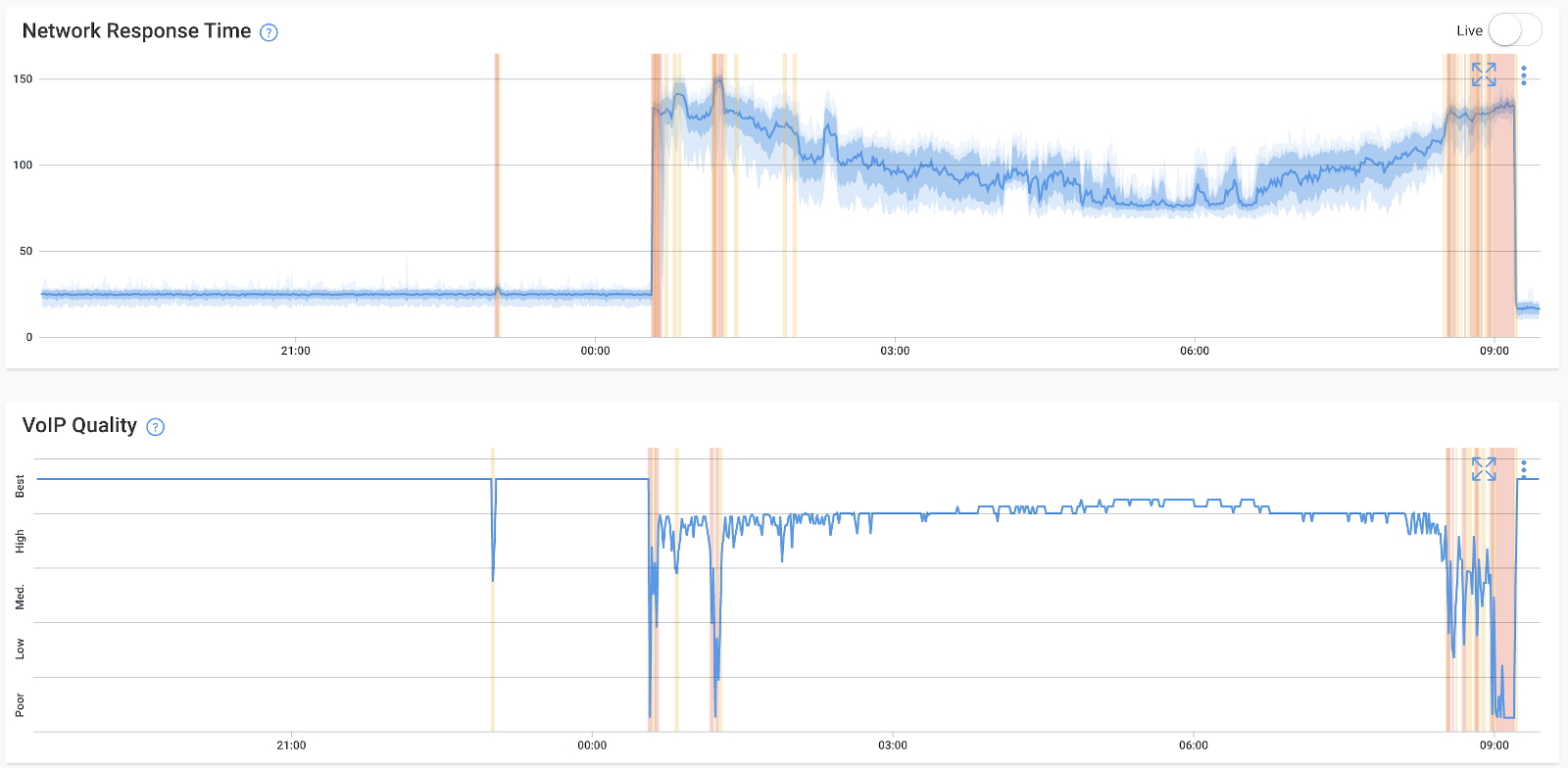 The best part is that deploying Obkio for continuous network monitoring is easy!
Once you've deployed Obkio, you're ready to start continuous network monitoring!
Continuous network monitoring leads to proactively, and proactivity leads to productivity. And when it comes to optimizing network performance, you need to be productive to keep monitoring, keep fixing, and keep optimizing.