Table of Contents
Table of Contents
Deploying or migrating to a new service infrastructure within your business is always an exciting, but highly stressful venture. In order for a new service deployment or migration to be successful, businesses need to plan and prepare beforehand. A network assessment is the surest and easiest way for businesses to prepare their network for a deployment or migration without any hiccups.
In this article, we're running you through everything you need to know about network assessments, including what it entails, and how a network assessment can help you ensure a successful IT migration or service deployment!
Let's start with the basics.
A network assessment is an in-depth analysis of your current network infrastructure to provide you with comprehensive data about your network's health, including current issues, and any signs of network degradation.
The purpose of a network assessment is to pinpoint current network issues, identify opportunities for improvement and get a 360-degree view of your network's performance and health to help you make more informed and strategic business decisions.
Some of those decisions can include the choice to migrate to a new network infrastructure, like:
Migrating from an MPLS network to an SD-WAN network
Migrating from an on-premise ERP to a cloud-based ERP
Deploying a new service, like a hosted VoIP service
And much more!
In this article, we'll be talking about network assessments to prepare your network and your business for major new network configurations, migrations, or service deployments.
To prepare your business for a seamless migration or service deployment the first time around, businesses and their IT teams need to conduct a network assessment to determine the capacity of their company's Wide Area Network (WAN) infrastructure to support the new changes.
A network assessment is among the most important network performance monitoring uses, along with network troubleshooting, and continuous network monitoring. It is used to qualify your network before the deployment of a new solution to identify issues with your LAN, WAN, firewalls, or Internet access as early as possible.
So in summary, you should perform a network assessment to:
Qualify a network before a migration or service deployment
Assess if your network can sustain the change
Perform a risk assessment before major changes
Plan your migration or deployment around your network's configurations
Identify any issues that can complicate the migration or deployment
Pinpoint issues that may cause problems in the future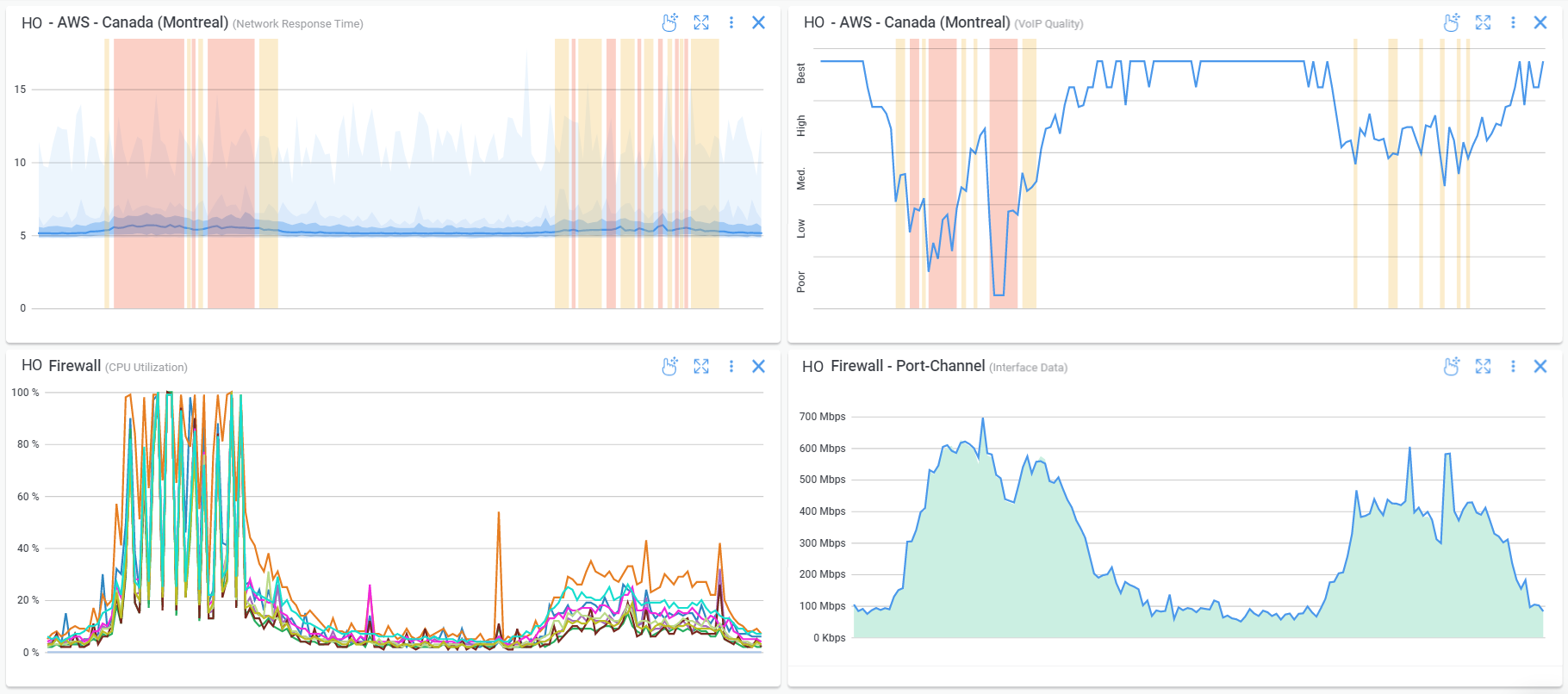 A network assessment is only one part of a larger topic, which is network performance monitoring. Network performance monitoring is the analysis and review of collective network metrics to define the quality of services offered by the underlying network, primarily measured from an end-user perspective.
If you want to learn more about why you should be monitoring your network performance in general, you can check out our blog post on the Top 7 Reasons Why You Should Monitor Network Performance.
How to Monitor VoIP PBX Systems for Call Quality
Learn how to monitor VoIP PBX systems (IP PBX) with Network Monitoring to ensure optimal call quality & help MSPs identify VoIP PBX issues for customers.
Learn more
When it comes to a network migration (like an SD-WAN migration), or new service deployment, you need to act sooner than later. During the buying process or before the service deployment, perform a network assessment to validate the end-to-end network performance and identify any current issues that may cause future complications.
Here's a run-down of when and why to perform a network assessment:
Used prior to the deployment of a new service or application, or before a migration.
Used to qualify the network and ensure it can sustain new applications.
Identifies issues prior to a deployment or migration, which may later cause complications.
Identifies parts of the network that may cause problems in the future.
Now, we're going to run you through a specific use case for when to perform a network assessment to give you a concrete example. Let's get started!
How to Monitor SD-WAN Migrations
Learn how to monitor SD-WAN migrations with Network Monitoring for complete visibility over your SD-WAN service, before, after & during migrations.
Learn more
Let's say you're an IT director that's looking to deploy a new service for your business that relies on network connectivity to work properly.
For example, you've decided to migrate your business from an on-premise VoIP service to a hosted VoIP. That means that this service needs either a private connection or Internet connection to work properly.
You need to make sure the network connection is strong and reliable before your company's new VoIP service is deployed. If there's an issue with the network quality after the deployment, your users will be stuck dealing with problems like choppy voice quality, and VoIP lagginess, and you'll be scrambling to solve an issue that you could have solved earlier.
You need to prepare your company's network beforehand. Before deploying your new VoIP service, perform a network assessment to validate that the end-to-end network performance is strong and reliable enough to sustain the new service.
Testing your network performance before the service deployment will help you identify network issues with the LAN, WAN, firewalls or Internet connectivity issues which may cause major problems down the line.
P.S. You can do it for free with Obkio's Free Trial!

Avoid any post-deployment catastrophes by quickly finding and fixing issues before the new service is deployed and the migration is completed.
For the IT team specifically, you can avoid deployment failures, which may cause problems with your executive team, as well as panic from users by delivering a successful deployment the first time.
The IT team, whether it's the IT specialist or network administrator, is always responsible for dealing with network or application issues. So deploying a new service, or performing a migration after having performed a network assessment, avoids the flood of complaints about potential problems due to connectivity, application slowdown, and so on.
ThinkTel Network Assessment for UC Deployment Case Study
Learn how ThinkTel uses Obkio Network Performance Monitoring to perform a network assessment of users' network capacity to deploy new communication services.
Learn more
When you're looking into performing a network assessment, you can generally break down the process into 3 stages - here's a rundown.
How to Perform a Network Assessment Like A Network Detective
Learn how to perform a network assessment with Obkio Network Monitoring to optimize network performance for a new service deployment or migration.
Learn more
Preparing and planning for the network assessment before you begin will give you a direction, objective, and gameplan that will reduce the time it takes you to perform the network assessment in the long run.
When you're planning for your network assessment, you'll want to think about:
Objective: Why do you want to perform a network assessment? Are you looking to get to the bottom of an intermittent network problem that's disrupting network performance? You may be looking for ways to optimize network performance, or you may just be performing an overall health check to assess the status of your network and make proactive decisions before anything goes wrong.

Expectations: Following the first step, think about what you want out of this assessment. Are you looking for a detailed report of the current state of all your network metrics, maybe you want to put together a list of recommendations, or you may want to pinpoint the cause and source of a mysterious network problem.

Method: Finally, think about how you'll be performing your network assessment. Analyzing every aspect of your business manually can be extremely time-consuming and difficult. Luckily, there's a variety of different software on the market that will perform a network assessment for you - so you'll want to consider all your options beforehand.
While some businesses may try to undertake a network assessment on their own, you don't need to. There's a tool to help with that.
The easiest and most accurate way to perform a network assessment is by using a tool like Obkio Network Performance Monitoring software. Your network monitor will monitor your network performance and perform tests from all your network locations to pinpoint performance issues or identify any weakness that may cause problems in the future.
Use Obkio's Free Trial! to perform a free network assessment (POC) to quickly determine if your network is causing problems, and gather information to help you troubleshoot!
Next step involves actually performing your network assessment. As I mentioned above, your best bet is to find a tool that does it for you. Some tools may not have all the functionalities you need, so we recommend a network performance monitoring software that monitors end-to-end network performance, and measures key network metrics.
Once you've completed your network assessment, you need to organize and make sense of all the information you've gathered. More than that, you need to make sure that your business can interpret the data and turn the information into action items.
A software like Obkio will provide you with all the data you need, right on your dashboard, with a summary of your network metrics, the results of your speed tests, and a detailed analysis of any network issues that may have been discovered.
Finally, identifying the problem is one thing, and providing solutions is another. You need to make sure that you're turning the data into next steps that you can take to optimize network performance.
As I mentioned earlier, a Network Assessment is just one of the common network monitoring use cases that we generally encounter, along with Network Troubleshooting and Continuous Network Monitoring, which you can learn more about in our other articles!
What is Network Troubleshooting? - The Ultimate Survival Guide
Learn the essential techniques, steps, and tools for network troubleshooting with our ultimate survival guide. Keep your network running smoothly and secure.
Learn more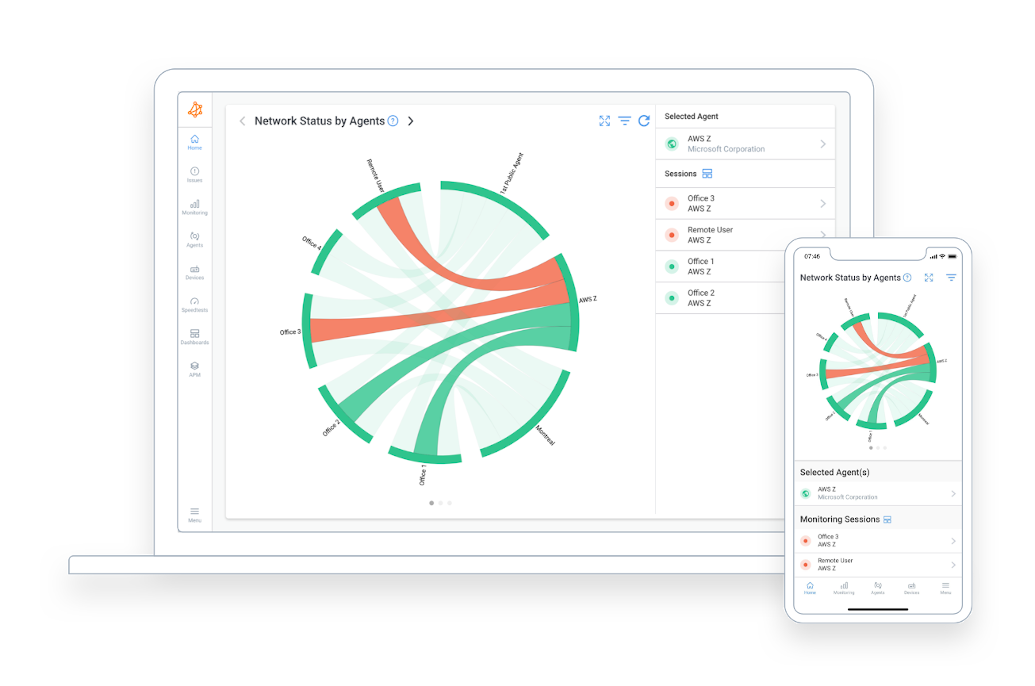 Obkio is a simple Network Performance Monitoring software for Enterprises and service providers that allows users to continuously monitor end-to-end performance of their network and core business applications to identify network issues, collect data on network performance, and improve the end-user experience!
Obkio's network performance monitor allows you to deploy physical, software or public network performance monitoring Agents at strategic locations in your business' network such as data sites, remote sites, external client sites, or public or private clouds and easily identify the causes of intermittent VoIP, video, and applications slowdown in seconds.
After your network assessment, use Obkio for Network Troubleshooting of intermittent network problems, and Continuous Monitoring of network performance.
Try Obkio today by signing up for our free 14-day trial!