Table of Contents
Table of Contents
Monitoring the migration from MPLS to SD-WAN networks is one of the most common use cases for monitoring network performance. When taking on any new migration, it's important to monitor network performance before, during, and after for complete network SD-WAN visibility. Keep reading to learn how to monitor SD-WAN migrations using Network Monitoring.
This article is part of a series of articles about continuously monitoring SD-WAN networks before, during, and after migrations. The articles include:
How to Monitor SD-WAN Migrations (this article)
Businesses are increasingly moving to cloud-based applications, which increases our reliance on the Internet to deliver WAN traffic. As a result, many businesses are migrating from MPLS networks to hybrid WAN architectures and SD-WAN technology.
One mistake that businesses make when taking on an SD-WAN migration is lacking SD-WAN visibility over their SD-WAN service.
Most solutions can't offer the depth and detail needed for monitoring SD-WAN networks, and also don't monitor from the end-user perspective - which is extremely important for understanding if your SD-WAN migration is providing the service quality that was promised.
Keep reading to find out how to monitor SD-WAN migrations using end-to-end Network Monitoring.
For continuous monitoring of your SD-WAN network and to make sure your SD-WAN service is performing as promised, check out our article on How to Monitor SD-WAN Networks.
For the detail and depth you need to monitor your SD-WAN migrations, we recommend an end-to-end network monitoring solution which identifies network problems before and after your SD-WAN migration.
Traditional monitoring solutions that only monitor network devices can't give you real insight into your network's performance.
A tool like Obkio Network Performance Monitoring software continuously monitors end-to-end network performance with synthetic traffic using Network Monitoring Agents.
These Monitoring Agents monitor network performance from the source (your computer or your office) up to the destination (another office, datacenter or clouds) to identify and troubleshoot network problems affecting your network before and after your SD-WAN migration.
Get started with Obkio's Free Trial!
When performing an SD-WAN migration, it's important to deploy your monitoring solution before the migration so you can compare the performance before and after the migration.
To monitor network performance prior to your SD-WAN migration, we recommend deploying Monitoring Agents with sessions in:
Your Local Network
And between network locations: remote offices and your company's headquarters, data centers or clouds
In the example below, a local monitoring agent in a branch office has a monitoring session towards a monitoring agent located in a data center.

In this example, the branch office migrated from a dedicated low-bandwidth MPLS connection to an SD-WAN service with two brandband connections.
The migration occurred in the middle of the graph (around 18:20).
A few minutes later, around 19:00, the SD-WAN service switched from the primary ISP to the secondary ISP due to high packet loss for about 15 minutes.
There is just a little bit of packet loss during the failover because it took a few seconds for the SD-WAN appliance to failover.
Comparing historical performance data is key to understanding the effect of the SD-WAN migration on your network.
Obkio also measures and collects historical network performance data, so you can analyze, compare, and troubleshoot performance from the past and compare performance before your SD-WAN migration and after.
Analyzing historical data allows you to go back in time to identify intermittent network problems that may look like they disappeared.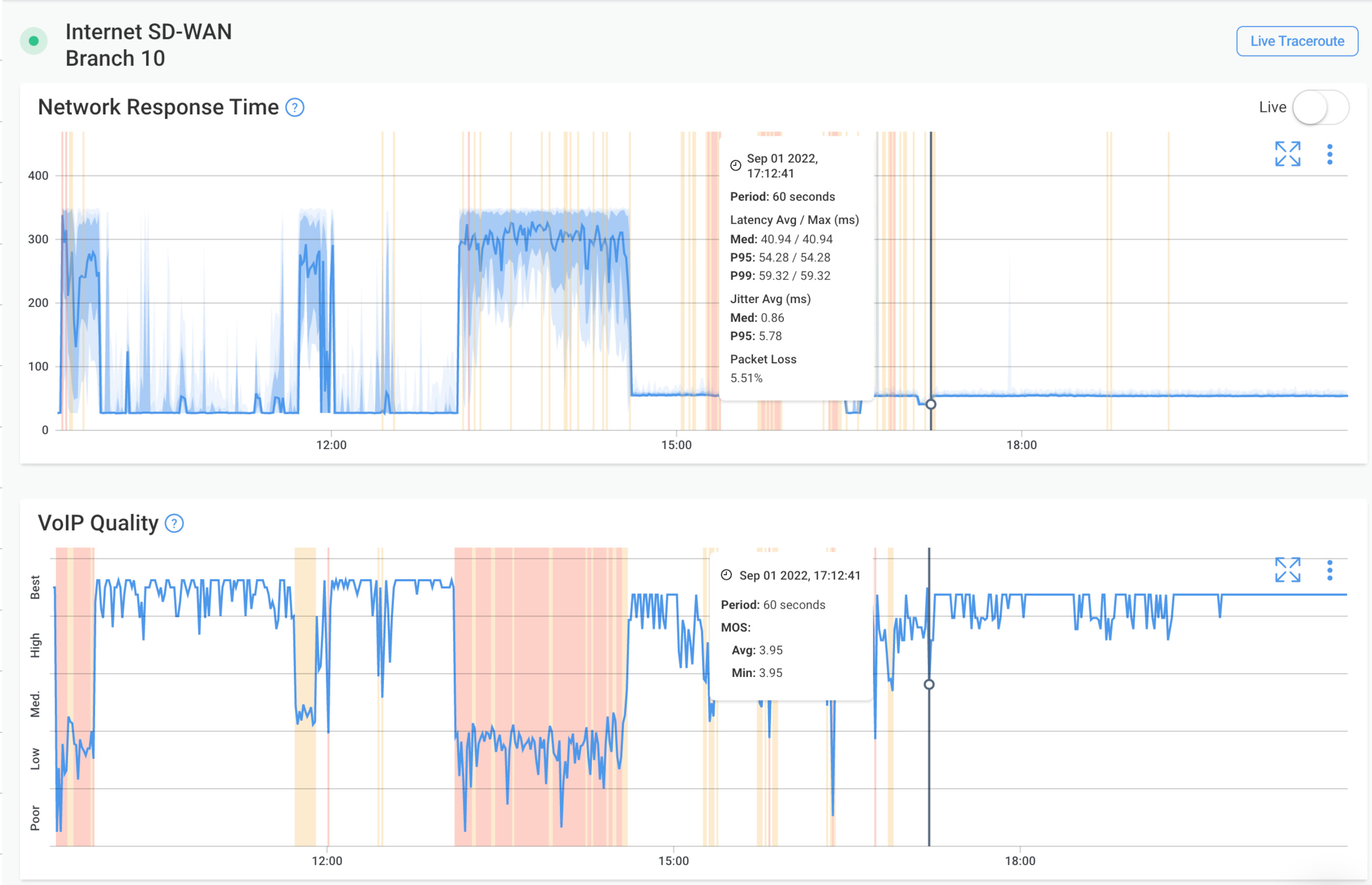 After your SD-WAN migration, continue to monitor performance from the end-user perspective, as well as the underlay connections themselves, to see how your new SD-WAN service is performing.
You can then collect data to identify network problems related to your SD-WAN migration and collect the information you'll use to troubleshoot network issues with Obkio's key troubleshooting tools.
You can learn more about that in our next article of the series on How to Monitor SD-WAN Networks.
How to Monitor SD-WAN Networks
Learn how to monitor SD-WAN networks with Network Monitoring to get complete visibility over your SD-WAN service and identify SD-WAN issues.
Learn more
Are you planning a migration to a new SD-WAN network?
SD-WAN migration monitoring using Network Monitoring is an essential risk management tool and should be performed to qualify your network for your SD-WAN migration, as well as to gain SD-WAN visibility and monitor changes in performance after.
Remember, after your migration, keep continuously monitoring your SD-WAN network with Obkio's SD-WAN Monitoring tool to proactively identify network problems and performance issues!
Get started with Obkio's Free Trial!
These might interest you