Network Availability Monitoring: Understanding the Differences Between Client Expectations vs. SLAs
Network downtime can have a significant impact on business operations, leading to lost revenue and diminished customer trust. As a result, network availability monitoring has become increasingly crucial for businesses of all sizes.
However, when it comes to monitoring network availability, it is essential to understand the differences between client expectations and service level agreements (SLAs). Clients often have high expectations when it comes to network uptime, and meeting those expectations can be challenging without proper network monitoring. On the other hand, SLAs set out specific metrics for network availability that must be met to maintain contractual obligations.
In this blog post, we'll be discussing what network availability is, how to use network availability monitoring to identify network performance issues vs. network availability issues, and how to understand the difference between clients' expectations for network performance vs. reality.
Network availability is a key metric used in network performance monitoring to measure the percentage of time that a network is available for use. It is calculated by dividing the total amount of time that a network is available by the total amount of time in a given period and usually expressed as a percentage, with a goal of achieving 100% availability. However, in reality, no network can guarantee 100% availability.
Network availability is a sensitive and crucial network metric because it is often used for Service Level-Agreement (SLA) guarantees in legal contracts between service providers and their clients.
Network availability is often misunderstood by IT clients, and the ambiguity surrounding the topic is intentional on the part of Service Providers. Keep in mind that SLA contracts are written for service providers by their layers and actuaries and there are financial penalties for the service providers that can be imposed if service levels are not met. So, it would be conceivable to think that the rules are biased in favor of the service providers wink wink.
Therefore, service providers have always calculated network availability rate by only considering whether the network is available (up) or down.
But, we know that there are many problems that can affect network and service performance without necessarily interrupting service. These soft network issues occur somewhere in the middle: the network is not down, but not performing well.
This opens the door to another complex subject: what is the difference between a network availability issue and a network performance issue?
Availability Issues: Network availability issues are characterized by a complete loss of connectivity. These types of failures can be caused by a variety of factors, including physical damage to network infrastructure, fiber cuts, and power outages. While availability issues are bad news for network reliability, they are the easiest to pinpoint and troubleshoot.
Performance Issues: Network performance issues are more challenging to identify and troubleshoot than availability issues. These failures can be either steady or intermittent, with the latter being the most challenging to identify and troubleshoot. Performance issues can occur anywhere, and they may go undetected for years.
When you're monitoring and troubleshooting network performance, it's important to detect and solve both availability issues and performance issues, because they can both impact your network performance, network availability, and end-user experience.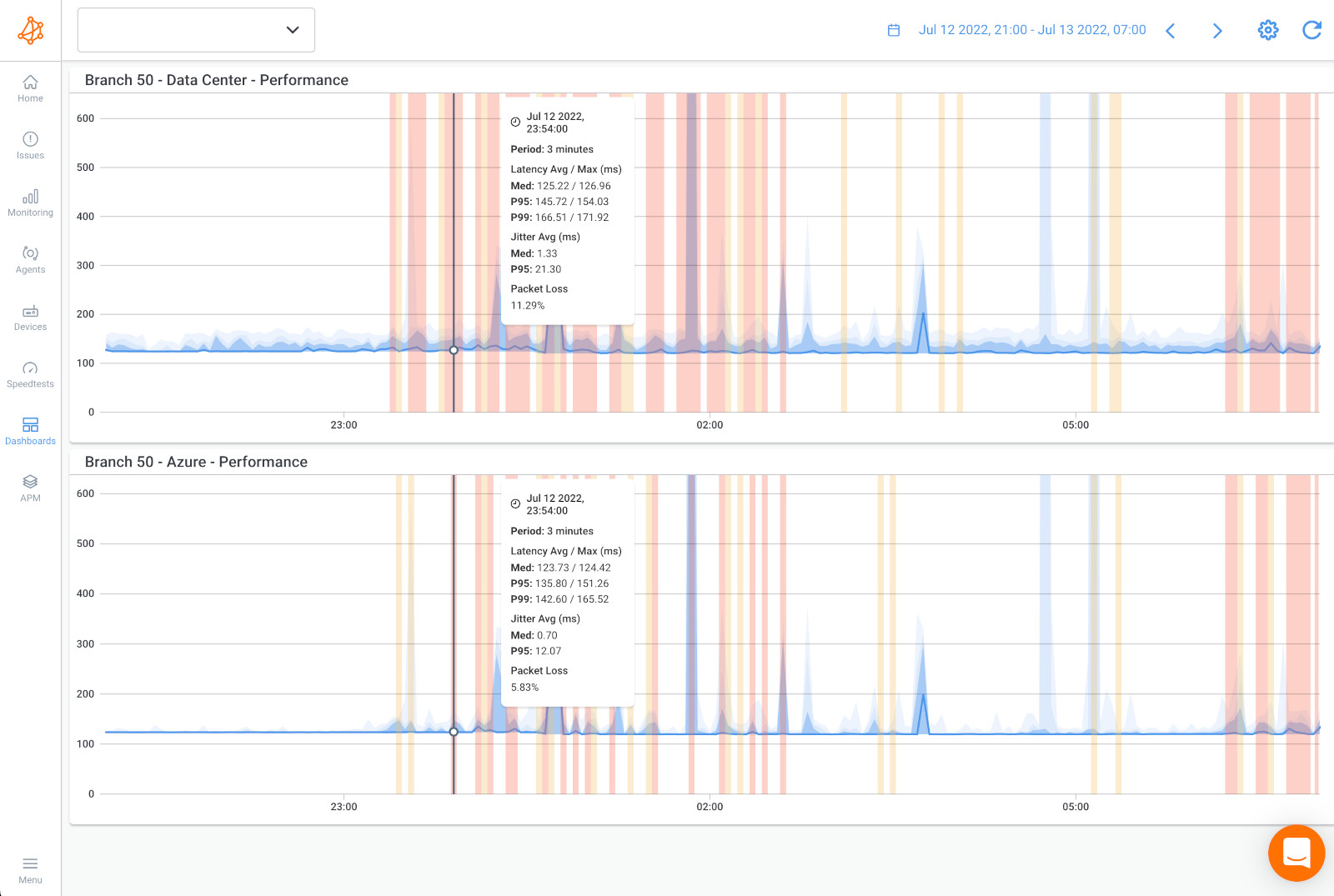 Besides the gap between actual network performance and promised network performance and availability, there is also a gap between a client's understanding and service providers' rules.
In general, the contractual application of service level agreements is not proactively enforced by service providers. This means that it is up to the client to:
Monitor the service level agreements
Open support tickets in case of network performance or availability issues
And prove non-compliance with the service level agreements.
It is usually only in these situations that clients understand that the gap between their understanding and what service providers will defend in their contracts is significant. A client might think that their SLA is affected from the moment the quality or performance of the service is altered, whereas the service provider only calculates the time the service was interrupted.
The difference between the two perceptions is immense because the number of events that can degrade the quality or performance of a service is much higher than complete service interruptions.
With all of these factors in mind, it's clear that clients need to take responsibility for monitoring and measuring their network performance to identify network availability issues and ensure that they're getting the network performance they were promised in their SLA.
To do so, you can of course monitor your SLA, but you can also monitor network availability.
Fortunately, there are solutions available that can help with network availability monitoring. One such solution is Obkio's Network Performance Monitoring tool, which offers detailed reports on network performance to help clients make informed decisions and take corrective measures as needed.
Obkio's solution also offers a variety of methods used for network availability monitoring, such as:
Agent-Based Monitoring: Which involves installing Obkio Monitoring Agents at each key network location and network device. The agents collect data about network performance (including key network metrics, devices, Internet and more) and report it to a central monitoring server.
Synthetic Monitoring: Which involves simulating user interactions with a network application or service and monitoring the synthetic traffic for availability and performance. Obkio's solution sends synthetic UDP traffic for continuous network availability monitoring.
SNMP Monitoring: Simple Network Management Protocol (SNMP) is a protocol used to manage and monitor network devices. Obkio's SNMP monitoring feature uses SNMP to retrieve data about network devices, such as uptime, CPU usage, and memory usage.
Get started with Obkio's Free Trial!
Once you've deployed Obkio and begun monitoring network availability and performance, it's important to understand Network Availability rates (%) and their impact on business hours.
The network availability rate is commonly expressed as a percentage, which can also be misleading. For example:
If a service provider claims that the network was available 97% of the time in a given month, it might seem like a pretty good rating.
However, to put it in perspective, 3% of a month's worth of minutes is equivalent to 1,314 minutes, or approximately 21 hours and 54 minutes.
If availability issues occur continuously or in several events during business hours in the same week, it could cause significant disruption and have a dramatic impact on business operations. Therefore, it's essential to keep in mind that every percentage point in the availability rate represents almost a full day of business hours.
The calculation method may have been adequate 20 years ago, but our performance needs and requirements have evolved significantly since then. On the other hand, negotiating the availability monitoring clause with a service provider is almost impossible, and if they agree to it, expect very high costs to be included.
With all this data you've collected from Obkio's app, you can then analyze network availability rates during Network Performance Reports.
You can analyze and schedule reports showing Issue Severities - with the Severity Level: Critical. When Network Availability is low and the monitoring session has gone down, the severity level is Critical.
As we mentioned earlier, it's important to monitor both network availability and network performance to identify both types of issues. Network performance can be heavily degraded even if the network is considered "up."
You can of course also use Obkio Network Performance Monitoring to measure end-to-end network performance. Obkio measures every end of your network, from your LAN to your WAN, using Network Monitoring Agents. You can deploy Agents in all your branch offices, remote locations, data centers, Clouds and over the Internet. It can also support all network types.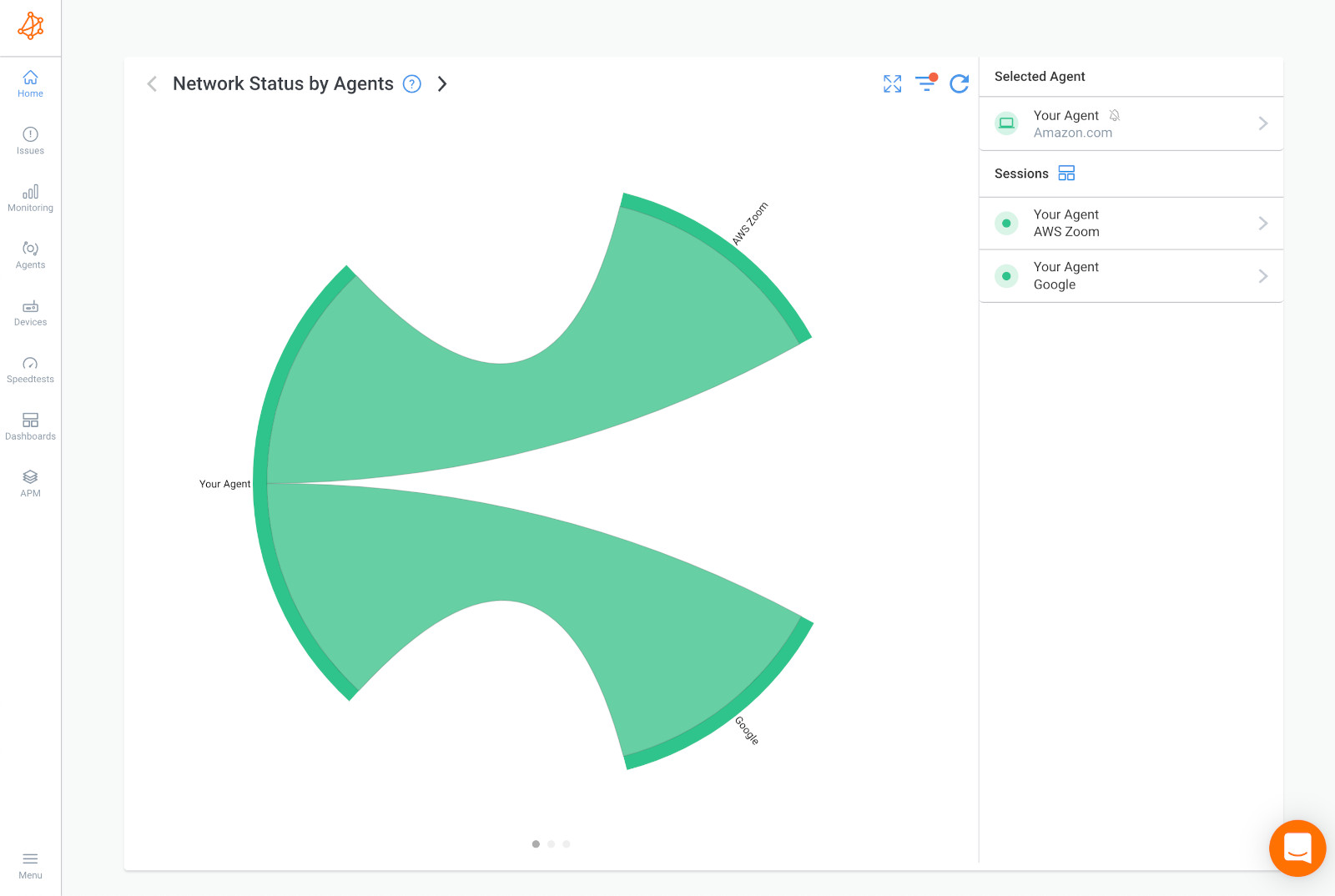 We recommend deploying:
Local Agents: Installed in the targeted office location experiencing connectivity issues. There are several Agent types available (all with the same features), and they can be installed on MacOS, Windows, Linux and more.
Public Monitoring Agents: Which are deployed over the Internet and managed by Obkio. They compare performance up to the Internet and quickly identify if the problem is global or specific to the destination. This will be great information for later in the troubleshooting process. You can use an AWS (to monitor apps like Zoom too) or Google Cloud Agent.
Get started with Obkio's Free Trial!
Once you've deployed Obkio, Obkio's Monitoring Agents will start exchanging synthetic traffic to measure network metrics like jitter, packet loss, and latency and display them on Obkio's Network Response Time Graph.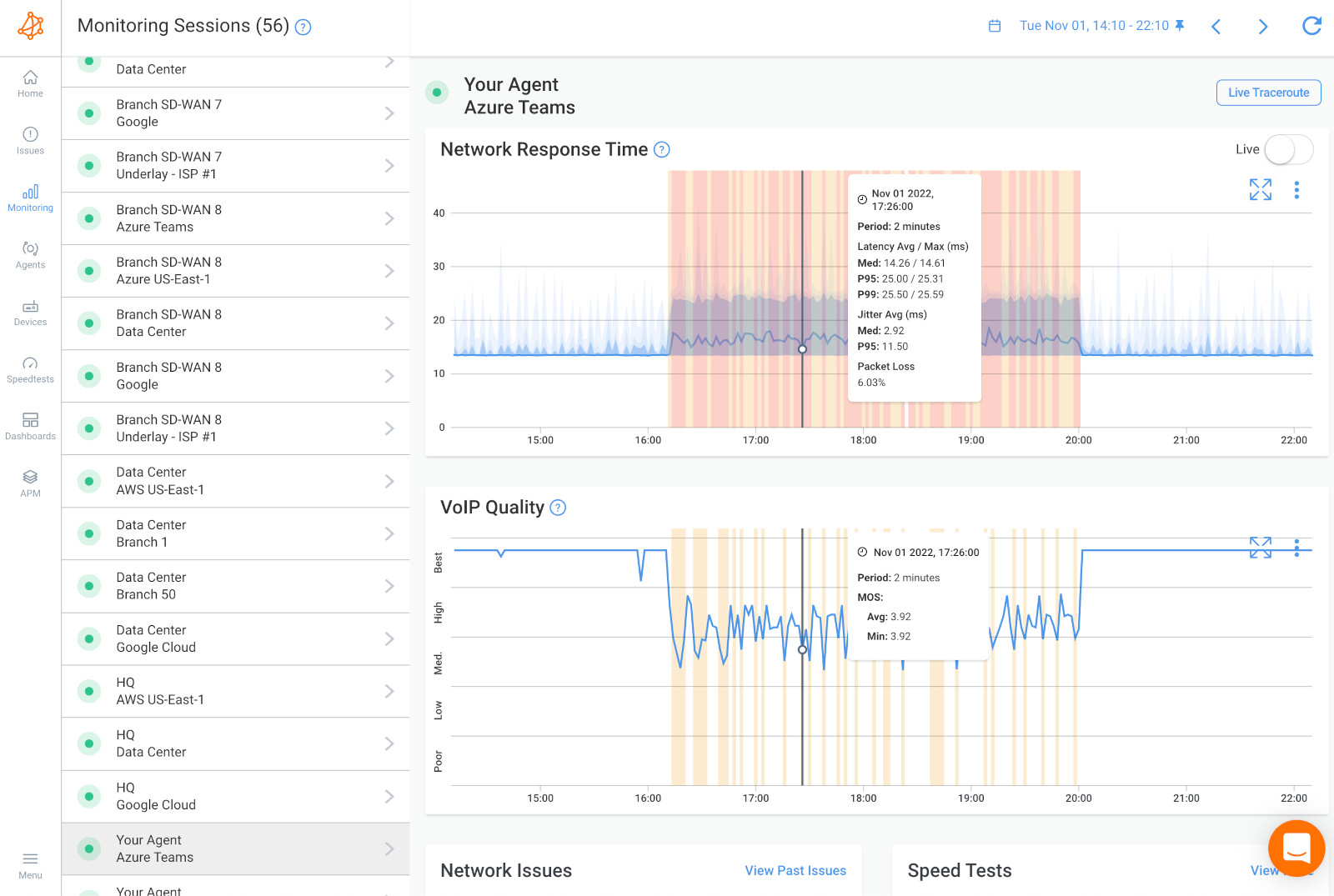 Obkio measures these network metrics every 500ms to quickly identify any performance issues in your network, with details about the problems, when they happened, and where. You can also analyze historical performance data to identify network issues from the past.
You can now use all the data you've collected to actually identify network problems and collect the information you'll use to troubleshoot. You can do so by analyzing Network Performance Reports.
For network availability monitoring, Obkio's Critical Severity report is a clear indicator of a low network availability rate. For network performance monitoring, users can set and decide the thresholds and severity levels affecting their network performance. They can then create reports and alerts based on those severity thresholds.
To recap, there's a lot to consider when it comes to network availability and performance monitoring. In summary:
Service providers may calculate the availability rate in their favor and not take performance issues into account.
Proactive enforcement of SLA penalties is not always guaranteed.
A 99% availability rate per month still equates to 7 hours of downtime.
Availability issues aren't the only concern, as network service performance can also be affected.
Service providers do not measure network performance availability and are generally not proactive in resolving performance issues.
It's up to your business to ensure that your network availability is high, that your network performance is optimal, and that you can quickly identify and troubleshoot any network problem affecting either.
Don't wait for your network availability to tank. Get started with Obkio's Free Trial!