What is Synthetic Monitoring in Network Monitoring
In Summary
Many traditional network monitoring solutions use a packet capture method to capture real-user data and monitor network performance. Now, modern network monitoring tools have switched to synthetic monitoring as a way to monitor network performance more securely - without collecting user information. In this article, we'll be talking about synthetic monitoring and its benefits.
Synthetic monitoring, which is also known as active monitoring or proactive monitoring is a monitoring technique used to monitor application and network performance by simulating user activity.
Synthetic monitors work like bots that connect to websites, web applications and services, APIs, and network destinations to simulate an action or path that a customer or end-user would take on a site, application or other software (or even hardware). Those paths are then continuously measured and monitored at specified intervals to monitor performance metrics such as functionality, availability, and response time measures.
Since synthetic monitoring is considered an active or proactive approach to network monitoring, it monitors performance on a periodic basis to continuously monitor network performance and catch network problems at all times.
Synthetic Monitoring is a term applied to many different types of website and server monitoring solutions, but in this article, we're going to focus on synthetic network monitoring.
Synthetic network monitoring software, like Obkio Network Performance Monitoring software, were created as easier and more secure options to traditional packet-capture or real-user monitoring solutions, which capture and analyze real-user data.
With concerns about data privacy and security becoming more and more important, synthetic monitoring has become the better, more secure option to help businesses monitor network performance, identify network issues, and improve the end-user experience.
To deploy a synthetic monitoring tool, get started with Obkio's Free Trial.
Passive monitoring solutions (like Real User Monitoring), require user action to initiate the monitoring since the monitoring is on that user's traffic. This makes it so an issue can go unnoticed for quite some time during periods of reduced site traffic.
Let's take VoIP Monitoring as an example!
Active VoIP Quality Monitoring with a solution like Obkio, measures call quality every minute as: best, high, medium, low and poor. It continues measuring VoIP Quality with MOS Score for each network performance monitoring session on a minute granularity, even if there is no ongoing call, for a proactive monitoring over packet capture solution.
With passive VoIP monitoring, the solution waits for the user to make a call to actually begin measuring VoIP Quality and can only do so until the call is finished.
To detect intermittent network issues, active is far better than passive. Because Synthetic Monitoring is an active approach to testing a website or service, it is the first line of defence against network outages and slowdowns.
We briefly covered it in the first point, but here we'll go over how exactly Synthetic Monitoring works in detail.
Synthetic monitoring is generally a feature of Network Monitoring tools like Obkio.
Obkio uses synthetic traffic (UDP Packets) to simulate real-user behaviour and monitor every end of your network, from WAN to LAN.
Get started with Obkio's Free Trial.
Synthetic monitoring relies on agents or some type of hardware or software to simulate real user performance within a network or application. With Obkio, these are referred to as Network Monitoring Agents which is software that we have developed to measure network and application performance and availability.
Deploy Monitoring Agents at key network locations like head offices, branch offices, and clouds. An Agent can be installed next to the firewall to monitor ISP performance (WAN) or even at the far-end of the LAN network to have a complete end-to-end performance monitoring solution.
The Agents then exchange synthetic traffic between each other to measure network and application performance as if they were actual users.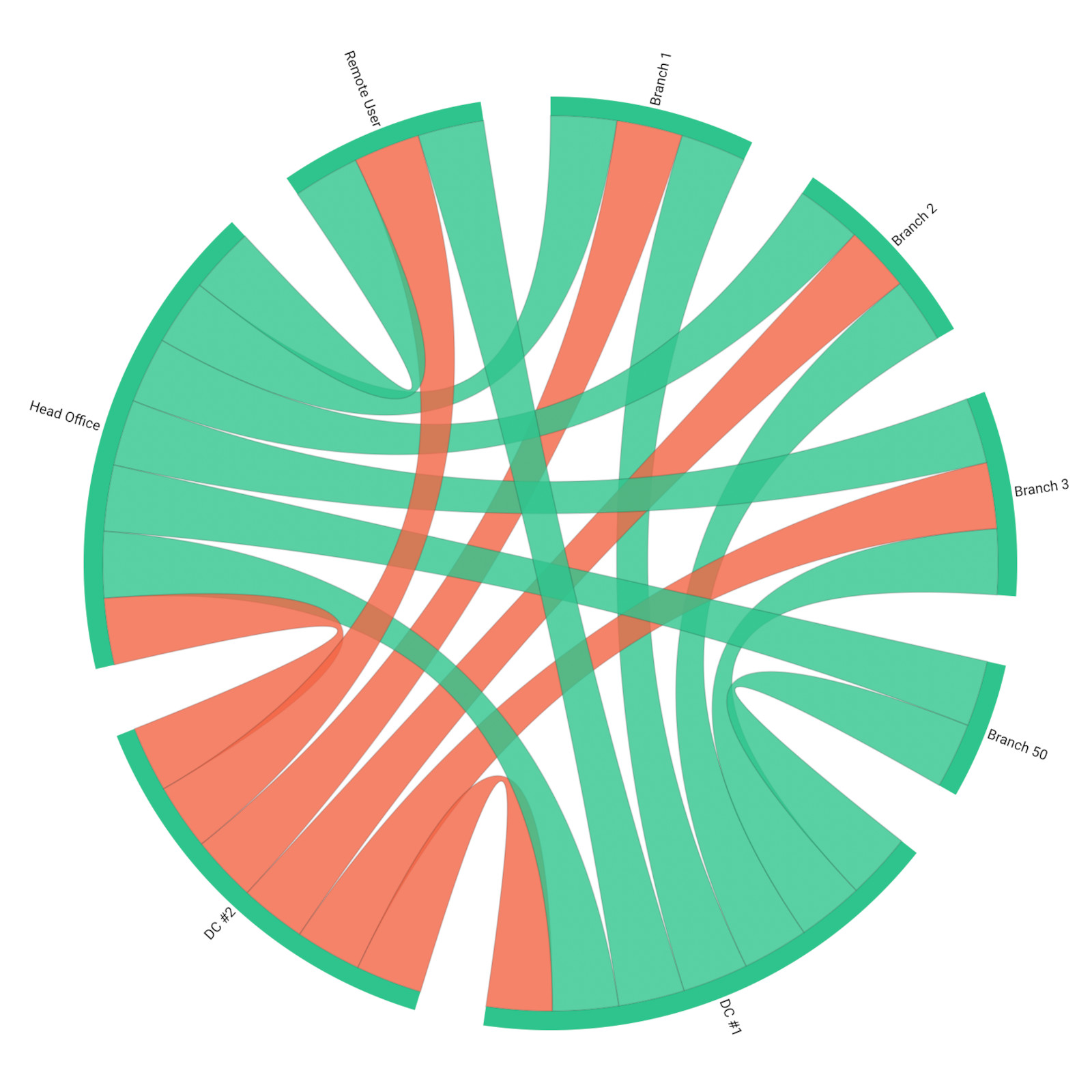 Synthetic monitors like Obkio send automated, simulated traffic (in the form of UDP packets) from a Monitoring Agent to your application or network to mimic what a typical user might do and measure performance.
Obkio's Synthetic traffic is light, non-intrusive, and secure traffic which replicates a user's behaviour in the network. Obkio's Monitoring Agents exchange this synthetic traffic between each other to monitor network performance in different network locations.
Synthetic monitoring/ traffic doesn't require packet capture, which ensures that it respects the users' privacy and doesn't require changes to network device configurations.
Network monitoring generally works by monitoring traffic on a network, and measuring a variety of different network metrics to assess network performance and health.
Every 500 ms, Obkio sends UDP packets between the Agents to measure network metrics (such as latency, jitter, packet loss, packet duplication, packet reordering, VoIP Quality and more.
Measuring these network metrics allows you to quickly understand and identify any performance degradation in your network, which may be a sign of a network issue to come.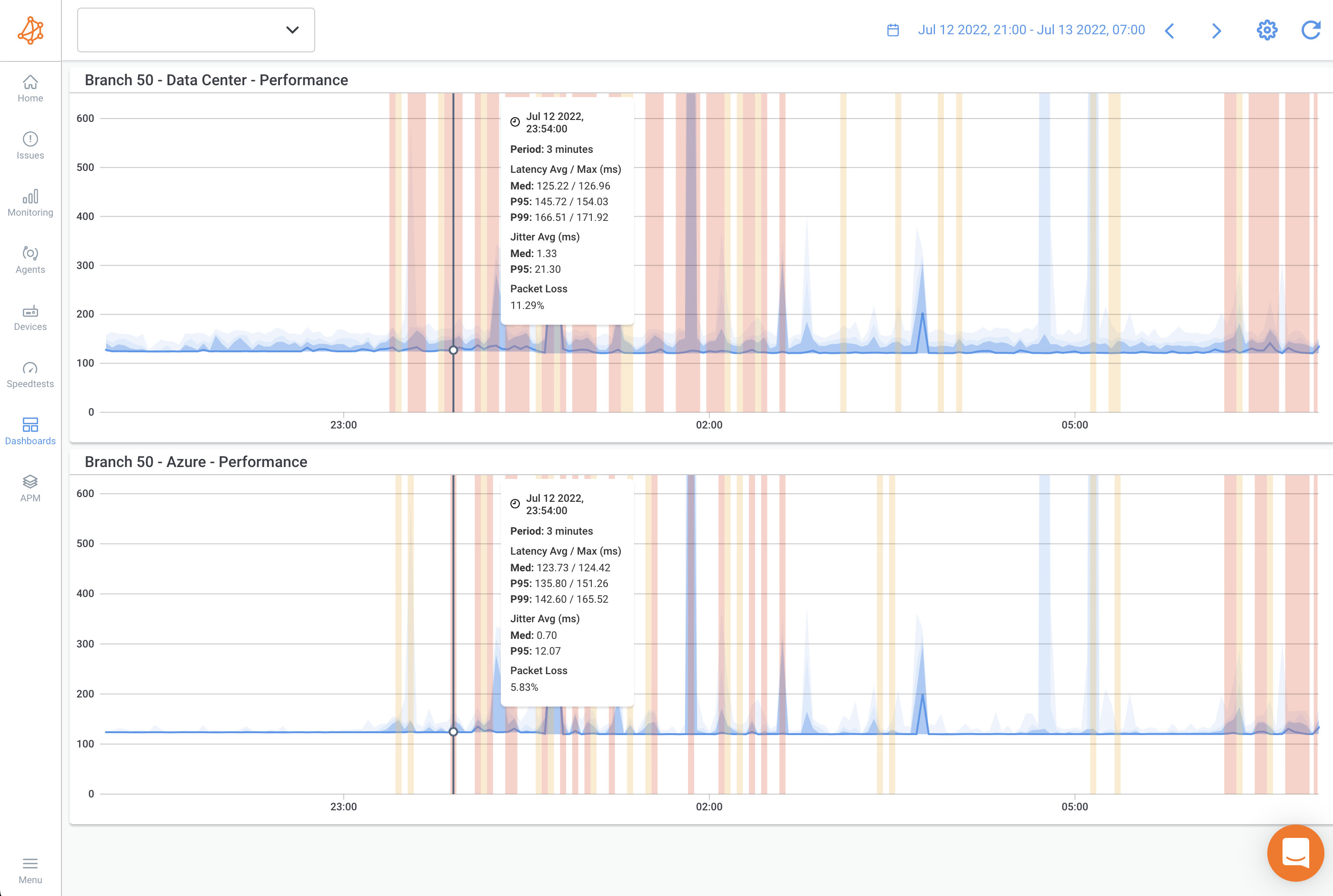 Other network monitoring strategies, like Passive Monitoring, rely mostly on real-user monitoring packet capture to monitor network performance.
RUM or Real-User Monitoring is a monitoring technique that captures and analyzes every transaction of every user of your website or application. It is a form of passive monitoring that relies on capturing real-user traffic to monitor availability, functionality, and responsiveness.
Well it was the most common monitoring technique, it has some downsides compared to synthetic monitoring.
1. Requires User Action: Real-User Monitoring requires user action to initiate the test, which means that it can't continuously monitor network performance if there are no users active on the network. This means that an issue can go unnoticed for quite some time during periods of reduced site traffic.
2. Uses Packet Capture: Secondly, it captures and monitors real-user traffic to analyze performance. With growing concerns about privacy and personal data, capturing any real-user data at all, even traffic, is something that users may not be all too comfortable with.
Also, packet capture requires equipment that is the correct size for your network capacity. That means that you need larger equipment to capture 10Gbps connection than 100Mbps. So you may need to change and upgrade equipment depending on your growing network capacity.
3. Creates High Volume: The sheer volume of data generated by real-user monitoring can cause a serious loud on your network. Real-user monitoring will generate X number of users, X times the data, so 100 users result in 100 times more transaction datasets. If your business isn't prepared, this can cause significant strain on your network, which may lead to decreased performance.
You may be asking yourself how Synthetic Monitoring can combat these disadvantages. Well, let's move onto the benefits of synthetic monitoring.
Synthetic monitoring created a continuous network monitoring solution that allows you to find problems before your users do. Using network monitoring agents, synthetic monitoring can provide a true view from an end-user perspective, allowing you to see if your application and network performance can meet your users' expectations.
Let's look at more of the benefits in detail.
By monitoring your network with synthetic traffic using monitoring agents that simulate end-users, synthetic monitoring enables you to measure the true end-user experience.
Obkio's Monitoring Agents can be deployed at different geographical locations, offices, and different browsers running on real internet service providers and devices. Traffic exchanged between agents provides insight into response time and the end-user experience metrics like QoS (Quality of Experience).
Synthetic monitoring helps you simulate user traffic to monitor network and application from the end-user perspective. It helps you proactively monitor APIs, websites, web, mobile and SaaS applications, even during the low-traffic periods, and alerts you if any performance degradation or network issues occur.
That way, your team can quickly find the root cause and fix issues before they impact the end users.
As we talked about in the point above, you want to be able to identify network issues before they reach end-users. Although some passive approaches to monitoring include alerting, synthetic monitoring's proactive monitoring technique works well for alerting a team to any issues, or signs of upcoming issues, as soon as they happen.
Obkio's synthetic network performance monitoring solution allows you to create automatic notifications to alert you of problems as soon as they happen, with information about the severity level, where the problem occurred, and when it occurred, to help with network troubleshooting.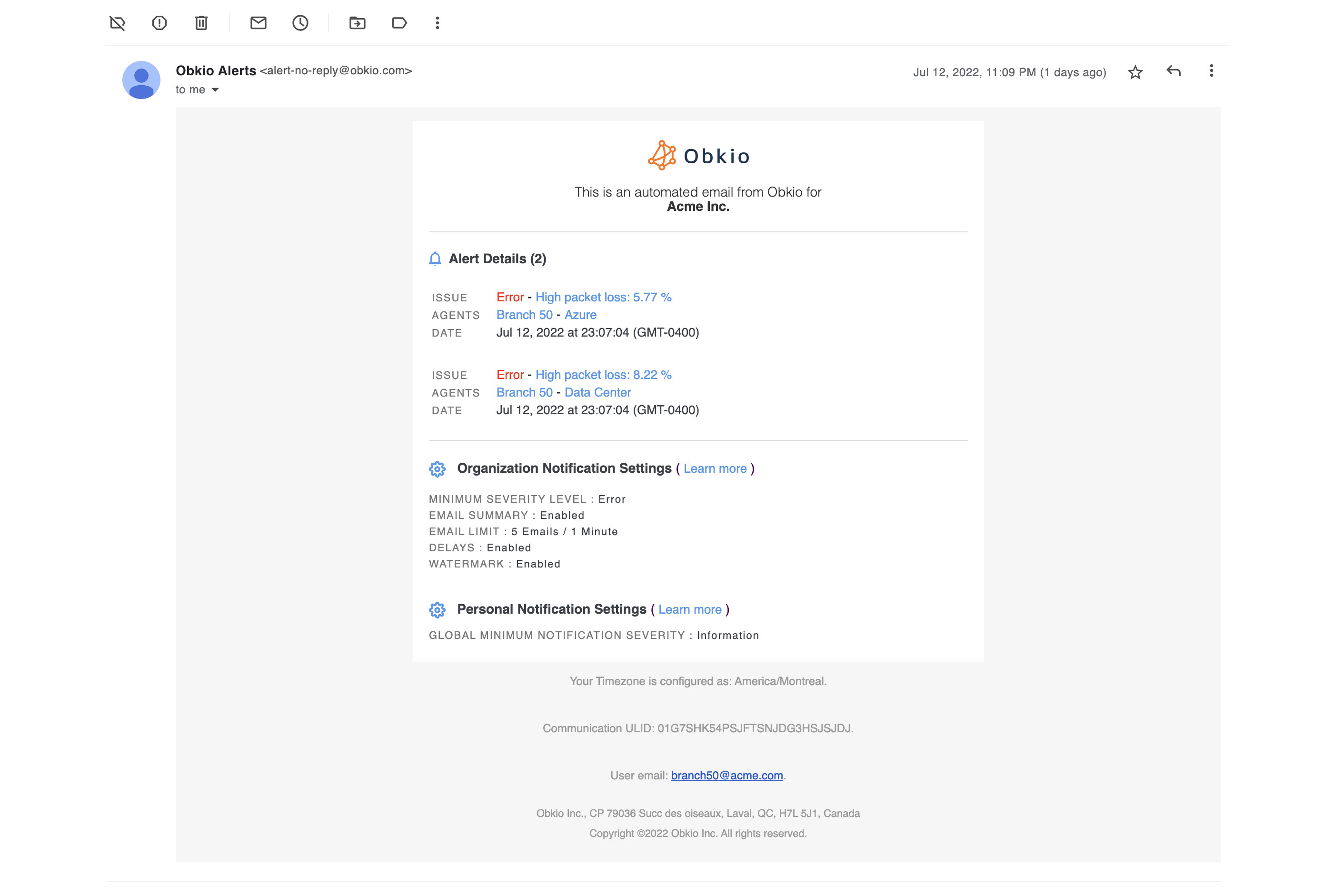 Synthetic monitoring allows you to monitor your applications and network performance at a continuous basis to give you a 24/7 continuous network monitoring solution, even during periods of low user engagement.
Over time, this monitoring data can be used to create a baseline to compare good performance with bad, identifying areas of improvement and develop performance improvement strategies.
You can also use synthetic monitoring to collect historical data and troubleshoot any past performance issues.
Many businesses and individuals depend on managed service providers to provide services like VoIP, Internet, and so on. When any network problems arise, most users turn to their service provider first. Sometimes, this creates a long back-and-forth between client and MSP as both parties try to discover if the problem is on their end.
For clients, synthetic monitoring allows them to continuously monitor their network performance to easily identify if problems are occurring in their network, or their MSPs network. This way, it's blatantly clear who is responsible for fixing a problem.
If a service, like Internet speed, is performing at a lower level than promised by an MSP, users can collect the information they need to hold vendors accountable.
SLAs or service level agreements are critical to modern businesses. No matter what side of the SLA you are, measuring and adhering to the agreed upon level of service is beneficial for both clients and service providers to succeed.
For MSPs and service providers, synthetic monitoring helps them better understand the availability and performance limitations of a client's network to set up realistic service level objectives and avoid and unforeseen penalties or user complaints.
This way, when problems arise, a service provider can easily see if the problem is on their end, or due to something in their clients' network.
Synthetic monitoring gives you a unique ability to monitor areas of your network or application which doesn't have real user traffic yet or may have low user traffic. This ensures a complete end-to-end view of your network performance.
With the shift to working from home, many businesses have large numbers of employees working from home. Without local IT resources available to troubleshoot network problems at remote offices, employees can set up monitoring agents at their home offices, to monitor network performance between their home office and their business' head office, without requiring large amounts of traffic.
This way, if any network problems occur at a remote location, the IT team can view and troubleshoot network issues, with the network data collected by the synthetic traffic. With a solution like Obkio, they can easily access all this information from a centralized dashboard or chord diagram.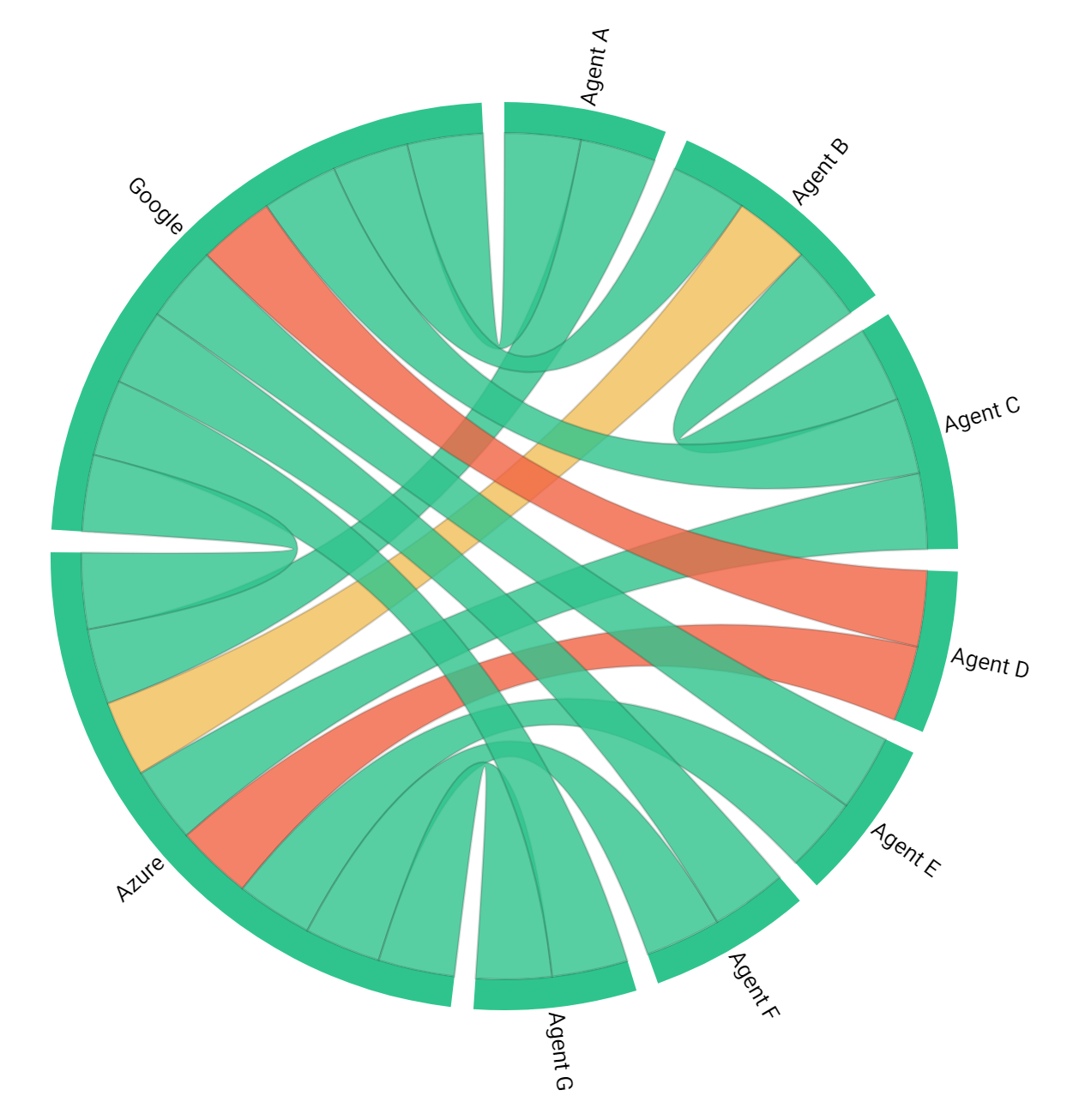 There are many types of synthetic monitoring, but the network pros at Obkio are pros at monitoring network performance with synthetic traffic.
Obkio is a simple Network Performance Monitoring App that allows users to truly monitor continuous, end-to-end network performance from the end-user perspective. And it does so using synthetic traffic to avoid capturing any real user data, or creating a large strain on your network.
Try Obkio with a Free 14-Day Trial!