Network Performance Monitoring for Network Troubleshooting
In Summary
Intermittent network problems could be a real pain. They interrupt your flow of work, frustrate users, and can potentially wreak havoc on your business. Locating and troubleshooting network problems as fast as possible is the key to making sure that doesn't happen. In this article, we're running you through what is network troubleshooting, how to troubleshoot network connectivity issues, and how to troubleshoot networks with Network Monitoring and Network Troubleshooting software.
With the increasing complexity of technology and network infrastructures, network performance monitoring software has become an integral part of any business that needs to ensure the proper functioning of their network, devices, and applications.
Network performance monitoring, in general, refers to the analysis and review of collective network metrics to define the quality of services offered by the underlying network, primarily measured from an end-user perspective.
More specifically, network performance monitoring is generally used for three main purposes:
In this article, we'll be focusing on Network Troubleshooting!
Network troubleshooting refers to the combined measures and processes used to identify, locate, and resolve network problems located anywhere along a network, from WAN to LAN.
It's a logical process that network engineers or IT professionals use to resolve network problems and improve network performance. Essentially, to fix network issues, you need to troubleshoot them. When troubleshooting a network, many IT pros will use a network troubleshooting software or various network troubleshooting tools to help with the process.
In summary, network troubleshooting is used to:
Troubleshoot network issues when a user complains of network or application slowdown or poor connectivity.
Provides end-to-end visibility to pinpoint the source of a network problem.
Offers in-depth data about the location, and cause of a problem to quickly provide solutions.
For information on what to do before network troubleshooting, check out our article on how to identify network issues!
Troubleshooting network problems so they stop affecting your users is important. But, what's even better is if you identify and troubleshoot network problems before they affect your end-users. This is what we call proactive network troubleshooting.
Proactive network troubleshooting is done through Continuous Network Monitoring. It is important because it gives you a real-time overview of your network at all times, so you can identify, locate, and solve issues before they start affecting end-users, therefore before you receive complaints, and (for Service Providers especially) before it hurts your reputation.
The longer network problems exist in your network infrastructure, the more disruptions they cause. Because so many businesses depend on high-functioning networks that can span across several locations, poor network performance can impact a number of different factors like:
Poor VoIP Quality causing choppy voice and video calls
Slow Internet performance
Slowdown of critical applications such as ERP, CRM, finance, and ecommerce systems.
VPN connection problems
Failing Citrix, RDP or Terminal Server sessions
Low transfer rate
Wasted time and productivity
Overworked IT infrastructure
Increased operating costs
Damaged reputation
Loss of income
Lost productivity
Frustration and disengagement
Increased user complaints
Bad customer experience
Issues can arise at numerous points along the network. Before you start troubleshooting a network, you want to have a clear understanding of what the problem is, how it happened, who it's affecting, when it occurred, and how long it's been going on. By gathering the right information and clarifying the problem, you'll have a much better chance of resolving the issue quickly, without wasting time trying unnecessary fixes.
Troubleshooting your network helps you get all the information you need about:
What network problems are affecting your network or application performance.
Where the network issues are located anywhere along your network.
Who the owner of the problem is (user, application, network, or ISP), and who is responsible for fixing it.
How to solve problems for a quick and smooth fix.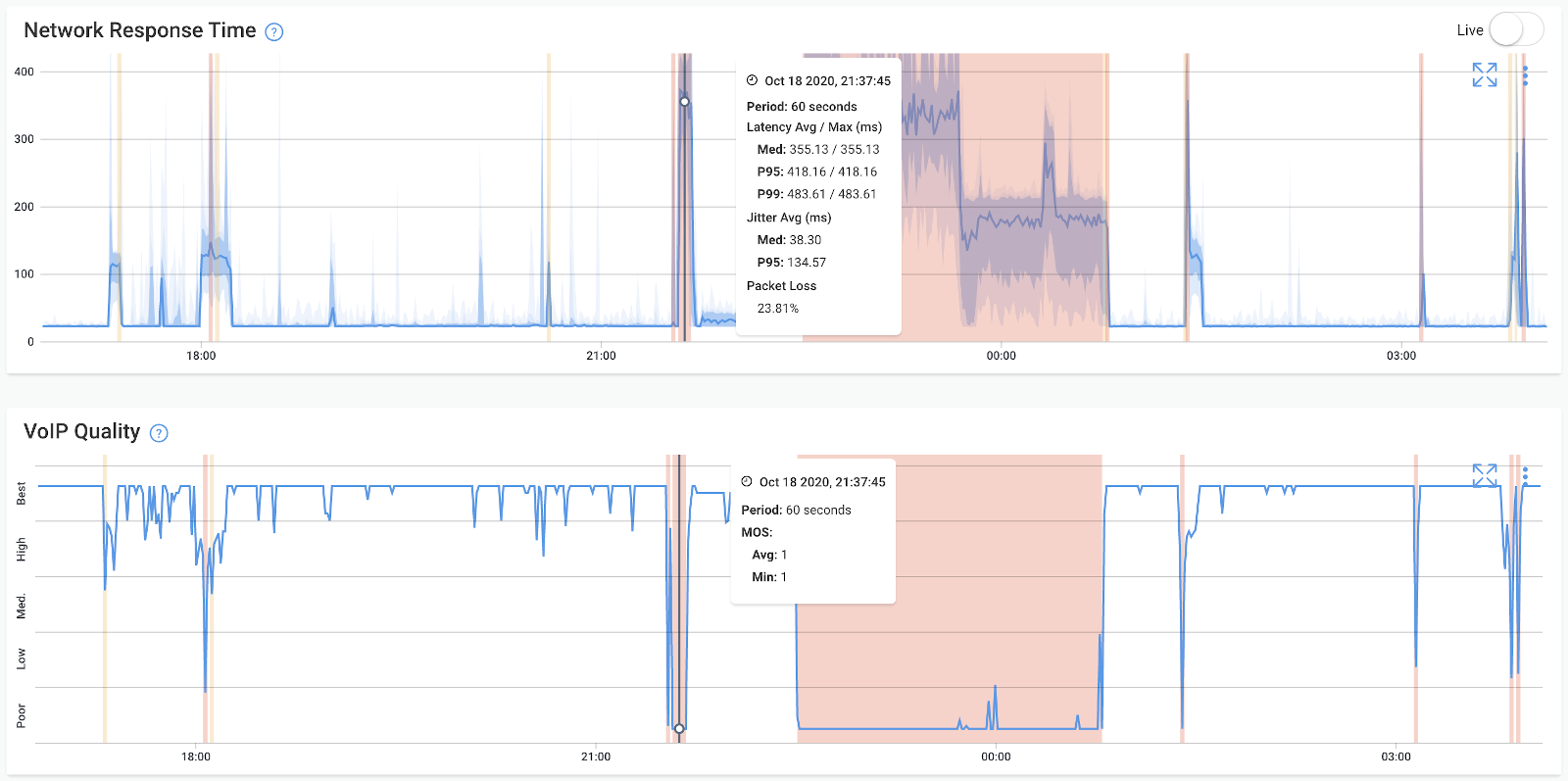 We're running you through an example of when and how network troubleshooting can help you resolve networks problems!
Let's say that users in your company start reporting intermittent network performance and slowness issues, like choppy VoIP Quality and lagginess which makes voice calls incomprehensible. VoIP Quality is highly reliant on network performance, which means that many network problems like packet loss, latency, and jitter can cause high levels of VoIP degradation.
If you're a member of the IT team, you're definitely the first person that users come to with their complaints. Which means that you now need to solve the problems fast because employees are wasting time and the executive team is breathing down your neck.
When you're looking into how to troubleshoot network connectivity problems, deploy a network monitoring and network troublshooting tool that measures end-to-end network performance to pinpoint network issues located within your business' LAN, Firewalls, or internet infrastructure.
Get a 360-degree view of network and application performance to help you identify network performance issues you never would have had visibility of before.
A great network performance monitor will even have solutions tailored to the problem you're facing, or the part of your network you're trying to troubleshoot.
Taking the VoIP example again, Obkio has a VoIP Monitoring solution that's tailored to help you monitor the performance of VoIP services. It even measures VoIP Quality using MOS score!
Monitoring network performance using a network performance monitoring software continuously measures the most critical network performance metrics to find issues, even before your users experience them.
That means that you can stay on top of problems by proactively identifying if problems are related to the network, where they are located and when they occurred, even if they happened in the past.
With information about what, where, how, and when network problems occurred, you can drastically improve the time it takes you to troubleshoot and solve problems!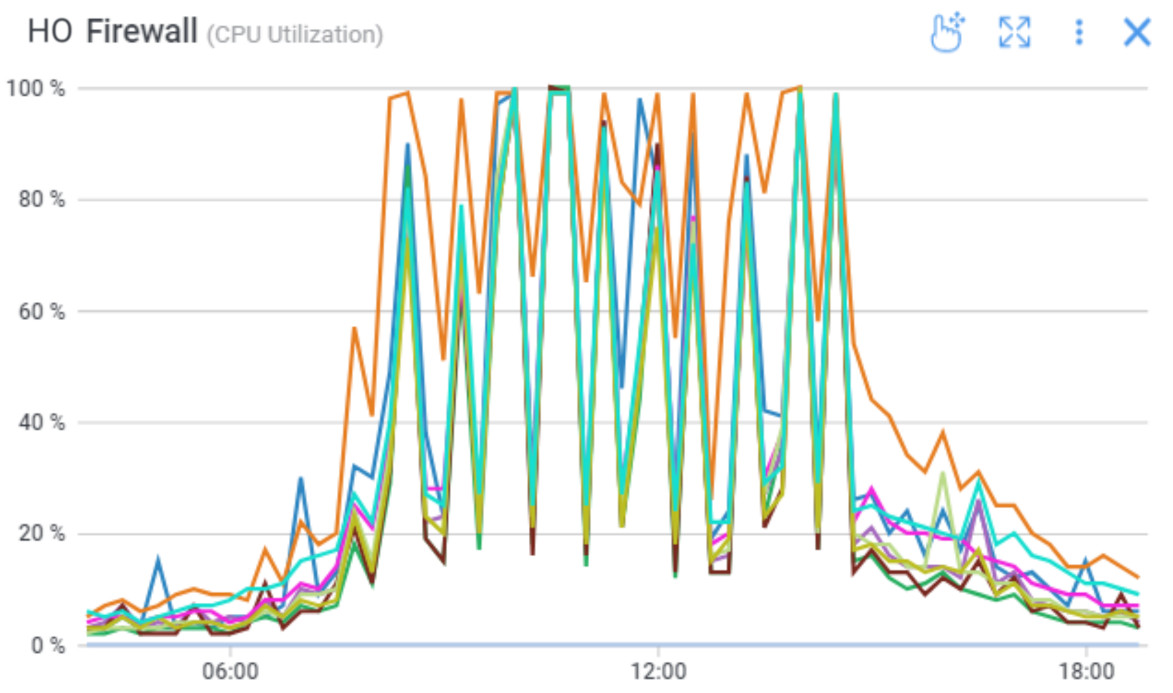 Even the best designed networks are not immune to problems. With the growing complexity of network infrastructures, problems are bound to happen, but just harder to pinpoint. All IT managers generally agree on one thing: it's not about whether there will be network problems, but rather when they will occur and how to solve them as soon as possible.
When it comes to network troubleshooting, the faster the better! In order to troubleshoot a network as efficiently and painlessly as possible, it's important to have some best practices or steps in mind that you can follow every time.
As you work through the steps to try to solve network issues, following these network troubleshooting steps can help streamline the process and avoid unnecessary or redundant steps.
Most businesses don't have time to manually assess every part of their network to find the cause of a problem. When you have a flood of user complaints and the executive team breathing down your, it can be overwhelming to try to find the problem, let alone fix it.
Luckily, there are several tools available in the vault of a network administrator or IT specialist - the most important being Network Monitoring.
A great network monitoring software will provide continuous end-to-end monitoring of your network performance, to identify problems and collect the information you need to troubleshoot. A software like Obkio actually doubles as a Network Monitoring and a Network Troublshooting software, so you can identify and troubleshoot issues with one tool!
Obkio then offers specific troubelshooting tools like: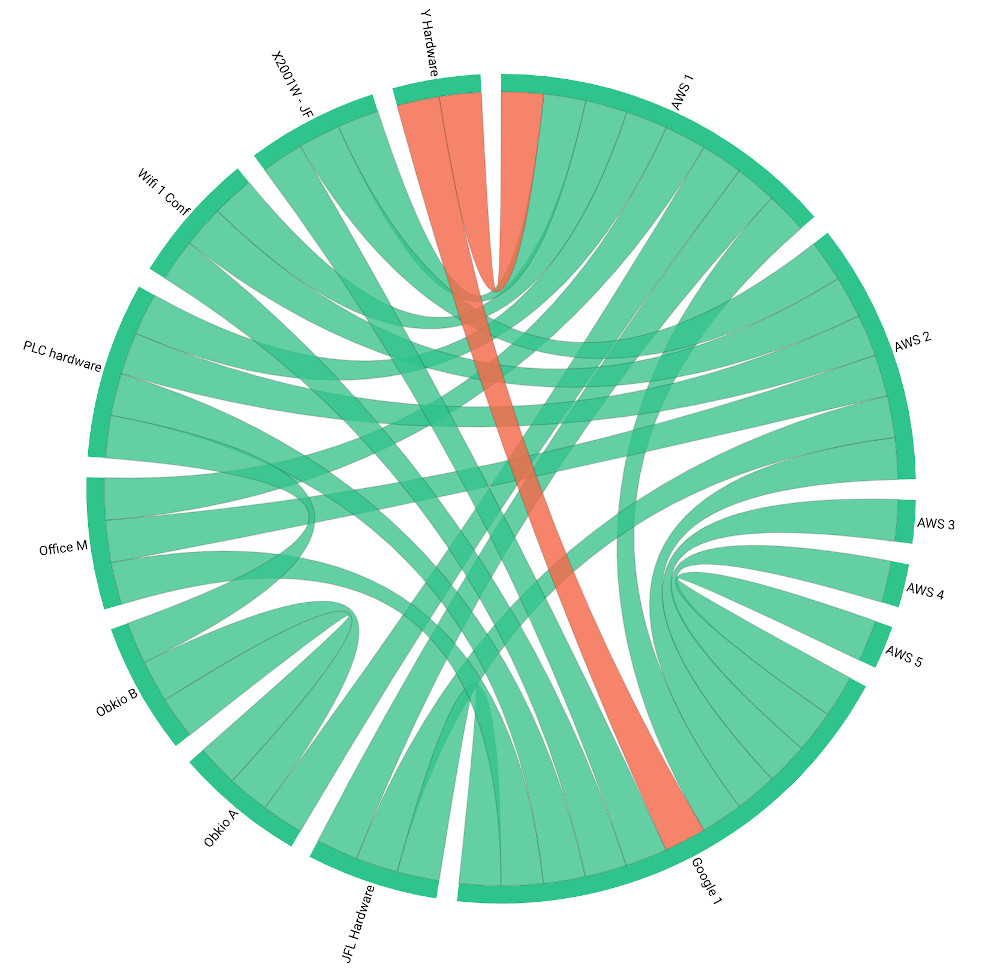 Believe it or not, many network problems may be caused by faulty hardware, bad physical connections, or incorrect configurations. When you begin the troubleshooting process, check all your hardware to make sure it's correctly connected, turned on, and working.
If a cord has come loose or has broken, or somebody has switched off an important router, this could be the problem behind your network issues. There's no point in going through the process of troubleshooting network issues if all you need to do is replace a cord, so make sure all switches are in the correct positions and haven't been bumped accidentally.
Going through to check every cord one-by-one can be tiresome and a gigantic loss of time. Thankfully, a network performance monitoring software like Obkio monitors problems within your network interface that are commonly caused by hardware!
DNS, which stands for Domain Name System, is a directory for the Internet (and every internet-connected device) that matches domain names with IP addresses. Every single website has its own IP address on the web, and computers can connect to other computers via the Internet and look up websites using their IP address.
Use the "nslookup" command to determine whether there's a problem with the server you're trying to connect to. If you perform a DNS check on, for example, google.com and receive results such as "Timed Out," "Server Failure," "Refused," "No Response from Server," or "Network Is Unreachable," it may indicate the problem originates in the DNS server for your destination. (You can also use nslookup to check your own DNS server.)
With Obkio's Application Performance Monitoring (APM) for HTTP URLs feature, users can now monitor DNS performance! DNS is key to URL monitoring, and is one of the five steps to download the content of a single URL.
To best support your end users and facilitate the troubleshooting process, you first need to make sure you're clear on what the problem is. Collect enough information from both the people who are experiencing network issues and the network itself, so you can replicate or diagnose the problem.
As I mentioned earlier, it's important to collect information about the what, where, who, how when it comes to network problems. A network performance monitoring tool will collect all that data for you, so you can then share the data with whoever is responsible for fixing the problem, whether it's you, your IT team, or your service provider.
For example, Obkio's Live Traceroute feature allows users to share a traceroute using a link that is accessible by anyone without having to log into the App. This way, ISP network engineers can see the problem, change the traceroute options and validate that their changes are fixing the issue without having to get back to you.
In addition, it's also important to identify whether your network is actually at fault when a problem arises. The network is often the culprit, however, often doesn't mean always. Obkio's Network Device Monitoring tool allows you to identify if a problem is happening in your network at all, or if it's happening in your service provider's network. You can then take this information, and bring it to your ISP in the next step!
Whether the problem is in your ISP's network or somewhere else on the Internet, we always recommend reaching out to your ISP's NOC (Network Operation Center) to help you troubleshoot problems. Explain to them the issue with the following information that you collected in step 4.
At this point, within large ISPs, you should be able to skip level 1 support with standard "reboot your modem" solutions and move to level 2 support with network technicians or engineers more familiar with the specific networks issue that you're facing. Your ISP will then be able to confirm if your analysis is good or not, and if they can fix the issue at hand. If you have the chance to have a good ISP, they will also explain why your analysis is wrong if this is the case.
As mentioned earlier, the easiest and most accurate way to troubleshoot networks is by using a Network Monitoring and Network Troubleshooting software, like Obkio.
Obkio is a simple Network Monitoring software for Enterprises and service providers that allows users to continuously monitor end-to-end performance of their network and core business applications to identify network issues, collect data on network performance, and improve the end-user experience!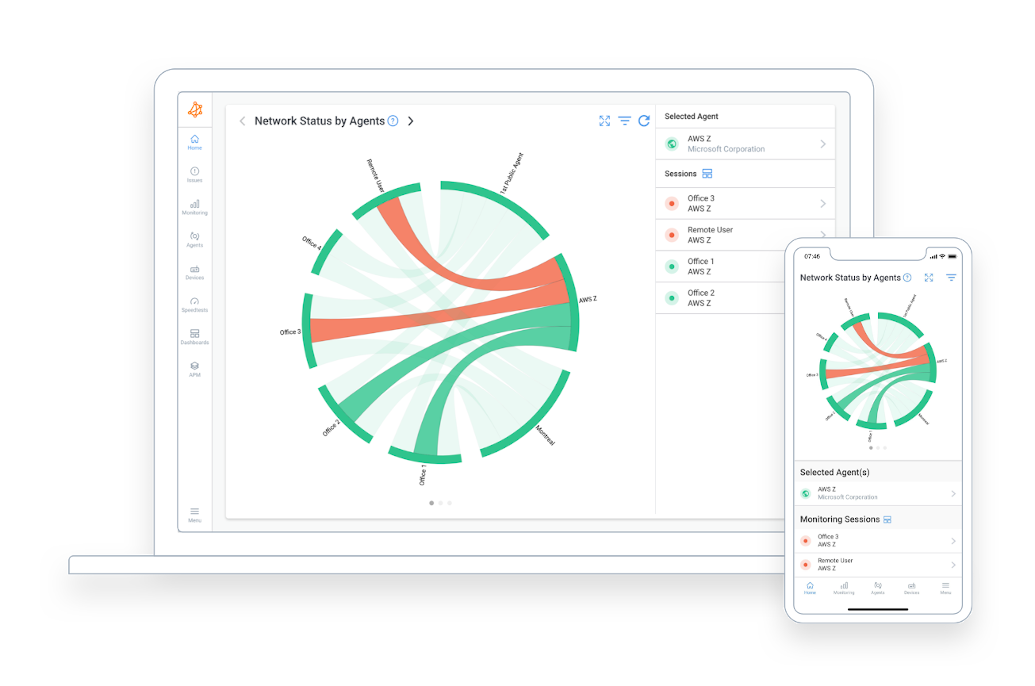 Deploy physical, software or public network monitoring Agents at strategic locations in your business' network such as data sites, remote sites, external client sites, or public or private clouds and easily identify the causes of intermittent VoIP, video, and applications slowdown in seconds.
After you perform a network assessment, use Obkio for Network Troubleshooting of intermittent network problems, and Continuous Monitoring of network performance.
Try Obkio today by signing up for our free 14-day trial!