Table of Contents
Table of Contents
The nationwide Rogers outage in Canada majorly disrupted the lives of many, affecting wireless, Internet, and even people's ability to call 911. When major network outages or Internet outages occur, it's important to be notified as soon as they happen.
Here's how Obkio's users were notified about the Rogers network and Internet outage.
Last week, a massive nationwide Rogers outage impacting Internet and wireless services was reported across Canada. The network outage (and Internet outage) affected several Rogers services, from landline and cellphone coverage to Internet and TV.
Not only could people not make any calls, including 911 calls in some cases, customers also had trouble making debit purchases and accessing Canada's ArriveCan app, which is required to enter the country.
Many Rogers users were left in the dark wondering what happened and why, but the network pros at Obkio are always prepared to monitor network and Internet outages of any size.
Seeing as the Rogers outage, as with most Internet and wireless outages and intermittent Internet issues, was related to the network, a Network Monitoring tool is going to help you monitor, detect, and troubleshoot.
A tool like Obkio Network Performance Monitoring software will continuously monitor network performance (including monitoring wired or wireless networks) to identify performance issues and outages, and notify you as soon as they happen.
Obkio monitors end-to-end network performance, from your LAN to Internet, so you know if you're affected by an issue in your ISP's network.. Which was the case during the Rogers outage.
Use Obkio's Free Trial to start continuously monitoring your network.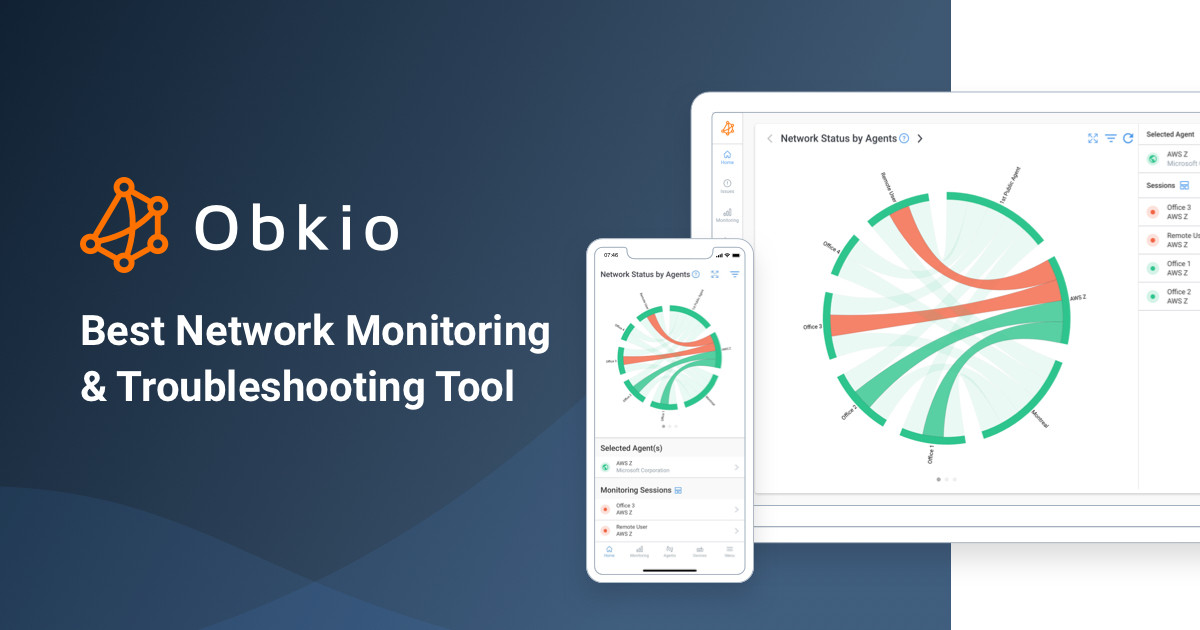 Start Identifying Network Outages
Start monitoring network performance and troubleshooting network problems in 15 minutes with Obkio!
Start for Free
To monitor your network, as well as your ISP network, Obkio uses synthetic traffic with Network Monitoring Agents.
Following the Getting Started tutorial, Deploy Monitoring Agents in each network location, including Head Offices, Branch Offices, Remote Offices, remote workers and even the Cloud.
You can also deploy Public Monitoring Agents (hosted by major Cloud Services Providers) to monitor your Internet performance and diagnose Internet problems.
When deployed, Obkio will automatically detect your ISP's network (whether it's Rogers or any other ISP), and begin monitoring network performance between your network and your ISP's network.
How to Diagnose Internet Problems in Your Network
Learn how to identify and diagnose Internet problems and Internet connectivity issues in your network using Network Monitoring and Traceroutes.
Learn more
Now, you'll have Obkio monitoring your network, as well as your MSP or ISP network.
Below, you'll see a screenshot of Obkio's Chord Diagram filtered by ISP with the status of the ISP's network.
Taking the example of the Rogers Outage, we can clearly identify the Rogers outage in Obkio's Chord Diagram. In the screenshot, the status of Roger's network is in red, which means that all the synthetic testing going through their network is failing.
With Obkio deployed, Obkio's users were immediately notified at the time of the outage using Smart Notifications, along with the data showing that the outage was in Rogers' network and not their own.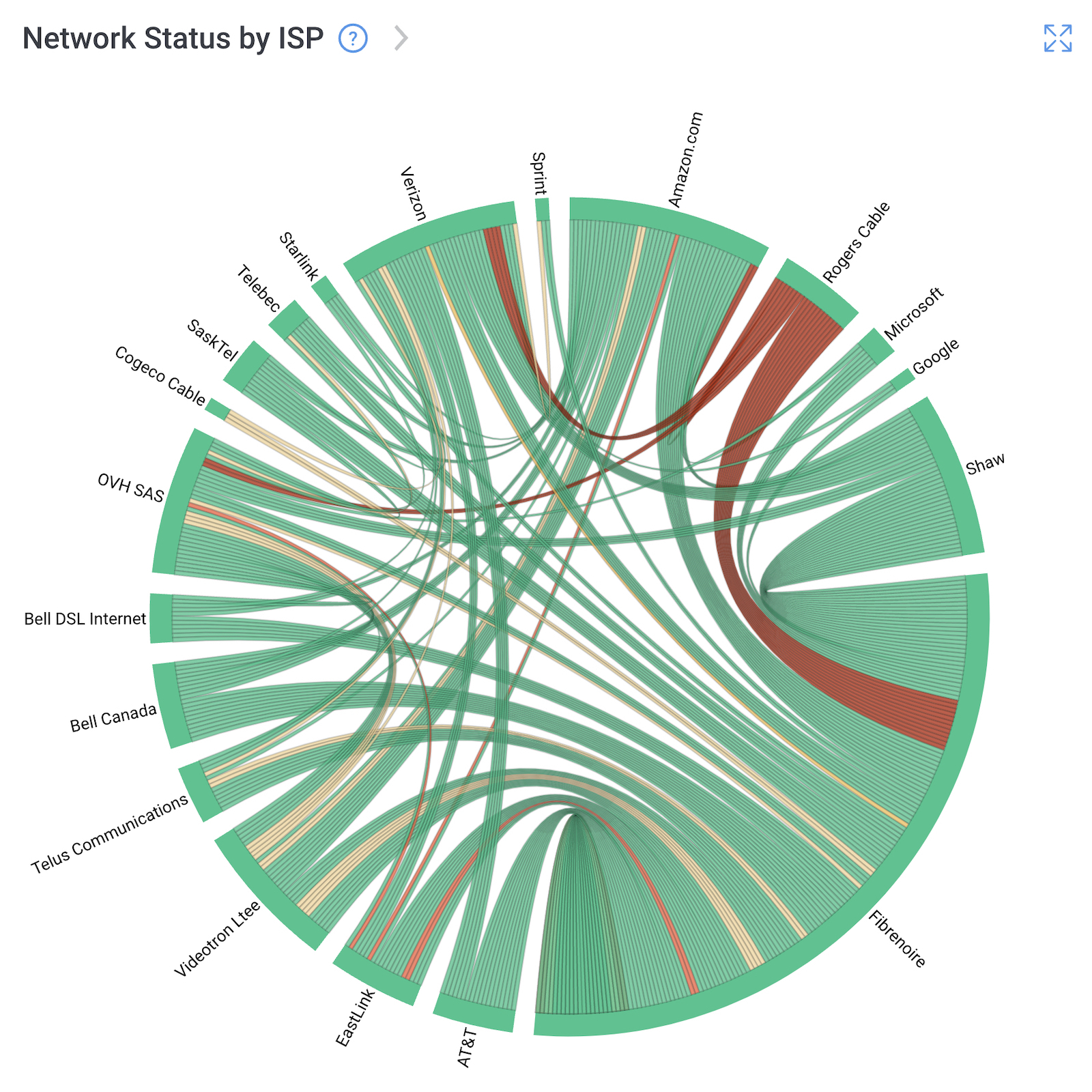 In the case of the Rogers outage, the problem was directly in Rogers' network, but network outages and Internet outages can have various root causes.
How can you identify that?
Once you've identified that there is a network or Internet problem, leverage tools like Device Monitoring and Obkio's Traceroutes to troubleshoot.
Using Obkio's Network Device Monitoring feature, with SNMP Polling monitor the performance of networking devices such as firewalls, routers, switches and wifi access points to measure CPU and bandwidth usage for network devices like Firewalls.
Use Obkio's Traceroutes and Visual Traceroute tool to: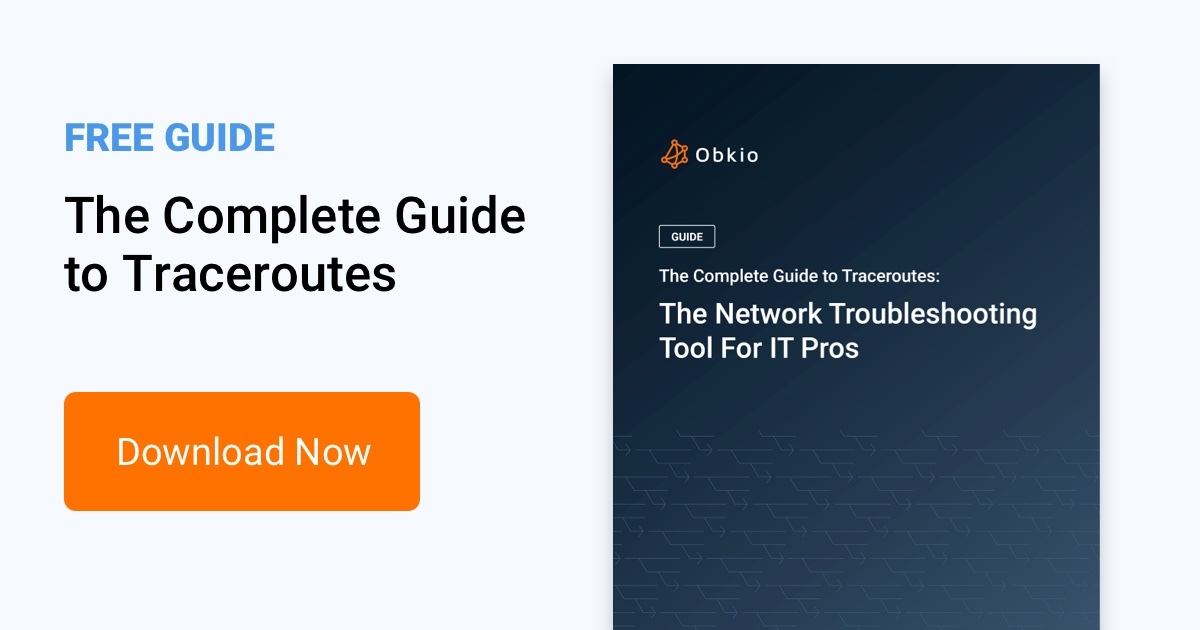 The Complete Guide to Traceroutes
Download Obkio's free Complete Guide to Traceroutes to learn to identify network problems with the most popular network troubleshooting tool for IT Pros.
Download Now
With continuous network monitoring, next time a Network or Internet outage happens, you'll be ready.
When the Rogers outage happened, Obkio users were notified immediately, and knew that the problem was in Rogers' network and not their own.
Networks are complex beasts, and it's not a matter of when network outages (Internet outages) and network problems happen, but when.
Get Started for free with Obkio and be ready for next time.