How to Troubleshoot Intermittent Internet Connection: Don't Get Caught in the Spinning Wheel of Death
Dealing with an intermittent Internet connection is very frustrating. Does your Internet connection keep disconnecting and reconnecting when you're watching your favourite Netflix show or chatting with your colleagues on Zoom?
Picture this: you're in the middle of a critical video conference with a potential client, and suddenly, your Internet connection drops out. You're left staring at the dreaded spinning wheel of death, hoping that your connection will come back before the client decides to give up on you. We've all been there, and we know how frustrating it can be. But for businesses that rely on a stable internet connection to stay productive, intermittent connection issues can be more than just an inconvenience – they can be a major roadblock to success.
In this blog post, we'll show you how to troubleshoot your intermittent Internet connection using Network Performance Monitoring, so you can get back to business and leave the spinning wheel of death behind for good.
An intermittent Internet connection refers to an Internet connection that continuously disconnects and reconnects, connection periodically drops out, slows down, or becomes unstable at random intervals. In other words, the Internet connection works normally for a period of time, and then suddenly stops working or becomes erratic. This can be a frustrating experience, as it can cause disruptions to online activities such as streaming, browsing, or downloading.
Maybe you're working on an important project task, binging your favorite Netflix show, or attending a Zoom meeting, only to be abruptly disconnected for whatever reason. Obviously, this is extremely frustrating for end-users - which is why it's important to know how to fix intermittent Internet connection issues.
Like other many other common network problems, which are usually intermittent as well, an intermittent Internet connection is difficult to detect and troubleshoot because:
It happens sporadically
It can stop happening for long periods of time
And it can't be made to appear again easily, which makes the disconnection difficult to reproduce
Like intermittent network problems, the cause of an intermittent Internet issues is virtually impossible to pinpoint manually, and difficult to pinpoint with traditional monitoring solutions.
But in this article, we're going to teach you how to identify, troubleshoot and fix intermittent Internet connection with Network Monitoring software.
As we mentioned, intermittent Internet connection issues are frustrating - but they're especially frustrating for businesses with large enterprise networks, and hundreds of applications and end-users.
An intermittent internet connection can have significant impacts on businesses, including:
Reduced productivity: Interruptions to Internet connectivity can disrupt work processes and slow down productivity. If employees rely on the internet to perform their jobs, an intermittent connection can lead to delays and missed deadlines.
Loss of revenue: If a business relies on the Internet to process sales or conduct transactions, an intermittent connection can lead to lost revenue. Online shoppers may abandon their carts if the website is slow or unresponsive, and payment processing can be disrupted by connection drops.
Damage to reputation: An intermittent Internet connection can cause frustration for customers and clients who may perceive the business as unreliable or unprofessional. This can damage the business's reputation and make it difficult to attract and retain customers.
Security risks: An intermittent Internet connection can make it difficult to maintain network security, as devices may disconnect and reconnect without proper authentication. This can increase the risk of cyber attacks and data breaches.
Increased IT costs: Businesses may need to spend more money on IT support to diagnose and fix intermittent Internet connection issues. This can be costly and time-consuming, particularly if the root cause of the issue is difficult to identify.
Overall, an intermittent Internet connection can have serious negative impacts on businesses, and it is important to address such issues as quickly as possible to minimize their impact. Here's how!
The best way to understand the cause of intermittent Internet connection problems is by using a tool like Obkio Network Performance Monitoring software.
Obkio continuously monitors your network and Internet connection using Network Monitoring Agents.
These Monitoring Agents monitor network performance from the source (your computer or your office) up to the destination (another office, datacenter or clouds) diagnose Internet connection problems, and collect information to help you troubleshoot.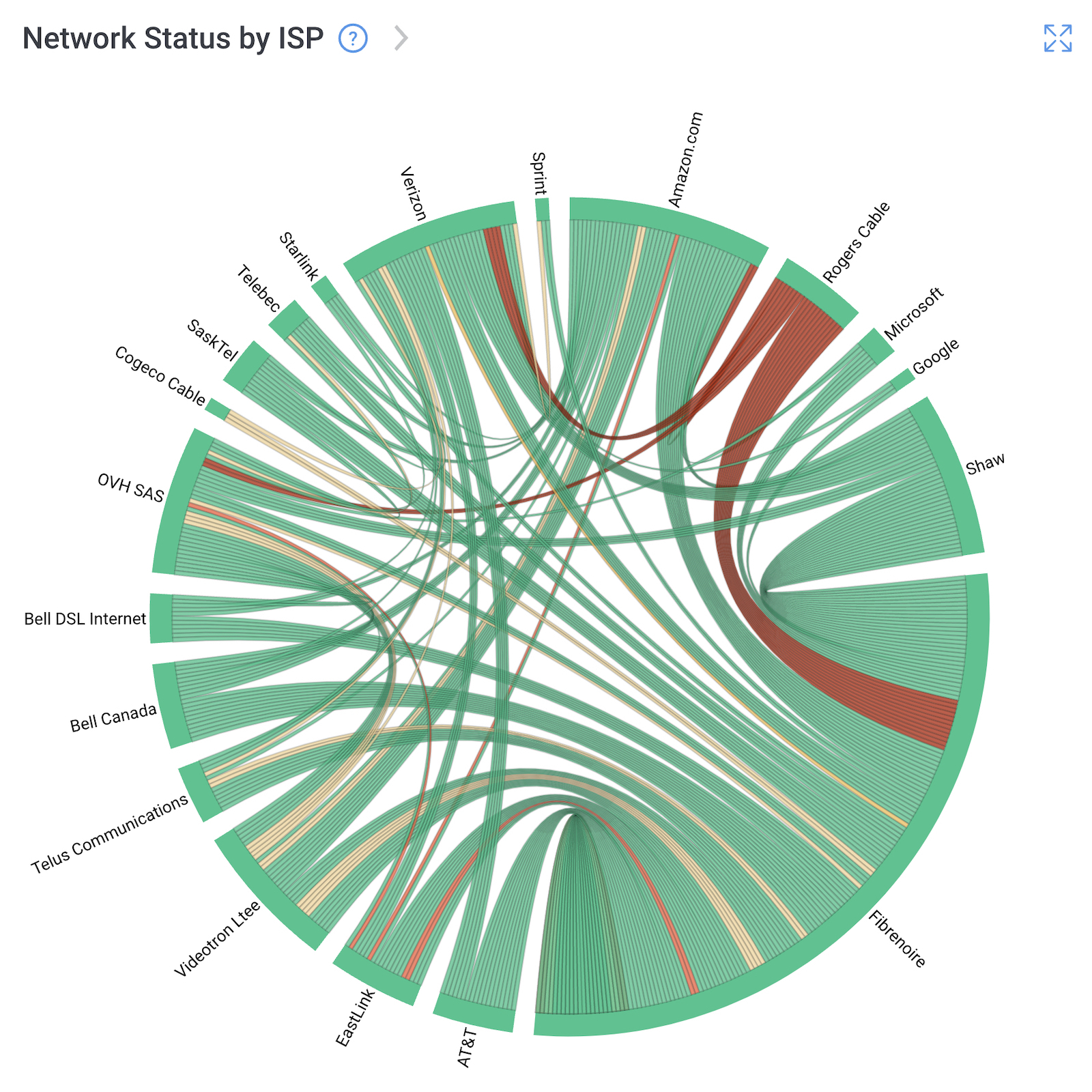 Internet performance can be affected by network problems in different parts of your network. So an intermittent Internet connection may be caused by a problem or your end, or in your ISP's network.
That's why it's important to use a network monitoring tool that monitors end-to-end network performance.
In addition, Obkio monitors end-to-end network performance using synthetic traffic, which means that Obkio doesn't capture real user traffic in order to maintain users' privacy.
Get started with Obkio's Free Trial!
To understand what's causing your intermittent Internet connection in your network, you need to set up Monitoring Agents which monitor network performance between you and the Internet.
First you need at least 1 Software, Hardware, or Virtual Monitoring Agent to monitor your network performance. These Monitoring Agents can be deployed on your workstation, at your company's head office, branch office, data center etc.
All Monitoring Agent types have the same features, including distributed deployment, synthetic traffic every 500ms, and network metric measurement, and more!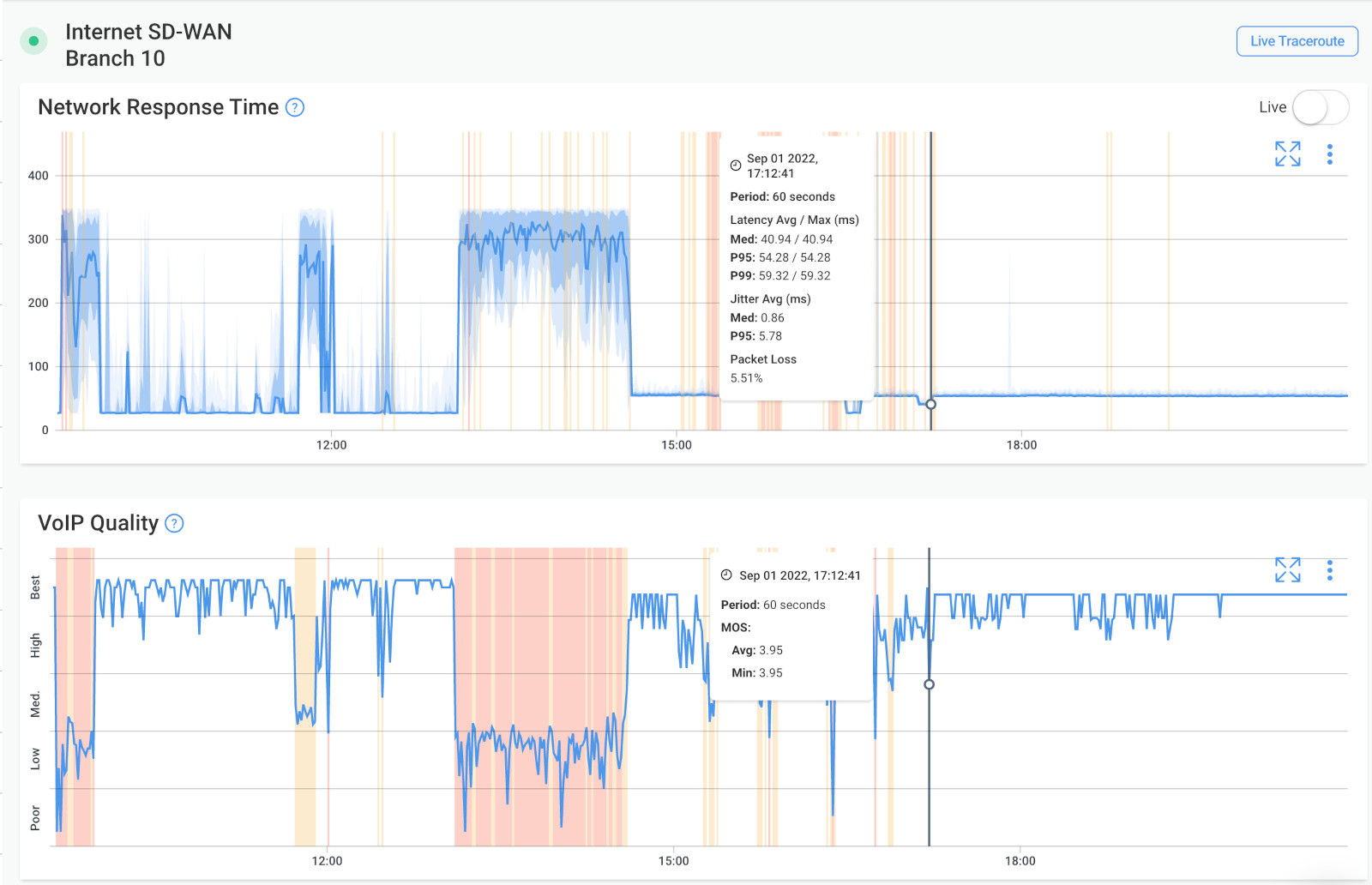 Next, you need 2 Public Monitoring Agents to monitor your Internet connection and understand why it keeps disconnecting.
Public Monitoring Agents are hosted by Obkio and major Service Providers around the world like:
Azure: to monitor apps like Microsoft Teams or Office 365.
AWS (Amazon Web Services): to monitor apps on AWS Cloud or AWS Marketplace.
Google Cloud: to monitor the performance of any Google-hosted apps like Google Meet.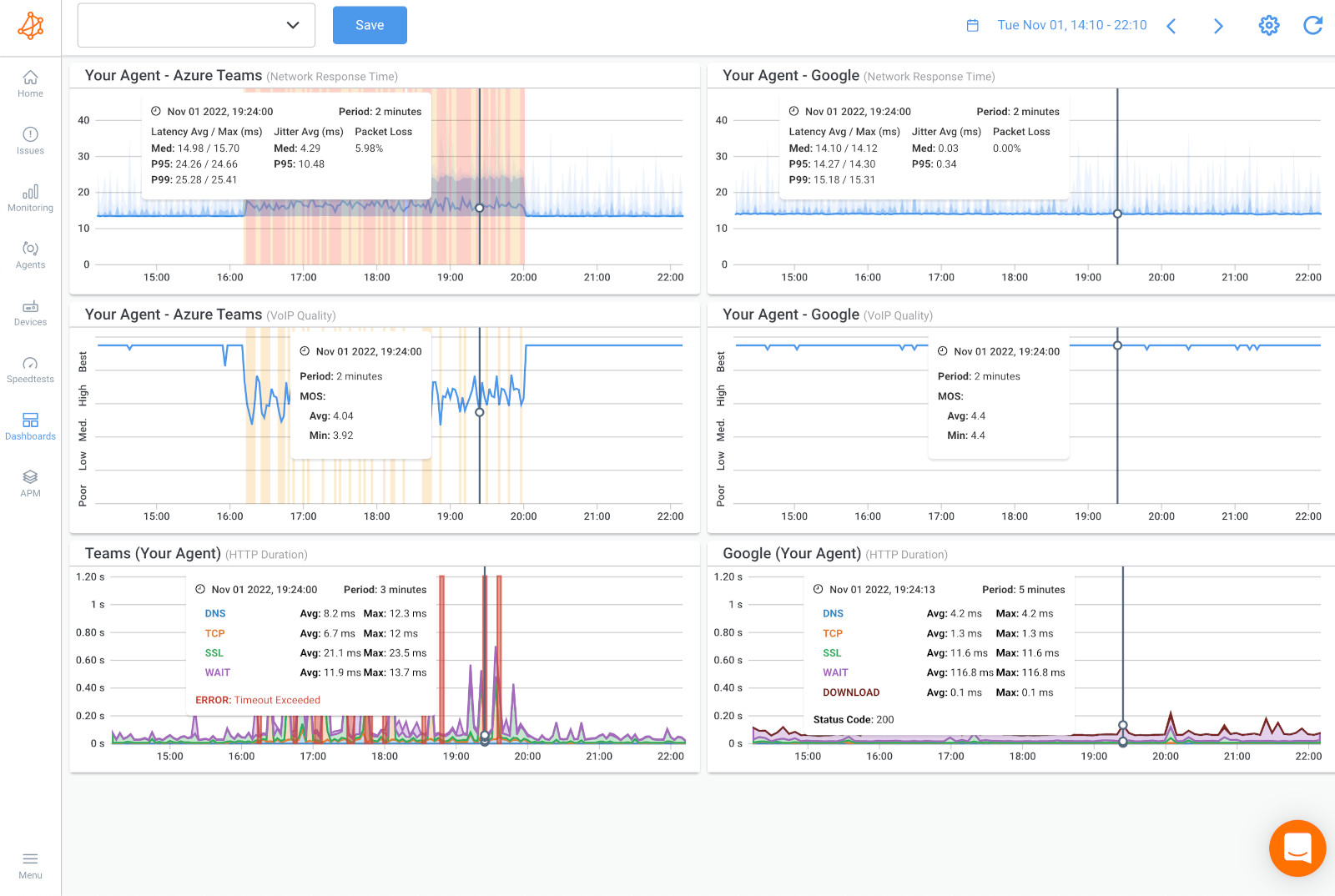 Sometimes, intermittent Internet connection problems can actually be caused by your Firewall configurations and resources. Which is why you need to monitor CPU and bandwidth usage for network devices like Firewalls.
This can be done using Obkio's Network Device Monitoring feature.
Network Device Monitoring uses SNMP Polling to monitor the performance of networking devices such as firewalls, routers, switches and wifi access points.
It uses ultra-fast polling (every 30 seconds) to quickly detect and diagnose Internet problems related to short bursts of traffic, CPU utilization, or high bandwidth usage that affect network performance.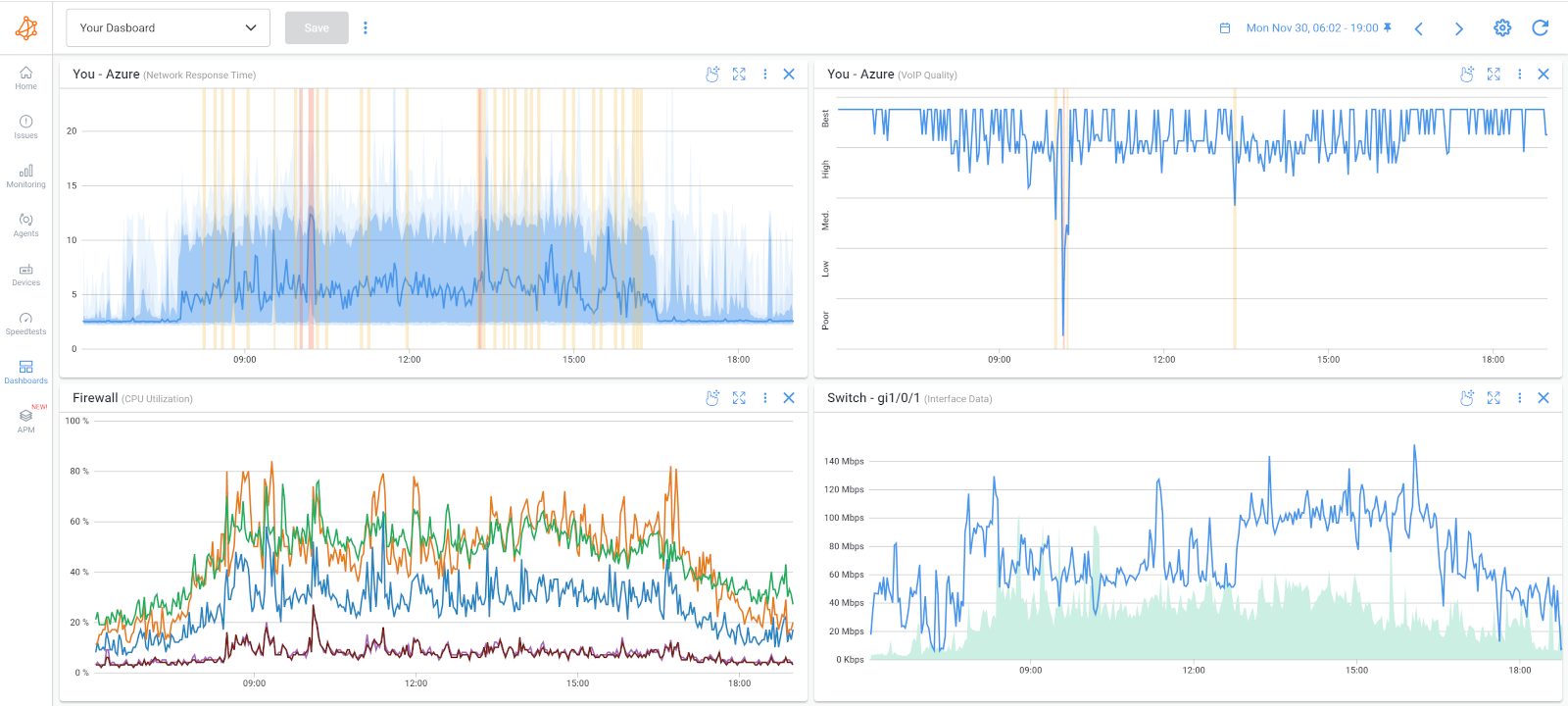 Once all Monitoring Agents are deployed, they will continuously exchange traffic between each other to monitor your network and Internet connection, and start measuring key network metrics like jitter, packet loss, and latency.
Measuring these network metrics allows you to quickly understand and identify any performance degradation in your network that can be affecting your Internet connection.
Using the network metrics, as well as the metrics related to your network devices, Obkio will then be able to pinpoint what is causing your intermittent Internet issues - as well as when it happened and why.
Obkio will then alert you if and when Internet problems are detected.
With Obkio, you'll now have the information you need to identify the cause of intermittent Internet connection in your network. You can further drill-down using Obkio Vision Visual Traceroute tool to understand if the intermittent Internet connection issue is happening in your local network, or your ISP network.
There are several potential causes of intermittent Internet connection issues. Here some of the most common you may discover:
Network congestion: If many users are connected to the same network or internet service provider, it can lead to congestion and slower connection speeds.
Hardware issues: Faulty or outdated hardware, such as routers, modems, or network cards, can cause intermittent connection issues.
Interference from other devices: Electronic devices such as cordless phones, baby monitors, or microwaves can interfere with Wi-Fi signals and cause connection issues.
Software issues: Outdated or corrupted software, such as a web browser or operating system, can cause intermittent connection issues.
Weather conditions: Extreme weather conditions, such as heavy rain, lightning, or strong winds, can cause damage to physical infrastructure such as cables or satellite dishes, which can lead to connection issues.
DNS issues: Domain Name System (DNS) servers can sometimes become slow or unresponsive, leading to connection issues.
Internet service provider (ISP) issues: Issues with the ISP's network infrastructure or service delivery can cause intermittent connection issues.
Malware and viruses: Malware or viruses on a device can cause an intermittent internet connection issue by consuming bandwidth, interrupting traffic or affecting network settings.
The issue with an intermittent Internet connection is that it's intermittent. It happens sporadically and can be hard to catch.
That's why Obkio's solution also measures and collects historical performance data, so you can analyze, compare, and troubleshoot Internet connection issues from the past.
Analyzing historical data allows you to go back in time to identify and troubleshoot intermittent Internet connection issues that may look like they disappeared.
With historical data, you can see exactly when your Internet disconnected and why - even if it happened when you didn't notice.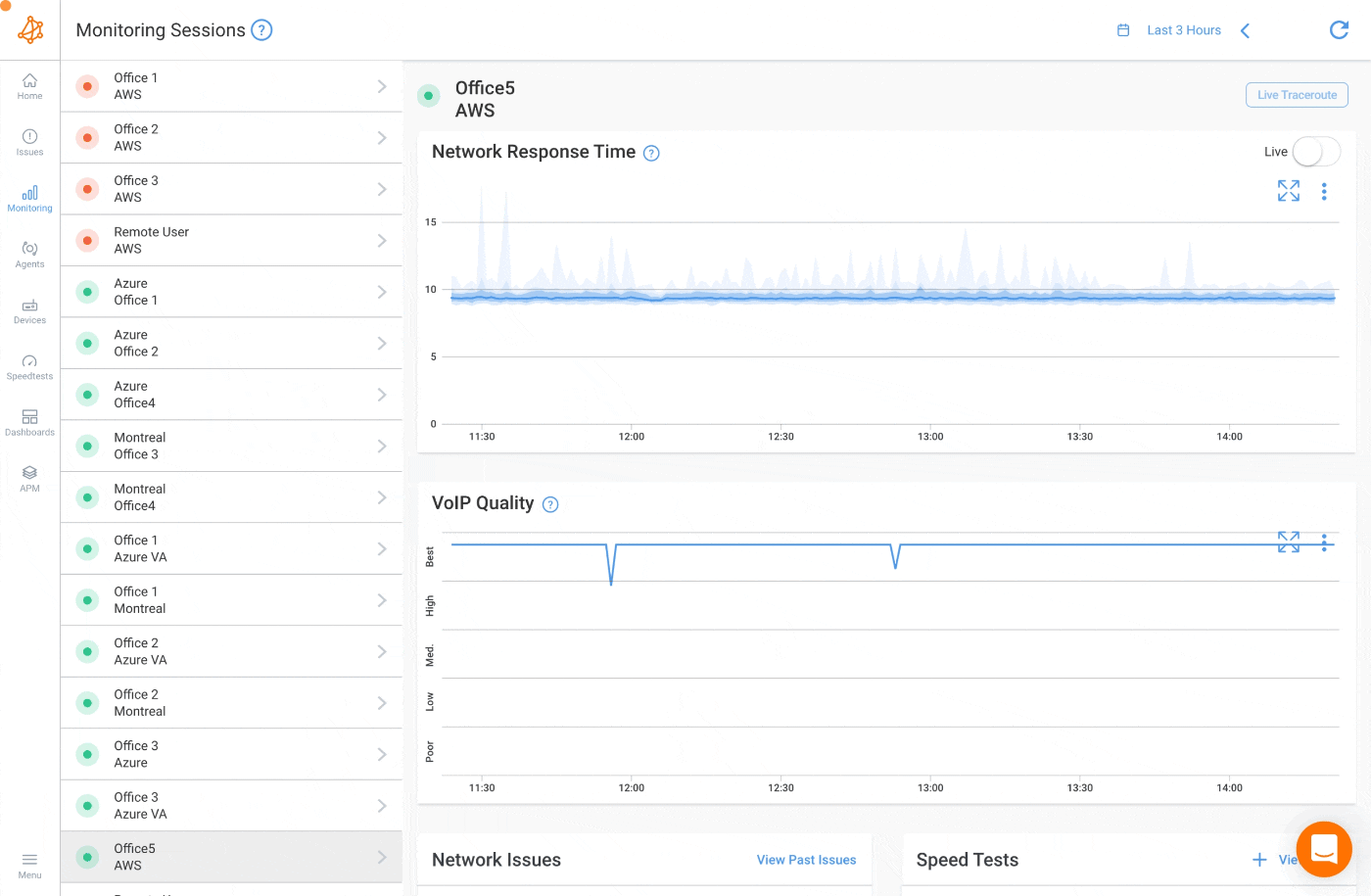 To get into solving and troubleshooting your intermittent Internet connection, it's time to use Obkio Vision Visual Traceroute tool.
Using Obkio Vision, create Network Maps and run Traceroutes for different ends of your network like:
LAN: Within your network
Between the LAN and Your ISP's Network: Between your Firewall and your ISP Edge network
Your ISP Network: Within their network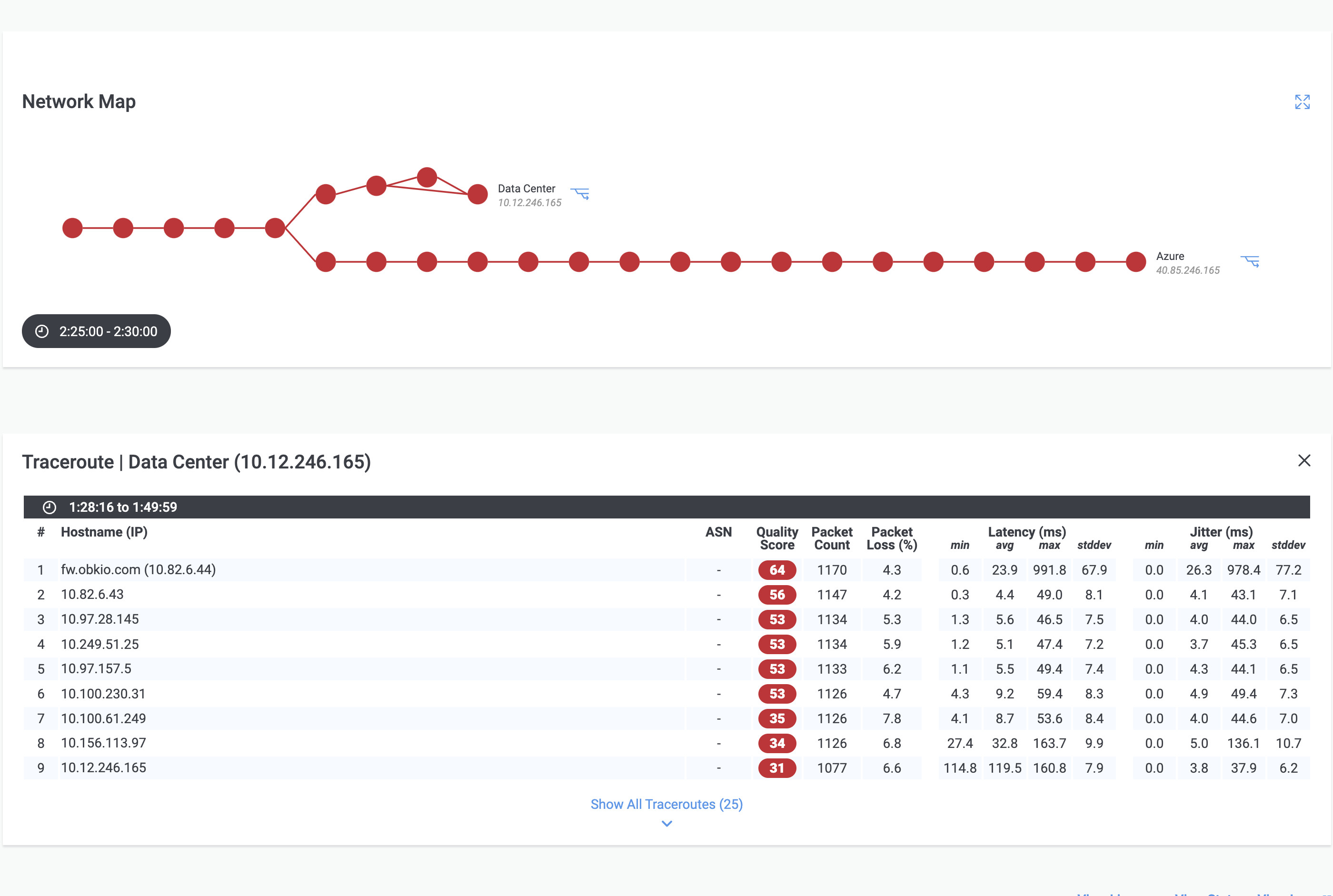 This will allow you to identify where exactly the Internet issues are located, when they happened and why.
With this information you can then troubleshoot internally, or share the traceroute results with your ISP for quick troubleshooting and support.
Monitoring and identifiyng intermittent Internet connection issues was the first step. Now that we've reached the troubleshooting process, it's time to take some action to reduce the likelihood of intermittent Internet connection issues in your network and ensure that your business stays connected and productive.
Restart your modem and router: Restarting your modem and router can help refresh the connection and clear any temporary issues that may be causing the problem.
Check network cables and connections: Ensure that all network cables and connections are securely plugged in and free from damage.
Update firmware and software: Make sure that your modem, router, and connected devices have the latest firmware and software updates installed.
Optimize Wi-Fi signal: If using Wi-Fi, try to place the router in a central location, away from potential sources of interference, and ensure that the Wi-Fi signal is optimized with appropriate channel settings.
Prioritize bandwidth: Prioritize bandwidth for critical applications, such as VoIP calls, by setting Quality of Service (QoS) rules on your router.
Scan for malware and viruses: Run regular scans for malware and viruses on your devices to ensure that your network is not compromised.
Check with your ISP: If the issue persists, check with your internet service provider (ISP) to ensure that there are no issues on their end, such as network congestion or maintenance work.
Upgrade your hardware: If your hardware is outdated, consider upgrading to newer equipment that is better suited to handle high-speed internet connections.
An intermittent Internet connection is annoying, but it doesn't have to be ongoing.
With continuous Network Monitoring using Obkio, you'll have a way to identify and troubleshoot Internet problems even before they become ongoing intermittent issues.
So instead of letting your Internet tell you there's a problem, Obkio will do the job for you - and give you the information you need to troubleshoot the network issue.
To set up network testing network monitoring to intermittent Internet connection problems, get started now with Obkio's Free Trial!