Network Device Monitoring to Identify & Troubleshoot Performance Issues
In Summary
Network device monitoring is a crucial part of monitoring and optimizing your network performance. Firewalls, routers, switches and wifi access points can experience problems like congestion, high bandwidth and CPU usage that can affect your network and user experience. Keep reading to learn about how to use Network Device Monitoring to identify and troubleshoot performance issues.
Network Device Monitoring is the practice of monitoring the resources, usage states and availability of networking devices such as firewalls, routers, switches and wifi access points. It is a crucial part of Network Monitoring and helps you understand the root cause of performance issues in your network.
Network devices and equipment are prone to problems like high CPU usage and high bandwidth usage. Network Device Monitoring helps you identify those issues so that you can understand if you need to:
Look into what traffic is going through your network
Increase your Internet bandwidth
Update your network device firmware
Or even upgrade your network infrastructure altogether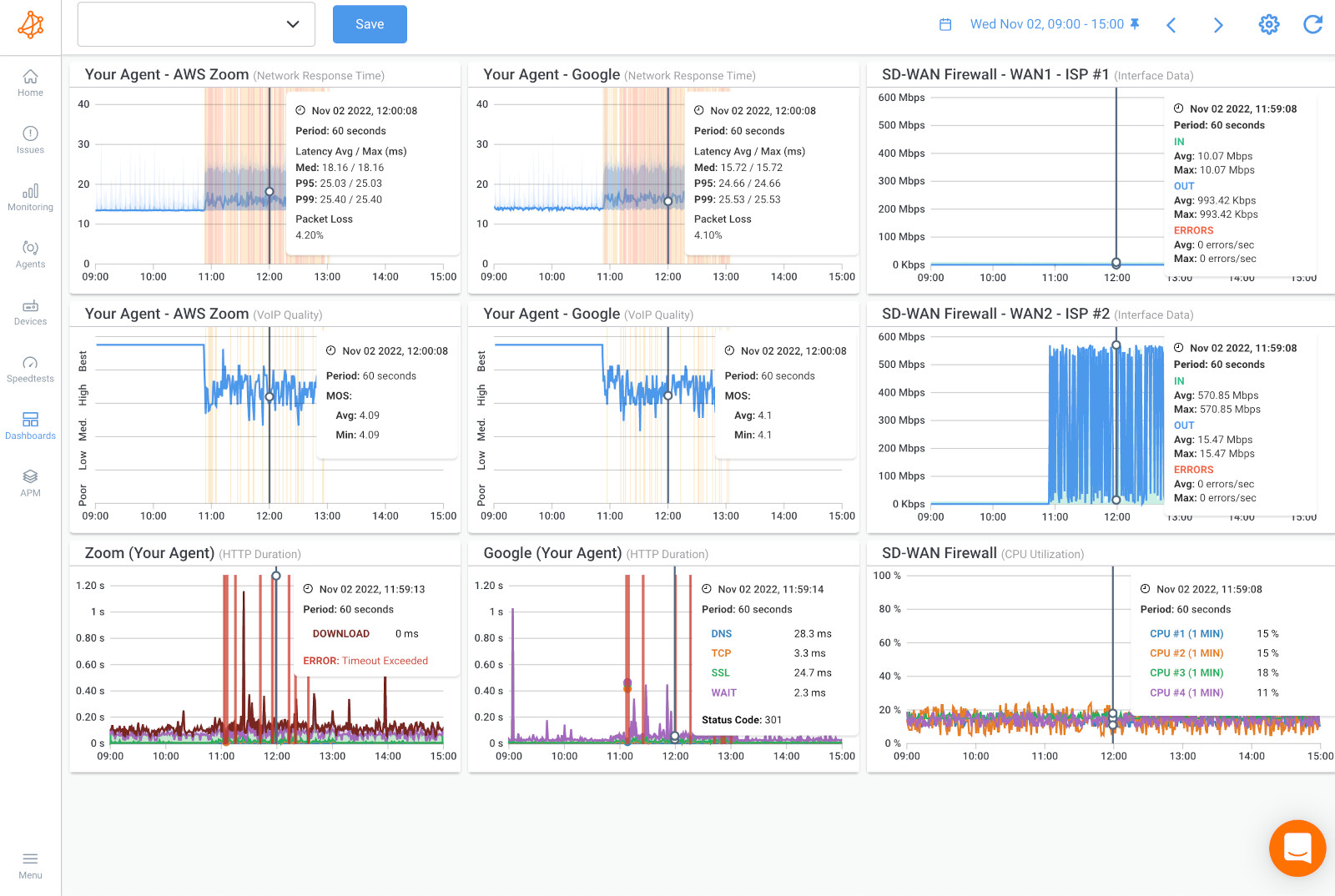 The biggest problem with the traditional network device monitoring tools, which many of us have been using since forever, is their overwhelming alert systems.
In a large network, with many network devices, traditional device monitoring systems will flood you with alerts for every small event. And we all know that, too many alerts is often equivalent to no alerts.
No company has enough staff to watch hundreds of notifications come in everyday. So in this situation, everyone does the same thing. They create a folder in their emails where they automatically forward the notification emails and never look at them again.
Now, network events that are moved and forgotten in a folder are no longer an alert system - they're a log system. The problem with such a system is that we lose real-time visibility on event management. That's when we start relying on our users to flag issues, and only react when the problem has already affected user experience.
Here's how to overcome that:
Instead of traditional tools, the new generation of Network Device Monitoring tools, like Obkio Network Performance Monitoring software, use Network Performance Monitoring features to alert you about problems in your network, and your network devices, as soon as your network performance starts to degrade.
That means that you only get the alerts that matter, when they matter.
The Network Device Monitoring feature inside of Obkio's Network Monitoring Software is then a key tool for troubleshooting performance issues.
Is a fast and easy solution to get detailed information about the performance of your core network devices to quickly and proactively pinpoint and troubleshoot network device issues like congestion, high CPU and interface errors.
Many Network Device Monitoring tools, like Obkio, use SNMP within their Network Device Monitoring features.
SNMP or "Simple Network Management Protocol" is an Internet Standard protocol which is used to monitor and manage network devices connected over an IP address.
The first SNMP standard, called RFC, was published in May 1990 and has evolved since then. There are now other telemetry protocols that exist, but SNMP remains the standard protocol supported by the majority of network equipment.
With Obkio, you don't need to establish VPNs between a centralized monitoring server and the LANs where the network devices are located because all the SNMP polling is already done by Obkio's Monitoring Agents.
Before monitoring your network devices, you need to deploy at least one Monitoring Agent.
Monitoring Agents are a unique software developed by Obkio to monitor network performance in key network locations (data centers, branch offices, clouds etc.). They continuously exchange synthetic traffic in your network to measure performance using key network metrics, and identify performance issues.
You need a Monitoring Agent deployed so that it can communicate with your network device to measure performance. We always recommend using the Agent closest to the device you want to monitor.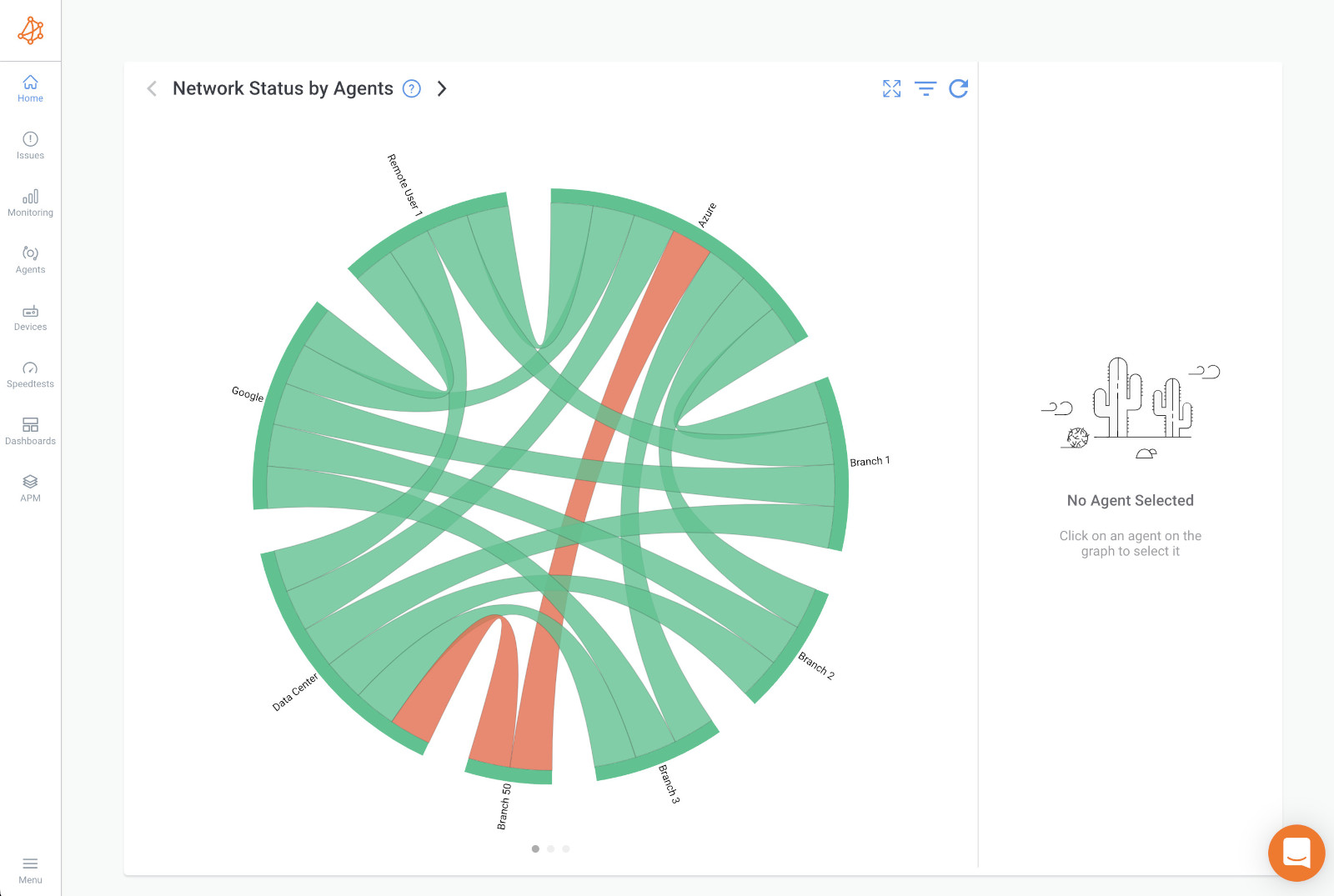 Once you've installed your monitoring agents, you can then start monitoring your network devices using SNMP by adding the devices inside the Obkio App.
The device must support SNMP. Obkio supports all versions of SNMP (v1, v2c and v3) and of course, a read-only access is needed. Learn more about the supported devices here.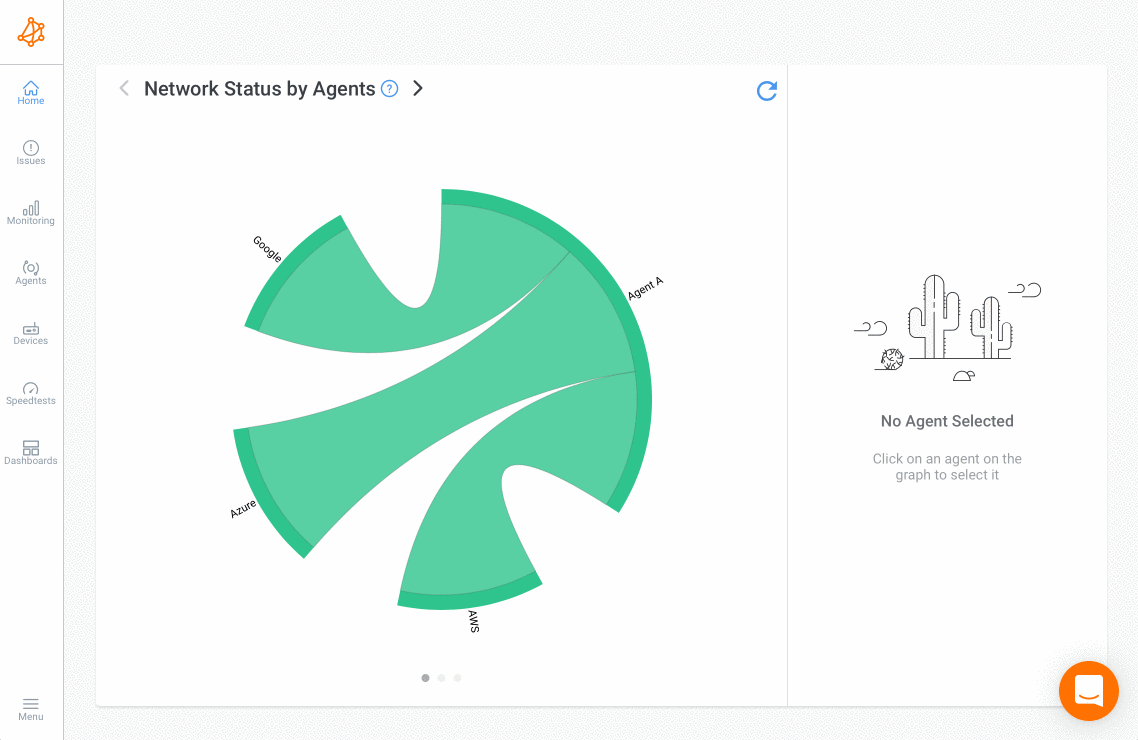 No technical expertise in SNMP and OID Detection is required. Once you add your devices, Obkio's network device monitoring feature adapts to any time of equipment.
For example, whether you're using a Meraki router, Cisco, Fortinet or SonicWall - Obkio will collect the appropriate information for that equipment in order to monitor the device and identify performance issues.
Once you've added your network devices, Obkio's Network Device Monitoring features uses Ultra-Fast Polling (every 30 seconds) to provide results that are far more precise than the traditional software polling, which occurs every 5 minutes.
This frequency more accurately detects short bursts of traffic or CPU utilization that affect network performance and identifies the root cause of the performance issue.
Traditional network monitoring software polling, which is every 5 minutes, hides the peaks that actually help in pinpointing performance issues.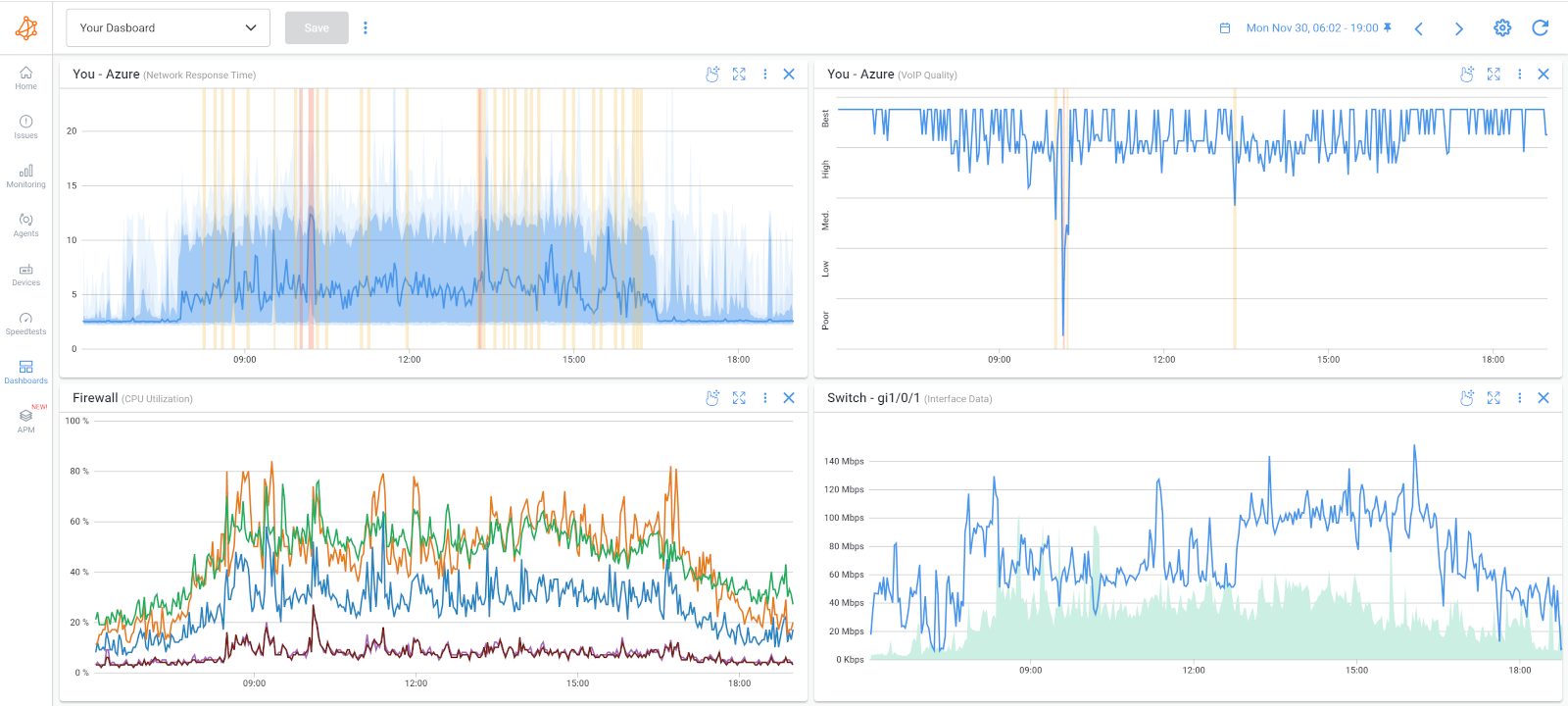 Once you've deployed Obkio and added your network devices, Obkio will begin continuously monitoring network device performance, such as:
CPU Usage
Bandwidth Interface Errors
Interface Errors
Device Availability
CRC Errors
Interface Duplex
This way, your IT team can quickly detect the short bursts of traffic, high CPU usage, bandwidth congestion or network congestion that affect network performance and pinpoint the root cause of the performance issue.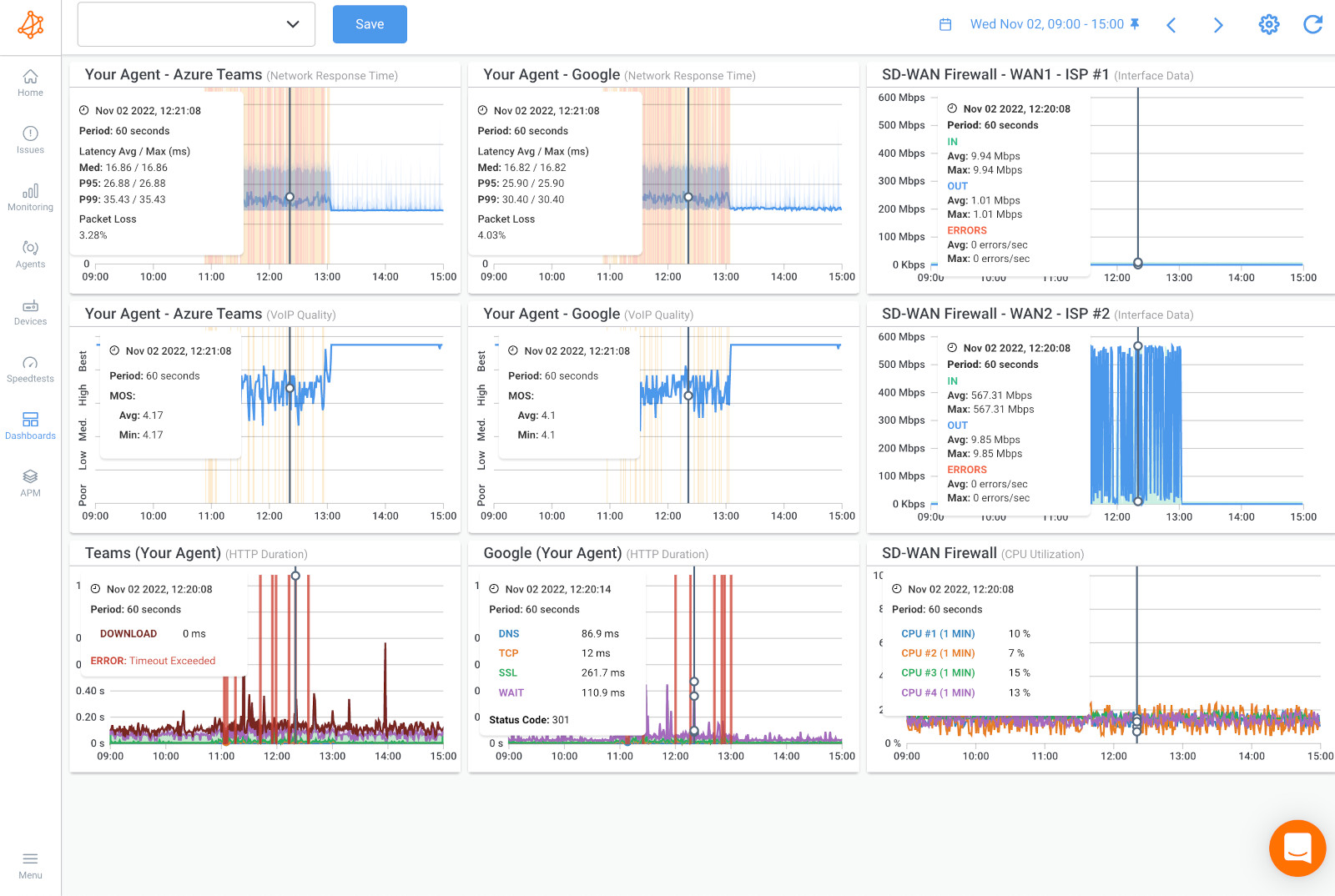 If your network devices are experiencing CPU or Bandwidth issues, this likely means that the network problem is on your end and you need to troubleshoot.
Here are a few suggestions:
Look into the traffic going through your devices. Understand if the traffic is legitimate or not by looking at the firewall logs. Illegitimate traffic might be a security breach (data exfiltration), or mass data backup during business hours.
Manage priorities in your Firewall to prioritize traffic on certain applications when passing through the network. This will reduce the impact on certain applications during periods of congestion.
Upgrade your Internet connection bandwidth with your ISP if you're just running out of bandwidth.
Look into your device to understand why it's missing resources and causing high CPU usage. There may be a software problem, your device may need a firmware update, the last update may be bugged, or the device may just not have enough resources available and needs to be upgraded to a bigger device.
Network Device Monitoring sounds complicated, but it doesn't have to be.
Monitoring network devices is crucial to understand your network performance and where network problems are coming from. It is the missing piece of the puzzle when troubleshooting problems, and can make a huge difference on your overall user experience.
That's why Obkio decided to make Network Device Monitoring as easy as possible.
To access Obkio's Network Device Monitoring, begin with Obkio's 14-Day Free Trial!