Table of Contents
Table of Contents
Welcome, network admins and IT pros, to "How to Diagnose Network Problems," the ultimate handbook to network diagnosis! In the digital landscape where operational efficiency is paramount, a well-functioning network is vital to your enterprise's success. However, when network problems arise, it can be exasperating, leaving you stranded in a sea of connectivity challenges.
But fear not, for we are here to guide you on a journey through the intricate realm of network troubleshooting. Equipped with expert knowledge, practical tips, and effective strategies, you'll emerge as a network detective par excellence. From unravelling the mysteries of dropped connections to deciphering the causes of sluggish data transfers, we'll leave no stone unturned in our pursuit of network serenity.
Rest assured, this isn't a tedious lecture filled with technical jargon and baffling acronyms. Our aim is to make this endeavour engaging and enlightening. Together, we will navigate the complexities of network diagnosis, transforming troubleshooting into a gratifying pursuit.
Are you ready? Let's delve into the captivating world of network troubleshooting with professionalism and purpose. The journey begins now.
Picture this: you're on a race against time, zooming through the digital landscape in your trusty network-mobile. Your mission? To save your business from the clutches of network chaos! As the clock ticks and the stakes rise, let's explore the exhilarating reasons why diagnosing network problems ASAP is the secret ingredient to success.
Minimize Downtime: Network problems can disrupt critical workflows, causing costly downtime. Whether it's an unresponsive server, intermittent connectivity, or slow data transfers, resolving these issues promptly minimizes productivity losses and helps maintain a smooth operational flow.
Ensure Customer Satisfaction: Businesses that provide online services or rely on digital platforms must prioritize customer satisfaction. Network problems can lead to slow response times, failed transactions, or interrupted services, all of which can frustrate customers and tarnish a company's reputation. By diagnosing and resolving network issues swiftly, businesses can ensure a positive user experience and maintain customer loyalty.
Preserve Data Security: A compromised network can expose sensitive business and customer data to cyber threats. Network problems, such as unauthorized access points or network vulnerabilities, can pave the way for security breaches. By promptly diagnosing and addressing these issues, businesses can safeguard their confidential information and protect themselves against potential data breaches.
Optimize Efficiency: A well-functioning network is essential for streamlined communication, collaboration, and information sharing within an organization. Network problems can hinder employee productivity, impede seamless file transfers, and disrupt collaborative efforts. Swift diagnosis and resolution enable businesses to optimize their operational efficiency and maintain a productive work environment.
Cost Savings: Ignoring network problems may lead to compounding issues over time, resulting in higher repair costs and extensive downtime. Early diagnosis allows businesses to address underlying network issues before they escalate, preventing costly repairs or the need for complete network overhauls. Proactive network maintenance and quick troubleshooting can ultimately save businesses significant financial resources.
In summary, businesses should diagnose network problems promptly to minimize downtime, enhance customer satisfaction, preserve data security, optimize efficiency, and achieve long-term cost savings. By prioritizing the health of their networks, businesses can operate smoothly, maintain a competitive edge, and meet the evolving demands of the digital landscape.
When it comes to diagnosing network problems, or performing a network diagnosis, your secret weapon is a Network Monitoring tool. A Network Monitoring (or Network Performance Monitoring) tool monitors end-to-end network performance to identify network issues affecting your end-users and customers - even if those network problems may reside outside of your local network infrastructure.
We recommend a tool like Obkio Network Performance Monitoring Software because it does the work for you.
A network diagnosis is the process of identifying and troubleshooting issues within a computer network. It involves analyzing the network's components, configurations, and performance to identify the root causes of problems such as slow connections, connection failures, packet loss, or other issues affecting network performance.
Network diagnosis often involves various tools and techniques to gather data and assess the health of the network.
That's why, to start diagnosing network problems, you need to deploy Obkio's Network Monitoring tool first! The setup takes 10 minutes, and you can do it all with Obkio's free trial.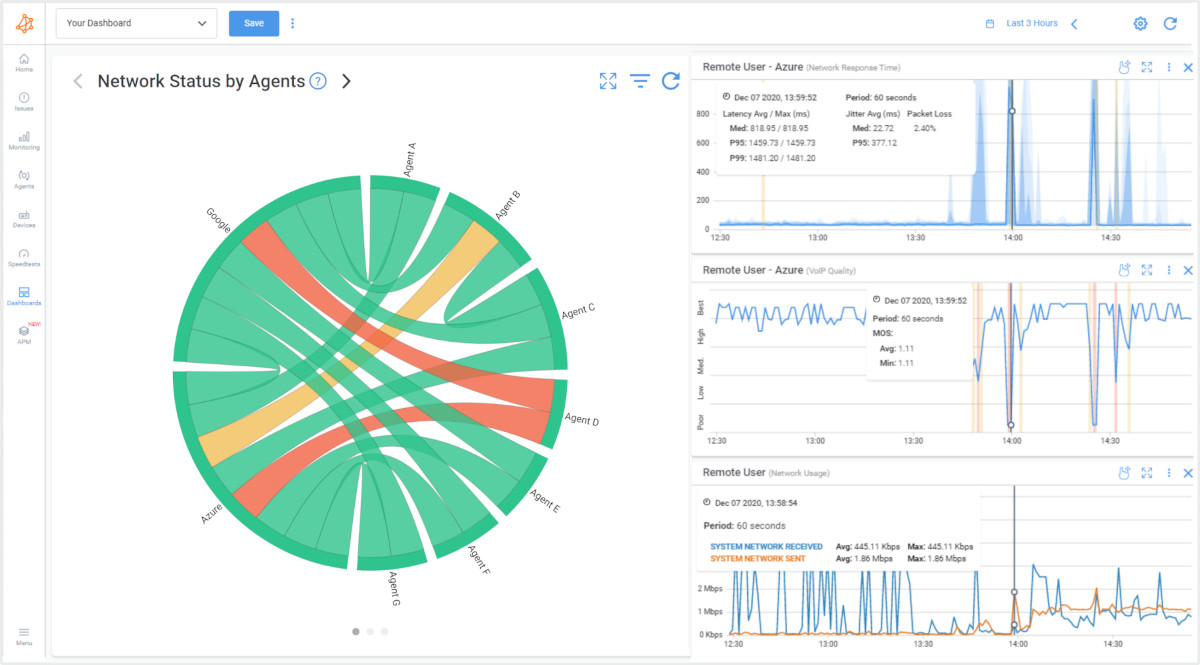 Synthetic Traffic simulates the end-user perspective to identify issues
Decentralized end-to-end monitoring of network locations with Monitoring Agents
Continuous monitoring identifies intermittent issues that are hard to pinpoint
Monitoring Agents collect data to diagnose network issues
Measures network performance metrics like jitter, packet loss, throughput and more
Troubleshoot network issues with Device Monitoring & Traceroute features
With Obkio diagnosing network problems happens end-to-end, which includes monitoring the network's performance from the source to the destination. This comprehensive approach allows businesses to diagnose network problems across various network segments, including routers, switches, firewalls, and application servers.
This is done using Obkio's Network Monitoring Agents. The Network Monitoring Agents are deployed at key network locations like workstations, the head office, branch offices, data centers, private clouds, public clouds, and more, and exchange synthetic traffic to monitor network performance and detect network problems.
For your initial setup, we recommend deploying:
Local Agents: Installed in the targeted office locations where you want to test network performance. There are several Agent types available (all with the same features), and they can be installed on MacOS, Windows, Linux and more.
Public Monitoring Agents: Deployed over the Internet and managed by Obkio. They compare and test network performance up to the Internet and quickly identify if the problem is global or specific to the destination. This will be great information for later in the troubleshooting process. You can use an AWS or Google Cloud Agent.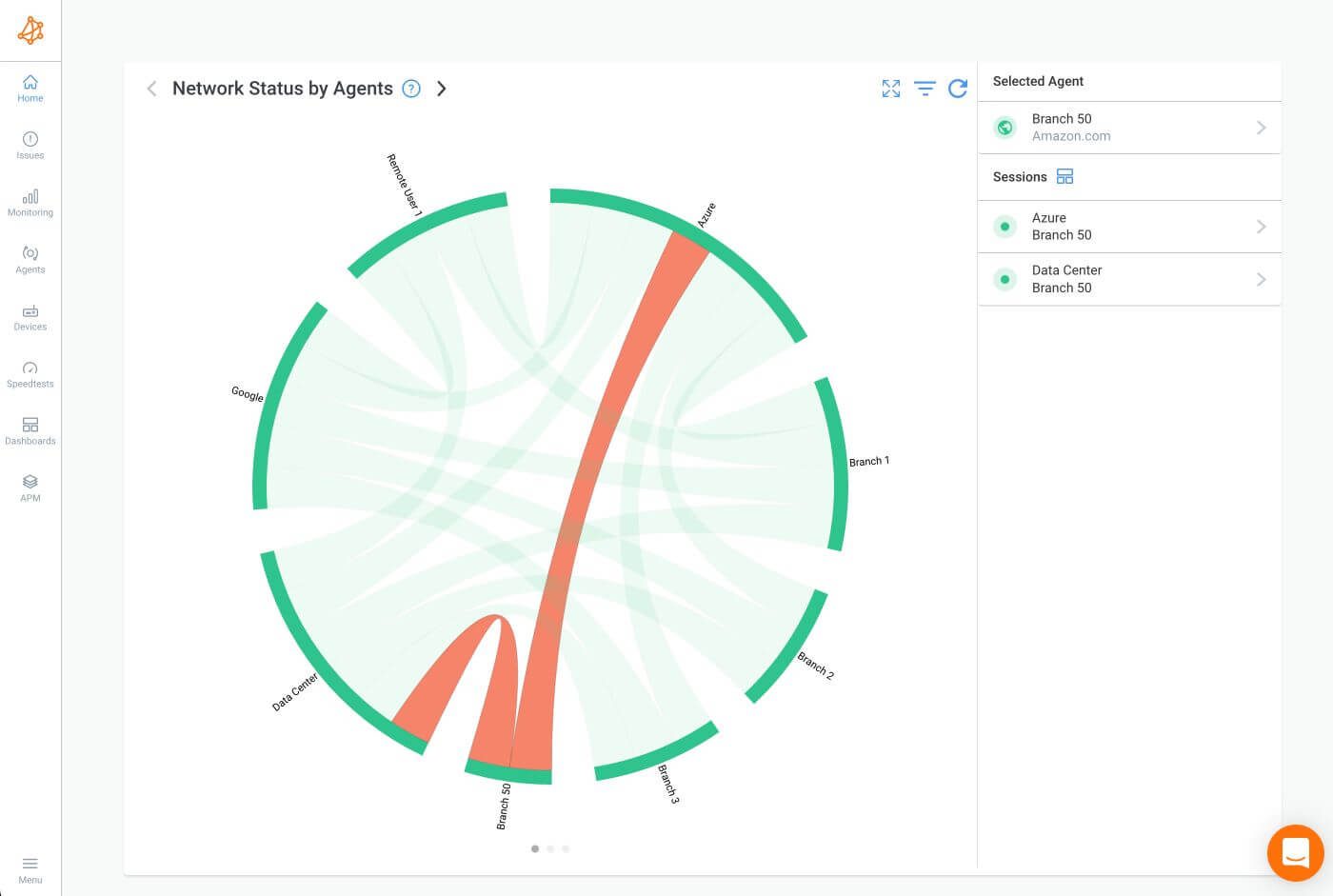 Once you've deployed Obkio Monitoring Agents in key network locations, they measure key network metrics and display them on Obkio's Network Response Time Graph. Obkio presents the collected data in a user-friendly interface, allowing you to analyze performance metrics and identify anomalies or areas of concern. Look for trends, spikes, or consistent issues that may indicate network problems.

Comparative Analysis: Compare performance metrics over time or between different locations, devices, or applications. Look for patterns, trends, or discrepancies that can help identify the source of network problems. For example, if one location consistently exhibits higher latency than others, it may indicate issues with the network connection at that specific site.
Correlation with Network Events: Relate performance metrics to network events or changes in your infrastructure. Consider any recent network upgrades, configuration changes, or the introduction of new devices or applications. Correlating performance metrics with these events can help identify potential causes or triggers for network problems.
Historical Analysis: Analyze historical performance data to identify recurring or intermittent network problems. Look for patterns or specific timeframes when network performance issues occur. This analysis can provide valuable insights into the root causes of network problems and aid in troubleshooting efforts.
By thoroughly analyzing performance metrics provided by tools like Obkio, you can gain a comprehensive understanding of your network's health and performance. This analysis helps pinpoint areas of concern, uncover the root causes of network problems, and guide you toward effective solutions and optimizations.
Obkio can send real-time alerts and notifications when network performance metrics deviate from normal thresholds. Alerts and notifications serve as proactive indicators of potential network problems or deviations from normal operating conditions. This helps you quickly identify and respond to network problems as they occur.
Obkio allows you to set predefined thresholds for various performance metrics such as latency, packet loss, or bandwidth utilization. When these metrics exceed or fall below the specified thresholds, Obkio generates alerts. Threshold-based alerts help identify significant deviations from normal network behaviour and can indicate network problems that require attention.
Obkio allows you to share network performance data and reports with your team or network administrators. Collaborate to troubleshoot and diagnose network problems collectively.
Use the data and insights provided by Obkio to troubleshoot network problems. With detailed visibility into network performance, you can identify the root cause of issues and take appropriate actions to resolve them.
When troubleshooting network issues, there are several tools available in the vault of a network administrator such as:
How to Troubleshoot Network Issues: Unleash Your Inner IT Hero
Learn how to troubleshoot network issues by identifying where, what, why network problems occur with Network Troubleshooting tools.
Learn more
troubleshooting network problems can be a real headache, right? But don't worry, we've got your back! To help you get to the bottom of those pesky issues and fix 'em up, we've put together some simple network diagnosis steps.
Document the specific issue reported by users or any system alerts indicating network problems. This information will help you understand the scope of the problem and its impact on users and services.
Inspect all network cables for physical damage, loose connections, or disconnected cables. Ensure they are plugged into the correct ports on devices.
Verify that network devices, such as routers, switches, and access points, are receiving power and that their status lights indicate normal operation.
Use the "ping" command to test basic connectivity between devices. For example, ping the default gateway, a remote server, or another network device to check if they respond.
A visual traceroute tool can provide valuable insights into the path and latency of network packets as they traverse from the source to the destination. use Obkio Vision: Visual Traceroute tool to get more information about the source of network problems.
Enter the destination address: Input the destination IP address or hostname into the visual traceroute tool.
Analyze the results: Examine the visual traceroute output to identify any potential network hops with high latency or packet loss. This can help pinpoint problematic network segments.
Compare with normal behaviour: If you have data from a healthy network environment, compare the results with the current traceroute to spot any significant deviations or irregularities.
Troubleshoot identified issues: If the visual traceroute reveals problematic segments, proceed with further investigation and troubleshooting based on the specific findings.
Review the network settings of relevant devices, such as IP addresses, subnet masks, default gateways, and DNS * server addresses. Ensure they are correctly configured.
Check for conflicts, such as duplicate IP addresses, which can lead to network issues.
Verify that firewall rules are not blocking necessary network traffic. Review both hardware firewall settings and software firewalls on individual devices.
Check the configuration of any security protocols, like VPNs or encryption, to ensure they are set up correctly.
Examine the health and performance of routers, switches, and access points. Check their logs for any error messages or indications of issues.
If applicable, update the firmware of these devices to the latest stable versions to ensure they have the latest bug fixes and improvements.
Test the responsiveness and accuracy of the DNS server by performing DNS lookups for various hostnames.
Verify that DHCP is providing IP addresses and network configurations to clients correctly.
Determine if the issue is specific to wired or wireless connections. If it's wireless, check for potential interference sources (microwaves, other Wi-Fi networks) and assess signal strength and coverage.
Check Device: Check if the issue affects all devices or only specific ones using Obkio's Network Device Monitoring feature. Look for software updates, driver issues, or misconfigurations on client devices that might be causing problems.
Isolate Components: Temporarily remove or bypass certain network components (e.g., switches or routers) to see if the issue persists. This can help isolate the problematic component.
Review Logs and Error Messages: Examine system logs and error messages on network devices and servers to identify any specific errors or warnings related to the issue.
Bandwidth and Resource Usage: Monitor bandwidth usage on critical network links and look for unusual spikes or consistently high utilization that could indicate excessive traffic or DoS attacks. Check resource usage (CPU, memory, disk) on servers or network devices to ensure they are not overwhelmed.
Consider Recent Changes: Think about any recent changes in the network, such as configuration updates, new installations, or changes to hardware, and determine if the issue started after any of these changes were made.
Contact ISP or Service Provider: If the problem appears to be related to external connectivity or Internet access, reach out to your Internet Service Provider (ISP) or relevant service provider for assistance. Use the data from Obkio Vision: Visual Traceroute tool to share results with your ISP.
Document each step you take during the network diagnosis, the findings you make, and the solutions you implement. This documentation can be valuable for future reference and for sharing information with colleagues.
Remember that effective network diagnosis often requires a combination of technical skills, patience, and thorough investigation. Each step in the checklist serves as a guideline, but the specific actions you take may vary depending on the nature of the issue and the complexity of your network environment.
Network conditions and problems can change over time. Continuously monitor your network using Obkio to ensure ongoing network health and quickly address any emerging issues.
When using tools like Obkio, continuous performance monitoring ensures ongoing visibility into your network's health and allows for prompt detection of any emerging issues. By keeping Obkio as your permanent monitor tool, Obkio Agents will continuously collect network performance data, including metrics such as latency, packet loss, throughput, and more. This continuous data collection provides a comprehensive picture of network performance over time, enabling you to track performance trends and identify recurring issues or patterns.
When it comes to diagnosing network problems, understanding the different types of issues that can occur is crucial.
For each type of network problem, we'll explain:
Description: A description of the network problem
Examples: Examples of that network problem to help you diagnose
How-To Diagnose: How Obkio's Network Monitoring tool diagnoses the problem
Causes: Possible causes of the network problem
Let's explore some common network problems: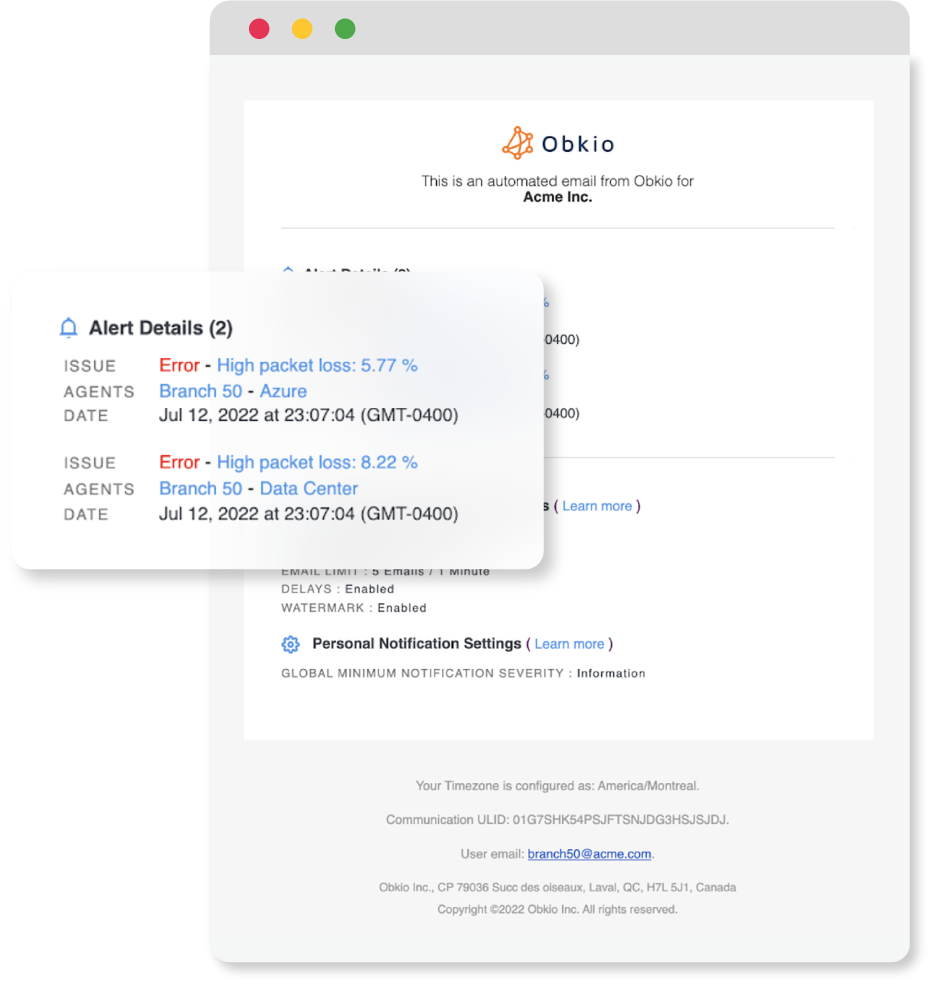 Network performance issues encompass a wide range of problems that directly impact the speed, reliability, and overall efficiency of a business network. These issues can have a significant impact on day-to-day operations and can impede productivity, communication, and the delivery of services.
Slow Data Transfer: Slow data transfer refers to the sluggish movement of data across a network. It can be caused by factors such as limited bandwidth, network congestion, or hardware limitations. Slow data transfer affects various activities, including file sharing, data backups, and application performance. For example, large file transfers taking an excessively long time can hinder productivity and delay critical business processes.
High Latency: Latency refers to the delay between the initiation of a network request and the receipt of a response. High latency can lead to noticeable delays in communication, real-time collaboration, and interactive applications. This issue is especially critical for activities like video conferencing, online gaming, or accessing cloud-based services. For instance, during a video conference, high latency can cause audio and video synchronization issues, leading to poor user experience and communication disruptions.
Packet Loss: Packet loss occurs when data packets fail to reach their destination within a network. This can happen due to network congestion, hardware issues, or unreliable connections. Packet loss leads to retransmissions, slower data transfers, and even data corruption. For example, in a VoIP (Voice over Internet Protocol) call, packet loss can result in distorted or dropped audio, impacting the clarity and continuity of the conversation.
Poor Quality of Service (QoS): Quality of Service refers to the ability to prioritize specific types of network traffic to ensure optimal performance for critical applications or services. Poor QoS management can result in insufficient bandwidth allocation for crucial activities, leading to performance degradation. This can impact real-time communication, video streaming, or other time-sensitive applications. For instance, inadequate QoS settings can cause voice calls to sound choppy or video streams to buffer frequently.
Bottlenecks: Network bottlenecks occur when data encounters a congested or overloaded portion of the network, slowing down overall performance. Bottlenecks can happen at various points, such as network switches, routers, or even specific links. Identifying and resolving bottlenecks is essential to maintain smooth and efficient data flow within a network. For example, a network bottleneck at a particular switch can cause data transfers to be significantly slower for devices connected to that switch.
Obkio diagnoses network performance issues by continuously monitoring key performance metrics and analyzing the collected data.
Obkio actively monitors critical performance metrics such as latency, packet loss, throughput, and jitter in real-time. It also monitors network devices such as routers, switches, or firewalls, to detect any abnormalities that may impact overall network performance.
It collects this data from various points in your network using installed Obkio Agents.
Compare performance metrics over time or between different locations, devices, or applications. This comparative analysis helps identify anomalies, patterns, or discrepancies that may indicate network performance problems. With historical data, you can identify recurring performance issues or changes in network behaviour that may require attention.
Network performance issues can stem from various factors. Here are some common causes of network performance issues:
Bandwidth Limitations: Insufficient available bandwidth can lead to slow network speeds and performance degradation. If network traffic exceeds the available bandwidth, it can result in congestion and increased latency.
Network Congestion: When the network experiences high levels of traffic, especially during peak hours or due to bandwidth-intensive applications, congestion can occur. Congestion leads to packet loss, increased latency, and reduced overall network performance.
Network Configuration Errors: Improperly configured network devices, such as routers, switches, or firewalls, can impact network performance. Misconfigurations can cause routing issues, inefficient traffic flow, or unnecessary packet filtering, leading to performance problems.
Hardware Failures: Faulty or failing network hardware components, including routers, switches, or network interface cards, can result in performance issues. Malfunctioning hardware can cause intermittent connectivity problems, packet loss, or even complete network outages.
Network Security Issues: Inadequate network security measures, such as ineffective firewall rules or misconfigured access controls, can impact network performance. Excessive security scans, malicious traffic, or Denial of Service (DoS) attacks can overload network resources and degrade performance.
Software or Firmware Issues: Outdated or buggy software or firmware in network devices can contribute to performance problems. Incompatibilities, known software bugs, or lack of necessary updates can impact network functionality and overall performance.
DNS Problems: Domain Name System (DNS) issues, such as slow DNS resolution or misconfigured DNS servers, can cause delays in accessing websites or services. DNS problems can result in increased latency and impact overall network performance.
Network Protocol Issues: Incompatible or improperly implemented network protocols can lead to performance issues. Protocol conflicts, inefficient routing protocols, or improper Quality of Service (QoS) configurations can hinder network performance.
Network Traffic Bottlenecks: Certain network segments or devices may become bottlenecks due to high traffic volume or inadequate capacity. These bottlenecks restrict the flow of data, leading to congestion, increased latency, and reduced overall network performance.
Environmental Factors: Physical factors such as electromagnetic interference, cabling issues, or environmental conditions (e.g., temperature, humidity) can impact network performance. Poorly maintained cables, damaged connectors, or inadequate cooling can contribute to network performance problems.
Network connectivity issues are among the most common network problems that businesses encounter. They can disrupt the ability to establish or sustain a stable network connection, affecting communication, data transfers, and access to online resources.
Intermittent Connection: This occurs when the network connection sporadically drops or experiences temporary disruptions. Users may notice frequent disconnections while accessing the internet, sending emails, or using network-dependent applications. For example, imagine a scenario where a user's Wi-Fi connection keeps disconnecting every few minutes, making it challenging to complete online tasks or maintain consistent communication.
Slow Internet Speed: Slow network speed refers to sluggish data transfers and delayed response times. It can result from various factors such as limited bandwidth, congestion, or inefficient network configurations. Users may experience frustration when loading web pages, downloading files, or streaming media. For instance, employees trying to download large files experience excruciatingly slow transfer rates, impeding their productivity and causing frustration.
Limited Connectivity: Limited connectivity refers to situations where specific areas, devices, or users have restricted or no access to the network. This issue can arise due to physical barriers, distance from network access points, or misconfigured network settings. For example, an office building with weak Wi-Fi coverage in certain areas might have employees struggling to connect their devices or experiencing significantly weaker signal strength, hindering their ability to work efficiently.
DNS Resolution Issues: DNS (Domain Name System) resolution problems occur when the system fails to translate domain names into their corresponding IP addresses. When DNS resolution fails, users may be unable to access websites or services by their domain names, even if the underlying network connection is intact. For instance, when trying to visit a website, users receive an error message indicating that the site's domain name could not be resolved.
IP Addressing Problems: IP addressing issues involve conflicts or misconfigurations in assigning and managing IP addresses within a network. IP address conflicts occur when multiple devices on the same network share the same IP address, leading to communication disruptions. Misconfigured IP settings can also cause problems, preventing devices from obtaining the correct IP address or network information necessary for connectivity. These issues can manifest as devices being unable to connect to the network or experiencing limited network access.
Obkio continuously monitors key connectivity metrics such as latency, packet loss, and jitter, as well as device-level connectivity metrics. These metrics provide insights into the stability and quality of network connections. Any deviations or abnormalities in these metrics can indicate potential connectivity issues.
Obkio also performs traceroute analysis to identify the network hops and path taken by packets between source and destination. Traceroute helps identify any specific network nodes or routers where connectivity problems may be occurring.
Set thresholds for connectivity metrics and schedule alerts to notify you of potential connectivity issues in real-time, enabling prompt investigation and resolution.
How to Troubleshoot Network Connectivity Issues: The Great Network Escape
Learn how to troubleshoot network connectivity issues and escape the frustration with our comprehensive guide. Keep your network healthy and connected!
Learn more
There are certain factors that can disrupt network connectivity and lead to connectivity issues that affect the ability to establish and maintain stable network connections.
Faulty or loose network cables or connectors: Physical issues with cables or connectors can disrupt network connectivity and result in intermittent or complete loss of connection.
Misconfigured network settings or IP addresses: Incorrect configuration of network settings or IP addresses can prevent devices from properly communicating with each other, leading to connectivity problems.
Network device failures or malfunctions: Malfunctioning or failing network devices such as routers or switches can cause connectivity issues by disrupting the flow of network traffic.
Firewall or security settings blocking network traffic: Overly restrictive firewall or security settings may block incoming or outgoing network traffic, hindering connectivity between devices.
Network congestion or bandwidth limitations: High levels of network traffic or limited available bandwidth can lead to congestion, resulting in slow or unstable connections.
DNS server issues or misconfigurations: Problems with DNS servers or misconfigured DNS settings can prevent devices from resolving domain names to IP addresses, causing connectivity problems.
Wireless interference or signal degradation: Interference from other wireless devices or obstacles in the environment can weaken or disrupt wireless signals, leading to poor or unstable wireless connectivity.
Power outages or electrical disturbances: Power outages or electrical disturbances can disrupt network equipment, causing temporary loss of connectivity until power is restored.
Software or firmware compatibility issues: Incompatibilities between software or firmware versions on network devices can lead to connectivity issues, requiring updates or patches to resolve.
Network misconfigurations or routing problems: Incorrect network configurations or routing problems can cause devices to be unable to find the correct path to reach each other, resulting in connectivity problems.
Network availability refers to the ability of a network to be accessible and operational at all times. Network availability problems can arise due to various factors, such as hardware failures, power outages, or network configuration errors.
When network availability is compromised, businesses may experience complete network outages or intermittent connectivity, severely impacting their operations. It can result in communication disruptions, inability to access resources, and a loss of productivity.
Hardware Failures: Hardware failures can occur in network devices such as routers, switches, firewalls, or network interface cards (NICs). When a critical network component fails, it can lead to partial or complete network outages. For example, a failed router can prevent devices from establishing connections or routing traffic properly, resulting in a loss of network availability. Regular hardware maintenance, redundancy measures, and proactive monitoring can help minimize the impact of hardware failures on network availability.
Power Outages: Power outages can disrupt network availability if network devices, such as routers, switches, or servers, lose power. Without electricity, these devices cannot function, causing a complete loss of network connectivity. Implementing uninterruptible power supplies (UPS) or backup power generators can help mitigate the impact of power outages on network availability, ensuring continuous operation even during electricity disruptions.
Configuration Errors: Incorrect network configurations can lead to network availability problems. Misconfigured settings, such as IP address conflicts, incorrect subnet masks, or routing errors, can result in connectivity issues or intermittent network outages. Regular network configuration audits and following best practices for network configuration management help identify and rectify these errors, improving network availability.
Network Congestion: Network congestion occurs when network traffic exceeds the capacity of the network infrastructure, leading to performance degradation and reduced network availability. High network utilization can result in packet loss, increased latency, and slow data transfer rates. Implementing quality of service (QoS) mechanisms, optimizing network bandwidth, and traffic management techniques can alleviate network congestion and enhance network availability.
Security Incidents: Security incidents, such as Distributed Denial of Service (DDoS) attacks or network intrusions, can cause network availability problems. These attacks overload network resources or compromise network devices, leading to network disruptions and service unavailability. Implementing robust security measures, including firewalls, intrusion detection systems, and regular security audits, helps protect against security incidents that can impact network availability.
Obkio diagnoses network availability issues by monitoring and analyzing key metrics related to network uptime and accessibility. Obkio actively monitors the availability of network devices, services, or applications. It generates continuous synthetic traffic to check if they are reachable and responsive. Any unresponsive or unavailable devices or services are flagged as potential availability issues.
Obkio offers the ability to monitor network availability from multiple geographic locations. This allows you to detect regional or localized availability issues that may impact users in specific areas.
It assists in identifying areas of concern, determining the root causes of availability problems, and facilitating prompt resolution to minimize downtime and ensure optimal network availability.
Common causes of network availability issues include:
Network Equipment Failure: Faulty or malfunctioning network devices such as routers, switches, or firewalls can cause network unavailability. Hardware failures can lead to a complete or partial loss of network connectivity.
Power Outages: Power disruptions or outages can render network equipment or infrastructure inoperable, resulting in network unavailability until power is restored.
Network Configuration Errors: Misconfigurations in network devices or infrastructure can lead to availability issues. Incorrect settings, routing errors, or access control list (ACL) misconfigurations can disrupt network connectivity.
Software or Firmware Issues: Bugs, glitches, or compatibility problems in network device software or firmware can cause network unavailability. Unstable or outdated software versions can lead to crashes or performance issues.
Network Congestion: High levels of network traffic or insufficient bandwidth can result in network congestion, causing performance degradation and potentially rendering certain services or applications unavailable.
DDoS Attacks: Distributed Denial of Service (DDoS) attacks can overload network resources, saturate bandwidth, and overwhelm servers, leading to network unavailability for legitimate users.
Cable or Connectivity Issues: Faulty or damaged network cables, connectors, or ports can disrupt network connectivity and cause intermittent or complete network unavailability.
DNS Issues: Problems with Domain Name System (DNS) resolution can make websites or services inaccessible. DNS misconfigurations or server outages can lead to network unavailability.
Network Maintenance or Upgrades: Planned maintenance activities or network upgrades can result in temporary network unavailability as devices or services are taken offline for updates or configuration changes.
Network Availability Monitoring: Client Expectations vs. SLAs
Learn what network availability is, how to use network availability monitoring to identify network performance issues vs. network availability issues.
Learn more
Network devices, including routers, switches, firewalls, and access points, are crucial components that facilitate network connectivity and data transfer. Network device problems can occur due to hardware failures, firmware/software issues, misconfigurations, or compatibility problems. When a network device malfunctions or is misconfigured, it can lead to network disruptions, connectivity issues, or security vulnerabilities.
Hardware Failures: Network devices, such as routers, switches, firewalls, wireless access points, or network interface cards (NICs), are susceptible to hardware failures. This can include component malfunctions, power supply issues, or physical damage. When a network device fails, it can lead to network disruptions, connectivity issues, or complete network outages. Regular hardware maintenance, including checking for firmware updates, monitoring device health, and replacing faulty components, helps mitigate the impact of hardware failures on the network.
Firmware or Software Issues: Firmware or software problems in network devices can cause operational issues, performance degradation, or security vulnerabilities. Outdated firmware versions, software bugs, or configuration inconsistencies can result in device malfunctions or unexpected behaviour. Regularly updating firmware and software, adhering to vendor recommendations, and performing thorough testing can help address known issues and enhance the stability and functionality of network devices.
Misconfigurations: Incorrect configurations of network devices can lead to connectivity problems, security vulnerabilities, or performance issues. Common misconfigurations include setting up incorrect IP addresses, subnet masks, gateway addresses, or misconfigured access control lists (ACLs). Regular network audits, adhering to configuration best practices, and documenting configurations can help prevent misconfigurations and ensure proper device functionality.
Compatibility Problems: Network devices from different vendors or different generations may not be fully compatible, leading to operational issues. Incompatible device firmware versions, mismatched protocols, or limited interoperability can cause connectivity problems or inconsistent performance. Conducting thorough compatibility checks before deploying network devices, ensuring firmware compatibility, and following industry standards can help mitigate compatibility problems.
Overloading or Resource Exhaustion: Network devices have finite resources such as processing power, memory, or connection capacity. Overloading a device with excessive network traffic, numerous simultaneous connections or resource-intensive operations can lead to performance degradation or device instability. Proper capacity planning, monitoring device resource utilization, and load balancing can help prevent overloading and ensure optimal device performance.
Obkio diagnoses network device problems by monitoring and analyzing key metrics related to device performance and functionality. Obkio continuously monitors the health status of network devices such as routers, switches, or firewalls. It checks for indicators of device stability, such as CPU utilization, memory usage, or temperature. Any abnormalities or spikes in these metrics can indicate potential device problems.
It uses Simple Network Management Protocol (SNMP) polling to gather information about device performance, interface status, and other SNMP-supported parameters. SNMP network monitoring helps identify issues such as excessive resource usage or hardware failures.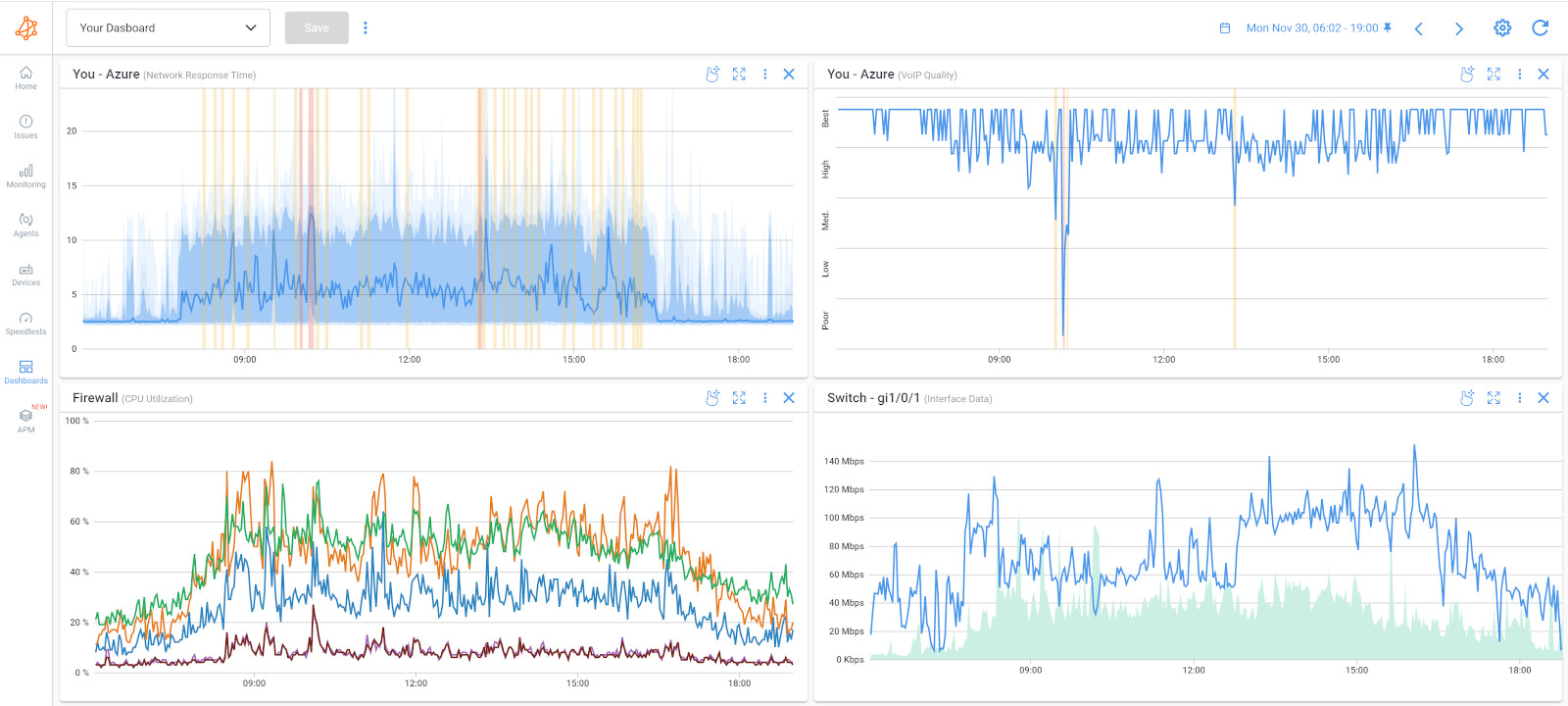 Common causes of network device problems include:
Hardware Failures: Faulty or malfunctioning hardware components within network devices, such as routers, switches, or firewalls, can lead to device problems. This includes issues with power supplies, network interface cards (NICs), or other internal components.
Firmware or Software Issues: Problems with the firmware or software running on network devices can cause device malfunctions. This includes bugs, glitches, or compatibility issues that affect the device's performance or functionality.
Configuration Errors: Misconfigurations in network device settings can result in device problems. Incorrectly applied configurations, improper access control lists (ACLs), or incorrect routing configurations can impact device performance and cause issues.
Overloading or Resource Exhaustion: Network devices may experience problems when they become overloaded or when resources such as CPU, memory, or bandwidth are exhausted. This can lead to performance degradation, unresponsiveness, or even device crashes.
Network Connectivity Issues: Problems with network connectivity, such as faulty cables, loose connections, or issues with network interfaces, can affect the functionality of network devices. Inadequate or unreliable network connections can lead to intermittent or complete device failures.
Power Outages or Electrical Problems: Power disruptions, electrical surges, or outages can cause network devices to fail or malfunction. Insufficient power supply, power fluctuations, or electrical damage to the devices can result in device problems.
Aging or Outdated Hardware: As network devices age, their reliability and performance can degrade. Outdated hardware may struggle to keep up with the demands of modern network traffic, leading to device problems.
Environmental Factors: Environmental conditions, such as excessive heat, humidity, or dust, can impact network devices. Overheating due to poor ventilation, exposure to moisture, or dust accumulation can cause device failures or performance issues.
Security Incidents or Attacks: Network devices can be targeted by security incidents or attacks, such as Distributed Denial of Service (DDoS) attacks, which can overwhelm devices, impact their performance, or render them inaccessible.
Incompatible or Faulty Network Device Interactions: Incompatibilities or issues arising from the interaction between different network devices can lead to problems. This includes conflicts between devices from different manufacturers or firmware versions that are incompatible.
Network resource issues refer to problems related to the availability, allocation, or utilization of network resources within a business network. These issues can impact network performance, scalability, and the ability to meet the demands of users and applications.
Bandwidth Limitations: Bandwidth refers to the capacity of a network to transmit data. Bandwidth limitations occur when the available network bandwidth is insufficient to accommodate the volume of data traffic. This can result in slow data transfer speeds, latency, or packet loss. Bandwidth limitations can be caused by factors such as network congestion, outdated infrastructure, or inadequate service plans. Upgrading network equipment, optimizing network configurations, implementing traffic shaping or prioritization techniques, and investing in higher bandwidth solutions can help alleviate bandwidth limitations.
Insufficient Network Storage: Network storage refers to the capacity for storing and accessing data within a network. Insufficient network storage can lead to data storage limitations, hindering the ability to save or access files, documents, or backups. This can affect business operations, collaboration, and data management. Increasing network storage capacity, implementing efficient data storage solutions (such as network-attached storage or cloud storage), and regularly monitoring storage utilization can help address insufficient network storage issues.
Inadequate Processing Power: Network devices, such as routers, switches, or firewalls, require processing power to handle network traffic, routing decisions, and security functions. Inadequate processing power can lead to performance bottlenecks, slower packet forwarding, or delays in processing network requests. Upgrading hardware components, optimizing device configurations, or implementing distributed processing architectures can help address inadequate processing power and enhance network performance.
IP Address Exhaustion: IP addresses are unique identifiers assigned to devices within a network. IP address exhaustion occurs when there are no available IP addresses to assign to new devices or subnets. This can happen in networks with limited IP address ranges or those that have not implemented IP address management strategies. Adopting IPv6, which offers a larger address space, or implementing IP address conservation techniques, such as DHCP address pooling or subnetting, can help mitigate IP address exhaustion issues.
Limited VPN or Remote Access Capacity: Virtual Private Networks (VPNs) and remote access solutions are crucial for enabling secure remote connectivity to a business network. Limited VPN or remote access capacity can result in access restrictions, performance degradation, or connection failures. Scaling VPN capacity, optimizing VPN configurations, and ensuring adequate hardware resources for remote access can help address limitations and ensure reliable remote connectivity.
Obkio monitors key performance metrics of network devices, such as CPU and memory utilization. High resource usage on devices can indicate potential resource issues affecting network performance.
More specifically, it measured bandwidth and tracks the utilization of network bandwidth to identify potential resource constraints. It measures the amount of data transmitted and received by network interfaces or links, highlighting periods of high utilization or congestion.
Obkio also monitors QoS parameters such as latency, packet loss, and jitter. By analyzing these metrics, it can identify areas where network resources are not meeting performance expectations or where congestion is impacting service quality.
Finally, Obkio provides insights into network resource capacity by tracking trends and historical data. It helps identify when network resources may be approaching their limits, allowing for proactive capacity planning and resource allocation.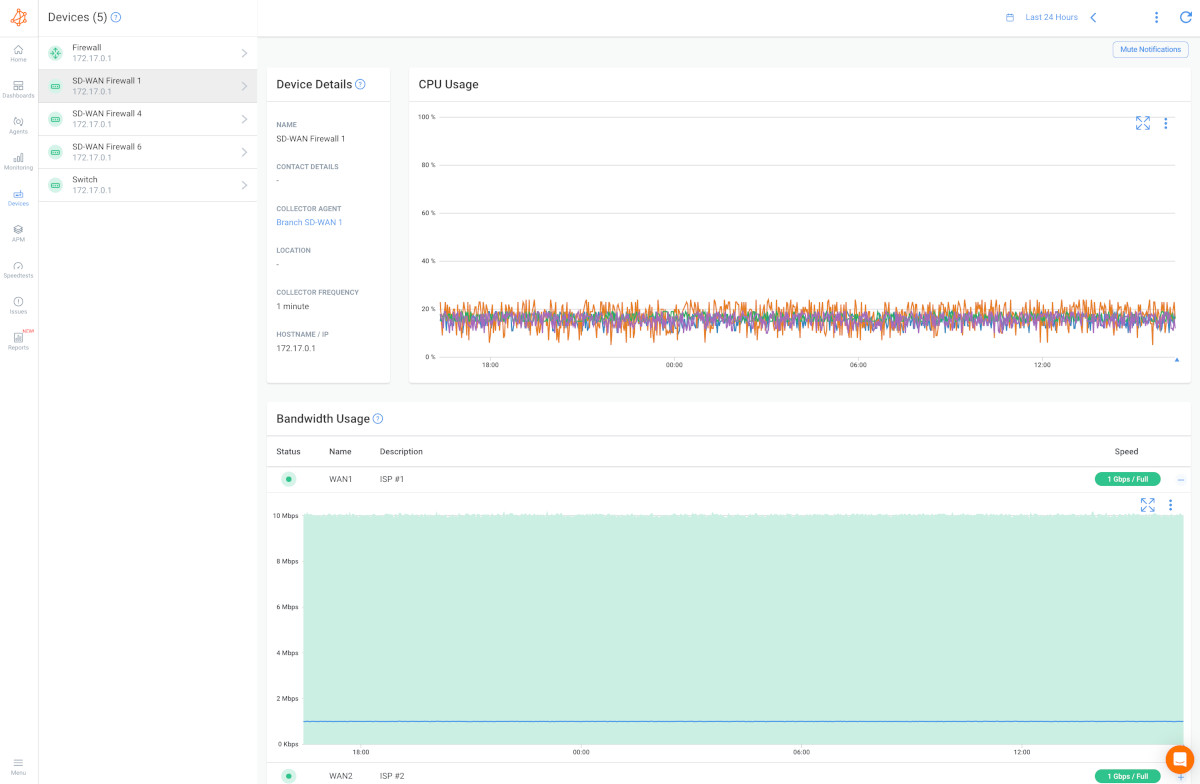 Common causes of network resource issues include:
Insufficient Bandwidth: Inadequate network bandwidth can lead to resource constraints and performance degradation. When network traffic exceeds the available bandwidth, it can result in slow data transfer, latency, and overall reduced network performance.
Network Congestion: High levels of network traffic or bottlenecks in network infrastructure can cause congestion and resource issues. Congestion occurs when the demand for network resources surpasses their capacity, leading to delays, packet loss, and poor service quality.
Misconfigured QoS Settings: Improper configuration of Quality of Service (QoS) settings can result in resource issues. Inadequate or incorrect QoS policies can lead to improper prioritization of traffic, causing certain applications or services to consume excessive resources or receive insufficient bandwidth.
Inefficient Network Traffic Management: Inefficient management of network traffic can result in resource issues. Lack of traffic shaping, bandwidth allocation, or load balancing mechanisms can lead to uneven resource utilization and congestion in certain areas of the network.
Resource-Intensive Applications or Services: Certain applications or services can be resource-intensive, consuming a significant amount of network resources. Examples include video streaming, large file transfers, or data-intensive applications. When multiple resource-intensive applications compete for limited resources, it can lead to resource issues.
Inadequate Network Capacity Planning: Poor capacity planning can result in resource issues. Failure to anticipate growing network demands or insufficient allocation of resources can lead to congestion, performance degradation, and inadequate network capacity to handle increased traffic.
Hardware Limitations: Network devices, such as routers, switches, or firewalls, have physical limitations on their processing power, memory, or interfaces. When network traffic exceeds the capabilities of these devices, it can cause resource issues and impact network performance.
Security Attacks or Intrusions: Security incidents, such as Distributed Denial of Service (DDoS) attacks, can overwhelm network resources and cause resource issues. Attackers flood the network with traffic, consuming available resources and rendering them unavailable for legitimate use.
Network Configuration Issues: Misconfigurations in network devices or infrastructure can lead to resource issues. For example, incorrect VLAN configurations, improper routing, or misallocated IP addresses can result in suboptimal resource utilization and performance problems.
Network Infrastructure Failures: Failures in network infrastructure components, such as cables, switches, or routers, can cause resource issues. Broken or faulty infrastructure can result in intermittent connectivity, reduced bandwidth, or complete network outages.
Network problems can arise in various areas of network infrastructure, affecting connectivity, performance, and overall network functionality. Understanding where these problems can occur is crucial for effective troubleshooting and resolution.
By continuously monitoring network performance metrics, including latency, packet loss, and throughput, Obkio's Network Monitoring tool can detect anomalies and performance deviations at various points within the network infrastructure. Through its distributed agents strategically placed across the network, Obkio collects real-time data from different locations, allowing for accurate localization of problems.
This information empowers network administrators to precisely identify where network problems happen, including:
LAN refers to the network infrastructure within a limited geographical area, such as an office building or campus. LA monitoring is essential since network problems can occur at different points in the LAN, including:
Network switches: Issues with switches, such as hardware failures, misconfigurations, or overloaded ports, can disrupt network connectivity within the LAN.
Network cables: Faulty or damaged network cables can cause connectivity issues or signal degradation.
Network interfaces: Problems with network interface cards (NICs) in devices can lead to intermittent or complete loss of network connectivity.
LAN infrastructure: Misconfigurations, congestion, or insufficient bandwidth in the LAN infrastructure can result in performance issues or network bottlenecks.
Mastering LAN Monitoring: How to Improve LAN Network Performance
Master LAN Monitoring: Learn the essentials, best practices, and improve LAN network performance with Obkio's Network Performance Monitoring tool.
Learn more
WAN encompasses networks that span larger geographical areas, connecting multiple LANs or remote locations. Network problems can occur within the WAN, including:
Routers: Issues with routers, such as configuration errors, hardware failures, or routing problems, can impact network connectivity between different sites or networks.
WAN links: Problems with leased lines, MPLS connections, or other WAN links can cause connectivity issues or slow data transfer rates.
Internet Service Provider (ISP) connectivity: Network problems can arise due to issues with the ISP, such as outages, high latency, or packet loss, affecting the network's connection to the Internet.
VPN connections: Issues with virtual private network (VPN) connections, including misconfigurations, authentication problems, or bandwidth limitations, can affect secure remote access or inter-site connectivity.
Network infrastructure components play a crucial role in network functionality. Problems can occur within the network infrastructure, such as:
DNS servers: DNS (Domain Name System) servers can experience issues, leading to DNS resolution problems and difficulties accessing websites or services.
DHCP servers: Problems with DHCP (Dynamic Host Configuration Protocol) servers can result in IP address assignment failures, causing connectivity issues for devices.
Firewalls: Misconfigurations, hardware failures, or software issues in firewalls can impact network security and connectivity.
Load balancers: Load balancers can experience issues that affect traffic distribution and resource utilization across multiple servers or network devices.
Network problems can also occur at individual endpoints, such as computers, laptops, or mobile devices. Endpoint-related issues include:
Network adapter problems: Faulty or outdated network adapters in devices can cause connectivity issues or limited network access.
Software misconfigurations: Misconfigurations in network settings, firewall rules, or proxy settings on endpoints can result in network connectivity problems.
Malware or security threats: Malware infections or security threats on endpoints can disrupt network operations and compromise network security.
Identifying the location of network problems is essential for effective troubleshooting and resolution. Network administrators often rely on network monitoring tools, diagnostic techniques, and collaboration with IT teams to pinpoint and address issues occurring in specific areas of the network.
Diagnosing network problems can sometimes feel like being a detective in a digital world. Before we let you on your way to start your network diagnostic, we've got your back with a handy checklist that will guide you through the twists and turns of network diagnostics.
Verify physical connections and cables.
Test network connectivity between devices.
Check if the network interface is enabled and configured correctly.
Measure latency, packet loss, and throughput.
Analyze performance metrics for anomalies or deviations.
Identify areas of high network utilization or congestion.
Verify DNS server settings and DNS resolution.
Check IP configurations and address assignments.
Test connectivity using IP addresses instead of domain names.
Review router and switch configurations.
Check firewall settings and access control lists.
Ensure proper VLAN, routing, and subnet configurations.
Ping external servers or websites to check for reachability.
Perform traceroute to identify network path and latency.
Test connectivity to specific ports or services.
Verify firewall rules and policies.
Ensure proper authentication and access controls.
Review security logs for any suspicious activities.
Test availability of critical network services.
Check server uptime and response times.
Verify if specific ports or protocols are open.
Analyze traffic patterns and volumes.
Identify any unexpected or abnormal traffic.
Look for indications of malicious activities or DDoS attacks.
Ensure network devices have the latest firmware versions.
Update router, switch, and firewall software.
Apply security patches and bug fixes.
Review network documentation for configuration references.
Check system logs for error messages or warnings.
Analyze network device logs for clues about the problem.
In conclusion, diagnosing and resolving network problems is crucial for maintaining a smooth and reliable network infrastructure, ensuring uninterrupted business operations. By understanding the common types of network problems, utilizing effective diagnostic techniques, and leveraging the right tools, businesses can tackle network issues with confidence.
One such tool that can greatly assist in diagnosing and monitoring network performance is Obkio's Network Monitoring tool!
With its comprehensive features, real-time data collection, and intelligent analytics, Obkio empowers businesses to pinpoint network problems accurately and take proactive measures to address them swiftly. Whether it's identifying connectivity issues, diagnosing performance bottlenecks, or monitoring network devices, Obkio provides the necessary insights to keep your network running smoothly.
So, why wait? Take the next step in optimizing your network performance by incorporating Obkio into your network management arsenal.
14-day free trial of all premium features
Deploy in just 10 minutes
Monitor performance in all key network locations
Measure real-time network metrics
Identify and troubleshoot live network problems
Remember, a well-diagnosed network is a well-connected business. Don't let network problems hold you back—embrace Obkio and unlock the full potential of your network infrastructure!