Table of Contents
Table of Contents
Welcome, network admins and IT pros, to a world where network bottlenecks become nothing more than a distant memory. In an era where the need for speed is paramount, identifying and eliminating network bottlenecks is the key to achieving warp-speed connectivity.
Your network is like a bustling metropolis, with data zipping through its veins like cars on a busy highway. But suddenly, the flow slows down to a snail's pace, causing frustration and hindering productivity. You find yourself wondering, "What's causing this bottleneck, and how can I put an end to it?"
This blog post is your ultimate guide to unveiling the mysteries of network bottlenecks. We'll delve into the intricacies of network performance, equip you with the tools to identify bottlenecks and empower you to reclaim the lost speed and efficiency of your network.
Whether you oversee a vast corporate network, manage a data center, or troubleshoot network issues daily, this blog post is tailored to your needs. Prepare to delve into the world of network bottlenecks and unleash the full potential of your network.
Network bottlenecks are obstacles or points of network congestion within a computer network that hinder the smooth and efficient flow of data. They occur when the available network resources, such as bandwidth, processing power, or memory, are unable to accommodate the volume of data being transmitted, resulting in a slowdown or degradation of network performance.
Think of a bottleneck as a narrow point in a highway where traffic becomes congested, causing delays for all the vehicles trying to pass through. Similarly, in a network, bottlenecks restrict the flow of data, leading to increased latency, reduced throughput, and potentially impacting the overall user experience.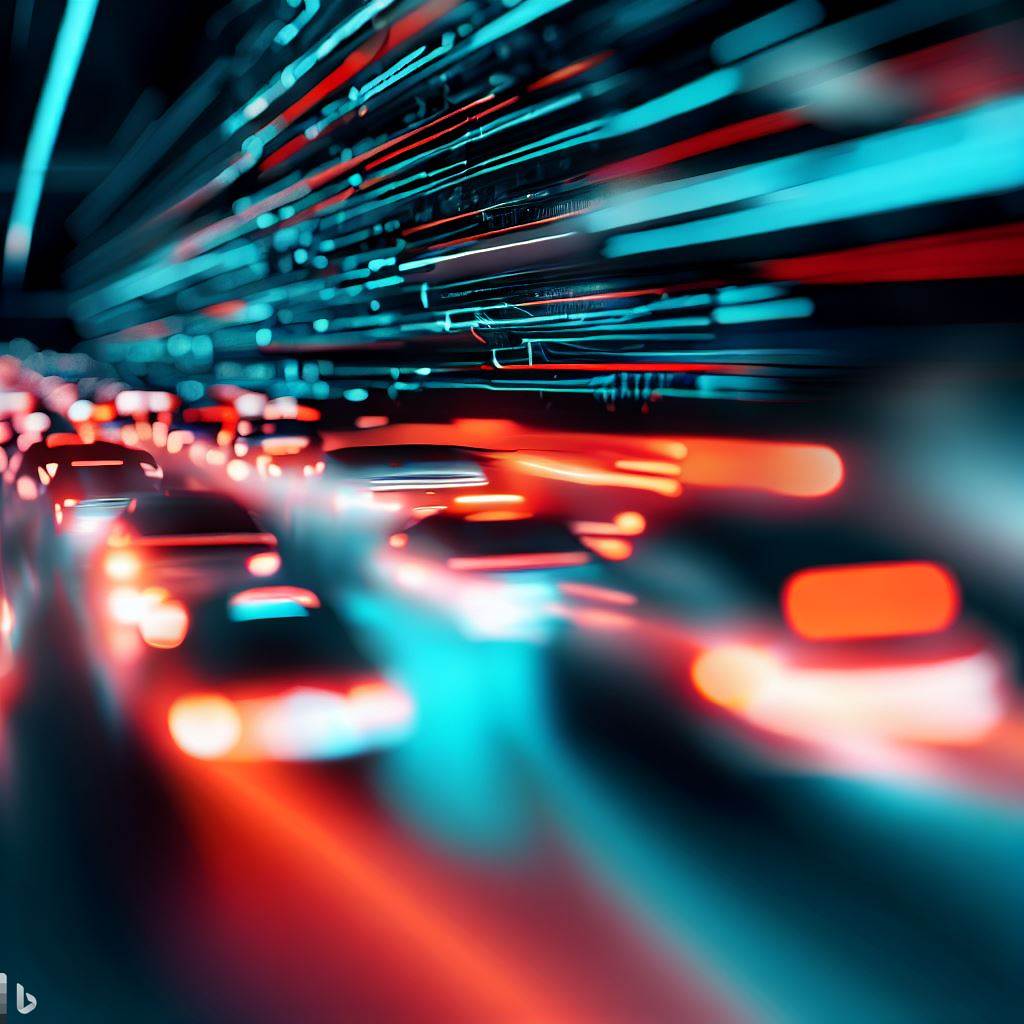 There are several different types of network bottlenecks that can occur within a network infrastructure. Some common types include:
Bandwidth Bottlenecks: These occur when the available bandwidth on a network link is insufficient to handle the volume of data being transmitted, leading to congestion and reduced performance.
Latency Bottlenecks: Latency refers to the delay in transmitting data packets across a network. Latency bottlenecks occur when there are delays in data transmission, resulting in slow response times and poor application performance.
Packet Loss Bottlenecks: Packet loss happens when data packets fail to reach their destination. Packet loss bottlenecks occur when a significant number of packets are lost, leading to data retransmissions and degraded performance.
Network Equipment Bottlenecks: This type of bottleneck occurs when the network devices, such as routers, switches, or firewalls, are unable to process data at the required speed, causing a bottleneck in the network flow.
CPU and Memory Bottlenecks: Network devices have finite processing capabilities, and when their CPU or memory resources are overwhelmed by the volume of traffic or complex operations, it can result in bottlenecks that impact overall network performance.
Application Bottlenecks: Application-specific bottlenecks can occur when certain applications or services consume excessive network resources, monopolizing bandwidth or introducing delays that affect other applications or users.
It's important to identify the specific type of bottleneck affecting your network to implement targeted solutions and optimize performance. By understanding these different types, network administrators can effectively troubleshoot and resolve performance issues for a smooth and efficient network experience.
Network bottlenecks can occur at various levels within a network infrastructure, including:
Network Interface: The network interface card (NIC) or the port connecting a device to the network may have limited capacity, leading to a bottleneck.
Network Devices: Routers, switches, and firewalls can become bottlenecks if they are not adequately configured or lack sufficient processing power to handle the incoming network traffic.
Network Links: The connections between devices, such as Ethernet cables or wireless connections, may have limitations in terms of speed or bandwidth, causing congestion.
Network Servers: Servers hosting applications or providing services may experience bottlenecks if they are overloaded with requests or have inadequate resources to handle the workload.
Identifying network bottlenecks is crucial for network administrators and IT professionals as it allows them to proactively address performance issues, optimize network resources, and ensure smooth data transmission throughout the network. By pinpointing and resolving bottlenecks, network administrators can enhance network efficiency, reduce latency, and provide a better user experience for network users.
Ready to supercharge your network performance and conquer bottlenecks? Look no further! Discover the power of Obkio's Network Performance Monitoring tool today.
Obkio offers a comprehensive solution designed specifically for network administrators and IT professionals like you. With Obkio, you gain real-time visibility into your network, allowing you to effortlessly identify and resolve bottlenecks that impede your network's performance.
Don't let bottlenecks hold your network back any longer. Experience the power of Obkio's Network Performance Monitoring tool and unlock the full potential of your network.
14-day free trial of all premium features
Deploy in just 10 minutes
Monitor performance in all key network locations
Measure real-time network metrics
Identify and troubleshoot live network problems
Understanding the causes of network bottlenecks is crucial for network administrators and IT pros looking to identify network bottlenecks and optimize network performance. Identifying the root causes behind these bottlenecks is the first step toward resolving them and ensuring smooth data transmission throughout the network.
So, let's dive in and uncover the factors that can slow down even the most robust network infrastructures.
Insufficient Bandwidth: One of the most common causes of network bottlenecks is inadequate bandwidth. When the available bandwidth cannot support the volume of data being transmitted, congestion occurs, leading to slower network speeds and reduced performance.
Network Congestion: High levels of network traffic can result in congestion and subsequent bottlenecks. This can happen during peak usage times or when multiple devices are competing for limited network resources.
Misconfigured Network Devices: Improperly configured routers, switches, or firewalls can contribute to network bottlenecks. For example, if a switch is not properly set up to handle the traffic load, it can become a bottleneck for data transmission.
Hardware Limitations: Outdated or underpowered network equipment may not be capable of handling the increasing demands of modern networks. For instance, network interface cards (NICs) with lower data transfer rates can restrict the overall network performance.
Network Protocol Issues: Inefficient or outdated network protocols can cause bottlenecks. Protocols that involve excessive overhead or have limitations in handling concurrent connections can impact network performance.
Network Security Measures: While essential for protecting network assets, robust security measures such as firewalls, intrusion detection systems, and encryption can introduce processing delays and increase the workload on network devices, potentially leading to bottlenecks.
Network Topology: The design and structure of the network can contribute to bottlenecks. For example, if multiple devices are connected to a single network switch or if network segments are improperly configured, it can result in congestion and limited data flow.
Software or Application Issues: Inefficient or poorly optimized software applications can generate excessive network traffic or place a heavy load on network resources, leading to bottlenecks.
There are several methods available to identify network bottlenecks. Here are some commonly used methods:
Utilize network monitoring tools to collect and analyze network performance data. These tools provide insights into key metrics such as bandwidth utilization, latency, packet loss, and network traffic patterns. By monitoring these metrics over time, you can identify areas of congestion and potential bottlenecks.
Analyze network traffic patterns using packet capture and analysis tools. By examining the flow of packets within your network, you can identify any abnormal or excessive traffic that may be causing bottlenecks. Look for patterns such as high-volume data transfers, frequent retransmissions, or long response times.
erform bandwidth tests to measure the available bandwidth and identify any discrepancies between the expected and actual bandwidth. This can help identify if the network is operating at its full capacity or if there are limitations causing bottlenecks.
Evaluate the network segmentation and topology to identify potential bottlenecks. Examine how devices are interconnected, the network structure, and the flow of traffic between different segments. Poorly designed or overloaded network segments can lead to bottlenecks.
Monitor the resources (CPU, memory, disk utilization) of network devices such as routers, switches, and servers. If any device is consistently operating at high resource utilization, it may indicate a bottleneck that needs to be addressed.
Establish baseline performance metrics during periods of normal network operation. By comparing current performance against these baselines, you can identify deviations and potential bottlenecks. This method helps in detecting abnormal network behaviour and performance variations.
What is Network Congestion & How to Fix It
Avoid the network traffic jam! Learn what network congestion is, what causes it, and most importantly, how to fix it using Network Monitoring tools.
Learn more
Identifying network bottlenecks often requires a combination of these methods, as well as a thorough understanding of your network infrastructure and its normal operating conditions. And the best part is - there's a tool that can identify network bottlenecks for you, using all the strategies we talked about above.
That's where Obkio's end-to-end network performance monitoring tool comes into play.
Let's get into the step-by-step guide on how to identify network bottlenecks using easy Network Performance Monitoring.
Say goodbye to the frustration of slow connections and hello to blazing-fast speeds. By proactively monitoring your network with Obkio's synthetic, end-to-end Network Performance Monitoring tool, you can pinpoint bottlenecks with precision and take swift action to optimize your network's efficiency.
To identify network bottlenecks in all network locations, Obkio continuously monitors end-to-end network performance so you can monitor performance from your local network (LAN, VPN), as well as third-party networks (WAN, ISP, and Internet Peering).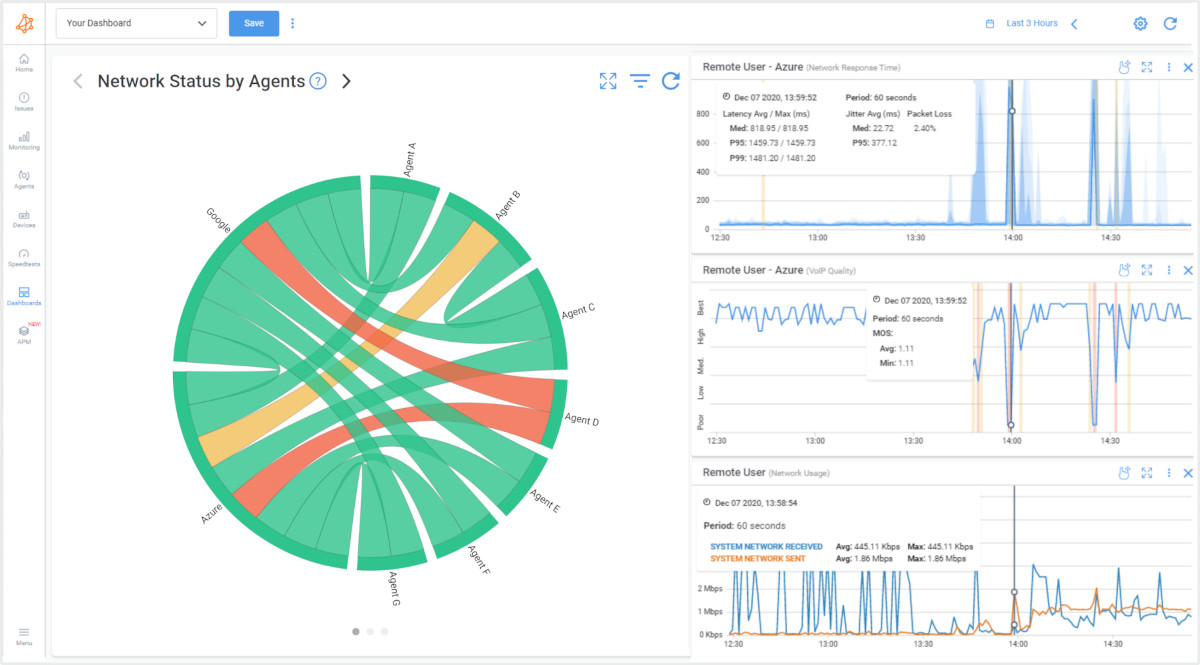 Unlike traditional network monitoring solutions that may only monitor local network equipment, Obkio allows you to monitor performance from every end of your network, where you may not have any IT staff or equipment available.
Obkio monitors network performance and identifies network issues using synthetic traffic using Network Monitoring Agents. Agents are deployed in key network locations, like offices, clouds, data centers, and over the Internet, to measure network metrics, identify network problems (like network bottlenecks) and collect the information to help you troubleshoot.
Local Agents: Installed in the targeted office locations where you want to monitor network performance and identify network bottlenecks. There are several Agent types available (all with the same features), and they can be installed on MacOS, Windows, Linux and more.
Public Monitoring Agents: Deployed over the Internet and managed by Obkio. They compare and test network performance up to the Internet and quickly identify if the network bottleneck is global or specific to the destination. This will be great information for later in the troubleshooting process. You can use an AWS or Google Cloud Agent.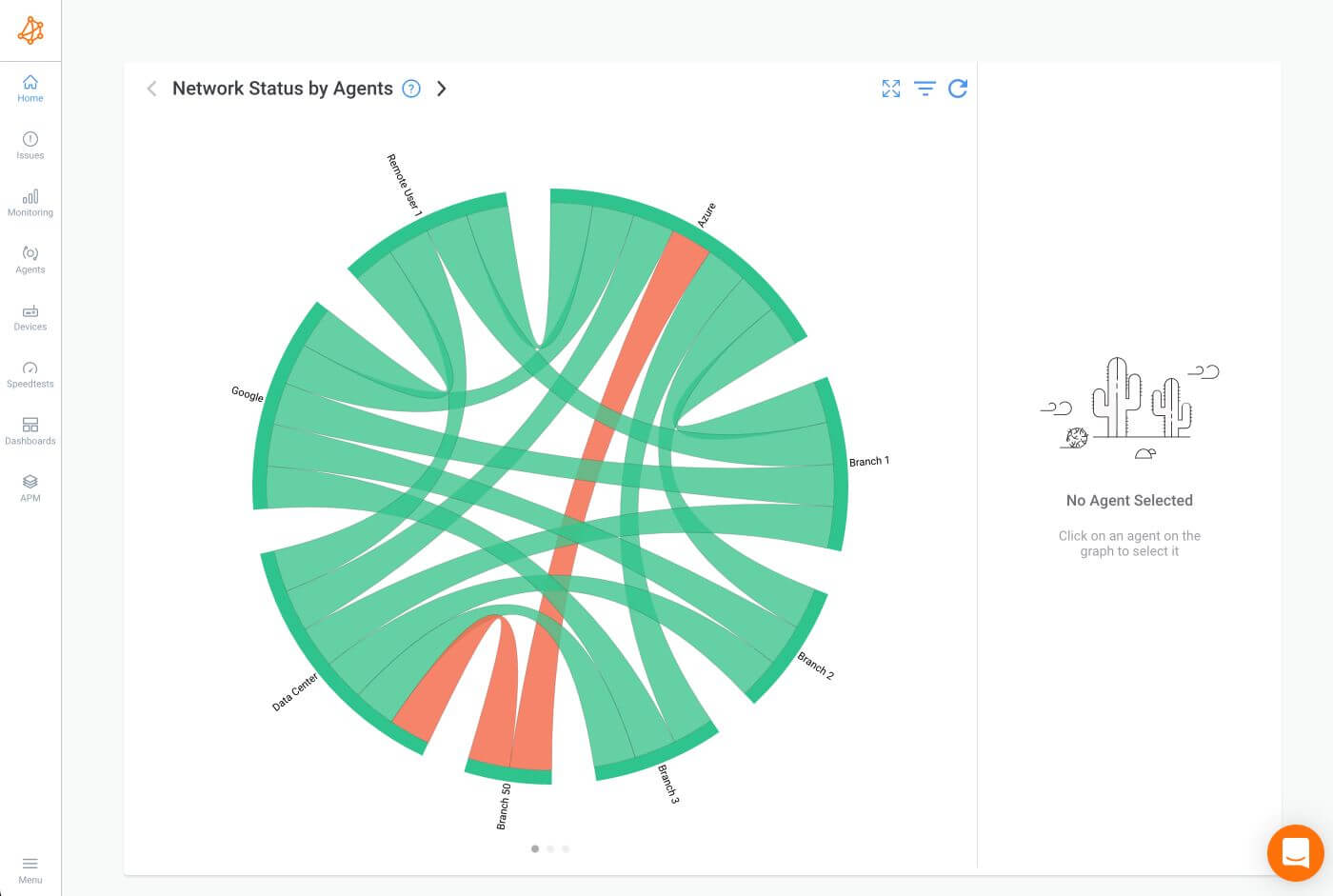 Using the Monitoring Agents, you can monitor the performance of specific network paths or connections between network devices. This allows you to identify bottlenecks in specific links or routes within your network. By monitoring the latency, packet loss, and other metrics for these paths, you can isolate and address any performance issues.
Once your Monitoring Agents are deployed, they will begin continuously exchanging synthetic traffic to measure network performance and identify network issues like bottlenecks.
Using Obkio's synthetic traffic capabilities, you can leverage the tool to perform automated network tests that include bandwidth tests and latency tests. These tests simulate traffic patterns and measure the performance of your network under controlled conditions. By running these tests regularly, you can establish performance baselines that represent the expected network performance.
Performance baselines serve as reference points against which you can compare current measurements. By comparing the current network performance to the established baselines, you can quickly detect any degradation or bottlenecks in network performance.
Bandwidth tests allow you to measure the available bandwidth on your network. By generating synthetic traffic and measuring the time it takes for data to transfer between two points, you can accurately assess the bandwidth capacity of your network. Comparing the results of bandwidth tests over time helps you identify any significant decreases in available bandwidth, indicating a potential bottleneck.
Latency tests, on the other hand, measure the round-trip time it takes for data to travel from a source to a destination and back. By simulating network traffic and monitoring the latency of these packets, you can identify delays and fluctuations in network performance. Comparing the latency measurements obtained during tests to the established baselines helps you identify any abnormal latency patterns or bottlenecks that may be affecting network responsiveness.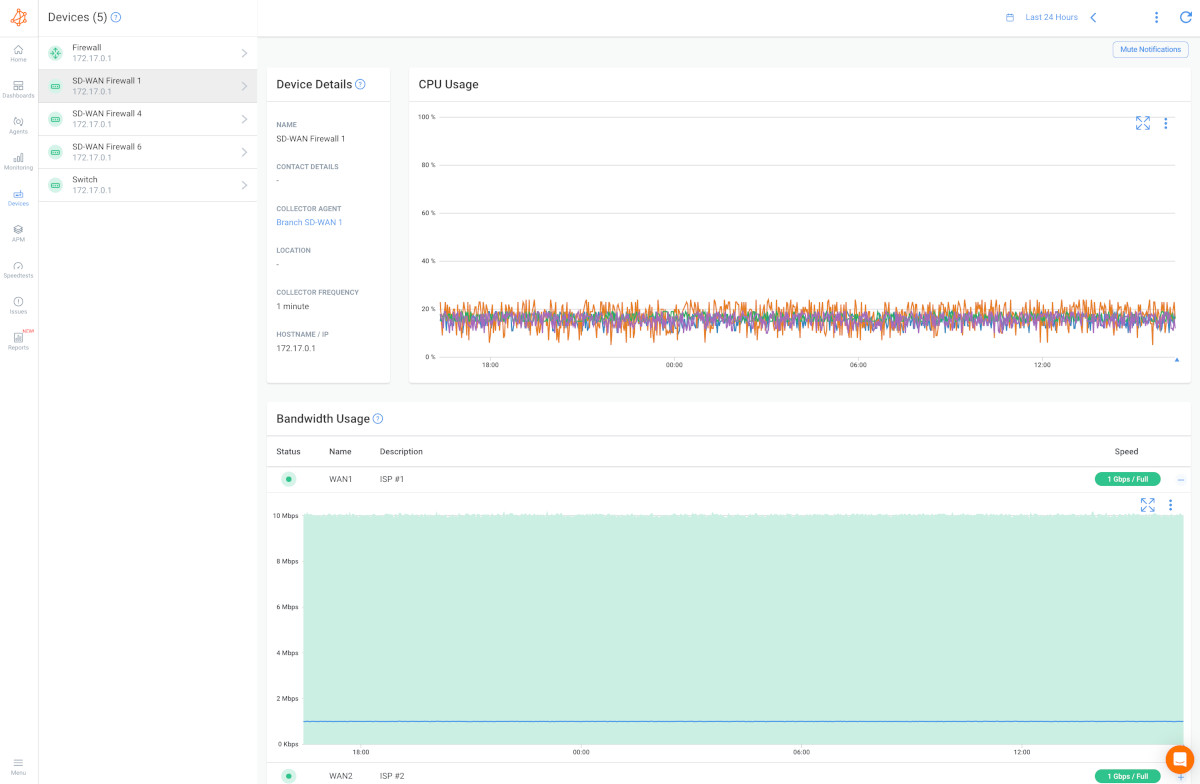 By regularly running these automated network tests and comparing the results to performance baselines, you can gain insights into the health and performance of your network. Deviations from the established baselines can alert you to potential bottlenecks or performance issues that require further investigation.
This proactive approach allows you to address network bottlenecks promptly and optimize your network's performance for improved efficiency.
Continuing from the previous step, you can identify network bottlenecks by measuring network metrics!
It's easy to detect bottlenecks when they're happening with your own network equipment, but you're not always using your own equipment. Some businesses may be using their ISPs or MSPs' network equipment, so they don't have direct access to the network equipment's data.
Additionally, the network bottlenecks may not be actually happening in your own network, but maybe in your ISP's network, on the local loop of its connection or even on the Internet. But, you can still identify network bottlenecks by monitoring other core network metrics!
To identify network bottlenecks, monitoring specific network metrics is crucial. Here are key network metrics that you should monitor:
Bandwidth Utilization: Monitor the usage of available bandwidth in your network. High levels of bandwidth utilization, especially nearing or reaching maximum capacity, can indicate potential bottlenecks and congestion points.
Latency: Measure latency, aka, the time it takes for data packets to travel from one point to another. High latency values can suggest network bottlenecks or delays in data transmission.
Packet Loss: Measure packet loss rate within your network. Excessive packet loss can be a sign of network congestion or unreliable connections, both of which can contribute to bottlenecks.
Jitter: Jitter refers to the variation in latency over time. It can cause disruptions in real-time applications like VoIP or video conferencing. Measuring jitter levels helps identify inconsistencies in network performance that may indicate potential bottlenecks.
Throughput: Measure the amount of data transferred over the network within a given time frame. Monitoring network throughput helps identify if the network is reaching its maximum capacity and potential bottlenecks due to limited data transfer capabilities.
Error Rates: Keep an eye on error rates such as CRC errors or retransmission rates. High error rates suggest issues with data integrity and can be indicative of network bottlenecks or transmission problems.
By consistently monitoring these network metrics, you can gain valuable insights into the performance of your network and detect any bottlenecks or areas of concern. It's important to establish baseline values for these metrics during normal network operation to easily identify deviations and take proactive measures to optimize network performance.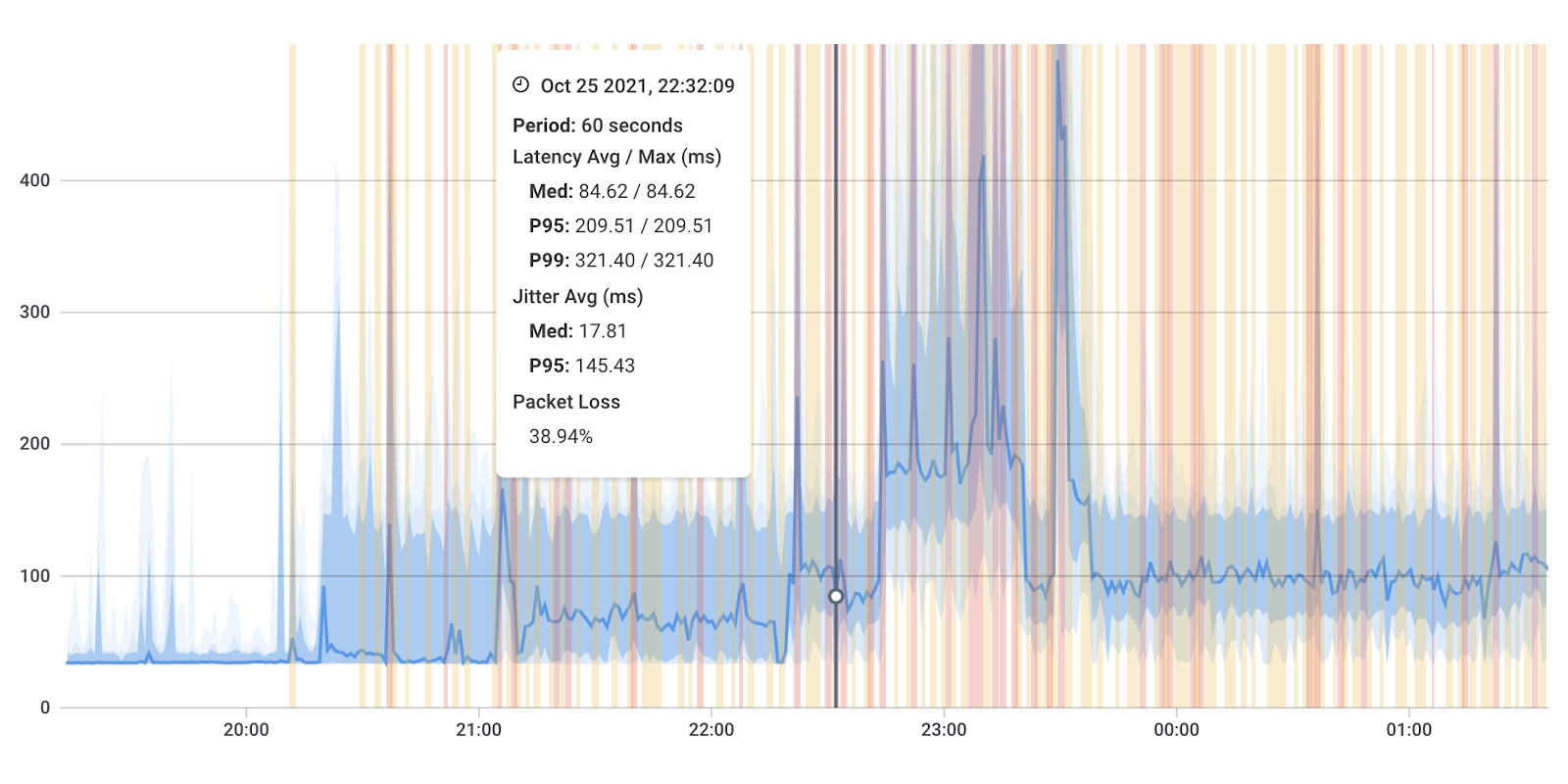 Obkio enables you to monitor the resources of your network devices, such as routers and switches. By tracking CPU usage, memory utilization, and other device-level metrics, you can identify devices that may be operating at their limits or experiencing performance bottlenecks due to resource constraints.
Monitoring network devices is important for identifying network bottlenecks because devices play a crucial role in network performance.
Device Resource Utilization: Network devices such as routers, switches, and firewalls have limited resources like CPU, memory, and network interfaces. Monitoring the resource utilization of these devices helps identify if they are operating near their capacity or experiencing performance limitations. High resource utilization can indicate potential bottlenecks where devices are struggling to handle the network traffic efficiently.
Device Misconfigurations: Misconfigurations in network devices can lead to bottlenecks. By monitoring device configurations and performance metrics, you can identify if a device is improperly configured or if there are configuration issues causing performance degradation. Correcting these misconfigurations can alleviate bottlenecks and optimize network performance.
Device Failures or Malfunctions: Network devices are prone to failures or malfunctions, which can introduce bottlenecks in the network. By monitoring device health and status indicators, you can quickly identify if a device is experiencing issues that may impact network performance. Promptly addressing device failures or malfunctions can prevent bottlenecks from spreading throughout the network.
Traffic Distribution and Load Balancing: Network devices play a role in distributing traffic and load balancing across the network. Monitoring the performance of these devices helps ensure they are evenly distributing traffic and properly balancing the load. Imbalanced traffic distribution can lead to bottlenecks in specific areas of the network. By monitoring device performance, you can identify any imbalances and take corrective actions.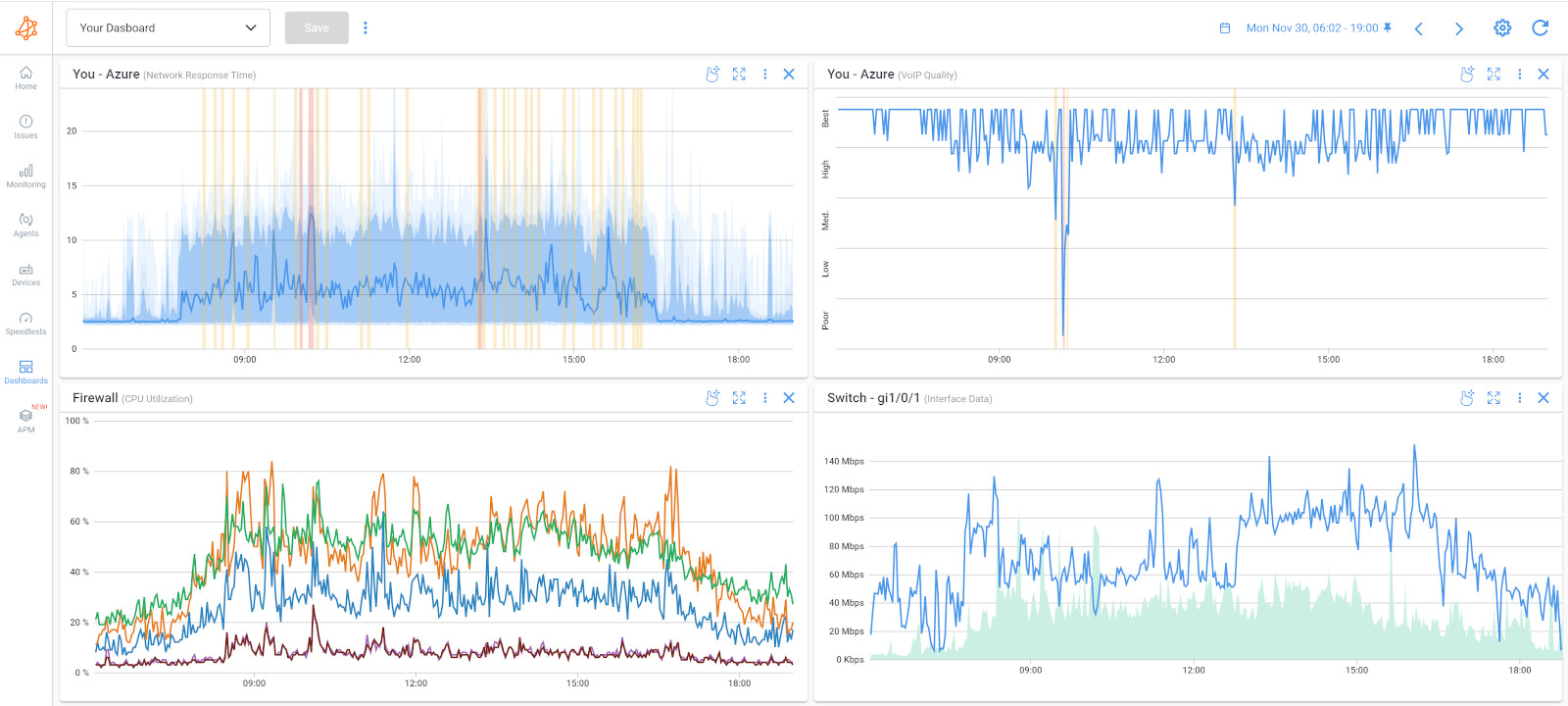 Obkio's customizable alerting and notification features empower you to proactively identify network bottlenecks and take immediate action to resolve them. By defining threshold values for various network metrics, you can configure alerts to trigger when those thresholds are exceeded.
For example, you can set a threshold for latency, specifying the maximum acceptable latency value. If the actual latency exceeds this threshold, an alert will be triggered, notifying you of the potential bottleneck.
Similarly, you can set thresholds for packet loss rates. If the packet loss rate exceeds the defined threshold, an alert will be generated, indicating a potential issue that requires investigation. These customizable alerts allow you to focus on the specific metrics that are most critical to your network's performance and bottlenecks.
Upon receiving an alert, you can take immediate action to investigate the bottleneck. With the information provided in the alert, you can quickly identify the affected network segment, device, or connection experiencing the performance issue. By promptly addressing the bottleneck, you can minimize its impact on network performance and prevent further degradation.
The customizable alerting and notification features of Obkio help you stay ahead of potential network bottlenecks. By proactively detecting performance anomalies based on predefined thresholds, you can respond swiftly and effectively. This proactive approach allows you to address bottlenecks before they cause significant disruptions, optimizing network performance and ensuring a smooth user experience.
When network bottlenecks occur, they can have a significant impact on network performance, affecting the speed, responsiveness, and overall efficiency of data transmission. This is why it's so crucial for businesses to detect even the earliest signs of network bottlenecks and get to troubleshooting.
Let's go over how network bottlenecks affect network performance in detail, focusing on the key areas where bottlenecks can cause disruptions and inefficiencies.
Slow Data Transmission: Network bottlenecks can cause data to be transmitted at a slower rate than expected. When there is congestion or limited bandwidth in a network segment, data packets can experience delays or queues, resulting in slower data transmission. This can lead to increased latency and reduced throughput, affecting the overall performance of applications and services running on the network.
Increased Latency: Bottlenecks can introduce additional latency, which is the time it takes for data packets to travel from the source to the destination and back. High latency can result in delays and lags in real-time applications such as VoIP, video conferencing, and online gaming. Users may experience audio and video synchronization issues, communication delays, or unresponsiveness due to the increased time it takes for data to reach its destination.
Packet Loss: Network bottlenecks can contribute to packet loss, where data packets fail to reach their intended destination. When network resources are overwhelmed, packets may be dropped to alleviate congestion. Packet loss can degrade the quality of data transmission and result in incomplete or distorted data, leading to retransmissions and reduced efficiency in transmitting information across the network.
Performance Degradation: Network bottlenecks can lead to overall performance degradation across the network. As bottlenecks restrict the flow of data, network resources may be underutilized or not fully optimized. This can impact the responsiveness of applications, slow down file transfers, cause buffering issues in streaming services, and reduce the overall productivity and efficiency of network-dependent operations.
Limited Scalability: Bottlenecks can limit the scalability of the network, preventing it from efficiently handling increased traffic or growth. As network demands increase, bottlenecks can restrict the network's ability to accommodate additional users, devices, or data volume. This can impede business expansion, hinder the adoption of new technologies, and limit the network's capacity to handle future growth.
Unpredictable Performance: Network bottlenecks can cause performance fluctuations and unpredictability. As bottlenecks can occur in different parts of the network or at different times, the network's performance may vary inconsistently. This can lead to intermittent connectivity issues, sporadic slowdowns, and an overall unstable user experience.
Monitoring network performance to proactively identify network bottlenecks is the most effective way to stop network bottlenecks from affecting your business, network and user experience. To go a step further, you also need to troubleshoot.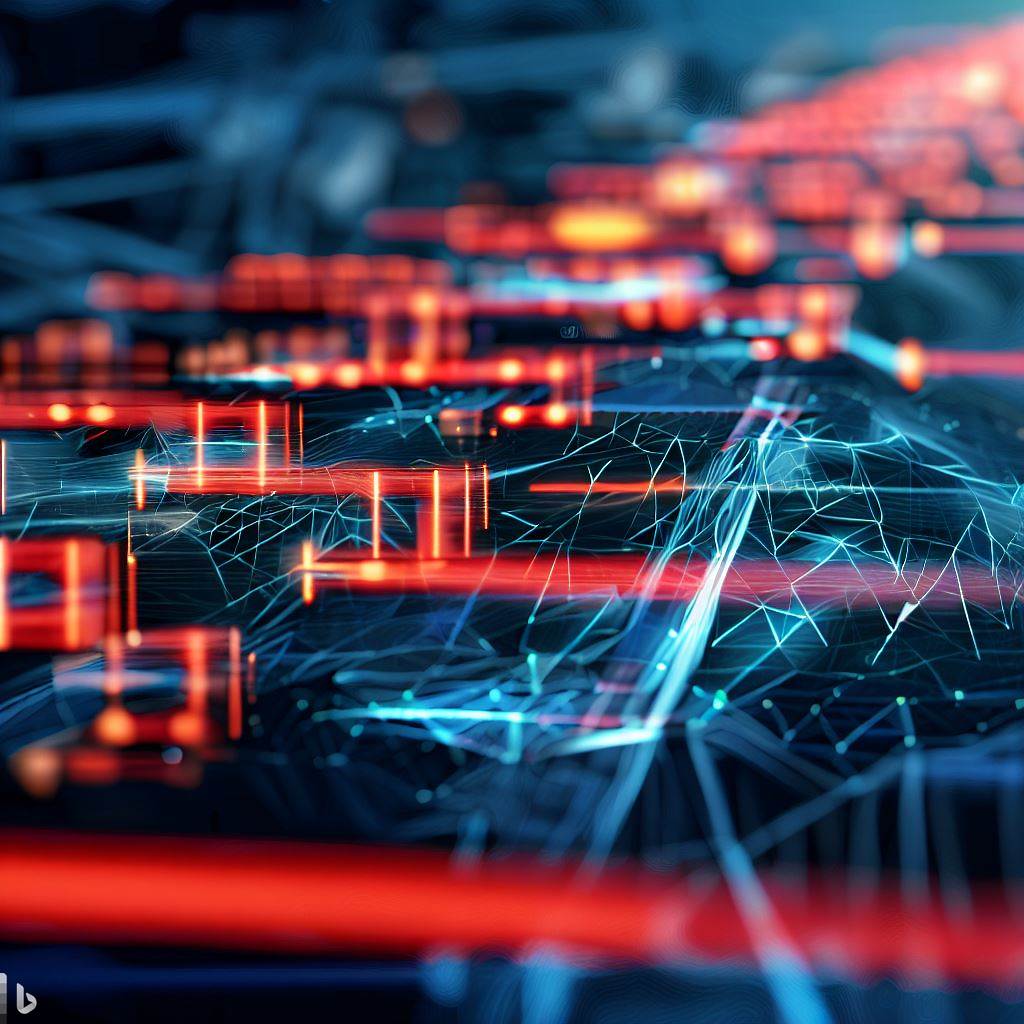 When network bottlenecks occur, it's essential to quickly troubleshoot and resolve the issues to restore optimal network performance. Troubleshooting network bottlenecks requires a systematic approach to identify the root cause of the problem and implement effective solutions.
So let's get into it!
We already covered this earlier, but it is the first and most important step to identifying and fixing network bottlenecks. Leverage network monitoring tools, like Obkio, to gain real-time visibility into network performance. Get detailed analytics, proactively identify bottlenecks, and generate reports to identify the root cause of the problem,
Continuously monitor network metrics such as bandwidth utilization, latency, packet loss, and throughput. These metrics provide valuable insights into network performance and help pinpoint potential bottlenecks.
Once again, we talked about the most important metrics to monitor earlier in the article.
Determine the specific area of the network where the bottleneck is occurring. This can involve analyzing network traffic, identifying congested links or devices, and tracing the path of data packets to locate the bottleneck.
Identifying the specific location of network bottlenecks is essential for effective troubleshooting. By considering the possibility of bottlenecks in your internal network, external ISP or MSP networks, or external network equipment, you can systematically analyze and investigate each potential area to pinpoint the root cause.
Internal Network Bottlenecks: Internal network bottlenecks refer to congestion or limitations within your organization's internal network. These bottlenecks can occur due to factors such as insufficient bandwidth, outdated network equipment, or improper network configurations.
External ISP or MSP Network Bottlenecks: When your organization relies on external Internet Service Providers (ISPs) or Managed Service Providers (MSPs), bottlenecks can arise in their networks. These bottlenecks may result from high traffic volumes, network infrastructure limitations, or connectivity issues on the ISP or MSP side. Monitoring network performance (with MSP Network Monitoring) and collaborating with your service providers can help identify and address bottlenecks that occur outside your organization's network.
External Network Equipment Bottlenecks: Bottlenecks can also be caused by external network equipment, such as routers, switches, or firewalls. These devices may belong to external parties, such as vendors or partners with whom your organization interacts.
Check the configuration of network devices, including routers, switches, and firewalls. Look for any misconfigurations that could contribute to performance issues or bottlenecks. Ensure that devices are properly optimized for efficient data flow.
Implementing Quality of Service (QoS) is a crucial strategy for managing network traffic and prioritizing critical applications or data types. QoS allows you to allocate bandwidth and assign priority levels to different types of network traffic, ensuring that essential services receive the necessary resources and operate smoothly.
By reserving a portion of the bandwidth for critical applications or services, you ensure that they have dedicated resources and are not affected by other less important traffic. This helps prevent congestion and ensures consistent performance for essential functions.
You can assign priority levels to different types of traffic based on their importance. For example, real-time applications like VoIP or video conferencing can be given higher priority over non-real-time traffic such as file downloads or web browsing. By prioritizing critical traffic, you minimize delays and ensure that time-sensitive applications operate smoothly without interruptions.
Leveraging QoS Monitoring in Networking: DSCP & Prioritization
Learn how to monitor QoS performance on your private network, including MPLS, SD-WAN, or VPN, using Obkio's DSCP features.
Learn more
Evaluate the network infrastructure for scalability and performance. Ensure that devices, cables, and connections can handle the required data volumes and traffic demands. Consider upgrading hardware or optimizing network architecture if necessary.
Device Capacity: Assess if network devices can handle current and future traffic loads. Upgrade if needed.
Bandwidth Considerations: Ensure network links can accommodate current and anticipated data volumes. Upgrade or implement link aggregation if necessary.
Cable Infrastructure: Verify that network cables meet the required standards. Replace damaged or outdated cables.
Network Architecture Optimization: Review architecture to identify areas hindering scalability or introducing bottlenecks. Optimize segments, routing protocols, or design.
Load Balancing and Redundancy: Implement load balancing techniques and redundancy measures to distribute traffic and ensure uninterrupted operation.
Future Growth and Scalability: Anticipate future requirements and plan for network expansion, capacity upgrades, and emerging technologies.
Implement load-balancing techniques to distribute network traffic evenly across multiple paths or devices. Load balancing helps alleviate congestion and prevents specific points in the network from becoming bottlenecks.
Step 8. Conduct Regular Network Performance Testing to Proactively Identify & Fix Network Bottlenecks
Performing regular network performance testing and benchmarking is essential to establish baselines and track changes in your network's performance over time. This proactive approach helps you identify trends, anticipate potential bottlenecks, and address performance issues before they become critical.
To do so, keep Obkio's Network Performance Monitoring tool as your permanent network detective so you can keep continuously testing network performance, without having to do it yourself!
Establish Baselines: Conduct initial tests to establish performance baselines for future comparisons.
Track Changes: Regularly test and compare results to baseline measurements to identify performance shifts.
Identify Trends: Analyze historical test data to uncover recurring patterns and understand network behaviour.
Anticipate Bottlenecks: Monitor performance metrics to detect potential bottlenecks before they cause disruptions.
Proactive Issue Resolution: Promptly investigate and resolve performance issues detected during testing.
In conclusion, identifying network bottlenecks is crucial for maintaining a high-performance network environment. By understanding the causes and effects of bottlenecks, implementing effective monitoring strategies, and utilizing appropriate troubleshooting techniques, you can ensure smooth data transmission and optimal network performance.
However, it's not enough to simply identify bottlenecks; taking proactive measures is equally important. This is where Obkio's Network Performance Monitoring tool comes into play.
With its comprehensive monitoring capabilities, automated network tests, customizable alerting features, and in-depth performance insights, Obkio empowers network admins and IT professionals to effectively identify and resolve network bottlenecks.
Don't let network bottlenecks hinder your organization's productivity and user experience.
Take action today and leverage Obkio's Network Performance Monitoring tool to optimize your network performance.
14-day free trial of all premium features
Deploy in just 10 minutes
Monitor performance in all key network locations
Measure real-time network metrics
Identify and troubleshoot live network problems
Remember, a well-monitored and optimized network is the backbone of seamless communication and efficient operations. Embrace the power of Obkio and unlock the true potential of your network infrastructure.