Table of Contents
Table of Contents
Nowadays, companies are embracing flexibility. Many businesses are embracing remote offices and working from home, storing their data in the Cloud, ditching centralized data infrastructures, and moving towards networks using SaaS and SD-WAN. With distributed architectures becoming the new normal, it's important to have a distributed monitoring solution that can keep up.
In this article, we're running you through everything you need to know about what is a distributed network monitoring and how distributed network monitoring works.
Over the past fifteen years, it was common for companies with multiple sites to adopt a "centralized" telecom architecture to interconnect all business locations to one single, unified network. This allowed businesses to keep their data and its processing within the head office and/or data centers. It was also typical to have a centralized Internet gateway shared by users from all locations.
Fast forward to today and things have changed.
Organizations are increasingly using cloud-hosted applications services like Office 365, and cloud-based ERP, CRM solutions. The transition to cloud-based services and SaaS apps has led organizations to leave the centralized model and switch to a more distributed architecture. The same goes for SD-WAN networks as well.
Now, what exactly is a distributed network?
A Distributed Network is a network infrastructure which is spread out across a variety of different systems, locations and applications. The various systems in distributed network architecture can all communicate with each other but are also able to function on their own.
These sites can be physically segregated from each other but combined via the internet so that, if one system breaks or is overloaded, the others can remain to work without being impacted.
Compared to traditional centralized networks, Distributed Networks have many advantages:
Fault tolerance: Distributed networks can withstand failures better by spreading the workload across multiple nodes, reducing the impact of a single point of failure.
Scalability: Distributed networks can easily expand to handle increasing demands by adding more nodes, ensuring better performance and accommodating higher traffic loads.
Performance: Parallel processing in distributed networks allows for faster data processing and improved performance, reducing response times and increasing throughput.
Data locality: Distributed networks store and process data closer to its source or consumption point, reducing latency and providing faster access to data.
Security: Distributed networks are more resilient against cyberattacks, as compromising one node does not grant access to the entire network.
Privacy: Distributed networks reduce reliance on centralized authorities, enhancing privacy by giving users more control over their data.
Cost-effectiveness: Distributed networks can be more cost-effective by utilizing existing resources and minimizing the need for dedicated infrastructure.
This is where you need a distributed monitoring solution which can truly monitor the network's performance from a user's perspective and from every possible angle.
Distributed networks offer several benefits such as improved network performance in the cloud, enhanced flexibility, scalability, and reduced bottlenecks.
However, the complexity of data flows between network sites in a distributed network poses a challenge for traditional monitoring tools. These tools typically only monitor from a centralized location to a specific site, without capturing the communication between different sites, branches, or clouds within the network. As a result, traditional monitoring tools are unable to effectively monitor and assess distributed networks.
The image below shows you the complexity of monitoring Distributed networks: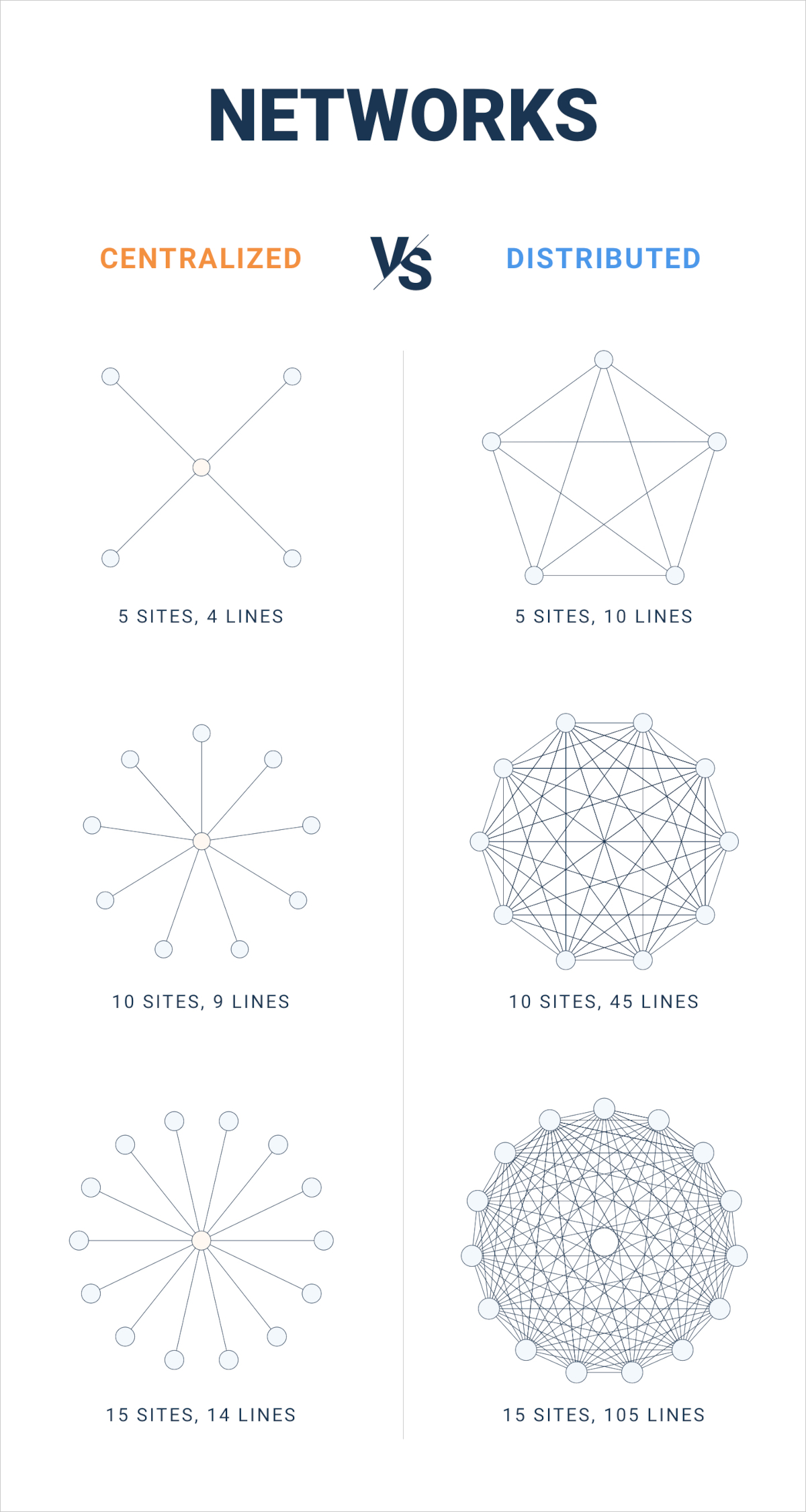 This is why you need distributed network monitoring
Adding network locations to a distributed network will only make the network data flows more complex.
As we can see from the infographic above, with the same number of sites, distributed networks have 90 more communication paths (lines) than centralized networks, all which can be affected by poor network performance. Traditional monitoring solutions would not be able to identify issues along these additional paths.
Distributed Network Monitoring, also known as Decentralized Network Monitoring, is a method for monitoring network performance of decentralized network infrastructures, usually using Distributed Network Monitoring tools.
Distributed network monitoring is a monitoring strategy that provides network performance data based on the information provided by multiple observation points, also called Monitoring Agents or sensors, about a specific monitored object, or target, to determine the real status of the Agent independently from conditions that may affect the performance of one or more agents.
Essentially, distributed or decentralized network monitoring allows you to pinpoint network problems with specific applications or devices within your network, and determine whether it is a network or application issue.
Distributed network monitoring is increasingly used by modern Network Performance Monitoring Solutions, like Obkio Network Performance Monitoring software, because of the need to adapt to the increasing shift towards decentralized network infrastructures and cloud-based applications and services like SaaS, and even modern SD-WAN networks. It is also ideal for Remote Network Monitoring of remote offices, home offices, and distributed data centers.
Ready to become the superhero of your distributed network? Say goodbye to network mysteries and hello to seamless monitoring with Obkio! Join the league of network champions and unlock unparalleled visibility, fault detection, and security protection.
Don't wait another moment – power up your network with Obkio and soar to new heights of network monitoring excellence!
14-day free trial of all premium features
Deploy in just 10 minutes
Monitor performance in all key network locations
Measure real-time network metrics
Identify and troubleshoot live network problems
Imagine a team of network superheroes, spread across the vast landscape of your network. Armed with their powerful distributed network monitoring tools, they work together to ensure the smooth operation of your network, detect problems in a flash, and keep security threats at bay. With their superhuman abilities, they offer improved visibility, faster troubleshooting, and optimized performance.
Let's dive into the world of distributed network monitoring and go over some of it's key benefits:
End-User View of Network Performance: With traditional centralized network monitoring, you only see network performance from a single perspective. With distributed network monitoring, you see network performance from a number of different views across your network. In addition, Obkio's network monitoring agents exchange traffic to act like real users in different points across a network.
Improved Visibility: By deploying monitoring tools across multiple points in a distributed network, you gain a comprehensive view of the entire network infrastructure. This enhanced visibility allows you to monitor network traffic, performance, and behavior across different locations or segments, providing a more accurate understanding of network health.
Enhanced Fault Detection and Troubleshooting: Distributed network monitoring enables the detection of faults or anomalies at various points in the network. When an issue arises, monitoring tools can quickly identify the affected area, making it easier to pinpoint the root cause and initiate timely troubleshooting. This proactive approach helps minimize downtime and accelerate issue resolution.
Scalability and Flexibility: Distributed monitoring can scale with the network, accommodating new devices, segments, or locations as they are added. It offers flexibility in adapting to changes in network topology or infrastructure. Whether you expand your network or deploy resources in different regions, distributed monitoring can adapt and provide monitoring coverage wherever it's needed.
Simplified Transition to the Cloud: Distributed network monitoring is necessary when using decentralized cloud-based networks or applications. Prepare for your transition to the cloud by deploying a distributed network monitoring solution that can accurately and efficiently monitor your cloud apps.
Redundancy and resilience: By distributing monitoring capabilities across multiple nodes or servers, you create redundancy in monitoring data collection and analysis. If one monitoring point fails or experiences issues, others can continue to monitor and collect data, ensuring continuous network monitoring and reducing the risk of data loss.
Performance Optimization: Distributed network monitoring enables you to identify performance bottlenecks or network congestion at specific points in the network. By analyzing network data from multiple monitoring points, you can gain insights into traffic patterns, resource utilization, and performance metrics. This information helps optimize network performance, allocate resources more effectively, and make informed decisions to improve overall network efficiency.
Security Monitoring and Threat Detection: Distributed network monitoring plays a crucial role in detecting and responding to security threats. By monitoring network traffic and analyzing behavior across multiple locations, it becomes easier to identify anomalies, intrusion attempts, or suspicious activities. Distributed monitoring can aid in real-time threat detection, rapid incident response, and proactive security measures to safeguard the network.
Compliance and Auditing: Distributed network monitoring facilitates compliance with regulatory requirements and auditing processes. By continuously monitoring network activities, you can gather the necessary data to demonstrate adherence to security policies, track access and usage, and generate comprehensive reports for compliance audits.
Reduced Bandwidth Requirements: A centralized network monitoring tool will send requests over your precious WAN links. A distributed network monitor will usually be configured to send requests to local resources and appropriate global resources when measuring network performance.
Consolidated NOC View: Rather than having to deploy separate network monitoring systems in each network location to monitor end-to-end network performance, distributed network monitoring allows you to monitor resources locally but consolidate all stats into a single NOC for analysis and storage. So you never need to juggle multiple tools every again.
As talked about at the beginning of the article, businesses are increasingly moving towards remote offices and working from home, storing their data in the Cloud, and transitioning to decentralized data infrastructures.
With centralized infrastructures in the past, companies only needed to monitor network performance between the head office or data center and the remote locations. This provided sufficient coverage to catch most business-impacting issues and for that, traditional monitoring systems were usually adequate.
Nowadays, accessing cloud-based services through a centralized Internet gateway, often hundreds if not thousands of miles away, just doesn't work. The few milliseconds of round trip time added to each transaction quickly adds up to a considerable delay. To fix this, businesses are, therefore, reverting to using local Internet gateways in each location.
The transition to cloud-based services has led organizations to leave the centralized model and switch to a more distributed architecture. Unfortunately, this can quickly complexify the data flows between users, thereby rendering traditional network monitoring tools](/blog/types-of-network-monitoring-tools/) unfit for the task.
This is where you need a distributed network monitoring solution which can monitor network performance from a user's perspective and from every possible angle.
A Guide to Different Types of Network Monitoring Tools: Unveiling the Superheroes
Discover the superheroes of network monitoring tools in our comprehensive guide. Unveil the perfect type of network monitoring tool for your business.
Learn more
Distributed network monitoring involves using a Distributed Network Monitoring Tool, like Obkio, and deploying multiple Network Monitoring Agents distributed around your network to measure and monitor network performance from multiple locations throughout your network infrastructure. These agents are responsible for collecting network data, monitoring performance metrics, and detecting anomalies or issues.
Agents then exchange synthetic traffic between each other to continuously perform network testing and monitor network performance in the various locations. They collect network data on various network metrics to identify any network issues or performance degradation affecting separate applications, devices, or different ends of your network.
This synthetic monitoring strategy is simple and immediate because all you have to do is to see what percentage of Monitoring Agents are reporting a network or application problem. With an application for example, if some Agents are able to connect to an application but not others, then blame the network. On the other hand, if all the agents are reporting that there is a network outage or that the application down, then it's time to call the application's tech support.
Here's a simplified overview of how distributed network monitoring works:
Agent Deployment: Monitoring agents or sensors are installed at strategic points within the network. These can be physical appliances, virtual machines, or software agents running on network devices or servers.
Data Collection: The monitoring agents continuously collect network data such as traffic flows, latency, packet loss, bandwidth utilization, and other performance metrics. They capture this data by monitoring network packets, utilizing SNMP Network Monitoring , or other monitoring techniques.
Local Analysis: Each monitoring agent analyzes the collected data locally, performing real-time processing and monitoring for performance deviations or security threats specific to its location. It generates alerts or notifications when predefined thresholds or patterns are exceeded, indicating potential issues or risks.
Centralized Management: The monitoring agents transmit relevant data and alerts to a centralized network performance management platform or system. This central hub aggregates and consolidates the distributed data, providing a holistic view of the network's health, performance, and security.
Data Visualization and Reporting: The centralized management platform presents the collected data in a user-friendly interface, offering visualizations, reports, and dashboards. These provide insights into network performance trends, anomalies, security events, and other key metrics. Users can customize views, set up automated reports, and access historical data for analysis and troubleshooting.
Alerting and Incident Response: The distributed network monitoring system generates alerts or notifications based on predefined thresholds, deviations, or security events. IT teams receive these alerts, allowing them to respond quickly to network issues or security incidents. Incident management workflows and escalation procedures can be integrated into the monitoring system to facilitate prompt resolution.
Performance Optimization and Planning: The insights provided by distributed network monitoring help IT teams optimize network performance and plan for future growth. They can identify areas of congestion, optimize resource allocation, and make informed decisions about capacity planning, infrastructure upgrades, or network configuration adjustments.
Continuous Monitoring and Iterative Improvement: Distributed network monitoring operates as an ongoing process, continuously monitoring the network, analyzing data, and fine-tuning thresholds and configurations as needed. It allows for iterative improvement of network performance, security, and operational efficiency over time.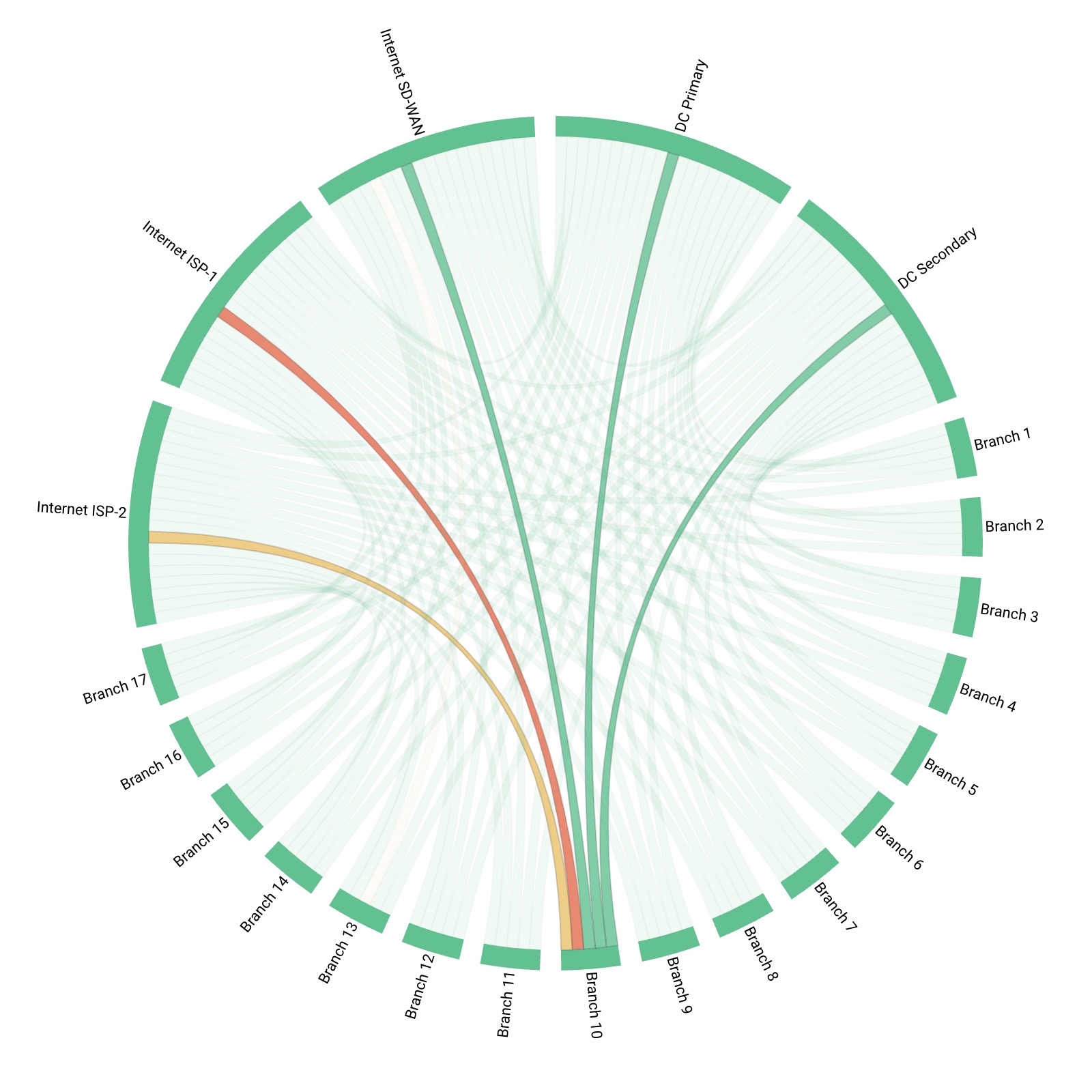 In both traditional and distributed networks, network performance measurement always involves assessing the connectivity between two specific points. However, the complexity of distributed networks lies in the multitude of communication paths that may not necessarily pass through centralized locations.
This is why monitoring performance from all remote locations, rather than relying solely on a centralized location, becomes crucial in distributed networks. Whatever two points you choose, you need something to monitor every location. To do so, you need local tools continuously running tests at every network location.
You need an Agent-Based monitoring solution.
Efficiently monitoring and troubleshooting multiple network locations, such as remote offices, data centers, and remote employees, can be challenging without the appropriate software solution.
A modern distributed network monitoring software, like Obkio, is an Agent-based solution designed to monitor modern distributed networks for:
Wide WAN Networks - 5 Locations or More
Cloud-based Applications and Services (SaaS Apps)
Multiple Office, Branch, and Data Center Locations
Remote Employees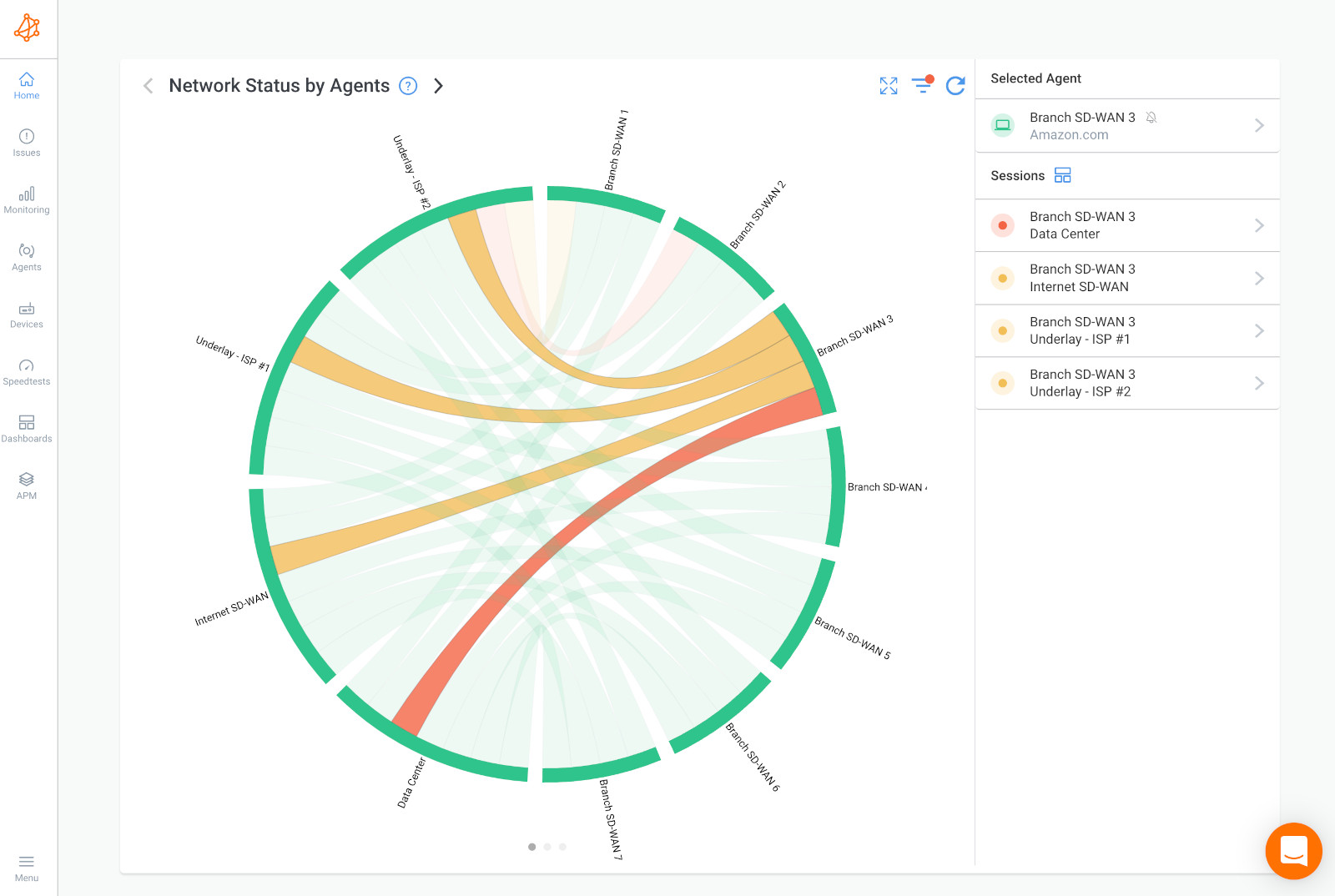 Obkio's Distributed Network Monitoring solution uses a unique software, called Monitoring Agents, which are installed at key network locations like:
Branch offices
Head offices
Data centers
Clouds
And the Internet
They exchange Synthetic Traffic between each other every 500ms to monitor performance between every single network location.
The Monitoring Agents measure network metrics, alert you of network problems, and collect information to help you troubleshoot internally or with your service provider.
Obkio monitors network performance between every decentralized network location using Monitoring Agents. So to begin, you need to deploy Agents.
Local Agents (Windows, MacOS, Linux, Hardware) are installed at key network locations such as branch offices, data centers, remote locations to monitor performance.
Public Monitoring Agents are Agents installed in Service Provider networks (like AWS, Google, Azure). They can be used to monitor the performance of any branch externally towards the Internet (without passing through the head office).
You can set this up in just 10 minutes.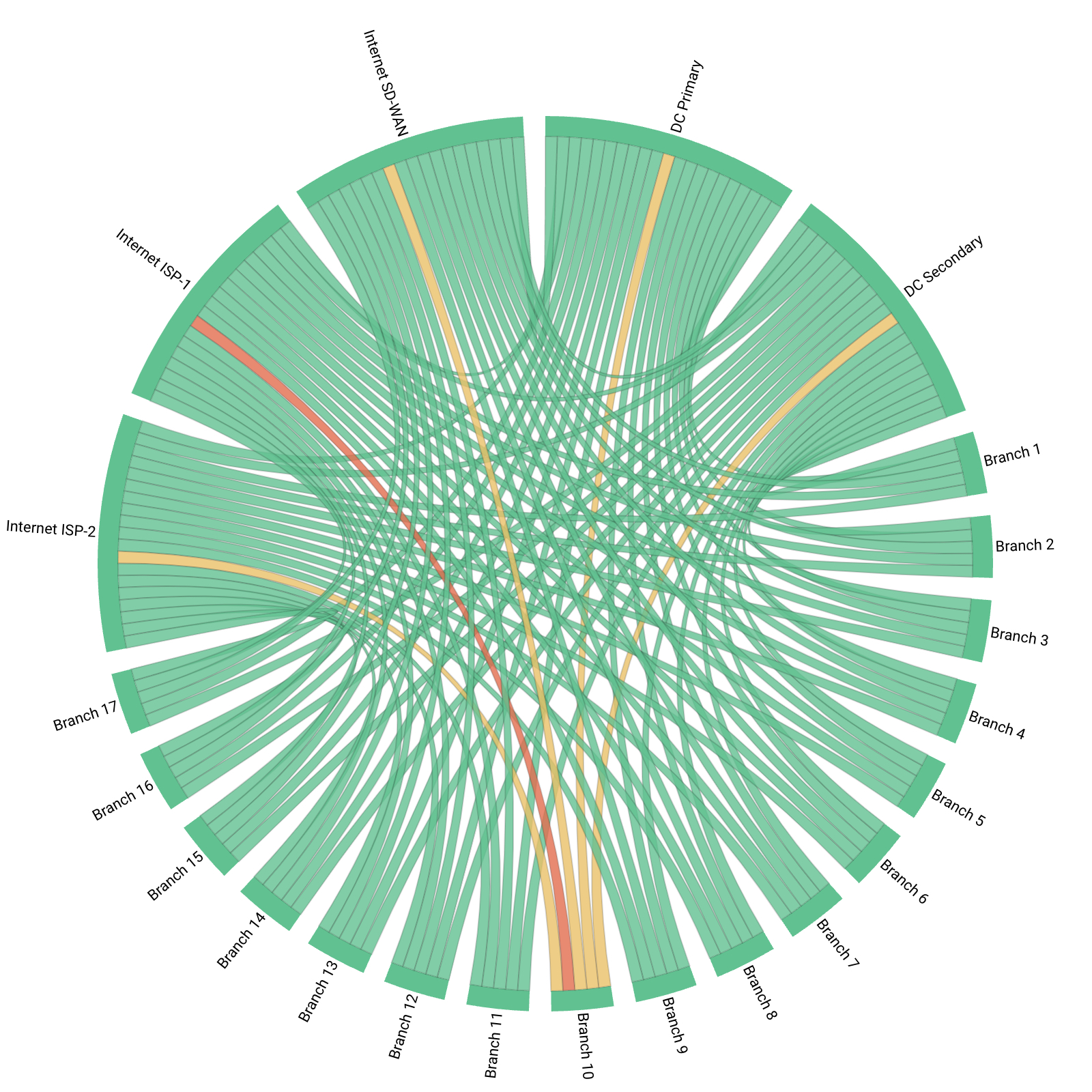 When managing multiple network locations within a distributed network, including those in remote areas, it's not always feasible to have on-site staff available. However, with Obkio, that's no longer a concern!
Obkio's Monitoring Agents act as virtual IT staff in each network location. These Agents continuously monitor network performance and securely transmit the data to Obkio's cloud-based SaaS application.
This allows your remote IT staff to conveniently analyze the network status and identify any potential network problems using Obkio's Chord Diagram and dashboards. They can even gather relevant information for remote troubleshooting of network issues.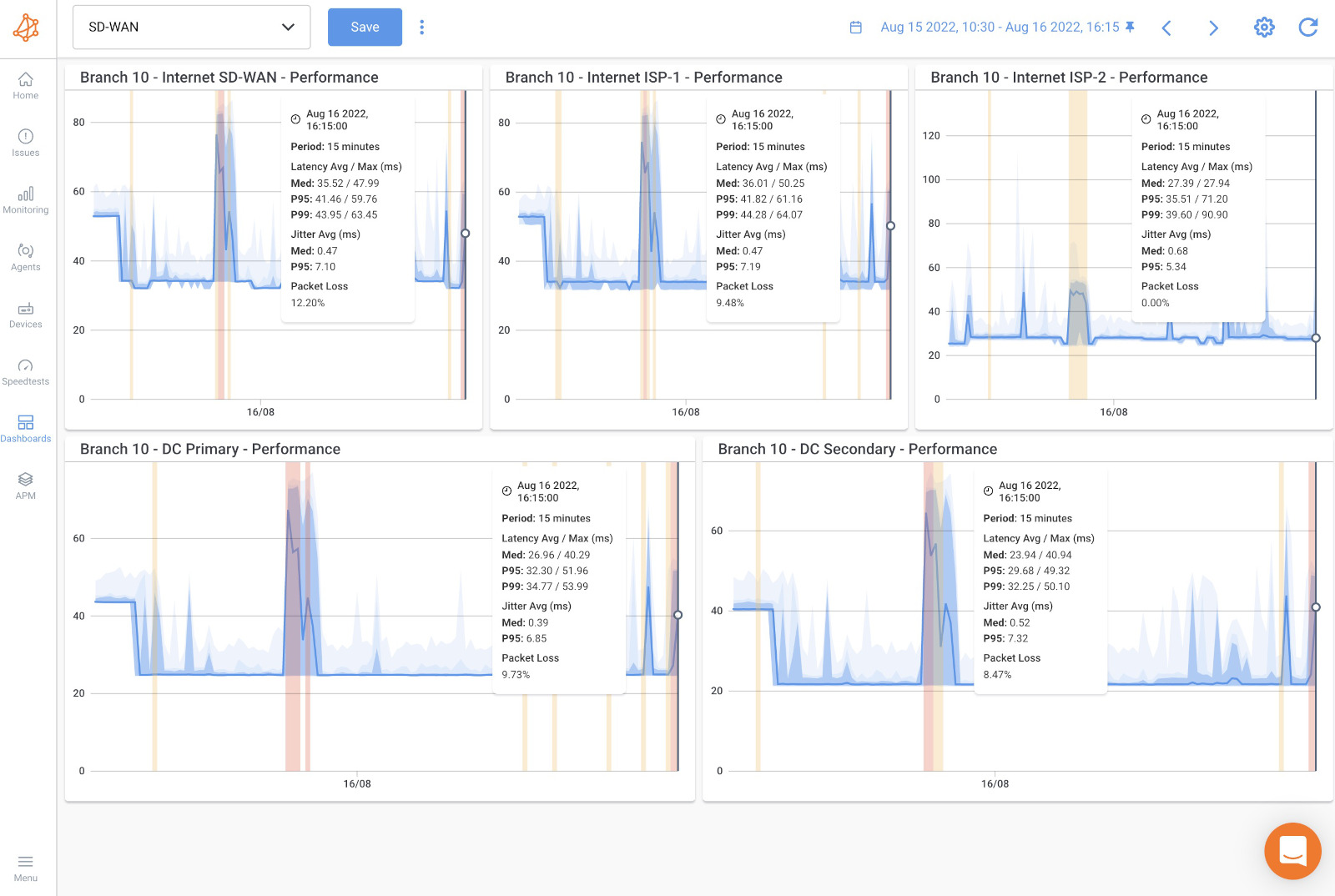 When monitoring distributed network performance, it's extremely important to monitor continuously.
Anyone can run network tests sporadically when users complain about a performance issue. But what if you want to detect problems before they affect end-users? Or if you want to catch intermittent issues?
Continuously monitoring your distributed network locations allows you to proactively identify network problems before they affect users, and gives you a better chance of catching intermittent network problems, which appear and disappear sporadically.
This is why Obkio's Monitoring Agents exchange synthetic traffic every 500ms, to continuously monitor performance to give you visibility of all your network locations, even when you're not paying attention.
Continuously monitoring your network also allows you to analyze historical data and troubleshoot past network issues, as well as establish a baseline to identify when your network performance has decreased from your baseline.
How to Monitor SD-WAN Networks: Mastering SD-WAN Network Monitoring
Learn how to monitor SD-WAN networks with Network Monitoring to get complete visibility over your SD-WAN service and identify SD-WAN issues.
Learn more
So we talked about using Decentralized or Distributed Network Monitoring to monitor decentralized networks or cloud-based applications and services, but let's get into more detail.
Distributed network monitoring is essential for multi-site enterprises that have a wide area network (WAN). This generally means that your network supports five or more network locations. On average, monitoring performance and troubleshooting network issues in five or more locations, including remote offices, data centers, and remote employees, is difficult to do without the right software.
If you're spending considerable time troubleshooting problems, and losing visibility over all your locations, that's a pretty clear indication that you need distributed network monitoring to make your life easier.
That's because distributed monitoring is a great way to quickly detect legit network and application issues, and quickly do fault isolation, which is an important step in the troubleshooting process.
To summarize, you need Distributed Network Monitoring to monitor:
Decentralized Network Infrastructures (like SD-WAN): When utilizing decentralized network infrastructures, such as Software-Defined Wide Area Networks (SD-WAN), distributed network monitoring becomes crucial. Monitoring the performance and connectivity between various SD-WAN nodes ensures optimal network operation and user experience.
Wide WAN Networks - 5 Locations or More: As network complexity increases with a larger number of network locations, it becomes increasingly important to implement distributed network monitoring. Networks with five or more locations require comprehensive monitoring to detect and address performance issues, security threats, and other network-related challenges.
Cloud-based Applications and Services (SaaS Apps): With the rising adoption of cloud-based applications and services, monitoring the network performance between on-premises locations and the cloud is essential. Distributed network monitoring allows businesses to perform SaaS performance monitoring to assess the connectivity, latency, and performance of cloud-based applications to ensure seamless access and optimal user experience.
Multiple Office, Branch, and Data Center Locations: Organizations with multiple office branches and data center locations need distributed network monitoring to effectively manage their network infrastructure. Monitoring the performance and connectivity between these distributed locations helps identify network bottlenecks, ensure reliable communication, and address issues promptly.
Remote Employees: In today's remote work environment, where employees connect to the network from various locations, remote network monitoring for their network connectivity and performance becomes crucial. Distributed network monitoring enables businesses to monitor the network health and performance for remote employees, ensuring uninterrupted access to resources and applications.
In summary, distributed network monitoring is needed in scenarios involving decentralized network infrastructures like SD-WAN, wide WAN networks with multiple locations, cloud-based applications and services, multiple office branches and data centers, as well as for monitoring the network connectivity and performance of remote employees. It allows organizations to maintain optimal network performance, ensure seamless connectivity, and promptly address any issues that may arise across their distributed network infrastructure.
An even easier way to determine whether you need Distributed Network Monitoring is to see if you fall into any of the network monitoring use cases below.
We talk about the 3 most common network monitoring use cases in other articles, which include:
Of course, you can use Distributed Network Monitoring in all of these situations, but we're also going to discuss some more specific use cases.
Many companies and organizations, including colleges, municipal institutions, pharmacy chains, etc. have several branch locations in the same city. Even in multiple locations, you don't need IT resources in every branch. With distributed network monitoring, IT teams and network administrators can automatically monitor network performance in all locations, view the data on one centralized dashboard, and troubleshoot from wherever they are.
Large companies and enterprises usually have offices located abroad, or employees working in remote locations. These branches often have their own servers and hardware, not to mention websites that must be reachable worldwide. Distributed network monitoring with Obkio monitors hardware, applications, bandwidth, website traffic, and more - even for remote locations.
Managed service providers (MSPs) are IT service providers that operate and monitor IT systems for companies. They offer services like server management, web hosting, network security, Internet, VoIP, and more. As MSPs oversee multiple networks, they need a distributed network monitoring software that collects and monitors the data from each and every channel for complete visibility over their clients' network.
One of the biggest advantages so distributed network monitoring is being able to monitor network performance up to your cloud infrastructure!
Obkio's Public Monitoring Agents, which are an extension of Obkio's Hardware and Software Network Performance Monitoring Agents, are agents hosted in major cloud providers around the world, including Amazon Web Services (AWS), Microsoft Azure, and Google Cloud. Some of them are also operated by third-party service providers.
Users can easily monitor and measure their network performance of SaaS applications with thos Monitoring Agent type hosted by the Cloud service providers of their choice.
We also have articles about how exactly to use these Monitoring Agents to monitor Microsoft network connectivity for apps like Teams and Azure and to monitor Google network performance for apps like Google Meet, Workspace, and Gmail.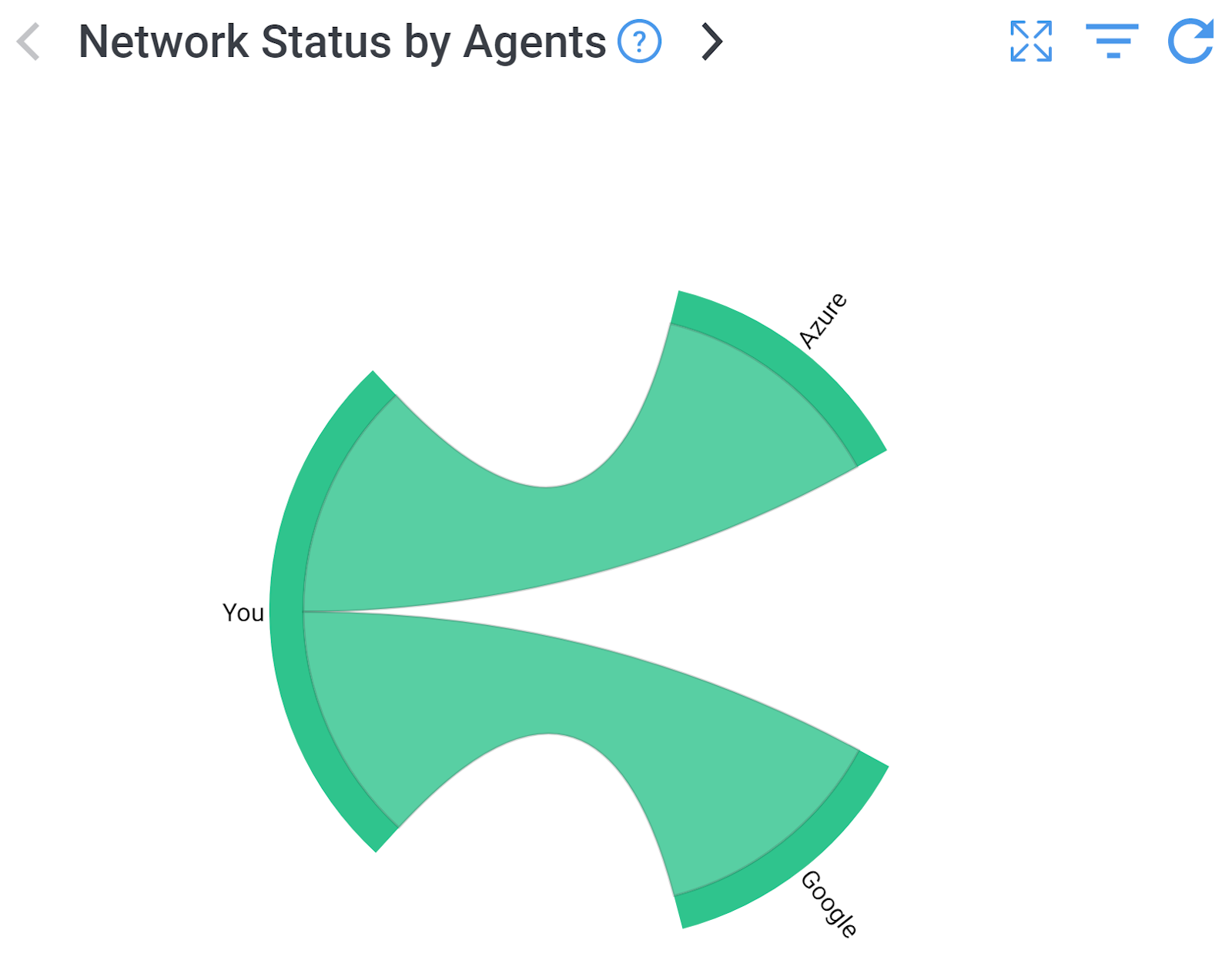 After learning about Distributed Network Monitoring, are you convinced it's the right solution for you. If your business, rather a business of one or a hundred, uses cloud applications, has multiple locations, or relies on remote works, then the answer is definitely yes.
Lucky for you, Obkio's Network Performance Monitoring software is the easiest distributed network performance monitoring solution on the market. Focused on fast deployment and user-friendliness, Obkio empowers users to continuously monitor the health of their network and core business applications to improve the end-user experience.
14-day free trial of all premium features
Deploy in just 10 minutes
Monitor performance in all key network locations
Measure real-time network metrics
Identify and troubleshoot live network problems
You can rest assured that we're not like those pushy Sellsy people - there's no catch here. We firmly believe in the excellence of our product, but if it's not the right fit for you, we understand and want what's best for you.