How to Perform a Network Assessment
In Summary
We rely on our network to be the backbone of our businesses. From your Internet, to your VPN, to running VoIP and Unified Communication applications, networks have large responsibilities. But how can you know if your network is performing as it should be? That's when you perform a network assessment.
In this article, we're teaching you how to perform a network assessment for your entire network infrastructure using Obkio Network Monitoring Solution.
A IT network assessment is an in-depth network infrastructure analysis to collect and analyze comprehensive data about your network's health, including current network issues, any signs of network performance degradation, and places for improvement or network optimization.
Network Assessments are an essential risk management tool and should be performed to qualify your network for a new service deployment or migration such as:
Migration from on-premise VoIP PBX to hosted VoIP
Migration from VoIP to Microsoft Teams or other UC platforms
Migrating from an MPLS network to an SD-WAN network
Migrating from an on-premise ERP to a cloud-based ERP
Or any other on-premise to cloud migrations
We talk more in depth about the purpose and benefits of Network Assessments in our article on Network Assessment for A Successful IT Migration or Deployment.
Trying to perform a network infrastructure assessment without a tool to help can be time consuming, and frankly can't give you the same level of detail.
The best network assessment tool is a Network Monitoring software, like Obkio.
Obkio continuously monitors end-to-end network performance by sending and monitoring data packets through your network every 500ms using Network Monitoring Agents.
The Monitoring Agents then perform tests from all ends of your network to pinpoint performance issues or identify any weaknesses that may cause problems in the future.
You can use Obkio's free trial and Getting Started Tutorial to perform a free network assessment (POC) to quickly determine if your network is causing problems, and gather information to help you troubleshoot.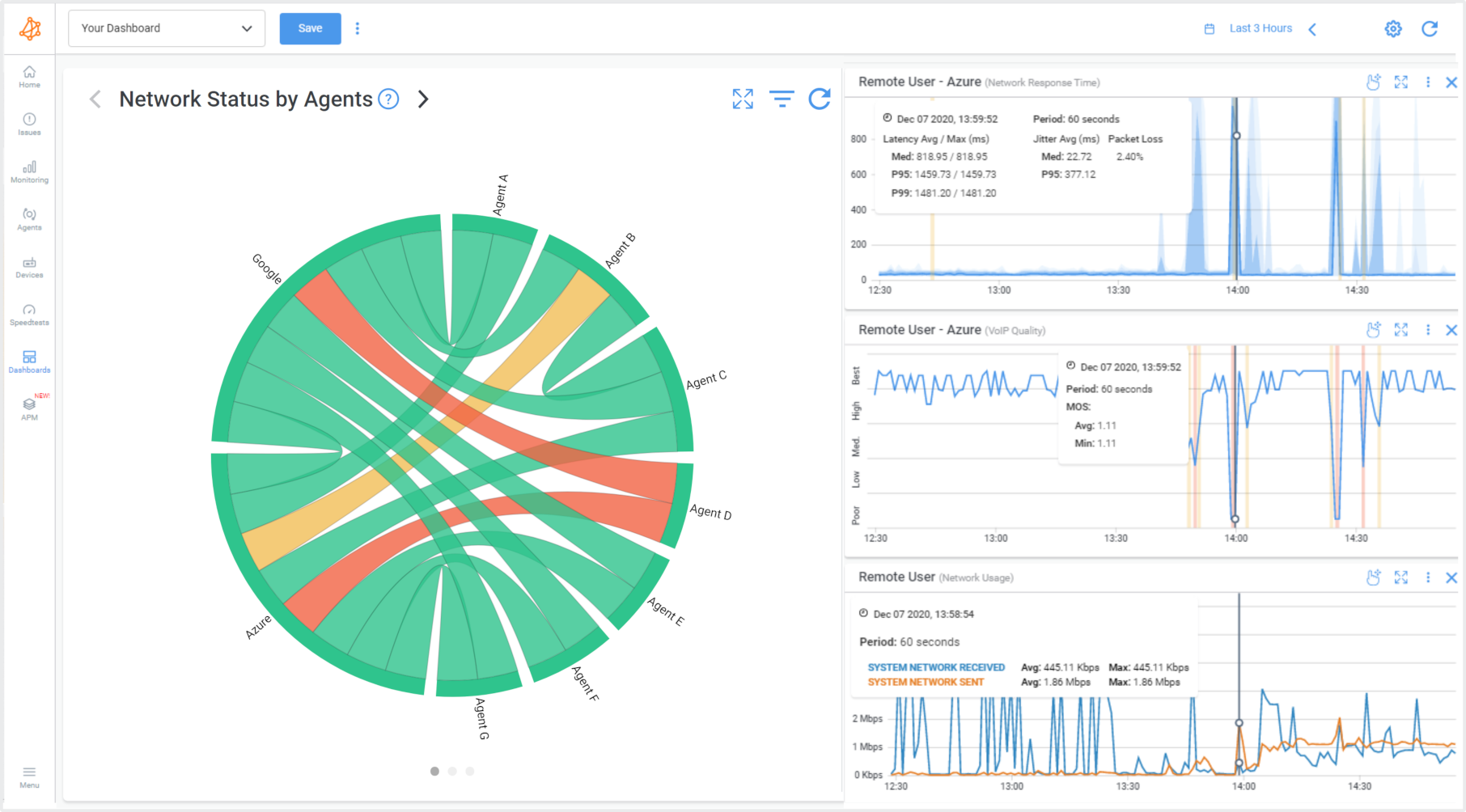 You may perform a network assessment for a variety of reasons, so it's important to consider your objectives to know what you expect from the results.
Why do you want to perform a network assessment?
Are you looking to identify intermittent network problems that are impacting your network?
Are you looking to optimize network performance?
Are you preparing your network for a new service deployment or migration?
Are you performing an overall health check to assess the status of your network and make proactive decisions before anything goes wrong?
To assess and compare network performance data over time, you must first measure key network metrics associated with network performance and collect a history of the data you've measured.
Once you've set up your Obkio Monitoring Agents, they will start measuring key network metrics like jitter, packet loss, and latency and displaying them on Obkio's Network Response Time Graph.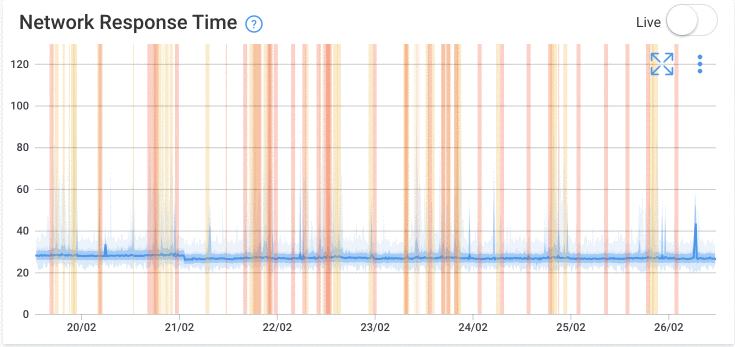 Measuring these network metrics allows you to quickly understand and identify any performance issues in your network, which is one of the most important objectives of performing a network assessment.
Obkio provides metric updates every minute so you can get real-time metric measurements. You can also further drill-down to identify exactly what and where is causing network problems.
Analyzing historical performance data is key to understanding how your network is actually performing. To get an accurate network assessment, it's important to analyze performance data over time to catch intermittent issues.
That's why Obkio's solution also measures and collects historical network performance data, so you can analyze, compare, and troubleshoot performance from the past.
Analyzing historical data allows you to go back in time to identify and troubleshoot intermittent network problems that may look like they disappeared.
Obkio will provide you with all the data you need to properly assess your network performance. You can even create your own dashboard with a summary of your network metric measurements, the results of speed tests, and a detailed analysis of any network issues that may have been discovered.
You can identify:
What the problem is
Where the problem is located
What caused the problem
When the problem happened
Who is responsible for the network segment
Identifying network problems should be a key objective when performing a network assessment. Network problems, even intermittent ones, can frustrate users, affect your business operations, and cause bigger headaches in the future.
To help you really identify network problems, Obkio uses aggregation to show you the worst metric measurements in order to highlight network issues, where they're located and what's causing them.
For example, when measuring packet loss, the packet loss displayed over an aggregated period of 1h is the worst packet loss of all the small 1-min periods in the hour.
This is key because only showing you the average amount of packet loss on your network may hide intermittent network issues.
If you measure the average packet loss every 4 hours, the average may be good, but you can have 80% during a few minutes - which signals a big problem.
Once you've performed your network assessment and identified network problems, you need to troubleshoot network issues and optimize network performance.
A great network monitoring tool will allow you to collect the data you need for network troubleshooting with your IT or network team, or share the data with your Service Provider for faster troubleshooting.
When troubleshooting network problems, several tools are available to help:
At this point, you should have a pretty good understanding of what is going on in your network.
You should have:
A continuous network monitoring solution
Measurements of key network metrics
Historical performance data
Identification of issues in your network (you can even set up alerts for those)
Tools to help you troubleshoot
As a reminder, you can do it all in minutes Obkio's Getting Started Documentation!
Related Blog Categories:
How To