How to Monitor VoIP PBX Systems for Call Quality
In Summary
If you've ever used a business phone system, chances are that you've used a VoIP PBX or IP PBX system at least once. There are many advantages of using VoIP PBX for your business, but like most applications that work over a network, they're prone to performance issues if network problems arise. In this article, we're running you through how to monitor VoIP PBX systems to ensure optimal call quality with network monitoring.
VoIP PBX, also referred to as IP PBX, is a business phone system that uses internet protocol (IP) to transmit voice.
A VoIP PBX system can be hardware or software based, and works over a company's LAN or WAN data network, rather than through the circuit-switched networks used by the traditional Public Switched Telephone Network (PSTN). It can be hosted and operated locally, but can also be hosted somewhere else like SaaS Hosted PBX solutions.
They typically switch calls between VoIP on local lines or between VoIP and traditional telephone users in the same way a PBX does.
VoIP is sensitive to network performance, and can be impacted by network problems like packet loss, latency, and jitter.
When you make a VoIP call, the VoIP phone (software or hardware) usually communicates with the PBX system. So if your VoIP Quality is affected by poor network performance, your whole VoIP PBX System's call quality will suffer.
Seeing as most VoIP PBX solutions are offered by Service Providers, when performance issues arise, customers will quickly run to their MSP for answers.
So MSPs need to be equipped with the right tools to proactively monitor VoIP PBX performance to quickly identify and troubleshoot performance issues affecting their customers as fast as possible.
As we mentioned above, a VoIP PBX system is a central telephone system for companies. It can be offered as a service by an MSP, ISP or just a VoIP provider over the Internet.
That being said, the VoIP PBX service will then generally travel a long distance from the MSP's network, the client network, and through the Internet. Therefore to monitor VoIP PBX performance, you need an end-to-end network monitoring tool.
Obkio Network Performance Monitoring software continuously monitors end-to-end network performance so you can monitor network and VoIP PBX performance from your local network (LAN, VPN), as well as third-party networks (WAN, ISP, and Internet Peering).
Get started with Obkio's Free Trial!
Obkio monitors network performance with synthetic traffic using Network Monitoring Agents, which monitor all ends of your network to measure network metrics, identify network problems and collect the information to help you troubleshoot with your IT team or service provider. By using synthetic traffic, no packet capture is required and it respects the user's privacy.
To VoIP PBX performance and identify call quality problems, you need to deploy a Monitoring Agent next to your PBX, and then configure monitoring sessions between the existing Monitoring Agents (installed on remote users' or customers' work stations) towards the PBX.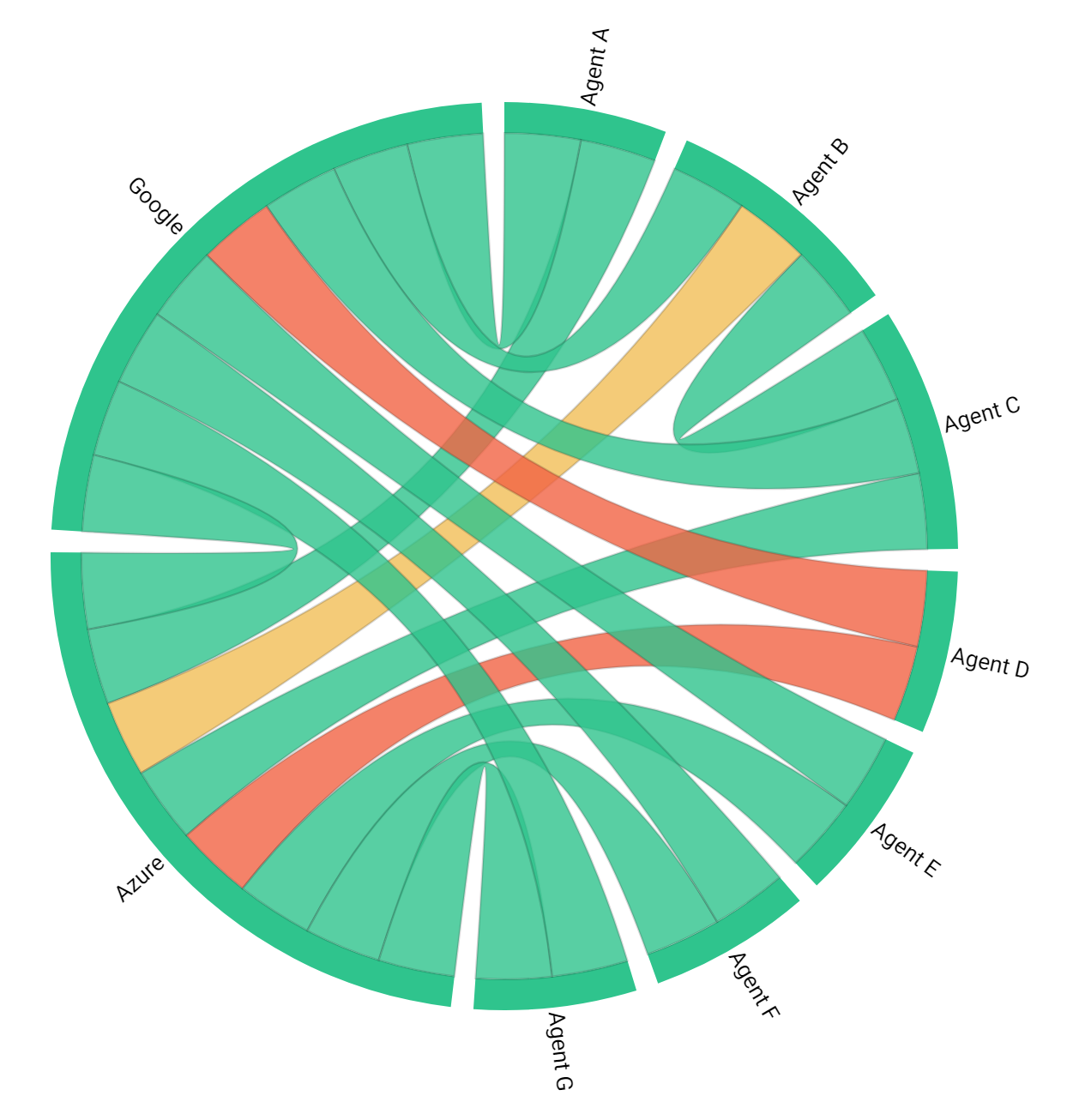 Once the setup is complete, Obkio will continuously measure key network metrics, like VoIP Quality using MOS score to monitor VoIP PBX call quality and identify performance issues.
With this setup, MSPs can automatically calculate VoIP Quality, MOS score, and even QoE for all their customers using VoIP PBX systems to proactively identify call quality issues even before their customers do.
View VoIP quality measurements on Obkio's VoIP Quality graph, which categorizes, for every minute, the MOS Call Quality as
Best
High
Medium
Low
or Poor
The exact MOS Voice Quality Score is always available in the graph tooltip and is a great measure of the Quality of Experience (QoE) for customers using VoIP PBX applications over their network.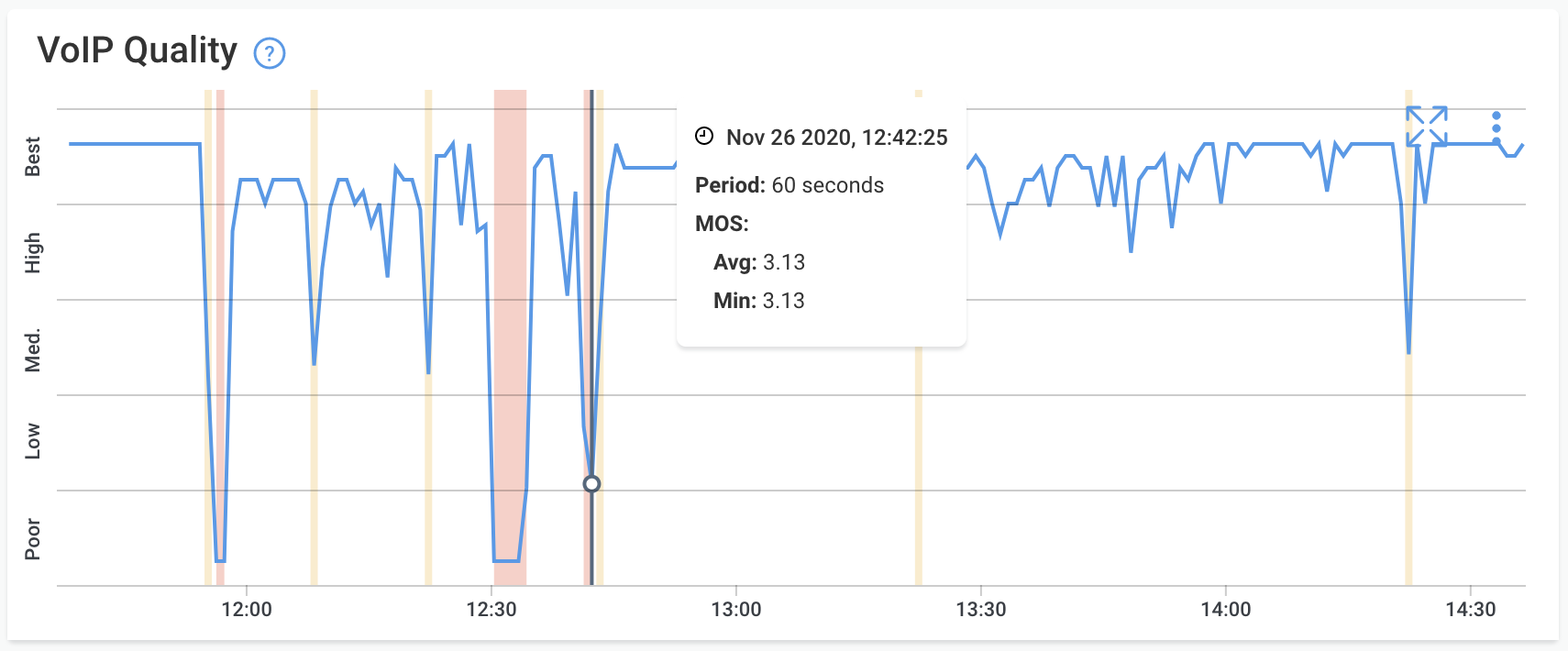 For clients with private QoS-enabled private networks, such as MPLS-VPN or SD-WAN networks, Obkio allows you to use DSCP features to monitor VoIP PBX performance by class of service. By specifying the DSCP code to use, you can measure the end-to-end network performance for a specific class of service, like VoIP traffic in this case. This feature also tests the DSCP propagation across the network.
Well this continuous monitoring setup, MSP can help customers monitor their VoIP PBX systems to identify and troubleshoot performance issues.
Further down the troubleshooting process, Obkio offers a variety of advanced troubleshooting tools to collect information about where problems are happening, when they happened, and why.
For VoIP PBX users looking to identify performance issues and share data with their MSPs for faster troubleshooting, use Obkio's Live Traceroute feature which allows users to share the traceroute results (with information about where and when performance issues occurred) with MSPs for faster troubleshooting.
Start monitoring your VoIP PBX system to ensure call quality with Obkio's Free Trial!
Related Blog Categories:
How To