Table of Contents
Table of Contents
If you manage an enterprise network, then you've definitely come across MPLS. Although many businesses rely on MPLS technology for large, high performing networks, they can suffer from network problems, like network congestion, that can impact user experience.
Monitoring MPLS using a Network Monitoring tool is key to identifying and solving network issues that impact MPLS performance.
MPLS stands for Multiprotocol Label Switching. It is a protocol used in telecommunications and computer networks to efficiently route data packets between network nodes. MPLS operates at the OSI (Open Systems Interconnection) model's Network Layer (Layer 3) and is commonly used in IP (Internet Protocol) networks.
In traditional IP routing, each router examines the destination IP address of a packet to determine the next hop towards its final destination. However, this process can be time-consuming and inefficient, especially when dealing with large networks or complex routing policies.
MPLS introduces the concept of "label switching" to streamline the packet forwarding process. Instead of relying solely on IP addresses, MPLS adds a label to each packet, which is used to make forwarding decisions. Labels are assigned by the ingress router (the entry point of the MPLS network) and are then used by the subsequent routers to determine the packet's path.
The MPLS network consists of several components, including:
Label Edge Routers (LERs): These routers are responsible for adding, modifying, or removing the labels as packets enter or exit the MPLS network.
Label Switch Routers (LSRs): These routers make forwarding decisions based on the labels attached to the packets. They examine the label and forward the packet to the appropriate outgoing interface.
Label Distribution Protocol (LDP): LDP is used by MPLS routers to exchange label information and establish label-switched paths.
MPLS networks are generally used for a variety of applications, including:
VPNs (Virtual Private Networks)
Traffic Engineering
Carrier Networks
Data Center Networks
Internet Service Provider Networks
In an MPLS network, QoS (Quality of Service) is the most important feature. The big advantage of an MPLS network is about having a guarantee of level of performance based on your SLA (Service Level Agreement).
Of course, if you're paying for a certain level of service, you can't just rely on your SLA. You need to ensure that you're really getting what you paid for and that the service quality is matching the SLA.
Additionally, many businesses are actually migrating from MPLS networks to SD-WAN networks. So if your business is still using an MPLS network, it's because you really need it. And if you need it, you need to make sure it performs as promised.
How can you do that?
Well, you monitor your MPLS network performance.
Here's why you should do that:
Network Troubleshooting: Monitoring allows network administrators to identify and diagnose issues in real-time. By monitoring MPLS network performance, administrators can detect packet loss, latency, or jitter, which can help pinpoint the root cause of network problems. It enables proactive troubleshooting and faster resolution of network issues, minimizing downtime and optimizing network performance.
Service Level Agreement (SLA) Compliance: MPLS networks are often used to provide services to customers, such as VPNs or dedicated circuits. Service providers typically have SLAs in place, which define specific performance metrics, such as guaranteed bandwidth, latency, and availability. Monitoring the network performance helps ensure that these SLAs are being met, enabling service providers to deliver the promised quality of service to their customers. If performance falls below the agreed-upon thresholds, monitoring data can be used as evidence for SLA discussions or negotiations.
Capacity Planning: MPLS networks carry various types of traffic, including voice, video, and data. Monitoring helps assess the network's current capacity and utilization levels. By analyzing trends and traffic patterns, administrators can identify potential bottlenecks, plan for network upgrades or expansions, and optimize resource allocation. It enables proactive capacity planning, ensuring that the network can handle current and future traffic demands efficiently.
Performance Optimization: Monitoring data provides valuable insights into network performance metrics, such as latency, packet loss, or throughput. By analyzing this data, administrators can identify areas for improvement and optimize network performance. They can make informed decisions about traffic engineering, Quality of Service (QoS) configurations, and network optimizations to ensure optimal performance and user experience.
Ready to supercharge your MPLS network monitoring? Say goodbye to network mysteries and hello to Obkio! Monitor your MPLS network like a superhero with real-time insights, customizable dashboards, and powerful troubleshooting tools. Don't let network performance woes hold you back—unleash the power of Obkio and conquer your MPLS network challenges today!
14-day free trial of all premium features
Deploy in just 10 minutes
Monitor performance in all key network locations
Measure real-time network metrics
Identify and troubleshoot live network problems
Monitoring MPLS networks presents unique challenges due to the complexity and dynamic nature of these networks. While monitoring is crucial for ensuring optimal performance and troubleshooting network issues, several factors make it a challenging task.
Because of the complexity of MPLS networks, there are some challenges with monitoring them.
Managed Service: Firstly, MPLS Networks are usually hosted by Service Providers in their network, so it's hard to monitor if you don't have the tools available.
Monitoring Isn't Included: Because MPLS is a managed service, many businesses think that monitoring services are included in that service. But, Service Providers don't monitor the performance of MPLS. With MPLS services, there's usually an SLA included in the contract. But Service Providers don't perform SLA monitoring to ensure that SLA is upheld. It's always up to the customer to prove that.
There's No Visibility: When network problems arise, Service Providers may have internal alerts to know if the service is up or down. But, if the performance degrades, there's no trigger unless the customer alerts it themselves. Then when a problem is flagged, the Service Provider will be blind to what is actually happening, since they have no visibility and MPLS networks are so vast.
Lacking Label Visibility: MPLS networks encapsulate packets with labels, making it difficult to directly monitor the IP traffic within the labels. Traditional monitoring tools may not have visibility into the encapsulated packets, which limits the ability to analyze and monitor traffic flows accurately. Specialized monitoring solutions that support MPLS protocols and can extract and analyze label information are required.
Distributed Nature: MPLS networks often span multiple locations and involve interconnected routers and links. Monitoring such distributed networks requires a centralized monitoring system capable of collecting and analyzing data from various network points. Coordinating monitoring across multiple locations and managing the sheer volume of monitoring data can be challenging.
Multi-Vendor Environments: MPLS networks often consist of equipment and routers from different vendors, each with its own proprietary monitoring protocols and tools. Coordinating and integrating monitoring across multiple vendors' equipment can be complex and may require using compatible monitoring solutions or relying on standard monitoring protocols like SNMP (Simple Network Management Protocol).
Quality of Service (QoS) Monitoring: MPLS networks commonly implement QoS mechanisms to prioritize certain types of traffic or meet specific performance requirements. Monitoring QoS parameters such as latency, jitter, and bandwidth allocation is crucial for ensuring service level agreements (SLAs) and maintaining a satisfactory user experience. However, monitoring QoS in MPLS networks often requires specialized tools capable of extracting and analyzing QoS-related information.
Because of this, it's up to businesses to implement their own MPLS monitoring to get the visibility they need of their MPLS network to identify issues, troubleshoot internally, or get support from their Service Providers if the problem is on their end. Here's how:
When it comes to monitoring MPLS networks, Network Monitoring tools are the way to go. They're like the trusty sidekicks of network administrators, providing superpowers for managing and protecting these complex networks.
A network monitoring tool is essential for monitoring MPLS networks because it provides visibility into network performance, detects faults, optimizes performance, aids in capacity planning, enhances security monitoring, and ensures compliance.
It collects data from network devices and interfaces, allowing administrators to analyze traffic, troubleshoot issues, and optimize resources. With a monitoring tool, administrators can detect faults, identify the root cause of problems, and take proactive measures to maintain network health.
It also helps in optimizing network performance, planning for capacity upgrades, and ensuring adherence to SLAs and regulatory requirements. Overall, a network monitoring tool is a crucial component for effective MPLS network monitoring and management.
Now, let's get into how to deploy network monitoring for MPLS networks!
To accurately and proactively monitor your MPLS service, you need to continuously monitor every end of your network. To do so, you need to understand the design of a MPLS network to know what to monitor. When monitoring your MPLS network, you're going to adapt your monitoring setup to the design of your MPLS.
There are several different types of MPLS network topologies, including:
Full Mesh Topology: In a full mesh topology, every router is connected to every other router in the network. This type of topology is suitable for large networks and provides maximum reliability, as traffic can be routed through multiple paths in the case of a network failure.
Point-to-Point (P2P) Topology: In a P2P topology, each router has a direct connection to every other router in the network. This type of topology is suitable for small networks.
Star Topology: In a star topology, all routers are connected to a central hub. Traffic is routed through the hub and then out to the other routers. This type of topology is suitable for large networks.
Hierarchical Topology: In a hierarchical topology, the network is divided into several levels, with routers at each level responsible for routing traffic to a specific portion of the network. This type of topology is used in large, complex networks.
In general, MPLS networks can be more complex to monitor than traditional IP networks due to the additional layer of abstraction introduced by the MPLS label switching technology. However, with the right tools and techniques, you can get the level of visibility needed to monitor and troubleshoot MPLS networks.
To monitor MPLS, you need a tool like Obkio Network Performance Monitoring software, which is designed for MPLS network monitoring.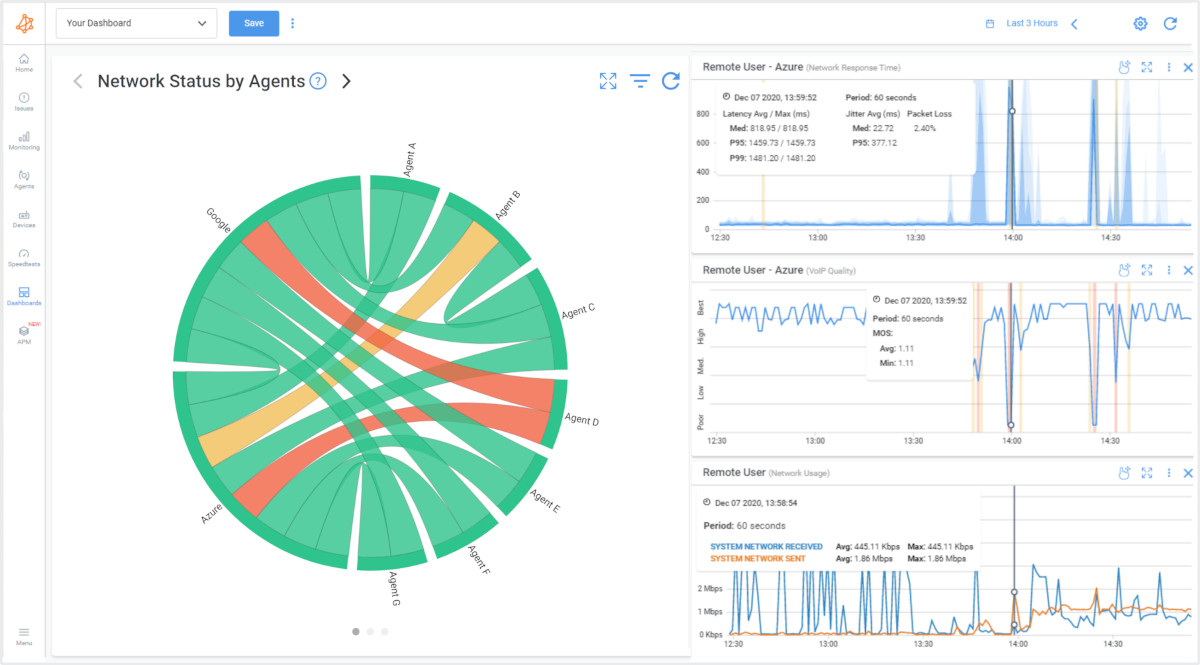 An MPLS Network Monitoring tool like Obkio, uses Network Monitoring Agents deployed at key network locations, which exchange synthetic traffic between them to monitor key network performance metrics, such as packet loss, latency, and jitter to identify performance issues and ensure that network resources are being used efficiently.
MPLS monitoring also monitors network utilization, traffic patterns, and QoS, and uses SNMP to monitor network devices and identify bandwidth congestion.
This way you can identify:
If your MPLS network is performing as promised
If it isn't, what problems are affecting your MPLS network
Are the problems happening in your Local Network or Service Provider Network
Who is responsible for troubleshooting
To achieve the level depth required to monitor MPLS networks, you need to install Network Monitoring Agents in all the network locations that you want to monitor. These agents act as eyes and ears on the ground, collecting data directly from the network devices and interfaces within each location.
By deploying Network Monitoring Agents strategically throughout your MPLS network, you gain visibility into the performance and behavior of individual network segments. These agents monitor key metrics such as latency, packet loss, and throughput, providing granular insights into the health and performance of each segment, including
Head office
Remote offices
Branch offices
Data centers
To know exactly where to deploy your Agents, you need to understand your MPLS design (as stated earlier). Monitoring Templates will also help you identify where to deploy your Agents.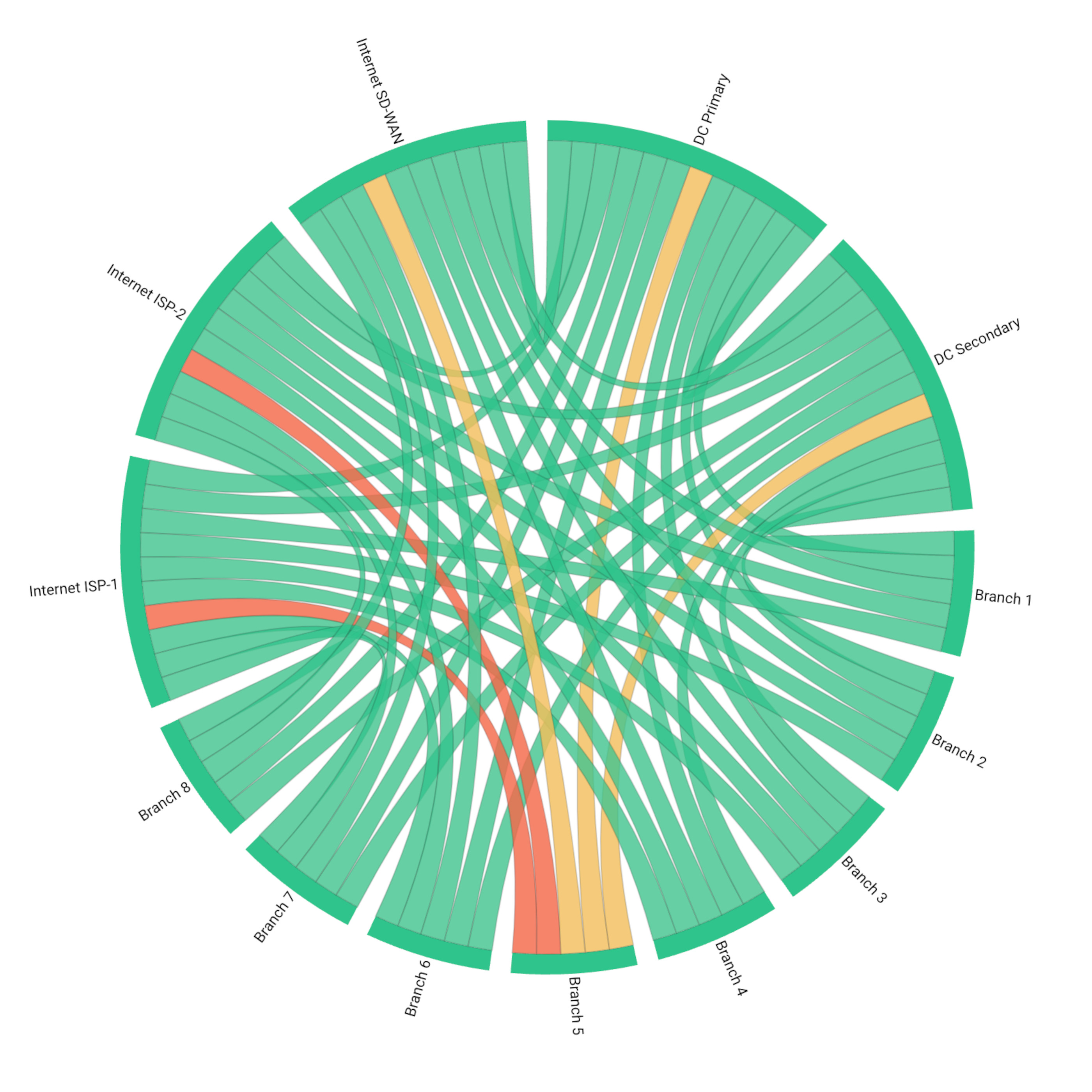 Essentially, for MPLS, you'll want to install your Monitoring Agents in the customer LAN, behind the MPLS Customer Edge Router (CE), to monitor your MPLS network performance from the end-user point of view. This way you can proactively identify network problems before your actual users even experience them.
When monitoring an MPLS network, it is important to cover various components and aspects to ensure comprehensive visibility and effective management. Here are some key parts of an MPLS network that should be monitored:
Core Routers: Monitor the core routers within the MPLS network. These routers handle the majority of traffic and are critical for the network's overall performance. Monitoring core routers provides insights into their health, utilization, and potential bottlenecks.
Edge Routers: Edge routers play a crucial role in connecting the MPLS network to external networks or customer sites. Monitoring edge routers helps identify any connectivity issues, traffic congestion, or performance degradation at network entry or exit points.
MPLS Label Switched Paths (LSPs): LSPs are the paths that MPLS traffic takes through the network. Monitoring LSPs allows administrators to track the performance, latency, and packet loss of specific traffic flows within the MPLS network. It helps ensure that traffic is being efficiently routed and that QoS requirements are being met.
Traffic Flows: Monitor different types of traffic flows within the MPLS network, such as voice, video, and data. Analyzing traffic patterns and measuring performance metrics, like latency and jitter, for each flow provides insights into the behavior and quality of specific applications or services.
Service Level Agreements (SLAs): If the MPLS network provides services to customers, it is important to monitor the network's performance against the defined SLAs. Monitor key metrics specified in the SLAs, such as guaranteed bandwidth, latency thresholds, and availability, to ensure compliance and deliver a high-quality experience to customers.
Quality of Service (QoS): Monitor QoS mechanisms implemented within the MPLS network, such as traffic prioritization or bandwidth allocation. This helps verify that QoS policies are being applied correctly and that critical applications or services receive the desired level of performance and resources.
MPLS Networks and Private Networks alike are used to transport various types of applications like Voice over IP (VoIP), Video Conferencing (ex: GotoMeeting, Zoom, Webex), Unified Communications (ex: Skype for Business) and Collaboration (ex: Microsoft Teams).
As mentioned above, MPLS networks are prone to experience network congestion. And the applications listed above are very sensitive to issues like network congestion.
When monitoring MPLS, it's important to implement QoS (Quality of Service) to prioritize some traffic on the network in order to reduce latency, jitter and packet loss. In case of network congestion, QoS features ensure that performance sensitive applications can function without any degradation and that only less critical applications (such as web browsing) are impacted.
QoS needs to be configured end-to-end, and you need to ensure it's done correctly on every connection.
For Example: if your business is monitoring two offices, QoS needs to be configured in between those two. Additionally, A Network Monitoring tool, like Obkio, can check if the DSCP configurations are done correctly for all those connections. If there is retagging of the DSCP codes in between, Obkio can detect them.
So why do you need to active QoS monitoring? Let's delve into the importance of QoS monitoring for MPLS networks and discover how it empowers administrators to maintain a high-quality and efficient network environment.
QoS monitoring is important for MPLS networks due to the following reasons:
Performance Verification: QoS monitoring allows network administrators to verify whether the implemented QoS policies and mechanisms are functioning as intended. By monitoring QoS parameters such as latency, packet loss, and jitter, administrators can assess if the desired levels of service are being achieved. It helps ensure that traffic is prioritized correctly, bandwidth allocations are accurate, and service level agreements (SLAs) are being met.
Troubleshooting and Issue Resolution: QoS monitoring provides valuable insights when troubleshooting network performance issues. By monitoring QoS metrics in real-time or analyzing historical data, administrators can identify potential bottlenecks, congestion points, or misconfigurations that may be impacting the QoS of specific traffic flows. It enables them to pinpoint the root cause of performance issues and take appropriate corrective actions to restore optimal network performance.
Compliance and SLA Management: QoS monitoring plays a vital role in ensuring compliance with SLAs and managing service level expectations. By monitoring QoS parameters and performance metrics, administrators can validate that the agreed-upon QoS requirements are being met. This information can be used for SLA reporting, demonstrating compliance to customers or stakeholders, and addressing any potential SLA violations or discrepancies.
Capacity Planning and Optimization: QoS monitoring helps in capacity planning and optimizing network resources. By monitoring QoS metrics and analyzing traffic patterns, administrators can identify trends and anticipate future capacity requirements. This information enables effective resource allocation, traffic engineering, and capacity upgrades to maintain desired QoS levels as the network grows or experiences changing traffic demands.
User Experience and Customer Satisfaction: QoS monitoring directly impacts the user experience and customer satisfaction. By monitoring QoS parameters relevant to applications or services critical to end-users, administrators can ensure that the expected quality and performance levels are consistently maintained. It helps prevent service degradation, improve application response times, reduce latency, and deliver a smooth and satisfactory user experience.
Proactive Network Performance Management: QoS monitoring allows for proactive network performance management and problem prevention. By continuously monitoring QoS metrics, administrators can identify performance trends, patterns, or deviations from normal behavior. This enables them to detect potential issues before they escalate, take preventive actions, and optimize QoS settings to maintain a high level of network performance and availability.
Monitoring key QoS parameters allows administrators to ensure that traffic is appropriately classified, prioritized, and delivered according to defined policies. Here are some important QoS parameters to monitor and their impact on traffic prioritization:
DSCP values are used to classify and prioritize IP packets within an MPLS network. They are embedded in the IP header and define the desired QoS treatment for the packet. Monitoring DSCP values allows administrators to ensure that packets are classified correctly and receive the appropriate level of service based on their assigned DSCP markings. Different DSCP values represent different levels of priority or treatment, allowing for granular control over traffic prioritization.
For example, real-time applications like voice or video conferencing might be assigned a higher DSCP value, indicating a higher priority for minimal delay and jitter. On the other hand, bulk data transfers or non-latency-sensitive traffic might be assigned a lower DSCP value, indicating a lower priority.
CoS markings are used to classify and prioritize traffic at Layer 2 in MPLS networks. CoS values are typically applied to Ethernet frames using 802.1Q tagging. Similar to DSCP values, CoS markings enable the classification and differentiation of traffic based on priority. Monitoring CoS markings ensures that traffic is properly classified at Layer 2 and receives the appropriate treatment throughout the MPLS network.
CoS markings can be mapped to specific DSCP values, allowing for consistency between Layer 2 and Layer 3 QoS mechanisms. By monitoring CoS markings, administrators can validate that traffic is correctly classified at the ingress points of the MPLS network and that subsequent routers and switches handle the traffic according to the assigned CoS markings.
QoS mechanisms, such as traffic prioritization and queuing, play a significant role in managing congestion and ensuring optimal performance in MPLS networks. Monitoring these mechanisms helps administrators verify that traffic is appropriately prioritized and queued based on the assigned DSCP or CoS values.
Traffic prioritization techniques, such as strict priority queuing or weighted fair queuing, allow higher-priority traffic to be transmitted ahead of lower-priority traffic during periods of congestion. Monitoring these mechanisms helps ensure that critical traffic receives the necessary bandwidth and quality of service, preventing performance degradation for latency-sensitive applications.
Monitoring congestion management and policing mechanisms is essential to maintain network performance and prevent congestion-related issues. Congestion management techniques, such as Random Early Detection (RED) or Weighted Random Early Detection (WRED), help control and manage congestion by selectively dropping or marking packets when network queues approach their capacity.
Policing mechanisms, such as rate limiting or traffic shaping, enforce traffic contract compliance by limiting or shaping the rate of incoming or outgoing traffic. Monitoring these mechanisms allows administrators to verify that congestion management and policing policies are effectively controlling traffic flows and preventing congestion-related performance degradation.
The way to monitor and measure MPLS network performance is to measure key network metrics. These metrics will help you understand if your MPLS performance is degrading. Your Network Monitoring solution will continuously monitor performance between all your network locations to and measure metrics like: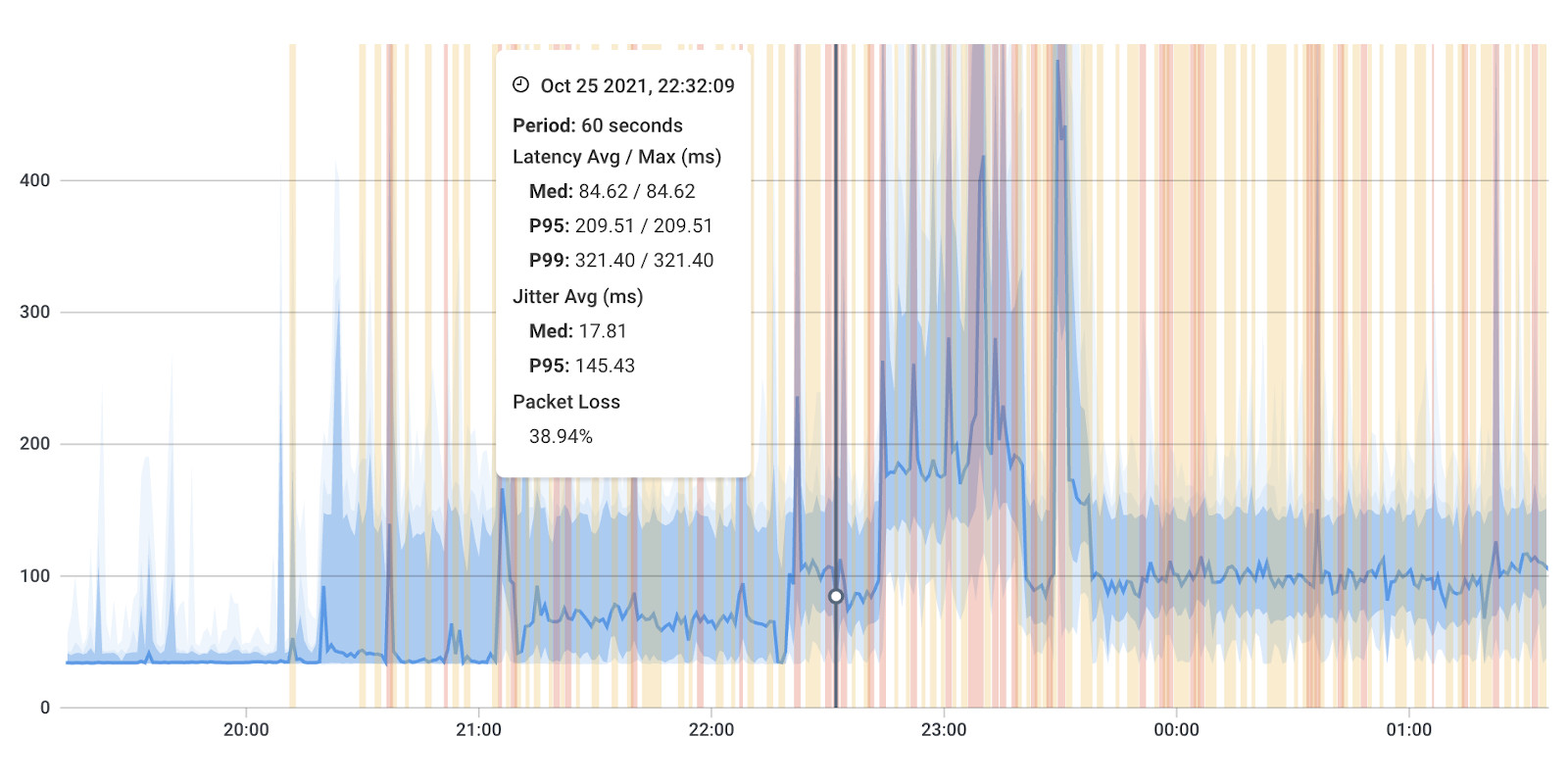 Latency: Latency measures the time it takes for data packets to travel from the source to the destination. Monitoring latency helps assess the responsiveness of the network and identify any delays that might impact application performance or user experience.
Jitter: Jitter refers to the variation in packet delay, which can cause disruptions in real-time applications such as voice or video. Monitoring jitter helps assess the stability and predictability of packet delivery, ensuring smooth and consistent performance for time-sensitive applications.
Packet Loss: Packet loss refers to the percentage of packets that are lost or discarded during transmission. Monitoring packet loss helps identify potential network congestion, quality issues, or misconfigurations that could impact data integrity and application performance.
Throughput: Throughput measures the amount of data that can be transmitted over the network within a given time period. Monitoring throughput helps ensure that the network is capable of handling the expected data volume and supports the required bandwidth for different traffic types.
Bandwidth Utilization: Monitoring bandwidth utilization provides insights into the level of network congestion and resource usage. It helps identify potential bottlenecks, capacity limitations, or underutilized links, enabling administrators to optimize network resources and ensure efficient utilization.
Network Availability: Network availability measures the uptime and accessibility of the network. Monitoring network availability helps identify any disruptions, outages, or downtime events that may impact connectivity and overall network performance.
Quality of Service (QoS) Parameters: QoS parameters, such as Differentiated Services Code Point (DSCP) values or Class of Service (CoS) markings, should be monitored to ensure that traffic is correctly classified and prioritized according to QoS policies. Monitoring QoS parameters helps verify that the network is providing the intended levels of service for different traffic types.
Routing Protocol Metrics: If dynamic routing protocols, such as OSPF or BGP, are used within the MPLS network, monitoring routing protocol metrics is crucial. Monitoring metrics like route convergence time, route flapping, or route stability helps ensure proper routing functionality and efficient network operation.
In addition to measuring the usual metrics mentioned, for an MPLS network you also need to monitor DSCP Propagation. That means that you need to monitor latency, jitter, packet loss per Class of Service.
Think of Class of Service like different lines to get into a bar: There's the normal line, and then there's the VIP line. It's important to calculate metrics for every Class of Service and every line, but there may be some metrics that are more important than others for certain applications.
For Example: For VoIP and UC applications there is a very low tolerance for packet loss, therefore the traffic through those applications should be prioritized and fast-tracked through the "VIP" line. Actions like emailing and file transfer have a high tolerance for performance issues, and therefore have a low priority and can go through the "regular" line.
Finally, when monitoring your MPLS network, you can leverage SNMP Device Monitoring to identify if network problems are happening in your local network, on your network devices.
Network devices, such as routers, switches, and firewalls, play a critical role in the functioning of MPLS networks. Monitoring these devices provides valuable insights into their health, performance, and configuration, which are essential for maintaining the overall network integrity.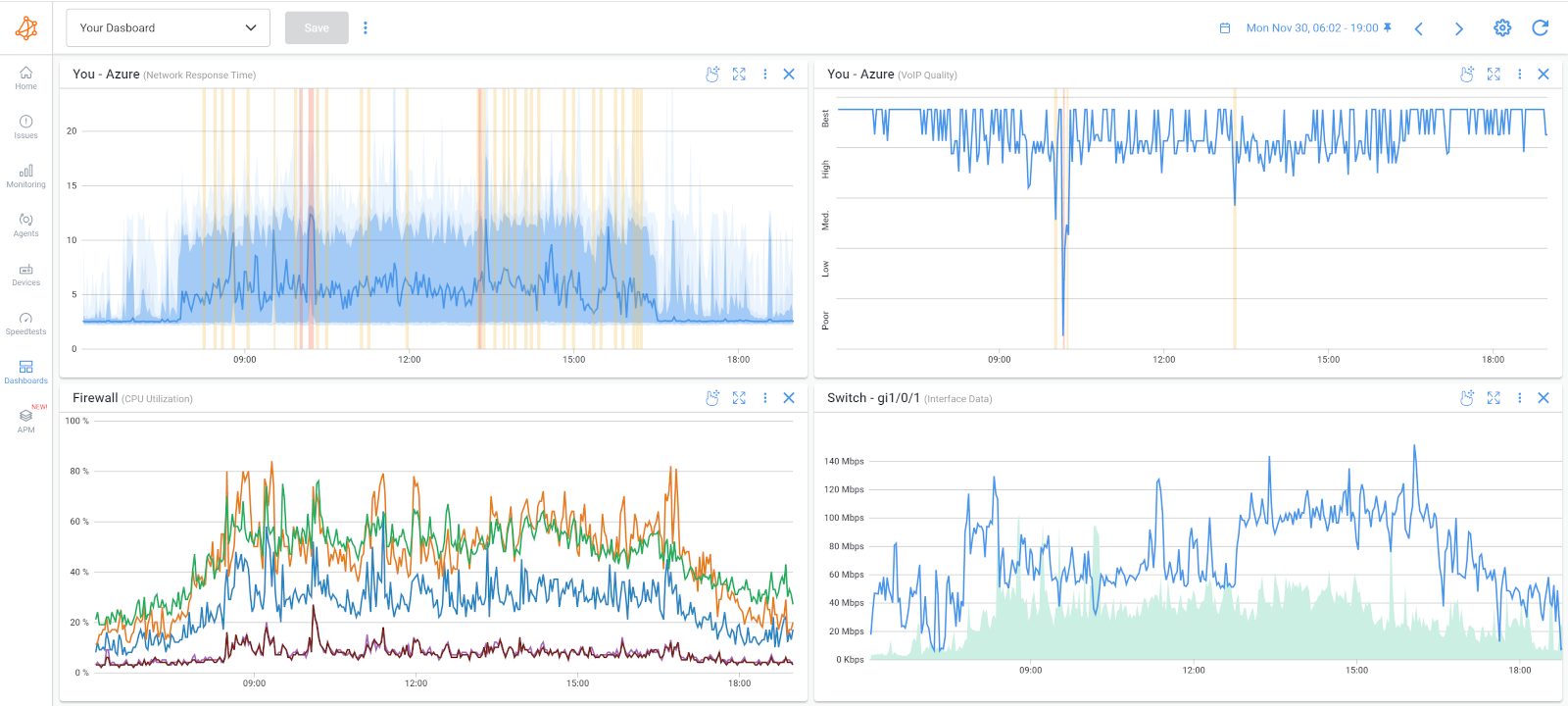 Obkio Network Deivice Monitoring graphs
Use Obkio's Network Device Monitoring feature with SNMP Polling from your end, to monitor key MPLS network devices and metrics such as:
Core Routers: Core routers are critical components of an MPLS network as they handle the majority of traffic and play a crucial role in routing and forwarding data. Monitoring core routers allows administrators to ensure their health, performance, and availability. Key metrics to monitor include CPU utilization, memory usage, interface statistics, and routing protocol information.
Edge Routers: Edge routers connect the MPLS network to external networks or customer sites. Monitoring edge routers helps administrators identify connectivity issues, monitor traffic entering or exiting the MPLS network, and ensure the proper functioning of routing protocols. Key metrics to monitor include interface status, traffic throughput, routing information, and security-related events.
Switches: Switches are responsible for local traffic distribution within the MPLS network. Monitoring switches helps administrators ensure their performance, availability, and proper VLAN configuration. Key metrics to monitor include interface utilization, error rates, switch health, and VLAN configuration consistency.
Firewalls: Firewalls provide network security by controlling access and monitoring traffic flow. Monitoring firewalls is crucial to detect and prevent unauthorized access attempts, track security events, and ensure the effectiveness of security policies. Key metrics to monitor include security logs, firewall rules, intrusion detection system (IDS) alerts, and VPN tunnel status.
Load Balancers: Load balancers distribute network traffic across multiple servers or links, optimizing resource utilization and improving performance. Monitoring load balancers helps administrators ensure proper load balancing functionality, monitor traffic distribution, and detect any performance issues or failures. Key metrics to monitor include server health, traffic distribution, and load balancer performance.
Network Probes/Analyzers: Network probes or analyzers capture and analyze network traffic for troubleshooting, performance monitoring, and security analysis. These devices provide deep visibility into network packets and help administrators diagnose issues, identify bottlenecks, and optimize network performance. Key metrics to monitor include packet-level information, application performance metrics, and protocol analysis.
MPLS Label Switch Routers (LSRs): MPLS LSRs are responsible for forwarding MPLS-labeled packets within the network. Monitoring MPLS LSRs helps administrators ensure proper label switching functionality, monitor label distribution, and track MPLS traffic flows. Key metrics to monitor include label information, LSR health, traffic forwarding, and label switch path (LSP) statistics.
Once you've deployed your MPLS monitoring setup, you can really understand if your MPLS service is performing like your Service Provider promised. But remember, it's up to your business to identify performance degradation and proactively identify network problems that can affect your business.
Install more Monitoring Agents in all your network locations, and keep Obkio as your permanent MPLS monitoring tool!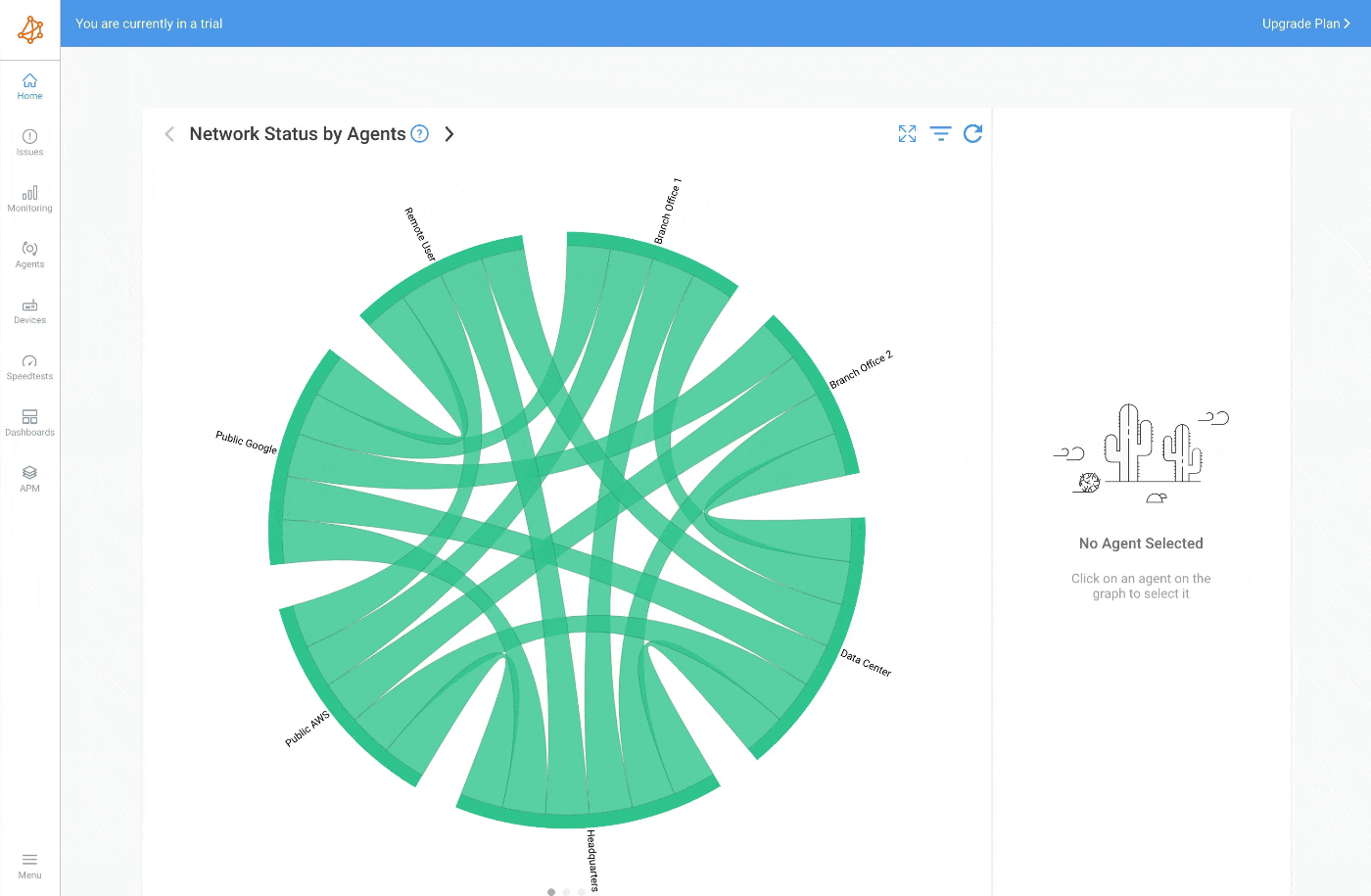 Continuously monitoring MPLS network performance allows you to proactively detect and troubleshoot any MPLS issues to ensure that your MPLS network operates reliably and optimally.
Like any network technology, MPLS networks can encounter various problems that can impact network performance and user experience. Before we get to how to monitor, let's briefly go over some common problems that can occur in MPLS networks:
MPLS networks often implement Quality of Service (QoS) mechanisms to ensure that different types of traffic receive appropriate levels of service and prioritization. QoS is essential for maintaining the performance and reliability of the network, especially for applications that have specific requirements for latency, jitter, and bandwidth.
However, MPLS problems can arise in MPLS networks when QoS is not properly configured or managed due to:
Misclassified Traffic: If traffic is misclassified, it may receive incorrect QoS treatment. For example, real-time applications like VoIP or video conferencing might be misclassified as lower-priority traffic, leading to poor call quality or video buffering.
Bandwidth Mismanagement: If bandwidth is not properly allocated, critical applications might suffer from delays and congestion, while low-priority traffic could consume more resources than intended.
Inadequate Shaping: If traffic shaping is not correctly configured, it might lead to excessive buffering, latency, and uneven utilization of network resources.
Lack of Monitoring: Without proper QoS monitoring, network administrators might not be aware of potential issues. This could result in performance degradation going unnoticed until it starts affecting user experience.
High traffic loads can lead to network congestion within MPLS networks, causing delays, packet loss, and reduced overall network performance. When this happens, it's important to ensure that QoS and prioritization is done correctly. When the lowest priority apps are congestion, they don't affect the highest priority application.
Packet loss happens when network devices are unable to forward packets due to factors like congestion, buffer overflow, or faulty hardware. Packet loss can disrupt real-time applications like VoIP and video conferencing. Monitoring tools can help identify and address packet loss issues, and QoS settings can be adjusted to give priority to sensitive traffic.
How to Measure Packet Loss for Data Lost in Transmission
How to measure packet loss with Obkio's Network & Packet Loss Monitoring tool. Check for packet loss in your network & read packet loss measurements.
Learn more
In an MPLS network, links between network devices (routers or switches) are essential for routing and forwarding data. When a link fails, the affected devices may become unreachable, causing disruptions in traffic flow and potentially leading to network outages. These failures can impact the connectivity of users and services that rely on the MPLS network.
Redundancy, fast convergence mechanisms, and technologies like MPLS Fast Reroute are critical components of network design to ensure that the impact of link failures is minimized, and the network can continue to deliver reliable and uninterrupted service to users and applications.
Route instability involves frequent changes in routing paths due to routing protocol updates or misconfigurations. This can lead to suboptimal routing decisions and impact network performance. Careful route planning, route filtering, and route dampening techniques can help mitigate route instability issues.
MPLS networks can be vulnerable to attacks, including Distributed Denial of Service (DDoS) and route hijacking. Implementing Virtual Private Networks (VPNs) over MPLS, using encryption for sensitive data, and deploying firewalls and intrusion detection systems can enhance network security.
One of the huge disadvantages of MPLS is the price related to the speed of the service. As MPLS networks grow and traffic levels increase, there can be budgetary limitations when upgrading and scaling up the service. But if you don't upgrade your service, the increased levels of traffic can cause network congestion issues.
MPLS networks can be impacted by various types of network failures, including hardware failures, software failures, and network outages. MPLS networks are usually used for a large number of sites, so with a huge number of sites, it's not about if you're going to have an issue, but more about when and how you're going to react when it does happen.
MPLS networks are highly configurable. The retaging of DSCP codes by an MPLS equipment or errors in the configuration of routers, switches, and other network devices can result in incorrect routing, degraded performance, and connectivity issues. Even if just 1 piece of network equipment is misconfigured, it can have an impact on the entirety of the service.
When connecting MPLS networks from different service providers or using different equipment, interoperability issues can arise. Standards-based implementations and thorough testing between different network components can help ensure smooth interoperability.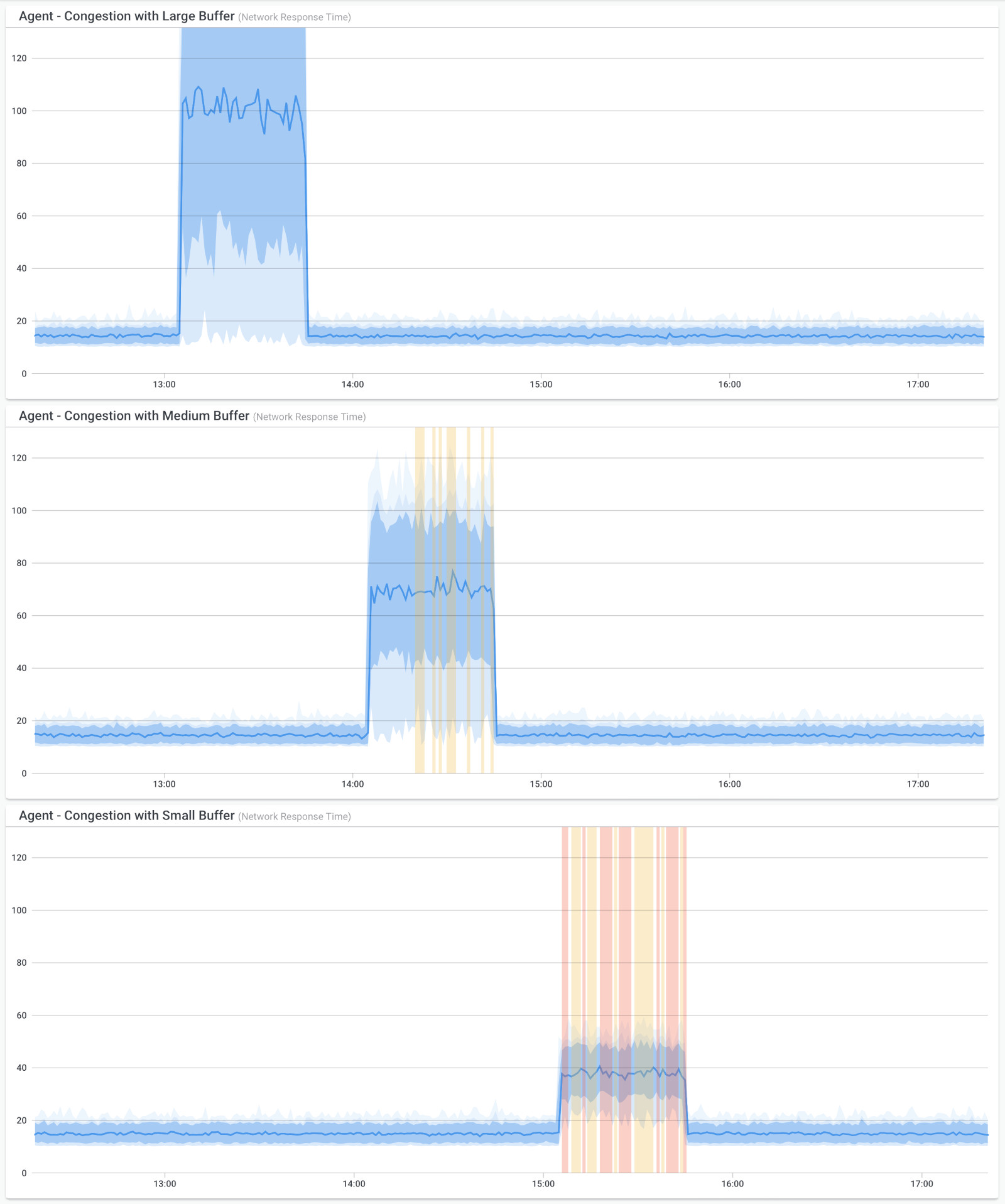 Obkio Network Monitoring graphs showing network congestion
With this MPLS monitoring setup, you know have everything you need to monitor the performance of your MPLS network to identify and troubleshoot issues plaguing your network!
MPLS networks, despite their benefits, can occasionally encounter issues that affect their performance and reliability. Troubleshooting these issues requires a systematic approach and utilization of network monitoring data to identify and resolve problems effectively.
Gather Network Monitoring Data: Network monitoring tools play a crucial role in troubleshooting MPLS network issues. Collect and analyze data from your monitoring tool to gain insights into network performance metrics, traffic patterns, and anomalies. Monitor key metrics such as latency, packet loss, throughput, and MPLS-specific metrics like LSP status and MPLS label distribution. This data provides a baseline for comparison, helps identify deviations from normal behavior, and assists in pinpointing the root cause of the issue.

Analyze Network Path and Routing: MPLS issues can arise due to problems in the network path or routing. Utilize tools like traceroute or visual traceroutes to examine the network path and identify any unexpected or suboptimal routes. Analyze routing tables, MPLS labels, and routing protocol information to ensure proper forwarding and label switching. Compare the actual network path with the expected path to identify any discrepancies that could be causing performance or connectivity issues.

Check MPLS Label Distribution: Verify the distribution and proper functioning of MPLS labels throughout the network. Inconsistent or incorrect label distribution can lead to packet drops, misrouting, or improper traffic handling. Monitor MPLS label status, label switch paths (LSPs), and label distribution protocols to ensure labels are assigned and switched correctly at each hop. Any discrepancies or label-related issues should be investigated and rectified.

Review QoS Configuration: Quality of Service (QoS) settings are essential in MPLS networks to prioritize traffic and ensure optimal performance for critical applications. Review your QoS configuration, including DiffServ Code Point (DSCP) values, Class of Service (CoS) markings, and traffic engineering parameters. Misconfigured or ineffective QoS policies can result in improper traffic prioritization, congestion, or underutilization of network resources. Ensure that QoS policies align with your network requirements and business priorities.
If you encounter an MPLS issue within your business network, device monitoring becomes a valuable tool for troubleshooting. Device monitoring provides real-time data on the health and performance of your network devices, including routers, switches, and firewalls. By analyzing the data collected from device monitoring, you can identify potential issues or anomalies within your network infrastructure.
For example, high CPU or memory utilization on a router could indicate a network bottleneck, or interface errors on a switch could suggest connectivity problems.
Using this information, you can investigate further into the affected devices, their configurations, and traffic patterns to pinpoint the root cause of the MPLS issue. Device monitoring allows you to have visibility into your own network environment and take appropriate corrective actions to resolve the problem efficiently.
If the MPLS issue lies within your Service Provider's network, you may need to collaborate with them to troubleshoot and resolve the problem. In such cases, device monitoring alone might not provide sufficient visibility into the Service Provider's network infrastructure. This is where Obkio Vision Visual Traceroutes come into play.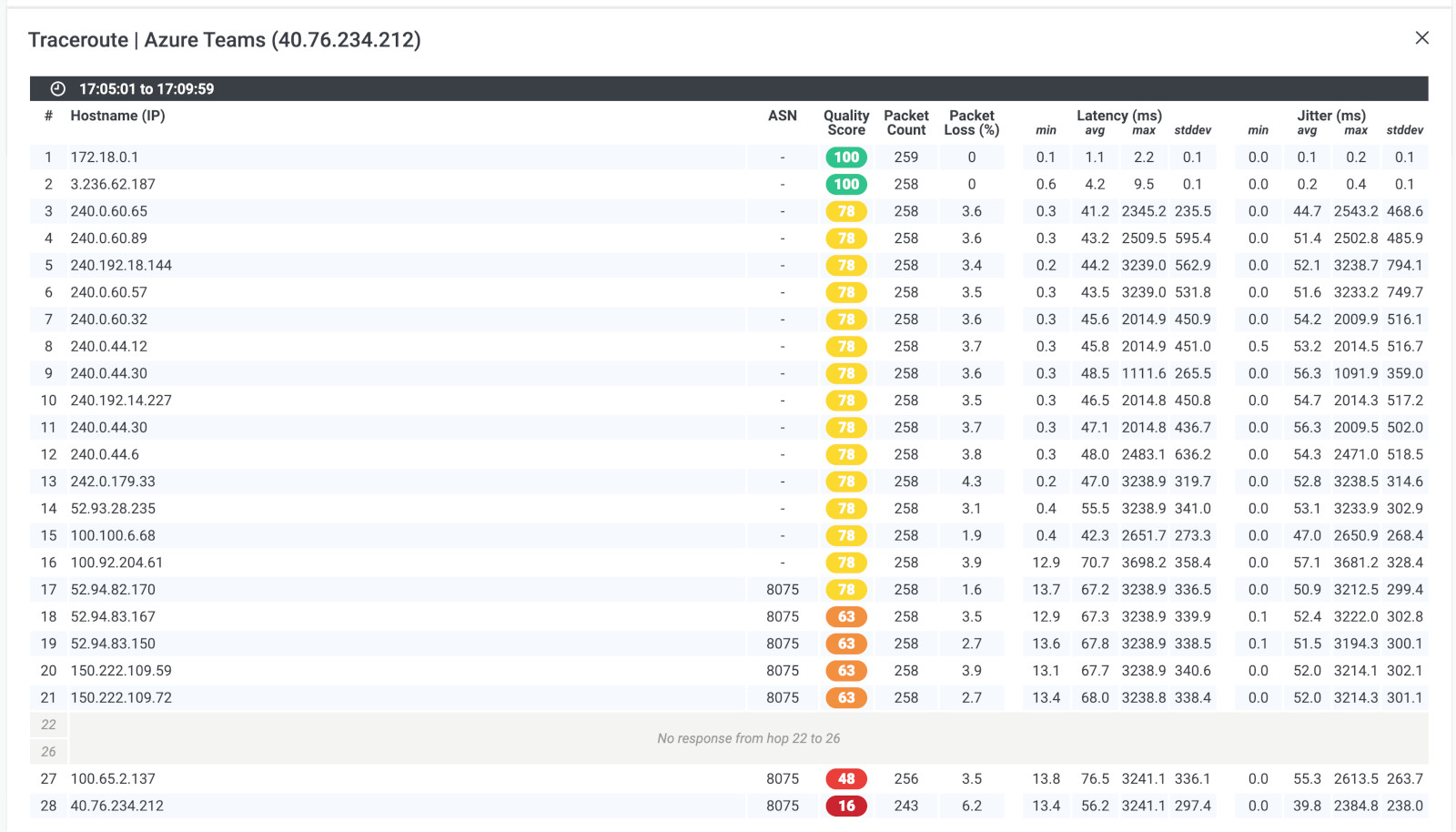 Obkio Vision Visual Traceroutes
Obkio Vision Visual Traceroutes allow you to perform traceroute tests from different locations within your network to specific destinations, including external IP addresses within your Service Provider's network. By running these visual traceroutes, you can collect detailed network path information and identify the specific hops or network segments where issues might be occurring.
The visual traceroutes provide valuable insights into the latency, packet loss, and route deviations encountered along the path. This data can be shared with your Service Provider to provide them with a clear understanding of the network behavior and help them troubleshoot the issue on their end. By sharing this information, you give your Service Provider the visibility they need to investigate and address any MPLS-related problems within their network infrastructure.
Share Monitoring Data and Insights: Utilize the monitoring data and insights gathered from your network monitoring tools to share relevant information with your Service Provider. This data provides valuable visibility into the behavior and performance of your MPLS network. Share performance metrics, latency measurements, MPLS label distribution information, and any anomalies or patterns observed in the monitoring data. Collaboratively analyzing this information helps both parties gain a comprehensive understanding of the issue and accelerate the troubleshooting process.
Provide Detailed Information on Affected MPLS Paths: When reporting an MPLS issue to your Service Provider, provide specific details about the affected MPLS paths or Label Switched Paths (LSPs). Include information such as ingress and egress points, intermediate hops, and any associated labels or routing protocols. This level of detail helps the Service Provider narrow down their investigation and focus on the specific segment of the MPLS network where the problem may reside.
Monitor Service Level Agreements (SLAs): If your organization has a Service Level Agreement (SLA) with the Service Provider, monitor the SLA parameters and ensure compliance. SLA monitoring is important to track the agreed-upon performance targets, response times, and resolution times. If the MPLS network performance falls below the specified thresholds, communicate with your Service Provider to ensure the necessary actions are taken to meet the SLA requirements.
Collaborating with your Service Provider using data from Obkio Vision Visual Traceroutes enhances troubleshooting efficiency and accelerates the resolution of MPLS issues. It promotes effective communication between your organization and the Service Provider, allowing for a more targeted and collaborative approach to problem-solving.
How To: SLA Monitoring & Reporting: Are You Getting What You Paid For?
Learn about SLA monitoring & reporting using Network Monitoring to measure network, service performance, user experience & understand if SLAs are being met.
Learn more
Are you planning to switch from MPLS to SD-WAN?
If you currently have an MPLS network but are planning to migrate to SD-WAN, you may have concerns about monitoring and managing the performance of your new network architecture. But, with Obkio's Network Monitoring solution, you can rest assured that your transition will be smooth, because Obkio monitors SD-WAN networks too!
Obkio's Network Monitoring is a versatile solution that supports different network types and architectures, including MPLS and SD-WAN. Whether you are still running an MPLS network or you'be already migrated to SD-WAN, Obkio's monitoring solution provides the visibility and insights you need to ensure optimal performance and reliability.
How to Monitor SD-WAN Networks: Mastering SD-WAN Network Monitoring
Learn how to monitor SD-WAN networks with Network Monitoring to get complete visibility over your SD-WAN service and identify SD-WAN issues.
Learn more
If you're planning to migrate to SD-WAN, make sure to deploy Obkio now to monitor your MPLS to SD-WAN migration!
Ensure there are no issues prior to the migration
Identify issues during the migration
Compare performance of the previous MPLS network with the new SD-WAN network
Understand if your new SD-WAN network is meeting the SLA
Using Obkio's Network Monitoring for your SD-WAN migration is the ability to compare the performance of your new SD-WAN infrastructure with your previous MPLS network. This comparative analysis can help you assess the impact of the transition, identify any performance gaps or improvements, and ensure that your SD-WAN network is delivering the expected performance levels.
How to Monitor MPLS to SD-WAN Migrations
Learn how to monitor MPLS to SD-WAN migrations before, during & after.Identify issues & compare performance and ensure a smooth migration.
Learn more
So, if you're planning to migrate from an MPLS network to SD-WAN, Obkio's Network Monitoring has you covered! With its support for both MPLS and SD-WAN architectures, you can confidently transition to SD-WAN while maintaining the ability to monitor and manage the performance of your network.
Obkio's solution empowers you to make data-driven decisions, troubleshoot issues efficiently, and ensure the success of your SD-WAN deployment.
Monitoring MPLS networks is essential for maintaining optimal performance, ensuring service level agreements (SLAs), and troubleshooting network issues promptly. By implementing a comprehensive network monitoring strategy, organizations can gain valuable insights into their MPLS infrastructure, proactively detect problems, and deliver a seamless user experience.
Monitoring MPLS networks is not just a best practice, but a necessity for organizations that rely on MPLS for their critical business operations. By investing in a comprehensive network monitoring solution like Obkio, organizations can proactively address network issues, ensure the highest quality of service, and deliver a superior network experience to their users.
Ready to supercharge your MPLS network monitoring?
Don't let your MPLS network be a black box—take control with powerful monitoring tools and unlock the full potential of your network infrastructure. Start monitoring your MPLS network with Obkio today and empower your organization with network visibility, performance optimization, and peace of mind.
Remember, a well-monitored MPLS network is a resilient and high-performing network. Stay proactive, stay informed, and stay ahead of any network challenges that may come your way.
And become the hero of your network!
14-day free trial of all premium features
Deploy in just 10 minutes
Monitor performance in all key network locations
Measure real-time network metrics
Identify and troubleshoot live network problems
These might interest you