Table of Contents
Welcome, brave adventurer! Are you ready to embark on a journey through the mysterious and ever-evolving world of Viptela network monitoring?
With its powerful tools and advanced metrics, Viptela offers a wealth of information and insights to help you keep your network running smoothly and securely. But to truly master these tools and unlock their full potential, you'll need to be willing to explore, experiment, and learn as you go.
So grab your map, sharpen your skills, and get ready for an epic adventure into the heart of Viptela's network monitoring tools! While we'll be focusing on SD-WAN specifically, many of the concepts and best practices we'll cover apply to a wide range of network monitoring use cases.
Knowing the ins and outs of your Viptela SD-WAN network is crucial to ensuring optimal performance and reliability.
Your network's architecture is like a wild jungle, full of various components that can impact performance - from the underlay and overlay to the LAN and last mile. And don't forget about Firewall as a Service (FWaaS), which creates additional communication paths that may require support from your Service Provider.
To navigate this jungle successfully and optimize your Viptela SD-WAN performance, you need a deep understanding of your network's anatomy. This will help you identify potential performance issues and deploy an effective monitoring solution that covers all network components.
Check out the image below to see a SD-WAN network site communicating with a Data Center, Head Office, or IaaS. As you journey deeper into the world of SD-WAN architecture, be aware of potential issues lurking in every corner: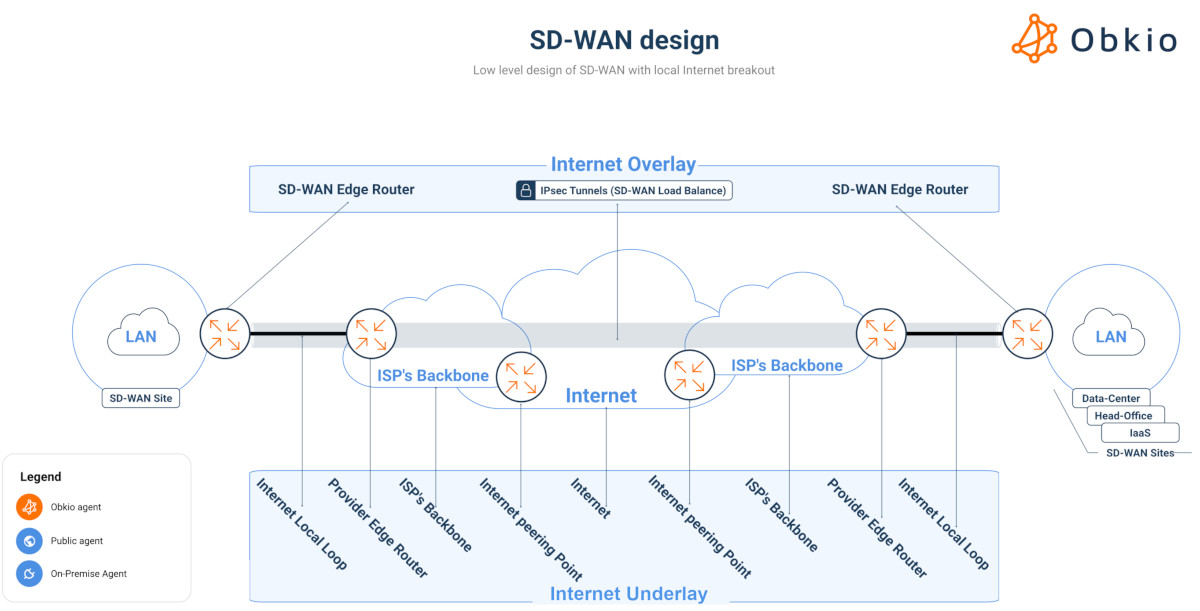 The Underlay: Just like the foundation of a building, issues with the underlay can cause major issues for your SD-WAN network.
The Internet: As the main mode of communication, issues with the internet can really impact performance.
Internet Local Loop: Like a traffic jam on a highway, congestion here can cause delays.
Internet Provider's Edge Router: When things get backed up here, your network can grind to a halt.
ISP Backbone: Issues with your Internet Service Provider's backbone can cause headaches for your SD-WAN network.
ISP Peering Point: Where your ISP connects with other ISPs can also cause issues.
Internet VPN IPSec: VPNs between your site and ZScaler (Firewall As A Service) can cause communication problems.
But that's not all - issues can also come from the overlay, the LAN, the last mile, and even Firewall As A Service (FWaaS). The last mile, in particular, can be a real headache for companies using SD-WAN, with 80% experiencing performance issues.
If you're using FWaaS, you may also need to open a support ticket with your Service Provider to resolve any issues. It's a lot to keep track of, but with the right monitoring solution, you can stay on top of it all and ensure your SD-WAN network is performing at its best! So gear up and get ready to conquer the jungle of network architecture.
In our previous discussion, we learned how Viptela SD-WAN can help maintain a high-performing network for your business. But even with SD-WAN in place, it's crucial to have a monitoring strategy to ensure everything is shipshape.
Without monitoring, you could miss critical issues that could impact your network's performance and cause costly downtime. That's why Viptela network monitoring is essential for your business. Let's explore some of the reasons why:
Real-time visibility: With Viptela network monitoring, you can see what's happening on your network in real-time, allowing you to quickly identify and troubleshoot issues as they arise.
Proactive issue detection: A network monitoring tool can detect potential issues before they become major problems, minimizing downtime and ensuring that your network stays afloat.
Increased network performance: Viptela network monitoring can help you identify bottlenecks and other performance issues, allowing you to optimize your network for maximum performance.
Improved network security: A network monitoring tool can help you detect security threats and vulnerabilities, allowing you to take action before they can cause damage.
Enhanced network management: With a network monitoring tool, you can easily manage your Viptela network, monitor device health and status, and get detailed analytics and reporting.
Cost savings: By proactively detecting and addressing network issues, you can minimize downtime and save money on costly repairs and replacements.
Scalability: Viptela network monitoring tools are designed to scale with your network, so you can easily monitor and manage even large, complex networks.
Compliance: A network monitoring tool can help you ensure that your network is compliant with industry regulations and standards, avoiding costly fines and penalties.
Overall, implementing a tool for Viptela network monitoring can provide numerous benefits for your business, from improved performance and security to cost savings and compliance. So batten down the hatches and get ready to sail the high seas of Viptela network monitoring with confidence!
7 Reasons Why a Dedicated Network Monitoring Tool is Essential for Your Viptela Network Monitoring Needs
While some SD-WAN services have integrated monitoring features, they may not be enough to keep your network ship sailing smoothly. Instead, consider using a dedicated network monitoring tool that's tailor-made for SD-WAN environments. Here's why:
End-to-End Visibility: Unlike built-in monitoring, a dedicated tool provides end-to-end visibility, monitoring not only the edge routers but also the LAN, which is critical for a complete picture of your network's health.
Vendor Neutrality: If you use the same monitoring tool as your SD-WAN vendor, you may miss out on monitoring other network devices and services. A dedicated tool provides vendor neutrality, giving you a complete view of your network performance.
Comprehensive Visibility: A dedicated tool can provide a comprehensive view of your network traffic, security, and performance across virtual, physical, and cloud environments, as well as multiple carriers and service providers.
Customization: A dedicated tool offers more customization options than general-purpose monitoring tools, allowing you to tailor the monitoring tool to your specific SD-WAN environment and business needs.
Proactive Monitoring: With a dedicated tool, you can proactively monitor and receive alerts for potential network issues, allowing you to resolve them before they become major problems.
Integration: A dedicated tool can often integrate with other SD-WAN management tools, providing a comprehensive solution for managing your SD-WAN environment.
Scalability: A dedicated tool can scale to meet the needs of large and complex SD-WAN environments, allowing you to monitor thousands of devices and millions of flows.
So, if you want to keep your network ship sailing smoothly, consider using a dedicated network monitoring tool designed specifically for SD-WAN environments. Happy sailing!
Optimize Your Viptela SD-WAN Network Monitoring with Obkio: A Comprehensive, User-Friendly, and Vendor-Neutral Solution
Are you ready to embark on a new adventure to optimize your Viptela SD-WAN network performance? Look no further than Obkio!
Obkio is a comprehensive and easy-to-use network monitoring solution that offers end-to-end visibility into your network performance. One of its unique features is its vendor neutrality, which allows you to monitor any network devices and services (using SNMP) beyond those included in the Viptela SD-WAN solution. This flexibility provides a complete view of your network, ensuring that you never miss an issue.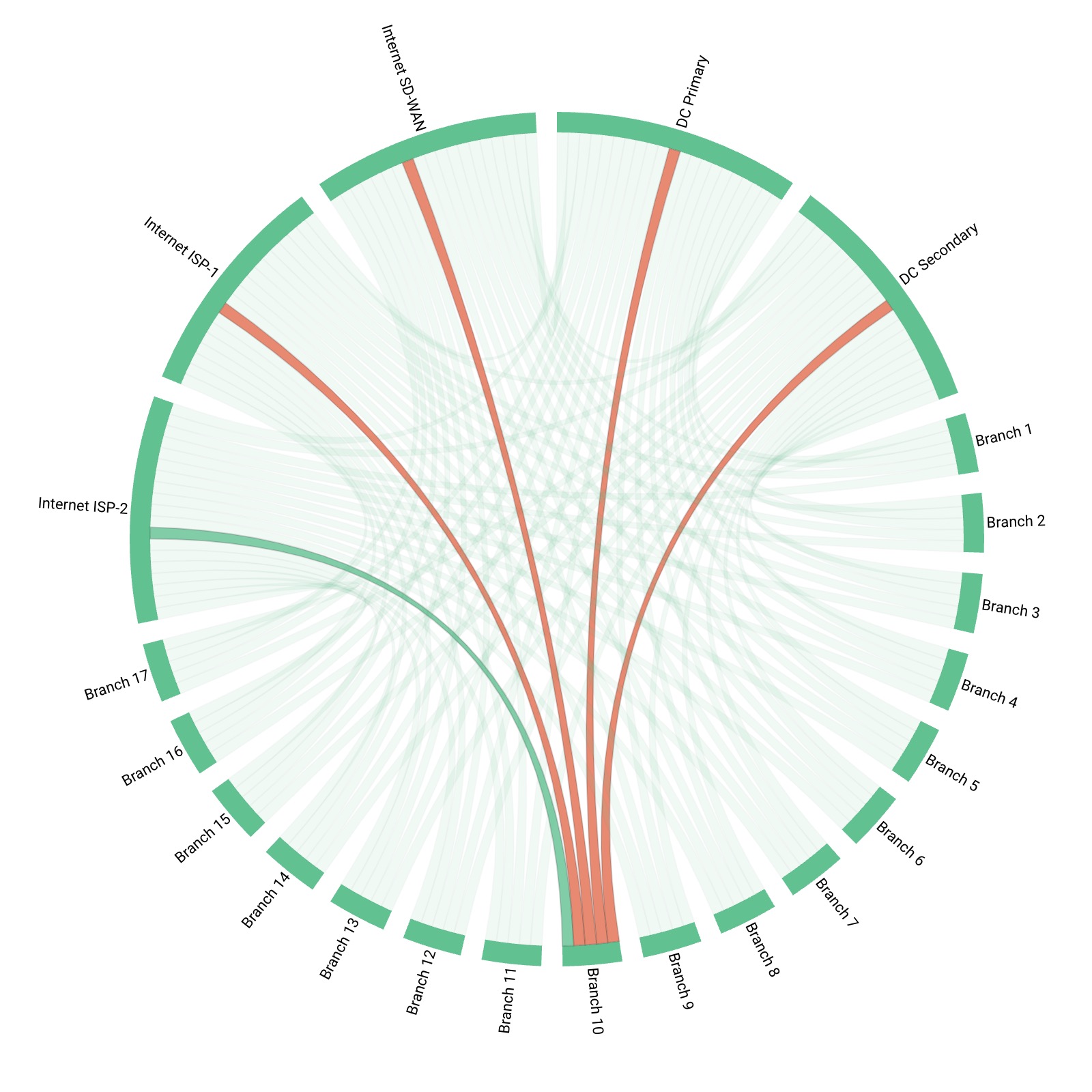 With automated network testing and alerts, Obkio helps IT professionals identify and resolve issues quickly, keeping your network performance running smoothly. The tool's extensive documentation makes it easy to use and understand, even for those new to network monitoring.
Obkio also offers flexible and affordable pricing plans, making it an excellent choice for any Viptela SD-WAN monitoring strategy.
In summary, Obkio is a user-friendly, vendor-neutral solution that provides end-to-end visibility, automated testing and alerts, accessible documentation, and flexible pricing plans to help you optimize your Viptela SD-WAN network performance. So grab your gear and get ready to embark on an adventure with Obkio!
Ready to take your Viptela SD-WAN network performance to the next level?. Don't let any issues dim the light on your network performance - try Obkio's SD-WAN monitoring solution today and see the full picture of your network's potential. Sign up for a free trial now and shine a light on your network's performance!
14-day free trial of all premium features
Deploy in just 10 minutes
Monitor performance in all key network locations
Measure real-time network metrics
Identify and troubleshoot live network problems
As a savvy adventurer, you know that maintaining a high-performing network is essential for any business. In many cases, using network monitoring software can be a valuable tool to help you achieve this goal. Here are a few scenarios where network monitoring software can be particularly useful:
Network Troubleshooting: With network monitoring software, you can proactively monitor network performance, identify potential issues, and address them before they become major problems. This can help minimize downtime and ensure optimal network performance.
Network Migration: When migrating to a new network environment, having network monitoring software in place can help ensure a smooth transition. By providing real-time visibility into network performance, network monitoring software can help you quickly identify and troubleshoot issues that arise during the migration process.
Capacity Planning: Network monitoring software can help you optimize network performance by providing insights into network traffic, bandwidth usage, and application performance. This can help you make informed decisions about network usage and capacity, improving efficiency and productivity.
Security: Network monitoring software can provide comprehensive visibility into network security, allowing you to identify and respond to security threats in real-time. This is particularly important for businesses that handle sensitive data, as it can help prevent data breaches and protect against cyberattacks.
Compliance: For businesses in regulated industries such as healthcare and finance, network monitoring software can be essential for meeting regulatory compliance requirements. By monitoring network activity and keeping detailed logs, you can ensure that your business is in compliance with relevant regulations.
By using network monitoring software, you can optimize network performance, enhance security, improve efficiency and productivity, meet regulatory requirements, and reduce costs. Whether you're troubleshooting network issues, planning for capacity, or ensuring regulatory compliance, network monitoring software can help you stay on top of your network performance and maximize your business potential. So pack your gear and set off on your network monitoring adventure today!
Stay Ahead of the Game: Proactively Troubleshoot SD-WAN Issues with Obkio's Network Performance Monitoring Software
Follow our complete guide about SD-Wan Troubleshooting.
SD-WAN Troubleshooting: How to Troubleshoot SD-WAN Networks
Learn how to troubleshoot SD-WAN issues using Obkio Network Monitoring software and key SD-WAN troubleshooting steps.
Learn more
Here is a quick summary:
In this section, we'll explore the steps to troubleshoot SD-WAN network issues so you can keep your network sailing smoothly. But first, let's understand where SD-WAN issues may arise.
SD-WAN issues can occur in the underlay, overlay, or LAN, and may include problems such as bandwidth congestion, device misconfigurations, high CPU usage, and even human errors. To monitor your SD-WAN network's performance, you need end-to-end visibility of your ISP network and the internet it relies on to ensure optimal performance.
Enter Obkio's Network Performance Monitoring software, which provides valuable end-to-end performance monitoring and automatic alerts, including the Chord Diagram feature for identifying issues.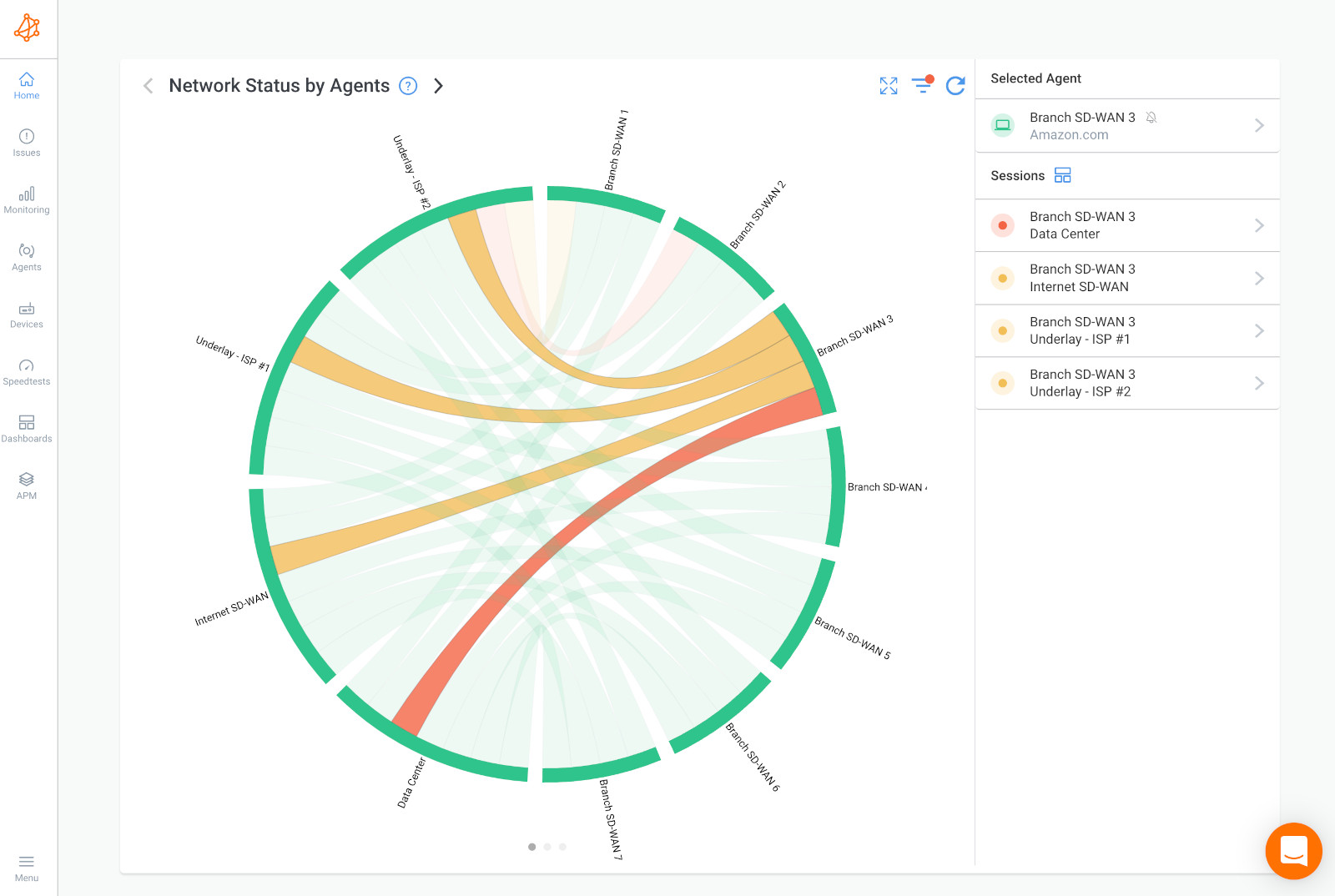 Obkio Chord Diagram
When troubleshooting SD-WAN network issues, the first step is to pinpoint the problem and analyze the data to find the root cause using traceroutes. Obkio's Dashboard and Visual Traceroute tools can assist with data analysis and root cause identification.

Obkio Vision Quality Matrix

Obkio Vision Network Map
Once you've identified the issue and its root cause, take action to implement a solution. If the issue is on your ISP's side, reach out to their technical support. If the problem is on your end, consider prioritizing traffic in your firewall, upgrading your internet connection, or upgrading your devices to larger ones.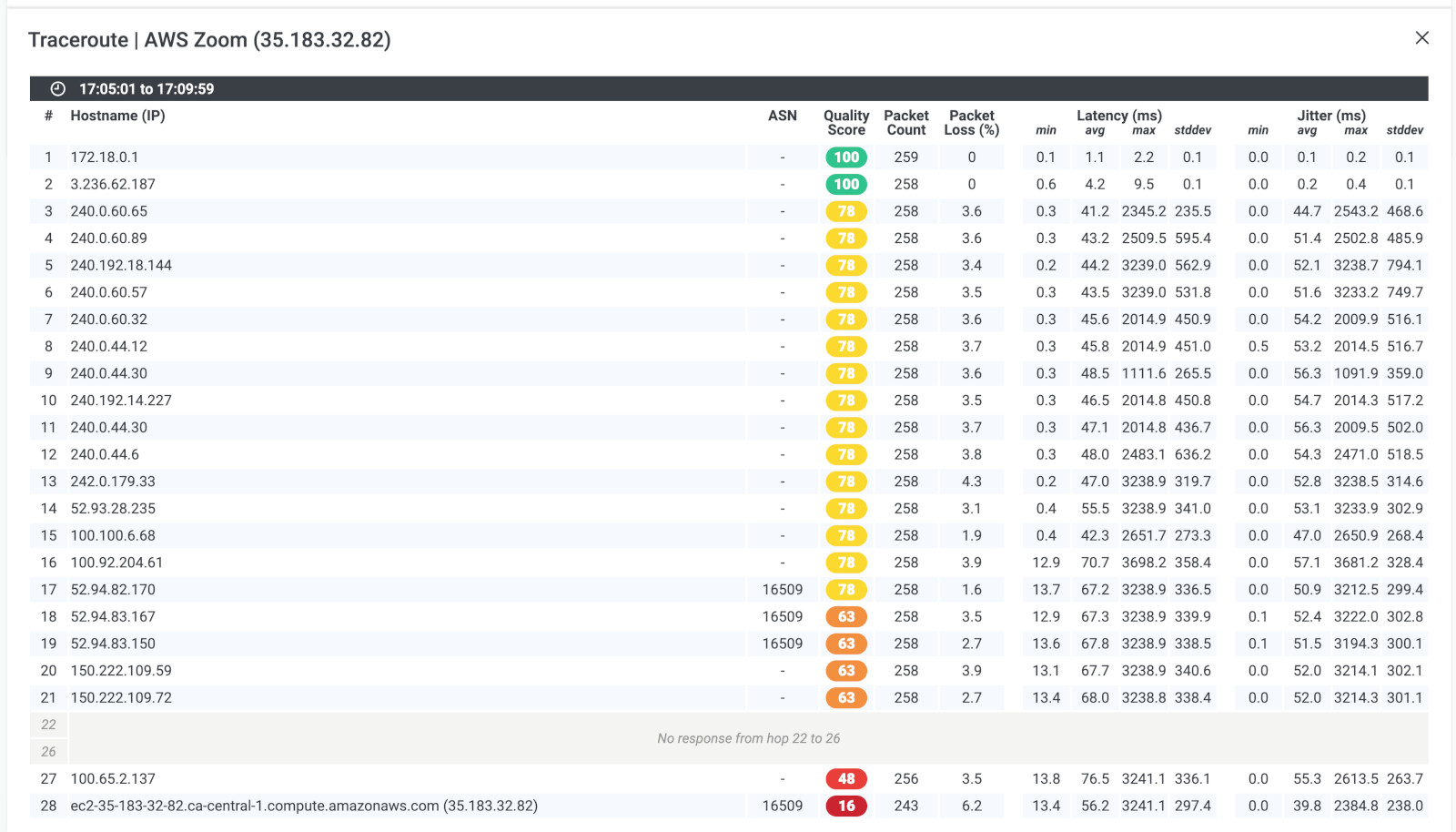 Obkio Vision Traceroutes
By following these steps and using the right tools, you can proactively solve SD-WAN issues before they affect user experience. With Obkio's Network Performance Monitoring software, you can ensure optimal SD-WAN performance and identify and resolve issues quickly and efficiently.
As an adventurer, you now have the knowledge and tools to navigate the challenges of managing an SD-WAN network. To ensure optimal performance, it's essential to have the right tools in place.
Obkio Network Performance Monitoring software is the key to unlocking the full potential of your SD-WAN network. With Obkio's visual tools and network monitoring agents, troubleshooting issues such as defective cables, bandwidth congestion, and human errors is a breeze.
Don't let network problems hold you back on your adventure. Try Obkio's Network Performance Monitoring software with a free trial today and experience the difference for yourself. With Obkio, you can sit back, relax, and watch as your SD-WAN network runs smoothly and efficiently. So, what are you waiting for? Get started on your network monitoring adventure today!
I hope those gave you a good laugh!
These might interest you