Network Diagnostics with Obkio: Webinar Recap
In Summary
In our on-demand webinar, Obkio's network pros go over our network diagnostics process of how to locate and troubleshoot live network issues faster with Obkio network performance monitoring vs. traditional monitoring solutions. Networks are changing, and monitoring solutions need to keep up.
For those unfamiliar with the difference between Traditional Fault Monitoring tools and Network Monitoring, or the theory behind Network Diagnostics and Network Troubleshooting, check out our other articles in the series:
Network Diagnostics with Obkio (this article)
Nowadays, networks are more and more complex than ever. Users work from everywhere, the applications they consume are distributed in the cloud, and the network flows between users and applications are increasingly numerous and decentralized.
Intermittent network issues can come from anywhere, and can cause choppy VoIP Quality, jerky video calls, and network and application slowness issues. These issues can affect your business in drastic ways and make the network diagnostic process (identifying and troubleshooting these issues), more difficult.
From working with telcos in the past, Obkio's founders noticed a lot of finger-pointing between clients, teclos, and Service Providers (SaaS applications, VoIP, UC) when problems arose.
No one could truly identify where network problems were coming from, and who was responsible for fixing them. That's because the traditional monitoring tools they were using were no longer working for their modern networks.
Most traditional monitoring tools only really focused on the state of network devices (like firewalls, switches, and routers) and not truly on the performance of the network.
Therefore, they weren't really designed to identify intermittent network problems. They only let you know if your network device was up or down (if there's a network outage).
Additionally, traditional network tools were generally centralized, and therefore aren't able to monitordecentralized network infrastructures, which are now larger and more distributed than ever before.
Worst of all, traditional monitoring tools are very complex and difficult to use and most network admins just don't have the expertise to use these tools. Not to mention that those that are qualified in networks are usually specialized in LANs but not WANs.
Obkio's Network Performance Monitoring software was born from a need within the industry to simplify network performance monitoring for modern, decentralized networks.
Obkio was designed to monitor all network types (SD-WAN, MPLS, LAN, WAN L@ et L3 VPN) from one end of the network to the other (from WAN to LAN).
When monitoring network performance, Obkio always monitors performance between two points (branch, data center), using synthetic traffic (no packet capture required) and Monitoring Agents.
When performing a network diagnostic, this allows you to continuously monitor network performance from the end-user perspective to identify live network issues as soon as they happen. Here's how!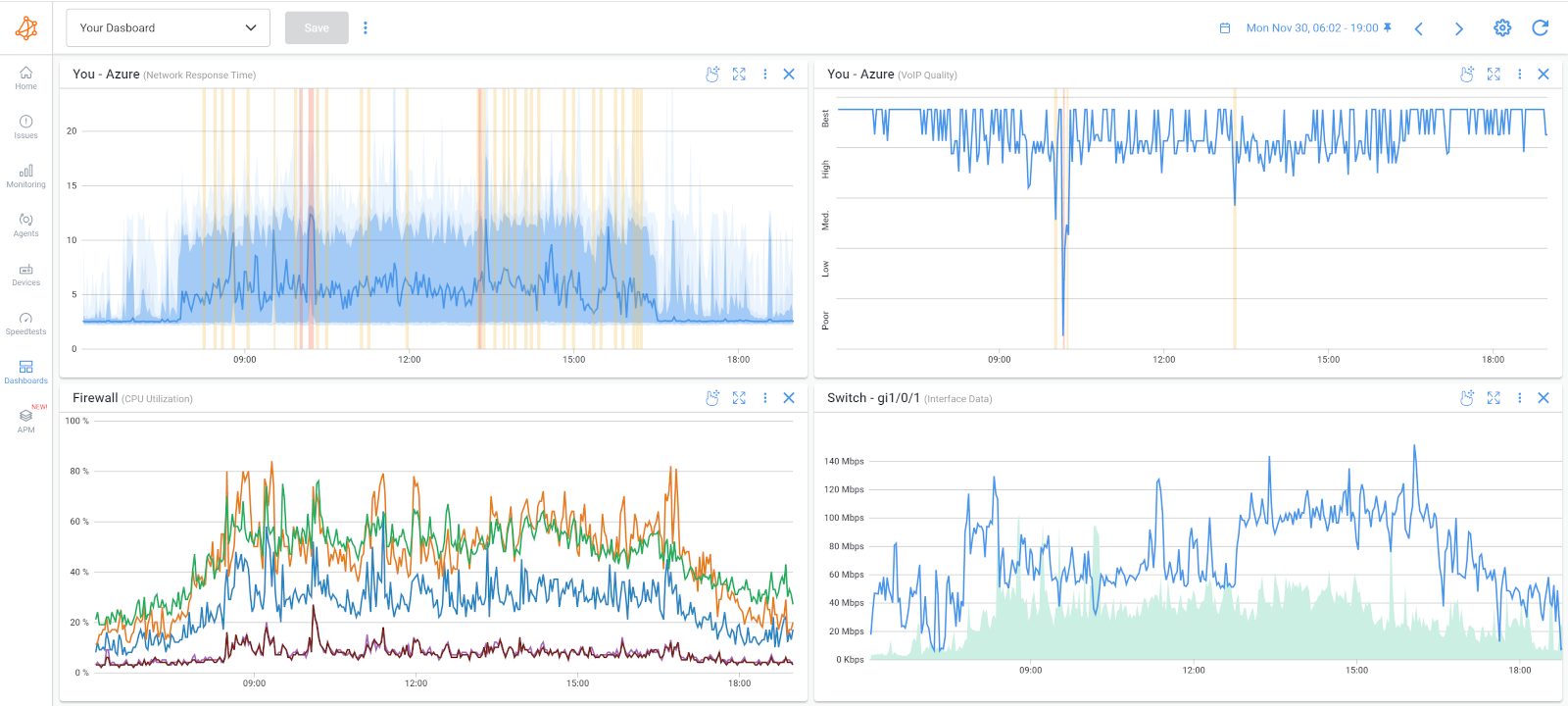 To begin your network diagnostic process, you need to identify live network issues happening anywhere in your network. This means that you need to monitor your whole network, from end-to-end.
This includes your head offices, remote branches, data centers, SaaS applications over the Internet, as well as on-premise servers and applications.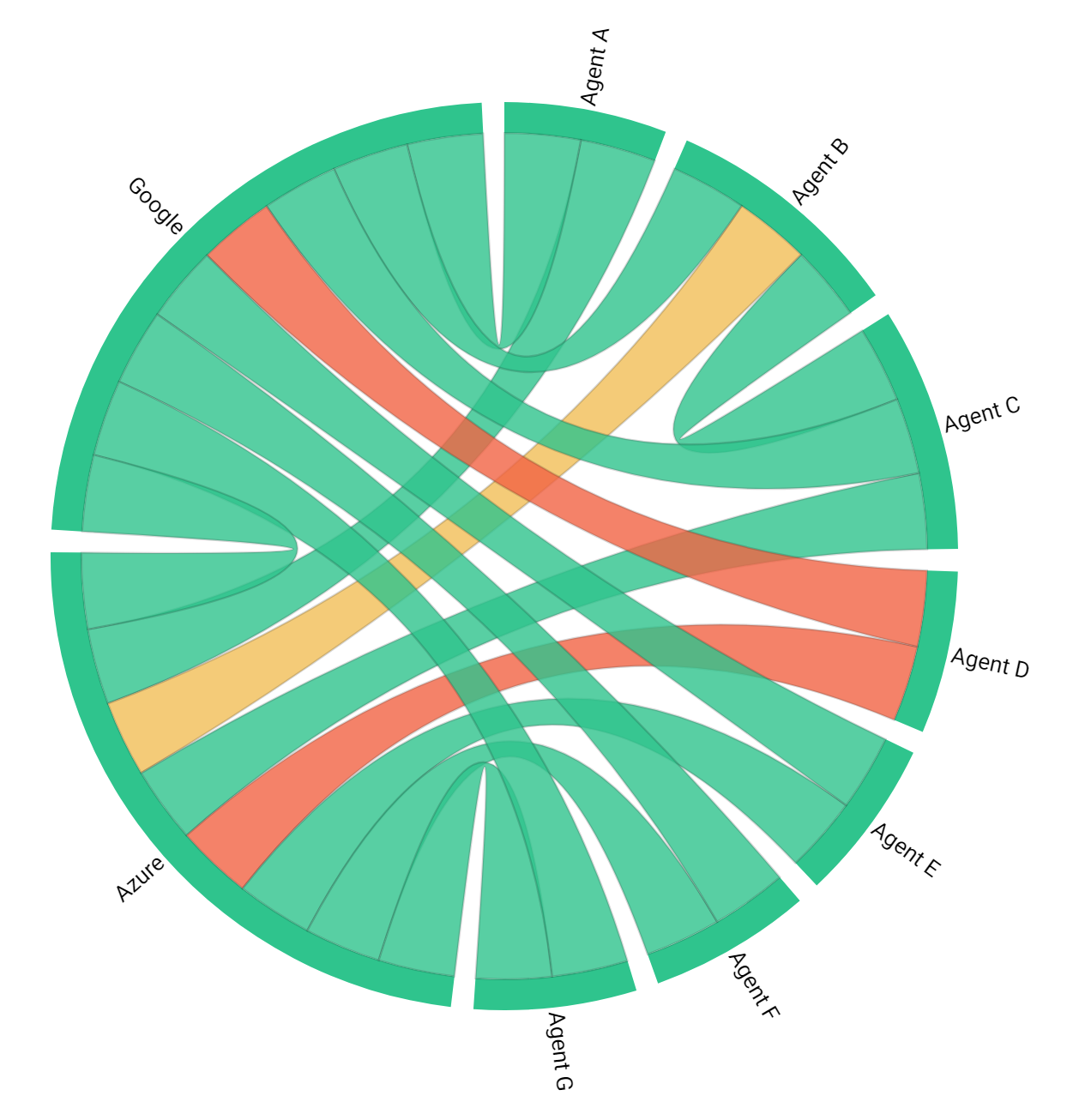 Traditional troubleshooting solutions relied on manually running pings and traceroutes to diagnose network issues. This was usually done every 5 minutes and in ICMP, which had a lot of limitations.
Obkio monitors network performance using Network Monitoring Agents and Monitoring Sessions which monitor network flows in all network locations.
Obkio's Monitoring Agents exchange UDP traffic every 500ms for continuous performance monitoring and even offers advanced traceroutes (like Obkio Vision) which run between every hop to every destination.
This allows you to identify a live network issue before it actually even happens.
Once you've deployed your Network Monitoring and network diagnostics setup, you need to identify when the network issues happened.
With traditional monitoring tools, you would analyze pings to identify a change in the pattern.
With Obkio, you can analyze your network monitoring session in real-time to see a change in your network performance baseline, during a precise moment in time.
You can even pin your time-range to go back in time to identify a network problem from the past using historical data.
Next in the network diagnostic process, you need to identify where on the network path did the network problem occur.
With traditional monitoring tools you would identify this by comparing Traceroutes, probably using notepad++.
With Obkio, you can easily pinpoint and identify where network problems occurred using Obkio Vision, advanced Traceroute feature. Obkio Vision's Network Map shows a visual representation of each network path to their destinations to help pinpoint where network issues are located.

Next is the moment you've all been waiting for: how to troubleshoot the live network issues. First, we'll start with WAN problems, seeing as most network admins are not specialized in WAN problems.
Using traditional monitoring tools, you would generally open a support ticket with your ISP and share the results of pings and traceroutes.
This would generally start an endless ping-pong game with your ISP because it was difficult to get data from both network directions, and therefore difficult to really pinpoint where the problem is.
With Obkio, you can easily share live traceroute results (for live network issues) with your ISP using a public link.
This way, your ISP's network engineers can see the network issue, change the traceroute options and validate that their changes are fixing the issue - without having to communicate with you. In the end, this means a faster time to resolution!
LAN problems are more common for organizations' network admins to troubleshoot, but they can still be frustrating.
Using traditional monitoring tools, you would try to troubleshoot LAN issues by randomly connecting to network equipment to watch logs and KPIs and try to find something wrong. This obviously was a very time-consuming process.
With Obkio, you can watch SNMP polling to identify a change in your baseline performance on your network equipment. If a network device is targeted, connect to the device to view the logs and KPIs of the device to identify the issue.
A. If the network issue has been identified and a fix needs to be applied:
Activate live mode for a specific session
Apply the patch
Validate the impact of the patch
B. If the network issue was not identified:
Add SNMP polling on devices that were not included
Add additional Monitoring Agents to add greater visibility
Add additional Monitoring Sessions
Enable APM tests
Now that you know how to perform a network diagnostic with Obkio (locate and troubleshoot live network issues), and why you should use end-to-end monitoring over traditional monitoring tools, get started with Obkio's Free Trial!
Remember, you can also watch our on-demand webinar on How to Locate and Troubleshoot Live Network Issues.