Table of Contents
Table of Contents
Step into the world of End-to-End Network Monitoring, where the mystical realms of cyberspace converge with the tangible reality of cables and connectors. It's a journey that takes us from the sprawling wilderness of the Wide Area Network (WAN) to the bustling cityscape of the Local Area Network (LAN). Prepare to unlock the secrets of seamless connectivity, as we embark on an adventure to gain unparalleled visibility and control over your network infrastructure.
In this blog post, we'll dive deep into the abyss of bits and bytes, unravelling the mysteries of this powerful technique. So tighten your seatbelts, grab your network toolkit, and let's explore how you can become the ultimate network detective, ensuring smooth operations and undisrupted connectivity across the digital landscape.
Get ready to see your network like never before - from the vast horizons of the WAN to the minute intricacies of the LAN, all through the lens of End-to-End Network Monitoring.
First, let's cover the basics. What exactly is end-to-end network monitoring, and how is it any different than regular network monitoring?
End-to-end network monitoring refers to the practice of monitoring and analyzing network performance and traffic from the source to the destination, covering all components and segments involved in the network path. It involves capturing, analyzing, and interpreting network data to gain insights into the health, availability, and performance of the entire network infrastructure.
In an end-to-end monitoring setup, various monitoring tools and techniques are employed to collect data from different points within the network, including routers, switches, firewalls, servers, and endpoints. These data sources provide information about network traffic, bandwidth utilization, latency, packet loss, error rates, and other relevant metrics.
The goal of end-to-end network monitoring is to ensure optimal network performance, identify and troubleshoot issues, and proactively address potential problems before they impact users or critical business operations. By monitoring the complete network path, organizations can detect bottlenecks, analyze traffic patterns, identify anomalies or security threats, and optimize the network infrastructure for better reliability and performance.
The key aspect of end-to-end network monitoring is that it monitors every single end of your network to give you complete visibility. This is extremely important and beneficial for large, enterprise networks with multiple locations, users, and applications.
End-to-end network monitoring encompasses monitoring various components and segments of a network infrastructure. The specific parts of the network that are monitored can vary depending on the organization's requirements and the scope of monitoring. Here are some common elements and areas that are typically included in end-to-end network monitoring:
Network Devices: This includes routers, switches, firewalls, load balancers, and other networking equipment. Monitoring these devices provides insights into their performance, resource utilization, and overall health.
End-User Experience: Monitoring the end-user experience involves evaluating network performance and service quality as perceived by the end users. This includes measuring factors like application responsiveness, page load times, transaction completion rates, and overall user satisfaction. Techniques such as synthetic transactions, real-user monitoring, and feedback mechanisms can be employed to gather data on user experience. Monitoring the end-user experience helps identify issues that directly impact user productivity or satisfaction, allowing organizations to prioritize improvements and optimize network performance accordingly.
Network Links: Monitoring network links allows organizations to track bandwidth utilization, latency, packet loss, and overall link performance. This includes both local area network (LAN) and wide area network (WAN) links.
LAN Monitoring: Monitoring the Local Area Network, aka LAN monitoring involves observing the network components, connectivity, and performance within a specific location or premises. This includes monitoring switches, routers, LAN segments, and connected devices to ensure optimal performance, low latency, and efficient data transmission within the local network.
WAN Monitoring: Monitoring the Wide Area Network involves monitoring the network infrastructure that spans multiple locations or geographical areas. This includes monitoring network links, routers, and WAN optimization devices to track bandwidth utilization, latency, packet loss, and overall performance of the wide area network connections. WAN monitoring helps identify any bottlenecks, congestion, or issues that may impact data transfer and communication between different sites or branches.
Servers: Monitoring servers is crucial to ensure their availability, performance, and resource usage. This includes monitoring metrics such as CPU utilization, memory usage, disk I/O, and response times.
Endpoints: Endpoints, such as desktops, laptops, and mobile devices, are monitored to gather information about their connectivity, performance, and security status. Endpoint monitoring can involve tracking bandwidth usage, application performance, and security events.
Application Performance: End-to-end network monitoring often involves monitoring the performance of critical applications. This includes tracking response times, transaction rates, error rates, and other application-specific metrics.
Traffic Analysis: Monitoring network traffic provides visibility into the types of traffic traversing the network, including protocols, applications, and sources/destinations. Traffic analysis helps identify patterns, detect anomalies, and optimize network performance.
Security Monitoring: End-to-end network monitoring may also involve security-related monitoring, including intrusion detection, firewall logs, security event correlation, and analysis of network traffic for potential threats.
It's important to note that the specific components and areas monitored can vary based on the organization's needs and the monitoring tools and technologies employed. The goal is to monitor and analyze the entire network path to gain a comprehensive understanding of network performance and address any issues that may arise.
Ready to gain comprehensive insights into your network's performance? Try Obkio for seamless end-to-end network monitoring. Enhance network visibility, detect issues proactively, and optimize performance with the power of Obkio.
14-day free trial of all premium features
Deploy in just 10 minutes
Monitor performance in all key network locations
Measure real-time network metrics
Identify and troubleshoot live network problems
End-to-end network monitoring offers a range of benefits that help organizations ensure optimal network performance, enhance reliability, and improve security. By monitoring the complete network path, from source to destination, organizations can proactively identify and address issues, optimize resource utilization, and make data-driven decisions.
Let's explore the key benefits of end-to-end network monitoring in more detail:
Improved Network Performance: By monitoring the entire network path, organizations can identify bottlenecks, analyze traffic patterns, and proactively address performance issues. This leads to improved network performance, reduced latency, better resource utilization, and enhanced user experience.
Enhanced Network Reliability: End-to-end network monitoring helps detect and address potential issues before they escalate, minimizing downtime and improving network reliability. It enables proactive troubleshooting, early warning of network failures, and faster resolution of network-related problems.
Efficient Problem Identification and Troubleshooting: Comprehensive network monitoring allows for quick identification of network issues, such as packet loss, high latency, or congestion. It provides valuable data for troubleshooting, reducing the time required to pinpoint and resolve problems, resulting in improved network availability and reduced downtime.
Optimal Resource Allocation: Monitoring network traffic and utilization patterns helps organizations make informed decisions regarding resource allocation. It enables capacity planning, identifies underutilized or overutilized network segments, and supports effective resource allocation to optimize network performance and cost efficiency.
Enhanced Security and Threat Detection: End-to-end network monitoring aids in detecting security threats, including unauthorized access, malware, and abnormal traffic patterns. It enables real-time monitoring of security events, network anomalies, and policy violations, enhancing overall network security and facilitating timely incident response.
Effective Compliance and Auditing: Network monitoring plays a crucial role in ensuring compliance with regulatory requirements and industry standards. It provides audit trails, logs, and monitoring data for compliance reporting, demonstrating adherence to security and data privacy regulations.
Data-driven Decision Making: End-to-end network monitoring generates valuable insights and metrics that can be used for data-driven decision-making. It helps IT teams identify trends, analyze historical data, and make informed choices regarding network optimization, infrastructure upgrades, and capacity planning.
Cost Savings: By proactively identifying network issues, optimizing resource utilization, and minimizing downtime, end-to-end network monitoring can result in cost savings. It reduces the need for reactive troubleshooting, prevents costly network disruptions, and allows organizations to make efficient use of their network infrastructure.
Overall, end-to-end network monitoring empowers organizations to maintain reliable and high-performing network infrastructure, improve security, reduce downtime, and make informed decisions based on accurate and real-time network data.
When it comes to choosing the right End-to-End Network Monitoring solution for your business, the tool makes all the difference - because you need a tool that can monitor every end of your network.
Agent-based monitoring provides granular visibility into network devices, servers, and endpoints by deploying monitoring agents directly on those devices. This allows for detailed monitoring and collection of performance data at the device level, providing insights into resource utilization, response times, and application-specific metrics.
Here's how to deploy it!
We recommend an Active, agent-based tool, like Obkio Network Performance Monitoring, to monitor all ends of your network, for all network types! Obkio measures every end of your network, from your LAN to your WAN, using Network Monitoring Agents. You can deploy Agents in all your branch offices, remote locations, data centers, Clouds and over the Internet. It can also support all network types.
SaaS-based: So it can be deployed in 10 minutes and doesn't require any special configurations. This means that you can start monitoring network performance quickly, and can easily scale the solution to your business' needs.
Synthetic Monitoring: Obkio measures network performance using synthetic UDP traffic, which means there's no packet capture required and no privacy concerns for users.
To monitor every end of your network, Obkio uses agent-based monitoring, deploying lightweight Network Monitoring Agents at all your key network locations like head offices, data centers, remote offices and more. These agents collect real-time data directly from the source, providing continuous, real-time insights into network performance.
You can deploy Monitoring Agents in every part of your network that you need to get visibility. But, to get started, here's the setup that we recommend:
Local Agents: Installed in the targeted office location experiencing connectivity issues. There are several Agent types available (all with the same features), and they can be installed on MacOS, Windows, Linux and more.
Public Monitoring Agents: Deployed over the Internet and managed by Obkio. They compare performance up to the Internet and quickly identify if the problem is global or specific to the destination. This will be great information for later in the troubleshooting process. You can use an AWS or Google Cloud Agent.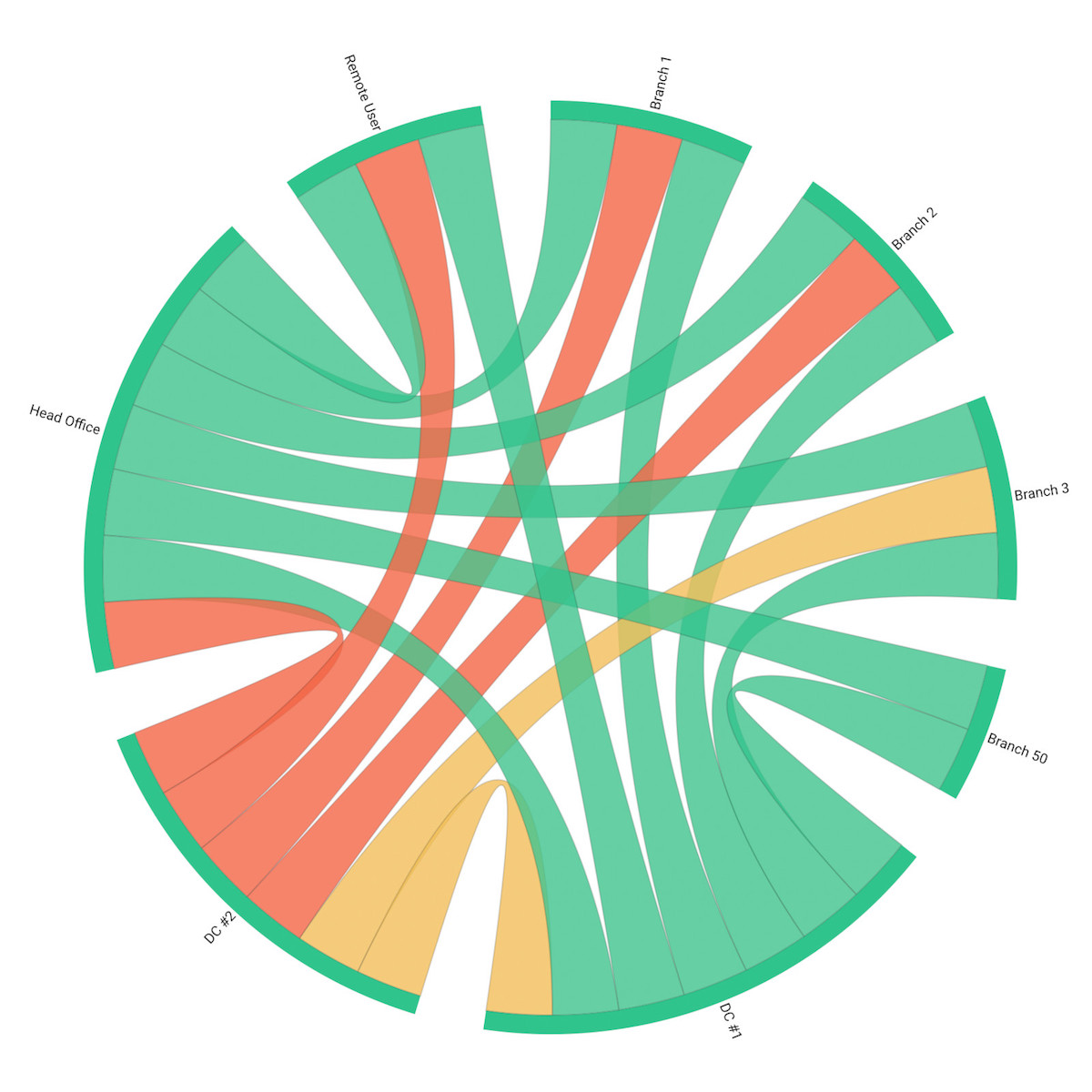 Once you've deployed your Endot-End Network Monitoring tool, Obkio's Monitoring Agents will start exchanging traffic with each other to measure key network metrics and display them on Obkio's Network Response Time Graph.
They'll continuously monitor these key network metrics from all their network locations:
Latency: Latency measures the time delay between the initiation of a data transfer and the response received. It is particularly critical for end-to-end network monitoring, as high latency can impact application performance and user experience. Monitoring latency helps identify network congestion, routing issues, or connectivity problems that may affect the responsiveness of remote applications and services.
Packet Loss: Packet loss refers to the percentage of data packets that do not reach their intended destination. It can occur due to network congestion, faulty hardware, or suboptimal network configurations. Monitoring packet loss helps identify network issues that can cause data corruption, application disruptions, or poor audio/video quality in communication and collaboration tools.
Bandwidth Utilization: Bandwidth utilization measures the percentage of available network bandwidth being used at a given time. Monitoring bandwidth utilization helps identify network congestion, overutilization, or underutilization. This metric is crucial for ensuring optimal performance and resource allocation across remote locations, especially when bandwidth demands vary based on user activity and application requirements.
Jitter: Jitter refers to the variation in latency or packet arrival times. High jitter can result in inconsistent data transmission and affect the quality of real-time applications, such as voice and video conferencing. Monitoring jitter helps identify network conditions that may cause audio or video disruptions, enabling proactive measures to optimize network performance.
Network Availability: Network availability measures the percentage of time that the network is operational and accessible. Monitoring network availability helps identify downtime, outages, or connectivity issues in remote locations. This metric is essential for ensuring continuous access to applications, services, and resources.
Throughput: Throughput measures the amount of data transmitted over the network within a specific timeframe. Monitoring throughput helps assess network performance and identify any constraints that may limit data transfer rates. This metric is important for maintaining efficient file transfers, data backups, and remote access to critical resources.
Response Time: Network response time measures the time it takes for a server or network device to respond to a request. Monitoring response time helps assess the performance and health of network devices and services. It is particularly important for remote locations where delays in response time can impact user experience, application responsiveness, and overall productivity.
Network Errors: Network errors include various error types, such as CRC errors, frame errors, or input/output errors, that occur during data transmission. Monitoring network errors helps detect underlying issues with network infrastructure, hardware malfunctions, or configuration problems that may affect the reliability and stability of remote networks.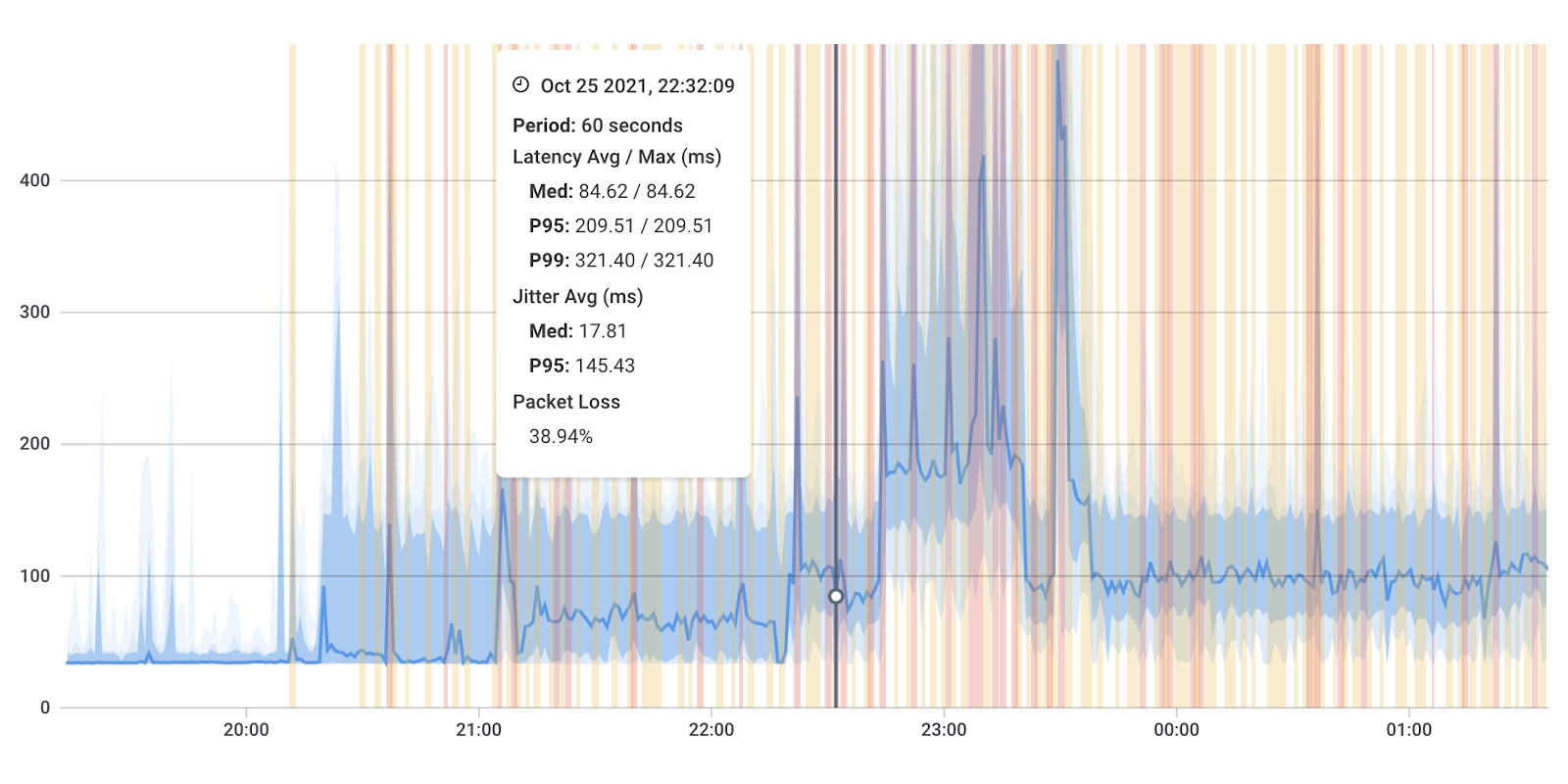 End-to-end network monitoring with Obkio provides real-time alerts when deviations from predefined thresholds occur. Immediate alerts notify IT teams of potential issues, enabling prompt action to minimize downtime and ensure optimal network performance.
Furthermore, Obkio offers a centralized cloud-based platform that allows organizations to monitor and manage their distributed network infrastructure. This centralized approach provides a holistic view of network performance, simplifying issue identification, troubleshooting, and the maintenance of consistent performance across multiple locations.
In order to achieve comprehensive end-to-end network monitoring, it is essential to monitor network devices as well. By monitoring network devices, organizations can effectively monitor and manage every end of their network, ensuring optimal performance, detecting and resolving issues, optimizing resource utilization, enhancing security, and maintaining a reliable network infrastructure.
Luckily, Obkio also has its Network Device Monitoring feature to help you!
Choose Devices to Monitor: You should select the devices that are critical to your network's operation and monitor their status and performance. This includes routers, switches, servers, and other network devices.
Add Your Devices: Once you've installed your monitoring agents from step 2, you can then start monitoring your network devices using SNMP by adding the devices inside the Obkio App. The devices just need to support SNMP polling.
Ultra-Fast SNMP Polling: Once you've added your network devices, Obkio's Network Device Monitoring feature uses Ultra-Fast Polling (every 30 seconds) to provide results that are far more precise than the traditional software polling, which occurs every 5 minutes.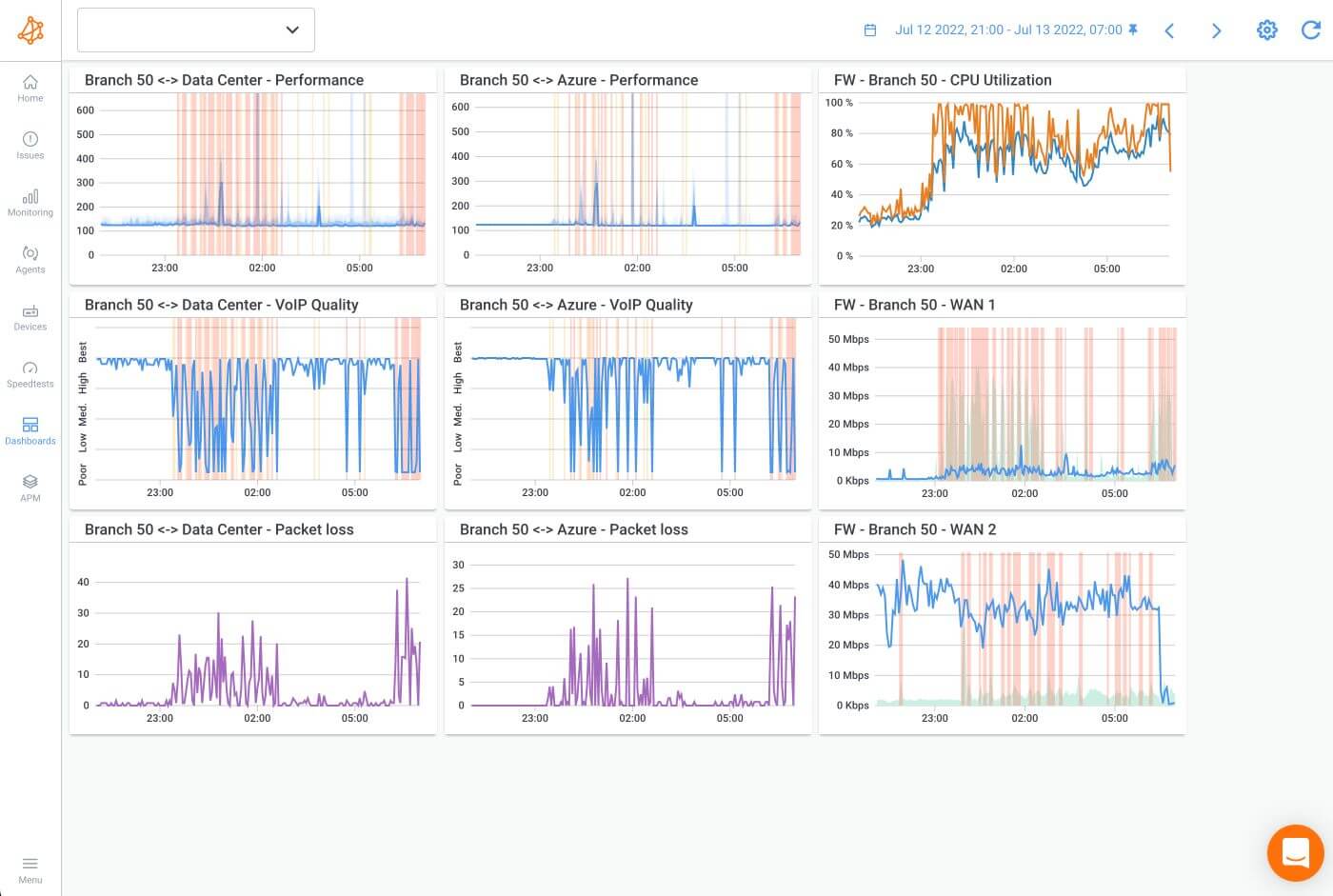 For comprehensive end-to-end network monitoring, it is essential to monitor various network devices across the network infrastructure. Here are some key network devices that should be monitored:
Routers: Routers play a critical role in directing network traffic and connecting different networks. Monitoring routers helps ensure their proper functioning, optimal routing, and performance. Key metrics to monitor include interface status, bandwidth utilization, packet loss, and latency.
Switches: Switches are responsible for connecting devices within a local network and facilitating communication between them. Monitoring switches helps identify any issues related to port status, network congestion, packet errors, and switch performance.
Firewalls: Firewalls are crucial for network security, controlling incoming and outgoing network traffic based on predetermined security rules. Monitoring firewalls helps ensure their proper configuration, rule enforcement, and identification of any security breaches or unauthorized access attempts.
Load Balancers: Load balancers distribute network traffic across multiple servers or resources to optimize performance and ensure high availability. Monitoring load balancers helps assess traffic distribution, session persistence, server health, and overall load-balancing efficiency.
Servers: Servers are the backbone of network applications and services. Monitoring servers involves tracking resource utilization (CPU, memory, disk), application performance, response times, and error rates to ensure optimal server performance and availability.
Wireless Access Points (WAPs): Wireless access points enable wireless network connectivity. Monitoring WAPs helps assess signal strength, coverage, and client connectivity, ensuring smooth wireless network performance and identifying potential interference or connection issues.
Network Security Appliances: Network security appliances, such as intrusion detection systems (IDS) and intrusion prevention systems (IPS), help protect the network from malicious activities. Monitoring these appliances helps identify security threats, monitor rule effectiveness, and ensure they are functioning as intended.
Network Interfaces: Monitoring network interfaces (Ethernet, Wi-Fi, WAN links) provides insights into bandwidth utilization, errors, collisions, and overall link performance. This helps identify network congestion, link saturation, or physical connectivity issues.
Without monitoring network devices, organizations would have limited visibility and control over the different segments of their network, potentially leading to performance bottlenecks, security vulnerabilities, and overall inefficiencies.
And that's it! Once you've deployed Obkio, your new End-to-End Network Monitoring tool with continue to monitor network performance in all your network locations like your personal 24/7 network admin.
Continuous monitoring allows for the early detection of network issues, such as performance degradation, latency spikes, or security breaches. By continuously monitoring the network, your business can proactively identify and address potential problems before they escalate, minimizing the impact on network performance, user experience, and business operations.
So make sure to keep your End-to-End Network Monitoring tool as a full-time team member!
When it comes to identifying network issues, end-to-end network monitoring is key. Network issues can occur at any point within the network infrastructure. A network consists of various components, such as routers, switches, firewalls, servers, and endpoints, all interconnected to enable data transmission and communication. Problems can arise at any of these points, and without end-to-end monitoring, it becomes challenging to identify and resolve issues efficiently, for example:
Routers: Routers are responsible for directing network traffic between different networks or subnets. Issues with routers can lead to routing errors, suboptimal path selection, or congestion, resulting in slow data transfer, packet loss, or even network outages.
Switches: Switches connect devices within a local network and enable communication between them. Problems with switches, such as port failures, configuration errors, or broadcast storms, can disrupt connectivity, cause network congestion, or degrade overall network performance.
Firewalls: Firewalls play a crucial role in network security by monitoring and controlling incoming and outgoing traffic based on predefined rules. Misconfigured firewalls or inadequate rule enforcement can lead to security vulnerabilities, unauthorized access, or the blocking of legitimate network traffic.
Servers: Servers host applications, data, and services that are accessed by network users. Server issues, such as hardware failures, resource exhaustion, or software errors, can result in application downtime, slow response times, or data loss, impacting user productivity and satisfaction.
Endpoints: Endpoints, including desktop computers, laptops, mobile devices, and Internet of Things (IoT) devices, are the entry points for network communication. Endpoint issues, such as malware infections, network misconfigurations, or hardware problems, can disrupt connectivity, compromise security, or lead to performance degradation.
Network problems can manifest in various forms, including performance degradation, network connectivity issues, security breaches, or hardware failures. These issues can occur anywhere within the network, whether it's at the edge, in the LAN, WAN, or even within cloud-based or virtualized environments.
Edge: The network edge refers to the boundary between an organization's internal network and external networks, such as the Internet. Issues at the network edge can include connectivity problems, firewall misconfigurations, or security breaches. For example, a misconfigured firewall rule at the edge can inadvertently block important incoming or outgoing network traffic, impacting connectivity and services.
LAN (Local Area Network): LAN refers to the network within a limited geographical area, typically within an office building, campus, or data center. Within the LAN, issues can arise from faulty network cables, network switch failures, or broadcast storms that flood the network with excessive traffic. These issues can lead to network slowdowns, intermittent connectivity problems, or service disruptions.
WAN (Wide Area Network): WAN encompasses networks that connect geographically dispersed locations, such as branch offices or data centers. Issues in the WAN can occur due to problems with network links, congestion, or latency. For example, a degraded WAN link can result in slow data transfer between locations, impacting the performance of critical applications or services.
Cloud-Based or Virtualized Environments: With the increasing adoption of cloud services and virtualization, network issues can also arise within these environments. For cloud-based networks, issues can include limited bandwidth, misconfigured network security groups, or problems with cloud provider connectivity. In virtualized environments, issues can arise from virtual machine misconfigurations, resource contention, or network overlay problems.
End-to-end network monitoring allows for continuous monitoring of all critical components and segments of the network. By monitoring the entire network path, organizations gain comprehensive visibility and can quickly identify the root causes of problems. Whether it's a misconfiguration on a router, congestion on a switch, an overloaded server, or a compromised endpoint, end-to-end monitoring ensures that no area of the network remains unmonitored.
Moreover, end-to-end network monitoring helps establish correlations between different network segments and devices, enabling effective troubleshooting. It enables IT teams to pinpoint the exact location of network issues and take prompt action to resolve them. By proactively monitoring the entire network, organizations can minimize downtime, reduce the impact on users, and ensure smooth network operations.
How to Identify Network Problems & Diagnose Network Issues
Learn how to identify network issues by looking at common problems, causes, consequences and solutions.
Learn more
To effectively monitor network performance and gather valuable insights, various techniques can be employed for end-to-end network monitoring. The technique you choose will of course depend on your company's and network's needs, and choosing the right tool is extremely important for ensuring continuous, proactive, and effective network monitoring.
In the section above, we showed you how to perform End-to-End Network Monitoring using Agent-based Network Performance Monitoring because it's the simplest more accurate solution for different types of networks and businesses.
But, to give everyone a fair shot, here are some commonly used techniques:
Performance monitoring tools provide comprehensive monitoring capabilities for network devices, servers, applications, and endpoints. These tools collect and analyze performance metrics such as response times, CPU utilization, memory usage, and network latency to assess overall network health and performance.
SNMP is a widely adopted protocol for monitoring and managing network devices. SNMP Monitoring enables the collection and reporting of various metrics, such as bandwidth utilization, CPU usage, and interface status, from SNMP-enabled devices.
Flow-based analysis involves monitoring and analyzing network traffic flows. Flow data provides information about source and destination IP addresses, protocols, ports, and byte counts. Flow-based monitoring tools, such as NetFlow and sFlow, can be used to gain insights into network traffic patterns, detect anomalies, and analyze bandwidth utilization.
Packet sniffing involves capturing and analyzing network packets to gain detailed insights into network traffic. Packet sniffers can decode packet headers, extract payload information, and provide visibility into network protocols, performance metrics, and potential issues.
Log analysis involves examining logs generated by network devices, servers, and applications. Logs contain valuable information about system events, errors, and security incidents. Analyzing logs helps identify issues, troubleshoot problems, and detect security threats.
Synthetic Monitoring for End-to-End Network Monitoring
Synthetic Monitoring involves simulating network activities or user interactions to monitor application performance and availability. By generating synthetic transactions, organizations can proactively measure response times, transaction success rates, and identify potential performance issues.
RUM involves monitoring and analyzing actual user interactions with applications and websites. It provides insights into user experience, including page load times, transaction completion rates, and browser-specific metrics. RUM helps organizations understand how network performance impacts end-users.
Security event monitoring focuses on monitoring network logs, intrusion detection systems, firewalls, and other security devices for potential security threats and breaches. This includes real-time analysis of security events, correlation of logs, and alerts for suspicious activities.
It's important to note that these techniques can be used individually or in combination, depending on the specific monitoring requirements and objectives of an organization.
In the ever-evolving world of networks, keeping a watchful eye on your infrastructure has never been more crucial. End-to-end network monitoring ensures that you have full visibility into every nook and cranny of your network, from the edge to the cloud and everything in between. It's like having a trusty detective by your side, uncovering the mysteries of network performance, security, and user experience.
But why settle for anything less than extraordinary? That's where Obkio comes into play, bringing its superpowers to the table. With Obkio's advanced monitoring capabilities, you can effortlessly harness the power of end-to-end network monitoring. It's like having a network guardian angel that ensures your network stays at peak performance and keeps surprises at bay.
Ready to unlock the power of end-to-end network monitoring with Obkio?
14-day free trial of all premium features
Deploy in just 10 minutes
Monitor performance in all key network locations
Measure real-time network metrics
Identify and troubleshoot live network problems
You can rest assured that we're not like those pushy Sellsy people - there's no catch here. We firmly believe in the excellence of our product, but if it's not the right fit for you, we understand and want what's best for you.