How to Monitor Network Speed
In Summary
When monitoring network performance, the metric that we most commonly hear about is Speed. Everyone wants to know how fast their network is performing, but what if you need more detail? Keep reading to find out how to monitor network speed and how to monitor Internet speed using Network Monitoring.
We always hear people talk about speed when referring to network performance. How fast is your application running, how quickly can you upload or download files, and so on. That's because speed is one of the easiest network metrics to understand.
But in the network world as in life, speed isn't everything, quality matters too.
Many people will choose to monitor network speed or Internet speed to understand if their network is performing as promised by the service provider, and monitor their SLA (Service-Level Agreement).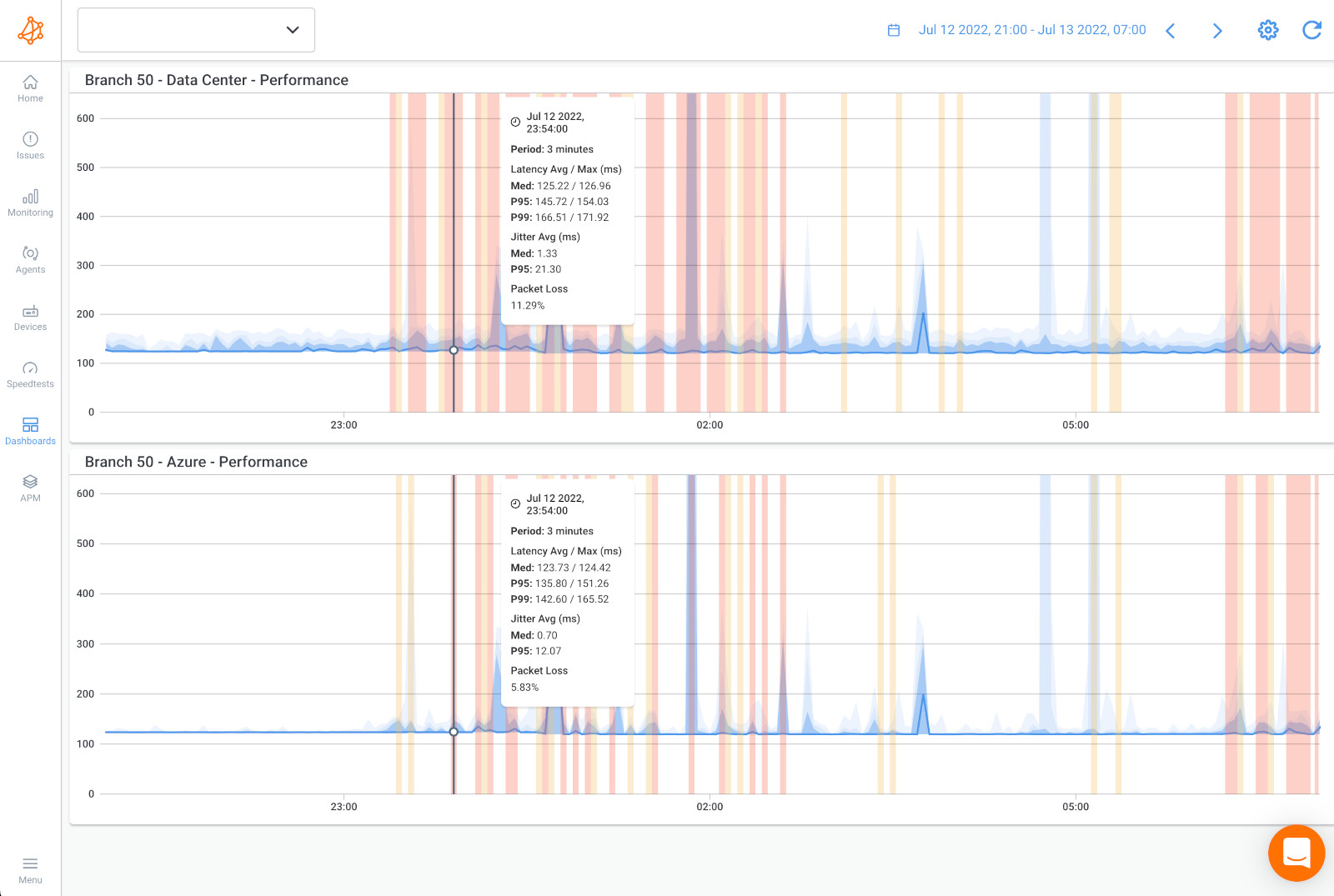 But, when it comes to network speed monitoring (or even Internet speed monitoring), it's important to measure network speed with an end-to-end Network Monitoring solution that also measures other key network metrics, like packet loss, jitter and latency, to give you full visibility over the quality of your network.
Many times when people look to monitor network speed or Internet speed , they'll just run a Speed Test using a speed test tool on a website. But doing that only tells you how fast your network is performing when you run that speed test, which isn't super helpful when measuring performance.
Additionally, speed tests create congestion in your network, which can affect all the traffic on the Internet connection. This may be okay for a residential test, but in a business, it may mean severely interrupting VoIP calls or Video conferences.
That's why we recommend using a tool like Obkio Network Performance Monitoring software, to continuously monitor network performance, including network speed (Internet speed monitoring and network throughput).
Get started with Obkio's Free Trial!
After you've deployed Monitoring Agents in your network, you can monitor network speed using Speed Tests continuously.
Again, keep in mind that network speed monitoring isn't just about running speed tests to monitor your network, because they won't give you all the detail you need.
But you can use Obkio to run speed tests between any monitoring agents deployed in your network. You can learn more in our Speed Test Doc.
Because speed tests, no matter which ones you use to monitor network speed, always create network congestion, Obkio offers two Speed Test types.
You can manually run On-Demand Speed Tests when troubleshooting network slowdowns. Using them only when troubleshooting will limit the congestion they create on your network.
For a more automated network speed monitor, Obkio offers Scheduled Speed Tests, which can be scheduled at preset frequencies between the two monitoring agents of your choice.
For example, many of our clients will use this feature to schedule Speed Tests at 100% of the speed of the connection at night. So even if they cause congestion, they won't be bothering employees when they're working.
And then also schedule the speed tests at 50% during the workday so the frequency is less intrusive during working hours.
Both Speed Tests types can also be used in addition to other network monitoring features to give you an overview of overall network performance.
We've said it before and we'll see it again: Speed isn't everything.
Let's say you have a big tunnel, through which a lot of water can pass. Theoretically, a lot more water can pass through a large tube in a shorter amount of time than a smaller tube. If your large tube has a hole in it, even if a lot of water is passing through, a large amount of water will leak out.
In network terms, this means that you may have fast Internet speed, but still experience a large amount of packet loss that will cause major issues with Internet performance.
Along with network speed and Internet speed monitoring, you need to monitor other network metrics to really understand the quality and performance of your network.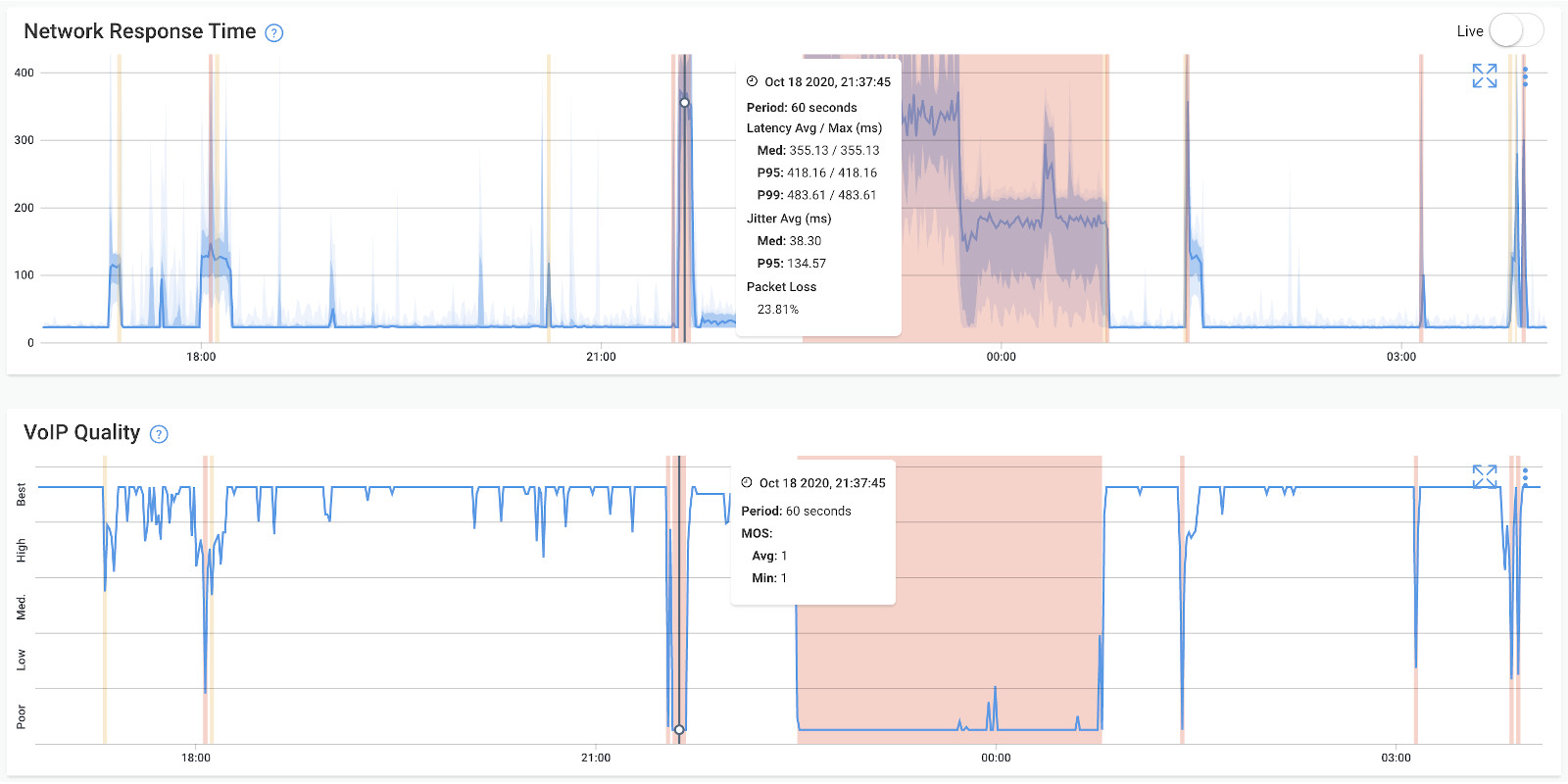 Once you've deployed Obkio Monitoring Agents in your key network locations, they will start measuring key network metrics like:
And displaying them on Obkio's Network Response Time Graph.
Measuring these key network metrics will allow you to better understand if something is wrong with your network.
Obkio will also automatically notify you of events like substantial packet loss between certain sites, or users experiencing high levels of jitter during VoIP calls, and more.
Once you've set up Obkio and scheduled your speed tests, you'll have a continuous network performance monitoring and network speed monitoring tool (and Internet speed monitor) so you can always measure network speed, but more importantly, network quality.
Get started in minutes, for free, with Obkio's Free Trial.
Related Blog Categories:
How To