Table of Contents
In the ever-evolving landscape of modern business, the shift towards cloud-based solutions has been nothing short of transformative. Among these technological advancements, Microsoft 365 has emerged as a cornerstone, offering a comprehensive suite of tools to streamline operations, boost collaboration, and enhance productivity. As organizations increasingly embrace the cloud, the need to ensure the performance, security, and availability of these critical services becomes paramount. Enter the world of Microsoft 365 monitoring, where proactive vigilance meets cutting-edge network monitoring tools, forming an essential partnership that safeguards the heart of your business operations.
In this comprehensive guide, we delve into the art and science of mastering Microsoft 365 monitoring, specifically focusing on the power of network monitoring tools. We'll explore how these tools enable businesses to not only track the health of their Microsoft 365 environment but also gain deeper insights into user behavior, identify potential bottlenecks, and fortify their cybersecurity posture. Whether you're an IT manager, a CTO, or a business leader concerned with maintaining seamless operations and data integrity, this exploration will equip you with the knowledge to elevate your monitoring strategy to new heights.
So, buckle up as we embark on an insightful expedition into the world of Microsoft 365 monitoring, where technology meets strategy, and where the proactive safeguarding of your business becomes not just a necessity, but a competitive advantage. Let's dive in and uncover the keys to mastering Microsoft 365 monitoring for businesses!
Microsoft 365 Monitoring holds immense significance for businesses in today's technology-driven landscape. As organizations increasingly rely on cloud-based solutions like Microsoft 365 to facilitate communication, collaboration, and productivity, effective monitoring becomes crucial for several compelling reasons:
Proactive Issue Detection and Resolution: Microsoft 365 Monitoring enables businesses to identify and address performance issues, service disruptions, and potential bottlenecks before they escalate into major problems. By detecting anomalies in real-time, organizations can take prompt action to maintain uninterrupted operations and user satisfaction.
Optimized User Experience: Monitoring ensures that users have a seamless and positive experience while using Microsoft 365 applications. By tracking metrics such as response times, application performance, and user interactions, businesses can optimize the end-user experience and boost overall productivity.
Data Loss Prevention: Microsoft 365 Monitoring tools can help prevent data loss by monitoring user activities and identifying risky behaviour patterns. This is especially crucial for safeguarding sensitive information and ensuring data integrity.
Capacity Planning and Resource Allocation: Monitoring provides insights into resource utilization and capacity trends within the Microsoft 365 environment. This data helps businesses make informed decisions about resource allocation, scaling, and network capacity planning to ensure optimal performance.
Business Continuity: Monitoring supports business continuity by ensuring that critical Microsoft 365 services are available and responsive. By minimizing downtime and disruptions, businesses can maintain operational continuity and minimize revenue loss.
Strategic Decision-Making: Monitoring data provides valuable insights into user adoption, application usage, and performance trends. These insights empower businesses to make data-driven decisions, optimize processes, and strategically allocate resources for maximum efficiency.
Cost Management: Effective monitoring can help organizations identify unnecessary resource consumption and optimize licensing costs within the Microsoft 365 ecosystem. This contributes to cost savings and efficient budget management.
Vendor Accountability: Monitoring helps hold cloud service providers accountable for service-level agreements (SLAs). If SLAs are not met, organizations can use monitoring data to engage in constructive discussions and negotiations with vendors.
In essence, Microsoft 365 Monitoring is not only about keeping a watchful eye on technical aspects; it's a strategic approach to ensuring the reliability, security, and optimal performance of the tools that drive modern businesses. By investing in comprehensive monitoring strategies, businesses can mitigate risks, enhance user experiences, and position themselves for success in an increasingly competitive digital landscape.

As businesses embrace the dynamic landscape of Microsoft 365, the importance of vigilant monitoring becomes increasingly evident. Effective monitoring extends beyond a singular approach, encompassing a spectrum of categories that shed light on diverse aspects of your digital ecosystem.
In this section, we unravel the three pivotal categories of Microsoft 365 monitoring, each offering insights into distinct layers of infrastructure and functionality.
This category involves identifying issues within Microsoft 365's core infrastructure, which is managed by Microsoft to ensure seamless updates and swift problem resolution. For instance, if users encounter difficulties accessing Exchange Online due to glitches in Exchange or other elements of the Microsoft 365 cloud infrastructure, infrastructure monitoring will help detect and address these concerns.
This category involves identifying issues within a third-party infrastructure, upon which your organization relies. Addressing these network issues requires internal network troubleshooting from your organization. For example, if a third-party security token service (STS) provider imposes throttling on user authentication transactions, preventing connections to Exchange Online, internal Microsoft 365 monitoring will detect these issues, and give you the information your business needs to troubleshoot.
This category involves identifying network issues within your organization's infrastructure, requiring action from your end to effect resolutions. For example, if users encounter obstacles accessing Exchange Online due to an inability to procure an authentication token from your organization's hosted STS provider, possibly due to an expired certificate, customer infrastructure monitoring identifies this predicament, prompting your organization to renew the certificate for resolution.
Through diligent monitoring, businesses gain a comprehensive understanding of these three crucial domains, enabling proactive management and timely resolutions to uphold the integrity and functionality of Microsoft 365 services.
Businesses should consider monitoring a range of Microsoft 365 apps and services to ensure smooth operations, optimal performance, and robust security. Here are some key apps and services that should be on your monitoring radar:
Exchange Online: As a core component of Microsoft 365, Exchange Online should be closely monitored for email communication stability, message delivery, and overall service health.
SharePoint Online: Monitoring SharePoint Online helps ensure seamless collaboration, document management, and access to critical business content.
OneDrive for Business: Keeping an eye on OneDrive for Business helps guarantee that file storage, sharing, and synchronization functions without disruptions.
Teams: Microsoft Teams monitoring for chat, collaboration, and video conferencing features are essential for ensuring stable and effective communication and remote work.
Azure Active Directory: Monitoring Azure AD helps track user authentication, identity and access management, and security-related events.
Microsoft 365 Security & Compliance Center: Monitoring security and compliance services aids in identifying potential threats, data breaches, and regulatory compliance issues.
Microsoft 365 Admin Center: This central management hub should be monitored for updates, service health status, and general administrative activities.
Microsoft Intune: Monitoring Intune ensures efficient mobile device management (MDM) and application deployment across devices.
Power Platform (Power Apps, Power Automate, Power BI): Monitoring these services helps maintain custom application performance, workflow automation, and data analytics.
Microsoft Stream: Monitoring Microsoft Stream supports video content delivery and accessibility for training, presentations, and communications.
Microsoft Forms: Monitoring Forms ensures smooth data collection, surveys, and feedback processes.
Microsoft Planner: Keeping track of Planner aids in managing tasks, projects, and team collaboration.
Microsoft Dynamics 365: For businesses utilizing CRM and ERP functionalities, monitoring Dynamics 365 helps ensure customer relationship management and business operations run smoothly.
Microsoft 365 Apps (Word, Excel, PowerPoint, Outlook, etc.): Regularly monitoring these applications helps ensure their functionality, updates, and compatibility with user devices.
Microsoft 365 Service Health Dashboard: This provides a centralized view of service health and incident status across various Microsoft 365 services.
By monitoring these essential Microsoft 365 apps and services, businesses can maintain operational excellence, swiftly address issues, and deliver a seamless digital experience to users, fostering productivity and enhancing overall business performance.
Microsoft Teams Monitoring to Troubleshoot & Optimize Performance
Elevate Microsoft Teams with proactive Microsoft Teams monitoring. Discover how NPM optimizes Microsoft Teams performance monitoring & identify Teams performance issues.
Learn more
In the intricate realm of Microsoft 365 Monitoring, the role of network monitoring stands out as a cornerstone of comprehensive oversight. Network monitoring, often facilitated by specialized tools and techniques, empowers businesses to delve deeper into the intricacies of their Microsoft 365 environment. By focusing on the network aspect, organizations can unlock a multitude of advantages that amplify the efficacy and precision of their monitoring strategies.
Network monitoring tools provide the eyes and ears that allow businesses to observe and interpret the flow of data within their Microsoft 365 ecosystem. These tools encompass a range of functionalities, from tracking data packets as they traverse the network to evaluating bandwidth utilization and pinpointing latency issues.
Comprehensive network monitoring tools offer real-time insights into how data moves between different components of Microsoft 365, shedding light on potential bottlenecks, traffic patterns, and points of contention.
One of the most notable advantages of network monitoring is the ability to track the real-time performance of Microsoft 365 applications and services. By monitoring key performance metrics such as response times, server latency, and application availability, businesses can swiftly identify and address issues that could impact user experience.
Real-time performance tracking allows for proactive problem-solving, ensuring that any emerging performance degradation is dealt with before it escalates into a user-impacting problem.
Network monitoring tools excel at detecting anomalies and irregular patterns within the network traffic. This capability becomes invaluable in identifying potential security breaches or abnormal behaviour that might signify unauthorized access or data exfiltration.
By establishing baselines for normal network behaviour, businesses can use network monitoring to trigger alerts and responses when deviations occur, swiftly mitigating risks and preventing potential threats from gaining a foothold.
Unraveling the complexities of network traffic is a fundamental aspect of network monitoring. By scrutinizing the volume and nature of data flows, businesses gain insights into which Microsoft 365 applications are most utilized, the distribution of data across the network, and potential data hotspots.
Such analysis empowers informed decisions regarding resource allocation, performance optimization, and application prioritization.
Security lies at the heart of network monitoring's advantage. Beyond performance optimization, network monitoring tools serve as vigilant sentinels, constantly scanning for any signs of unauthorized access, malware activity, or other security breaches.
By integrating network monitoring with security information and event management (SIEM) systems, businesses can correlate network events with broader security incidents, enabling a proactive and coordinated response to potential threats.
In the ever-evolving landscape of Microsoft 365 Monitoring, leveraging network monitoring tools and techniques offers businesses a unique advantage. From real-time performance insights to proactive security measures, network monitoring serves as a critical component in ensuring the stability, security, and optimal functionality of Microsoft 365 services.
Embarking on the journey of Microsoft 365 network monitoring requires a strategic approach and careful implementation. By selecting the right tools, configuring them appropriately, and utilizing the insights gained, businesses can establish a robust network monitoring framework that enhances performance, security, and overall operational excellence within their Microsoft 365 environment.
Let's get into it!
Microsoft 365 requires more than just adoption; it demands vigilant monitoring to ensure optimal performance, data security, and user satisfaction.
This is where Obkio's Network Monitoring tool steps into the spotlight, offering a comprehensive and tailored solution to perfect your Microsoft 365 Monitoring strategy.
Whether you're tracking the responsiveness of Exchange Online, scrutinizing Teams' video conferencing quality, or ensuring seamless SharePoint collaboration, Obkio's tool empowers you with the insights needed to keep your Microsoft 365 environment running smoothly.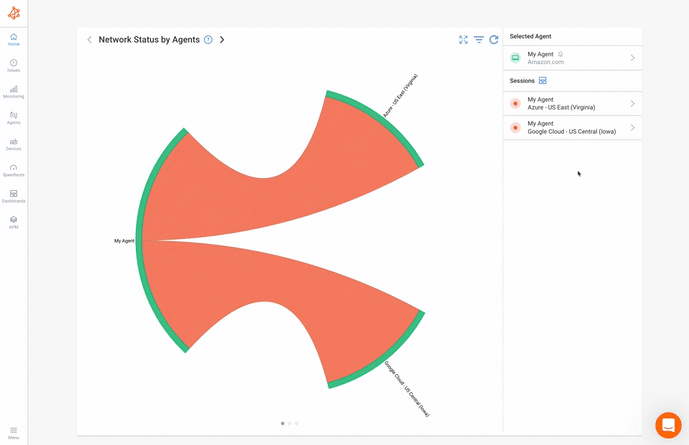 Precise Metrics: Monitor key performance metrics for Microsoft 365 apps and services, including Exchange Online, SharePoint, Teams, and more.
Real-time Insights: Gain real-time visibility into network traffic, application response times, and bandwidth utilization within your Microsoft 365 environment.
Customizable Alerts: Configure alerts and notifications to proactively address performance issues, ensuring uninterrupted access to critical applications.
User Experience Optimization: Ensure users experience optimal performance and seamless access to critical Microsoft 365 applications.
Swift Issue Resolution: Detect and address performance issues before they impact user satisfaction and productivity.
Vigilantly overseeing every facet of your network is indispensable in the realm of monitoring network and Microsoft 365 performance. Think of it as assuming the role of an experienced network detective, forever watchful for any impending concerns spanning the WAN, LAN, and network devices.
This is where the Network Monitoring Agents come in handy. Obkio's Monitoring Agents are strategically deployed at key network locations, continuously monitoring performance between them.
When setting up Microsoft 365 monitoring, it's important to monitor network performance between the Microsoft Cloud (Azure) and your on-premise infrastructure. To achieve this, you'll need to deploy at least two Monitoring Agents: one within the Microsoft Azure Cloud and another within your on-premise infrastructure.
Microsoft Azure Monitoring Agent: The Azure Monitoring Agent is hosted and maintained by Obkio in the Microsoft Azure cloud infrastructure. It allows you to proactively monitor network performance between your local network to the Microsoft Azure network. They provide complete and continuous visibility so you can easily identify the source and cause of Azure network issues impacting your network performance.
On-Premise Agent: These Monitoring Agents are deployed in your local network, in key network locations like your head office, branch office, data centers and network devices. They allow you to monitor network performance from your end up to Microsoft Azure. We recommend the Software (Linux, Windows, Docker) agent that can be installed on your favourite Linux distribution, including Amazon Linux and Amazon Linux 2.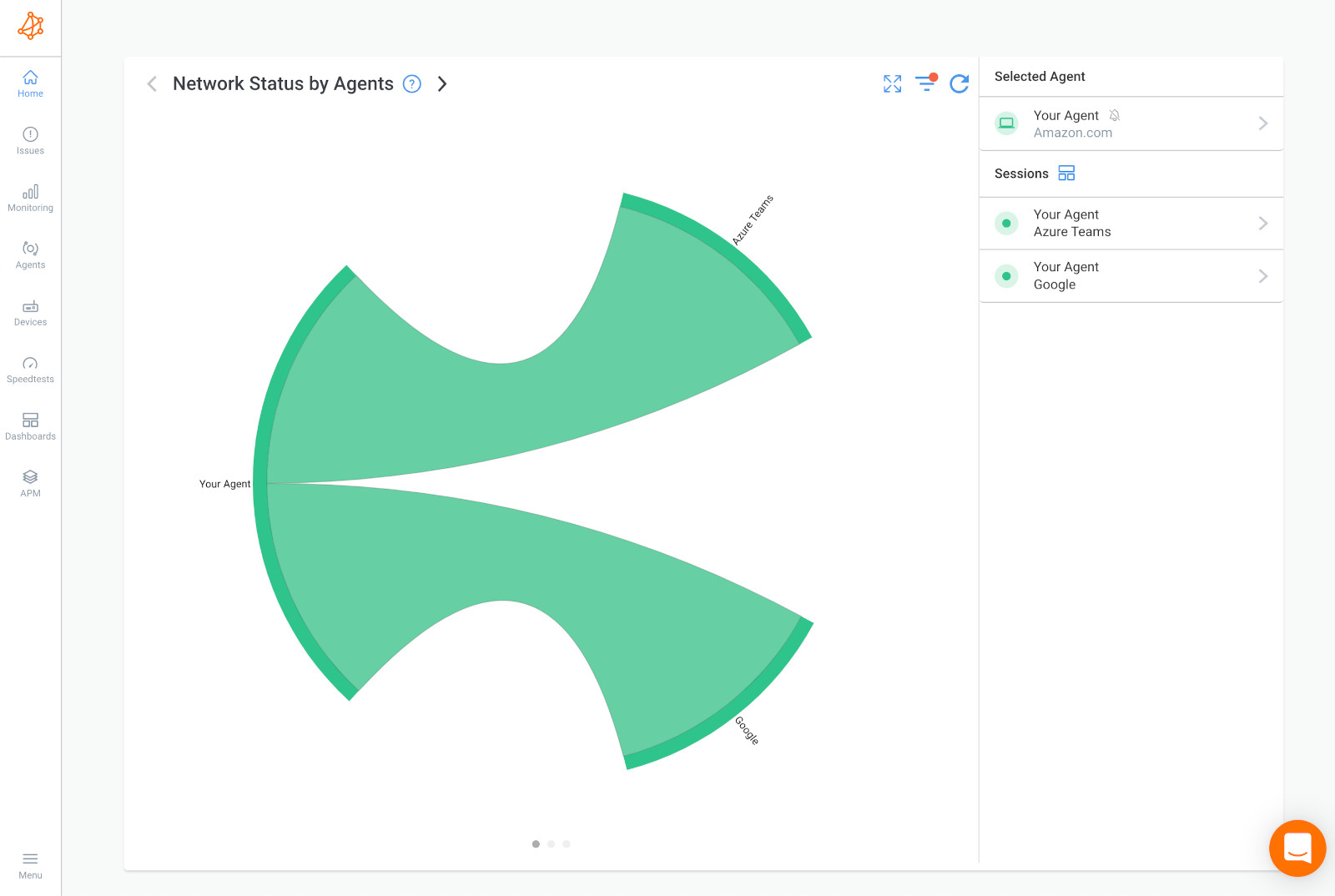 You should always deploy a minimum of two Agents to more accurately compare data and identify network issues affecting Microsoft 365 and other apps and services in different network locations.
For example:
If you're monitoring Microsoft 365 network performance between your head office and your Internet, use one Agent in your Head Office and 2 Agents to monitor Internet performance (for example, an Azure Agent and an AWS Agent).
This way, if you have a network problem, you can easily see if that same problem is affecting all your sites or just one.
If the problem is affecting all your sites, having multiple Agents allows you to collect the most accurate data to troubleshoot, as well as create a comparison point.
Microsoft stores customer data in Microsoft's global cloud locations. So, when you're looking to monitor performance up to Microsoft 365, it's important to choose a Monitoring Agent that has been deployed in the Data Center located closest to the Microsoft Data Center closest to you.
For Example:
You want to monitor Microsoft 365 performance for your business based in Canada, so first, you need to find the location of a Microsoft Data Center in Canada.
In Canada, Microsoft's Data Centers are located in Quebec City and Toronto - so you need to choose a Public Monitoring Agent hosted closest to one of those locations.
Obkio's Microsoft Azure Monitoring Agents are presently located in many locations, including one in Quebec City!
So when you're deploying your Agent, make sure to choose the Quebec City Azure Agent, to monitor the performance of your Microsoft Azure service from Microsoft's Quebec City Data Center!
Once the Monitoring Agents are installed, you're almost done! Two configurations are required in the App:
The agents must be in the same Network. When two agents are in the same Network, they will communicate using private IPs instead of Public IPs.
A Network Monitoring Template must be configured to create the network performance monitoring session.
Monitoring network devices is also important for Microsoft 365 monitoring. While Microsoft 365 primarily focuses on cloud-based applications and services, the performance and accessibility of these services can be greatly influenced by the underlying network infrastructure.
Enter Obkio's Network Device Monitoring feature. This nifty feature is your go-to tool when it comes to tackling performance hiccups head-on. If you're in the business of decoding the performance of your core network devices, this feature spills all the beans, helping you swiftly identify and resolve issues like congestion, CPU spikes, and pesky interface errors.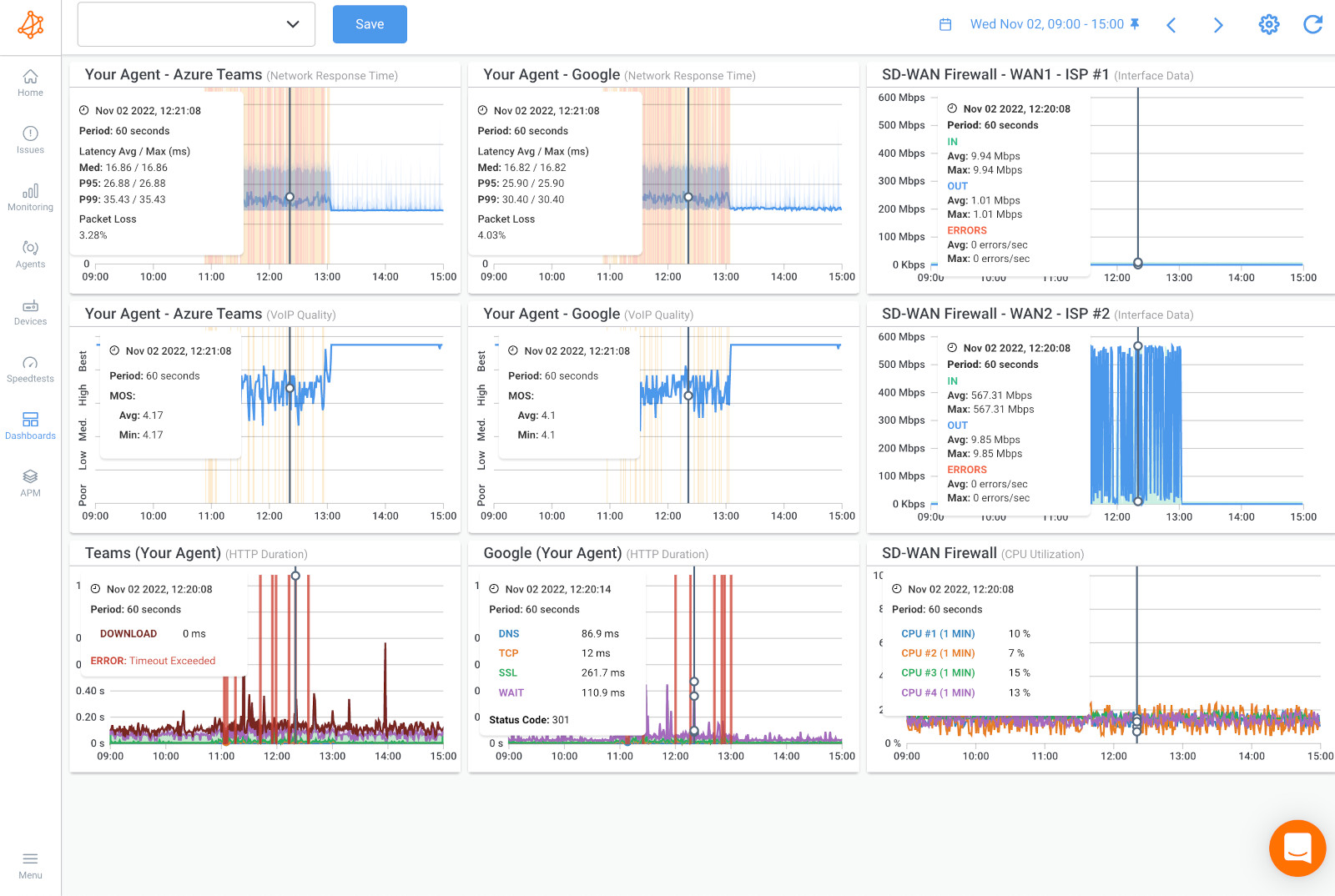 Getting started is a breeze. First, set up your monitoring agents – they're like your trusty sidekicks. Then, you head over to the Obkio App to add your network devices and bring in some SNMP magic. And speaking of SNMP, just make sure your devices are on board (most are, don't worry!). Obkio is all-in with SNMP versions from v1 to v3 – but remember, read-only access is key. If you're wondering if your devices made the cut, find all the details right here.
So let's roll up our sleeves and let Network Device Monitoring do its thing – fixing performance issues like a champ, one network device at a time!
Here's why monitoring network devices is essential for effective Microsoft 365 monitoring:
Network Connectivity: The network acts as the bridge connecting users to Microsoft 365 services. If network devices experience issues, such as high latency, packet loss, or downtime, users might face difficulties accessing or using Microsoft 365 apps.
User Experience: Network performance directly affects user experience. Slow or unreliable network connections can result in sluggish application performance, interrupted video conferences, and delayed data synchronization within Microsoft 365 services.
Data Transfer: Microsoft 365 services involve the transfer of data between the cloud and users' devices. Monitoring network devices ensures that data is transmitted smoothly, preventing potential bottlenecks and data loss.
Service Availability: Network devices contribute to the overall availability of Microsoft 365 services. Monitoring helps identify and resolve issues promptly, reducing downtime and ensuring consistent access for users.
Bandwidth Management: Microsoft 365 services consume network bandwidth, and network devices manage this flow. Monitoring bandwidth usage allows businesses to allocate resources effectively and prevent congestion that could impact service performance.
Distributed Workforce: With remote work becoming more prevalent, monitoring network devices becomes even more critical. It ensures that employees can access Microsoft 365 services reliably from various locations.
Troubleshooting: When issues arise with Microsoft 365 services, it's important to determine whether they stem from the network or the application itself. Monitoring network devices aids in isolating the source of problems and expediting troubleshooting.
Application Performance Monitoring (APM) is another important element of Microsoft 365 monitoring. While Microsoft 365 primarily operates in the cloud and relies on various services, applications, and infrastructure components, APM provides a comprehensive approach to monitoring the end-to-end performance and user experience of these services.
Obkio's Application Performance Monitoring (APM) delivers an abundance of invaluable insights. When it comes to troubleshooting and identifying those elusive intermittent issues, this feature truly shines. It helps IT teams with web troubleshooting and confirms if a performance issue is coming from the network or not.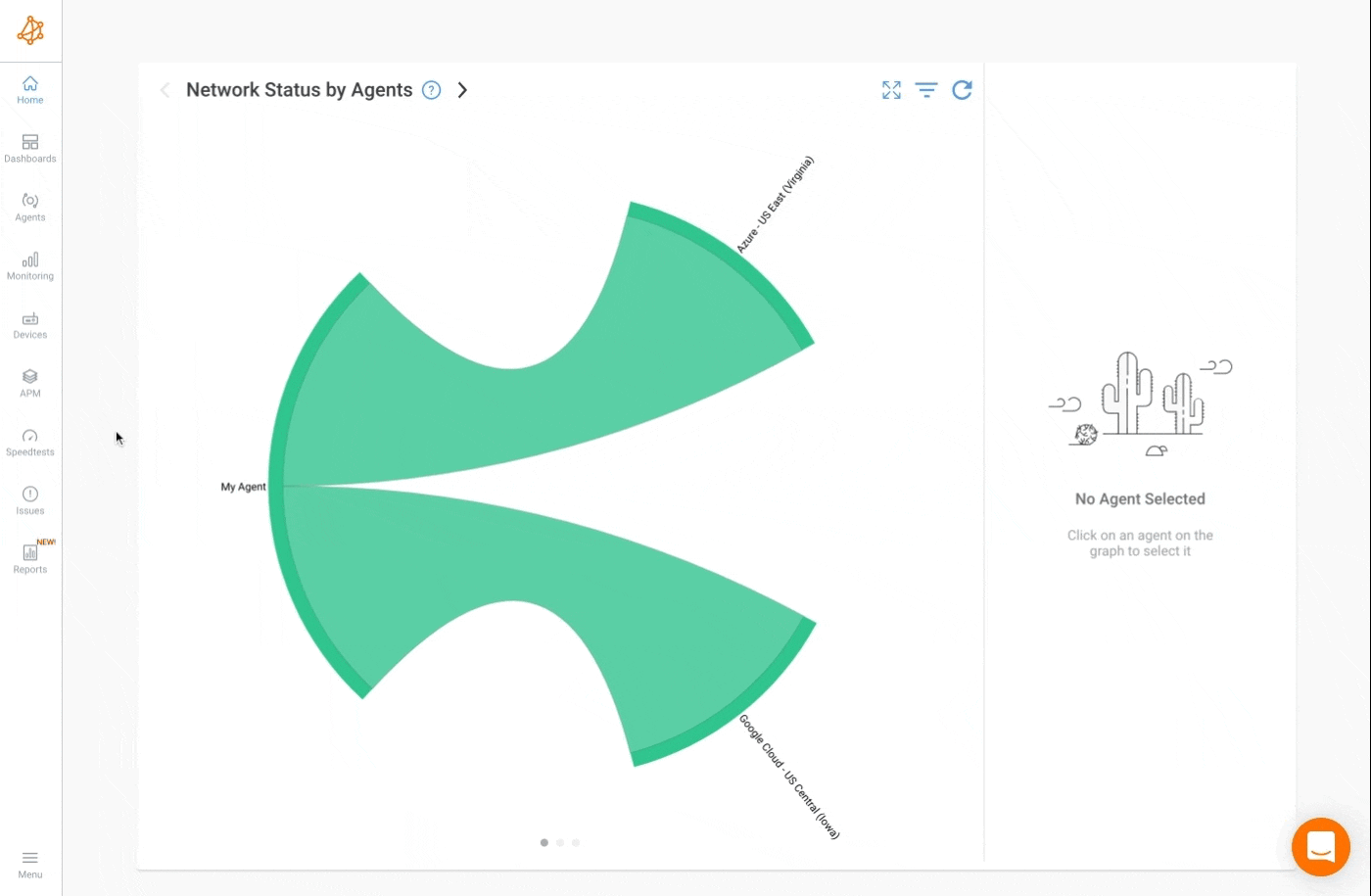 There are two types of APM tests available with Obkio:
APM HTTP: You've got APM HTTP in the spotlight – and it does exactly what it says on the tin. This clever tool takes one HTTP URL at a time and runs periodic tests to dig up performance metrics. It's like having your own insider scoop on how things are rolling in real-time, especially when it comes to Microsoft 365 Monitoring. The beauty is that you can dive into the details without needing a helping hand from Team Obkio. Just remember, APM HTTP won't be snagging any CSS, Javascript, or image files along the way. It's all about keeping your focus on the essentials.
APM Web: This feature is only available, on-demand, for Enterprise customers. It's like having a tailor-made script that hops onto a full web browser to put specific web workflows through the paces. And guess what? It's all part of the Microsoft 365 Monitoring game, designed to ensure your online experience is as smooth as butter.
APM monitoring is configured via APM templates. See the APM template documentation for more information. Once the APM tests are configured, the metrics obtained are available via the APM tab. Clicking on the APM tab will list all the ongoing APM tests.
Here's why APM is essential for effective Microsoft 365 monitoring:
Comprehensive Insights: APM offers a holistic view of the entire application ecosystem, including Microsoft 365 services. It helps monitor the performance of individual components, as well as their interactions and dependencies, giving you a complete picture of your Microsoft 365 environment.
User Experience: Microsoft 365 services are all about delivering a seamless user experience. APM allows you to monitor user interactions, response times, and transaction flows within applications, ensuring that users enjoy optimal performance and productivity.
End-to-End Visibility: APM provides visibility into the entire transaction path, from the user's device to the backend infrastructure. This helps identify bottlenecks, latency issues, and performance gaps that might affect Microsoft 365 services.
Service Health Monitoring: APM enables you to monitor the health of Microsoft 365 services and applications. It helps you proactively detect issues, disruptions, or downtimes that could impact user access and productivity.
Root Cause Analysis: When performance issues arise, APM helps isolate the root causes quickly. It identifies whether the problem is related to the application code, network connectivity, third-party integrations, or other factors, allowing for efficient troubleshooting.
Custom Applications: Many organizations develop custom applications that integrate with Microsoft 365 services. APM can monitor the performance of these applications, ensuring they work seamlessly with Microsoft 365.
After you've identified the key performance metrics that matter for Microsoft 365, it's time to ensure you're on top of any issues that might affect performance. Obkio makes it easy with its alerts and notifications feature.
Defining Metrics:
Start by choosing the metrics that are critical for your Microsoft 365 environment. These are the indicators that directly tie into the smooth operation of your services. It could be things like response times for Exchange Online or the availability of SharePoint.
Setting Up Alerts:
Once you've picked your metrics, Obkio's app becomes your early warning system. You set the thresholds that are acceptable for each metric. If anything goes beyond those boundaries, the system alerts you. This could be unusual latency, a drop in application availability, or any other deviation you consider significant.
Timely Notifications:
The moment an alert is triggered, the app lets you know. It's like getting a heads-up when something needs your attention. You can choose how you want to be notified – through emails, Teams notifications or Slack notifications.
Staying Proactive:
By using alerts and notifications, you're taking a proactive stance on Microsoft 365 performance. Instead of waiting for issues to escalate, you're informed as soon as anything starts to go off track. This empowers you to address potential problems swiftly and maintain a high level of performance.
So, remember to set up your alerts and notifications once you've got your key metrics in place. It's a smart way to ensure you're always ahead of any hiccups that might come your way in the realm of Microsoft 365. 🚀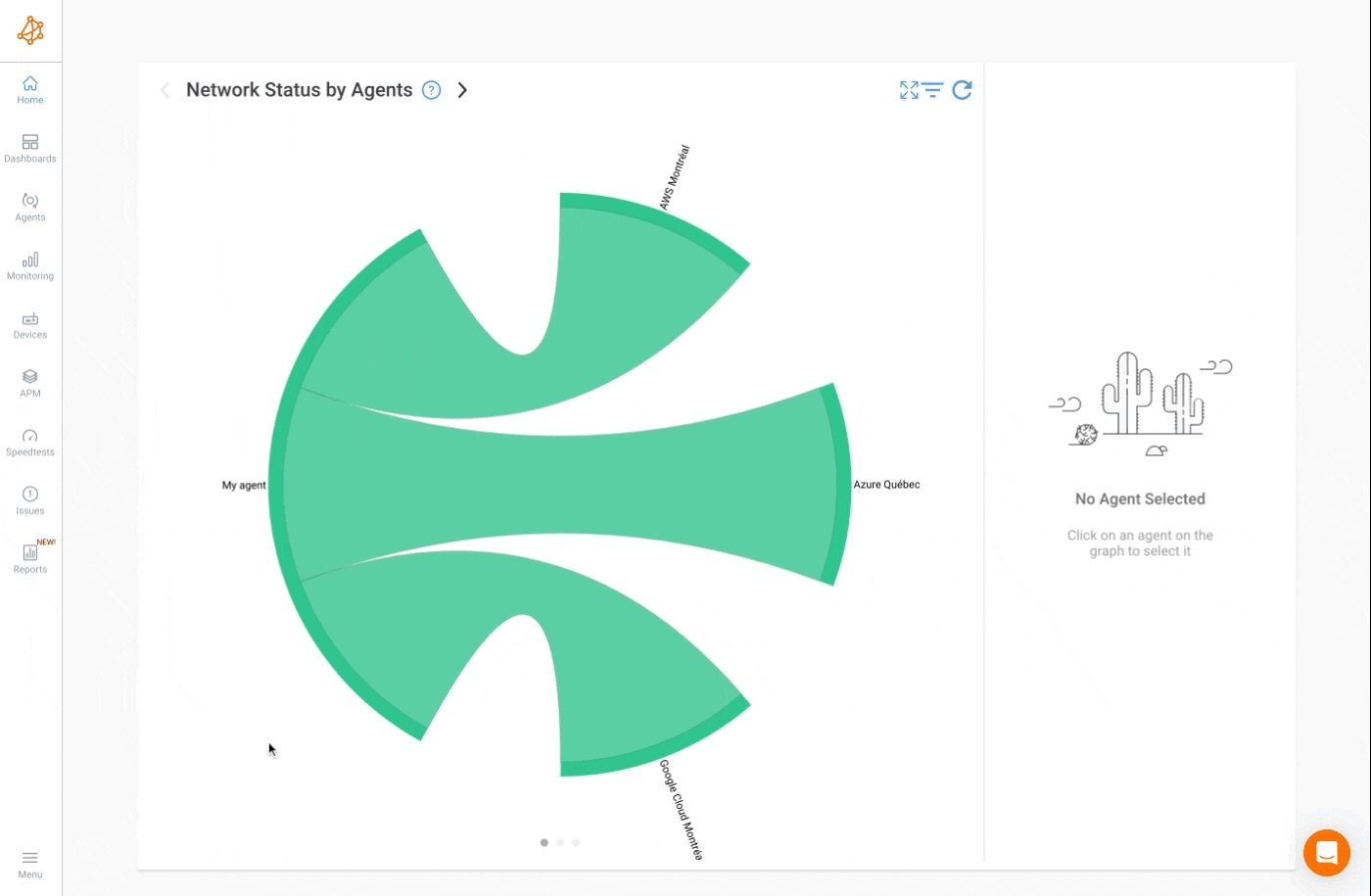 Once Obkio's Monitoring Agents are deployed and configured, they will begin exchanging synthetic UDP traffic every 500ms to continuously measure network and Microsoft 365 performance. This is when the real monitoring happens!
At this point, you'll want to define key performance metrics that are important for Microsoft 365 Monitoring. These network metrics provide a clear picture of the health and performance of your cloud environment.
Application Response Time: Measure the time it takes for Microsoft 365 applications like Outlook, Teams, and SharePoint to respond to user requests. Slow response times can indicate performance issues.
Service Availability: Monitor the availability of Microsoft 365 services. Downtime or service disruptions can impact user productivity and collaboration.
Latency: Keep an eye on network latency between users and Microsoft 365 servers. High latency can lead to sluggish application performance and poor user experiences.
File Upload and Download Speed: Measure the speed at which users can upload and download files to and from OneDrive and SharePoint. Slow file transfers can impact collaboration and productivity.
Video Conferencing Quality: If your organization uses Microsoft Teams for video conferencing, monitor video quality, audio clarity, and call drop rates with metrics like VoIP Quality to ensure effective communication.
Network Bandwidth Utilization: Monitor how much network bandwidth Microsoft 365 services are consuming. High utilization can lead to congestion and affect other critical applications.
Error Rates: Keep an eye on error rates for tasks such as email sending failures, document access errors, and authentication errors.
Server Health: If you're using hybrid deployments, monitor the health of on-premises servers that interact with Microsoft 365 services.
Packet Loss: Monitor the percentage of data packets that are lost during transmission. Excessive packet loss can lead to data retransmission and affect application performance.
Network Jitter: Track network jitter, or variations in packet delay, which can result in uneven audio or video quality during online meetings and calls.
Throughput: Measure the amount of data transmitted over the network per unit of time. Low network throughput can slow down file transfers and application interactions.
Network Utilization: Monitor the percentage of available network bandwidth being used. High network utilization can lead to congestion and affect Microsoft 365 performance.
DNS Response Time: Keep an eye on the time it takes for DNS queries to be resolved. Slow DNS response times can impact the loading of web-based Microsoft 365 services.
TCP Round-Trip Time (RTT): Measure the time taken for a TCP packet to travel from the user's device to Microsoft 365 servers and back. RTT provides insights into the network's responsiveness.
TCP Retransmission Rate: Track the rate at which TCP packets are retransmitted due to packet loss. High retransmission rates can impact application performance.
Network Errors: Monitor the number of network errors, including CRC errors, frame errors, and collisions, which can impact data integrity and transmission.
Network Path Availability: Assess the availability and quality of network paths between users and Microsoft 365 data centers. Multiple paths can ensure redundancy and better performance.
Routing Changes: Keep track of any unexpected changes in routing paths, which can impact the efficiency and speed of data transmission.
Firewall and Proxy Performance: Monitor the performance of firewalls and proxies that may inspect and filter network traffic to and from Microsoft 365 services.
Network Device Health: Monitor the health and performance of routers, switches, and other network devices that play a role in connecting users to Microsoft 365 services.
Bandwidth Shaping: If you're using bandwidth shaping or QoS policies, monitor their effectiveness in prioritizing Microsoft 365 traffic over less critical traffic.
Geographic Latency: Track latency for users in different geographical locations to identify any disparities in performance and optimize routing.
These metrics provide insights into various aspects of Microsoft 365 performance, helping businesses identify issues, optimize resources, and ensure a seamless user experience. The specific metrics you monitor should align with your organization's goals, user needs, and critical workflows.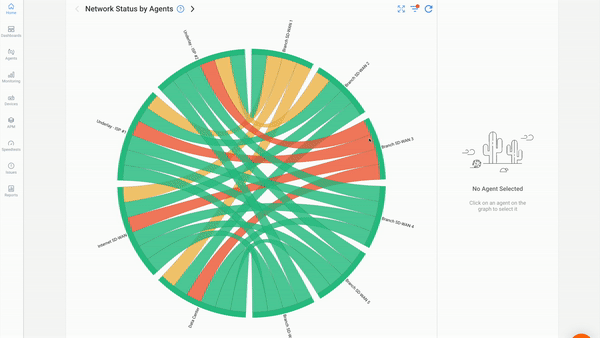 In Microsoft 365 monitoring, understanding the distinction between performance issues in a business's local network (internal network) and the external network (Internet connection) is crucial.
Both internal and external networks play pivotal roles in delivering a seamless Microsoft 365 experience, and monitoring both is essential to ensure optimal performance for users. Let's explore the differences and the importance of monitoring each:
The local network, also known as the internal network, refers to the infrastructure within the organization's premises. It includes routers, switches, firewalls, and other network devices that facilitate communication among devices within the organization. Performance issues within the local network can impact the delivery of Microsoft 365 services in various ways:
Latency and Data Transfer: Slow network connections within the local network can lead to delays when accessing Microsoft 365 applications or transferring files between users.
Server Access: If Microsoft 365 services are hosted internally, the local network's performance can affect how users connect to these services.
Authentication Delays: Issues within the local network can cause delays in authenticating users, leading to slow logins and access to Microsoft 365 accounts.
Internal Collaboration: Slow internal network connections can hinder real-time collaboration on shared documents through Microsoft 365 apps like Word and Excel.
The external network encompasses the connection between the organization's internal network and Microsoft's data centers, which host the cloud-based Microsoft 365 services. Performance issues within the external network can result in disruptions when accessing and using these cloud services:
Network Latency: High latency between the organization's location and Microsoft's data centers can cause slow application response times and affect real-time collaboration.
Data Loss and Packet Loss: Poor external network quality can lead to data loss and packet loss during file transfers or video conferencing, degrading user experience.
Service Downtime: Connectivity problems between the organization and Microsoft's data centers can result in service outages, preventing access to Microsoft 365 applications.
Synchronization Delays: Slow external network connections can cause delays in synchronizing files and updates with cloud-based storage like OneDrive and SharePoint.
Monitoring both the local network and the external network is essential for maintaining an optimal Microsoft 365 experience:
Root Cause Identification: By monitoring both networks, you can identify the root cause of performance issues more accurately. Isolating the source of the problem ensures targeted troubleshooting.
Proactive Issue Resolution: Timely identification of network issues allows IT teams to proactively address them before users are significantly impacted.
User Experience: Monitoring both networks ensures a seamless user experience. Users expect consistent performance whether accessing Microsoft 365 apps within the organization or from remote locations.
Comprehensive Performance Insights: Collecting data from both networks provides a comprehensive view of network health, enabling data-driven decisions for optimization.
Collaboration and Productivity: Effective collaboration through Microsoft 365 heavily depends on reliable network connections. Monitoring mitigates disruptions and enhances productivity.
Service Level Agreement (SLA) Compliance: Monitoring both networks aligns with SLA commitments, helping businesses with SLA monitoring and maintaining the agreed-upon service levels for Microsoft 365 services.
Incorporating comprehensive network monitoring tools, like Obkio, that cover both internal and external network segments empowers organizations to maintain consistent Microsoft 365 performance and deliver a seamless experience to users, whether they are accessing applications within the local network or connecting to cloud-based services externally.
One of the primary goals of Microsoft 365 monitoring is to ensure the seamless operation of its suite of applications and services. From communication to collaboration and data management, Microsoft 365 plays a pivotal role in modern business environments.
However, even with its extensive capabilities, issues can arise that hinder productivity and user satisfaction. Identifying and swiftly addressing these issues is key to maintaining a high-quality experience. Let's delve into a comprehensive list of common Microsoft 365 performance issues, each presenting its own set of challenges that efficient monitoring and troubleshooting can effectively overcome.
Slow Application Response: Microsoft 365 applications like Outlook, Teams, or Word taking longer than usual to respond to user interactions, leading to productivity slowdowns.
High Latency during Application Use: Significant delays when using Microsoft 365 apps due to high network latency, causing frustration and hindering productivity.
Application Crashes or Freezes: Microsoft 365 apps crashing unexpectedly or freezing during use, disrupting work and potentially causing data loss.
Long Load Times for Application Interfaces: Interfaces of Microsoft 365 applications loading slowly, increasing wait times and affecting user efficiency.
Inconsistent Application Behavior across Different Devices: Inconsistent behavior of Microsoft 365 apps across various devices, leading to confusion and difficulty in work continuity.
Email Delivery Delays: Emails sent or received within Exchange Online experiencing noticeable delays, impacting timely communication.
Unreliable Video Conferencing: Unstable video calls in Teams, characterized by poor video quality, audio dropouts, and frequent call disconnections. 8. Calendar Syncing Problems: Calendar events not syncing accurately across devices or applications, causing scheduling conflicts and missed appointments.
Difficulty Sharing and Accessing Files within Emails: Challenges in attaching, sending, or accessing files directly from emails, disrupting collaboration.
Inaccurate Presence Status in Communication Apps: Incorrect status indicators (available, busy, away) in Microsoft 365 communication apps, leading to communication breakdowns.
Syncing Delays or Failures: Delays or failures in syncing files across devices using OneDrive or SharePoint, causing inconsistencies in data availability.
SharePoint Performance Degradation: Slow loading times for SharePoint sites and documents, hampering collaboration and content access.
Limited Storage Capacity in OneDrive or SharePoint: Users encountering storage limits within their OneDrive or SharePoint accounts, preventing them from saving new files.
Slow Loading of Shared Documents and Files: Delays when accessing shared documents or files, affecting real-time collaboration and work continuity.
Document Version Conflicts during Collaboration: Conflicts arising from simultaneous editing of documents in Microsoft 365 apps, leading to version discrepancies and data loss.
How to Monitor & Fix Microsoft Teams Issues
Learn how to monitor Microsoft Teams performance & connection issues like Microsoft Teams "We're sorry - we've run into an issue" & "something went wrong."
Learn more
Mobile App Glitches and Performance Problems: Microsoft 365 mobile apps experiencing glitches, crashes, or slow performance on smartphones and tablets.
Application Compatibility Issues on Specific Devices: Microsoft 365 apps not functioning correctly or displaying inconsistently on certain devices, hindering productivity.
Mobile Apps Draining Device Battery Excessively: Microsoft 365 mobile apps consuming excessive battery power, impacting device usage and longevity.
Inconsistent User Interface on Different Devices: Variations in the user interface of Microsoft 365 apps across devices, leading to confusion and difficulties in navigation.
Third-Party Integrations Causing Crashes or Compatibility Issues: Third-party integrations with Microsoft 365 causing app crashes or compatibility problems, disrupting workflows.
Incompatibility of Certain Microsoft 365 Apps or Services on Particular Systems: Specific Microsoft 365 apps or services not functioning as expected on certain operating systems or devices.
Add-Ins Slowing Down Application Performance: Add-ins within Microsoft 365 apps causing slowdowns or delays in app responsiveness, affecting user efficiency.
Conflicts between Multiple Add-Ins within the Same App: Issues arising from multiple add-ins conflicting with each other within a single Microsoft 365 app, leading to instability.
Network Bandwidth Limitations Affecting Data Transfers and App Loading: Limited network bandwidth causing slow data transfers, app loading times, and reduced overall performance.
Offline Access Failures Due to Network Connectivity Issues: Users experiencing difficulties accessing documents or apps offline due to unreliable network connectivity.
Frequent Disconnects During Online Meetings and Video Calls: Intermittent disconnections during online meetings and video calls in Microsoft Teams, disrupting communication and collaboration.
Inconsistent Network Quality Causing Intermittent Service Interruptions: Fluctuating network quality leading to intermittent network problems or service interruptions and performance inconsistencies.
Unauthorized Access, Data Breaches, or Compliance Breaches: Unapproved access to Microsoft 365 data, unauthorized user activities, data breaches, or non-compliance with regulations.
Suspicious Account Activities Triggering False Security Alerts: Legitimate user actions triggering false positive security alerts, leading to unnecessary disruptions and confusion.
Compliance Violations Due to Misconfigured Settings: Incorrectly configured security and compliance settings within Microsoft 365, resulting in policy violations and data exposure.
Data Leakage Incidents Within Microsoft 365 Services: Instances of unintentional data leakage or exposure within Microsoft 365 services, compromising data privacy and confidentiality.
Limited User Adoption Due to Usability Problems or Lack of Training: Low adoption rates of Microsoft 365 services due to difficulties in usability or insufficient training resources.
Confusing User Interface Leading to User Frustration: Complex or unclear user interface elements within Microsoft 365 apps causing frustration and hindered productivity.
Resistance to Using New Features or Changes in the Microsoft 365 Environment: Users resisting adopting new features, updates, or changes in the Microsoft 365 environment, hindering progress.
Difficulty Locating and Accessing Specific Features or Settings: Challenges in finding and accessing specific features or settings within Microsoft 365 apps, slowing down tasks and causing frustration.
Downtime or Disruptions During Microsoft 365 Updates and Maintenance: Temporary service outages or disruptions occurring during Microsoft 365 updates and maintenance periods.
Service Degradation During Updates: Decreased service performance or functionality during Microsoft 365 updates, impacting user experience and productivity.
Failed Updates Causing Inconsistencies in Application Behaviour: Updates failing to install or causing inconsistencies in application behaviour, leading to disruptions and inefficiencies.
Challenges in Managing and Scheduling Updates for Large User Groups: Difficulties in coordinating and managing updates for a significant number of users, potentially causing delays and complexities.
Understanding these specific descriptions of common Microsoft 365 performance issues helps organizations diagnose and address problems swiftly, ensuring a smoother user experience and optimized productivity.
Troubleshooting performance issues in Microsoft 365 requires a systematic approach to identify and resolve the root causes. Here are some tips to help you effectively troubleshoot:
Start by collecting relevant information. Gather details about the affected applications, specific tasks, and the users experiencing issues. Document the symptoms, error messages, and any recent changes made to configurations.
Begin by checking Microsoft's Service Health Dashboard. This provides real-time information about the status of Microsoft 365 services and any ongoing incidents. It helps determine if the issue is widespread or specific to your organization.
To identify if the problem is isolated to a particular device or user, test the same task on different devices and user accounts. This helps narrow down whether the issue is user-specific or more widespread.
Utilize Obkio's Network Monitoring tool to assess network performance. Detect latency, packet loss, and bandwidth issues affecting Microsoft 365 services.
Ensure browser compatibility with Microsoft 365 apps. Use recommended browsers for optimal performance.
Advise users to clear browser cache and cookies to resolve potential caching-related problems.
Ensure apps are updated to the latest versions. Optimize by disabling unnecessary add-ins using Microsoft 365 Apps admin settings.
Use Obkio's Network Monitoring tool to gauge resource usage (CPU, memory, disk) on devices running Microsoft 365 apps.
Analyze third-party integrations' impact using Obkio's insights and logs. Confirm their compatibility with Microsoft 365.
Observe email and file size limits in Exchange Online, OneDrive, and SharePoint. Monitor storage usage to prevent overload.
Review Active Directory settings for authentication issues. Correct configurations to prevent authentication delays.
Use Obkio's Network Monitoring tool to diagnose Azure AD-related problems causing SSO or authentication disruptions.
If issues persist, collaborate with Microsoft Support. Share information gathered, including insights from Obkio's Network Monitoring tool.
Deploy Obkio's Network Monitoring tool for continuous Microsoft 365 service monitoring. Analyze data for trends and pre-emptive troubleshooting.
Configure alerts in Obkio's Network Monitoring tool based on thresholds. Get notified proactively before issues impact users.
By integrating Obkio's Network Monitoring tool into these troubleshooting steps, you enhance your ability to pinpoint network-related issues affecting Microsoft 365 services. This empowers you to provide a smoother experience for your users while resolving performance challenges efficiently.
Performance issues in Microsoft 365 can stem from various factors, including technical glitches, network problems, configuration errors, and more. Here are some common causes of performance issues:
Network Latency and Connectivity Problems: High network latency, packet loss, or unreliable connectivity between users and Microsoft 365 servers can lead to slow response times and delays.
Bandwidth Constraints: Insufficient network bandwidth can result in slow data transfers, sluggish application loading, and degraded video and audio quality during online meetings.
Server Downtime or Maintenance: Microsoft 365 services undergoing maintenance, updates, or experiencing server outages can cause disruptions and downtime for users.
Authentication and Identity Issues: Incorrect or slow authentication processes can lead to delays when users attempt to log in to Microsoft 365 services.
Resource Overload on Devices: Insufficient system resources (CPU, memory) on user devices can lead to slow application performance and responsiveness.
Browser Compatibility and Extensions: Use of incompatible browsers or browser extensions can cause rendering issues, slow load times, and application crashes.
Add-In or Integration Conflicts: Third-party add-ins or integrations can conflict with Microsoft 365 services, causing instability and performance problems.
Large Mailboxes and Files: Users with large mailboxes or files can experience slower access times and synchronization issues, impacting productivity.
Misconfigured Security Settings: Incorrectly configured security settings, firewalls, or antivirus programs can interfere with Microsoft 365 service access.
Data Center Geographic Location: Users in distant geographic locations from Microsoft's data centers may experience higher latency due to longer data travel times.
Storage Quotas and Limitations: Users hitting storage quotas in OneDrive, SharePoint, or Exchange Online can face issues with saving files or accessing email.
Active Directory and Azure AD Problems: Misconfigured Active Directory or Azure AD settings can lead to authentication delays and access issues.
Lack of Proper Training: Users unfamiliar with the features and functionalities of Microsoft 365 may not utilize the platform effectively, leading to perceived performance issues.
Outdated Software Versions: Using outdated versions of Microsoft 365 applications can result in compatibility issues and missed performance improvements.
Data Corruption or Loss: Corrupted files, folders, or data within Microsoft 365 services can cause data loss, access problems, and application crashes.
Service Plan Limitations: Utilizing lower-tier service plans with limitations on features and resources can impact performance for heavy users.
Inadequate System Maintenance: Lack of regular system maintenance, updates, and optimization can lead to performance degradation over time.
Service Overutilization: Heavy usage of specific Microsoft 365 services by a large number of users can lead to reduced performance for everyone.
Third-Party Network or ISP Issues: Network problems with third-party ISPs or internet service providers can affect network connectivity to Microsoft 365 servers.
Data Traffic Congestion: Congested network traffic during peak usage times can lead to slower data transfers and increased latency.
Network monitoring tools not only provide real-time insights into network performance but also store historical data over time. This historical data is invaluable for organizations as it offers a retrospective view of network behavior, enabling IT teams to identify long-term trends, anticipate potential issues, and make informed decisions for network optimization and troubleshooting.
Network monitoring tools continuously collect and store various performance metrics, including latency, bandwidth usage, packet loss, device health, and application response times. This data is time stamped and organized, creating a historical record of network performance events and conditions.
Benefits of Historical Data:
Identifying Long-Term Trends: Historical data allows IT teams to identify patterns and trends that may not be immediately apparent in real-time monitoring. For example, it can reveal gradual degradation of network performance over weeks or months, which might go unnoticed otherwise.
Anticipating Potential Issues: By analyzing historical data, IT teams can spot anomalies or deviations from normal network behavior. Sudden spikes in latency, increased packet loss, or recurring performance dips can be early indicators of impending issues.
Capacity Planning: Historical data assists in capacity planning by showing how network usage fluctuates over time. This information helps IT teams allocate resources effectively and avoid overloading the network during peak usage periods.
Performance Baselines: Establishing performance baselines using historical data provides a benchmark for normal network behaviour. Deviations from these baselines can signal problems requiring attention.
Comparing Before and After Changes: When implementing network changes or optimizations, historical data serves as a reference point. It allows organizations to compare network performance before and after changes to assess their impact.
Root Cause Analysis: Historical data aids in root cause analysis by providing context. IT teams can correlate performance incidents with historical events to uncover the underlying causes.
Capacity Upgrades: When considering network upgrades or expansions, historical data helps make informed decisions about the timing and scope of these upgrades based on usage patterns and performance trends.
Predictive Analysis: Advanced network monitoring tools can leverage historical data for predictive analysis. By identifying trends and patterns, these tools can forecast potential network performance issues and suggest preventive measures.
Regulatory Compliance: Historical data can be crucial for compliance reporting. Organizations might need to demonstrate consistent network performance for regulatory purposes, and historical data provides the evidence.
Historical data from network monitoring tools empowers IT teams to make educated decisions about network optimization, capacity planning, resource allocation, and troubleshooting strategies. It eliminates guesswork and ensures that decisions align with observed network behavior and long-term trends.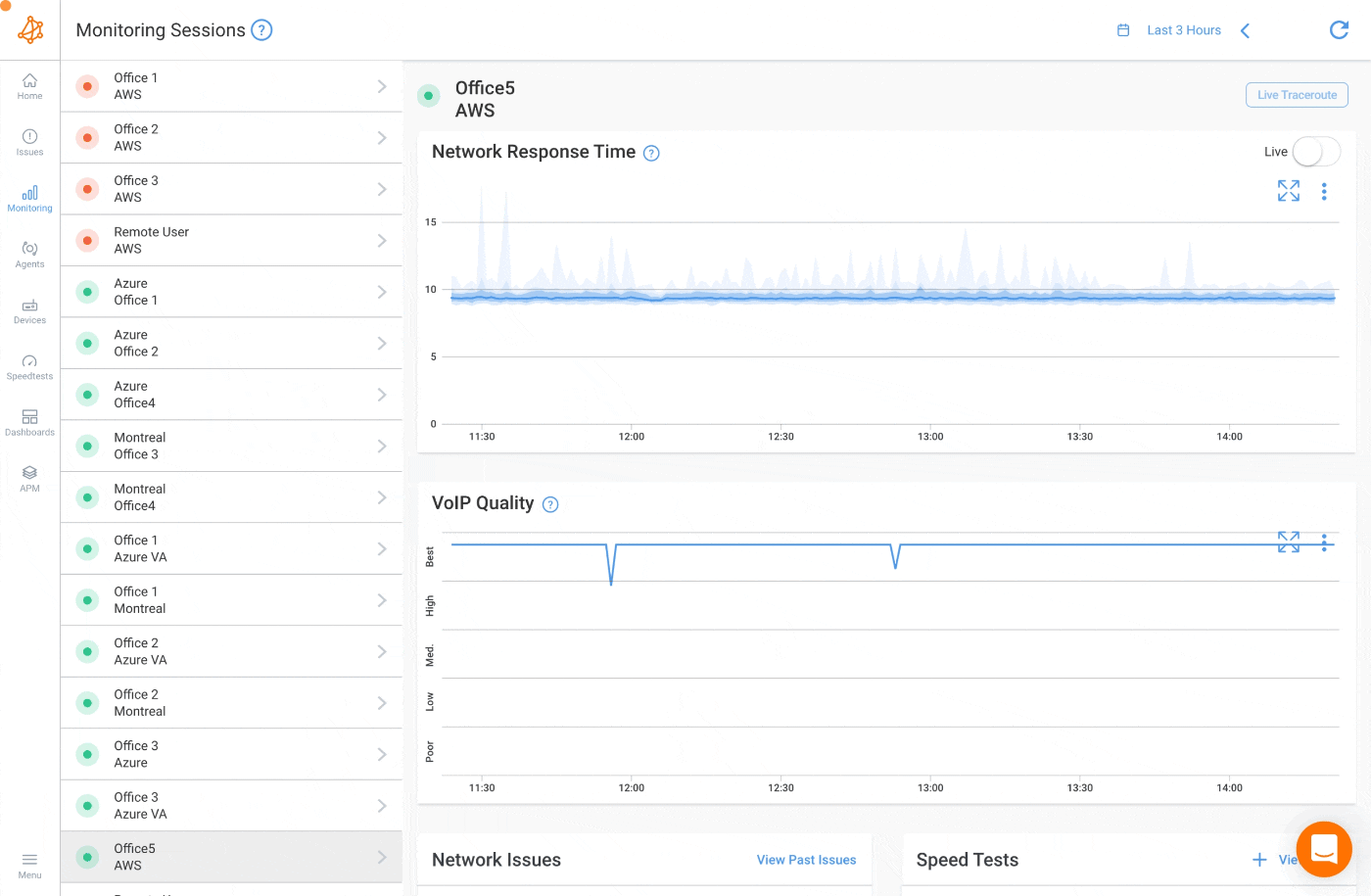 Microsoft 365 Monitoring for Remote Work: Enhancing Microsoft 365 Experience in a Distributed Landscape
The landscape of modern work has evolved dramatically, with remote work becoming a standard practice for many organizations. This shift has been accelerated by various factors, including technological advancements, changing work dynamics, and global events that have necessitated flexible work arrangements.
As remote work becomes a norm, the reliance on cloud-based services like Microsoft 365 has grown significantly. Network monitoring plays a pivotal role in ensuring a seamless Microsoft 365 experience for remote workers, who access these services over diverse networks.
Network Variability: Remote work introduces a vast range of network environments. Employees connect from their homes, public places, or other remote locations, each with its own network characteristics. Network monitoring provides insights into network quality, stability, and potential issues across this distributed landscape.
Performance Consistency: Microsoft 365 services, including Teams, Outlook, and SharePoint, are integral to remote work productivity. Network monitoring helps maintain consistent performance by detecting latency, packet loss, and other factors that could degrade user experience.
Real-Time Collaboration: Remote work relies heavily on real-time collaboration tools like Teams and online meetings. Network monitoring ensures reliable connectivity, smooth video conferencing, and uninterrupted file sharing, fostering effective collaboration.
Identifying Bottlenecks: Remote workers may encounter network bottlenecks due to limited bandwidth or high network usage in their locations. Network monitoring identifies these bottlenecks, enabling IT teams to address them promptly.
User Satisfaction: Remote workers' satisfaction is directly tied to their ability to access Microsoft 365 services without disruptions. Network monitoring helps IT teams proactively address issues, boosting user satisfaction and productivity.
Troubleshooting Efficiency: Remote troubleshooting is complex due to varying network conditions. Network monitoring tools provide comprehensive data to pinpoint issues quickly, reducing resolution time and minimizing downtime.
Personal Device Impact: Remote workers often use personal devices, which can have varying hardware and software configurations. Network monitoring assists in understanding how these devices interact with Microsoft 365 services and identifies compatibility issues.
Managed Service Providers (MSPs): For organizations relying on MSPs for IT support, network monitoring serves as a critical tool. It enables MSPs to offer proactive support, maintaining Microsoft 365 service quality for remote clients.
Adaptive Management: Remote work environments are dynamic. Network monitoring provides adaptive insights to handle changes in network conditions, ensuring consistent Microsoft 365 performance.
Network monitoring empowers organizations to overcome the unique challenges posed by remote work and Microsoft 365 usage. It ensures that remote employees can access applications, collaborate effectively, and stay productive, regardless of their location or the network they're using.
By proactively identifying and addressing network issues, businesses can maintain a high-quality remote work experience, driving employee satisfaction and operational success in today's distributed work environment.
How to Troubleshoot Networks with Employees Working from Home
Learn how to use Obkio Network Monitoring to help IT Teams troubleshoot and solve a variety of network problems affecting users working from home.
Learn more
In the modern business landscape, customer experience has emerged as a key differentiator. Organizations across industries recognize that delivering exceptional customer experiences is a vital factor in building brand loyalty, retaining customers, and driving growth.
As businesses increasingly rely on cloud-based solutions like Microsoft 365 to facilitate customer interactions, efficient network monitoring takes center stage in ensuring seamless service delivery and elevating the customer experience.
Reliable Communication: Microsoft 365 tools, such as Outlook, Teams, and SharePoint, play a central role in facilitating communication with customers. Efficient network monitoring ensures that communication channels remain open and responsive, preventing disruptions that could negatively impact customer interactions.
Real-Time Collaboration: Effective collaboration between teams directly affects customer interactions. Network monitoring guarantees smooth collaboration through real-time access to shared documents, efficient virtual meetings, and seamless information exchange.
Timely Responses: Customers expect prompt responses to their queries and requests. Efficient network monitoring minimizes network-related delays, enabling customer support teams to provide timely and accurate assistance.
Consistent Access to Data: Businesses often rely on Microsoft 365 applications to access customer data and information. Network monitoring prevents downtime or slow performance that could hinder access to critical customer data.
High-Quality Online Meetings: Virtual meetings are a common way to engage with customers. Network monitoring ensures that online meetings hosted through Microsoft Teams or other platforms are conducted smoothly, without video or audio disruptions.
Reduced Downtime: Downtime can lead to missed customer inquiries, delayed responses, and interrupted services. Efficient network monitoring detects potential issues early, allowing IT teams to address them before they escalate into service disruptions.
Data Integrity: Microsoft 365 services rely on network connectivity to synchronize data across devices. Network monitoring guarantees data integrity by identifying issues that could lead to data loss or inconsistencies.
Customer Retention: A seamless customer experience builds loyalty. Efficient network monitoring reduces the risk of service interruptions that could prompt customers to seek alternatives.
Positive Perception: Customers perceive businesses that consistently deliver smooth interactions as reliable and professional, enhancing their overall perception of the brand.
Operational Efficiency: When customer-facing teams can rely on stable network connections, they can focus on their tasks instead of troubleshooting network issues, leading to improved efficiency.
Competitive Advantage: Offering a superior customer experience sets businesses apart in a competitive market, attracting new customers and retaining existing ones.
Brand Reputation: A positive customer experience fuels positive word-of-mouth and online reviews, bolstering a business's reputation and credibility.
Revenue Growth: Satisfied customers are more likely to make repeat purchases and recommend the business to others, directly contributing to revenue growth.
In essence, efficient network monitoring ensures that Microsoft 365 tools perform optimally, directly enhancing the quality of customer interactions. By prioritizing network stability, businesses can provide seamless, reliable, and productive customer experiences that contribute to long-term success and sustained growth.
Businesses often find themselves operating in hybrid environments, where on-premises infrastructure and cloud-based services coexist. This hybrid approach allows organizations to leverage the benefits of both worlds, combining the control and security of on-premises systems with the scalability and flexibility of cloud solutions.
For businesses using Microsoft 365 services within a hybrid network setup, effective network monitoring becomes essential to ensure smooth operations, maintain data integrity, and deliver a consistent experience to users.
Diverse Ecosystems: Hybrid environments encompass a variety of components, including local servers, network devices, cloud resources, and Microsoft 365 services. Monitoring such a diverse ecosystem requires a comprehensive approach.
Data Synchronization: Data synchronization between on-premises and cloud systems can be complex. Ensuring seamless data transfer without disruptions is a challenge.
Latency and Connectivity: Latency issues between on-premises and cloud components can result in performance degradation. Monitoring latency and connectivity is crucial to prevent bottlenecks.
Security and Compliance: Balancing security and compliance in a hybrid setup requires monitoring data flows, access controls, and compliance with regulatory standards.
Service Dependencies: Businesses often rely on hybrid setups for business-critical applications and services. Monitoring dependencies between on-premises and cloud services is essential to prevent outages.
Comprehensive Network Monitoring: Deploy network monitoring tools, like Obkio, that offer visibility into both on-premises and cloud networks. This enables tracking traffic flows, detecting anomalies, and optimizing data routes.
End-to-End Performance Monitoring: Monitor the end-to-end user experience, from accessing on-premises applications to cloud-based Microsoft 365 services. This ensures consistent performance across the hybrid environment.
Hybrid Cloud Monitoring Solutions: Invest in hybrid cloud monitoring solutions that are specifically designed to handle the complexities of monitoring hybrid environments, providing insights into both on-premises and cloud components.
API Integration: Leverage APIs provided by cloud service providers and on-premises solutions to integrate monitoring data. This helps create a holistic view of the hybrid environment.
Threshold Monitoring: Set up thresholds for critical metrics like latency, bandwidth, and server health. Receive alerts when these thresholds are breached, enabling prompt action.
End-User Experience Monitoring: Monitor user interactions with Microsoft 365 services to detect performance issues that might arise due to the hybrid environment's complexities.
Synchronization Monitoring: Implement monitoring solutions that specifically focus on data synchronization between on-premises and cloud systems, ensuring data consistency and accuracy.
Regular Audits: Perform regular network audits of your hybrid setup's configurations, security policies, and access controls to ensure compliance and identify any potential vulnerabilities.
Scalable Solutions: Choose monitoring tools that can scale alongside your hybrid environment's growth. This ensures that your monitoring capabilities remain effective as your organization expands.
Operating in with hybrid networks offers organizations a strategic advantage, but it also introduces monitoring complexities. By implementing comprehensive monitoring strategies, businesses can navigate these challenges, maintain seamless operations, and leverage the benefits of both on-premises and cloud resources while using Microsoft 365 services to their fullest potential.
Effectively monitoring your Microsoft 365 network requires more than just deploying monitoring tools. It involves a holistic approach that aligns with your organization's goals and growth trajectory. By implementing best practices, you can maximize the value of your network monitoring efforts and ensure seamless performance for Microsoft 365 services.
Consistency is key when it comes to network monitoring. Establishing a routine ensures that potential issues are identified promptly and addressed before they impact operations.
Scheduled Checks: Set up regular intervals for monitoring activities. Whether it's hourly, daily, or weekly, consistent monitoring allows you to detect anomalies and deviations from baseline performance.
Automated Alerts: Configure automated alerts for critical metrics such as latency, packet loss, and bandwidth usage. Receive real-time notifications when thresholds are breached.
Comprehensive Coverage: Monitor not only network infrastructure but also endpoints, user experiences, and Microsoft 365 service performance. A comprehensive approach provides a holistic view of network health.
Network monitoring doesn't exist in isolation; it's part of a larger IT ecosystem. Collaboration between different teams ensures that network monitoring aligns with broader organizational objectives.
IT Alignment: Collaborate closely with IT teams responsible for network infrastructure. Exchange insights, share monitoring data, and work together to optimize network performance.
Security Integration: Network monitoring plays a crucial role in identifying security threats. Collaborate with security teams to correlate monitoring data with security events and enhance threat detection.
User Feedback: Engage with end-users to gather feedback on network performance. Their insights can provide valuable context to monitoring data and highlight user-specific issues.
As your business expands, your network monitoring strategy must scale accordingly. Whether adding new locations or accommodating increased usage, scalability is a vital consideration.
Provision for Growth: Select network monitoring tools that can handle increased data volume and network complexity. Ensure the tools can scale seamlessly as your organization grows.
Centralized Management: Implement a centralized management system for network monitoring. This simplifies the addition of new monitoring agents, locations, and devices as your business expands.
Multi-Location Support: If your business operates across multiple locations, ensure that your monitoring solution can provide insights into each location's network performance individually and collectively.
Collecting data is valuable, but the true value comes from analyzing that data and taking action based on insights.
Data Visualization: Utilize dashboards and data visualization tools to make monitoring data more accessible and understandable. Visual representations help in identifying trends and patterns.
Root Cause Analysis: When issues arise, perform thorough root cause analysis using historical data. Understand the underlying causes to prevent similar issues in the future.
Continuous Improvement: Apply insights from monitoring data to optimize network performance over time. Regularly assess your monitoring strategy and adjust it based on changing needs and trends.
By adhering to these best practices, you can build a robust Microsoft 365 network monitoring strategy that not only addresses immediate concerns but also contributes to long-term network optimization, user satisfaction, and the overall success of your organization.
In the ever-evolving landscape of modern business, the reliability and performance of Microsoft 365 services are paramount. Achieving and sustaining optimal performance is not a one-time endeavour; it's an ongoing journey that requires vigilance, adaptability, and the right tools.
Through the lens of network monitoring, we've explored the intricate relationship between network health, Microsoft 365 services, and the user experience. We've delved into strategies for proactive monitoring, optimizing hybrid environments, and embracing continuous improvement.
Monitoring your Microsoft 365 network is not just about reacting to issues; it's about harnessing the power of data-driven insights to predict, prevent, and preempt disruptions. It's about creating a seamless digital workspace where users can collaborate, communicate, and innovate without interruption. As the digital world advances, your commitment to effective network monitoring becomes a cornerstone of success.
Empower your organization with the comprehensive network monitoring capabilities of Obkio's Network Monitoring Tool.
From real-time insights to historical data analysis, Obkio's toolset equips you to proactively manage your network, optimize performance, and provide an unparalleled Microsoft 365 experience for your users. Join the ranks of businesses that have transformed their network monitoring practices with Obkio, and embark on a journey of excellence in Microsoft 365 service delivery.
Explore Obkio's Network Monitoring Solution today and elevate your network performance to new heights. Your Microsoft 365 experience deserves nothing less than seamless excellence.
These might interest you