Table of Contents
Table of Contents
Application slowdowns, poor Internet speed, and laggy video calls are always frustrating. Whether you're working in an office, or working from home, it's important to keep an eye on the applications that matter most.
In this article, we're teaching you how to monitor the network performance of Google apps, including Google Meet, Google Workspace, Gmail & Google Calendar.
Whether you're working from an office, or the comfort of your own home, you want to make sure your applications are performing as they should be. Applications like Google Meet, Google Workspace, Gmail, and Google Calendar and used by millions and businesses and individuals to stay productive, communicate, and get work done.
With more employees working from home more than ever before, it's important to continuously monitor your network performance to identify any issues and troubleshoot network problems from home - even without your IT team around.
With the right network performance monitoring solution helping you monitor the performance of your Google apps, you can quickly identify network issues, collect data to help you troubleshoot, and share that information with those responsible for solving the network problems.
Now, we're going to run you through the steps for monitoring Google network performance and applications.
When monitoring Google Meet, Google Workspace, and Gmail network performance, we recommend using a tool like Obkio Network Performance Monitoring software to do the work for you.
A network monitoring software can continuously monitor end-to-end network performance and identify network issues for you.
Get started with Obkio's Free Trial!
To begin monitoring network performance with Obkio, you need to deploy Monitoring Agents which continuously run tests to measure network and application performance.
For your Google apps, you need to use a Google Monitoring Agent. This would be the Google Cloud Monitoring Agent.
The Google Cloud Monitoring Agents are hosted and maintained by Obkio in the Google Cloud infrastructure, which means that they can be deployed within seconds. They allow users to proactively monitor network performance between their standard Agents and Google Cloud Monitoring Agents right to the Google Cloud Platform. With 360-degree visibility, users can easily identify the source and cause of a network issue based on the monitoring data from these Monitoring Agents.
For more information about deploying this Monitoring Agent type, refer to our Documentation.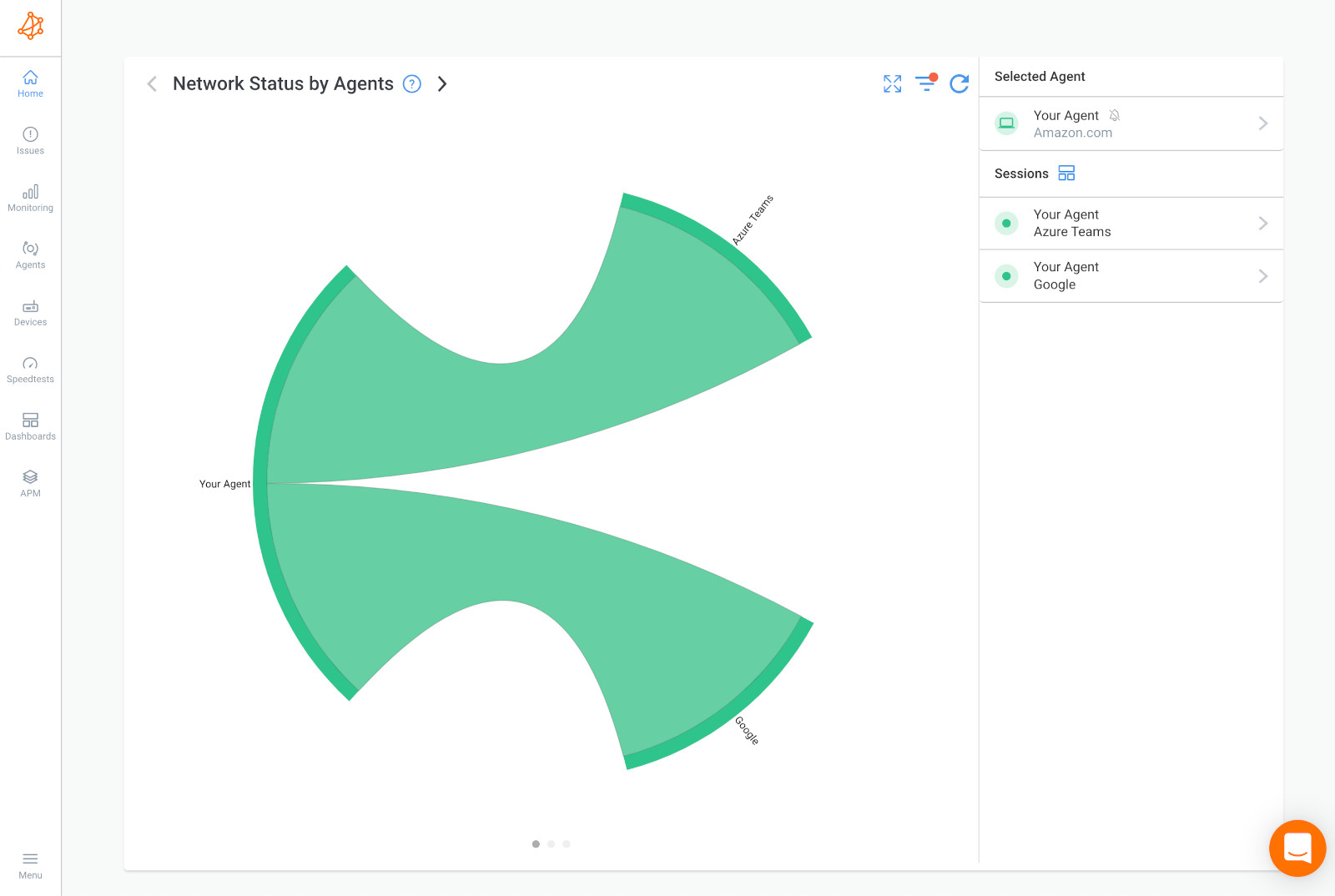 Google applications like Google Workspace store customer data in Google's global cloud locations. So when you're looking to monitor the performance of these apps, it's important to choose a Public Monitoring Agent which has been deployed in the Data Center located closest to the Google Data Center closest to you.
For Example: You want to monitor Google Workspace performance for your business based in the United States in Iowa. First, you need to find the location of a Google Data Center in the U.S.
Google actually has a data center located in Iowa.
Obkio's Google Cloud Monitoring Agent is presently deployed in several different locations, including one in US Central (Iowa) and one in US West (Oregon).
So when you're deploying your Agent, make sure to either choose the Iowa Agent to monitor your Google Workspace performance from Google's Iowa Data Center!
How to Monitor Google Cloud Interconnect and Network Performance
Learn how to monitor Google Cloud Interconnect and Network Performance to identify network issues using Obkio Network Monitoring software.
Learn more
We recommend deploying a minimum of more than two Agents to more accurately compare data. For example, if you're monitoring Google network performance between your head office and your Internet, use one Agent in our Head Office and 2 Agents to monitor Internet performance (example, a Google Cloud Agent and an AWS Agent).
This way, if you have a network problem, you can easily see if that same problem is affecting all your sites or just one.
If the problem is affecting all your sites, having Agents allows you to collect the most accurate data to troubleshoot, as well as create a comparison point.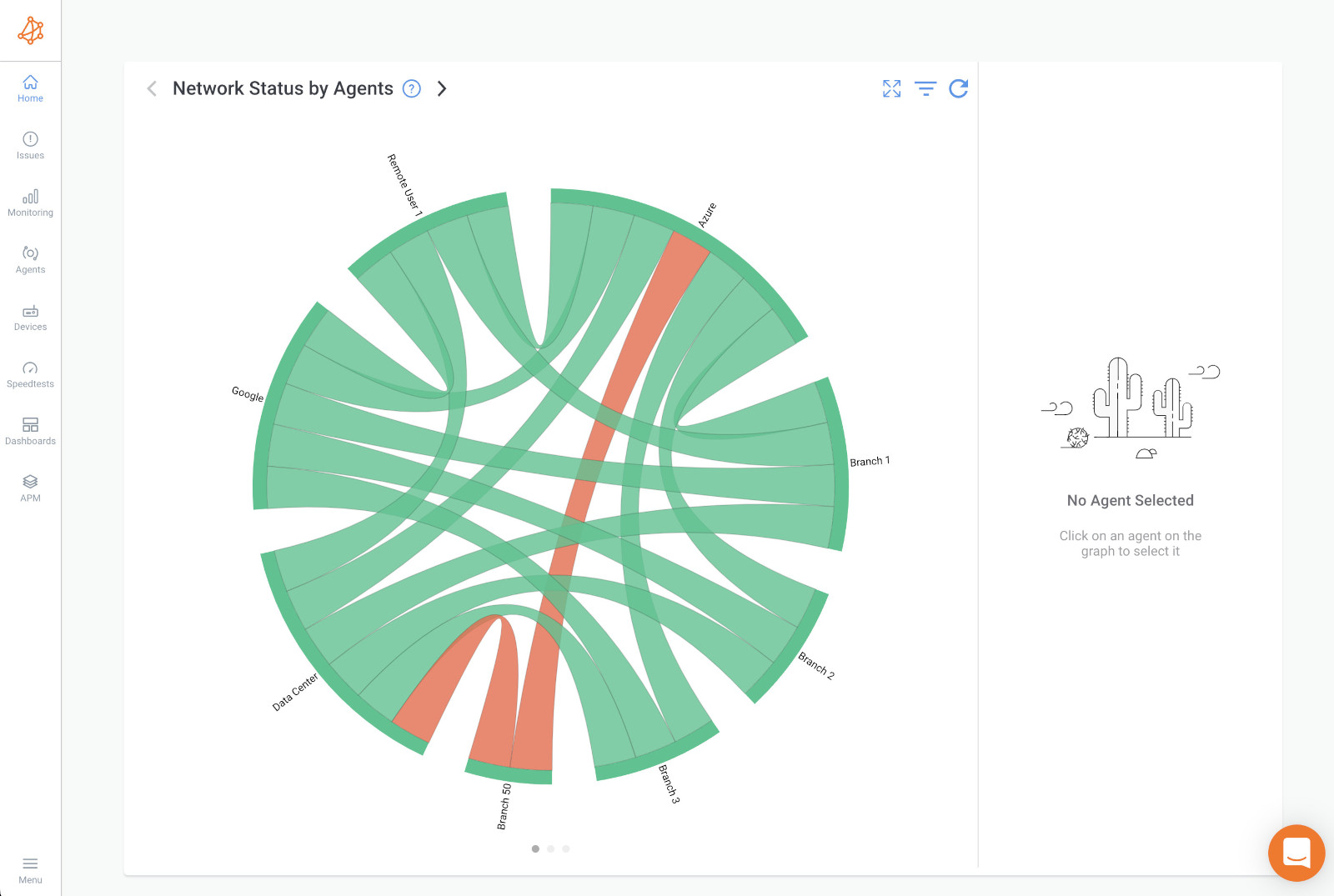 Once you've set up your Google Monitoring Agent and finished all the steps in our Getting Started Tutorial, you're all set! You can now continuously monitor the performance of your Google apps like Google Meet, Workspace, Gmail, and Google Calendar.
Once set up, your network monitoring agents will send packets to each other every 500ms to measure network metrics such as: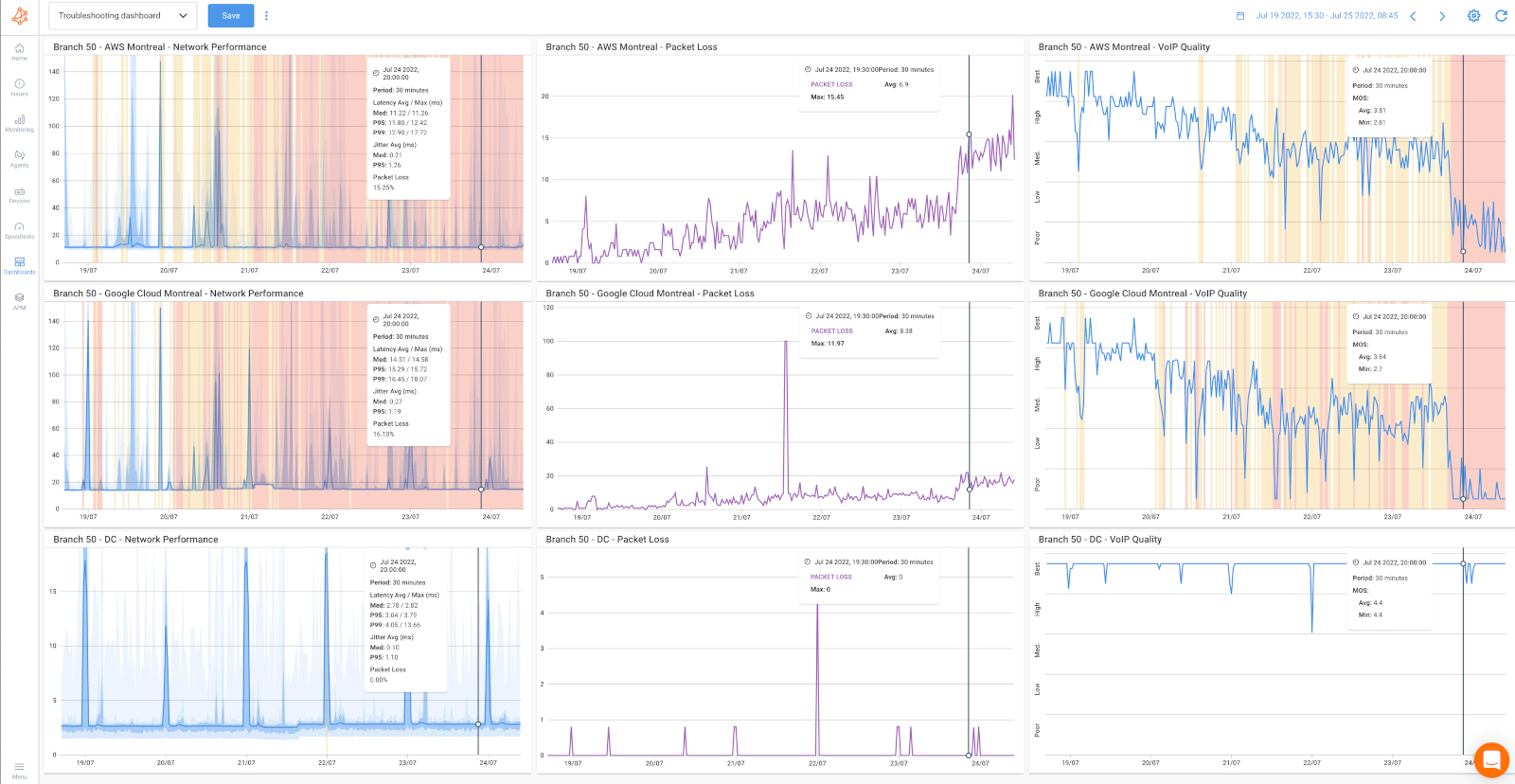 Obkio's agents also detect any network outages within 5 seconds and network degradation within a minute. You can also go back in time and see the exact network performance for your Google apps every minute of the previous week with historical data, and create a network performance baseline.
You can also use other network monitoring tools in Obkio's software to get even more detailed network performance data.
Traceroutes: For more detail about performance and potential network issues, Obkio also executes Traceroutes periodically in both directions to identify hop-by-hop issues and to keep track of the historial latency between hops.

Speed Tests: Your monitoring setup also allows you to schedule automatic speed tests between the agents to monitor network speed and test the available throughput on the connection between your on-premise infrastructure and the Google Cloud.

Device Monitoring: If you're experiencing any local network problems for Google Meet or Workspace, use Obkio's Network Device Monitoring solution with SNMP monitoring to monitor and find network problems associated with Firewalls, Routers, Switches, Wifi APs and any SNMP-enabled devices.
How to Troubleshoot Networks with Vision Visual Traceroute
Learn how to use Obkio Vision's Visual Traceroute tool to troubleshoot network problems with traceroutes both inside & outside your local network.
Learn more
Networks are often the backbone of businesses, and so when they don't perform to the best of their capabilities, your business may suffer. Additionally, network problems can affect so many different parts of your network - like Internet, VoIP, firewall, and application performance.
Google apps like Google Meet and Gmail can be greatly affected by poor network performance. And we all know how difficult it is to get our jobs done with some of our core applications aren't working as they should be.
The best way to avoid these disruptions is to continuously monitor network performance to proactively identify and solve network problems
Is your network always the cause of Internet problems like slow Internet speeds and choppy VoIP Quality? Many times, it is, but not always.
The network is only one component of most IT environments, and some components can even be hosted in a public cloud, making it even harder to pinpoint the exact location of a problem.
It's not always clear if a problem is located in your business' network, in your service provider's network, or somewhere else entirely. We've all been on one of these never-ending conference calls with Service providers where everyone seems to be pointing fingers and blaming someone else.
Using a performance monitoring solution and by deploying Monitoring Agents in strategic locations, you can clearly identify if a problem is network-related, and if so, where a network problem is coming from, whether it's in your local network, between your network and Google's network.
Continuing on from the first benefit, you need to collect more information about your network performance to identify any network problems with Google Meet, Google Workspace, Gmail and so on.
Monitoring your Google apps with a network performance monitoring software will allow you to continuously monitor network performance by monitoring the network metrics that matter the most.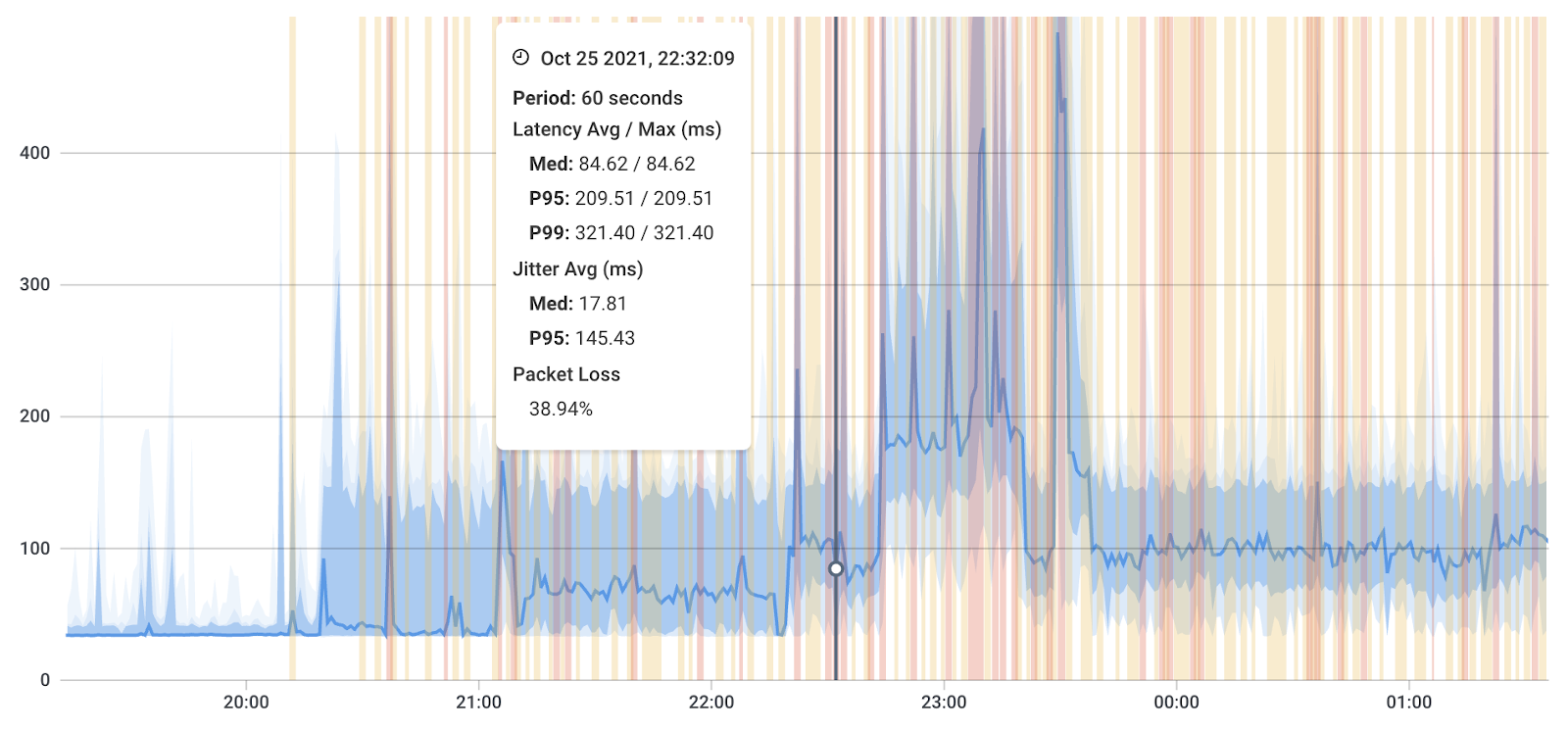 Once you've collected information about any issues affecting your Google apps, you can start troubleshooting! With a proactive network monitoring system, you can identify problems right as they happen, even before your end-users start experiencing them.
Apps like Google Meet and Gmail and constantly being utilized by employees - so if any problems arise, your users will notice them right away. But at that point, their user experience has also degraded. Which is why it's important to address network performance problems, at the first sign of trouble.
With the data you've collected, you can then determine who needs to solve the problems affecting your Google apps, whether it's your internal IT team or maybe your MSP or Service Provider, or Google themselves.
How to Troubleshoot Network Issues: Unleash Your Inner IT Hero
Learn how to troubleshoot network issues by identifying where, what, why network problems occur with Network Troubleshooting tools.
Learn more
You're all set!
Now that you have your monitoring setup in place, it's extremely easy to install more agents in branch offices, data centers and other clouds providers to monitor network performance.
Keep Obkio as a permanent part of your IT team to continuously monitor your Google performance and identify performance issues for you!
Get started with Obkio's Free Trial!