How to Improve SD-WAN Visibility for Businesses
In Summary
There's a lot of talk about SD-WAN technology in the networking world, and so many businesses are making the switch to SD-WAN with promises of higher, more reliable performance. But, when they do, so many companies lack SD-WAN networks visibility to identify performance issues, and see if their SD-WAN service is actually performing as promised. Keep reading to learn how to get the SD-WAN visibility your company actually needs.
In the last few years, the Network Pros from Obkio's Network Performance Monitoring Software have helped hundreds of clients through SD-WAN migrations, which include monitoring hundreds of network sites and troubleshooting common SD-WAN issues.
Using this experience, the article is going to discuss why and how businesses can improve their SD-WAN visibility to identify performance issues that could impact your business' performance.
Here's the bottom line: Many businesses don't have the visibility they need to monitor their SD-WAN network and service.
Service Providers can't provide visibility: SD-WAN vendors will sell you with big promises about the performance of SD-WAN, and SD-WAN networks are truly an impeccable option for large enterprises. But SD-WAN networks are still prone to network issues that vendors and Service Providers can't see using the native monitoring features included in their SD-WAN service.

SD-WAN networks aren't prone to network issues: No matter the power of SD-WAN, like any network, SD-WAN can experience network issues that affect user experience. Common SD-WAN issues like high bandwidth and CPU usage are going to happen at some point - so you need the visibility to proactively identify and solve them.

SD-WAN's native monitoring features aren't enough: The native monitoring features included in your SD-WAN service don't provide the 360-degree visibility needed for monitoring and troubleshooting every network location. They also can't notify you if something goes wrong. For example, when you have SD-WAN 2 connections in a network, let's call them ISP #1 and ISP #2, you won't be notified if ISP #1 is experiencing issues and goes down, because the other will just take over.

Troubleshooting can be difficult: Even without Firewall As A Service (FWaaS), there's always performance issues. But when you add that layer, it also involves a Service Provider in the mix and more communication paths to monitor and troubleshoot. Additionally, it's also extremely hard to troubleshoot issues in IPSec Tunnels without the right tools.

There's a lot of ping-pong with Service Providers: There's also a lot of back and forth between customers and Service Providers when performance issues arise, because no one has the visibility to know where the problem is coming from or who is responsible for fixing it.
You need SD-WAN visibility, so how do you get it? Well, you monitor your SD-WAN network.
Businesses using SD-WAN need to deploy a modern Agent-based solution, ​like Obkio Network Performance Monitoring software, with dedicated SD-WAN Monitoring capabilities.
Obkio's tool is able to monitor end-to-end SD-WAN performance from the end-user perspective to provide visibility of every network connection to understand:
If the SD-WAN service is performing as promised
If it's not, what problems are affecting their SD-WAN networks
Where the problems happened (in their local network or Service Provider network)
Who is responsible for troubleshooting the issue
Get started with Obkio's Free Trial!
To get visibility of your SD-WAN network, you need to understand the design of your network so you can adapt that design to your monitoring setup to the network design.
This is the type of SD-WAN network design that most companies use:
Internet local breakout
Internet VPN IPSec between the site and ZScaler (Firewall As A Service)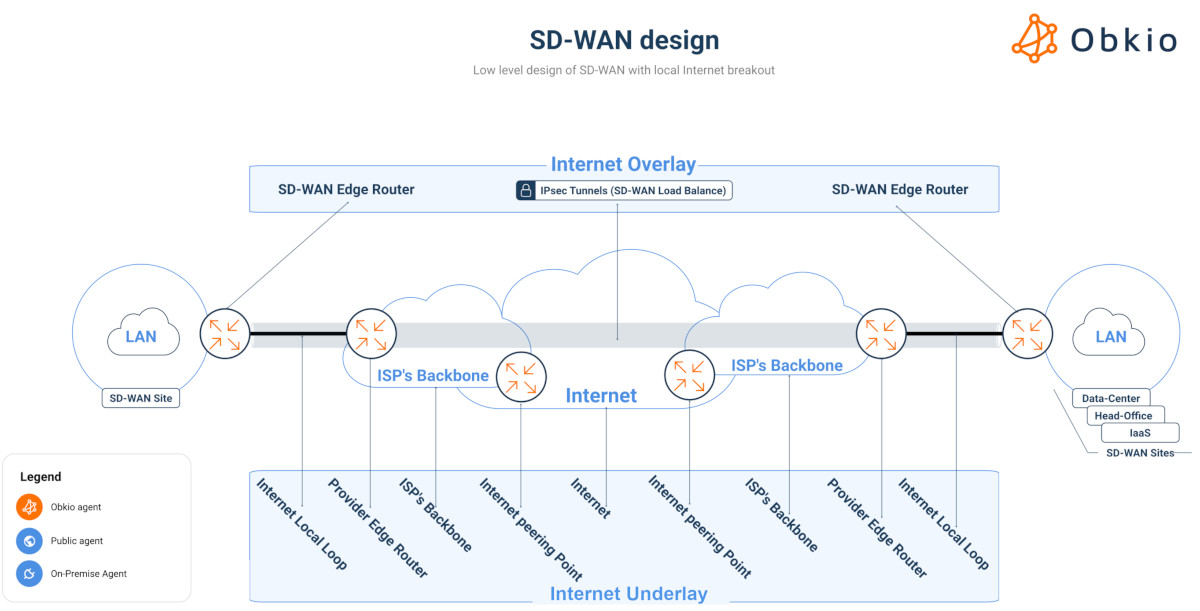 As mentioned earlier, SD-WAN issues are bound to happen. Most companies using SD-WAN experience performance issues on the last mile of the network, which generally has the lowest speeds, the least route diversity and the most single points of failure.
If your business also has Firewall As A Service (FWaaS), it also involves a Service Provider in the mix and more communication paths to monitor. You'll also have to open a support ticket with your Service Provider if the problem is on their end and you want them to troubleshoot. You'll need proof for that, which your SD-WAN Monitoring Tool will help you collect.
Obkio's Network Performance Monitoring tool gives you SD-WAN visibility by continuously monitoring every end of your SD-WAN network, including the SD-WAN overlay and underlay, with synthetic traffic using Network Monitoring Agents.
This is the setup you need for end-to-end SD-WAN visibility:
A Local Monitoring Agent installed behind the SD-WAN appliance at every site you need visibility of.
Three Remote Monitoring Agents deployed in locations like clouds, data centers, and branch offices to monitor Internet and Cloud apps.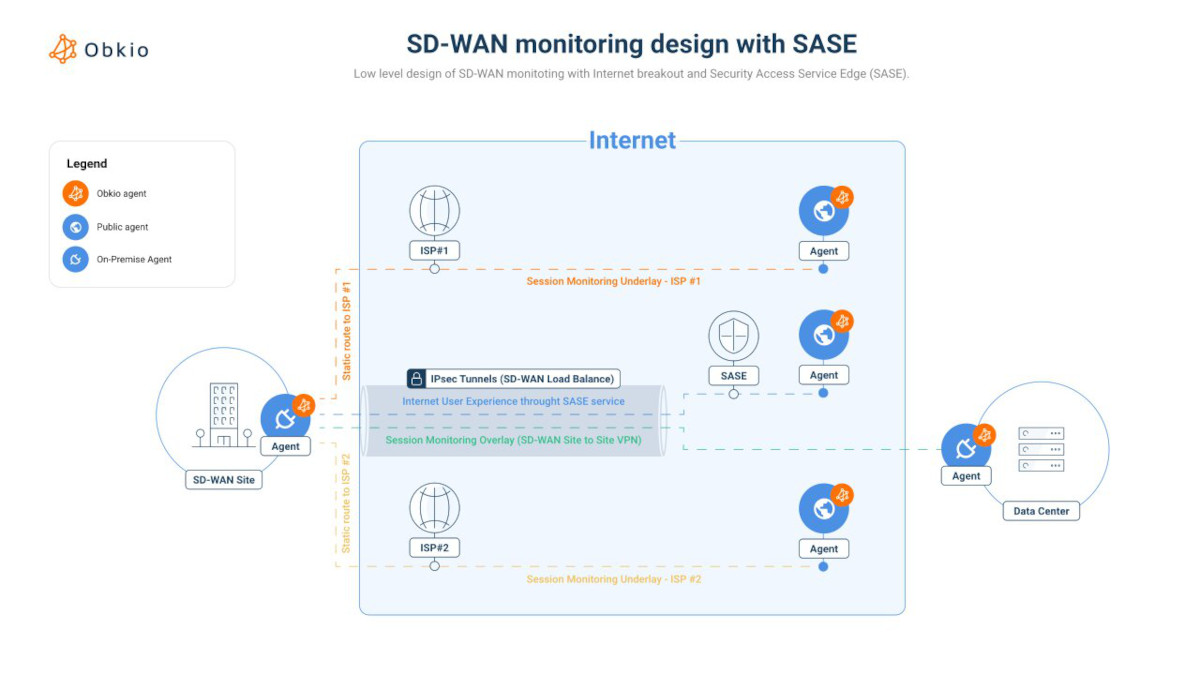 With this setup, you'll also have visibility of:
ISP #1 connection
ISP #2 connection
The End-User (load balanced between the connection using the SD-WAN algorithm)
The SASE Service
Once deployed, the Agents create Monitoring Sessions and use synthetic UDP traffic to monitor every network path, to measure performance metrics and identity issues.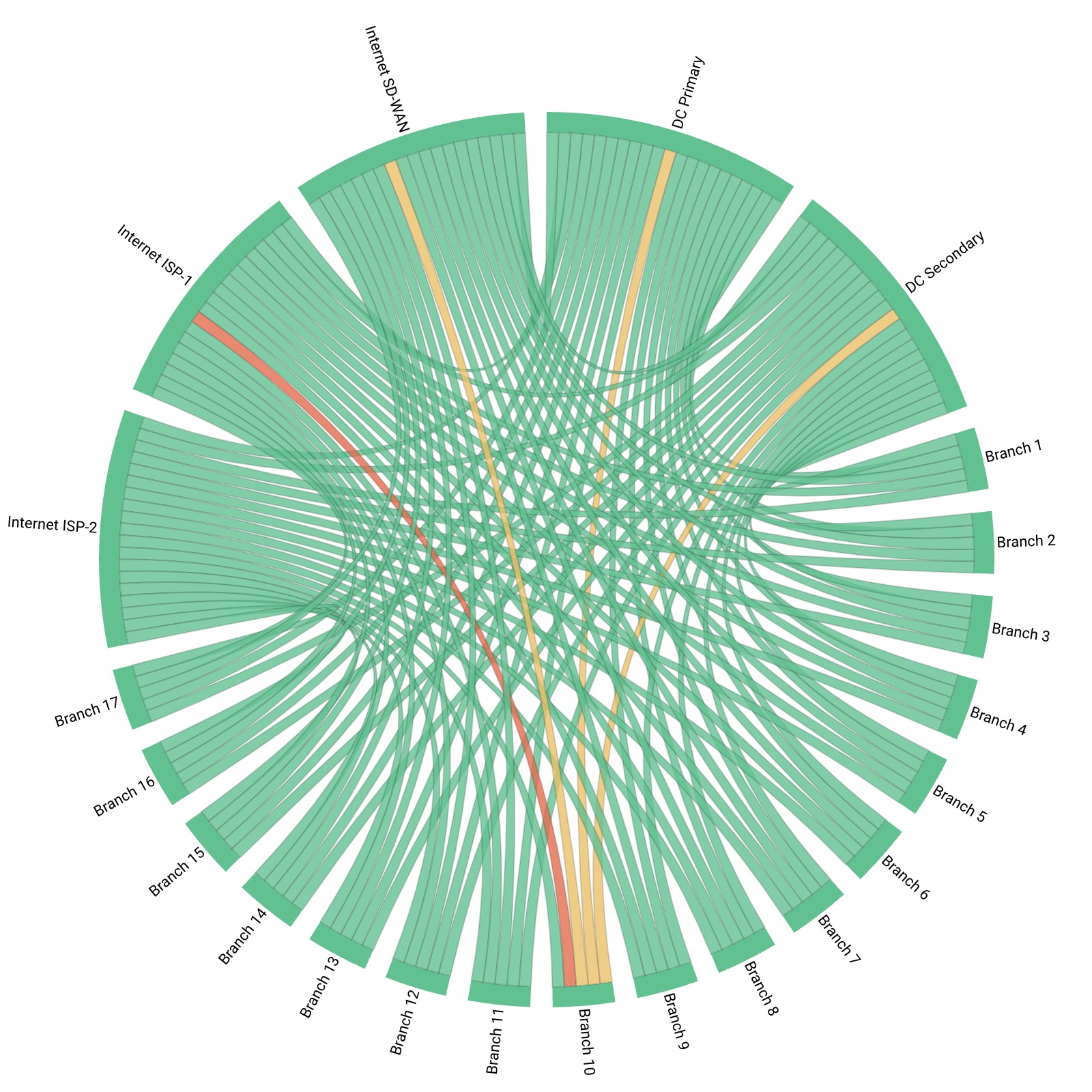 To go a step further, use APM HTTP features to monitor critical business applications, like Zoom and Microsoft Teams, from the real end-user perspective, and identify network problems affecting your most used applications.
With complete SD-WAN of your entire network infrastructure, your business will truly be able to understand if your SD-WAN service is really performing as the way your SLA and Service Provider promised.
If it isn't, Obkio's Network Performance Monitoring tool is essential for proactively locating SD-WAN issues, no matter when and where they come from. Learn more about the most Common SD-WAN Issues we've come across.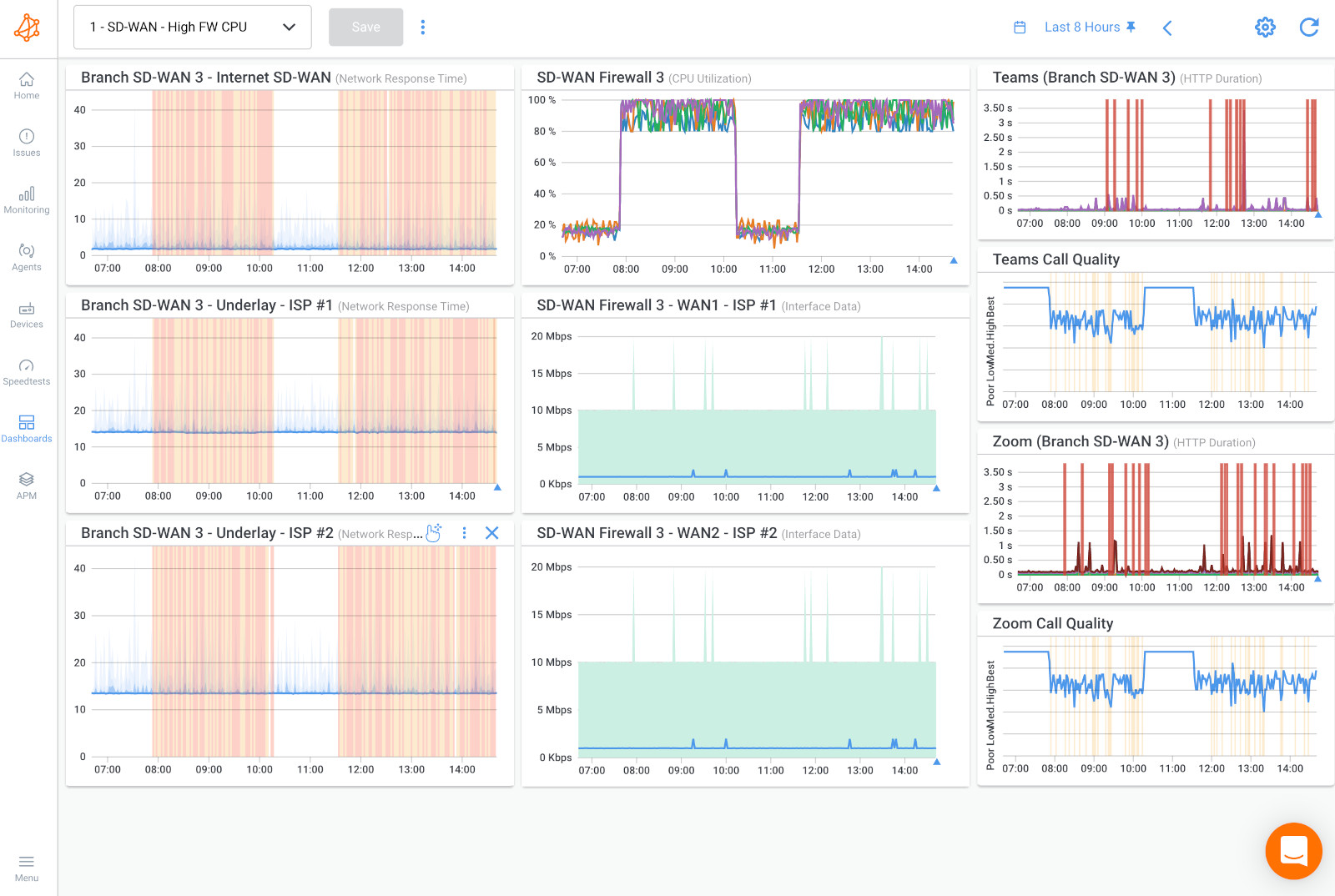 Using the SNMP Device Monitoring, your business will be able to also monitor your SD-WAN Edge Equipment to identify if performance issues are happening in your local network and how many sessions are being affected, or if the issue is happening in your Service Provider's network.
SD-WAN issues happening locally may be caused by high CPU or Bandwidth usage on the SD-WAN Edge Router, and can be troubleshooted with your internal IT or network team. Learn more about the complete SD-WAN Troubleshooting process here.
SD-WAN networks are the future for businesses running large, multi-site networks. Although they promise exceptional network performance, getting end-to-end SD-WAN visibility is important for ensuring your SD-WAN network performs as promised by the SLA.
Your Service Provider isn't your monitoring tool, and neither are your users. Monitoring your SD-WAN network gives you the visibility you need to identify performance issues your Service Provider can't see, before your users experience them.
Monitor all SD-WAN networks like:
Whether your business is planning an SD-WAN migration, or have already been using SD-WAN for years, get started with Obkio's Free Trial!