Table of Contents
Table of Contents
Zoom performance and connection issues are a remote employee's most annoying foe. They pop up to embarrass you during meetings and kick you off a call without notice. That's why we're teaching you the how to's of Zoom troubleshooting using Network Monitoring!
Zoom performance and connection issues can be caused by common network problems like jitter, packet loss and congestion. Which is why Network Monitoring is your biggest ally when monitoring Zoom performance and identifying connectivity issues.
The Zoom Series:
Zoom Troubleshooting Performance and Connection Issues (this article)
To first identify Zoom performance issues, you need to continuously monitor your network and Zoom performance. To do so, we recommend a tool like Obkio Network Performance Monitoring software,
A network monitoring software continuously monitors end-to-end Zoom performance to identify network issues for you, and collect the data you need to start troubleshooting.
Get started with Obkio's Free Trial!
To begin monitoring Zoom network performance with Obkio, you need to deploy Monitoring Agents which continuously measure network and Zoom performance in key network locations.
In our previous article in our Zoom series, How to Monitor Network and Zoom Performance, we talk about setting up the Monitoring Agents, so you can refer to that article for setup.
Essentially, to collect the data you need to translate, you'll need:
1 AWS Monitoring Agent: Since Zoom is supported by AWS, you'll need the AWS Agent which monitors performance up to the AWS cloud. To learn how to find the AWS Data Center location used by your Zoom, check out our article on How to Identify the Zoom Data Center Location on AWS Infrastructure.

1 other Public Monitoring Agent: To compare performance up to the Internet and quickly identify if the problem is global or specific to Zoom. This will be great information for later in the troubleshooting process. You can use an Azure Agent or Google Cloud Agent.

1 Local Agent: Installed in the targeted office location experiencing the Zoom connectivity issues. There are several Agent types available (all with the same features), and they can be installed on MacOS, Windows, Linux and more.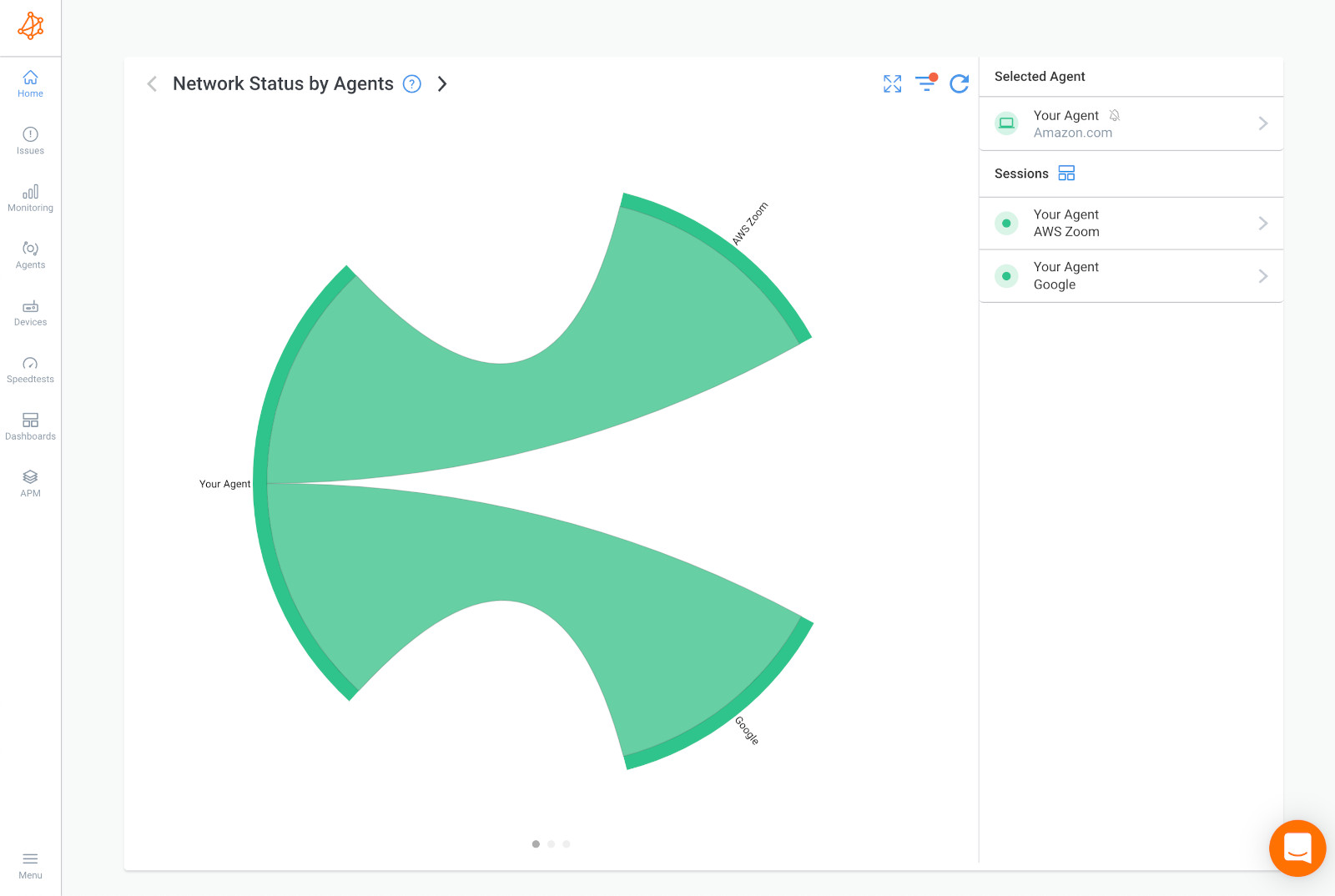 Once your Monitoring Agents are deployed, they will continuously exchange synthetic UDP traffic between each other to monitor performance, this is called a Network Monitoring Session.
To identify Zoom issues, you'll want to let the Agents run and collect data for some time. If you're unlucky enough, you'll see the performance issues after just a few minutes, but we recommend letting the Agents collect data for at least 3 hours.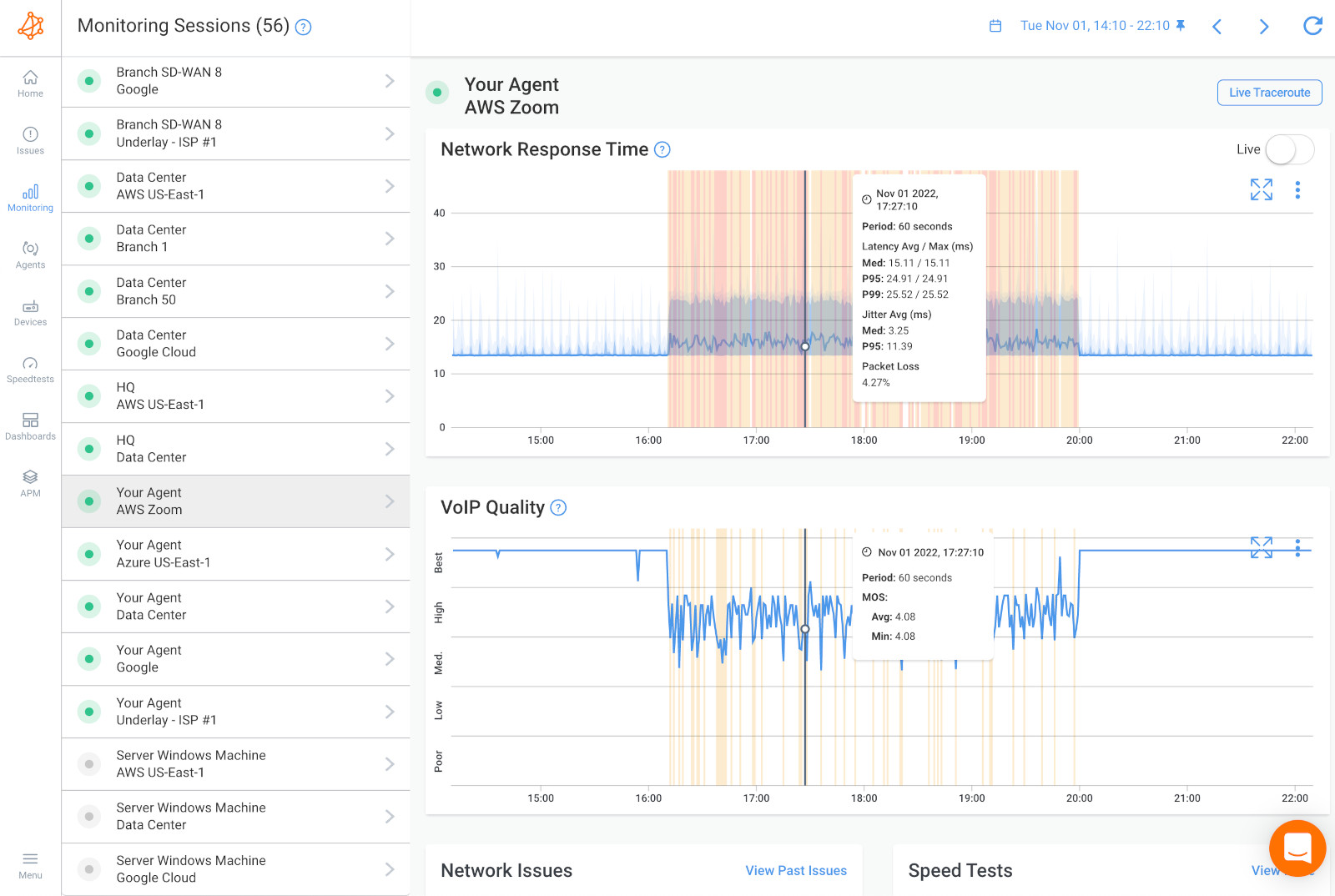 Obkio's Network Response Time Graph and VoIP Quality Graph showing Latency, Jitter, and Packet Loss
When the Agents start exchanging traffic, they start monitoring and collecting performance data, which you can see on the Network Response Time Graph.
If you have a Zoom performance or connectivity issue, you'll be able to see it in the graph. You can see moments of jitter, packet loss, and latency. And even the impact on MOS Score.
From here, we'll start with the 3 Zoom troubleshooting steps.
To begin troubleshooting your Zoom issue, you need to first establish: Is it really a network problem?
To do this, you'll need to compare the monitoring sessions between the AWS Public Monitoring Agent and the other Public Monitoring Agent you deployed.
In the screenshot below, you'll see an example of a Network Session with no performance issues. As a reference, this is what it looks like when the network isn't the cause of your Zoom problem.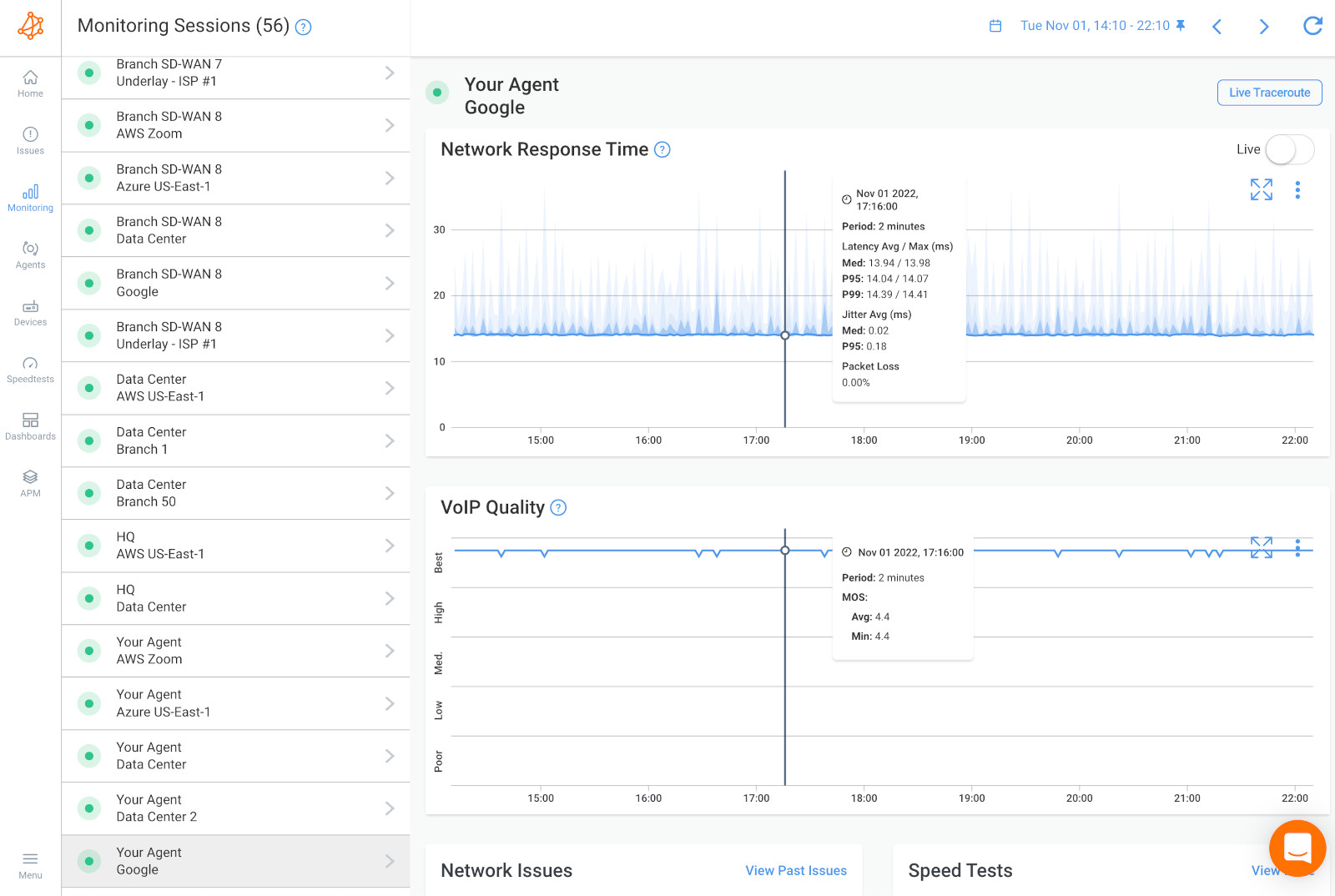 If it's not a network issue, it might be a user issue. In this case, you can install a Monitoring Agent directly on a user's workstation (the user who is experiencing the Zoom issues) to get a performance perspective from their point-of-view.
If you still don't find a network problem at this point, it may just be a problem that can be solved directly on the user's workstation. Zoom, like several other hardware-intensive videoconferencing systems, uses up a lot of resources (CPU, RAM).
Luckily Obkio also monitors these important resource metrics for you!
In the screenshot below is an example of a network issue happening on both network sessions.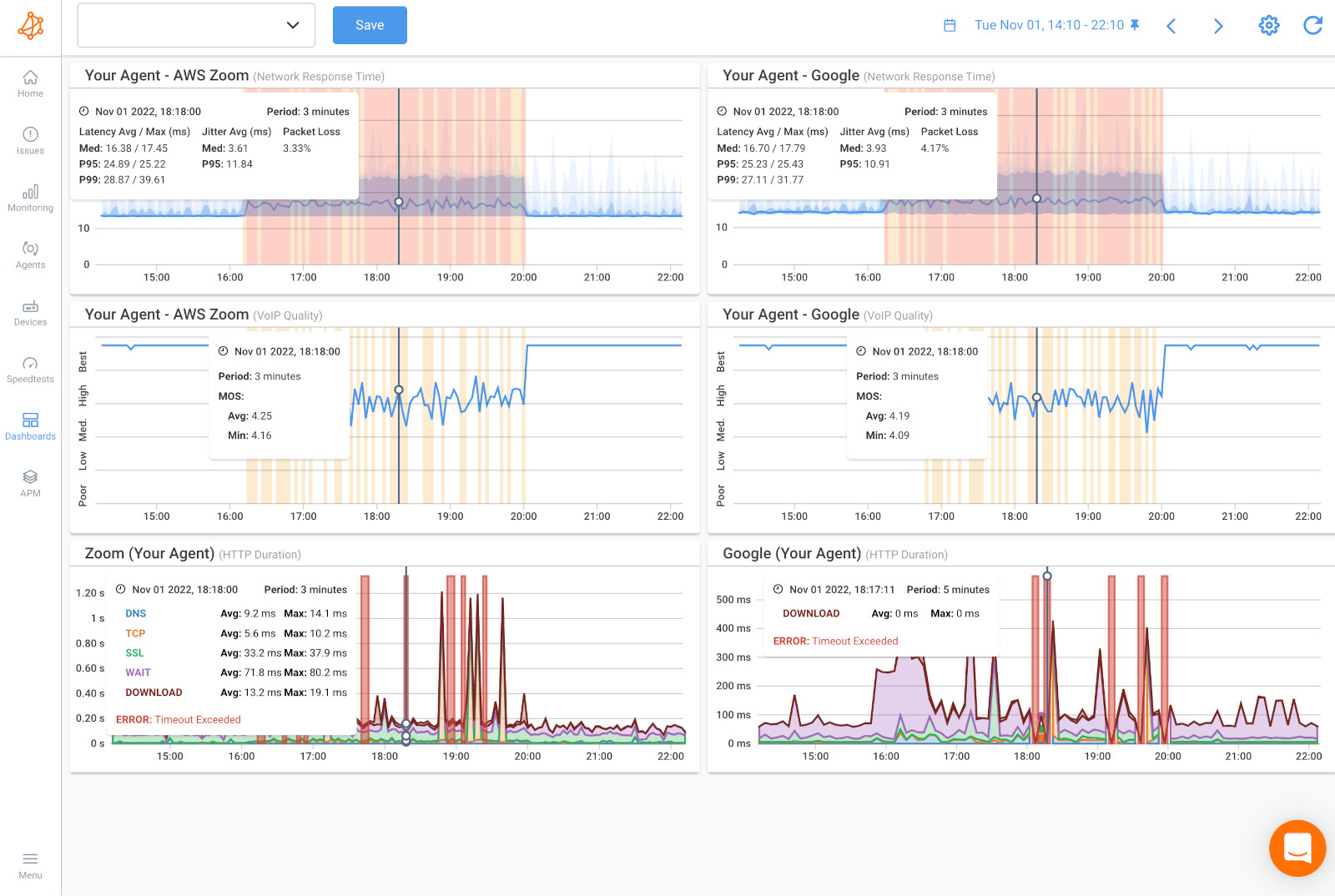 This means that the Zoom connectivity issue is happening on a network segment that is common to both network sessions. This means that the problem is broader, not exclusive to Zoom and affects all services and applications that depend on the network. This could be in the LAN, the firewall or the local loop Internet connection.
Skip to Step 2 for the next step.
In the screenshot below is an example of a network issue happening on only one network session.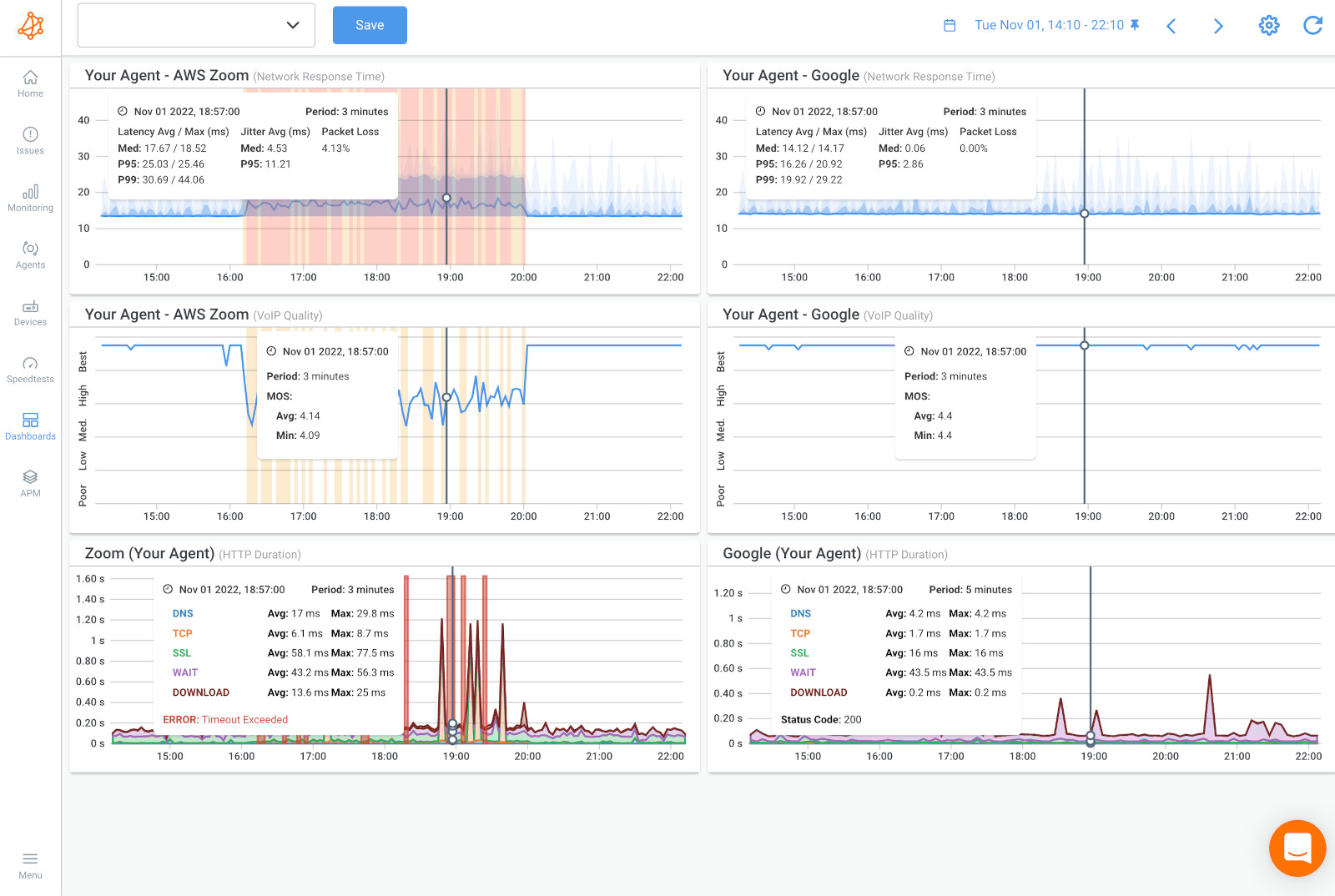 This means that the network problem is happening specifically towards that specific location on the Internet and that the problem is further away.
In this case, skip right to Step 3.
If the network problem is happening on both network sessions, compare that data using Obkio's Device Monitoring feature to further understand if the Zoom connectivity issue is happening on your end, or over the Internet, in your Service Provider's network.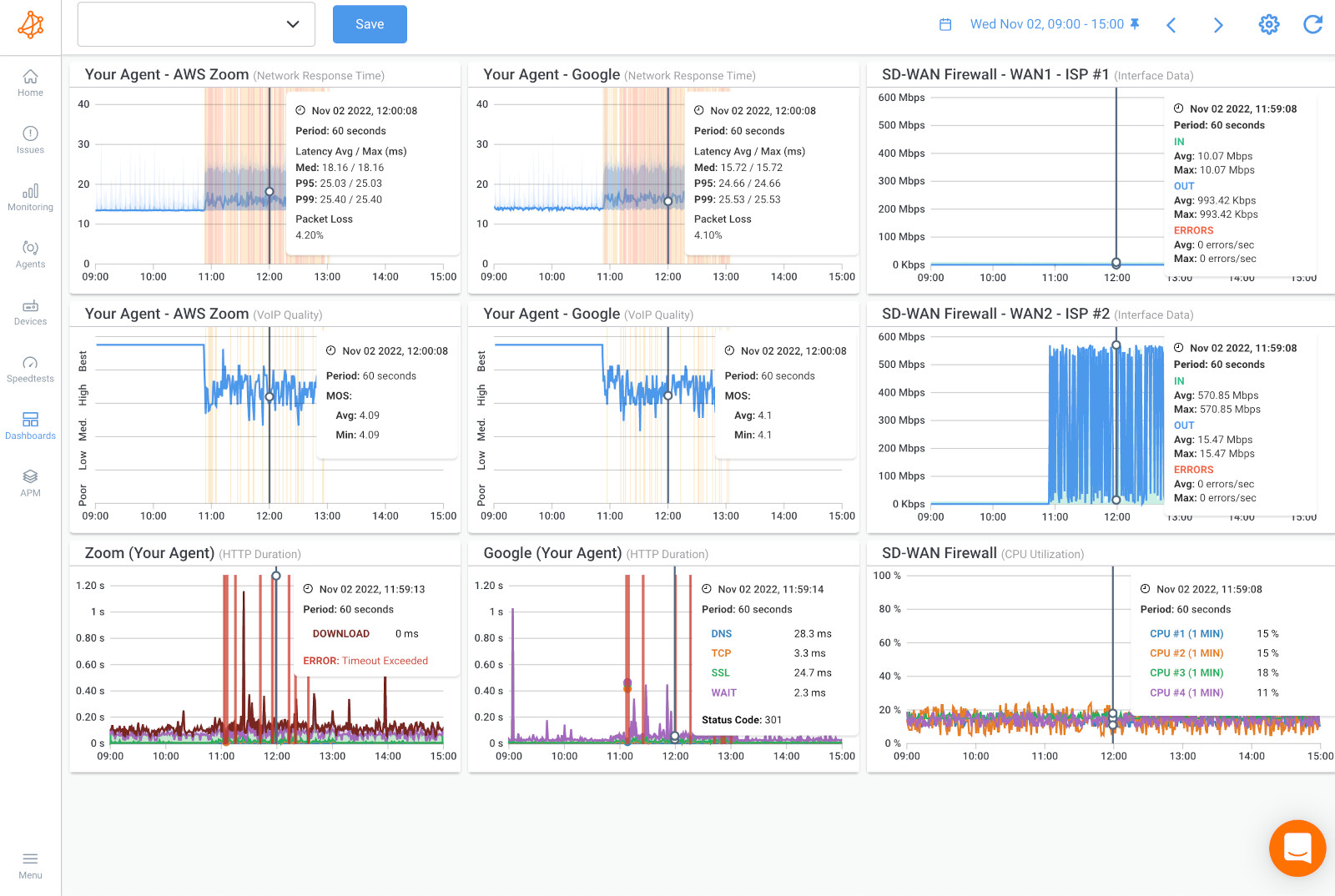 When you compare your previous data with Device Monitoring metrics, if you find CPU or Bandwidth issues, this likely means that the problem is on your end and you need to do something.
Here are a few suggestions:
Look into what traffic is being used. Understand if the traffic is legitimate or not by looking at the firewall logs. Illegitimate traffic might be a security breach (data exfiltration), or mass data backup happening during business hours instead of during the night.

Manage priorities in your Firewall to prioritize Zoom traffic in order to reduce the impact on Zoom during periods of congestion. This means that all the traffic towards or from Zoom will be prioritized first when passing through the network.

Upgrade your Internet connection bandwidth with your ISP if you're just running out of bandwidth.

Look into your device to understand why it's missing resources and causing high CPU usage. There may be a software problem, your device may need a firmware update, the last update may be bugged, or the device may just not have enough resources available and needs to be upgraded to a bigger device.
If you don't see any resource issues from your devices, this is a sign that the network problem affecting your Zoom performance is on your Service Provider's end.
In this case, you need to open a service ticket with as much information as you can collect. And, for your request to be taken seriously and be quickly escalated past 1st level support, you need to share as much information as you can. Obkio will be your best friend for that.
The data you can provide is that from your dashboard in the previous steps, as well as your Traceroutes in the next step.
At this point, you can now collect the last bit of data about where exactly the network problem is located so you can share that information with your Service Provider.
To do this, we'll be using Obkio Vision, Obkio's free Visual Traceroute tool that runs continuously to interpret Traceroute results to identify network problems in your WAN and over the Internet.

Obkio Vision Quality Matrix
Note: If the network problem is happening on your end, you don't need to do this step. It'll just further confirm that conclusion.
By using Traceroutes, the Network Map, and the Quality Matrix you'll be able to identify if:
A. The problem is happening specifically towards a specific location over the Internet. So only one specific site is being affected.

Obkio Vision Network Map
B. The problem is on your ISP's side and you need to open a service ticket with as much information as you can collect.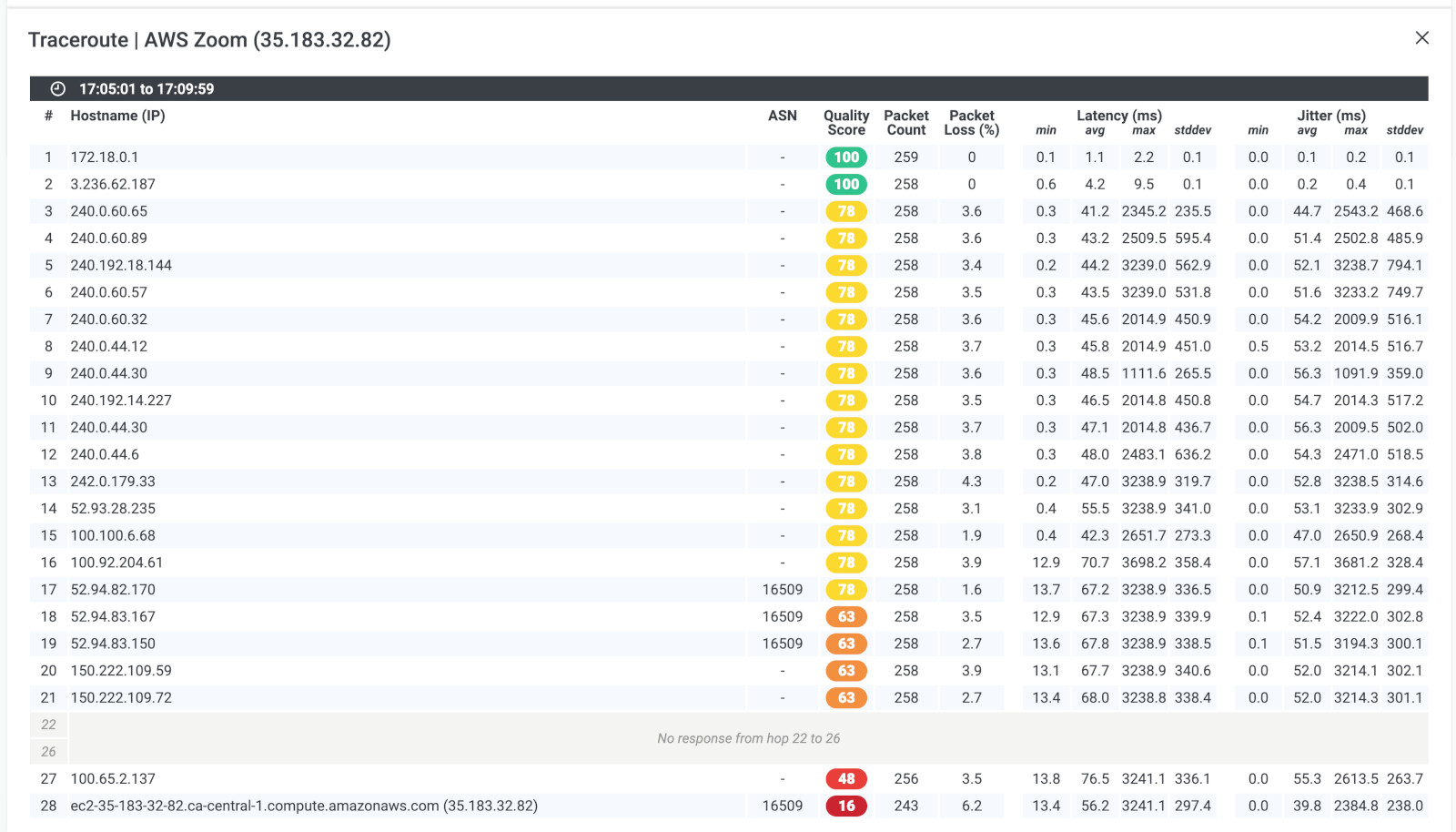 Obkio Vision Traceroutes
Contact your ISP to get technical support using the screenshots of Monitoring Sessions, Dashboards or Traceroutes in Vision.
Share results of Live Traceroutes with your ISP using a public link.
If your ISP wants to analyze your data further, you can create a temporary Read-Only User in your Obkio account for them.
How to Troubleshoot Networks with Vision Visual Traceroute
Learn how to use Obkio Vision's Visual Traceroute tool to troubleshoot network problems with traceroutes both inside & outside your local network.
Learn more
Once you've collected the data you need to troubleshoot your Zoom performance and connectivity issues, you don't have to dread your next Zoom call.
But remember, performance issues can always come back.
That's why it's important to keep monitoring Zoom performance so you can identify and troubleshoot performance issues as soon as they happen. Install Monitoring Agents in all your network locations, and keep Obkio as your permanent Zoom monitoring and troubleshooting tool!
Get started with Obkio's Free Trial!