How to Monitor Microsoft Azure ExpressRoute & Network Performance
In Summary
Many Microsoft customers rely on Azure ExpressRoute to create private and secure connections between Microsoft cloud applications and their on-premise infrastructures. In this article, we'll be running you through how to monitor network performance of Microsoft Azure ExpressRoute between your on-premise infrastructure, up to the Microsoft cloud to ensure that you never lose connection with your favourite Microsoft services.
Azure ExpressRoute is a service offered by Microsoft which allows you to create private connections between your on-premise networks and Microsoft cloud using a private connection facilitated by a connectivity provider. With ExpressRoute, you can establish connections to Microsoft cloud services, including Microsoft Azure, Office 365, and Dynamics 365.
Connectivity can be established from an any-to-any (IPVPN) network, a point-to-point Ethernet network, or a virtual cross-connection through a connectivity provider at a co-location facility.
Azure ExpressRoute connections don't go over the public Internet, which offers users higher security, reliability, and speeds with lower latencies than typical connections over the Internet. This is highly beneficial for users that require a connection speed and reliability for Azure assets or an entire Azure infrastructure.
To continuously monitor Microsoft Azure performance, we recommend using a tool like Obkio Network Performance Monitoring software, to do the work for you.
A network monitoring software can continuously monitor end-to-end network performance and identify network issues for you - and with Obkio, you can be sure it'll be quick and easy to use.
Get started with Obkio's Free Trial!
As with every Obkio monitoring setup, you need to deploy Network Monitoring Agents at strategic locations like your head office, remote office, data center etc, to monitor network performance using a distributed network monitoring solution.
Since you'll want to monitor the network performance between Microsoft Azure ExpressRoute and your on-premise infrastructure, you'll want to deploy two agents:
Microsoft Cloud Agent: We recommend the Software agent that can be installed on your favorite Windows, Docker, and Linux distribution, including Debian, Ubuntu and CentOS.

On-Premise Agent: If you have Linux or Windows servers, the Software (Linux, Windows, Docker) version is perfect. If you have an Hyper-V or VMware environment, the Virtual Appliance is ideal. Otherwise, we have hardware agents that are very easy to deploy and offer all of the same functionality. You can purchase Hardware Agents directly from the Obkio Store.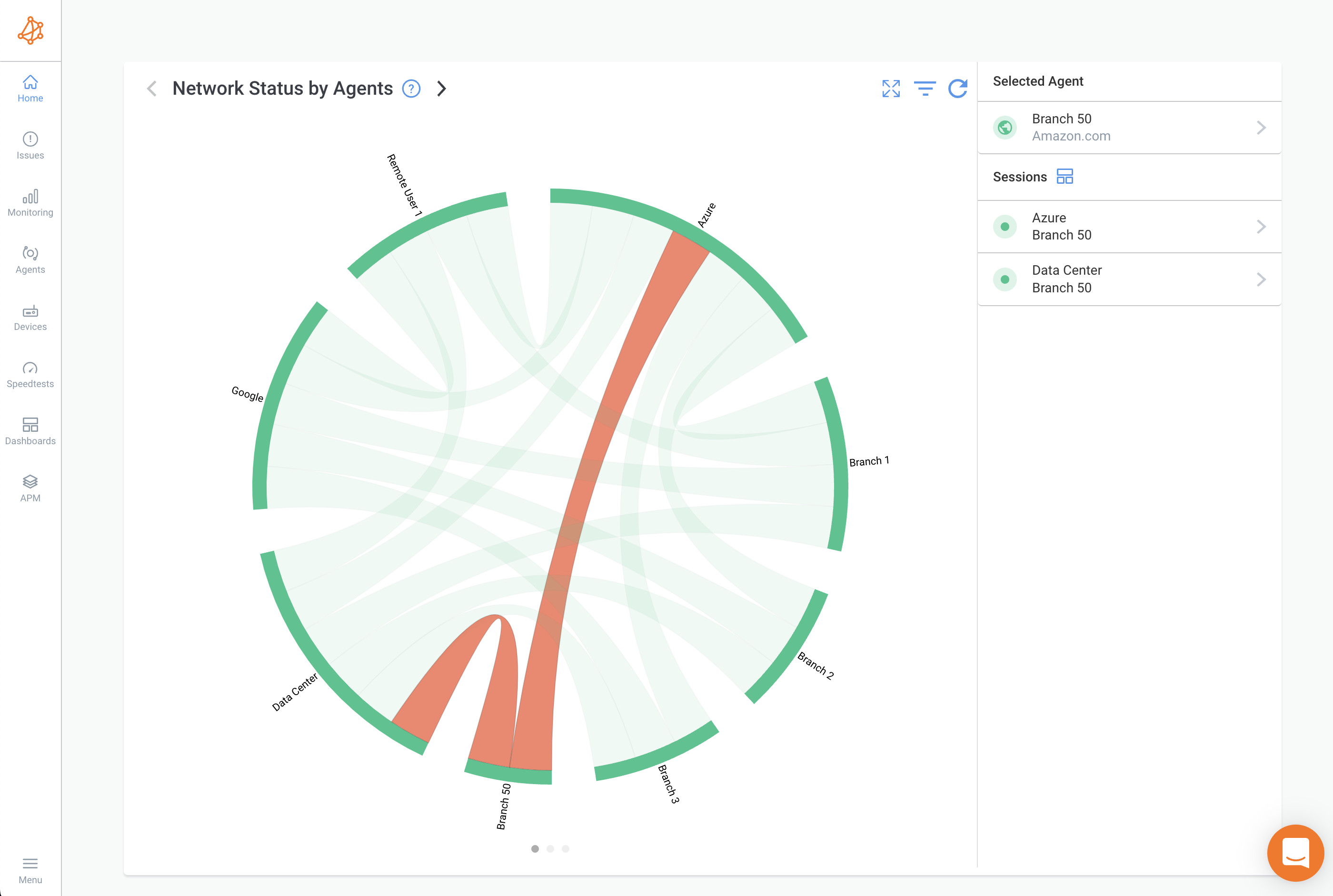 Once you've installed your monitoring agents at your chosen locations, you'll need just two configurations which are required in the Obkio App:
All your network monitoring agents must be in the same Network. When two agents are in the same Network, they'll communicate using private IPs instead of Public IPs.

You also need to configure a Network Monitoring Template to create the network performance monitoring session.
Once you've created your monitoring sessions, you can start collecting and analysing data using Obkio's Cloud Engine, and view results in your Obkio App.
Obkio's Monitoring Agents will then send packets to each other every 500ms to measure Microsft Azure metrics and network metrics such as latency, jitter, packet loss and VoIP Quality with MOS Score.
Continuous Microsft Azure monitoring allows you to:
Detect Azure and network outages within 5 seconds
Identify network degradation within a minute
Go back in time to analyze network performance for every minute of the previous week
Obkio's Traceroutes are also executed periodically in both directions to identify hop-by-hop issues and keep track of the historial latency between hops.
This monitoring setup also allows you to schedule Speed Tests between Monitoring Agents to monitor network speed and test the available throughput on the connection between the on-premise infrastructure and Google Cloud.
Using all these features combined, you can much more easily and quickly identify and troubleshoot network performance issues.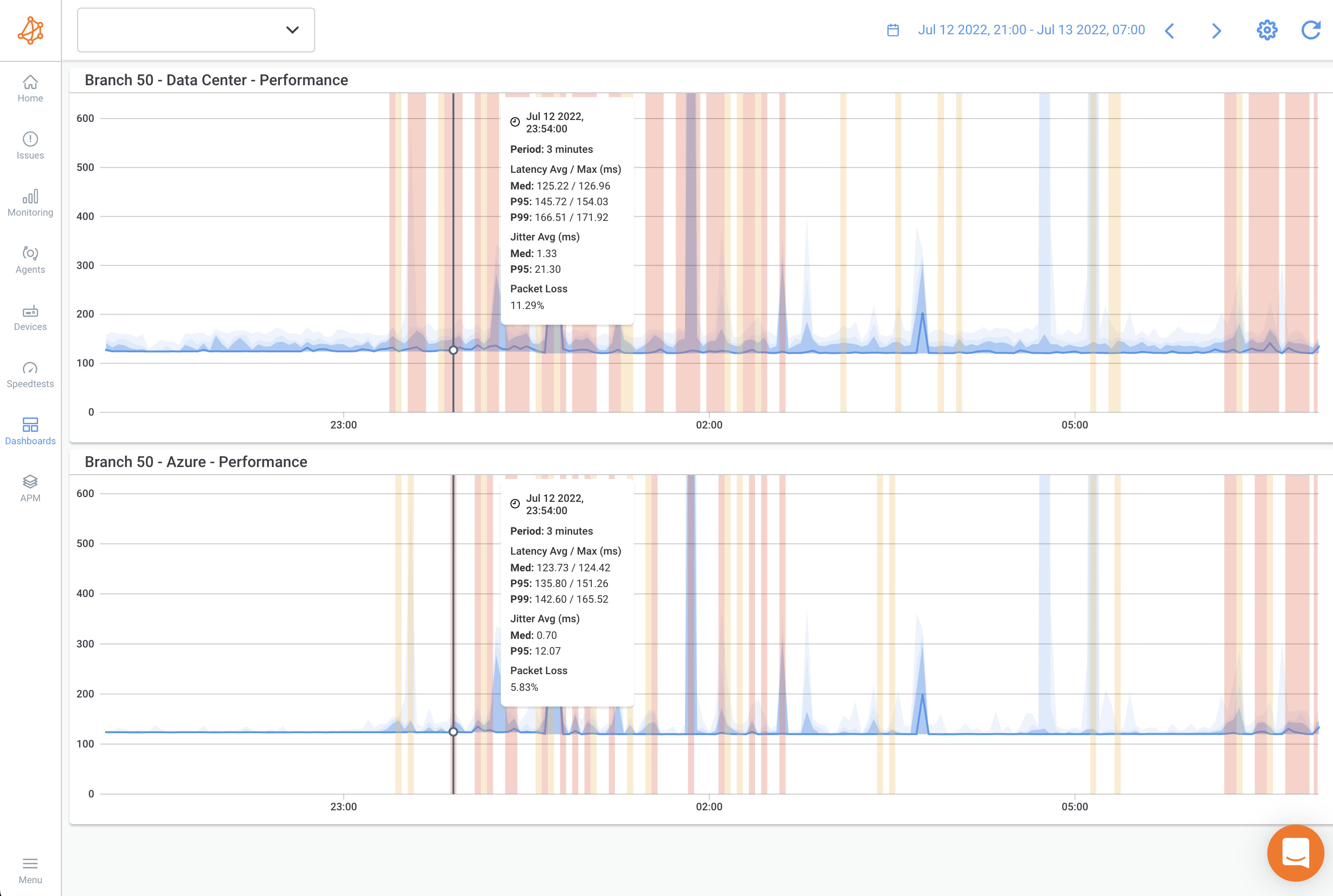 You may already have some kind of monitoring system in place that probes your devices and alerts you if the device connection is down or if the CPU is too high.
While a monitoring system of that kind is beneficial, and definitely something that you should hold on to, what happens if your provider, or third-party connector solution, begins to experience issues such as network congestion or packet loss?
When that happens, most users rarely have tools in place to monitor these systems from end-to-end. And uou don't want these issues to go unnoticed until they wreak havoc on your network infrastructure.
Here's how network performance monitoring can help:
The sooner you identify any issues within your network, the faster you can start working on fixing them.
Any network problems that remain unidentified for long periods of time are a grave threat to your infrastructure. A network performance monitoring solution allows you to perform a network assessment and notifies you as soon as a network problem occurs, so you can get straight into problem-solving mode!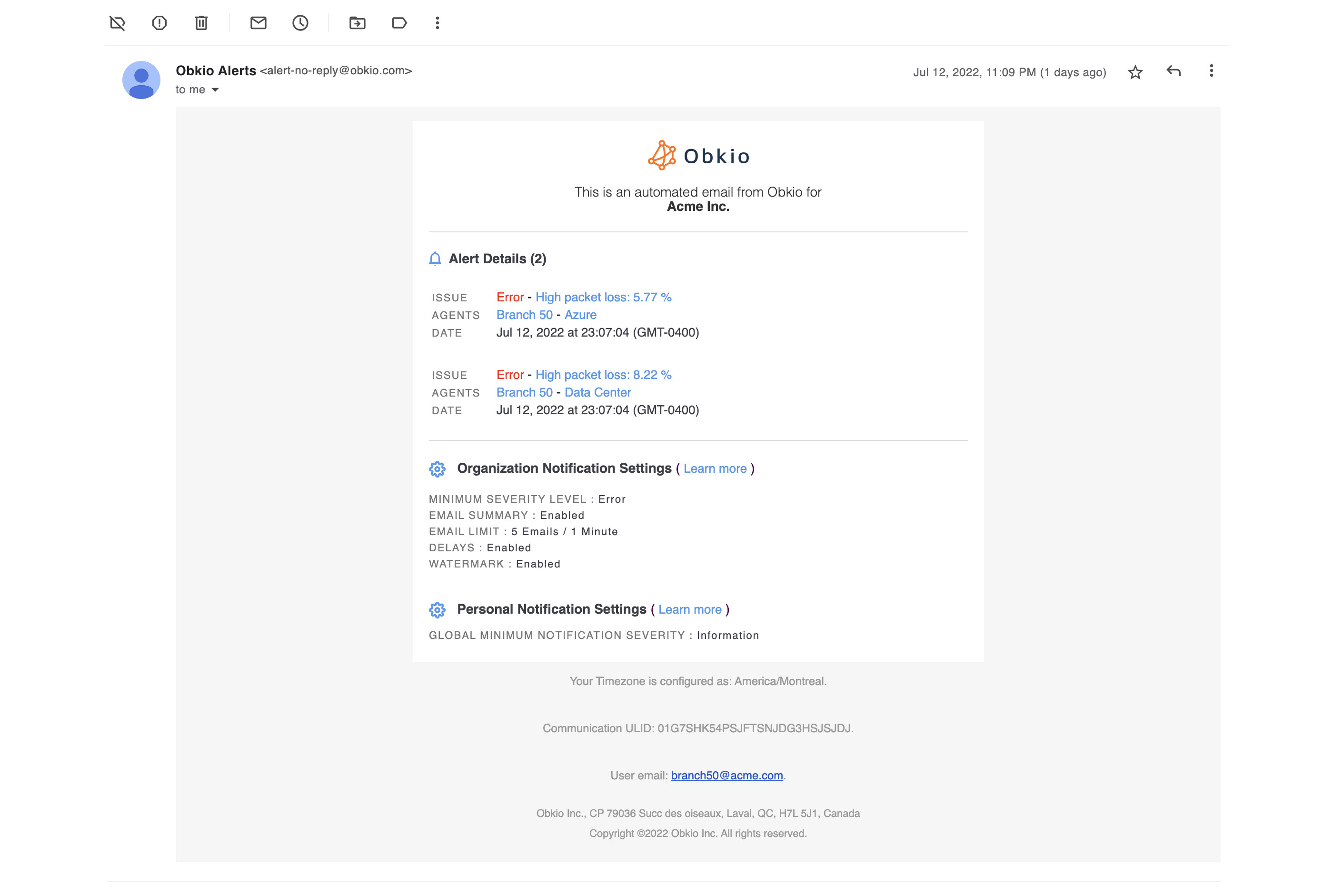 Finding and fixing issues quickly is detrimental to your business. The faster you fix a problem, the less time it'll have to affect your customers or end-users.
So that means you'll increase productivity, and achieve higher levels of customer satisfaction.
You can't really understand what you can't measure. Measuring something is the first step to improving your network.
With network performance monitoring, you can measure your network performance and collect historical data to create a performance baseline. That way, you can always understand when your network performance is performing optimally, and when it's below average.
A good continuous network monitoring solution will continuously monitor network performance to detect intermittent network issues that are often hard to pinpoint.
It gives you all the data you need to measure and understand what's happening within your network.
Now that you have your monitoring setup in place, it's extremely easy to install more agents in branch offices, data centers and other clouds providers to monitor network performance.
There are also Monitoring Agents available to monitor performance to your favorite service provider on the Internet.
Get started now with Obkio's Free Trial!