Table of Contents
Table of Contents
With many of us now relying on video calls as a main form of communication, many different applications are growing in popularity, including Amazon Chime. To ensure you always have the best video and call quality during meetings, we're teaching you how to monitor Amazon Chime network performance.
By now you may have realized that some applications, such as VoIP and unified communications apps, are more sensitive to network performance than others. You're on an important video call and suddenly your video starts to lag, the voices on the other end sound robotic, and suddenly your screen freezes.
This can be due to a variety of network issues like jitter, packet loss, packet reordering, network congestion, and so on.
Amazon Chime, Amazon's own video and messaging application, is just as susceptible to these problems as other leading competitors like Zoom and Microsoft Teams.
The only real way to avoid these problems is to monitor the network performance of your Amazon Chime application to proactively identify problems, determine what's causing them, and troubleshoot them as fast as possible.
Let's move onto how you can easily and continuously monitor your Amazon Chime network performance.
To most accurately monitor your network and Amazon Chime performance, we recommend using a Network Performance Monitoring software, like Obkio to do the work for you.
A network monitoring software can continuously monitor end-to-end network performance and identify network issues for you.
To begin monitoring network performance with Obkio, you need to deploy Monitoring Agents which continuously run tests to measure network and application performance.
For Amazon Chime, you need to use an AWS Monitoring Agent. This would be Obkio's AWS Monitoring Agent.
AWS' Monitoring Agents are hosted and maintained by Obkio in the AWS cloud infrastructure, which means that they can be deployed within seconds. They're also used for AWS network monitoring.
Amazon applications like Amazon Chime store customer data in Amazon's global cloud locations. So when you're looking to monitor the performance of these apps, it's important to choose a Public Monitoring Agent which has been deployed in the Data Center located closest to the Amazon Data Center closest to you.
According to AWS, Amazon Chime now uses 14 AWS regions to host meetings closer to participants.
In addition, Amazon Chime account administrators can actually choose which Data Center locations they want to use for the Amazon Chime app, in the application settings.
For Example:
You want to monitor Amazon Chime performance for your business based in Montreal, Canada. First, you need to find the location of an AWS Data Center in Canada.
Amazon actually has a data center located in Montreal.
Obkio's AWS Monitoring Agent is presently deployed in several different locations, including one in Montreal, Canada.
So when you're deploying your Agent, make sure to either choose the Montreal Agent to monitor your Amazon Chime's performance from Amazon's Montreal Data Center!
We recommend deploying a minimum of more than two Agents to more accurately compare data.
For example, if you're monitoring Amazon network performance between your head office and your Internet, use one Agent in our Head Office and 2 Agents to monitor Internet performance (example, a Google Cloud Agent and an AWS Agent).
This way, if you have a network problem, you can easily see if that same problem is affecting all your sites or just one.
If the problem is affecting all your sites, having Agents allows you to collect the most accurate data to troubleshoot, as well as create a comparison point.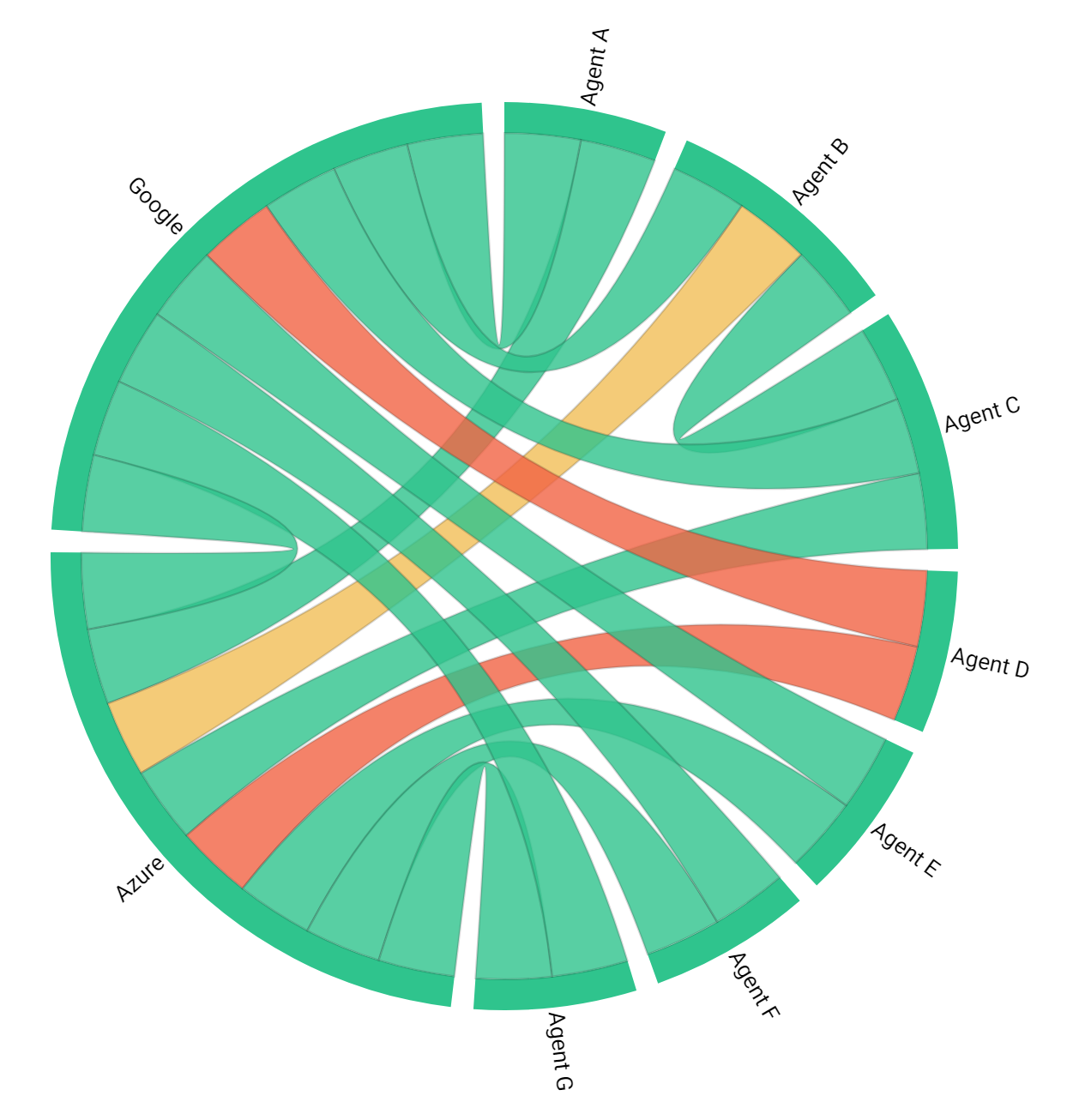 Once you've installed your monitoring set up, Obkio will continuously monitor Amazon network performance. Network monitoring agents will send packets to each other every 500ms to measure network metrics such as latency, jitter, packet loss, and VoIP Quality using MOS Score.
Obkio's agents also detect any network outages within 5 seconds and network degradation within a minute.

Collect historical data to go back in time and see the exact network performance for your Amazon apps every minute of the previous week, and create a network performance baseline.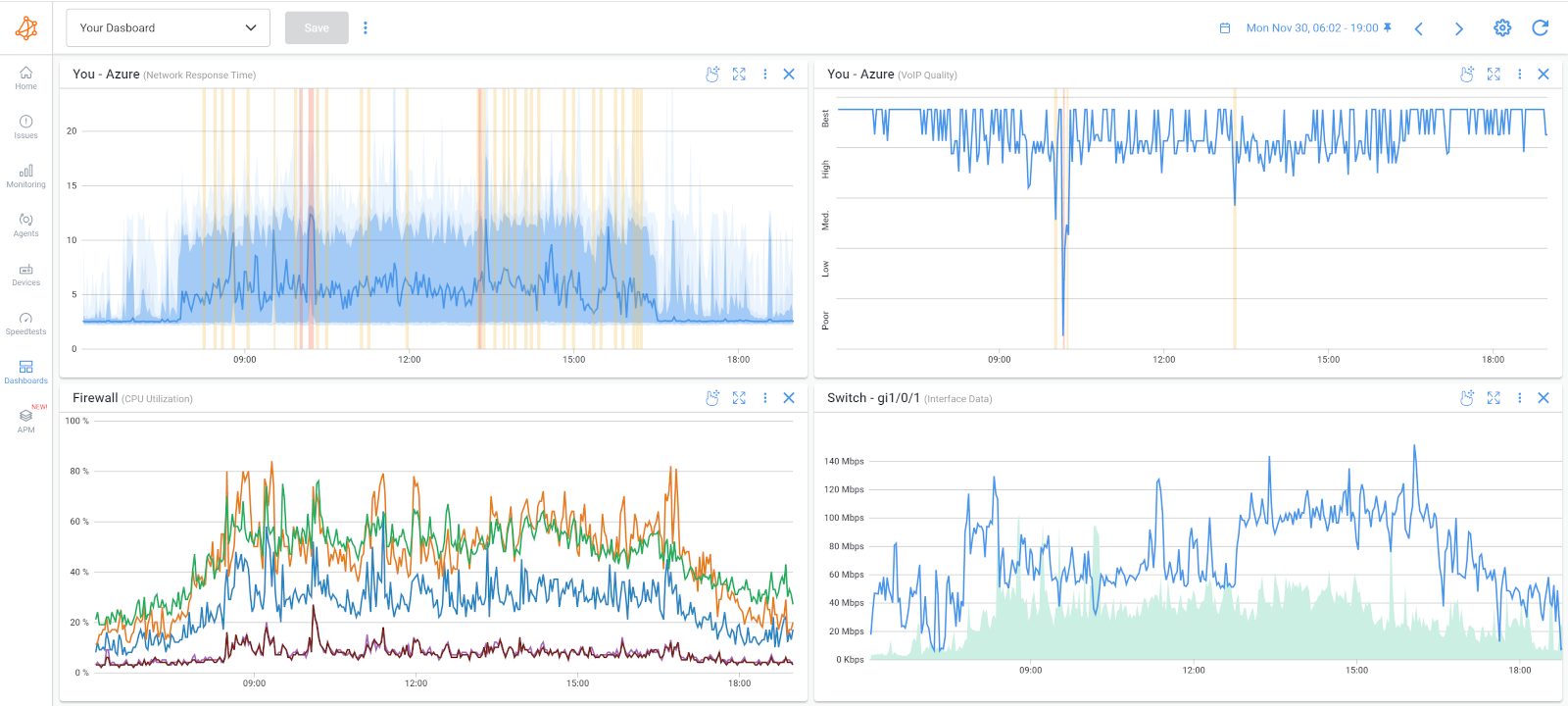 You can also use other network monitoring tools in Obkio's software to get even more detailed network performance data.
Traceroutes: Traceroutes are a powerful tool to help you collect more information about network problems. For more detail about performance and potential network issues, Obkio also executes Traceroutes periodically in both directions to identify hop-by-hop issues and to keep track of the historical latency between hops.

Speed Tests: Obkio's monitoring setup also allows you to schedule automatic speed tests between the Monitoring Agents to monitor network speed and test the available throughput on the connection between your on-premise infrastructure and the Zoom, or AWS cloud.

Device Monitoring: As we mentioned earlier from our Station 22 case study, even firewall problems, like high CPU usage, can affect UC apps like Zoom. If you're experiencing any local network problems for Zoom, use Obkio's Network Device Monitoring solution to monitor and find network problems associated with Firewalls, Routers, Switches, Wifi APs and any SNMP-enabled devices.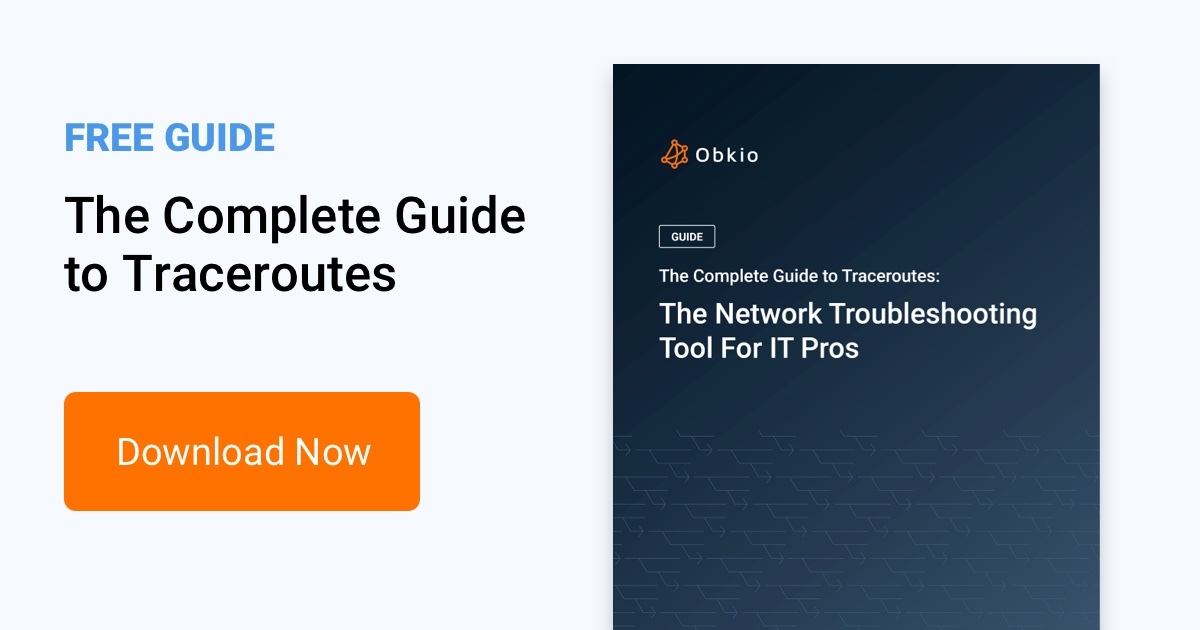 The Complete Guide to Traceroutes
Download Obkio's free Complete Guide to Traceroutes to learn to identify network problems with the most popular network troubleshooting tool for IT Pros.
Download Now
Network problems can affect so many different parts of your network, from your Internet, VoIP, firewall, and UC applications, like Amazon Chime. So monitoring the performance of apps like Amazon Chime, can help you detect and solve annoying performance issues.
So we already know that network performance can affect Amazon Chime performance, but your network isn't always the culprit of VoIP and video issues.
Monitoring your network performance will help you determine if your network is affecting Amazon Chime performance, and if so, how to fix that.
A network problem can sometimes occur in your business' network, in your service provider's network, or somewhere else entirely. We've all been on one of these never-ending conference calls with Service Providers where everyone seems to be pointing fingers and blaming someone else.
By using a performance monitoring solution and deploying Monitoring Agents in strategic locations, you can clearly identify if a problem is network-related, and if so, where a network problem is coming from.
Network issues can occur in many different parts of your network. So when you're looking to troubleshoot, you need to know where to start.
A tool like Obkio Network Performance Monitoring software, will monitor end-to-end network performance using Monitoring Agents strategically placed at different locations to provide you with information on:
The cause and source of the network problems.
Where and when they happened.
And who is responsible for fixing them.
How to Identify Network Problems & Diagnose Network Issues
Learn how to identify network issues by looking at common problems, causes, consequences and solutions.
Learn more
Once you've collected information about any network issues causing Amazon Chime jitter, lagginess, or network disconnection, you can start troubleshooting!
With a proactive network monitoring software, you can identify problems as soon as they happen, way before they reach our end-users. Network problems are very obvious over video calls, so it's something you want to avoid.
With the data you've collected, you can then determine who needs to solve the problems affecting your Amazon Chime performance, whether it's your internal IT team, your ISP, or AWS.
For more information on troubleshooting network problems, check out our article on How to Troubleshoot Network Issues.
How to Troubleshoot Network Issues: Unleash Your Inner IT Hero
Learn how to troubleshoot network issues by identifying where, what, why network problems occur with Network Troubleshooting tools.
Learn more
You're all set!
Now that you have your monitoring setup in place, it's extremely easy to install more agents in branch offices, data centers and other clouds providers to monitor network performance.
These might interest you