Table of Contents
Table of Contents
To help users troubleshoot intermittent network issues anywhere along their network, Obkio created Triggered Traceroutes. Triggered Traceroutes are a unique type of traceroute that is only triggered when a network event occurs.
The network pros at Obkio understand the benefit of using a tool like Traceroutes for network troubleshooting, which is why we've spent so much time working on our traceroute feature.
Simply put, a traceroute is the most popular tool that IT pros and network engineers use to troubleshoot network problems. The main use of a traceroute is to trace the IP route from a source to a destination inside an IP network. By doing so, it shows to the user the routers but also the round-trip latency from the source to each of the routers.
To help everyone understand how to use traceroutes, we've written a series of articles on traceroutes and how they work. Check out the first article in the series, What is a Traceroute and How Do Traceroutes Work, for an introduction to traceroutes in general.
If you're looking for an even more in depth reading, download our free Complete Guide to Traceroutes!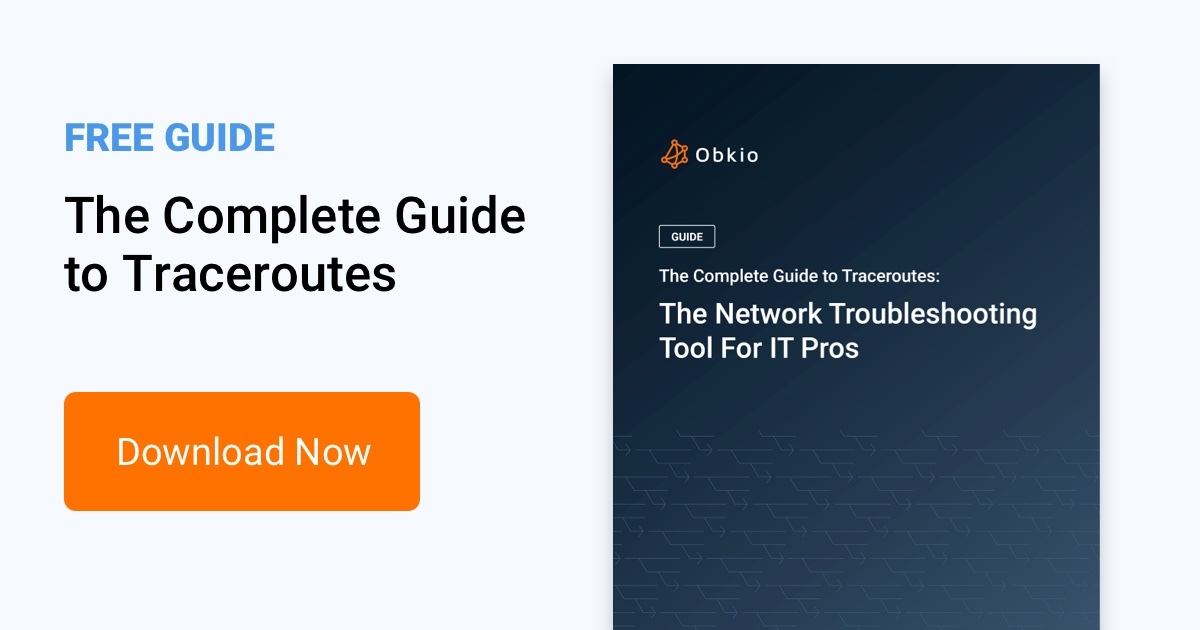 The Complete Guide to Traceroutes
Download Obkio's free Complete Guide to Traceroutes to learn to identify network problems with the most popular network troubleshooting tool for IT Pros.
Download Now
Triggered traceroutes, as the name suggests, are traceroutes which are triggered when a network event occurs. Unlike other traceroute features that have to be started manually, triggered traceroute can be automatically set.
The objective of these traceroutes is to catch a network issue as soon as it occurs to help with troubleshooting, and solve the problem before it reaches the end-user. You can learn more about identifying network issues with traceroutes!
Triggered Traceroutes are especially useful for catching intermittent network issues that are hard to catch with Live Traceroutes.
To help users troubleshoot and solve different types of network issues, Obkio offers different types of Traceroutes.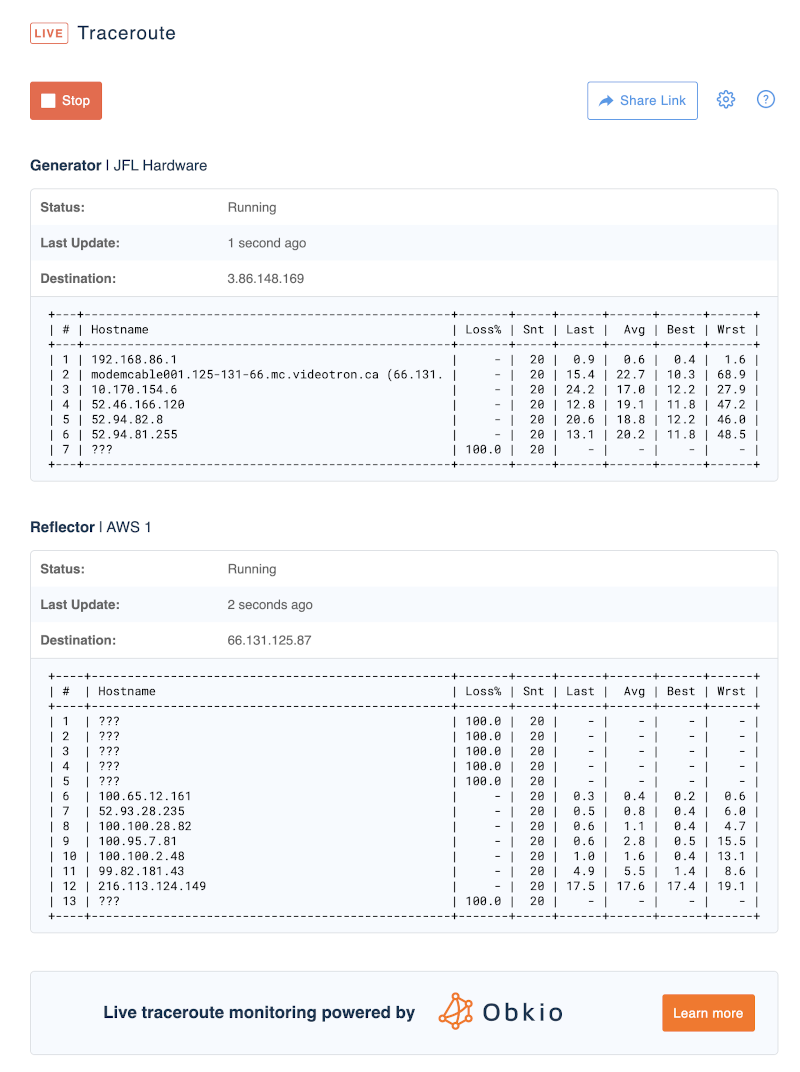 Triggered traceroutes are triggered when a network event occurs within Obkio's network performance monitoring software. The network events include:
Session Down
Packet Loss
Higher Latency
Higher Jitter
For example, if the app raises a packet loss event because the packet loss percentage is over the Network Monitoring Thresholds, both Monitoring Agents involved in the monitoring session will launch a Triggered Traceroute. When completed, the traceroute will be sent to the cloud and it will be available in the network monitoring session page with the tag 'TRIGGERED'.
You can also launch a live traceroute even if a triggered traceroute is being executed without them interfering with each other. They are completely separate and they don't need to have the same traceroute settings.
Live Traceroutes Feature
Obkio introduces a Live Traceroute feature to their Network Performance Monitoring Solution. Learn to troubleshoot network problems with this new feature!
Learn more
As we mentioned earlier, Obkio offers different types of traceroutes to help users troubleshoot network issues in different situations. Here are some of the benefits of using triggered traceroutes:
Triggered traceroutes as triggered by network events, like high packet loss or jitter. This means that they're automatically launched when these signs of network degradation occur, without you having to launch them manually. This way, as soon as you notice Obkio's notification alerting you of the issue, you'll also have a traceroute with data about the issue, when and happened, and where it's located.
Because triggered traceroutes launch automatically after a network event, they allow you to detect intermittent network issues that may be hard to pinpoint otherwise. A triggered traceroute launches automatically, as soon as a problem happens, even if the problem disappears shortly after. Even if you miss it, the traceroute will catch it.
How to Detect and Identify Intermittent Network Problems
Learn how to detect intermittent network problems to troubleshoot performance issues that are hard to catch with Obkio Network Monitoring software.
Learn more
When launched, a triggered traceroute will collect a variety of data about what problem is affecting your network, when it happened, where it happened, and what was causing the problem. By the time you even see the notification about the problem, you'll already have the data you need to fix it.
You can't change traceroutes settings for triggered traceroutes, but you can refer to the Traceroutes documentation for the setting details. Refer to our documentation on Triggered Traceroutes for the values for each setting.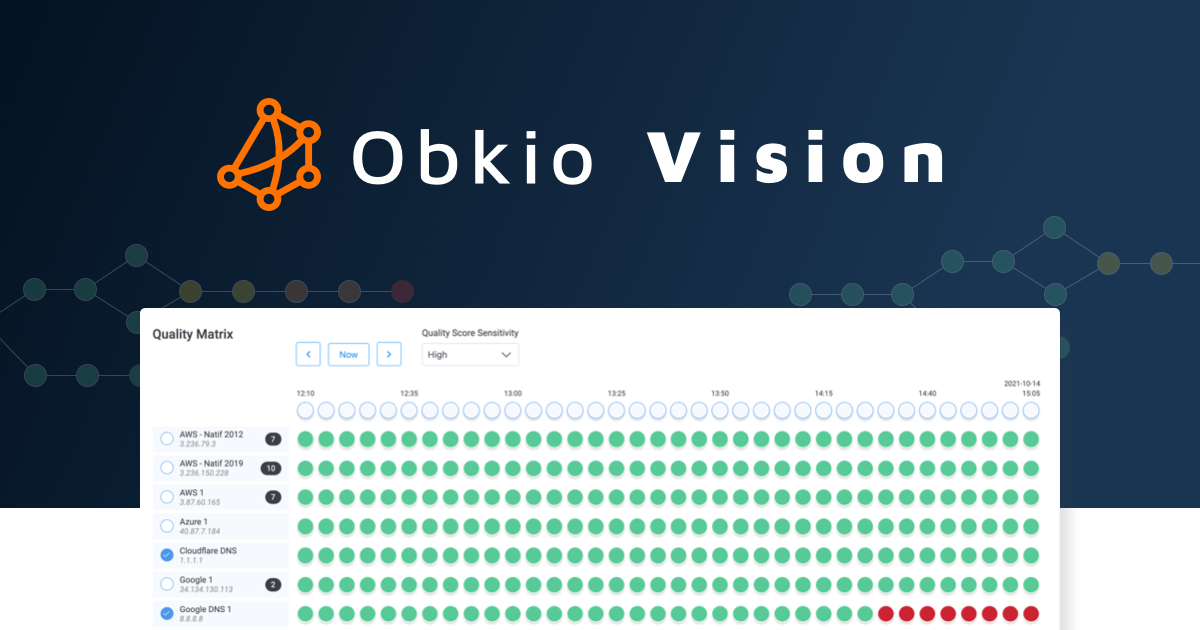 Obkio Vision: Visual Traceroute Tool
Leverage Obkio Vision to monitor, detect and troubleshoot network problems with visual traceroutes, IP route historic and graphical network maps.
Try for Free
A malfunctioning network is an IT pro's biggest pain. Every network admin wishes their business' network could run smoothly so they can focus on deploying new applications and improving their network infrastructure. But with your network, it's not a matter of if you have a problem - only when.
Obkio's Network Performance Monitoring solutions monitor end-to-end network performance 24/7, establish a baseline for each network monitoring session and let you know if anything goes wrong. Contact us or or book a demo to learn more about what we do.