Table of Contents
Microsoft Teams is a vital tool for businesses, organizations, and individuals seeking seamless connectivity. Whether it's coordinating projects, holding virtual meetings, or sharing critical information, Teams has redefined how we interact and cooperate. However, even the most robust platforms occasionally face disruptions, and when Microsoft Teams encounters an outage, the impact can ripple through workflows, communications, and productivity.
Imagine this: An important project is reaching its deadline, and your team is relying on Microsoft Teams to ensure everyone is on the same page. Suddenly, messages refuse to send, meetings drop, and access to shared documents becomes sporadic. Frustration mounts as you grapple with the uncertainty of whether the issue is isolated to your setup or a larger problem affecting Teams users globally.
In this guide, we delve into the realm of identifying Microsoft Teams outages. We'll equip you with the knowledge to distinguish between routine glitches and widespread service disruptions, empowering you to take proactive measures and maintain communication even in the face of unexpected downtime. From deciphering the signs of an outage to utilizing Microsoft's resources for real-time status updates, we'll navigate through the essential steps to help you stay informed and prepared.
Nowadays, staying connected is as essential as our morning coffee, and Microsoft Teams has become the go-to spot for work banter, brainstorming sessions, and collaboration marathons.
But picture this: you're in the middle of a crucial project update, ready to hit send on a message that holds the key to the whole plan, and suddenly, poof! Your message just won't budge. Welcome to the realm of Microsoft Teams outages, where even the most reliable platforms can sometimes play hard to get.
Let's dive in and unravel what these outages mean and why they're not just glitches, but mini earthquakes in the land of virtual teamwork.
A Microsoft Teams outage isn't just a techno-jargon term. It's when that familiar ping of incoming messages turns into a stubborn silence, meetings get lost in the digital Bermuda Triangle, and shared documents decide to go on a sudden vacation.
A Microsoft Teams outage occurs when the service experiences a disruption in its normal functioning, rendering users unable to access, send messages, hold meetings, or collaborate on shared documents.
From pesky bugs to server hiccups, various culprits can throw a wrench in the gears of Teams. And guess what? These outages can be as small as a speck or big enough to cast a shadow over the entire digital realm. It's important to note that outages can range in scope, affecting specific features, geographical regions, or the entire service globally.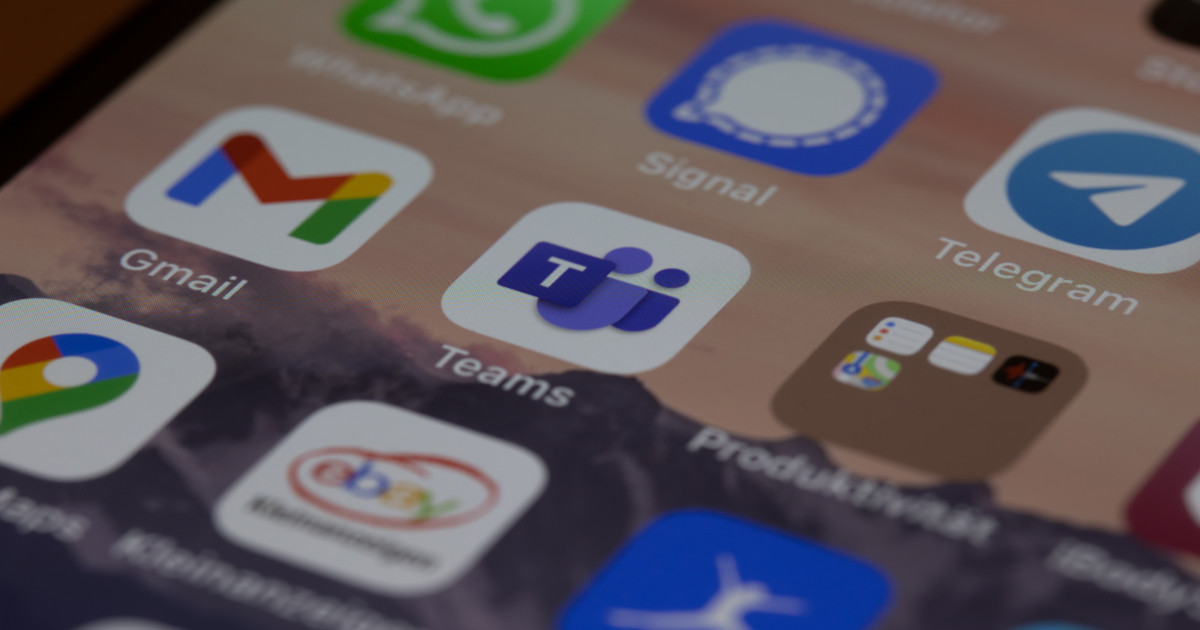 Now, let's talk about the domino effect. You know how a single spilled coffee can mess up your morning routine? A Teams outage works similarly, but on a much grander scale. Brace yourself for:
Conversations That Hit a Wall: Imagine trying to have a heart-to-heart with a friend who's suddenly gone mute. That's what a Teams outage does – it puts conversations on pause, impacting quick decisions, group brainstorming, and even a casual chat about weekend plans.
Projects Left Hanging: Collaborative projects become real-life soap operas during an outage. All those shared documents, feedback threads, and action plans? They're suddenly stuck in digital limbo, and deadlines start to resemble distant mirages.
Virtual Meetings That Go Poof: Teams isn't just for messages and emojis. It's where we meet faces, share screens, and feel like we're in the same room, even if we're miles apart. But when an outage strikes, it's like your meeting room evaporates, leaving you in a silent vacuum.
Remote Work That Feels Lonely: Remote work becomes a solo journey during an outage. That vibrant team vibe? It vanishes, making remote workers feel a bit like the last survivor in a post-apocalyptic movie.
Customer Connections That Fray: For businesses relying on Teams for customer support, an outage can turn a smooth service experience into a maze of unanswered queries, frustrated customers, and missed opportunities.
Productivity Taking a Dip: With all these disruptions combined, it's no wonder that productivity takes a nosedive. The smooth flow of work turns into a series of starts and stops, affecting everything from tasks to morale.
Understanding these aftermaths of an outage isn't about dwelling on the negative, but rather about arming ourselves with knowledge. By recognizing the effects, we can better prepare, adapt, and make the most out of even the glitchiest of situations.
While Microsoft Teams outages can catch you off guard, being in the know is half the battle won. Why wait for the silence to strike when you can proactively guard against disruptions? Enter Obkio's Network Monitoring tool – your digital guardian that ensures your Teams experience is as seamless as it should be.
With Obkio, you can:
Detect Issues Before They Snowball: Say goodbye to surprise outages. Obkio keeps an eagle eye on your network's health, alerting you at the first sign of trouble. No more crossing your fingers and hoping for the best.
Pinpoint the Culprits: Is it your network acting up or a Teams hiccup? Obkio's insights help you distinguish between local glitches and global outages, so you can troubleshoot smartly.
Stay in the Loop: Why check a dozen pages when you can have real-time updates at your fingertips? Obkio's alerts ensure you're always in sync with your network's status, no matter where you are.
Don't be caught in the storm of unexpected outages. Take charge, be proactive, and keep your Teams experience smooth as silk with Obkio's Network Monitoring tool. Try it today and wave goodbye to the dreaded silence!
Ready to keep your Teams running smoothly?
Microsoft Teams, like any intricate digital system, can experience disruptions due to a variety of factors. Understanding these common culprits can shed light on the underlying causes of outages and help you better prepare for potential pitfalls.
In the digital realm, your Internet connection acts as the foundation of your Teams experience. Network connectivity issues leading to network outages, slow connections, or sudden spikes in traffic can lead to delays in sending messages, laggy video calls, and difficulties accessing shared files. Even the most advanced platform can't function properly without a stable and reliable network.
Teams relies on a network of servers and data centers to function seamlessly. Issues within these server infrastructures, such as hardware failures, maintenance mishaps, or capacity overloads, can result in outages. A problem in one server can cascade into a larger issue affecting multiple users or regions.
While software updates are meant to enhance functionality and security, they can sometimes introduce unforeseen glitches. Bugs in the code can lead to unexpected behaviour, crashes, or even widespread outages. These issues can arise not only from Teams updates but also from updates to underlying components, like operating systems or browsers.
Teams' versatility comes partly from its ability to integrate with third-party apps and services. However, this integration can also introduce vulnerabilities. If a connected service experiences an outage or data flow is disrupted, it can impact Teams' performance. It's a delicate ecosystem where one weak link can affect the entire chain.
Authentication is the gateway to your Teams experience. If the authentication system falters or experiences delays, it can lead to login failures, preventing users from accessing the platform. Whether it's a hiccup in the authentication process or a broader issue affecting the identity services, authentication problems can lock users out during crucial moments.
Understanding these common causes of Microsoft Teams outages is the first step in building resilience against disruptions. While you may not have control over all these factors, being aware of them empowers you to implement strategies that mitigate their impact.
From strengthening your network infrastructure to staying informed about upcoming updates, a proactive approach can mean the difference between smooth sailing and choppy waters.
How to Monitor & Fix Microsoft Teams Issues
Learn how to monitor Microsoft Teams performance & connection issues like Microsoft Teams "We're sorry - we've run into an issue" & "something went wrong."
Learn more
Next, let's go over what you should be on the lookout for when a Microsoft Teams outage is on the way!
When the virtual gears of Microsoft Teams come to a screeching halt, it's essential to recognize the telltale signs of an outage. Being able to identify these signs early on can save you from frustration and help you take proactive steps to navigate the disruption.
1. Inability to Access the Teams App:
The first glaring sign of a Teams outage is the inability to access the app altogether. You might find that clicking on the Teams icon leads to nothing more than a loading screen or an error message. This could be a result of issues on Microsoft's end, like server troubles or authentication problems.
2. Messages Not Sending or Receiving:
Teams is all about communication, and when your messages refuse to send or receive, it's a clear indicator of trouble. You might hit "send" and notice your message is stuck in the sending limbo or encounter delays in receiving replies. This can disrupt ongoing conversations, project updates, and critical information sharing.
3. Presence and Status Indicators Not Updating:
Those little coloured dots next to your team members' names aren't just for show – they indicate presence and availability. An outage might freeze these indicators, showing colleagues as "offline" even when they're actively participating. This can hinder real-time collaboration, as you won't know who's available for a quick chat or a call.
4. File Sharing and Collaboration Issues:
Collaboration is the heartbeat of Teams, and when file sharing becomes a struggle, you know something's amiss. During an outage, you might encounter difficulties in uploading or accessing shared documents. This can disrupt ongoing projects, review processes, and any collaborative work that relies on shared files.
Recognizing these signs is pivotal in distinguishing between a routine hiccup and a full-blown outage. While occasional glitches are a part of any digital experience, persistent issues across multiple signs indicate a broader problem.
The next time you encounter any of these signs, you'll be equipped to take the necessary steps – whether it's checking for official outage reports or having backup communication channels in place.
When it comes to keeping your Microsoft Teams experience seamless and interruption-free, having the right tools in your arsenal can make all the difference. Enter Obkio's Network Monitoring tool – your trusty sidekick in the quest to detect and mitigate Teams outages before they catch you off guard.
Because Teams functions within a cloud-based setting, the effectiveness of its audio and video calls, file sharing, and real-time collaboration hinges greatly on the dependability of a strong and high-capacity network structure.
By integrating a Network Monitoring tool specifically designed for Microsoft Teams, organizations can preemptively oversee the well-being of their network, while identifying issues affecting Microsoft Teams, such as Microsoft Teams outages, connectivity issues, video quality issues, and more.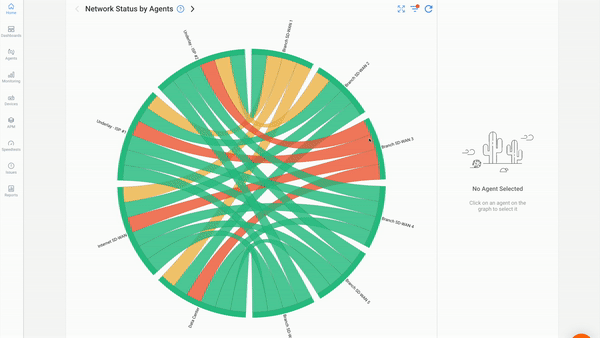 Obkio's Network Monitoring Tool provides ongoing surveillance of network performance across the entire span of your network, giving you the ability to pinpoint network issues within your workplace, home network, and even within the Microsoft network itself.
Obkio monitors Microsoft Teams performance, including detecting Microsoft Teams outages, using continuous synthetic traffic from Network Monitoring Agents. These Monitoring Agents are deployed at all ends of your network to measure network metrics, identify network problems and collect the information to help you troubleshoot.
For Microsoft Teams monitoring, you need to use at least 2 types of agents:
Microsoft Azure Monitoring Agent: Obkio's Microsoft Azure Monitoring Agent is hosted and maintained by Obkio in the Microsoft Azure cloud infrastructure, which means that it can be deployed within seconds. This Monitoring Agent allows you to monitor network performance between your standard Monitoring Agents and Azure Monitoring Agents, right to the Microsoft Azure platform to identify any network problems affecting Microsoft Teams performance.
On-Premise Agent: These Monitoring Agents are deployed in your local network, in key network locations like your head office, branch office, data centers and network devices. They allow you to monitor network performance from your end towards Microsoft Teams (and other apps). We recommend the Software (Linux, Windows, Docker) agent that can be installed on your favourite Linux distribution, including Amazon Linux and Amazon Linux 2.
You should always deploy a minimum of two Agents to more accurately compare data and identify issues with Microsoft Teams monitoring other network locations.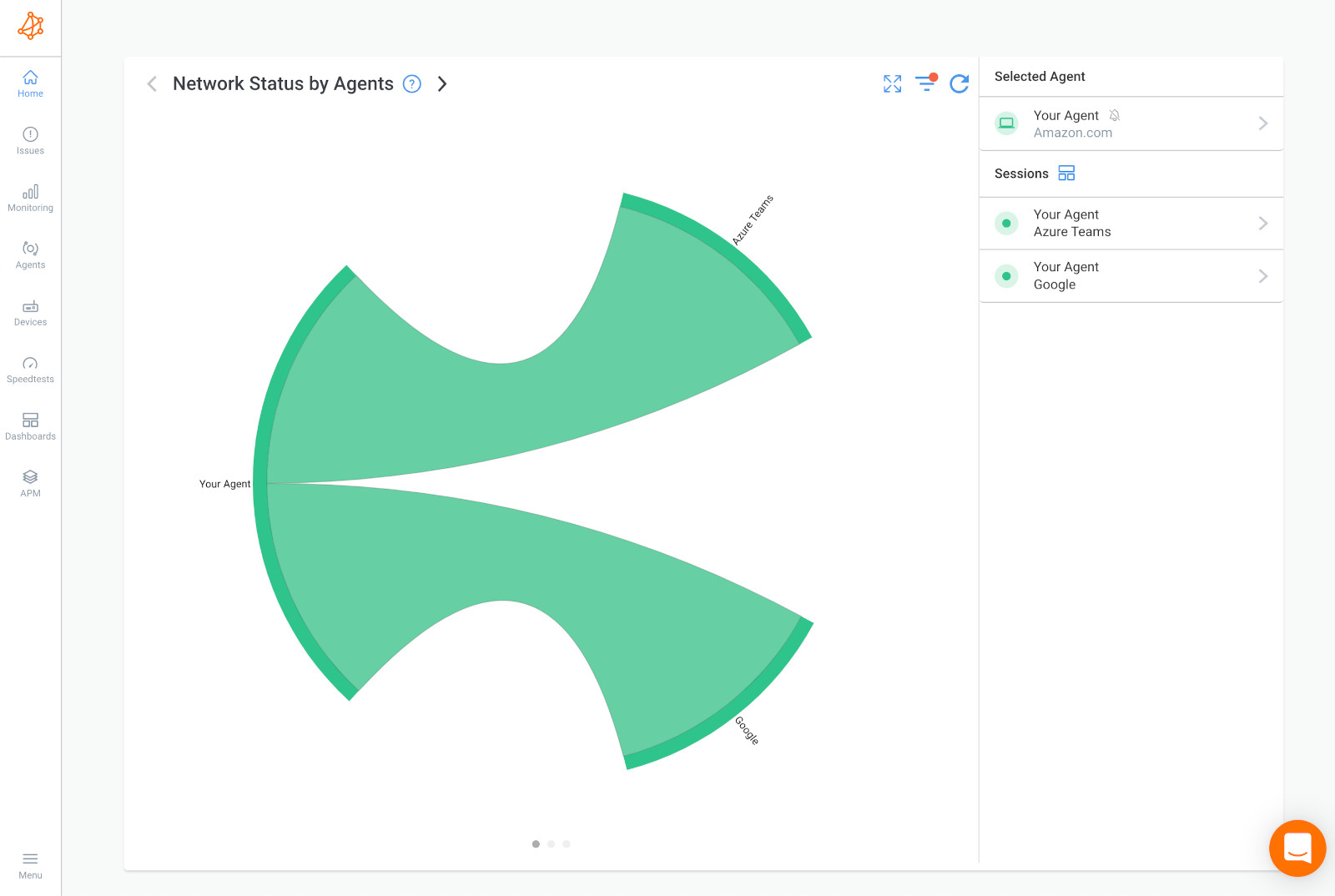 Customer data within Microsoft Teams is stored across Microsoft's global cloud facilities. Hence, when opting for Microsoft Teams monitoring, the selection of a Monitoring Agent gains significant importance. It should be positioned within the Data Center nearest to the Microsoft Data Center that is in closest proximity to your location.
For Example:
You want to monitor Microsoft Teams performance for your business based in Canada, so first, you need to find the location of a Microsoft Data Center in Canada.
In Canada, Microsoft's Data Centers are located in Quebec City and Toronto - so you need to choose a Public Monitoring Agent hosted closest to one of those locations.
Obkio's Microsoft Azure Monitoring Agents are presently located in many locations, including one in Quebec City!
To effectively monitor your network's performance, you need to set performance thresholds that act as benchmarks for network health and can detect Microsoft Teams outages as soon as they happen.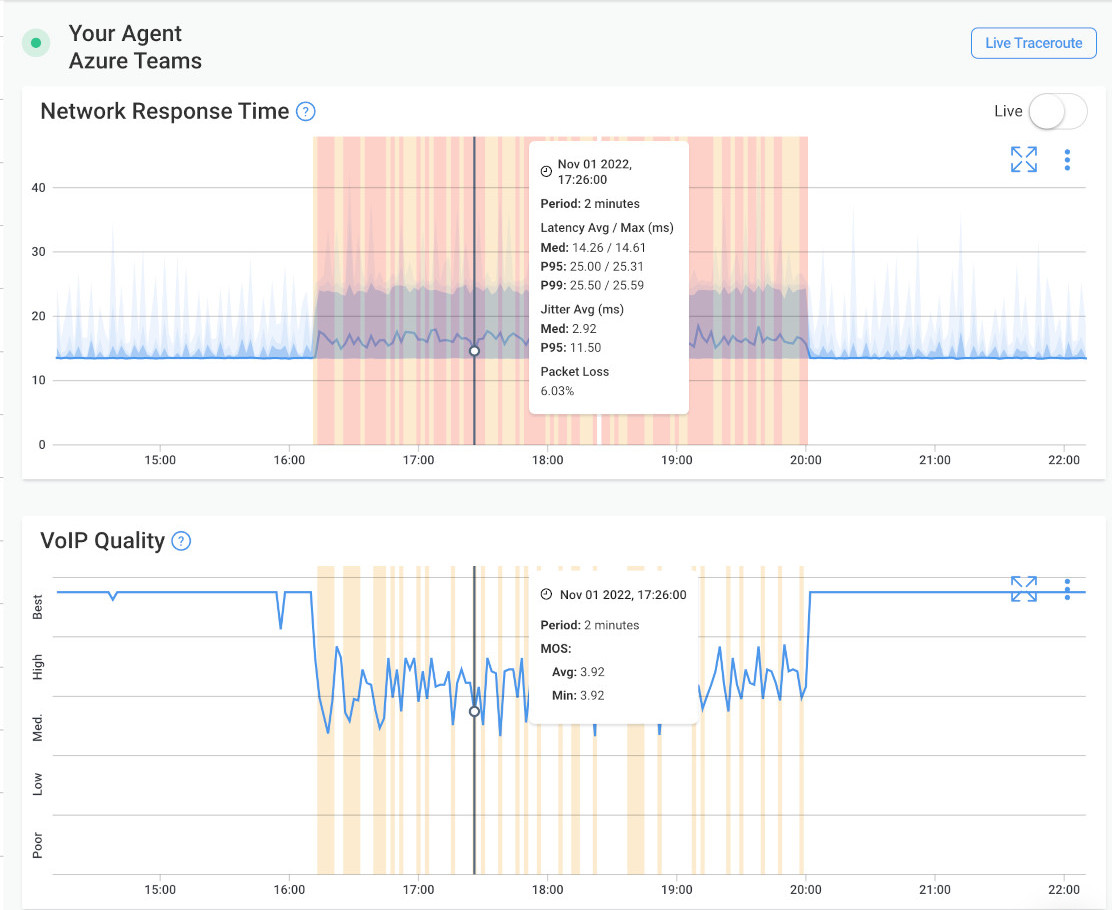 When it comes to Microsoft Teams, Obkio monitors key network metrics that directly impact the real-time communication experience.
Latency: This measures the time it takes for data to travel from the source to the destination. In the realm of Microsoft Teams, low latency is vital for seamless audio and video calls. Set a threshold that aligns with optimal call quality, usually aiming for latency values under a certain number of milliseconds.
Packet Loss: Packet loss occurs when data packets fail to reach their destination. For Teams, packet loss can lead to distorted audio, frozen video frames, and overall communication disruptions. Determine an acceptable packet loss rate and set your threshold accordingly, usually aiming for minimal to zero packet loss.
Jitter: Jitter reflects the variance in delay between packets. In Teams, high jitter can result in choppy audio and video, making conversations disjointed. Set a threshold that maintains jitter within a narrow range to ensure smooth communication.
Once you've defined your performance thresholds, it's time to configure alerts that will keep you informed when these thresholds are crossed. Obkio's Network Monitoring tool allows you to create tailored alerts that match your network's unique requirements. Here's how to do it:
Customization: Craft alerts that align with your network's specific needs. For example, if you've set a latency threshold of 50 milliseconds, configure an alert that triggers when latency exceeds this value.
Notification Channels: Choose how you want to be notified. Whether it's via email, SMS, or even integration with collaboration tools like Slack or Microsoft Teams, you can select the channels that ensure you're promptly informed about network anomalies.
Severity Levels: Different network issues might require varying levels of attention. Set up different severity levels for your alerts. For instance, minor packet loss might trigger a low-severity alert, while prolonged high latency might trigger a critical alert.
Escalation: Design your alerts with escalation in mind. If a threshold breach persists for an extended period, you can configure alerts to escalate the notification, ensuring that the right individuals are informed at the appropriate time.
Configuring alerts is your proactive shield against potential network hiccups. By setting up alerts that reflect your network's unique characteristics, you can rest assured that you'll be alerted the moment performance deviates from the norm. This empowers you to take swift action before network issues translate into disruptions in your Microsoft Teams experience.
In the realm of real-time network monitoring, vigilance is key. With Obkio's Network Monitoring tool, keeping a watchful eye on your network's health becomes an intuitive process that helps you identify and address potential issues, like Microsoft Teams outages, before they escalate. Here's how to make the most of this crucial step:
Obkio's real-time dashboard serves as your digital cockpit, offering a bird's-eye view of your network's performance. Regularly check in on your dashboard to ensure everything is sailing smoothly. If your network is experiencing a bottleneck or network outage, you'll be able to see it right away!
Pay special attention to the following aspects:
Latency: A sudden spike in latency could indicate a bottleneck or congestion in your network. If latency values begin to climb, investigate further to prevent potential disruptions during Teams usage.
Packet Loss: Keep an eye on packet loss percentages. A sudden increase might suggest data transmission challenges that could impact the quality of your audio and video calls.
Jitter: Monitor jitter values closely. A significant fluctuation might lead to choppy communication experiences. Detecting such fluctuations early allows you to address the issue promptly.
When an alert pops up in your notifications, don't hesitate to dive into the details. Obkio's Network Monitoring tool provides insights into the specifics of the issue affecting your network.
Here's what to focus on:
Alert Context: Understand the context of the alert. Is it a latency spike during a critical Microsoft Teams meeting? Is the connection towards Microsoft Teams down completely? Knowing the situation helps you prioritize and act accordingly.
Affected Network Segments: Obkio's insights pinpoint where the issue resides within your network. Is it a problem in your office network, home network, or somewhere along the connection to the Microsoft network? This information helps you narrow down the troubleshooting process.
Historical Data: Compare the current situation with historical data to assess whether the issue is an isolated incident or part of a recurring pattern. This knowledge guides your response, whether it's an urgent intervention or a longer-term optimization effort.
Being proactive requires staying informed. By closely monitoring your network's metrics in real-time and reviewing alerts when they're triggered, you equip yourself with the knowledge to address potential disruptions swiftly and effectively.
This ensures that your Microsoft Teams experience remains uninterrupted and frustration-free, empowering you and your team to focus on what truly matters: seamless communication and collaboration.

Investigating and troubleshooting network issues and Microsoft Teams outages is akin to being a digital detective. Armed with Obkio's Network Monitoring tool, you're equipped with the magnifying glass needed to uncover the mysteries of network disruptions or network disconnections. Here's how to go about it:
1. Check Microsoft's Service Status:
So, an alert has been triggered. Your network's metrics have shown a deviation from the norm, indicating potential trouble. Your first move? Check Microsoft's service status. Visit the official Microsoft 365 Service health status page or relevant official channels to determine if there's a known Teams outage.
Verifying the status on Microsoft's end helps you differentiate between a local network issue and a broader Teams outage. It's like confirming whether your umbrella's flipped inside out due to a gust of wind or if it's a full-blown rainstorm.
2. Verify Network Connectivity:
If it appears the issue isn't on Microsoft's end, it's time to narrow down the culprit. Leverage Obkio's detailed performance metrics to sleuth your way through:
Internal Network Issues: Start within your castle. Obkio's metrics can point you toward specific parts of your internal network experiencing degradation. It could be your Wi-Fi acting finicky or a network switch throwing a tantrum.
External Connectivity: Sometimes, the issue goes beyond your walls. Obkio helps you pinpoint where the connection hiccups might be occurring. Isolate whether the problem lies with your Internet Service Provider (ISP) or any intermediary networks.
Collaborative Troubleshooting: Armed with data, reach out to your IT team or ISP support with concrete information. No more vague "my network's acting up" statements; now you can say, "The latency from our end to the ISP's server has been spiking at X times the usual rate."
By diving into investigation mode armed with insights from Obkio's Network Monitoring tool, you're not just identifying network issues; you're diagnosing, isolating, and providing targeted information for faster resolutions. You're the network detective, resolving disruptions and keeping your Microsoft Teams experience pristine.
Microsoft Teams Troubleshooting Performance and Connection Issues
Learn how to use Network Monitoring tools for Microsoft Teams troubleshooting to identify and fix common teams performance and connection issues.
Learn more
Just as a gardener tends to their garden year-round, your network requires continuous care to flourish. Obkio's Network Monitoring tool isn't just a one-time fix – it's a companion on your journey to maintaining impeccable Microsoft Teams performance. Here's how to continuously refine and optimize:
1. Analyze Historical Data:
Obkio's treasure trove of historical data isn't just for show. Dive into the past to unearth patterns, trends, and recurring issues. This retrospective analysis offers insights that can steer your optimization efforts. Here's how to make the most of it:
Identify Patterns: Are there certain times of day when latency tends to spike? Or specific days of the week when packet loss becomes more common? These patterns can help you anticipate challenges and plan accordingly.
Recurring Issues: If the same issues pop up repeatedly, it's a sign that there's an underlying problem that needs attention. Investigate further to uncover the root cause and implement a sustainable solution.
Optimization Opportunities: Historical data reveals areas where your network consistently performs below par. Armed with this knowledge, you can strategically allocate resources and implement changes that lead to lasting network optimization strategies.
2. Adjust Thresholds: A Quest for Precision
As you accumulate knowledge about your network's behaviour, it's time to fine-tune your performance thresholds. The goal? To receive alerts only for disruptions that truly matter. Here's how to recalibrate:
Refine Acceptable Limits: Armed with historical data, you'll gain a clearer understanding of what constitutes normal behaviour for your network. Adjust your thresholds to align with these established baselines.
Minimize Alert Fatigue: Constant alerts for minor blips can lead to alert fatigue – where you start ignoring notifications altogether. By tailoring your thresholds, you'll receive alerts only for significant deviations, reducing unnecessary distractions.
Stay Agile: Networks evolve, and so do your organization's needs. Regularly revisiting and adjusting your thresholds ensures that your monitoring strategy remains aligned with your changing requirements.
With Obkio's Network Monitoring tool, you're no longer at the mercy of unexpected Microsoft Teams outages. By proactively monitoring your network's performance and swiftly responding to alerts, you can maintain uninterrupted communication and collaboration, ensuring your Teams experience is always in top shape.
In the intricate dance of network disruptions, knowing whether the issue lies within your realm or extends beyond it is crucial. Obkio's Network Monitoring tool equips you with the compass needed to navigate this maze and determine whether you're facing a local hiccup or a widespread Microsoft Teams outage.
Here's how to master the art of distinguishing:
Local disruptions can range from minor hiccups to full-blown connectivity woes. With Obkio's Network Monitoring tool at your disposal, here's how to troubleshoot and resolve local Microsoft Teams issues:
Check Device Connectivity: Start by ensuring that the device you're using for Teams is connected to the network. Sometimes, a simple Wi-Fi disconnection can cause communication breakdowns.
Assess Other Applications: Are other apps experiencing connectivity problems too? If so, the issue might lie with your device or network. Restarting your router or device can often work wonders.
Network Diagnostics: Leverage Obkio's metrics to identify specific network segments experiencing issues. Is the trouble confined to a specific part of your network? This insight guides your troubleshooting efforts.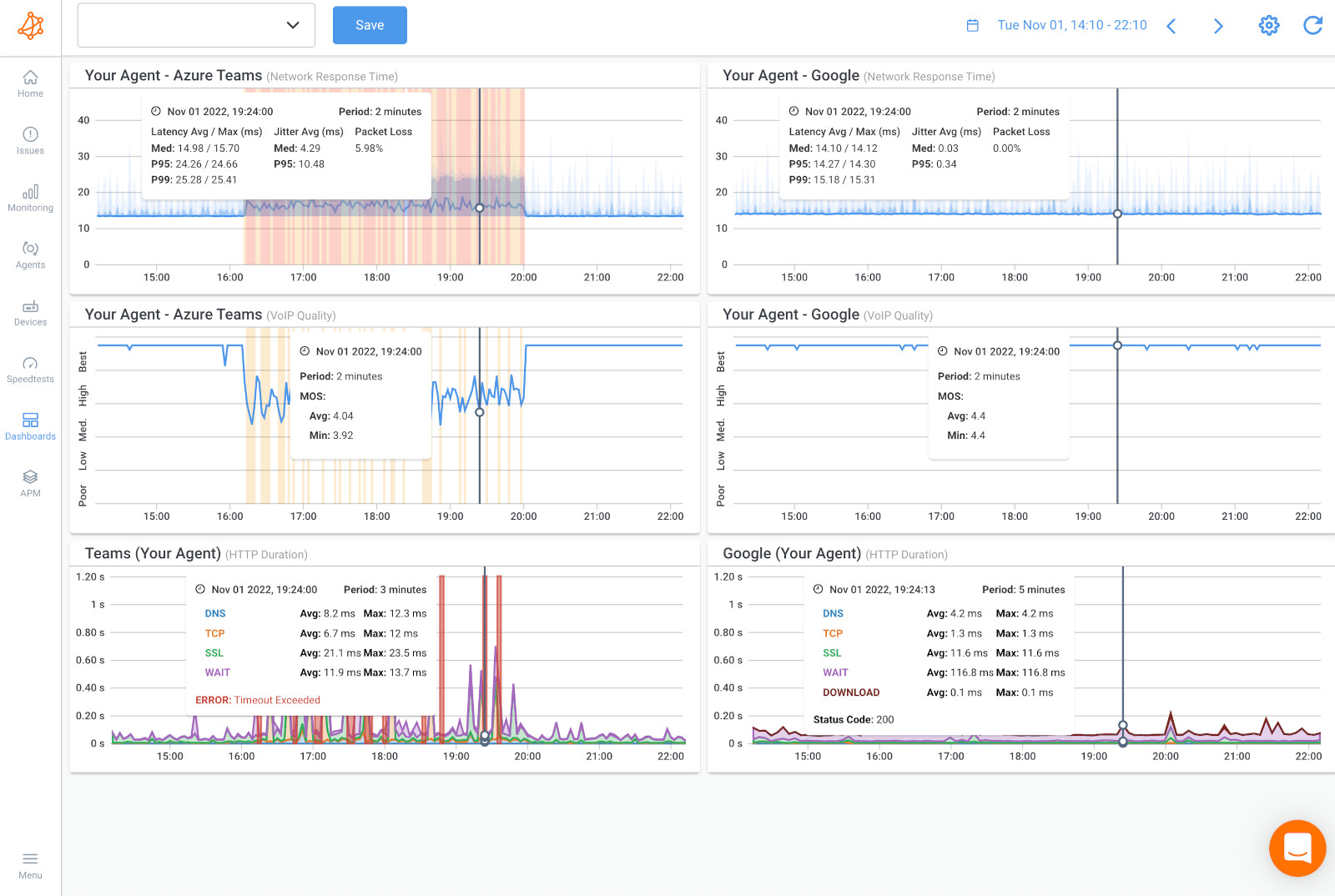 If the disruption seems broader than just your local network, it's time to tap into Microsoft's official status information. Here's how to use it effectively:
Visit the Service Health Dashboard: Microsoft provides a Service Health Dashboard that offers real-time insights into the operational status of their services, including Microsoft Teams. Head to this dashboard to check for any reported outages or performance degradation.
Check for Incident Details: If Microsoft acknowledges an issue, they provide details about the impacted services, the affected regions, and updates on the progress of the resolution.
Follow Microsoft's Guidance: During a global Microsoft Teams outage, Microsoft usually offers guidance on how to proceed. This might involve patience as they work on a fix or recommendations for alternative methods of communication.
Mastering the skill of distinguishing local issues from global outages empowers you to respond effectively. With Obkio's Network Monitoring tool providing insights into your network's health and Microsoft's official status pages offering a broader view, you're armed with a comprehensive approach to tackling disruptions, ensuring your Microsoft Teams experience remains as seamless as possible.
In the quest for a stable Microsoft Teams experience, having a direct line to Microsoft's insights is invaluable. The Microsoft 365 Service Health Dashboard is your window into their world, offering real-time information on service disruptions and allowing you to stay informed about potential hiccups that might affect your Microsoft Teams usage.
Think of the Service Health Dashboard as your digital lighthouse, guiding you through the storms of service disruptions. It's a comprehensive hub that provides:
Service Status Updates: The dashboard offers real-time information about the operational status of Microsoft services, including Microsoft Teams. You'll find a colour-coded system indicating whether services are running smoothly, experiencing issues, or encountering outages.
Incident Tracking: In case of disruptions, the dashboard highlights ongoing incidents, categorizing them based on severity and impact. This aids in understanding the scope of the issue and its potential impact on your operations.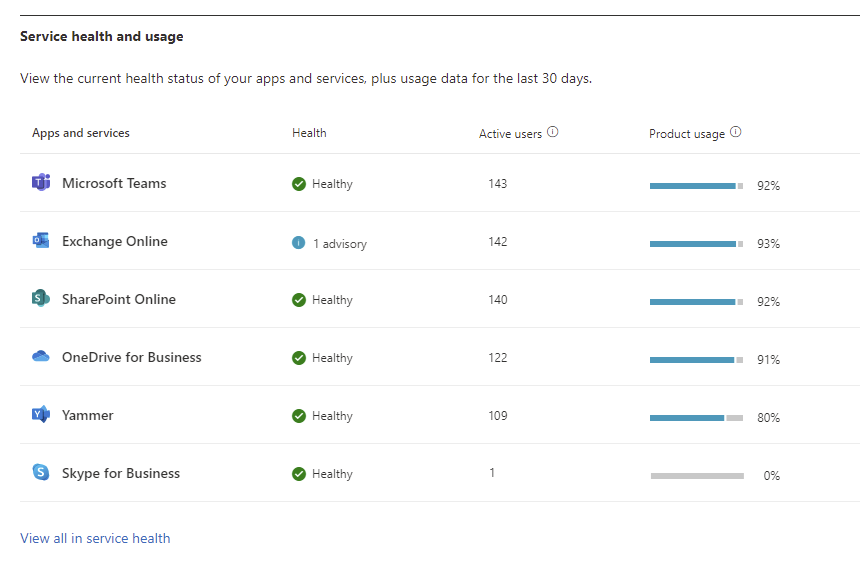 When you visit the Service Health Dashboard, you're greeted by a wealth of information. Here's how to decipher it like a pro:
Service Health Advisories: These advisories provide a snapshot of any ongoing issues. They outline affected services, impacted regions, and a brief description of the problem. The advisories are colour-coded to indicate the severity – from minor disruptions to major outages.
Incident Details: When you click into an incident, you delve into the specifics. Here, you'll find a detailed overview of the issue, including its root cause, the impacted services, the regions affected, and updates on the progress of the resolution.
Guidance and Updates: The dashboard isn't just about informing you of problems; it's also your ally in navigating them. Microsoft offers guidance on how to proceed during incidents, including alternative ways to continue your work or communication during service outages.
By mastering the Service Health Dashboard, you become your organization's information hub during disruptions. Armed with insights into the operational status of Microsoft services, you can proactively adjust your strategies, communicate effectively with your team, and keep operations running smoothly, even in the face of challenges.
Many times, a disruption in one service can trigger a domino effect across the ecosystem. When it comes to Microsoft Teams, the integrations with third-party services play a vital role in your productivity.
To maintain a smooth experience, it's essential to keep an attentive eye on the status of these integrations.
Imagine this: Microsoft Teams is running seamlessly, but your vital file-sharing app isn't cooperating. The result? Frustration, inefficiency, and communication breakdowns. This scenario underscores the significance of monitoring third-party services. Here's why it matters:
Dependency Chain: Microsoft Teams often relies on integrations with various services for enhanced functionality. A hiccup in one service can disrupt your entire workflow within Teams.
User Experience: Integrations are designed to enhance your user experience. When they malfunction, it reflects negatively on your perception of Teams, even if the core service isn't at fault.
Comprehensive Awareness: Monitoring third-party services is a proactive way to anticipate potential disruptions. It gives you a heads-up, allowing you to communicate issues to your team and make contingency plans.
To fortify your ecosystem's resilience, consider these approaches to stay informed about the status of third-party services:
Status Pages: Many third-party services maintain dedicated status pages that provide real-time information about their operational status. Bookmark these pages for quick reference.
Monitoring Tools: Leverage third-party monitoring tools that specialize in tracking service status. These tools consolidate information from multiple sources, providing a centralized view of your integrations' health.
API Integration: Some monitoring tools offer APIs that allow you to integrate service status updates directly into your communication platforms, ensuring your team is aware of issues in real-time.
Email Subscriptions: Subscribe to email alerts from third-party services. They'll notify you about incidents, updates, and resolutions, keeping you informed without requiring manual checks.
By extending your vigilance beyond Microsoft Teams itself and encompassing the services it collaborates with, you create a robust ecosystem that's poised to weather disruptions. Monitoring third-party service status is more than a practice; it's an insurance policy that safeguards your productivity, communication, and overall efficiency.
Leveraging Microsoft Network Monitoring for IT Professionals
Discover the importance of Microsoft Network Monitoring & best practices for seamless performance. Proactively monitor with Obkio for optimal results.
Learn more
When all else fails and disruptions persist, it's time to bring in the cavalry: Microsoft's support. Reporting and escalating outages is your trump card in ensuring that your Microsoft Teams experience can be restored swiftly even in the face of adversity.
When you encounter a Microsoft Teams outage that you believe stems from Microsoft's end, here's how to report it effectively:
Leverage Data from Obkio's App: To bolster your case, you can use the information gathered from Obkio's Network Monitoring tool. Detailed metrics, alerts, and historical data provide concrete evidence of disruptions. This data can help you clearly articulate the issue and provide evidence to Microsoft support that there is a Microsoft Teams outage.
Submit a Service Request: Use the provided forms to submit a service request detailing the nature of the disruption. Be as specific as possible, providing information about affected services, the extent of the issue, and any relevant error messages.
By reporting and escalating outages effectively, and by providing data from Obkio's Network Monitoring tool to prove the Microsoft Teams outage, you're not just a passive observer – you're an active participant in the journey toward resolution.
No matter how vigilant you are, disruptions can occasionally slip through the cracks. But fear not, for preparation and mitigation are your secret weapons against the tide of Microsoft Teams outages. Here's how to fortify your resilience and ensure that disruptions have minimal impact:
Redundancy isn't just a technical term; it's a strategic shield against interruptions. Consider these measures to safeguard your communication:
Multiple Internet Connections: If possible, set up multiple Internet connections. This way, if one goes down, you have a backup to rely on, reducing downtime during outages.
Secondary Communication Channels: Equip your team with alternative communication tools. Platforms like email, instant messaging, or even phone calls can step in when Teams falters.
Cloud Storage: Store critical files and documents in cloud-based storage platforms. This ensures that even if Teams is temporarily inaccessible, your collaboration isn't brought to a standstill.
Resilience isn't just about redundancy; it's also about adapting your practices to keep the wheels turning:
Communication Plan: Have a well-defined plan in place for when disruptions occur. Everyone should know where to find updates, how to communicate, and what alternative methods to use.
Remote Work Strategy: If your team operates remotely, outline a strategy for continuing work during outages. Ensure everyone knows how to access necessary resources and stay connected.
Scheduled Updates: Plan software updates during non-critical hours. A disruptive update during a crucial meeting can exacerbate the impact of an outage.
Education and Training: Equip your team with the knowledge to troubleshoot minor issues. Training sessions on basic networking, device connectivity, and service status checks can empower your team to handle minor disruptions independently.
By implementing redundancy, fostering backup communication methods, and adhering to best practices, you're not just weathering disruptions – you're thriving in the face of adversity. Preparing for and mitigating outages isn't about avoiding them entirely; it's about minimizing their impact and ensuring that your productivity sails smoothly even when the winds of disruption blow.
In the ever-connected world of modern business, disruptions are inevitable. However, armed with the right knowledge, tools, and strategies, you can navigate the seas of Microsoft Teams outages with confidence and resilience. Let's recap the key points we discussed in this article:
Proactive Monitoring: Waiting for disruptions to happen before taking action is a strategy riddled with pitfalls. Obkio's Network Monitoring tool empowers you with the ability to monitor your network's health proactively, identifying bottlenecks and connectivity issues before they transform into major problems.
Thresholds and Alerts: Establishing performance thresholds and configuring alerts allows you to stay ahead of network issues. The moment metrics deviate from the norm, you're alerted, giving you the opportunity to act swiftly.
Real-Time Monitoring: Regularly monitoring your network's metrics in real-time keeps you in touch with its health. This means you're well-prepared to address potential issues before they escalate.
Investigation and Troubleshooting: Uncovering the root causes of disruptions is a crucial skill. Obkio's Network Monitoring tool, combined with a structured approach, empowers you to investigate and troubleshoot effectively, whether it's a local hiccup or a broader outage.
Service Health Dashboards: Microsoft's Service Health Dashboard offers insights into the operational status of Microsoft services. This is your compass during disruptions, helping you differentiate between local issues and broader outages.
Third-Party Services: Monitoring the status of third-party services that integrate with Teams is vital. Ensuring these integrations are operational maintains the integrity of your ecosystem.
Reporting and Escalating: Reporting outages to Microsoft's support and leveraging data from Obkio's app to provide evidence expedites the resolution process during disruptions.
Preparation and Mitigation: Implementing redundancy, backup communication methods, and best practices for continuity is a strategy that empowers you to weather disruptions with minimal impact.
As you set sail in the vast ocean of network challenges, remember that proactive monitoring and preparation are your trusted companions. Obkio's Network Monitoring tool isn't just a tool; it's a lighthouse guiding you through the fog of disruptions, helping you maintain clear communication, effective collaboration, and uninterrupted productivity within Microsoft Teams.
By staying vigilant and harnessing the power of technology, you're not just managing outages – you're mastering them.