Table of Contents
Table of Contents
The rapid adoption of software-defined wide-area networking (SD-WAN) has revolutionized how organizations connect their distributed networks. As businesses strive for improved performance, cost efficiency, and enhanced security, SD-WAN solutions have emerged as a game-changer. However, orchestrating a successful SD-WAN migration at a global scale presents numerous challenges that demand careful planning, meticulous execution, and robust network performance monitoring (NPM) capabilities.
In this case study, we delve into the partnership between Obkio, a leading network performance monitoring solutions provider, and StableLogic, a renowned consultancy firm specializing in network transformation projects. Together, they embarked on an ambitious endeavour – an extra large, worldwide SD-WAN migration. By leveraging Obkio's NPM solution, StableLogic aimed to optimize the migration process, ensure seamless connectivity, validate performance improvement and drive business success.

StableLogic is an independent consultancy firm advising on large-scale network transformation, technology solutions and AI adoption for businesses worldwide. With a strong focus on empowering organizations to achieve their strategic objectives, StableLogic brings a wealth of expertise in network architecture, digital transformation, and IT project management.
StableLogic's core competencies lie in Network, Telecommunications and Customer Experience strategy, design, optimization, and migration. They excel in helping organizations navigate complex technology landscapes, streamline operations, and maximize the benefits of emerging technologies. By leveraging their extensive industry knowledge and partnering with leading technology providers, StableLogic enables clients to make informed decisions that deliver long-term value.
This case study explores the journey of StableLogic as they navigate the complexities of a global SD-WAN deployment, for a global manufacturing client.
StableLogic had the important task of guiding their client, through a large MPLS to SD-WAN migration, for 500 sites worldwide. The client previously had multiple regional MPLS networks with an international backbone. The low-speed MPLS access high latency between Internet gateways and a large-scale migration to cloud services created a performance bottleneck. By migrating to an Internet-based SD-WAN network, they anticipated a substantially better performance at less or equal cost.
We'll now examine the challenges faced, the solutions implemented, and the outcomes achieved through this collaboration. By showcasing the successful role Obkio played in the client's network modernization led by StableLogic, this case study provides valuable insights and lessons for organizations considering or currently undergoing SD-WAN migrations on a large scale.
​​As organizations embrace the advantages of software-defined wide area networking (SD-WAN) over traditional Multiprotocol Label Switching (MPLS) networks, there is a growing need to monitor and assess the migration process. The transition from MPLS to SD-WAN presents a critical juncture for businesses, promising enhanced agility, cost savings, and improved performance. However, to realize these benefits and ensure a successful migration, it becomes important to monitor the transformation closely and measure the fulfillment of the SD-WAN promise.
Stablelogic supported the client through a competitive procurement process to select the SD-WAN vendor & implementation partner, which in this case was SD-WAN a Cloud Security solution, and guided the client through the whole process as their trusted advisor. Following the vendor selection the client requested StableLogic to manage the implementation process and help ensure a smooth and successful delivery of the SD-WAN Network.
Stablelogic needed to ensure this migration went as smoothly as possible in the following ways:
Monitoring the Migration: StableLogic needed a way to monitor the migration process to ensure there were no issues during the migration that hindered its success. This also meant monitoring the performance of the client's previous MPLS network.
Comparing Network Performance Before & After: The main reason for this migration was to improve network performance - but how can you know that performance has really improved? StableLogic needed a way to measure and compare their customer's network performance before and after the migration, to ensure that there was really a change in performance.
Measuring the SD-WAN Promise: SD-WAN promises increased visibility, control, and optimization of network traffic, and it becomes crucial to monitor these key performance indicators (KPIs) to validate the efficacy of the SD-WAN solution. Meraki, the SD-WAN vendor, offered a monitoring solution - but it didn't have the level of detail needed to monitor the SD-WAN promise.
With all these needs in mind, StableLogic and the client engaged the market to find a solution that could fill in the gaps, and that they could leverage to ensure their client could experience the smoothest, most successful SD-WAN migration possible. That's where Obkio comes in!
StableLogic identified Obkio while evaluating solutions that could validate the performance of SD-WAN networks & network transformations, from end-to-end. StableLogic selected Obkio as it offered a simple deployment model, and could monitor network transformations agnostic to the underlying technology, which was one of Obkio's most common use cases.
Obkio's unique client-based monitoring approach provided the optimal method to validate end-user performance without relying on network metrics provided by network devices, that vary by vendor and do not always align with feedback from end-users.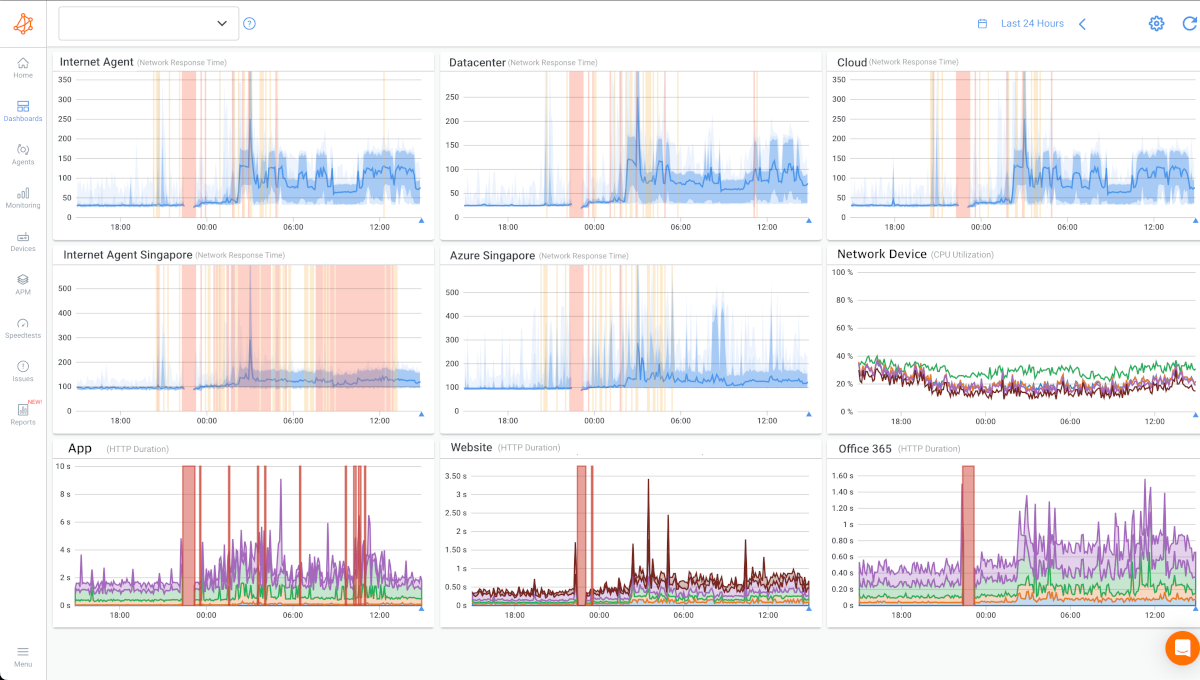 Obkio is a pure-play Network Performance Monitoring SaaS tool that monitors end-to-end network performance using Network Monitoring Agents deployed at key network locations, which continuously exchange synthetic traffic to measure key network metrics. Obkio is designed to monitor end-to-end network performance ( WAN to LAN) from the end user perspective for all network types (SD-WAN, MPLS, LAN, WAN L2 or L3 VPN). When it comes to monitoring SD-WAN networks, Obkio is vendor-neutral.
This made Obkio the perfect fit for StableLogic's worldwide SD-WAN migration project, and Obkio's involvement in this network migration project offered a variety of benefits for their client.
Planning an SD-WAN migration? Well, you absolutely need Obkio and StableLogic on your team!
StableLogic brings in-depth expertise to guide you through the entire network transformation process. They conduct a comprehensive review of your current network service, perform contract benchmarking, and develop a strategic roadmap to enhance your services.
Meanwhile, Obkio plays a crucial role in monitoring your network performance before, during, and after the migration. Their advanced monitoring capabilities help identify and address potential network issues, ensuring a smooth and successful migration.
With Obkio and StableLogic's support, you can confidently navigate the complexities of your SD-WAN migration and achieve improved network efficiency and reliability.
Before embarking on the SD-WAN migration, StableLogic took proactive measures to set the client up for success by implementing Obkio's Network Performance Monitoring tool. They strategically deployed Obkio's Monitoring Agents across many of the client's critical locations, which were undergoing the migration to the new SD-WAN network. This implementation aimed to achieve the following objectives: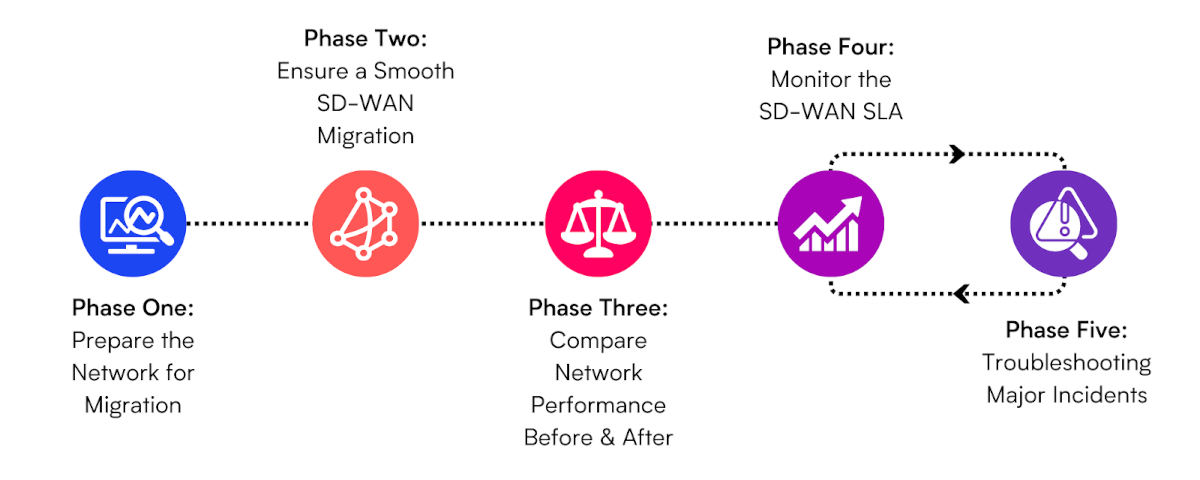 By utilizing Obkio's Network Performance Monitoring tool, StableLogic ensured that there were no pre-existing issues within the client's current MPLS network environment that could potentially impact the migration process. The monitoring agents collected valuable data that could serve as a performance baseline to compare with the performance of their new SD-WAN network after the migration.
During the migration process, Obkio's monitoring agents played a vital role in monitoring the network's performance in real-time. They continuously monitored various key metrics, such as latency, packet loss, and throughput, enabling the client to promptly identify any network issues that could arise during the migration.
This proactive monitoring, historic and real-time traceroutes allowed for immediate troubleshooting and swift resolution of any detected problems, ensuring a smooth and uninterrupted migration experience.
One of the critical objectives for StableLogic was to validate the performance improvements promised by the SD-WAN deployment. By deploying Obkio's Network Performance Monitoring agents both in the previous MPLS network and the new SD-WAN network, StableLogic was able to directly compare the performance metrics between the two environments.
This enabled them to quantitatively assess and demonstrate the performance improvements achieved through the migration, providing the client with clear evidence of the benefits realized.
StableLogic Power BI Dashboard showing the performance changes globally using Obkio Data
Once the SD-WAN migration was successfully completed, StableLogic understood the importance of continuously monitoring the performance of the new SD-WAN network to ensure it lived up to its promised benefits. By implementing ongoing monitoring practices, StableLogic aimed to assess whether the SD-WAN network was performing as expected and meeting the service level agreements (SLAs) set by Merki, the SD-WAN solution provider.
That's why they used Obkio's Network Performance Reports and webhooks to format and schedule reports about the performance of the network to gain continuous, real-time insights into key performance metrics, such as latency, bandwidth utilization, packet loss, and application response times.
By leveraging Obkio's Network Performance Monitoring solution, StableLogic was able to collect and analyze this data to evaluate the network's overall performance and adherence to SLAs.
Through regular monitoring, any performance issues or deviations from expected performance levels could be promptly identified. This enabled StableLogic to take immediate action, such as fine-tuning
SD-WAN policies, adjusting network configurations, or troubleshooting potential bottlenecks. By addressing these issues in a timely manner, StableLogic ensured that the SD-WAN network consistently delivered the promised performance and met the expectations set by the SD-WAN platform's SLAs.
Despite the additional visibility available through SD-WAN, there are still gaps in visibility that the client was only able to access through the use of Obkio. One such example was a significant performance degradation between the SD-WAN solution and the Secure Web Gateway (SWG) platform the client was using.
The SD-WAN platform & Gateway solution were unable to see the issue, and the root cause couldn't be validated. Using Obkio the client was able to test each individual path and prove that the incident was due to a faulty gateway on the SWG platform, by testing directly to a public agent and then testing individual links via SWG.

With the collaborative efforts of StableLogic and Obkio, the transition from MPLS to SD-WAN was executed flawlessly, resulting in a highly successful project. Obkio's comprehensive performance metrics played a pivotal role in providing tangible evidence of the network performance improvements achieved through the switch to SD-WAN, leaving no doubt that the technology choices made by the client and StableLogic were a resounding success.
The availability of precise performance data, which was lacking from both the SD-WAN vendor and the native monitoring features, delighted both the client, the client, and the integrator, StableLogic. The concrete insights provided by Obkio allowed them to clearly visualize the global network performance increase resulting from the new SD-WAN service. This definitive proof solidified their confidence in the technology decisions made during the migration process.
The remarkable satisfaction of both the client and StableLogic drove them to extend their commitment to network monitoring. To ensure continuous monitoring of the performance of the client's new SD-WAN network, the decision was made to deploy Obkio across all of their critical network locations. This strategic move would enable ongoing monitoring and evaluation, facilitating proactive optimization and guaranteeing the sustained performance of the SD-WAN environment.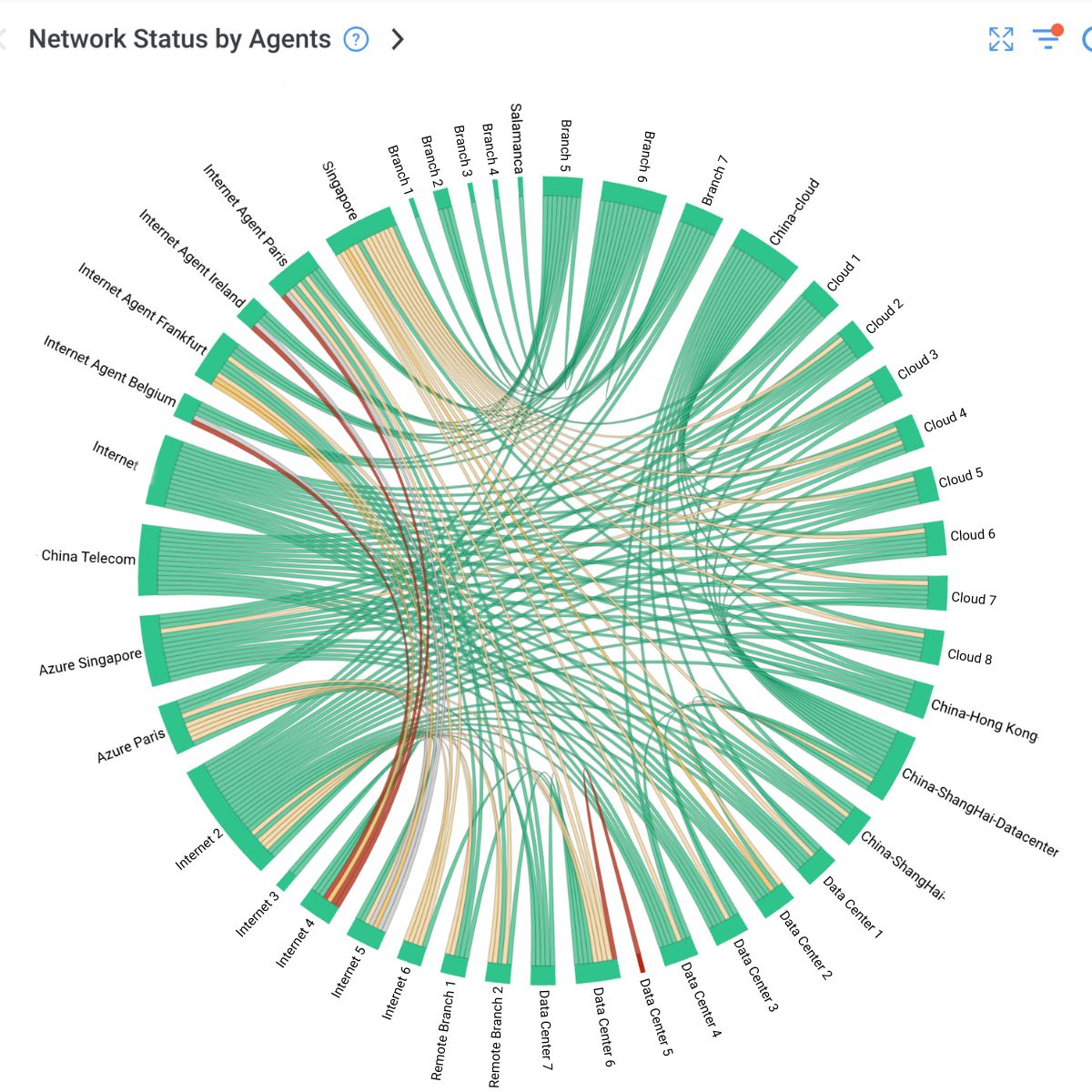 Bandwidth Improvement: 56% - 400% improvement in Bandwidth (Depending on the Site)
Latency Increase: On average a slight increase in latency (15-20ms)
Packet Loss Reduction: 94% reduction in packet loss
MOS Score Improvement: From 3.6 (Good) - 4.1 (Excellent) Improvement in MOS Score
Fewer Network Erros: 30% reduction in network-related errors
Annual Total Outage: Reduced from 7 days per year to 1.5 days per year
Following each migration, StableLogic would release a one-pager after a few days of testing to showcase the performance improvements from the transformation efforts, which were all based on data from Obkio.
Example Executive One-Pager
The role Obkio played in this successful network migration and the undeniable evidence of improved network performance left the client and StableLogic thoroughly satisfied. The implementation of Obkio's monitoring solution not only filled the data gap but also exceeded their expectations. It solidified their confidence in the decision to migrate to SD-WAN, showcasing the invaluable role that Obkio played in ensuring the success of the project.
In summary, Obkio was invaluable to a successful MPLS to SD-WAN migration for StableLogic and the client. While the SD-WAN vendor delivered results, they lacked the necessary SD-WAN visibility and detail for comprehensive monitoring. Obkio filled this gap, empowering StableLogic to ensure client success.
Obkio's performance monitoring solution provided the needed visibility and granular insights missing from the SD-WAN vendor's offerings. The comprehensive metrics allowed StableLogic and the client to witness the tangible benefits of SD-WAN, confirming their technology choices.
Leveraging Obkio's capabilities, StableLogic surpassed client expectations, establishing a foundation for ongoing network performance optimization! Obkio's role in filling gaps left by the SD-WAN vendor reaffirms the crucial role of comprehensive visibility and detailed monitoring for a successful migration.
With over 30 years of experience in network modernization, StableLogic is strategically positioned to lead your next project to scope and budget. They can assist in every stage of a network transformation, from a full review of your entire network service to contract benchmarking and defining a strategy and roadmap to remediate and transform those services.
Independence: StableLogic is completely independent of any supplier and can therefore provide completely impartial advice. They neither seek nor accept remuneration from any provider of technology services.
Knowledge: Their consultants have the latest technology and market knowledge, which is gained from practical experience. StableLogic's clients benefit from this knowledge which helps them to deliver their business objectives, reduce risk and save money.
Resource: StableLogic has both the expertise and resources to move quickly and deliver the project in an efficient manner.
Innovation: With their sister business, StableLogic Labs, they can provide a wealth of innovation to our clients.
StableLogic has a proven track record of saving organizations money and optimizing efficiency and communications in hundreds of organizations through implementing modern network services that meet their strategic goals. Contact StableLogic to find out more about how they can assist with your next network modernization.
Ready to make your MPLS to SD-WAN migration a smooth and successful ride? Don't miss out on the fun and performance-boosting features of Obkio's Network Performance Monitoring! Say goodbye to network headaches and hello to seamless connectivity.
Take the leap with Obkio and ensure a joyful journey to SD-WAN. With Obkio's comprehensive visibility, real-time monitoring, and data-driven insights, you'll have the power to optimize your network performance like never before.
So, why wait? Embrace the future of networking and wave goodbye to the limitations of MPLS. Get on board with Obkio's Free 14-day Trial and make your MPLS to SD-WAN migration an adventure worth celebrating!
14-day free trial of all premium features
Deploy in just 10 minutes
Monitor performance in all key network locations
Measure real-time network metrics
Identify and troubleshoot live network problems
And join the network performance revolution today!
These might interest you